My 1896 circa house is a short walk to the MSU Riley Center, a fully-restored 1889 grand opera house that this season will host Wynton Marsalis, Vince Gill, Melissa Etheridge and others, and is close to restaurants, museums, historic churches and daily passenger trains running from New Orleans to Atlanta to New York. You'll love my place with its 13' ceilings, beveled glass, parkay floors, vintage mantels, and historic neighborhood easily accessible to Interstates 20 and 59.
Beautiful house and very hospitable host!
Karolyne
2016-10-02T00:00:00Z
It was a great place to stay. Lots of room and Jim was very nice. Would stay here again without even thinking about it.
JC
2016-10-27T00:00:00Z
I was able to meet up with Jim prior to arriving. He gave me a brief history of his family home, that added to the charm. We had a lovely stay and we would highly recommend it to others. The house has a lot of yesteryear character. We got to eat at the oldest restaurant in MS not far from the house. Jim recommended it and the food was amazing.
Jean
2016-10-16T00:00:00Z
Jim was waiting on us when we got there. He showed us the space and gave us some history on the house and the area. We really hit it off and spent sometime getting to know one another. This was my first airbnb experience and his first time hosting. The space was incredible and the home had so much history built in. It had a great porch with rocking chairs where me and the hubby spent time sipping coffee and spending some quality time together. I would definitely recommend Jim and his wonderful home to anyone who is in the Meridian, MS area.
Angela
2016-08-21T00:00:00Z
Jim was amazing and his home is beautiful. He met us upon check-in and showed us around his well preserved, historic home. Jim was so welcoming, friendly, and interesting we just sat and chatted with him for a while. Honestly, we could have chatted all night but we needed food. Jim suggested Weidmann's, a really great restaurant nearby (sit on the balcony in the balcony bar!) that has been there since 1870!, and it didn't disappoint. The room is pretty stunning and much bigger than the photos show. You basically have a whole, private wing of the house, including a bedroom, living room (with a daybed separate from the bedroom), private bathroom, and kitchenette. All to yourself! You are also provided with plenty of linens, and a Keurig. We really appreciated how charming and unique this home is. Happy travels!!
Jacob and Ricky
2017-02-25T00:00:00Z
Beautiful old southern home, very spacious accommodations including private lounge, separate bedroom large bath and kitchenette. Close to downtown, private & secure.
Tandy
2017-03-05T00:00:00Z
Very nice
Mary
2016-12-28T00:00:00Z
Great house with so much character. Jim went over and beyond what was expected. I'm a tennis coach and brought my 9 year old and 7 year to compete in a tennis tournament in Meridian. We cooked meals and enjoyed the house as much as our busy scheduled allowed. Jim's house is going to be a real winner on airbnb. I was coaching 8 other families who all over paid for hotels in Meridian and when they saw the room my family had they were extremely jealous. I've stayed in Airbnb's all over the world as a professional tennis coach and this was by far the most historic and unique stay I've had. It was also my wife's first stay in an airbnb and she was a little apprehensive at first. It took no time for her to get hooked. Glad to know when we travel as a family all of us will pick airbnb! Thanks Jim!
murphy
2017-01-30T00:00:00Z
Tipo de Acomodação
Quarto inteiro
---
Tipo de Imóvel
Casa
---
Acomoda
3
---
Quartos
Meridian, Mississippi, Estados Unidos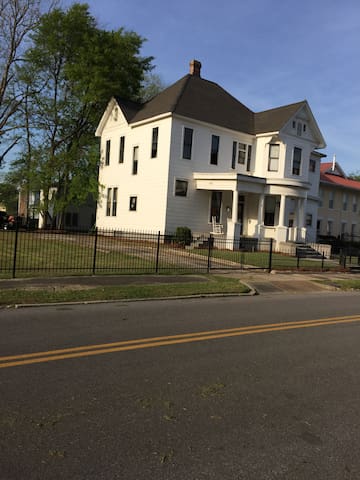 As you step into this room, leave your stress at the door. Enjoy a hot bath and stretch out to the comfort and peaceful surroundings. This room has a queen size bed and will accommodate two guests.
Located in the heart of Decatur, Inn The Oaks Bed and Breakfast is the coziest place to stay in East Mississippi. We are within walking distance of East Central Community College, the County Archives and Newton County Court House. Pierce Castle and Turkey Creek Water Park are only minutes away and we are only 30 minutes or less from the historic Neshoba County Fairgrounds, Meridian, Philadelphia, Chunky River Rafting, and Pearl River Casinos. The Inn is nestled in the heart of Newton County with it's historic charm and downtown feel. Remodeled in 2014 by owners Randy Rushing and Pat O'Neill, Inn The Oaks Bed and Breakfast is perfect for a tranquil escape or a romantic getaway. Plus, it is a relaxing stay, if you are in the area on business. The 1930 home boasts a porch perfect for relaxing. There are currently four guest rooms with private baths - three with full-sized tubs. Each room offers individual thermostat control and flat screen televisions. You will enjoy free Cable and Wi-Fi as our guest. The foyer library offers many books on the area for your convenience and enjoyment.
Everything was great at Inn the Oaks. It's a real B&B, and the owners were very accommodating of my late arrival time and came over to meet me. The place has been recently remodeled with great care and was spotlessly clean and the bed was super comfortable. Jane, the inn keeper is charming and made me a great breakfast of grits and bacon. I definitely recommend staying here!
Denise
2015-10-26T00:00:00Z
Inn the Oaks is a very comfortable, clean, welcoming place. If you get a chance to sit down and talk with Jane, do. She's wonderful, and she made me the best breakfast ever. I'd love to stay there again.
Collier
2016-01-09T00:00:00Z
Excellent bnb experience. Warm, energetic hosts, nice room and spacious, comfortable living room, excellent country breakfasts, fun interchanges with hosts--couldn't ask for more. We'll be back. Chris and Valerie
Chris
2015-11-08T00:00:00Z
I was arriving around 9:30 on Easter night. I was met and warmly greeted. After a quick tour, I had the entire house to myself! Everything is very clean and very charming. I met Pat, Randy and Jane. All were delightful. The breakfast is a super fantastic surprise. If you are in the area, book a room! You will not be disappointed
David
2016-04-01T00:00:00Z
Lovely refurbished Tudor style home. Very welcoming and inclusive hosts. The breakfast was all homemade and fabulous. This was a great place to stay.
Bob
2015-12-13T00:00:00Z
Tipo de Acomodação
Quarto inteiro
---
Tipo de Imóvel
Pousada
---
Acomoda
2
---
Quartos
Decatur, Mississippi 39327, Estados Unidos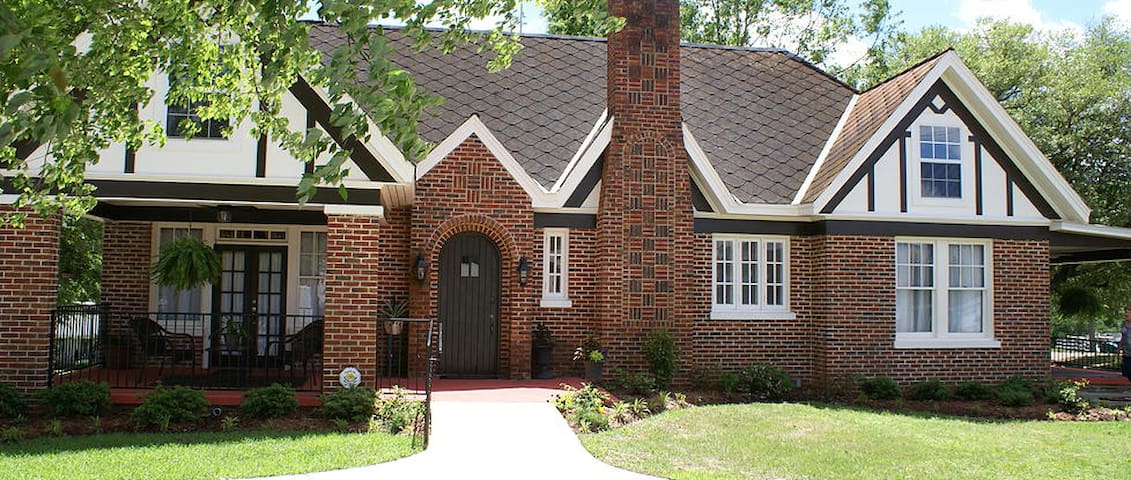 Minutes from Decatur and Forrest, between Meridian and Jackson, 35 miles from casinos in Philadelphia, our spacious 3 BR, 2.5 bath home is an oasis in a lovely family neighborhood. Large kitchen w/laundry, dining room, living room, garage and patio.
Fully equipped kitchen and laundry. Master has queen sized bed, desk and seating, walk-in closet and full en suite bath with whirlpool tub, and separate shower, toilet and bidet. 2nd and 3rd Bedrooms have full sized besd. Dining room table seats 8. Living room has flat screen TV with DVD player and a full sized sofa, love seat and recliner. Patio has outdoor seating.
The house is located in a family neighborhood surrounded by tall trees on two sides as it is the last house on the street with neighbors on only one side. We frequently see deer, many kids of birds, squirrels and occasionally in the spring, even members of our resident fox family.
Great place! Very clean and nice...we were visiting family that lives near by and it was perfect...much better than the local motels. I have a feeling I will be fighting other members of my family to stay here again, everyone was very impressed. Thank you Lynn, Becky and Rebecca for your hospitality!
Candi
2015-12-02T00:00:00Z
I can't say enough about this property. My husband and I are frequent airbnbers but only after in-depth study of our needs and hosts offers do I request a booking. Because of this careful matching I usually do tend to come away with favorable reviews. However, Lynn's home surpassed all our expectations in every category. Rather than the 2-bedroom I'd expected, there were actually 3-bedrooms, so perhaps a prior study has been converted, not sure. But all 3 bedrooms were comfortably decorated. The location was in a great part of town at the end of the drive. A beautiful, thick wooded area looms beyond the back patio and expansive yard. Having left my TX home in a drought w/threat of wildfires, I was most excited on the evenings I could leave the window raised by my bedside to hear the rain and night sounds. The house was exceptionally clean and had every house appliance, spice, etc you could ever need. In fact, we found several items recently purchased in fridge and counter top for our use on arrival. The rugs about the home are beautiful and soft. Any bathroom necessity could be found in drawers just as at my own house. Entry and exit upon departure was simple. Again, being at the end of a dead end street our time there was very quiet and peaceful. We spotted several birds unknown here in this part of TX so was great sitting on the back porch early morning or evening. Newton seemed limited in the number of quality restaurants we're accustomed to so bought groceries to stock kitchen first night there and enjoyed dinking about in someone else's kitchen. We also put her washer/dryer unit to work before leaving. I had planned this particular trip as a girls get-away with my sister in MS. However, after learning she would be too ill, Lynn was surprisingly willing to work with me some on dates after hearing about her condition. Though she was certainly in no obligation to do so, she had the days open and offered me days for the following week when my husband flew in to join me. This was a true blessing. (Thank you, again, Lynn!) Avid readers, we were delighted to not only browse the selection of books available but to also discover her two beautiful lamps hung directly above the master head board in the Master br. The master bath offered a great whirlpool tub, as well. In a nutshell? A wonderful find at a wonderful price in a part of the country (near my family) that I never expected to discover. Anyone who has need of a place away from hustle and bustle would do well to inquire on this property. I hope it is available when I return.
Rita
2016-04-15T00:00:00Z
Lynn's home in Newton, MS was lovely, very clean and well stocked. The neighborhood is beautiful, very nice homes in a beautifully wooded residential area.
ALAN
2017-01-12T00:00:00Z
Thoroughly enjoyed our stay. Lovely, welcoming country retreat provides all the comforts of home. Beautiful property located in a quiet neighborhood at the end of the street. We sat on the patio each morning and enjoyed our coffee taking in the scenery and sounds of nature. I shared this residence with my parents and adult sibling; plenty of room. We will definitly stay here again the next time we are in Newton!
J.N.
2016-06-02T00:00:00Z
Tipo de Acomodação
Casa/apto inteiro
---
Tipo de Imóvel
Casa
---
Acomoda
6
---
Quartos
Newton, Mississippi 39345, Estados Unidos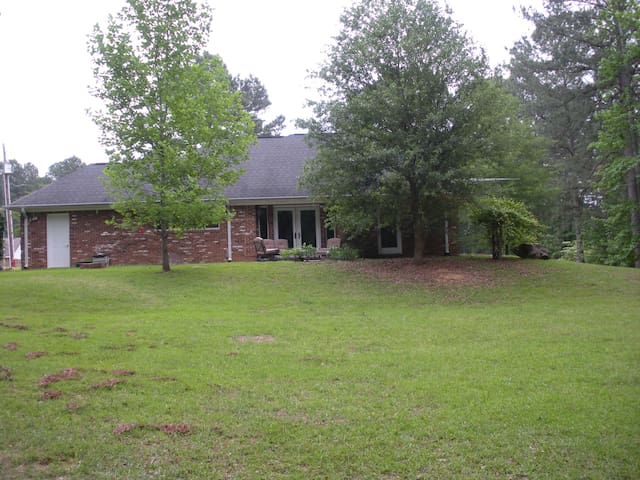 This Charming Victorian Gingerbread farmhouse is over 100 years old and situated on 20+ acres of my grandparents farmland. It is an elegant home set in a casual atmosphere with 14' ceilings, spacious rooms and beautiful decor that makes you feel like you are visiting your grandparents home! The large yard and circular porch are the perfect place to enjoy the slow pace of country living. Come "Unplug" from the electronic world and enjoy some downtime with family or friends!
This charming Victorian Gingerbread farmhouse was originally built in the nearby town of Sebastopol, Mississippi. Moved from its original location in 1998, it now sits on land that belonged to my grandparents, Clyde and Marie Walters. The house is over 100 years old and is a casual but elegant house with spacious rooms that boast 14' ceilings, lots of windows, stained glass, and beautiful decor. The large yard and circular porch are the perfect place to unwind and enjoy the slow pace of country living. Come watch beautiful sunsets from the front porch or watch the deer play on our 20+ acre back yard and you can even hear the fish a jumping in our pond!
Sebastopol, Mississippi is six miles from the home. It has the feel of a Mayberry Town. There isn't even a traffic light in this small town. Sebastopolooza is a town fair that is held on the last Saturday of October every year. Some of the favorite attractions are: Spoonfudge, that has the feel of a soda shop. Daisy Daff's and Carrie B's are both cute little boutiques with clothes and gifts. Stephen's Florist is a definite shopping source with cute gifts. The Burger Barn makes fantastic burgers and then you have the most talked about Steak House in Scott County called Lee's Steakhouse. People drive from all over to sink their teeth in these delicious steaks! The town of Forest Mississippi is located 13 miles from Clyde and Marie's. This town has a variety of shops and restaurants for your enjoyment. The Wing Dang Doodle Festival is a fun day held at Gaddis Park where you can see arts and crafts and taste good food. Neshoba County is approximately a 30 minute drive from Clyde and Marie's. You can plan your stay at Clyde and Marie's in July and attend the well known giant house party called the Neshoba County Fair. Geyser Falls is a huge water park that is also a hot spot to visit on a blistering summer day.
The house was just as described and was a perfect place for our extended family to stay all together. Shellie was incredibly warm and welcoming and responded to all my requests promptly. We hope to be back to Forest, MS soon so we can stay at Clyde & Marie's B&B again!
Sharla
2015-05-07T00:00:00Z
Tipo de Acomodação
Quarto inteiro
---
Tipo de Imóvel
Pousada
---
Acomoda
9
---
Quartos
Forest, Mississippi 39074, Estados Unidos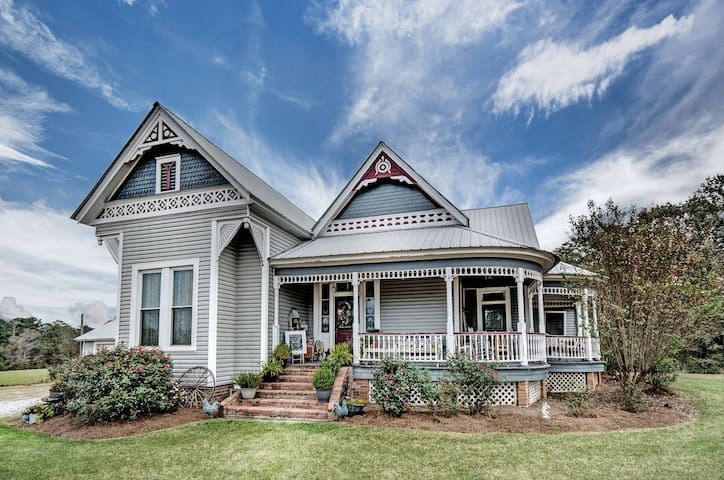 This cute little cabin is perfect for a romantic getaway. Pond front. Use of Amenities includes outdoor kitchen and fishing.
Park like setting.
Quiet Country. Easy to find off main highway.
Tipo de Acomodação
Casa/apto inteiro
---
Tipo de Imóvel
Casa
---
Acomoda
2
---
Quartos
Louin, Mississippi 39338, Estados Unidos
You will love this Cottage nestled against a pine forest. Watch wildlife, including deer and many bird species right from the dinner table! Beautiful view from the decks. Sleep in a luxurious queen sized bed in the master. Fun hosts on a farm!
If you like the country life, this is the place for you. Relax on one of the decks. This is a great place to "get away from it all".
A true southern environment.
Great, quiet, peaceful place for a get away. Extremely clean and has everything you need for a home away from home experience. Cynda and Ricky made us feel like family. Couldn't have asked for better hosts! We will defiantly stay there again!!
Josette
2016-05-16T00:00:00Z
Cynda and Rick's cottage in the pines was a perfect stop on our journey north this month. The cottage is just as advertised and is located on a charming winding road a ways off of the Interstate, so you really feel as if you've gotten away from the hubbub and commercialism of that world. The cottage has all the amenities you need. It's spic and span clean, and the views from both the front and back porches are wonderful. The main bed in the master bedroom is a dream of good comfort. Cynda and Rick are incredibly gracious hosts, offering to take us on their Gator while they did chores with the cattle, and filling us in on the details of large-scale poultry farming. We even got to meet some of Cynda and Rick's neighbors at the local Cowboy Church in nearby Enterprise, Mississippi on Sunday morning, which was both an education and a revelation. I highly recommend this stop to anyone traveling through Mississippi.
John
2016-06-30T00:00:00Z
The place was peaceful,clean & relaxing. The host was very impressionable, went out her way to make sure my young kids had things to keep them entertained. I would definitely stay there again.
Jennifer
2016-06-24T00:00:00Z
I really enjoyed my stay. Cynda was so nice and made me feel safe in a new place. the house was really nice and peaceful inside and out. The view was great on the front porch in the rocking chair. I would stay here again definitely.
Erika
2016-07-28T00:00:00Z
We took a break from trip from Ar to Fl, here. Great place! Had a newborn baby and due to the clean, roomy cottage- we enjoyed it much better than a hotel! Was fairly easy to find and access and QUIET. Actually saw deer. The pond is a nice feature, but maybe if their chairs were higher, you could see it from patio.
Lorie
2016-05-23T00:00:00Z
Cynda was the most gracious host. Her home was well kept and very clean. Every item in her home had a neat and tidy place. She had a very large front and backyard, complete with a cute barbecue grill for those fun summer days. She stopped by to introduce herself and check on us to see if we were okay. Cynda was very hospitable and kind and my family and I felt very welcomed and at home. If you are ever in Louin Mississippi and need a place to stay, I would definitely suggest Cynda's place!
Danyale
2016-07-14T00:00:00Z
Cynda and Rick made my daughter and I feel very welcome and at home in the little cottage. We saw deer in the garden and had all our expectations met. A great place to stay for a wind down in Mississippi.
Michael
2016-08-14T00:00:00Z
Tipo de Acomodação
Casa/apto inteiro
---
Tipo de Imóvel
Casa
---
Acomoda
6
---
Quartos
Louin, Mississippi 39338, Estados Unidos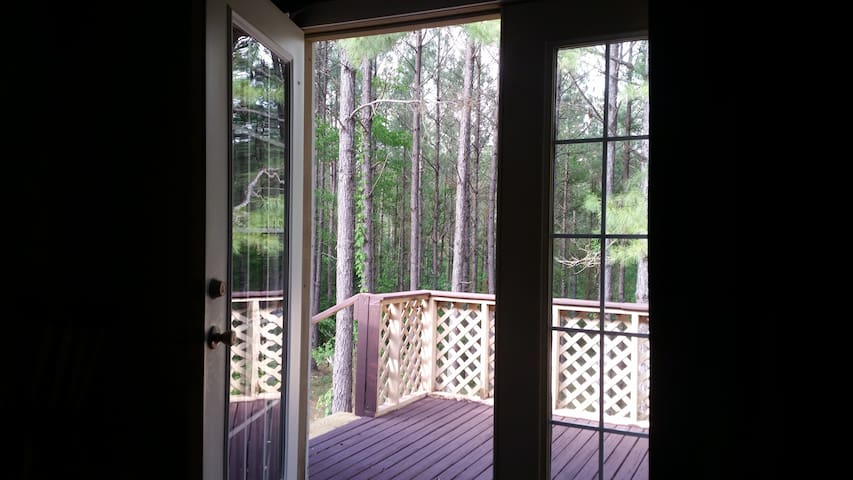 Our Lil pond house's open floor plan is so cozy you'll be tempted to stay in, but the front porch will beckon your soul for soothing. Its view takes you to places you only have dreamt about. 21 miles from groceries but right where you need to be!
Peaceful setting in rural Mississippi. Kitchen has microwave but no stove or oven. It has a full bath. There a small fire-pit for your enjoyment that sits on the concrete pad between the cabin and the little ponds dock. You can park only a few steps away in the pine woods right behind the cabin. The Pond House has its own private gated entrance.
We love our neighborhood. We are on a rural road but we do have a few neighbors and we all look out for each other. There's enough stories and tales on this road to fill a novel or two.
Tipo de Acomodação
Casa/apto inteiro
---
Tipo de Imóvel
Casa de campo
---
Acomoda
2
---
Quartos
Daleville, Mississippi 39326, Estados Unidos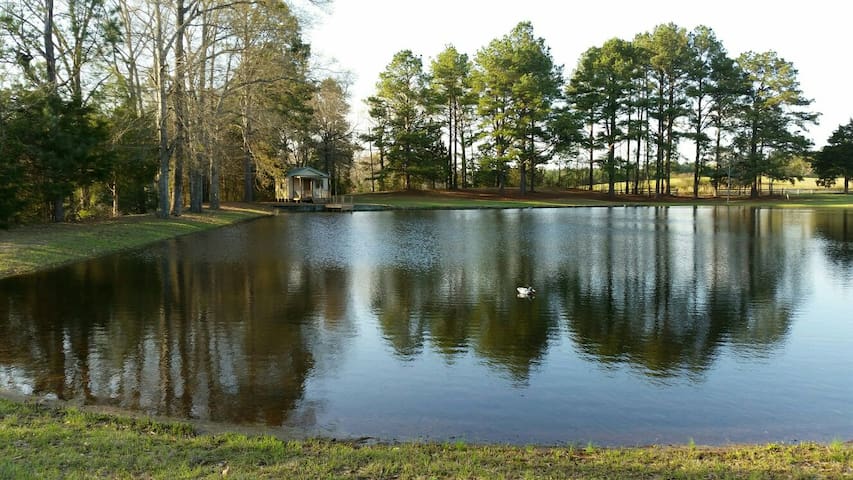 Located on a working farm, this apartment is just a short drive from Philadelphia, the Mississippi Band of Choctaw Indians, or the Neshoba County Fairground. One private bedroom and 1 pull out couch in the living area. One bath. Eating Area.
If you want to experience the sights and sounds of a working farm you will enjoy this location. The space is private and apart, but adjacent to the main house. There is private seating area with a television. Internet access is available but you will need your cell phone for telephone usage. There is a clothes washer and dryer in the bathroom that can be used as needed.
If you enjoy nature, you will enjoy this setting.
Tipo de Acomodação
Casa/apto inteiro
---
Tipo de Imóvel
Casa
---
Acomoda
4
---
Quartos
Filadélfia, Mississippi 39350, Estados Unidos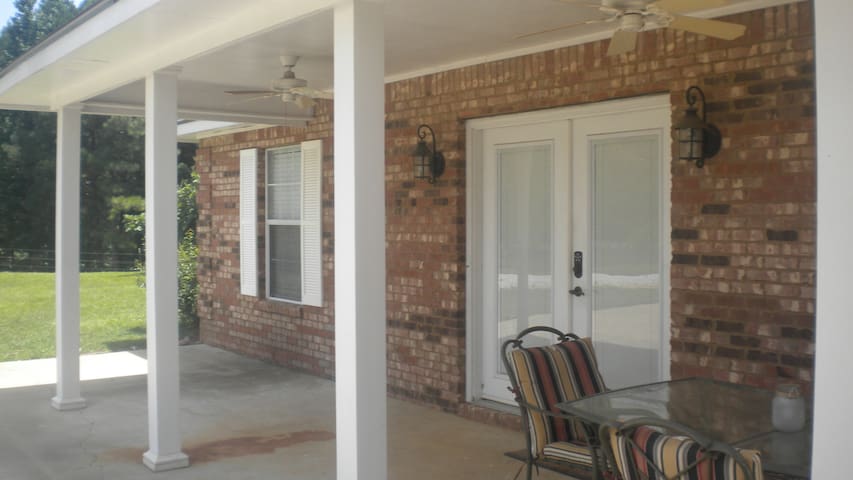 Insira as datas para ver o preço total. Taxas adicionais serão aplicadas. Impostos podem ser adicionados.