Mais de 300 Apartamentos para Alugar
Nuestro 635 sq. Ft. Loft de arriba privada es acogedora, cómoda y espaciosa y está escondido en un tranquilo y hermoso 5 acres por encima de un garaje separado totalmente independiente de nuestra casa. Usted puede disfrutar con 2 terrazas privadas (una tercera historia, ideal para observar las estrellas!). Estamos literalmente al lado de la estación El Hyatt Lost Pines que está a 5 minutos de nuestra casa. Cerca de Austin y lo suficientemente lejos, disfrutar de lo mejor de ambos mundos!
Bienvenido a The Lost Pines Loft. Un lugar fresco y de la cadera separada y privada que tiene ofertas para todo el mundo. Hemos diseñado este apartamento por encima de nuestro garaje separado para que nuestros padres tendrían un buen lugar para alojarse cuando vinieron a visitar. Así lo hicimos muy agradable y cómodo para que pudieran quedarse un rato! Durante las vacaciones de nuestros familiares luchan por quién va a permanecer allí, por lo que creo que dice algo al respecto! Todo el espacio se midió recientemente en 635 pies cuadrados y se siente más grande que las fotos podrían sugerir. Hay una cama de matrimonio y un sofá cama cómodo si sus necesidades requieren una cama segundo. Para redondear las cosas es un armario de tamaño considerable y cuarto de baño con ducha. El apartamento es en realidad por encima de nuestro garaje separado, por lo que está arriba y los dos de sus patios cara lejos de nuestra casa ofrecen un montón de privacidad y nadie está por debajo de usted. Nuestros clientes a menudo dicen que es un "gran manera de alejarse cuando sea necesario todavía un viaje rápido a la ciudad de Austin Bastrop o si así se desea."
Estamos a sólo 25 minutos del centro de Austin sin embargo, nuestro barrio tiene un verdadero país sienten a la misma con hermosas colinas. Algunas calles de nuestro barrio en realidad tienen vistas del centro de Austin. Hay rutas a caballo y varios parques cercanos para la recreación al aire libre. Estamos a 5 minutos del Hyatt Lost Pines Resort y Wolfdancer Campo de golf, McKinney Roughs parque natural, ya 10 minutos de la capital de Texas Zoo, entre otras cosas.
Tommy was a great host, very welcoming. The space was great and very peaceful.
Jonathan
2016-05-15T00:00:00Z
We really enjoyed our stay at this cozy retreat! The place was well equipped with coffee maker, mini-fridge and snacks. The bed was super comfy and we loved sitting out on the deck and enjoying the views from the comfy hammock chairs! Our hosts even brought us a yummy breakfast in the morning!
Kelsey
2014-10-05T00:00:00Z
The stars are absolutely amazing! Tommy and Roxanne thought of everything and though we didn't get to meet Roxanne, Tommy, Klondike, and Mojo were all very friendly and welcoming. Breakfast was delicious and we had all the privacy that we could have wanted. They have an absolutely gorgeous home.
Catherine
2014-08-04T00:00:00Z
What a wonderful find in the Lost Pines area. Relaxing, great view, and cozy. This listing lives up to ever word. Looking forward to a return visit.
Michael
2015-09-28T00:00:00Z
Tommy and Roxanne were excellent! They booked my wife and I with our 9 month old daughter on short notice over mother's day, and were still as hospitable as one could hope. The property is beautiful, quiet, and inviting. They gave us privacy and still were there when needed. Tommy went out of his way to bring us up some ranch dressing after Jack-in-the box down the street forgot to give us our dressing. Ha! Roxanne brought up some amazing breakfast tacos which got us off to a great start to mother's day. We spent Sunday in Austin, which is only a short 20-25 minute drive. Thank you both for your hospitality! Lucy loved the bear rug!
Larry
2014-05-12T00:00:00Z
This was my 2nd time to stay at Tommy & Roxanne's place and it's always great!
Zackary
2015-10-13T00:00:00Z
My girlfriend and I thoroughly enjoyed our stay in this cozy loft apartment. Tommy was super nice and made sure we had everything we needed. They had everything there ready for us when we showed up. The bed was very comfortable and the couch nice and relaxing; they had one of the softest blankets I've ever felt. The hammock chairs out on the balcony were so nice to sit in and feel the breeze. The location of this place was very nice for us. It only took about 20 minutes or so to reach a few of the places inside Austin. It was convenient and just out of the hustle and bustle of the city. We will definitely be staying here again when in Austin.
Michael
2015-05-04T00:00:00Z
I highly recommend this loft. Our stay was lovely, and our hosts went above and beyond to make sure we had everything we could want or need. The accommodations were clean and comfortable, unique and private in a country setting just outside of town. Breakfast was prompt and delicious, something new each morning. Very impressive! Thank you, Tommy and Roxanne!
Lindsay
2014-10-15T00:00:00Z
Tipo de Acomodação
Casa/apto inteiro
---
Tipo de Imóvel
Apartamento
---
Acomoda
4
---
Quartos
Cedar Creek, Texas, Estados Unidos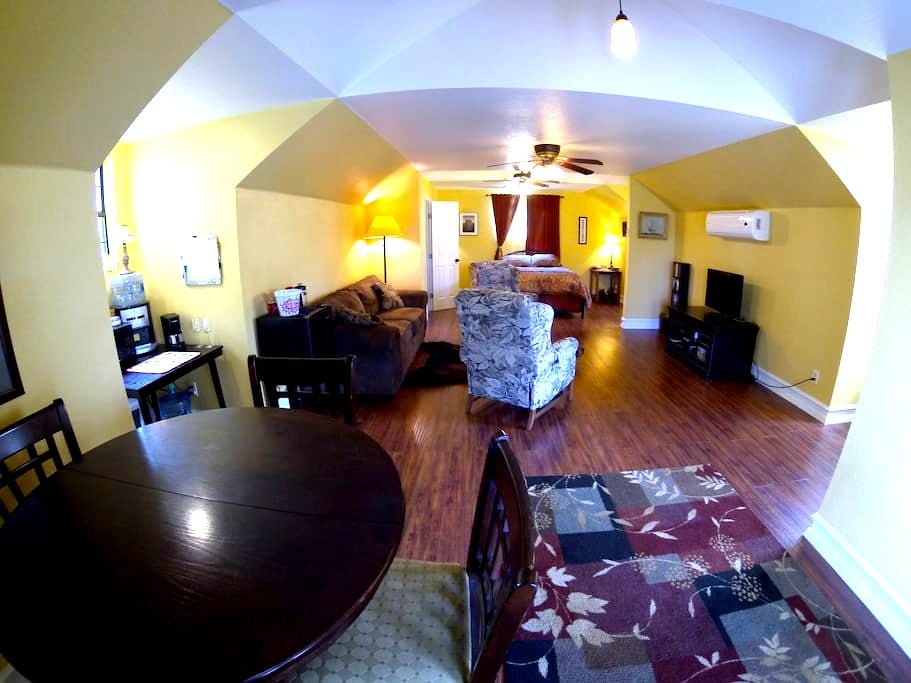 Tipo de Acomodação
Casa/apto inteiro
---
Tipo de Imóvel
Apartamento
---
Acomoda
3
---
Quartos
Cedar Creek, Texas, Estados Unidos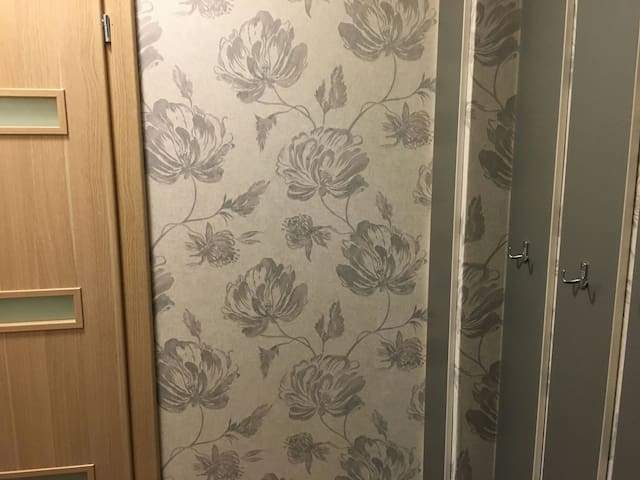 *FIRST FLOOR APARTMENT! No stairs! *4 beds *full washer and dryer INSIDE apartment! *full kitchen * Fiber high speed internet *bars and restaurants, grocery stores, shopping strip mall right next door and across the street *3 miles from 6th street *hiking trails in complex *hot tub and pool with views
If you want the real feel of Austin this is the perfect space! Austin is all about having fun and being happy! Gorgeous apartment located in the greenbelt with breath taking views. This home is colorful and vibrant. Every room has a meaning and is designed to ensure happiness, love and prosperity. There's a fountain right in front of the patio so you can LISTEN TO THE WATERFALL FROM EVERY ROOM. In the back you have the greenbelt where you can swim and hike and in the front you have restaurants, bars, retail and grocery stores. Fiber high speed internet Full washer and dryer 4 beds (all beds have a thick memory foam mattress toppers for added comfort) Office/ meditation room Two full bathrooms All bath and body essentials Full kitchen with appliances and cooking supplies Two TVS, one roku and chrome cast
Literally, over 10 restaurants right next door and across the street! Olive Garden, Pluckers, Red lobster, Vietnamese food, Asian fusion, Mexican, Seafood, sports bars, In and Out burger, Kerby Lane and other Austin original bars and restaurants! All steps away! Get groceries at Sprouts right next door! As well as a shopping mall with stores like Target, Hobby Lobby, Wheatville Coop, a liquor store, Savers MANY MORE! Walk down the street and it's about 30 more bars and restaurants, live music right on South Lamar every night of the week! Keep walking and you're downtown!!!! 6th street 3 miles away Zilker park 2 miles away Greenbelt Zero miles away Auditorium Shores 2 miles away Twin falls 2 miles away (located in the green belt, you can hike through the trail that starts in the complex or drive there)
Great place to stay at! Host was very helpful and communicated well. A clean apartment, with comfy beds. Lots to do in the area!
Gary
2017-03-19T00:00:00Z
Stephanie is so sweet and awesome. She is very accommodating and easy to get in touch with. Her place is so cute and close to a lot of different restaurants and stores. For my first time visiting Austin she didn't let me down! Will definitely stay again when I come back!
Tiffaney
2017-04-09T00:00:00Z
Tipo de Acomodação
Casa/apto inteiro
---
Tipo de Imóvel
Apartamento
---
Acomoda
6
---
Quartos
Austin, Texas, Estados Unidos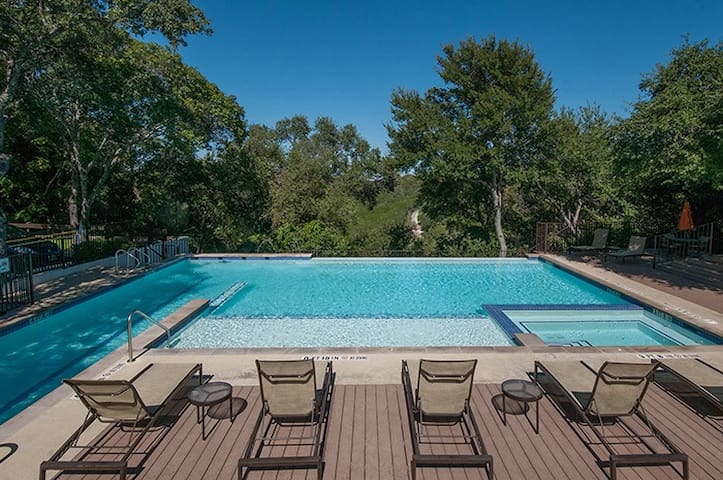 This is a great beautifully decorated comfy cozy apt with a great view....especially for sunsets and sunrises. Lots of natural lighting.
The host canceled this reservation 24 days before arrival. This is an automated posting.
Joel
2017-03-26T00:00:00Z
Tipo de Acomodação
Casa/apto inteiro
---
Tipo de Imóvel
Apartamento
---
Acomoda
2
---
Quartos
Austin, Texas, Estados Unidos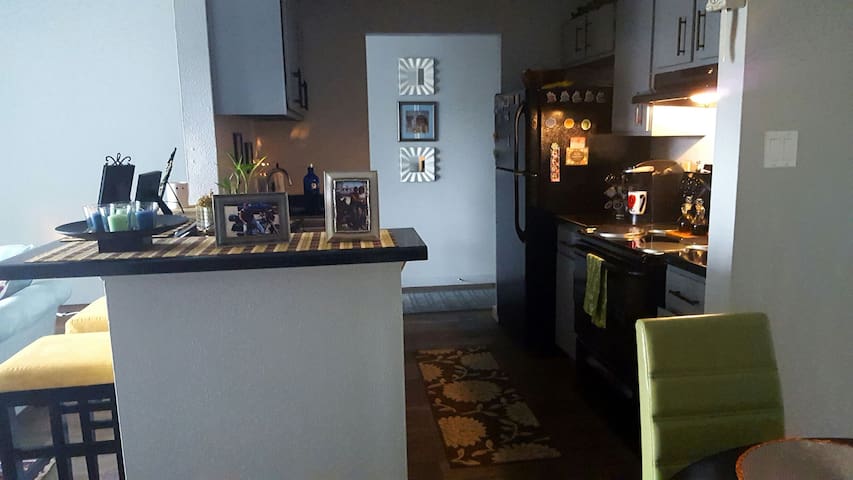 Hi Guys, and welcome to my home! I live in a studio with a view of downtown, just 1 mile from all of the action. From my apartment, you can walk down the boardwalk to get a nice view of the city, or stroll by town lake to get some fresh air. There are a lot of dogs around which is always a plus in my book! My apartment has a pool as well as a fitness center, and a rooftop patio just down the hall. I would love for you to come and stay!
Nice place. Very Modern. Pull out a bit uncomfortable. Oh and she has all of the Harry Potter movies!
Andrew
2017-03-26T00:00:00Z
Great place to stay for a weekend trip to Austin. Sarah was an awesome host with great communication. Would definitely recommend a stay to others looking for a nice place within 10 minutes of downtown Austin.
CJ
2017-03-25T00:00:00Z
Tipo de Acomodação
Casa/apto inteiro
---
Tipo de Imóvel
Apartamento
---
Acomoda
3
---
Quartos
Austin, Texas, Estados Unidos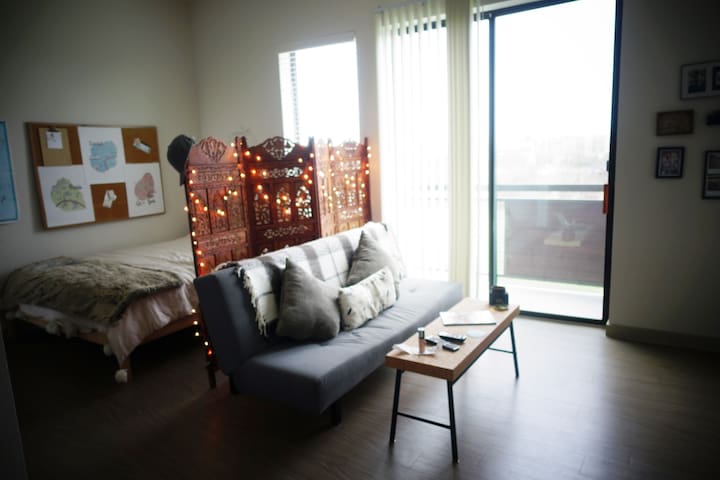 Welcome to this spacious 1 bedroom apartment surrounded by trees. Located in the heart of Austin's hip 78704 zip code, this space offers tons of natural light, a comfy queen-size bed and all the essential amenities you need for a comfortable stay. Wifi, a fully-stocked kitchen, hardwood floors, a fireplace and an ultra quiet complex are just a few things this great space offers. I offer a self check-in so you are welcome to arrive anytime after the check-in time that's convenient for you.
This complex is tucked away in the trees and yet close to iconic Austin spots such as the SOCO shopping area and several food truck parks.
We are within walking distance to a few cool bars, a wine hang out lounge, a rock climbing gym, a couple taco trucks, some good restaurants and one of Austin's most popular coffee shops. All the fun, Austin spots such as SOCO, 6th Street, Barton Springs, the 360 Bridge and Zilker Park are within a 15 minute drive.
I booked late in the day, and Sarah responded immediately and made the check in very simple. The space is exactly as advertised. It was clean and quiet. The location is ideal for someone that wants easy access to downtown or the South Congress area. I would definitely recommend Sarah's place.
Todd
2016-11-16T00:00:00Z
Great experience here. Host was very responsive and helpful. Place was easy to find, and close to a lot of activities near South Austin. Appliances are a little old, but they still work for the most part. 10/10 would AirBnB this place again
Richard
2016-09-25T00:00:00Z
Nice and cozy place! Host was easily accessible via phone and text.
Yu
2016-11-21T00:00:00Z
Really enjoyed my stay. Perfect location and quiet. Close to everything I needed. Sarah was very helpful!
Amanda
2017-02-27T00:00:00Z
The apartment was cute and located close to bars and restaurants. Sarah was kind enough to leave some food and drinks in the refrigerator for us, if we wanted. The apartment was clean and nicely decorated. We would stay at Sarah's home again.
Patricia
2017-02-25T00:00:00Z
Great value and good location. Host was very responsive and home was nice.
Matthew
2017-02-15T00:00:00Z
Amazing location, 10 minutes from downtown. The neighborhood was really cozy. It was nice to come back to a quiet place with nice views of nature.
Parand
2017-03-18T00:00:00Z
Sarah belongs to the category of hosts (not the most numerous group on airbnb), who actually thought in advance about your staying. Little things like a corkscrew, iron, and even marshmallow near the fireplace. Of course this is not the full list. The kitchen is well equipped with, only laundry is absent. I dont know how close this place to public transport, but with the car everything is close. And city-center, and stores. the parking place is easy and safe. Ow...a fireplace! it was a wonderful moment of relaxation in the middle of our trip. And we slept there very well.
Arthur
2017-01-07T00:00:00Z
Tipo de Acomodação
Casa/apto inteiro
---
Tipo de Imóvel
Apartamento
---
Acomoda
4
---
Quartos
Austin, Texas, Estados Unidos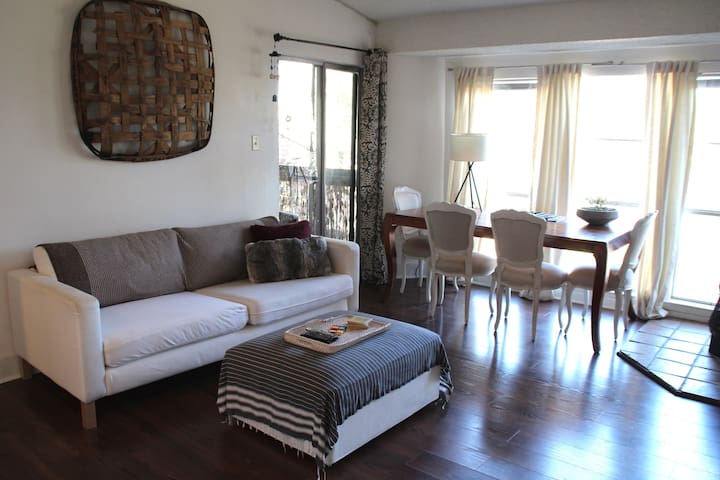 My place is a small, private studio apartment in W. Campus. You'll love it because of its central location near lots of amenities: U.T., the Blanton, Pease Park, Fresh Plus Groceries, and many Cap Met bus routes. My place is good for 1-3 travelers. For those who are looking for newer amenities, my apartment is in an older building. But if, like me, you prefer hardwood floors and a casual environment, then you have found a steal.
Small studio apartment with one bed, a kitchen, and a couch in case you want to add a friend! As of 3/25/2017, my apartment now has wifi.
West Campus is an old neighborhood, but it has lots of amenities: coffee shops, restaurants, etc. Just ask me for recommendations and I'm happy to help.
Great charming place. The building is quite old but the place is well maintained. There's unfortunately no wifi but one of the neighbors was kind enough to let me use theirs.
Quark
2017-03-15T00:00:00Z
Cute and simple studio apt-- perfect for our visit to sxsw! We were super excited about being close enough to walk to most of our shows for the week! Kimberly is great, too!
Melissa
2017-03-19T00:00:00Z
I had a great time staying at Kimberly's place! If you're looking for a private apartment for an affordable price that's in a great location, this is a very good option. The location is great, so many restaurants, bars, etc. that are in walking distance. The room is cozy and accommodating as well. Honestly, the bed was probably more comfortable than my bed at home, and the host keeps the place well-stocked with an eclectic mix of books to read. Kimberly was also a great host, offering a trove of recommendations on things to do in Austin.
Dennis
2017-03-28T00:00:00Z
Tipo de Acomodação
Casa/apto inteiro
---
Tipo de Imóvel
Apartamento
---
Acomoda
2
---
Quartos
Austin, Texas, Estados Unidos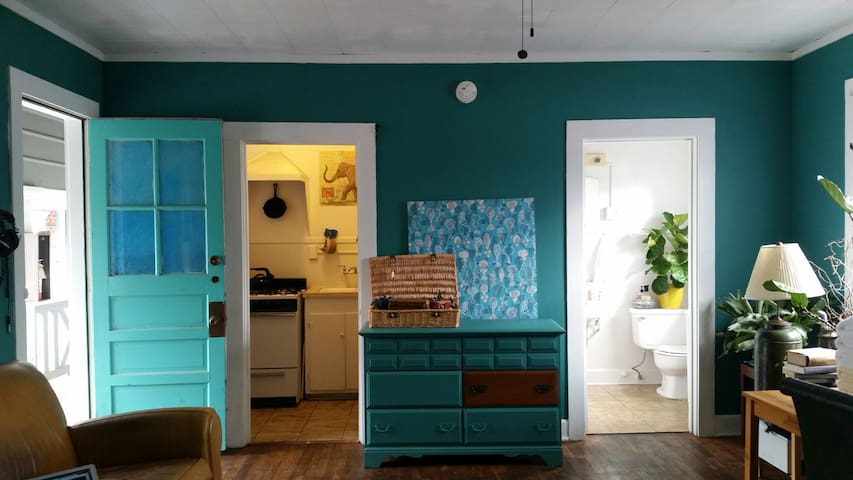 Located on South First Street, this modern apartment is the perfect spot to keep you close to the action of all the major events. Bus, bike, cab, Car2Go, Ride-Share options - all 5 minutes to downtown, Auditorium Shores and Zilker Park.
This is a great apartment in the heart of the '04! Austin's friendliest neighbors, tucked away in a convenient complex just outside of downtown. Complex pool available 24 hours (as long as you aren't being rowdy.)
Great gastropub right across the street and easy access to downtown, Zilker Park and Auditorium Shores. Just off of the main road that leads to the race track as well.
Our stay was great. Was exactly as described in description. Was very clean and very nice to stay. Was even better due to it being close to downtown and to the highway. Would definitely recommend staying here.
Saad
2016-01-31T00:00:00Z
Great place to stay!
Alejandro
2016-12-04T00:00:00Z
Very good at getting back to us if we had any questions or anything. Very clean and nice!
Tori
2016-07-05T00:00:00Z
Annie set us up with all the essentials for home needs as well as stuff to do and free events for our sxsw experience, we fit a group in this spot and we managed to make it work with an air mattress. Saved a lot of money with kitchen instead of eating out and overall just a great first Texas experience. Great host and was always available for any help we needed. Highly recommended
James
2015-03-22T00:00:00Z
The Airbnb was perfect!! It was everything described. The location was perfect for ACL and downtown! The apartment was very clean and even was provided snacks. Would definitely use Annie again for Airbnb! - Rooz Makvandi
Roozbeh
2016-10-09T00:00:00Z
Great location. Good place to stay if you are going to be out and about for your stay. Annie is a great host.
Raul
2017-02-19T00:00:00Z
Annie was a great host and the apartment was perfect for a weekend stay in Austin! Thanks Annie!
Wesley
2017-02-05T00:00:00Z
We had a great stay. The apartment was clean and well maintained. Communication was great with Annie and we loved that she left us granola bars.
Nikitha
2017-02-12T00:00:00Z
Tipo de Acomodação
Casa/apto inteiro
---
Tipo de Imóvel
Apartamento
---
Acomoda
4
---
Quartos
Austin, Texas, Estados Unidos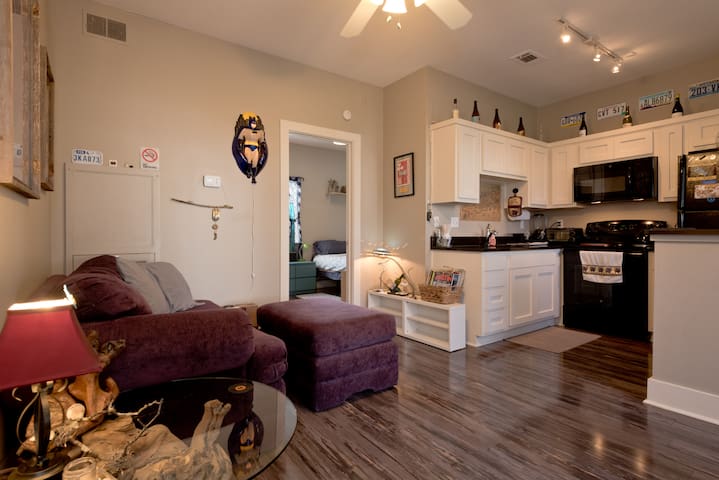 -Huge living room -Washer/Dryer in the apartment -Huge Closet -Private bathroom Bathroom -2 min to food trucks, convenience store, 7/11, in n out -10 minutes from downtown and/or UT Austin
Tipo de Acomodação
Quarto inteiro
---
Tipo de Imóvel
Apartamento
---
Acomoda
2
---
Quartos
Austin, Texas, Estados Unidos
Imagine stepping out of an apartment and doing everything you wanted to do in Austin. Our apartment is located in the exact right spot to let you do just that. 1 bedroom 1 bath fully furnished with washer and dyer in the property, cable tv, wifi.
Our apartment is walking distance to Lady Bird Lake, great walking views, and lots to do. Not to mention we are walking distance to downtown Austin and many many live music venues. *Available for ACL*
Travis Heights is locally known as the coolest place in Austin.
Host's downstairs tenant met us when we arrived, gave us a key and showed us around. The apartment in a subdivided carriage house up a set of homemade-looking stairs. While the property is in a charming neighborhood with great proximity to Lady Bird Lake and the greenbelt trails/boardwalk, it does not have the waterfront view as suggested by the main photograph. The bed in the bedroom was very comfortable and the shower head was new. The bathroom and kitchen fixtures were clean, but the overall condition of the apartment was poor, so we left a day early. It would be fine for a crash pad if you are attending a music festival.
Jean
2015-11-28T00:00:00Z
Great location - a nice walk to South Congress or across the bridge. Easy access to everything. Easy communication with Bret, property was accurately listed and it was a great value for one person, compared to hotels. I would definitely stay again.
Nancy
2015-05-04T00:00:00Z
Our contact person was very responsive and helpful and the location of this apartment was superb. If you are travelling with a dog, (we were not), there is a very popular dog park right down the block. However, if you are staying with three or more people and/or you are travelling in the winter, you should be warned that there is no central heat in the apartment, and the space heater that is provided for the living room is not adequate. This meant that our third guest, who was sleeping on the futon in the living room, was sleeping in several layers to stay as warm as possible. We eventually opted to open the bedroom door to allow the heat to circulate, but even that did not adequately heat the living room to a comfortable temperature. As we learned on our trip, winter nights in Austin can drop below freezing, and I think these quarters are hardly habitable for such weather, or at least, guests should be warned in advance, which is what I'm attempting to do. It is a low price and a great location for biking, but in the winter, it feels more like a cabin than an apartment. In fact, it is located on the lower floor of what appears to be a converted garage or outbuilding, located behind another house, with another apartment on top, which was not clear to me from the listing. Happy travels!
Gloria
2015-01-08T00:00:00Z
The location was wonderful! It was very close to downtown and had plenty of street parking (free!). I had a large vehicle, so parking up into their parking area wasn't very logical as it's a bit cramped, but the street parking was fine. I highly recommend taking the bus in if wanting to do anything right in the heart of downtown (as there's no parking anywhere!) or riding a bike. The bus stop is right at the street close by. The place was lacking a bit compared to many other places I've stayed and could use a bit of a deep cleaning, but overall it had what we needed, plus some extra nice touches like a bottle of wine, some drinks and such. The internet speed was very slow, so I'm glad I wasn't there to work like normal. The cable box also didn't quite work for all channels which got frustrating when having to use my cell data to watch TWD. The host had a tenant give me the key and for the most part, they were both easy to communicate with.
Suzanne
2015-11-05T00:00:00Z
The apartment was as described and very clean. Bret is very responsive, and Megan was there to greet me/let me in right when I arrived. The location is one which will require a little bit of walking to get into the downtown area or south Congress. But I do look to walk (not drive) any new city I set out to see, so this didn't bother me in the least. I highly recommend this place for an individual or a couple looking for a place to stay in Austin.
Ray
2015-10-17T00:00:00Z
The place was in a great location - walkable to downtown to great restaurants and bars. You can't see the water from the apartment, so don't expect this going into it. If I were to describe the place in 4 words I'd say it's a "college guy's bachelor pad." It's not very homey but if you aren't going to spend much time there, it's not a big deal. WiFi connection is poor. It's quiet and tucked away in a nice neighborhood. Bret was easy to work with and offered great local recommendations. We had a great stay!
Meghan
2016-11-19T00:00:00Z
The host(s) were very friendly and prompt. They were very easy to work with in terms of check in \ check out. All in all an excellent experience
Matt
2015-03-30T00:00:00Z
Apt. is about 10 minute walk to access the riverwalk, river is only 100 feet away, you just can't get to it due to fences A/C worked well enough Bed was too soft for me, just a personal thing Quick access to fwy and downtown Host called back immediately when we needed him
Mike
2015-09-07T00:00:00Z
Tipo de Acomodação
Casa/apto inteiro
---
Tipo de Imóvel
Apartamento
---
Acomoda
4
---
Quartos
Austin, Texas, Estados Unidos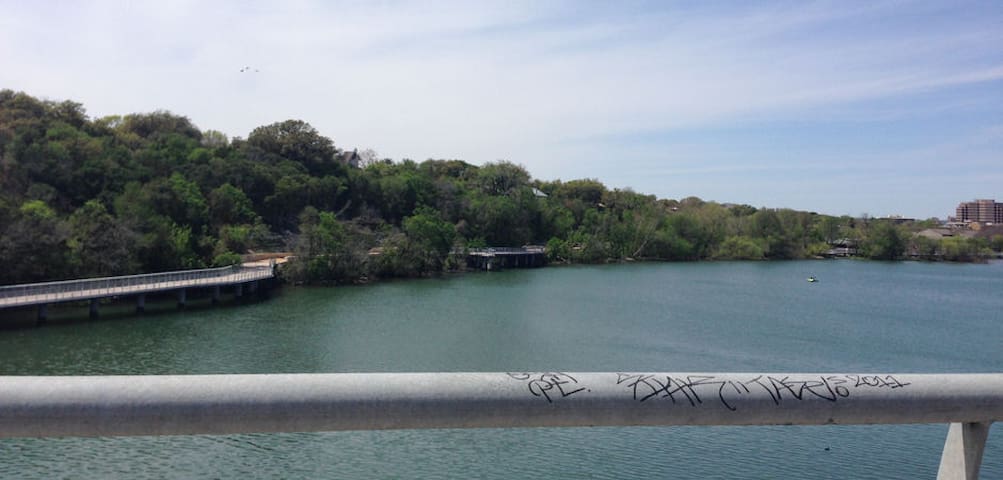 Would love to have you stay in my self-contained studio north central Austin. It's a converted 1st floor office space so it is a big wide open 700 sq ft room with full private bathroom/shower. Queen bed with new Casper mattress and Brooklinen bedding. Theres is a small refrigerator, microwave, Keurig coffee/tea, 60" tv, fast internet for work or Netflixing, and reserved parking spot in garage. *If you can give me a little information on check-in I can usually accommodate most times.
If you don't know the North Loop neighborhood you are in for a treat. More bars and restaurants are popping up all the time. It is ten minutes downtown or a $12 Uber to West 6th. It is about 3/4 of a mile to Central Market and about 10-12 minutes to the Domain where a lot of new bars and restaurants are in addition to the neighborhood spots.
Had a great stay at this Airbnb. Really great location and very easy access. Our host was attentive without being overbearing and very helpful when the need arrived.
Lorenzo
2016-09-15T00:00:00Z
First and foremost, good communication in a business environment such as Airbnb is a requirement. Nicholas was, without a doubt, ON POINT. I had no trouble finding his place, Nick greets me as soon as arriving. Showed me the accommodations, asked if I needed anything, and shortly thereafter left me with my privacy. The cleanliness of his place was unquestionably impeccable. He provides amenities such as coffee, a much needed plus every morning :-D and Netflix. As long as Nick welcomes me again, I hope to be one of his regulars.
Santiago
2016-08-29T00:00:00Z
Nick exceeded the expectations we had for our 5 day stay. Quick and caring communication, easy connectivity to WiFi and TV and a lovely clean apartment. He was prompt to respond to any questions we had or any help we needed. He even checked in on us periodically to see if everything was working appropriately. If you are traveling with someone or are visiting by yourself, this charming/low-key pad is a must.
Frank
2016-10-02T00:00:00Z
The apartment was perfect for our first visit to Austin! Nic was extremely hospitable, accommodating, and welcoming host! He was extremely responsive to questions we had before and during our stay! We would definitely stay here again!!
Rachel
2016-10-26T00:00:00Z
Great space! Private and spacious. Nicholas was an excellent host. Nice welcoming touches and was always in communication to make sure we were having a good stay with great suggestions for food/drink etc. Area is great. A little off of dt but great restaurants and bars and getting dt is cheap. Would highly recommend staying here on a trip to Austin.
Michelle
2016-10-04T00:00:00Z
Nic's place is in a wonderful location- one of the rare places in Austin where you can be fine without a rental car. Plus, Nic is a very nice host- he provided clear check-in instructions for our stay, and communicated well to make sure that we're comfortable. I would definitely recommend Nic and his place!
Maya
2017-03-28T00:00:00Z
One of the reasons I love using Airbnb is the opportunity to stay at unique places and Nic'a place did not disappoint. As a converted office space it was large and airy with tall ceilings. Large bathroom and great entertainment system. While not right in the downtown core easy access to transit made getting around easy and inexpensive. It does not have a full kitchen but coffee maker, fridge and microwave are more than sufficient. Would definitely stay there again
Charmaine
2017-02-20T00:00:00Z
Nic's place far exceeded our expectations. It was very clean, spacious, and looked just like the pictures. Location was pretty convenient with just a short drive to downtown. The amenities were top notch! Huge TV with Amazon Fire TV Stick, nice Keurig with lots of K-cups, and the bed was very comfortable. Nic was a great host, and met us in the parking garage as we checked-in. He also texted us half way through our stay to make sure everything was going okay. I would recommend his place to anyone, and would definitely stay there again.
Jason
2017-03-24T00:00:00Z
Tipo de Acomodação
Casa/apto inteiro
---
Tipo de Imóvel
Apartamento
---
Acomoda
2
---
Quartos
Austin, Texas, Estados Unidos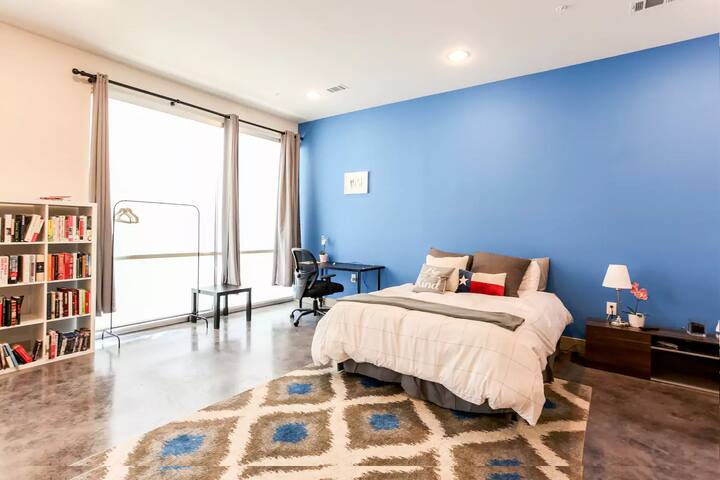 Furnished private bed and bath in 3/3 apartment. Gated community with pool, computer room and gym. Guest parking available right down the stairs
On spot washer and dryers.
Student community
Tipo de Acomodação
Quarto inteiro
---
Tipo de Imóvel
Apartamento
---
Acomoda
2
---
Quartos
Austin, Texas, Estados Unidos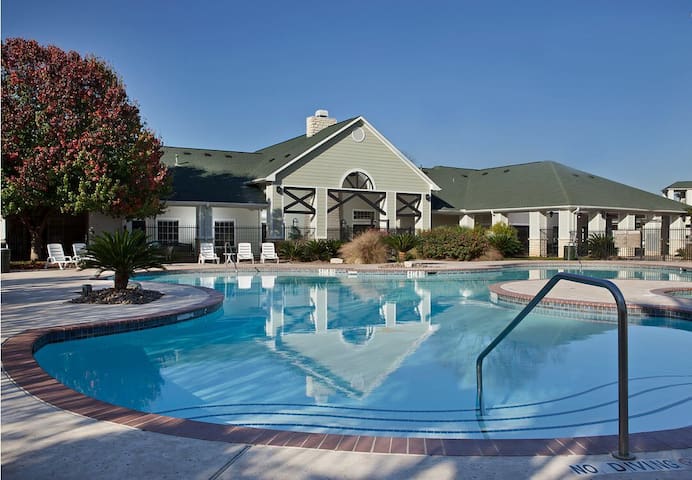 My place is good for couples, solo adventurers, business travelers, and big groups. Very modern feel and NEST controlled heat and AC to keep you comfy. Off the beaten path so very quiet but the easiest access to both downtown (3 miles) and the airport (4 miles) you can imagine (The former is why I chose this location.)
It's swanky, spacious, safe and a great deal. Plus you can look at my marathon medals.
It is secluded and in an up and coming area that will be swamped in the next year. As for now, however, you feel very much like you are in the suburbs but only 3 miles away.
We had a great stay at Danes place. Any time I had a question, he was really quick to respond and that's a plus! Hours after checking out, I realized I had left some belongings behind; Dane was so kind and understanding I was able to return and retrieve my belongings with no problem. If Danes place is available the next time I'm in Austin, I would definitely stay here again.
Boneta
2017-03-19T00:00:00Z
A hip, loft-like feel and only a few miles to the heart of downtown Austin. I'd definitely book this place again on a future trip to Austin.
Stephen
2017-03-14T00:00:00Z
Tipo de Acomodação
Casa/apto inteiro
---
Tipo de Imóvel
Apartamento
---
Acomoda
3
---
Quartos
Austin, Texas, Estados Unidos
Please note: brand new high quality sleeper sofa from Scandinavian Furniture arriving week of August 15 to replace former sleeper sofa. Now a good night's sleep assured! Charming, new construction, modern space, beautiful tiled bathroom with full shower. Separate entrance, comfortable deck with luxurious furniture. Lots of books to read, TV, DVD player, wifi, small fridge.
Close to everything fun about Austin. Great restaurants, Barton Springs, easy access to downtown. Close to ACL, SXSW and airport. Easy street parking in quiet neighborhood. Outdoor seating area is lovely for listening to the crickets.
Closer to everything wonderful and funky about Austin
Great experience! Wonderful lodgings, host and location. Highly recommend!
Rachel
2015-11-08T00:00:00Z
Very easy check in. Catherine was very accommodating. Lovely space! Great for our weekend visit to Austin. Would definitely stay here again!
Christofer
2016-10-10T00:00:00Z
I visited the Blue Casita during SXSW '16. It's located a few minutes away from downtown. I usually paid 10$ using Lyft/Uber to get to the convention center - it's a 10 minutes ride. The appartement is nice and tidy & offers everything you need and the neighborhood feels safe. Catherine was a great host & very uncomplicated. We didn't see much of each other as i always came late and always left early morning (SXSW) - but she always offered her help with anything.
Morris
2016-03-20T00:00:00Z
Catherine's place was perfect for my quick trip to Austin. It was clean, cozy and comfortable. The bathroom is absolutely beautiful, as the pictures show. The patio area is also lovely, which I was too busy to enjoy unfortunately. The location is great, too. Close to the airport, South Congress, etc. the neighborhood is quiet and has a great coffee shop/taco truck within walking distance. I highly recommend staying here.
Allison
2015-09-13T00:00:00Z
Great location, very clean, convenient additions (water, coffee, etc.) and accommodating, friendly host. Pull-out sofa wasn't as comfortable as I hoped, but still not bad. Average wifi connection. No cable, but I didn't watch TV. Beautiful patio area to sit and work or drink coffee!
Courtney
2016-10-30T00:00:00Z
Cathy was a great host. She went out of her way to make sure we had everything we needed, at all times. The Casita is not attached to the main dwelling, so you have the feeling of having your own place, with separate entrance. At the same time, the back yard deck (which is huge and so cool!), that is shared with the house, provides a nice communal area to relax if you are feeling social. The place is clean, modern, and very tastefully decorated. The beautiful tile shower, and bathroom as a whole, has he the feeling of a 4-star hotel. We loved the privacy and the quiet of the Casita…Lots of big green trees in the backyard and soothing sounds of nature. It is brand new construction, and the little details like the mini-fridge and Keurig Coffee Maker have the place feel like a home away from home. We can't emphasize how quiet and comfortable it is. The air-conditioning is powerful and silent, and was always at the prefect temperature. We really needed some good rest on this trip from all of our Austin activities, and Cathy's Casita was exactly what we needed.
Michelle
2015-06-04T00:00:00Z
Our accommodations were quaint and very close to many of the spots we wanted to see. The neighborhood was nice and quiet, and the casita was clean and filled with a wide range of books.
Alan
2015-10-27T00:00:00Z
What a lovely host! Enjoyed our stay to the max!!!
Jan
2016-06-30T00:00:00Z
Tipo de Acomodação
Casa/apto inteiro
---
Tipo de Imóvel
Apartamento
---
Acomoda
2
---
Quartos
Austin, Texas, Estados Unidos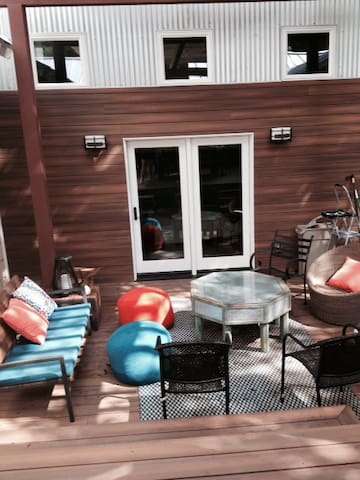 Our place is a cozy, fully-furnished second-floor garage apartment in Tarrytown, one of the premier neighborhoods in West Austin. Our place would be perfect for couples, solo adventurer and business travelers. Minutes away from Lake Austin (Mozart's Coffeeshop and Hula Hut), Lion's Golf Course, downtown amenities, and more!
I've stayed at a lot of air B&B is and this place was amazing. The loft was brand new look like a just got finished everything was clean and sparkly and it had a dishwasher and stove and really nice shower and modern lighting vaulted ceilings really nice air conditioning beautiful little breakfast patio like seriously this place was amazing. The host were so friendly it was breathtaking they left muffins and little treats outside our door every morning and what a cute little family. Please support this young couple and I am very thankful for them opening up there beautiful home to us for our stay. I highly recommend these people and couldn't be happier with the air B&B experience.
Roger
2016-11-07T00:00:00Z
Staying at Heejei and Dans place has been my best experience with airbnb thus far. The place is better than the photos and if I ever return to Austin I plan to stay here again. Everything was clean, prepared well, kitchen was fully stocked, there was cable TV, and they would drop by amazing banana nut muffins, cookies on arrival, and scones. The couple was very accommodating and was able to help us when needed. This place is a real gem!
Goli
2017-03-10T00:00:00Z
Heejei was an excellent host. She is very quick to respond or help with any questions you many have. The place is very clean and comfy and even has everything you need to cook a meal. We were happy we chose to stay here!
Vanessa
2017-01-08T00:00:00Z
This has far and away been the best Airbnb experience I've had. Heejei and her family were very lovely and welcoming, giving us plenty of dining suggestions on where to eat and look around. The apartment is located on the back lot of their house and offers plenty of privacy and amenities. On our first morning Heejei left us homemade scones for breakfast, and the kitchen comes with a keurig and a selection of tea and coffee, so we were set until we made it downtown. The only downside is that's it's a little far from downtown, but luckily there is a bus stop that straight shoots downtown less than a block away. And if you have the cash we found Ride Austin to be really reliable and affordable. I could not recommend staying here highly enough!
Joshua
2017-02-14T00:00:00Z
One could not ask for a kinder or more attentive host than Heejei. Our stay, from beginning to end, was superb! The location was terrific and the setting of the stand alone apartment was beautiful. From the well appointed kitchen to the comfortable bedroom and ample bathroom (with amenities), we could not have asked for anything more.
Nancy
2017-02-25T00:00:00Z
Heejei's place was very clean, private and located perfectly. We would definitely stay again.
Alli
2017-04-04T00:00:00Z
Heejei was a fantastic host, she made me feel right at home with homemade banana muffins and chocolate chip cookies. I was in town for business and the apartment is incredibly well appointed and spacious in a wonderful, quiet neighborhood. The bed is incredibly comfortable. I highly recommend Heejei's place to anyone looking to stay in Austin for business or fun.
Jori
2017-03-13T00:00:00Z
This is an adorable, well equipped and well designed apt in a great location accessible to all parts of Austin. It was perfect.
Jane
2016-12-08T00:00:00Z
Tipo de Acomodação
Casa/apto inteiro
---
Tipo de Imóvel
Apartamento
---
Acomoda
2
---
Quartos
Austin, Texas, Estados Unidos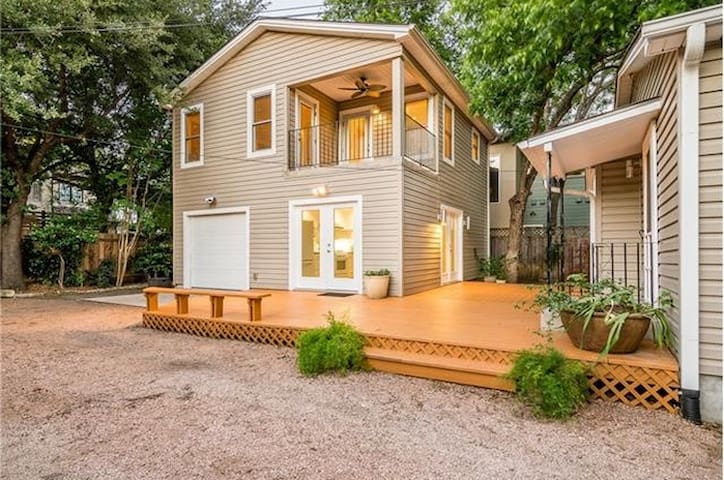 3 miles from downtown Austin, my apartment can accommodate up to 6 people! There's a bus stop right in front of the building. We have a parking garage attached to the building with an elevator. A pool, grill and gym are available too. -Please only request to book if you have at least one positive review. -Please click "Contact Host" to send me a message inquiring about your trip before attempting to book. Thank you!
I have a queen bed, a fold out queen size futon, a queen size air mattress (if required) so my space could comfortably sleep 6 people. A free to use parking garage attached to the building with plenty of space. There's an elevator available.
I live right next to the 290 and I35, downtown is 3 miles away. SOCO is right up the street and I'm just below St. Edwards University.
Tipo de Acomodação
Casa/apto inteiro
---
Tipo de Imóvel
Apartamento
---
Acomoda
6
---
Quartos
Austin, Texas, Estados Unidos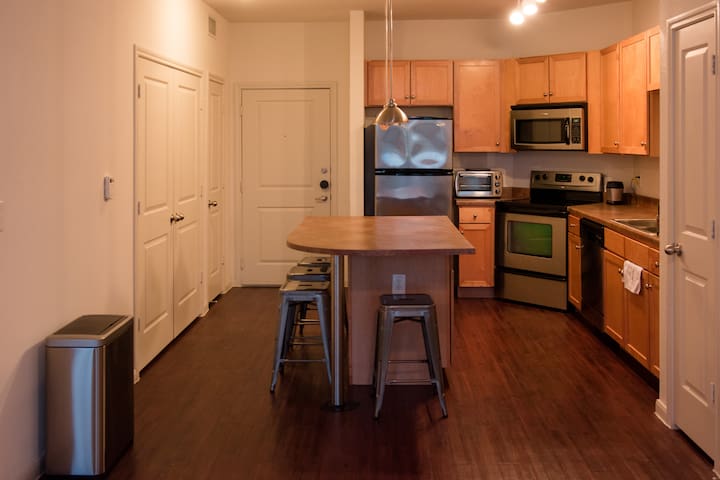 This comfortable studio apartment is located a block from the city lake. Trails run along the river all the way downtown. Downtown is a short 8-10 min drive or 15-20 min bike ride. Everything you need should be available with a full kitchen. Grocery stores, coffee shops, bars and bus stops are all minutes away. Welcome to Austin
Personal artistic style and comfortable home.
Very close to the lake and a quick drive to downtown.
Patrick was an awesome host; he was very accommodating and responsive. When I arrived to his lovely apartment, he met me with the keys, made sure I had everything I needed, and offered several recommendations to make my trip memorable. There was a frisbee golf park right around the corner, several restaurants, a grocery store, and public transportation for when I wanted to take a 10 minute ride downtown. Oh, and the best part was that he was a block from Lady Bird Lake! His apartment was exactly as pictured: cozy, clean, very artistically decorated, and perfect for me and my fiend. There were even flowers left on the table when arrived! He had a full kitchen with appliances, dishes, and cookware; which was nice because we cooked most of our meals at home. If I come back to Austin, I hope I will be able to stay at Patrick's place again!
Brendan
2017-03-20T00:00:00Z
This was my 3rd time to Austin as I fly out here every 3 months from Los Angeles to direct mini one night festivals that I curate @ Emo's on behalf of RAW Artists. Patrick's home was aesthetically pleasing, well kept, modern, and soul enriching. He was very attentive in his constant communication and incredibly accessible. Everything is pretty much in close distant and easy to get to. I found my new favorite home away from home :)
Tania
2017-03-26T00:00:00Z
Convenient location but small. We were out and about most of the time so that didn't matter to us. No appliances (such as coffee maker) but otherwise, enjoyed our stay!
Sarah
2017-03-15T00:00:00Z
Tipo de Acomodação
Casa/apto inteiro
---
Tipo de Imóvel
Apartamento
---
Acomoda
2
---
Quartos
Austin, Texas, Estados Unidos
Downtown modern luxury in this beautiful light-filled apartment. Large two bedrooms within walking distance to the Lady Bird Lake and the hoppin' downtown district. Great local restaurants, running trails, and paddle boarding. Superb weekend getaway.
This beautiful space is cool luxury with airy open planned main room and huge sunny balcony with outdoor seating. The master suite is white on white for romantically restful sleep. Master bath features a rockstar shower and enormous bath. Bedroom two has three twins and large batch and separate powder room. Large beautiful balcony at eye-level of some of Austin's most gorgeous live oaks gives you a fantastic perch to look out over the lake and the skyline.
Tipo de Acomodação
Casa/apto inteiro
---
Tipo de Imóvel
Apartamento
---
Acomoda
5
---
Quartos
Austin, Texas, Estados Unidos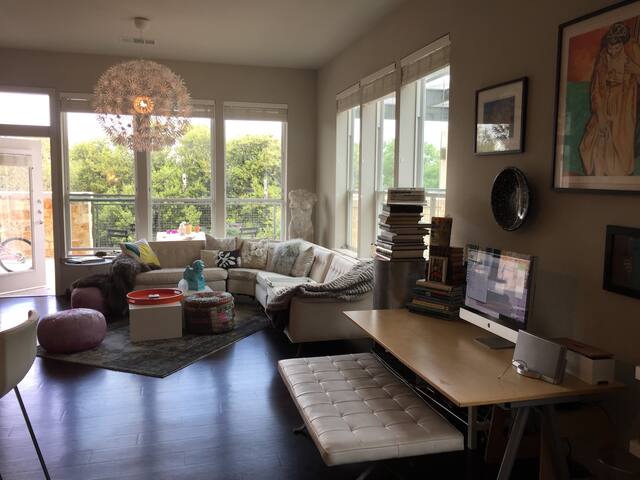 1

–

18

de

Mais de 300 Apartamentos para Alugar
Insira as datas para ver o preço total. Taxas adicionais serão aplicadas. Impostos podem ser adicionados.