Fully self contained bedsit with kitchenette with private ensuite in the forested hills on the outskirts of Cairns at Lake Placid, 15 mins from City. All linen supplied. Full size fridge and TV. King size bed. WIFI. Private pool. Quiet neighborhood. Use of washer and dryer. Wash powder supplied.
We are nestled among the trees so you may hear or see nocturnal critters and awaken to the sounds of birdsong.
This is a no through street, so virtually no night time traffic, and minimal during the day. The elevation provides a wonderful breeze from the rainforested hills behind our property.
For our last week in Australia, we met great hosts! Eve and his husband immediately make us feel better. They also propose to do activity with them. Thank you very much for your kindness. Moreover, the house is very nice and peaceful Alex and Carole.
Alexandre
2016-05-25T00:00:00Z
I can highly recommend Eve's place. It would particularly suit overseas guests searching for the real Cairns, quiet locals,a pole home set in the rainforest canopy (you can spot bird wing butterflies if you look out for them) and warm and welcoming hosts. The bed is large and comfortable, a shower with enviable water pressure and thoughtful food supplies staples supplied by Eve. The location allows for an easy drive to the Kuranda range and tablelands beyond. I came here on a business trip and will definitely return, whether it be for business or pleasure.
Ilve
2016-09-10T00:00:00Z
The room is wonderful, has plenty of space, the place is ideal and Eve is attentive to help you in whatever you need. The pool is amazing. Recommended at 100%
Maria
2017-01-07T00:00:00Z
Eve made my mum feel most welcome! the room was lovely and had everything my mum needed to make her stay enjoyable. The surroundings were beautiful!
Rebecca
2016-06-11T00:00:00Z
Eve and Peter are just wonderful people, and they made my stay very special. This was a luxurious and beautiful transition for me into Australia, after 2 months traveling in Indonesia/ Malaysia. They went out of their way to help me with transport and showed me a great time, sharing interesting parts of their lives with me. Their house is a gorgeous space, feels like a true retreat, and the room is just perfect. Comfortable, clean, quiet, immersed in nature. Slept great. You will be EXTREMELY lucky to have the chance to stay in this delightful space with such kind and genuine folks.
Julia
2016-08-17T00:00:00Z
This is a nice quite spot in the rain forest amongst the trees. Really lovely people made me feel at home. Very comfortable and fully self contained.
Tina
2016-05-16T00:00:00Z
Gorgeous room amongst the trees!
Laura
2016-09-25T00:00:00Z
We stayed at Peter and Eve's place for 2 nights before we flew home. It is a lovely bed/sit high up in the trees, lovely big bed and we loved the strawberries Eve left in the fridge. Great hosts and a nice quiet area. Thanks Eve and Peter
Josie
2016-09-23T00:00:00Z
Tipo de Acomodação
Quarto inteiro
---
Tipo de Imóvel
Casa
---
Acomoda
2
---
Quartos
Caravonica, Queensland, Austrália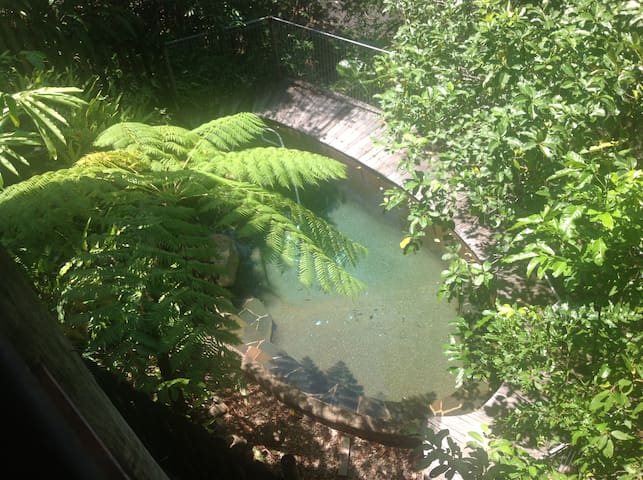 Located 5 KM from the JCU uni and Smithfield shopping centre with the picturesque lake Placid and the Barron river valley. This family home looks out over the valley with views of the city fringe and airport.
Resort style accommodation. Public transport facilities available. Close to Freshwater Kuranda Rail Station, Skyrail and Tjapukai, Smithfield Shopping centre and Northern Beaches, Barron Gorge and Crystal Cascades.
It's peacefulness, picturesque views of surrounding lakes, and wildlife from the national park.
Tipo de Acomodação
Quarto inteiro
---
Tipo de Imóvel
Casa
---
Acomoda
5
---
Quartos
Caravonica, Queensland, Austrália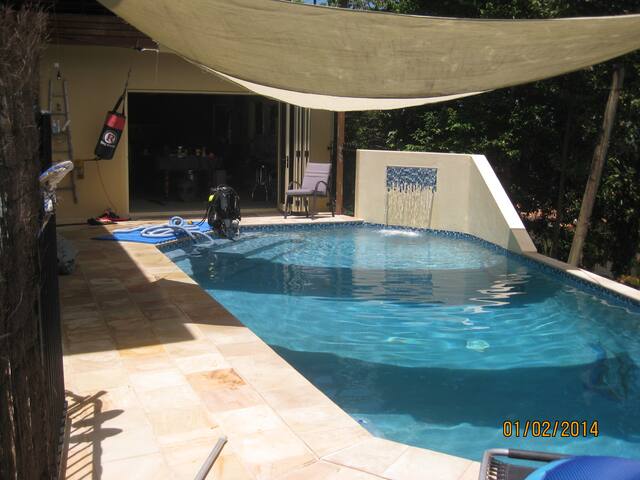 This place is a brand new home close to public transport (bus) and in walking distance to the Redlynch Central Shopping Centre. The owner lives overseas most of the year so the master bed and ensuite is locked off to visitors but 3 other bedrooms and separate bathroom, toilet, laundry, kitchen and dining / lounge area are all available for your exclusive use. The place really suits families looking for somewhere clean and secure to call home for their stay in Cairns.
My family stayed Rob's house for 4 nights.That was amazing and joyful experience. Location is quite convenient, about 5mins walking distance to Coles and Woolworth. As well as other attractions. Rob and his wife are both easy going and thoughtful person. Rob replied my email very quickly and provide some useful information for local sightseeing. It's our first experience with Airbnb. We are lucky to meet them!
Yuan
2017-02-06T00:00:00Z
Great place. Huge, bright and brand new. Short drive to Cairns. Shorther to the fantastic scenic Kuranda railway and skyrail. Excellent stay.
Michael
2017-03-07T00:00:00Z
Fantastic accommodation We were with 5 people in a great house! Hospitality and comfort have been unique!
Guenter
2017-02-13T00:00:00Z
If there were not other guests, we would have extended our stay. Very spacious and very clean. Redlynch shopping mall is just within walking distance of this house. Even though i turned off an airconditioner, it wasn't that hot. I think this house is in excellent condition compared with the rate!
Hyeyoung
2017-03-16T00:00:00Z
Very quiet house, with a back yard for the kids to play. Was extremely clean with basic necessities and air conditioning. Robert made sure we were taken care of when there was a possible cyclone coming. We would definitely stay here again.
Brent
2017-03-30T00:00:00Z
Everything we needed for a home away from home.
Sue-Ellen
2017-03-03T00:00:00Z
We had an awesome holidays in Cairns and the excellent accommodation in this house was a major factor in enhancing our overall experience . The house was in a central location with easy accessibility to all major attractions , just 15 minutes from Cairns , walk able distance from Red Lynch shopping center and yet away from all hustle and bustle in a quiet street with the majestic mountains as back drop. Rob was a good host and was very helpful and friendly . The house was literally a brand new one , very clean with quality furnishing and utensils . Awesome experience, great value for money and looking forward to coming back again :)
Binu
2017-01-01T00:00:00Z
Tipo de Acomodação
Casa/apto inteiro
---
Tipo de Imóvel
Casa
---
Acomoda
5
---
Quartos
Redlynch, Queensland, Austrália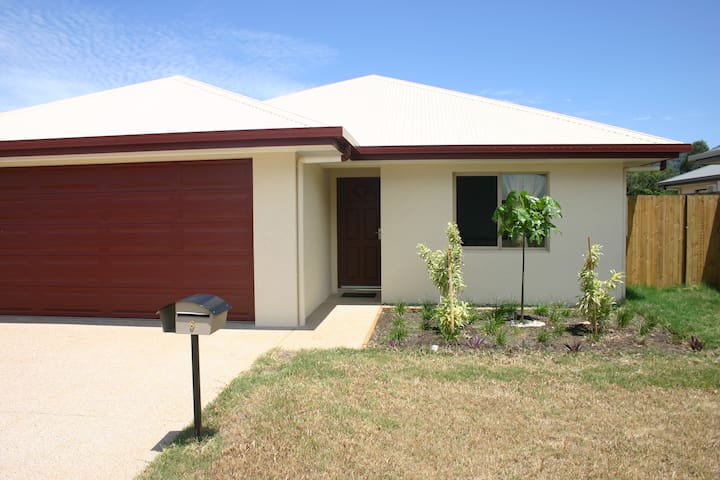 Ultra Modern Self Contained Studio Room/Apartment is downstairs. Very Private and separate from main house. Its the Perfect place to come back to and relax in your Own privacy after a big day out sightseeing etc.. Only 15 min drive to the City and 10 min to Airport. Includes all basic condiments to get you started such as Coffee. Tea Sugar. Milk, Yoghurt, Fresh Fruit & Local Raw Honey. Come Relax & Enjoy your stay.
Our Ultra Modern Studio Room / Apartment is downstairs and very private and separate from the main house. This is not a share house. Private ensuite. We are very welcoming but respectful of your privacy :) Queen Size ensemble Bed, Kitchenette, Private Ensuite, cupboard, Sofa lounge, TV. Aircon, Wifi, Netflix. Basic condiments and fresh towels / Linen. We do not have a washing machine, but have laundry soap and a clothes rack to hang out your clothes. We can also arrange to have your laundry done for you!
We live in a Quiet neighbourhood surrounded by luxury Homes. There is easy access to public transport and we are only 15 minutes to the City and 10 mins to the Beaches and Airport.
We had a lovely few days staying at Deb's place in Redlynch. Convenient location being close to a main connection road that takes you either into the city or out to the beaches. Lovely studio apartment, clean & modern & with everything we needed! We will definitely stay there again.
Sarah
2016-09-25T00:00:00Z
Deb's place was exactly what we needed for our stay in Cairns. Deb was a super helpful host and extremely accommodating to anything we needed. We did a Reef tour and a rainforest tour and the location was perfect. The place is private, comfortable, safe, and clean. It's very accurate to what we were expecting. We would definitely stay here again.
Emma
2017-03-30T00:00:00Z
Thank you Deb and Wayne for your hospitality. We loved staying at your beautiful place and you made us feel so welcome. Thank you Jess and Jayson
Jessica
2016-09-17T00:00:00Z
Tipo de Acomodação
Casa/apto inteiro
---
Tipo de Imóvel
Apartamento
---
Acomoda
4
---
Quartos
Redlynch, Queensland, Austrália
Nestled below the green hills of Tropical North Queensland, this little sanctuary is the perfect place to relax in paradise. Whether it's swimming in resort style pool, relaxing with a cold beer on the patio or chilling out in the air-conditioned room, this place embodies the Cairns way of life. Conveniently placed between the city centre and the northern beaches, you can easily travel in both directions via bus, car or be picked up by a tour company at the pick-up zone close by.
Nestled below the green hills of Tropical North Queensland, this little sanctuary is the perfect place to relax in paradise. Whether it's swimming in resort style pool, relaxing with a cold beer on the patio or just chilling out in your room, this place embodies the Cairns way of life. You can watch movies on Netflix or in your computer using our free wi-fi. You can cook your own meal in our kitchen. We can supply pans and cutting boards for you to cook. If you need more space we have a sofa-bed that you can use for a 3rd guest for a small extra fee. There is free parking on the street.
We live in Redlynch, which is a beautiful safe residential suburb near Freshwater Creek Valley in Cairns. We live 5 min drive away from the train station on the Kuranda railway and 5 min walk to the pick up zone for tours companies. The house is 15-20 min driving to the city centre where the Great Barrier Reef Terminal is and 5 min walking to the bus stop which takes around 30 min to the city centre. Want to know a secret? Well when you live in Tropical North Queensland the creeks and waterfalls offer MUCH more during our official 'wet' season. Redlynch backs on to the Barron Gorge National Park. It's only 10 min driving to Crystal Cascades and The Rocks, which is where the locals go for a swim. We also live 8 min drive away from Stony Creek Falls, in the middle of the rainforest, and 10 min walk to Freshwater Creek. Supermarket, cafes, bottle-shop are 5 min driving from here. 5 min walking to the local pub/restaurant. We are friends with a local travel agent, so if you need good prices to go to the Reef for diving or snorkeling, go to the Green Island or Fitzroy Island , Cape Tribulation, Kuranda, Tableland, etc. just let us know and we will put you in contact.
Claudias house is awesome ! Everything is so well decorated and the garden and pool are amazing. She and her boyfriend are so nice and her dog and her birds as well. I would highly recommend to stay here !!
Sophia
2017-01-09T00:00:00Z
Me and my boyfriend stayed at Claudia and Evans home and it was beautiful! They are both lovely hosts and very welcoming and helpful. They also have a lovely dog too . Their house is really clean and the bed is super comfy! Great place for relaxing after a hectic east coast trip! Claudia even kindly dropped us off at the airport which was a massive help! Would highly recommend and would definitely return if we go back to Cairns! Thank you both
Roseanne
2017-02-11T00:00:00Z
Totalmente recomendable. La casa es preciosa y Claudia nos ha cuidado muy bien. Solo pasamos una noche pero estamos muy contentos.
Teresa
2017-03-10T00:00:00Z
Todo perfecto!
Teresa
2017-03-29T00:00:00Z
The host canceled this reservation 30 days before arrival. This is an automated posting.
Joshua
2017-03-20T00:00:00Z
Claudia's place was awesome! Really comfy and clean room, nice bathroom, and the pool out back was perfect. Really great place to relax and recharge but still nice and close to get into the city. Overall very clean cosy- and great, friendly hosts. Would definitely book again!
Maddy
2017-01-18T00:00:00Z
Claudia picked us up at the airport which was something else to be honest <3 Thank you so much!!
Sara
2017-03-01T00:00:00Z
Claudia's house is AMAZING! She has this amazing pool with a beautiful cascade that you wake up feeling in the middle of the rain forest. Clean and beautiful house, nicely decorated, right next to the bus stop, very close to a beautiful cascade. She even offered me breakfasts! How lovely. Very kindly she helped me to get to her home and she picked me up from the airport. That was amazing! The bed was so comfortable and that pillow so nice to sleep. She has a beautiful little dog, very cute. Thank you very much for your amazing hosting. I really enjoyed it.
Liliana
2017-01-05T00:00:00Z
Tipo de Acomodação
Quarto inteiro
---
Tipo de Imóvel
Casa
---
Acomoda
3
---
Quartos
Redlynch, Queensland, Austrália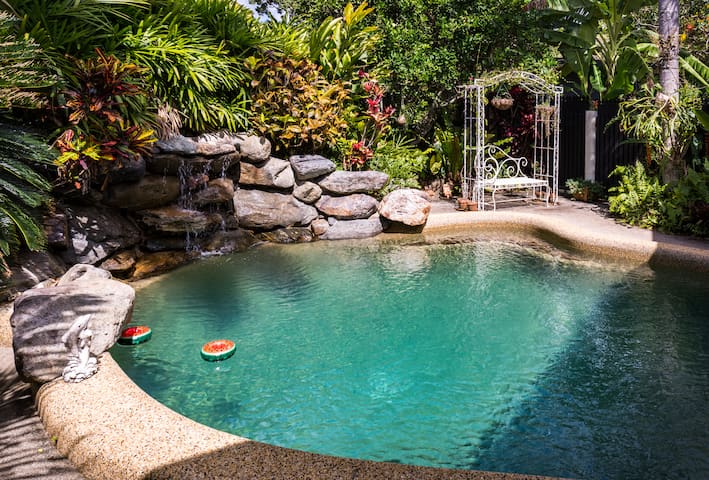 Escape & getaway is The Homestead. Family owned and managed: Featuring 2 Bedrooms among World Heritage listed rainforest and mountain tops with quick access to the whole of Far North Queensland. We want all of our guests to feel welcome from all cultural and religious backgrounds, everyone among the LGBTQIA community and everyone from far and wide around the world.
The Homestead is a comfortable space, on a 2-acre property, sitting amongst the open greenery of the tropical rainforest at your doorstep. It is just a few short minutes drive to the main terminal to access The Great Barrier Reef, the Daintree Rainforest, Kuranda Skyrail. The world famous Paronella Park and the Cape Tribulation are also only a few short kilometers away, not mention all the beautiful Islands you can visit. The fully self-contained accommodation at The Homestead features panoramic views of the escarpment and gorgeous visiting Ulysses butterflies. Situated on a large and open block with undisturbed and dry heath flora, the peaceful tranquil setting of The Homestead is perfect for a relaxing couple's hideaway; alternatively, its spacious open area provides an affordable holiday for those with pets or even more so, families have the opportunity explore and play outdoors. Within a 2 minute walk from the property, watch turtles swim under the bridge in an open flowing creek, go for a walk or bike ride we have bikes for you on 15km path built in the past year exploring the rainforest, sugar cane fields, creeks, swimming holes and waterfalls. Play a game of tennis on the public courts or push the little ones on the swings at the children park, grab an ice cream or go for a swim.
We are surrounded by World Heritage listed rainforest and just minutes drive from private waterfalls!
Tipo de Acomodação
Quarto inteiro
---
Tipo de Imóvel
Pousada
---
Acomoda
6
---
Quartos
Redlynch, Queensland, Austrália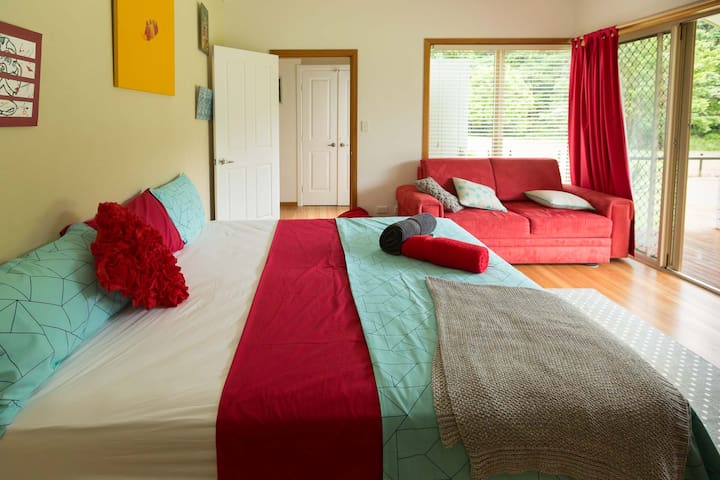 My place is close to public transport, shopping centre, tourist attractions, medical centre and walking tracks. You'll love my place because of the wheelchair friendliness, the neighbourhood, the outdoors space and the people.. My place is good for couples, solo adventurers, business travellers and people with physical disabilities.
Brian and Lorine's place is one of the best airbnb we ever stayed. It's spacious bedroom with your own living room and ensuite will make your stay comfortable and convenient. Breakfast is provided with bread, milk and cereal.They have two gentle dogs and a lovely cat. It's 2 minutes walking distance to the shopping center with Woolworth and Coles in it. Local attraction like Crystal Cascades is 13 minutes drive away where you can see waterfall and swim holes. Most importantly, Brian and Lorine are such a nice couple. They offered us drive to Crystal Cascades since we don't have a car. We couldn't ask for more.
Andy
2017-01-09T00:00:00Z
Best stay in Airbnb. The hosts are lovely, the room is spacious, clean and modernized. Located across the street from bus stop and two major grocery stores. 20 minutes from the CBD. Fantastic stay!
Tim
2017-03-12T00:00:00Z
I could not speak English at all for my first overseas abroad, but I was full of anxiety, but Brian and Loraine were very kind. I could not talk at all because I could not speak English because I could not speak English, because it sent me to the airport and sent me to the tour site but it was a wonderful trip thanks to Brian and Loraine, which are very nice houses and smiles. Next time I go to Cairns I will stay here again and I am looking forward to being able to speak English and have a conversation with them. ☺ ︎
KASUMI
2017-02-26T00:00:00Z
Brian's prompt response to any enquiry facilitated easy communication prior to arrival; and the generosity kindness and respect afforded whilst staying in their beautiful home ensued that I will be grateful to return and most highly recommend their Airbnb. In my experience, the spacious accommodation is unique in that it truly comfortably accommodates someone in a wheelchair; and the country hospitality extends from a well provisioned kitchen, and fridge, to a spare toothbrush in the bathroom! Everything is there for a most comfortable stay. Thank you very much Lorraine and Brian for your yr kindness and respectful accommodation of my needs.
Flora
2016-12-22T00:00:00Z
Brain and Loraine are lovely people who cares about their visitors. The room was as described and very clean! I can just recommend this Airbnb!
Christine
2016-12-17T00:00:00Z
Tipo de Acomodação
Quarto inteiro
---
Tipo de Imóvel
Bangalô
---
Acomoda
2
---
Quartos
Redlynch, Queensland, Austrália
Luxurious Five Bedroom, Three Bathroom Timber Holiday House in the Treetops! Wanggulay Too is a unique one of a kind experience. You will have a fantastic holiday! Come and find out why so many choose Wanggulay. In the last six months, we have welcomed one of Australias leading Iconic Fashion houses, Australia's biggest home renovator, and a group of elite gold medal Olympic athletes all looking for a unique and beautiful experience.
All guests receive complimentary: Free Unlimited Wifi 42 HDTVand 100 free movies to choose from Use of undercover games area Bottle of Bubbly Flowers Lemongrassfragrance for your stay Hand Made Soaps Local Walking Guide eBook guide to Wanggulay and Cairns giving you 35 pages of saving money on hire cars and the best things to see and do from 10 years experience of running The Luxury Retreats Wanggulay Too Treetops is the sister property of 'Wanggulay Bali on Barron' a unique tropical holiday home in Cairns. Enjoy the beautiful natural breezes & views of the rainforest and gentle flowing Barron River from the large outdoor balcony. Stay in the most spectacular private rainforest retreat in Northern Australia, conveniently located 7 kilometres west of Cairns airport. The Space Our Bali inspired interior is surrounded by a large timber balcony accessible from the master bedroom. This all looks over the world heritage listed rainforest and down onto the Barron river below. This retreat is entirely yours to enjoy when you book Wanggulay Too Treetops Why not leave your city life behind and step into "Wanggulay Too Treetops" suspended in the treetop canopy on two levels right on the Barron River Gorge at Kamerunga, close to Cairns. Only a short drive away are spectacular tropical Beaches of Trinity Beach, Palm Cove and Ellis Beach all offering quality restaurants, wine bars, entertainment and beach activities; Wind surfing, kayaking, catamaran sailing, paddle wheel bikes, jet skis and kids playground. Many of our guests use this as a luxury and breathtaking alternative to the accommodation in Cairns city or Palm Cove Beach. Access is very easy and once you arrive, like so many of our guests you will not want to leave. This absolute luxury hideaway blurs the line between indoors and out. Surrounded by water and world heritage listed rainforest you are perfectly placed to walk the trails of the national park, canoe the Barron River Gorge, swim in natural waterfalls or simply relax on the balconies and private platform overlooking the river. Dive on the Great Barrier Reef or enjoy a sunset walk on nearby Palm Cove beach. Guest Access Facilities Natural ochres, earth-colours and textures invite you into the main living area under a large timber cathedral ceiling. The spacious open-plan living area extends outside to a wide verandah high above the forest floor. Timber doors slide back, allowing the large outdoor area to become part of the living room. On the floor below is another bedroom and smaller living area with a day lounge to relax and enjoy the fresh tropical breezes. Surrender to the warmth of the tropics and enjoy our outdoor 'cast iron' bathtub as you soak your body in our special blend of essential oils and Australian wild flower essences combined to ease fatigue and re-balance the body and mind. BEDROOMS A place to dream in the land of the 'dreamtime. The master bedroom looks out through the dappled sunlight of the treetops with the river down below. Birds sing and play in the branches surrounding the large balcony outside. Fine linen, polished timber floors - attention to detail, decorative soaps in a Balinese tray, fragrant frangipannis floating in a bowl and a luxurious master bathroom with a spa-bath. Reasons to stay A Queensland Weekender Favourite 5 Star Rainforest Treetops Accommodation Hear the sounds of the Rainforest and Barron River Bali Inspired in QLD Close to Beaches WHAT TO DO Walk the marked trails of World Heritage listed rainforest right on your doorstep. Explore the rock pools and waterfalls of Stoney creek. Walk down to the Barron river by private pathway. Canoe the Barron river gorge. Fish for famous Barramundi in the lower reaches of the Barron river. Dive or snorkel the Great Barrier Reef. Sunset walks on the beach at Palm Cove. Skyrail over the rainforest canopy. Take a picnic to Crystal Cascades. Explore the wonderful Rusty's fresh produce markets. Dine out at one of the many nearby restaurants. Take a short drive along kilometres of unspoilt coastline to Port Douglas have lunch and explore. Or simply relax on the expansive balcony or private river platform where you can take in all the delights of a holiday in the rainforest.
The most spectacular fresh water swimming in Stoney Creek National Park. Swim under a range of tropical waterfalls just 10 - 15 minute walk form the front door!
The host canceled this reservation 69 days before arrival. This is an automated posting.
milli
2016-10-21T00:00:00Z
Hi Belinda, Thank you for providing such a beautiful home. We were able to check-in slightly early which was great for a group of tired bodies. The minute we walked into the house, we were instantly relaxed. The view through the treetops was magical especially with a cup of tea and breakfast in the morning. It was the perfect refuge to come back to after busy days of sightseeing and activities. We will definitely stay here again and recommend this treetops house to anyone wanting a relaxing tropical holiday.
Karina
2014-07-07T00:00:00Z
House was beautiful and as described. Well equipped kitchen. Very private and secluded feeling even though you are in a neighborhood. recommendation for great barrier reef was spot on.
Mark
2016-02-27T00:00:00Z
This is an absolutely lovely home! It would be perfect for a large family or a friends getaway. Belinda was a frendly host and communicated well.
Amelia
2014-10-19T00:00:00Z
Very relaxing and secluded
kaisha
2017-01-02T00:00:00Z
We spent the loveliest 5 days at Wanggulay Too Treetops for our honeymoon. Belinda was a very thoughtful and friendly host. The house was beautiful! It was so lovely to wake up in the treetops each morning, and to the sound of the nearby river flowing and birds singing. Some highlights for us were the outdoor bath and shower as well as the ping pong table. Couldn't ask for more!
Amalia & Jake
2015-01-08T00:00:00Z
Had a fantastic stay in this rainforest retreat over new year's eve. The house was furnished beautifully and stayed lovely and cool despite the heat. We really enjoyed lounging on the deck bird watching and walking down by the river, such tranquility! It is the perfect house for entertaining too and we had a small group over for dinner one evening to celebrate a 60th birthday. The kitchen has everything you could need! The only criticism was some confusion around pricing when I first tried to book. When I mentioned we were having a small birthday gathering, the price doubled with additional costs like a party fee as well as a short stay fee-these had not been outlined previously. Belinda was very accommodating though and we did manage to work it out. All in all, a great place to stay! Just make sure you're aware of any add-ons prior to booking. Thanks Belinda :)
Kate
2015-01-03T00:00:00Z
虽然因为房东的失误没有能够按照订单的时间入住,但是后来与Airbnb和房东的沟通也得到了解决,最后入住了两晚。总体感觉房间和周边环境都还不错,很舒适,房子建在雨林里面,社区也很安静,很喜欢房间的大阳台,早晨起来可以享受阳光,还有一个大餐桌和烧烤用具,很适合大家一起聚餐。缺点是房屋隔音不太好,而且雨林里面蚊虫较多。
Tong
2015-08-19T00:00:00Z
Tipo de Acomodação
Casa/apto inteiro
---
Tipo de Imóvel
Casa
---
Acomoda
13
---
Quartos
Kamerunga, Queensland, Austrália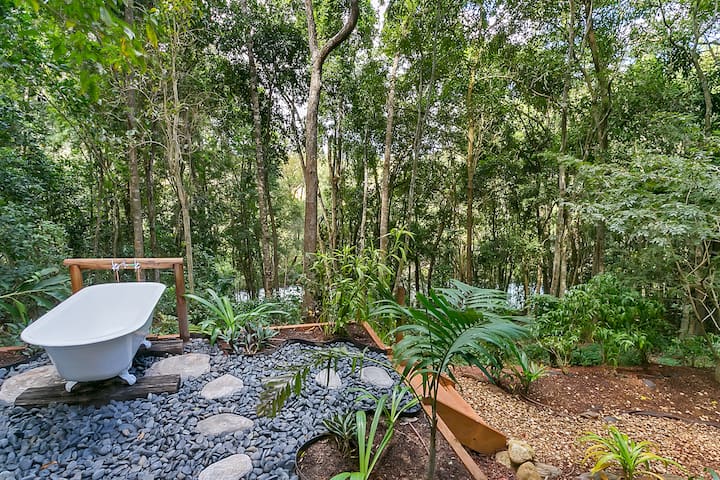 Townhouse with style! 2 bedroom townhouse with private bathroom for guest(s). The room is for one or two people. There is air con, a pool in the complex, a shopping centre and bus stop within walking distance. Beaches, parks, rainforest nearby. Perfect location with friendly and helpful hosts.
Redlynch is a fantastic area very close to the centre of Cairns. There is a shopping complex, fuel station and fast food restaurants within easy walking distance of the complex. Within a short 10 minute drive there are a number of beautiful beaches, large parks, and the centre of Cairns.
Ash war ein superhost, die Beschreibung stimmt zu 100 Prozent . Wir hatten einen tollen Aufenthalt und würden immer wieder da wohnen. Ash gab uns gute Tipps für Unternehmungen in der Umgebung.
Nina
2016-01-31T00:00:00Z
Nice modern apt with own tv in room and private shower and bath. 2 friendly puppers in the apartment that we loved playing with!
mark
2016-07-21T00:00:00Z
Came to cairns from margaret river with my partner (french and australian) not knowing what to expect. One week later after staying in redlynch my partner and i are blown away. Delighted by surprises not listed in this reveiw, we could not ask for anything more . Thanks again you guys for an easy, clean and comfortabe environment inside. We enjoyed all the amenities available in a hotel and then some; privacy, laundry cool air and a well equiped kitchen to name a few. Outside, Redlynch and near by crystal caverns with swimming holes and waterfalls are magical places, green and mountainous, all that with the fun and with activity of cairns town just a scenic bus ride away from your doorstep. You cant go wrong. Once again very greatfull
Damien
2016-02-12T00:00:00Z
Ash and Faith were incredible hosts and we definitely enjoyed our time at their house. They made us feel at home and constantly went out of their way to help us get around! We couldn't have asked for a better household to stay with. We will definitely stay with them again if/when we return to Australia.
Gemma
2016-03-24T00:00:00Z
We had a very good stay at Faith's house. The house was nice and clean, air con and Netflix in the room and the beds was comfortable. They were very sweet and helpful and we will recommend this place to everyone:)
Anja
2016-02-03T00:00:00Z
Faith & Ash are amazing hosts! Fun, quick to respond to any queries, and extraordinarily helpful -- not only did Ash pick me up from the airport, but she also dropped me off ridiculously early at the marina to catch my GBR tour boat. I also had a great time hanging out with her friends, playing board games! You truly feel welcomed and part of the family. The home is delightful: clean and chic. Plus, you have a whole bathroom to yourself, air con if you need it, and Netflix (via Apple TV) to boot. An amazing value!
Sara
2016-05-04T00:00:00Z
We absolutely loved our stay with Faith, Ash and their gorgeous pugs Snickers and Doug. We've done a few Air BnB's now and this one was by far the best, and such good value for money! Faith and Ash were so welcoming, easy going and pleasant to talk to. They really went out of their way to help us and make sure we had a great time in Cairns. Their house was lovely and spacious, and the area that they lived in was so scenic! The supermarket was only a 10 minute walk away, there was a bus stop nearby, and Faith and Ash were even kind enough to let us borrow their bikes so we could cycle to Crystal Cascades waterfall. We were pleasantly surprised that there was air con (and a fan) in our room, plus a TV with Netflix! Snickers and Doug were two of the loveliest dogs we've ever met - so friendly and placid. We will really miss them! Thanks again Faith and Ash for a brilliant stay, our trip to Cairns would not have been the same without your hospitality.
John&Helen
2016-01-12T00:00:00Z
One of the best Airbnb's I have stayed at. Faith and Ash were very welcoming and their dogs were adorable. It's a very convenient location and the air conditioning was much appreciated. Thanks again for an awesome stay.
Shelby
2016-07-02T00:00:00Z
Tipo de Acomodação
Quarto inteiro
---
Tipo de Imóvel
Townhouse
---
Acomoda
2
---
Quartos
Redlynch, Queensland, Austrália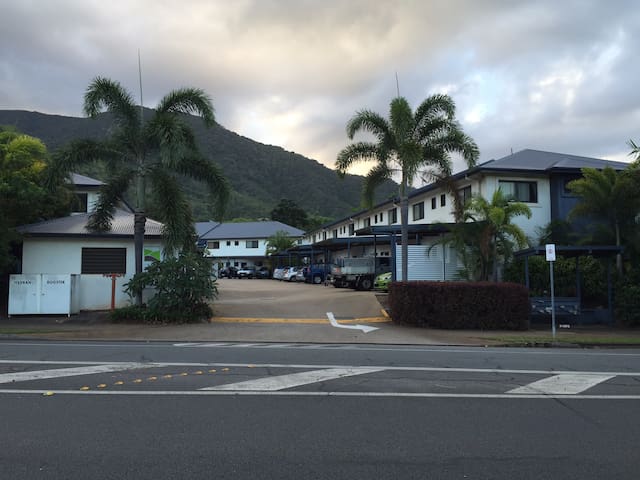 My place is close to the beach, the airport, and family-friendly activities. It is set in the rainforest with a pool . Creek just down the road. The toilet is in the pool area ( all under cover) with a shower, toilet and sink. Room has dresser and bar fridge.
This is set in a beautiful rainforest with a pool . It is a two minute walk to national park which offers a creek and bushwalking tracks. Room has queen size bed . Bar fridge in room.
Beautiful rainforest setting close to beaches, 5 min walk to creek.
Great value for money.
Jan
2016-10-24T00:00:00Z
Only complaint would be that there wasn't a kettle or wi fi
Sarney
2017-01-13T00:00:00Z
Great spot
Sarney
2017-01-17T00:00:00Z
Sweet spot with your own wheels
Alister
2016-10-28T00:00:00Z
Easy and uncomplicated !
Jochen
2016-12-28T00:00:00Z
We were very disappointed with our stay at Kath ... we thought we would share like every bnb air we did. But not here you will only have the room and a nice bathroom though. We are travelers and we like to share with our hosts here the speech has been very brief. We even had the impression of scaring her ... we shortened our stay! If you have a car, money to eat morning lunch and evening, and the quiet you can go for the others I do not recommend it!
manon
2017-03-04T00:00:00Z
What a peaceful place in paradise. Kathleen's place is surrounded by rainforest as it borders Barron Gorge National park. With trailheads at her doorstep we spent the day hiking and swimming in the creek. After a long day it was nice to come back to a big comfy bed and lulled to sleep by the sounds of the forest rather than traffic. We had our best sleeps here over our nine months of travelling. Hard to imagine Cairns CBD was only 15-20 mins away. With the bedroom separated from the main house it was really private and a great place to relax. We could only spend four nights but we wish it were more. We would certainly recommend her place and hope to return again in the future.
Christopher
2016-10-19T00:00:00Z
Tipo de Acomodação
Quarto inteiro
---
Tipo de Imóvel
Casa
---
Acomoda
2
---
Quartos
Kamerunga, Queensland, Austrália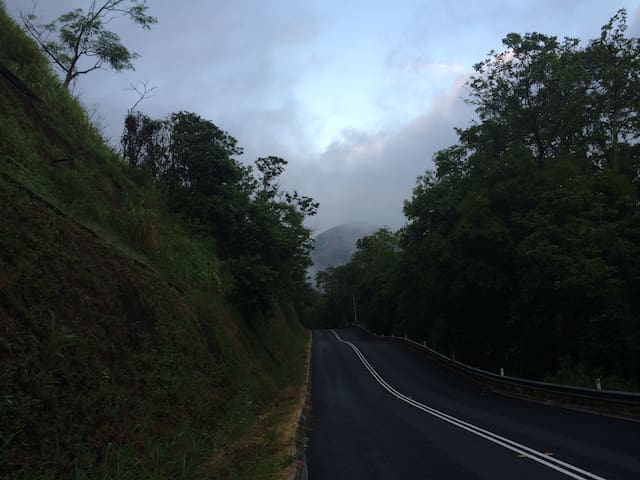 Very spacious classic North QLD family home set on 1/2 acre surrounded by beautiful World Heritage National Park mountainous backdrop. We can cater for 15 beds (if required) & offer x4 bedrooms, big lounge, kitchen, laundry, bathroom. We are a sustainable home, grow our own food in Aquaponics & Permaculture gardens and attract butterflies, birds with our tropical plantings. We are centrally located just 15mins drive from Cairns CBC & airport. 5mins walk from a shopping center, fuel and cafes.
Welcome to our spacious historical home that's surrounded by beautiful Rainforest Mountain Ranges with views in every direction. Relax and watch the tropical fish and local birds while you plan your adventures with the local brochures we provide. We offer a good base to rest, explore local waterfalls, National Parks, Fishing, visit Palm Cove, Port Douglas, the Great Barrier Reef, Daintree & Cape Tribulation as well as the scenic Tablelands & Kuranda village. We are very central to all. We offer x4 bedrooms with a massive lounge room, kitchen, bathroom with FREE use of the Pool table, Wi-Fi, Air Hockey table, x2 TV's and Wii games. One booking secures the exclusive use of the entire lower level of the big spacious home (with a shared laundry that we will only use when you're out). Room 1: QUEED BED (+ trundle single bed + wall mounted TV, air conditioner); Room 2: x2 SINGLE BEDS (+ 2 air mattresses); Room 3: QUEEN BED (+Double mattress); Room 4: QUEEN BED (+ Double mattress); All rooms have bedside tables, reading light, fan, cupboards, wardrobes. (We also plan to add air cons in all rooms in the upcoming months). All rooms have fluffy pillows, quality linen, good airflow, beautiful timber floors, bed side tables, lights, fan, cupboard, bath towels, curtains and lockable doors for privacy. Beach towels also available for beach and reef trips. Large glass dinning table also available for dinners. Full use of Kitchen facilities which includes Microwave, Gas Stove, Fridge, Kettle jug, Coffee Plunger, Cutlery, Plates, Cups, Pots, Rice cooker, Toaster and lots more to make your stay comfortable. The water is 100% safe to drink. We are connected to Cairns town water. Feel free to drink as much as you like. We start your trip off with some complimentary breakfast cereals, snacks and condiments that may include Teas & Coffee, Sugar, Milk, Biscuits, Cereal, Bread for Toast, Condiments, free range fresh eggs and fruit juice. We add organic seasonal fruits and home grown veges and herbs from our greenhouse. All you can eat Mangos, Limes, Lychees, Coconuts when in season too. BBQ and outside tables also available too if you need it. We strive to be a Sustainable home and are very environmentally minded with solar power for energy, permaculture gardens and grow our own fresh organic vegetables, have chickens for fresh eggs, farm Barramundi and Jade Perch in our Aquaponics system, native bees & fruit trees. The house if fully fenced with a massive back yard. Kangaroos and Wallabies and exotic birds and butterflies visit us every day from nearby bushland.
Our house is in a rural setting with majestic views of mountains in every direction (yet so close to town). We don't have many neighbors and are the last house in the exclusive new estate and street. It's a very quiet setting. Expect to see Birds, Butterflies, Lizards and Kangaroos and heaps of wildlife at our house. We currently have sun birds, willi wagtails and doves nesting in our trees. There are wallabies and kangaroos feeding on grass outside everyday as well. We are constantly planting new tropical food gardens to attract wildlife and improve our property. We have recently planted the entire boundary for privacy and plants are growing quickly.
Evelyn and Rodney's place is the perfect family friendly retreat. I stayed there with my parents and my young kids, and everyone had a great time. The location is a great jumping off point for lots of fun activities including swimming in rainforest pools at Josephine Falls and Crystal Cascades, taking the train to Kuranda, and visiting World Heritage sites and other national parks for wildlife viewing. My kids loved being able to use the swings and trampoline, and also being able to gather fresh eggs from the chickens every day. Evelyn and Rodney and their family are lovely, interesting people who are fun to visit with. Highly recommended.
Siriana
2016-07-15T00:00:00Z
We were greeted by our hosts Rod and Evelyn and their friendly dog Rockey with a warm welcome. Rockey was so friendly that two of our family members feel free from their fear of dogs. The description of the property was completely accurate and the neighbourhood was wonderful, peaceful and picturesque with sweet sounds of birds singing. We felt the comfort of home, our kids enjoyed the pool table. Keep up the good work Rod and Evelyn
pal
2016-07-08T00:00:00Z
A beautiful and well-appointed family home located in a peaceful setting. Rod and Evelyn were friendly and helpful hosts who looked after us very well! Special mention to Rocky, one of the friendliest dogs you'll ever meet! If you're looking for a peaceful and relaxing holiday, this is the place for you!
Cathy
2016-10-02T00:00:00Z
It was really a lovely place to stay with family and friends! The place are quite big and contains everything you need. The host family are nice and help us a lot. Definitely will recommend this to everyone!
Caroline
2017-02-16T00:00:00Z
A great open living space with everything you need. Rod was very friendly and helpful with getting around and local knowledge. The house is surrounded by wildlife and Rod's awesome menagerie. An excellent experience for people from outside the country.
Kristian
2017-01-06T00:00:00Z
There is no air conditioning in the space which is the entire first floor (the host family lives on the second floor) Only one room has a small mobile AC which is making very loud noise.
Sharleen
2017-03-09T00:00:00Z
The family was very friendly and welcoming. The house was roomy and had everything we needed and more. It suited us, because it was dog friendly and we had quite a few family members staying with us. Close to town, but still felt like a rural setting.
Natalie
2016-04-08T00:00:00Z
Rod & Evelyn were really warm and friendly. Beautiful house well maintained and close to shops. Really good place to stay.
Sangeeta
2016-12-13T00:00:00Z
Tipo de Acomodação
Casa/apto inteiro
---
Tipo de Imóvel
Casa
---
Acomoda
10
---
Quartos
Redlynch, Queensland, Austrália
Beautiful 2 story home set in Rainforest Estate. 5 minutes walk to Stoney Creek National Park and only 20 minutes by car to the CBD of Cairns and to the Northern beach suburbs of Cairns. Walk to Lake Placid ( restaurant and rafting on Barron Gorge.
Rainforest estate is a quiet close off the Western Arterial Road of Cairns. It is situated beside a rainforest creek and not far from the Barron Gorge.
John & Mary were wonderfully welcoming. My arrival time was changed & they were very flexible & accommodating. This little community is nestled up against the rainforest & just 10 mins from downtown Cairns. It's only a short walk to trails along the river & upstream to waterfalls all the way to the mountain top. Their home is spacious & modern, designed specifically for rainforest dwelling, lots of wood & glass, light & airy. John & Mary are both delightful, as well as interesting, very knowledgeable about local fauna & flora, involved in environmental & community activities. I highly recommend their beautiful home.
Janet
2016-08-06T00:00:00Z
Lovely hosts. Lovely setting & home. Will be back. Thank you for opening your home up for me to enjoy.
Jo
2016-07-28T00:00:00Z
Tipo de Acomodação
Quarto inteiro
---
Tipo de Imóvel
Casa
---
Acomoda
1
---
Quartos
Kamerunga, Queensland, Austrália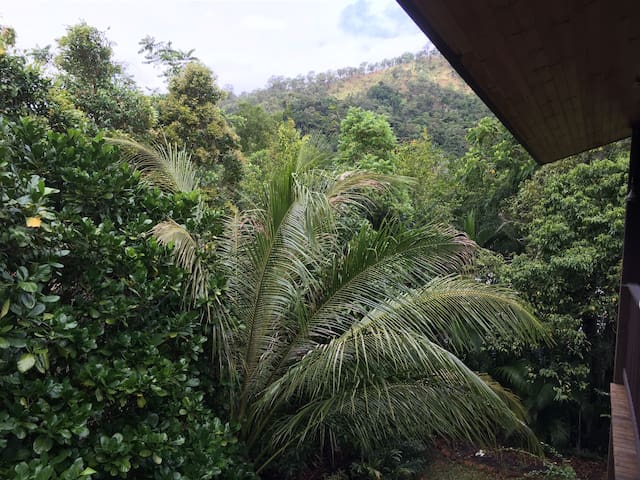 A cool comfortable private one bedroom apartment on the ground floor of our heritage Queenslander home. Double doors open on to a patio overlooking the garden and swimming pool. Decorated with funky colourful works by local artists. Located on a quiet street easy parking, very close to the bus route with several restaurants and groovy cafe's within walking distance.
Modern self contained apartment with 1 bedroom, bathroom, kitchenette and living area. The apartment is on the ground floor of our high set "Queenslander" heritage house in Stratford; 10kms from Cairns city centre. There is a double bed in the separate bedroom, dining table and chairs in the kitchen area and a comfortable lounge in the living room which also has a TV, DVD player and a small collection of movies. You can have full use of our pool, garden, washing machine etc. Free wifi. easy parking in front of the house. Bus service is 100m away! We live above the apartment, and love to have a chat whenever we are around. During the weekdays Rowan and I are at work, so quite often you have the pool and garden to yourself. Stratford is a quiet neighbourhood - there are two sets of shops with cafes and restaurants each 20 minutes walk away. There is a very popular Thai restaurant (Siam Orchid Spicy) within walking distance to the south and if you walk towards the north there is a very cool french bakery and coffee shop with delicious pastries and bread! Guests have full access to the pool and the washing machine My husband Rowan and I work full time so you might not see us too much. However, I am always pleased to stop and have a chat and share tips about some of the great places to see in our area. I love our neighbourhood - it is tranquil and rural with cane fields on one side and a rainforest clad mountain on the other. As we live just 10km away from town we like to ride our bikes to work most days. I would recommend visitors either hire a car or borrow one of our bikes (we have some extra bikes, but please give us some notice so that I can make sure they are serviced!) There is a public bus service - the Sunbus stops about 300 m from our house on Kamerunga Road and will take you in to town in about 15 to 20 minutes or to Redlynch shopping centre, in about 10 minutes. The timetable is available here: (website hidden)_121122_Timetable_newv3_WR.pdf. There should be a couple of beach towels and some sunscreen in the bathroom cupboard. If you need any more towels or toiletries, please let me know!
I love our neighbourhood - it is tranquil and rural with cane fields on one side and a rainforest clad mountain on the other. As we live just 10km away from town we like to ride our bikes to work most days.
We absolutely love this Air Bnb, it was exactly as Lyn described and even better being there. Lots of privacy and space. We appreciated the washer and dryer and took advantage of the pool. We also like the treat of the homemade plum jam. The location was within easy driving distance of all of the sites we wanted to see. Lyn was a great host and came to check on us to make sure everything was OK. We would definitely recommend this property to anyone looking for a place to stay in cans. In the Cairns area.
Shannon
2016-10-28T00:00:00Z
Lovely, peaceful, comfortable, clean and tidy apartment which is exactly as described and pictured - highly recommended. Lyn and her husband are a very friendly and accommodating couple. Thanks Lyn!
Helen
2015-04-04T00:00:00Z
I was very impressed upon arrival because not only did Lyn collect me from the airport but the apartment was even nicer than I expected and felt very welcoming, I especially enjoyed the art works. I can thoroughly recommend it, also the shower is very relaxing and a great way to start the day when you're on holiday.
Emma
2013-07-12T00:00:00Z
Lyn was a great host and made sure I had everything to make my stay comfortable. The place was roomy, bright and situated in a quiet neighbourhood with ample street parking. I would definitely recommend getting a rental car for convenience.
Jonathon
2016-08-29T00:00:00Z
What fantastic place. I love the art, the garden and the pool. I will definitely come back!
Rowan
2015-06-14T00:00:00Z
Thank you, Lyn, for making us feel so welcome. Your place was just as described, and spacious, very clean and comfortable. The added bonus of some very goodies in the fridge was very welcome. We would like to come again!
Valma
2015-10-01T00:00:00Z
No problems with the wellcome and a good neighborhood.
Alan
2015-06-10T00:00:00Z
Everything was perfect, the place was great and everything we needed was there. Lyn was very nice and we had a good time in Cairns. We couldn't ask for anything more!! I would definitely recommended!! Thank you Lyn!
Pablo
2016-09-17T00:00:00Z
Tipo de Acomodação
Casa/apto inteiro
---
Tipo de Imóvel
Apartamento
---
Acomoda
2
---
Quartos
Stratford, Queensland, Austrália
Welcome to Our Home on the top of a hill with SPECTACULAR VIEWS cool BREEZES all year round perfect place to chill, relax and recharge your batteries. Your homely Room has queen-size bed/roll out bed option 3 people. Good quality clean comfy linen. Bath/ Beach towels for your (URL HIDDEN) Fridge Microwave, Jug, Coffee machine, Toaster glasses,Crockery Cutlery all you need and more. Internet available at a small charge.
We welcome you to SHARE with us our family home and would love to have you relaxed and at home as you enjoy your lovely room. Nestled on a hill of rain forest, the open plan living of our home is glassed so you enjoy the Amazing Views towards the ocean, green island, hills & valleys. Enjoy many spectacular sunrises and sunsets, watch the boats at The Great Barrier Reef & Green Island. Many areas to relax indoors or outdoors out on the deck, patio or pool, enjoy a drink, music, read a book, have a candle light dinner under the stars, cook on the gas BBQ, all this as you soak up the spectacular Views day or night. Perhaps champagne breakfast while watching the sun rise? As you enjoy the VIEWS relax using the complimentary foot spa or we can provide a massage therapist by appointment prior to booking, ideal setting for a relaxing massage. We live in a Tropical Paradise it is one of the 7 wonders of the world.
The neighbourhood is private has beautiful homes and is friendly and quiet. Living on the top of a hill we get beautiful Breezes and views all year round. We are tucked away from the city bustle but still quite central to everything. Paradise in the Tropics. What more could we ask for.
Deszi was a lovely host. Very caring and helpful all the time. Also quite well organsied. Comfy bed. Thanks :-)
Konstanze
2014-11-09T00:00:00Z
Deszi is a beautiful person inside and out which fits perfectly with her amazing home and stunning views. She will instantly make you comfortable and welcome - we even had a frozen mango drink on arrival she had waiting to greet us, a refreshing treat after a long drive! Deszi really is the hostess with the mostest and thinks of everything possible to make your stay a great one including local tips and tricks and sightseeing information (she even spent a day showing us all the local hotspots) and she has a plethora of information and stories to keep your brain engaged and mind ticking. By the end of our stay we felt more like family thanks to her caring nature and ability to open up her home. Deszi thanks for creating a home away from home for us and for everything. Everybody should have a Deszi in their life. We already miss you! Viks and Andy.
Andy
2014-01-24T00:00:00Z
The view is so great. Deszi is very friendly and helpful.
Crystal
2014-08-15T00:00:00Z
We stayed for 8 nights with Deszi and enjoyed the great views. Deszi's hospitality and the location. Deszi seems to truly enjoy having guests and to cook. She frequently made us treats. The location was great if you have your own vehicle and are like us and want to get outside the city. Its a good central location. There is a small IGA grocery store and several restaurants including a cute local pub in a hotel very close (a couple of mins drive). A nice shopping center with a larger grocery store, bakery, liquor store, post office and other shops is just a little bit further away (no more than a 7 to 10 min drive) with a Dominos Pizza, McDonald's, and several other little places to eat. Downtown Cairns is about a 15-20 minute drive...don't miss Rusty's Markets. Port Douglas about an hour and is a gorgeous place to visit and the road to get there is spectacular. Deszi knows the area very well and made many suggestions on great places to visit. She told us exactly where to go to see a field full of wallabies and they were right where she said they would be. The deck is wonderful with great views of the close mountainside and the ocean in the distance. While we were there, it was perfect weather and we sat outside whenever we were at the house. Lots of birds to entertain. We enjoyed our stay with Deszi.
Mary
2014-10-10T00:00:00Z
We stayed with Deszi in her home for 6 nights. DESZI is a great host and goes ut of her way to insure you are welcome and have a good experience.
Wesley and Elaine
2016-01-15T00:00:00Z
Best part of our Australia trip has been the stay with Deszi! We can never forget this trip. Deszi has been a fantastic host, beyond anyone can imaging. She connected very well with every member of our family. Our kids are very pleased with the love she showered on them. We continue to recollect the memories of our stay there. When Deszi realized that our rental car too small for a long drive to Gold coast, and the rental car company was not obliging with the request for bigger car, she personally called them up and made sure that bigger car was made available. Thanks Deszi for everything. Look forward to seeing you sometime soon.
Sunil
2014-04-26T00:00:00Z
An amazing place! Great location, with fantastic views. Such a beautiful family home. Deszi was a truly wonderful host and made me feel like part of the family. Thank you so so much :)
Tim
2015-11-22T00:00:00Z
Deszi so friendly! We have great view,big house and lovely cat. It's convenient for anywhere you want to go. I'm so happy to be there.
郁婷
2016-05-07T00:00:00Z
Tipo de Acomodação
Quarto inteiro
---
Tipo de Imóvel
Casa
---
Acomoda
3
---
Quartos
Redlynch, Queensland, Austrália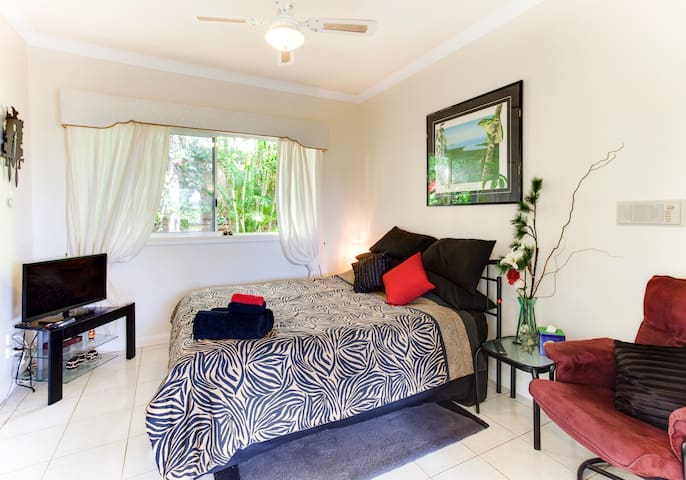 This Guest Suite is separate to the main house and is accessed by a unique walkway from the deck. It feels like you are in a treehouse! The room features a Queen Size bed, split system air-conditioner, private deck and stunning bathroom. There is a TV in the room and access to the WiFi. You will be invited to cook in the kitchen of the main house and enjoy the lounge and outdoor living areas including the built in spa which beckons travellers at the end of a day touring!
This Guest Suite is a 'one of a kind' and is so special you will be wanting to book an extra night. With cool breezes coming through the many windows you will feel on top of the world whilst taking in the beautiful views.
Edge Hill is one of Cairns premium suburbs and home to the Botanical Gardens as well as the Village Hub (unique shops) all within walking distance from the house. Only minutes to drive from the Airport and the City, you will find basing yourself in Edge Hill a great option! Close to the Tanks Art Centre (5min walk)
Karleines place was incredible. Wish our travel plans would have allowed us to stay longer. Karleine is so friendly and accomodating. Thank you for an amazing stay
Stephanie
2017-02-06T00:00:00Z
A rare tropical experience at Karleine's and the onwers are really kind and polite!
Qi
2017-03-31T00:00:00Z
We were apprehensive about staying two weeks of our walkabout in Queensland at one BnB. Fortunately, we chose Karleine and Grant's 'Tree House', and found not only a truly special accommodation, but two gracious and welcoming hosts that were willing to share their insights, knowledge and good humor with a couple of Yanks that were without a basic understanding of what Cairns and North Queensland had to offer. We had an exceptional stay and we can say we did all we could without a single regret. Our original thought was that we would spend a couple of nights as well in Port Douglas or the Daintree, but as it was only an hour or so drive from our Edge Hill home, we found that we preferred to commute the hour on a beautiful coastal highway rather than relocate north, and we did enjoy the day trips immensely. We cannot recommend this home any higher. Thank you folks and wishing you the best! Denny and Joanne. USA
Denny and Joanne
2017-03-28T00:00:00Z
Great room, close to nature walks on Mt Whitfield and cafe's down on Collins St. Great views and layout, and very friendly hosts. Has its own ensuite.
Leith
2016-10-22T00:00:00Z
Will absolutely come back whenever I'm in Cairns! Nearly everything is available from shower cream to bath towels, wifi to car park, really couldn't get better. The place is away from the city noises which makes it more serene and closer to nature.
Crystal
2017-02-18T00:00:00Z
This room is so cool and quirky! Lovely hosts and very insightful of things to do. Would definitely stay again!
Ali
2017-02-22T00:00:00Z
It was awesome. Grant and Karleine are very friendly. We had a good evening and stay there. Thank you!
Niklas
2017-02-28T00:00:00Z
Our stay at Karleine's house was great: the house is amazing with a great terrace and a little dip-in pool to cool down from a hot day in Cairns. Karleine and her husband are very nice; they welcomed us warmheartedly, gave us tips on what to visit and even gave us a ride to the AirPort. The house is close to a street with some nice breakfast/lunch spots and the Botanic garden, only 10 min car-ride from the AirPort, but a little far from Cairns city centre (although there is a 1 hourly bus close by).
Mandy
2017-01-11T00:00:00Z
Tipo de Acomodação
Quarto inteiro
---
Tipo de Imóvel
Casa
---
Acomoda
2
---
Quartos
Edge Hill, Queensland, Austrália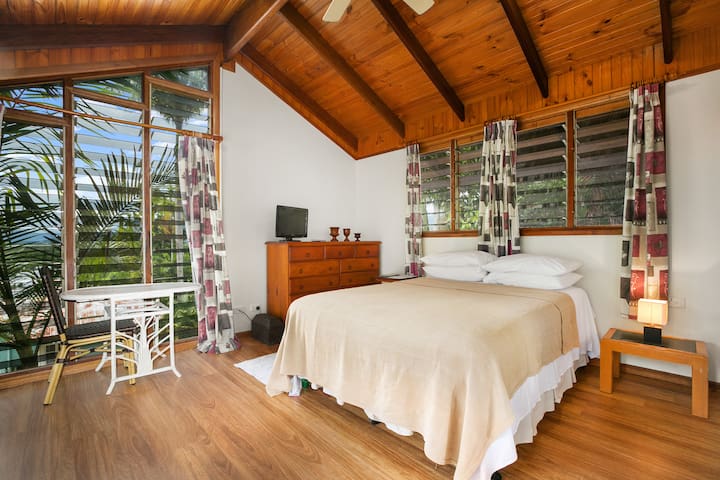 My place is Tranquil and situated on the hillside in the middle of Cairns it is 5 minute drive to the city centre and the You'll love my place because of the views, the location, the room and house are well designed for natural air flow,also 2 bikes
MySpace is a large downstairs self contained appartment with a fridge, television ,your own ensuite, your own covered veranda with a shared kitchen
My neighborhood is considered a lovely area of Cairns as it is set on the hillside and quite exclusive we have kids playing on the street in the afternoon and all the neighbours are friendly
Robert, his son and (at this time) his brother made us feel welcome. They are very nice and friendly people. The view from their big balcony is awesome.
Maria
2017-01-31T00:00:00Z
The place is spacious and comfortable, perfect for relaxing in the suburbs of Cairns. The couch was exceptionally comfortable and Robert and Rider were great hosts. The dogs were so friendly and great to snuggle with at the end of the day. Would definitely stay again.
Ashley
2016-11-30T00:00:00Z
Robert est un hôte vraiment super, très accueillant et toujours prêt à rendre service!
Guillaume
2017-01-13T00:00:00Z
Great hosts, awesome place, very relaxed stay. Thanks Guys :-)
Cally
2016-08-13T00:00:00Z
Nice spacious and bright room in very quiet sourroundings. Robert and Ryder are two nice guys and we would stay there again. Was good to use the bbq and the big balcony too.
Jens
2016-08-22T00:00:00Z
非常美丽的凯恩斯,非常nice的房主,临走时还送我们去机场,真的非常感谢。房间住着宽敞舒适,周围环境也很棒,推荐入住。
蛟
2016-09-23T00:00:00Z
Very spacious, almost self contained apartment, nice doors giving out on a terrace with large window making the space airy, fresh, confortable. Robert is an easy going host and makes his house welcoming. Thanks
Suzanne
2016-11-20T00:00:00Z
Spacious ground level room with its own bathroom at a quiet location. Robert is a very friendly host and will help you out when he can. We had two great nights here, thanks!
Hanneke
2016-10-20T00:00:00Z
Tipo de Acomodação
Casa/apto inteiro
---
Tipo de Imóvel
Casa
---
Acomoda
2
---
Quartos
QLD, Queensland, Austrália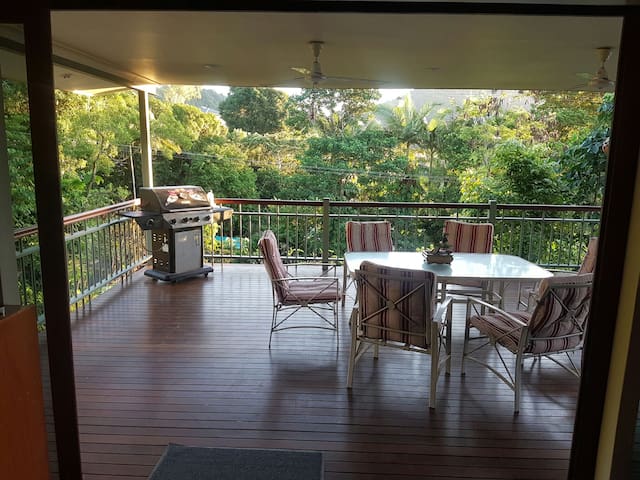 My place is close to local parks & freshwater swimming holes. Shopping complex, The Red Beret Hotel/Tavern, Takeaways, Genesis Gym. 15 mins drive to local beaches or Cairns city. 5 minutes walk to bus stops with buses every half hour. My place is quiet and central to everything. There is an abundance of bird life and the backyard is well shaded. A cool breeze flows through the house and the uncluttered, open plan gives a feeling of space & freedom. Perfect for couples, solo's, and business.
The house has 4 brm with 2 rooms available for guests. 1 bedroom not available till Feb. Both rooms have queen size beds, 32" TV on swivel mount (Netflix included), floor to ceiling mirrored cupboards with shelves and hangers. Floors in the bedrooms are carpeted. The rest of the house is tiled.
Nestled at the opening of Redlynch Valley, the property is surrounded by mountains. Just 10 minute drive to local parks & freshwater swimming holes. 10 minutes walk to shopping complex, The Red Beret Hotel/Tavern, Takeaways, Genesis Gym. 15-30 minutes drive to local beaches or Cairns city. The area is quiet and central to everything. 30 minutes drive in any direction will place you in the city & access to the Great Barrier Reef, the tablelands (Kuranda), beautiful beaches, freshwater swimming holes & great hiking tracks. There is an abundance of bird life and the backyard is well shaded. A cool breeze flows through the house and the uncluttered, open plan gives a feeling of space & freedom.
Matts place is very comfortable, clean and relaxing. You are provided with your own bathroom, air-conditioning in your room as well as a TV with Netflix available. It located in a lovely quiet residential area with a bus stop just a stones through away, departing every 10 minutes into Cairns. The Red Beret Hotel is walking distance and there is a local shopping centre just up the road. Matt is very, welcoming, helpful and friendly and he equally know how to respect your privacy and personal space. I was very lucky to have Matt cook up a lovely meal for me one night which was such a treat. I travel to Cairns on a monthly basis and have already re-booked for that home away from home and for the exceptional comfort and privacy. I thoroughly recommend Matts place for your stay.
Donna
2017-02-12T00:00:00Z
Tipo de Acomodação
Quarto inteiro
---
Tipo de Imóvel
Casa
---
Acomoda
2
---
Quartos
Redlynch, Queensland, Austrália
This beautiful, family-friendly home is situated in the tranquil Redlynch Valley Estate. With swimming holes within walking distance, you will not want to leave. Only 10 minutes to Redlynch Shopping Centre (inc Coles, Liquorland), 25 minutes to the CBD and 20 minutes to the beaches, you are close to everything without being in the busy Cairns City.
- 3 bedrooms with one doubling as an office - Bathroom in main bedroom - Extra shower and basin in laundry - Two separate living areas - Dining area - Outdoor setting on patio and gazebo - Enjoy the fantastic media/lounge room that boasts all access Foxtel, a huge selection of the latest and greatest DVD's all on a huge 60inch LED TV. - Kick back in the afternoon under the Balinese gazebo complete with fairy lights for when the sun goes down! - Double park driveway
Redlynch Valley is a family friendly suburb tucked away in a rain-forest setting.
Tipo de Acomodação
Casa/apto inteiro
---
Tipo de Imóvel
Casa
---
Acomoda
6
---
Quartos
Redlynch, Queensland, Austrália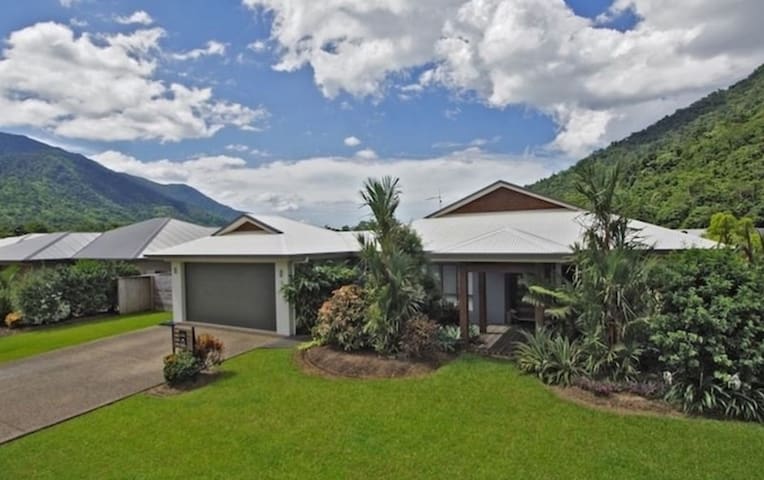 1

–

18

de

Mais de 300 Espaços para Alugar
Insira as datas para ver o preço total. Taxas adicionais serão aplicadas. Impostos podem ser adicionados.