You want to live a journey within a journey? Take a dip in the past? The House of the Mad Hatter is perfect for you! Suspended in time and with the stopped clocks. Recommended for young, sporty users with the ability to adapt. modern amenities? Heating, hot water and electricity. For the rest, you will be surrounded only by objects of the past for a romantic atmosphere. The hosts are present and will welcome you together with Poirot dog.
The house is the only portion of time coaching and change horses survived the centuries. It was part of the central body of the building, March 18, 1797, hosted Napoleon Bonaparte which were delivered from Udine mayor the keys of the city. April 23, 1848, however, was signed the surrender to Austria of the Friulian people.
The advantage is a great silence
Just wonderful highly recommend to anyone to stay there at least Life ! More specific review coming soon ! Just WOW for now !! Thank you very much Lucia !!
Alex
2017-04-02T00:00:00Z
Apsolutno nezaboravno iskustvo.... predivan dom, ugodna i opustena domacica, puno detalja i povijesti na svakom centimetru zida... savrseno mjesto za opustanje i bijeg od stvarnosti!!!
Mijo
2017-02-26T00:00:00Z
Il soggiorno a casa di Lucia è un viaggio nel tempo e nelle emozioni. La dimora ha un suo trascorso storico, gli arredi, gli arnesi da cucina e le suppellettili sono di un'era lontana dalla nostra tecnologia e consumistica, su tutto dominano i colori e le suggestioni protagonisti incontrastati della casa. Lucia è un ospite affabile e accogliente, siamo stati molto bene.
Daniele
2017-03-12T00:00:00Z
Cercavo semplicemente una stanza per trascorrere 2 notti nei pressi di Udine ma, con piacere inaspettato, ho trovato MOLTO DI PIÙ... Ho dormito in un luogo "magico", ogni angolo racconta qualcosa della vita di Lucia, (la regina della casa), di Poirot, (la cagnolina che "sorride") e degli avvenimenti storici accaduti nella zona. Dai pavimenti ai soffitti, un'esplosione di colori fa da cornice a suppellettili e ornamenti, che "vivono" dell'amore che Lucia ha riservato nel ristrutturare e decorare la sua dimora, nella quale il tempo sembra essersi fermato nel preciso momento in cui, gli orologi hanno smesso di girare, ognuno in un attimo diverso. Mi sono sentita veramente a mio agio e consiglio La Casa del Cappellaio Matto a coloro che cercano "qualcosa in più" di una camera qualunque, quel "qualcosa" che lascia la voglia di ritornare....
pamela
2017-04-11T00:00:00Z
Quello a casa di Lucia non è un soggiorno, è un'esperienza. E in effetti non la si dovrebbe nemmeno chiamare semplicemente casa, bensì casa d'autore, d'artista, di sognatori. Appena ho visto le foto ho detto "è qui che voglio andare" e le aspettative sono state pienamente ricompensate. Anzi, meglio. La casa è un tripudio per gli occhi, ogni centimetro è vestito di forme, colori, arte, suggestioni, e buon gusto. Sei lì e sei in un altro mondo, nel mondo di Lucia, una host davvero speciale, che accoglie, stupisce, e offre la sua conoscenza del territorio, dei personaggi più assurdi, della sua storia, dei fatti e luoghi più curiosi. Una manna per chi vuole scoprire il vero Friuli e i friulani. Staresti ore ad ascoltarla, e a leggerla. Ecco, l'unico rischio è la tentazione di stare ad ascoltare lei invece di uscire! :) Sono, siamo felici, di essere stati i primi. E già sappiamo che ci sarà una seconda volta. Grazie di tutto a Lucia e, se siete persone curiose, fuori dagli schemi e sensibili al bello, questo è il posto per voi. Se siete abituati agli standard preparatevi a sorridere di stupore...
Michela
2017-02-02T00:00:00Z
Tipo de Acomodação
Quarto inteiro
---
Tipo de Imóvel
Casa
---
Acomoda
2
---
Quartos
Udine, Friul-Veneza Júlia, Itália
The house is in a quiet and green area, served by bus Via Sistiana is private and is not of passage; The parking area is in front of the house. If you prefer a closed garage, I have one very well in not included in the price 5 minutes from home.
theater Nuovo Giovanni da Udine, Viale Trieste Private Side Just 5 minutes by bus from the station, 15 walk. A 10-minute walk from the center.
Very quiet and safe.
Zona molto tranquilla e casa davvero graziosa, inoltre Maria Graziella è molto carina e disponibile!
Paola
2016-11-19T00:00:00Z
Tutto bene!!! molto consigliato!
Filippo
2016-10-10T00:00:00Z
La casa di Maria Gabriella è bellissima e posizionata a cinque minuti a piedi dal centro. Lei con noi è stata disponibilissima e più che ospitale. Torneremo!
Gabriele
2016-11-21T00:00:00Z
Maria is a very welcoming host, she left us to do our own thing but helped us out when we needed it, she even picked us up from the train station! Her home is very clean and tidy and it is an easy 10 minute walk to the centre. We also took a 90 min train to Venice for the day so it is ideal to explore both Udine and Venice.
Roisin
2016-08-17T00:00:00Z
Maria Gabriella es una anfitriona muy amable e hizo que nuestra estancia en su casa fuera muy cómoda. En todo momento estuvo pendiente y dispuesta.
Maria
2016-08-30T00:00:00Z
L'esperienzs a casa di Maria Gabriella è stata molto positiva. Non abbiamo avuto il piacere di conoscere Maria Gabriella in quanto non era a casa quando siamo arrivati e quando siamo partiti, ma abbiamo apprezzato l'assoluta autonomia che ci ha lasciato e la sua gentilezza nel prepararci la colazione all'indomani. Casa pulitissima e accogliente, letto comodo e con vista sul giardino, posizione vicina al centro e zona molto carina. Assolutamente consigliato!
Marilena
2016-04-18T00:00:00Z
Maria is the perfect host and spent time with us on arrival to ensure we were comfortable and to share secrets of the area- including best sites to visit and restaurants to eat at. The room and bathroom were both comfortable and spotless. Safe parking in a quiet street and a short walk into the centre. This is a really great place to stay.
Penny
2016-11-09T00:00:00Z
Замечательный дом, красивый, аккуратный, чистый, есть все необходимое. Хозяйка великолепная, добродушная, помогает сориентироваться в городе, старается понять и может подвезти до нужного места. It's the best home in Udene, Maria Gabriella is very kind, she speaks English, very help us in our trip. The place of her home is very comfortable. This home is very cleanly.
Наталья
2016-05-05T00:00:00Z
Tipo de Acomodação
Quarto inteiro
---
Tipo de Imóvel
Casa
---
Acomoda
2
---
Quartos
Udine, Friul-Veneza Júlia, Itália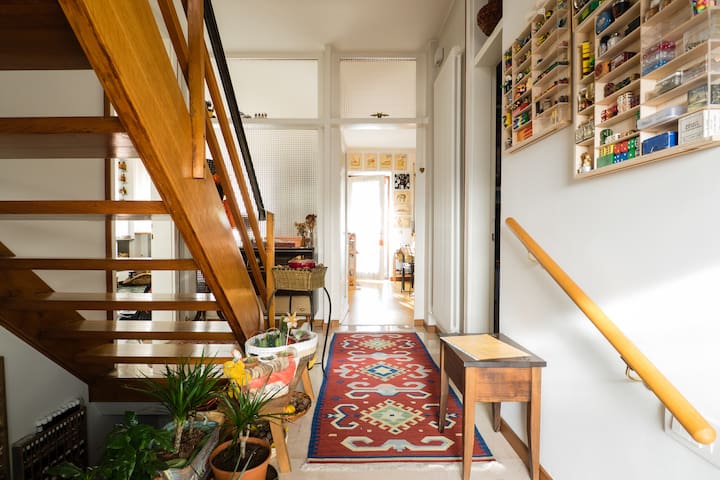 The Holiday House Selva is the perfect place to give yourself a relaxing break. It is located in Premariacco Orsaria, in a hilly area characterized by its rows of vineyards that produce some excellences of the eastern Friuli
The Holiday House Selva is the perfect place to give yourself a relaxing break. It is located in Premariacco Orsaria, in a hilly area characterized by its rows of vineyards that produce some excellences of the eastern Friuli. The structure is surrounded by greenery, surrounded by a beautiful private garden in which to relax with the whole family, thanks to the spacious porch equipped with everything needed for an outdoor lunch and the large private car park. The house, rustic and refined style, has two bedrooms, a sofa bed and two bathrooms to comfortably accommodate 2 to 6 people.
The accommodation is situated a stone's throw from the Agricultural Nadalutti, which produces high quality wines, all wine production comes from its own vineyards located in the hills of Orsaria and Rosazzo, in the heart of the eastern hills of Friuli. Attached to the company there is the Farm Selva, where time seems to stand still and the frenetic pace of modernity are unknown, here tourists can enjoy the atmosphere of silence and peace tasting typical products of high quality such as Friuli, all the wines products from Nadalutti cellar, production charcuterie, hams and cheeses. Throughout the summer the Farm Selva has an open area in the shade of a mulberry tree where you can feast on all our products. In addition, the farm has a relaxation area for children, complete with games, including a slide, swings, trampoline and football pitch, where you can have fun in complete safety; also close to the play area there is a small petting zoo with donkeys, ponies, chickens, geese, ducks, turkeys and pigs.
This is an amazing villa, it is located about half an hour from the Trieste airport on the hills of Friuli surrounded by vines. Clean and well equipped by any standards and the location is fantastic for a couple with two kids in the farm. The owner is accessible and friendly and lives down the road. Everything was perfect and beyond expectations. The only downside is the limited internet access, if you NEED to be connected, reconsider. Otherwise, the photos do not do justice to this place, it is really well worth the time and money.
Meital
2016-08-25T00:00:00Z
Disponibilità, Ospitalità, cordialità, casa confortevole "avvolta" da vigneti.......tutto il necessario per una vacanza relax nel Collio friulano. Da tornarci presto un grazie di cuore a Federico Federica e a tutta la famiglia Nataluzzi a presto
Roberto
2016-08-14T00:00:00Z
Abbiamo passato sei giorni nella casa di Federico, ed è stata un'esperienza bellissima. Innanzitutto siamo stati accolti con molta gentilezza e disponibilità. La casa si trova vicino all'agriturismo, è molto accogliente e adatta per famiglie con bambini. C'è un grande giardino attrezzato dove i bambini possono giocare. La casa è arredata con gusto, ha due camere da letto, doppi servizi, un grande soggiorno, e una cucina completamente arredata. C'è anche un camino con la legna per accendere il fuoco. Intorno all'agriturismo c'è uno spazio grande dove si possono ammirare animali dalla fattoria. Sempre nell'agriturismo si possono degustare ottimi vini e piatti da sapori unici accompagnati da gentilezza e cordialità. Il posto è incantevole e dista dai Cividale, Udine, e Cormòns 20 minuti con la macchina, dove si trovano ristoranti tipici e dove si fare acquisti. Io e la mia famiglia siamo rimasti contento e soddisfatti per avervi soggiornato e presto ritorneremo. Un grazie di cuore.
Karin und Robert
2016-03-26T00:00:00Z
Fantastic house, beautiful and spacious... On a hill, in the middle of a winery (delicious wine)... Wish we could have stayed longer. Very welcoming and helpful hosts.
Claire
2016-07-19T00:00:00Z
Federico et sa famille sont d'une très grande gentillesse. La maison est grande, fonctionnelle et très propre. Le terrain est magnifique. Le vignoble est beau et très bien organisé. Le vin est bon.
Claire
2016-08-18T00:00:00Z
The house is fantastic, exactly like it is depicted. Communication was easy and Federico and his people are very flexible and welcoming hosts. The winery near the house is also worth a visit, great food and wine and very friendly local crowd. All in all, a wonderful place to stay and a great experience. Definitely recommended!
Balint
2016-05-25T00:00:00Z
Accoglienza, ospitalità, gentilezza, disponibilità: questi gli ingredienti che hanno caratterizzato i nostri 3 giorni in Friuli. Federica si è rivelata subito un'Host cordiale e cortese, che ha saputo fornirci tutte le informazioni necessarie per godere appieno delle bellezze di questa Terra. La casa è una favola, quello che serve per rilassarsi in mezzo ai numerosi vigneti che caratterizzano la zona. Quello che più mi ha colpito è la cura dei dettagli e quelle piccole accortezze che ti fanno sentire come a casa. Consiglio vivamente questo alloggio a famiglie con bambini, in quanto l'attenzione per i piccoli ospiti traspare in ogni angolo della casa. La mia bimba è stata felicissima di trovare didò, colori, costruzioni e pentolini con cui giocare. D'obbligo è la tappa all'Agriturismo Selva, per degustare i deliziosi vini della cantina Nadalutti e sostare per una merenda o un aperitivo a base di salumi e formaggi: anche qui accoglienza e cura dei particolari sono di casa. Per finire, la casa risulta essere un ottimo punto di partenza per visitare le bellissime località del Friuli, come Udine, Cividale, Palmanova, Aquileia, Grado,nonché la bellissima Trieste. Concludo dicendo che la splendida "Villa nei Colli Friulani" merita davvero, così come tutta la famiglia Nadalutti. Grazie di cuore per aver reso piacevoli e sereni questi nostri giorni di vacanza. A presto!
Giada
2016-07-12T00:00:00Z
We had a wonderful weekend at Villa nei Colli Friulani. Everything was perfect. We were greeted promptly and learned everything we needed to know about the house. The whole place was spotlessly clean. The beds were very comfortable. The kitchen has everything you could possibly need. My kids loved the pool and the play area with a trampoline, swings, futball field. My husband and I loved the amazing lunch of local meats, cheeses and veggies with wonderful wine. We spent hours enjoying the view from the lawn. An absolutely perfect getaway!
Kristyn
2016-07-25T00:00:00Z
Tipo de Acomodação
Casa/apto inteiro
---
Tipo de Imóvel
Casa
---
Acomoda
6
---
Quartos
Premariacco, Friul-Veneza Júlia, Itália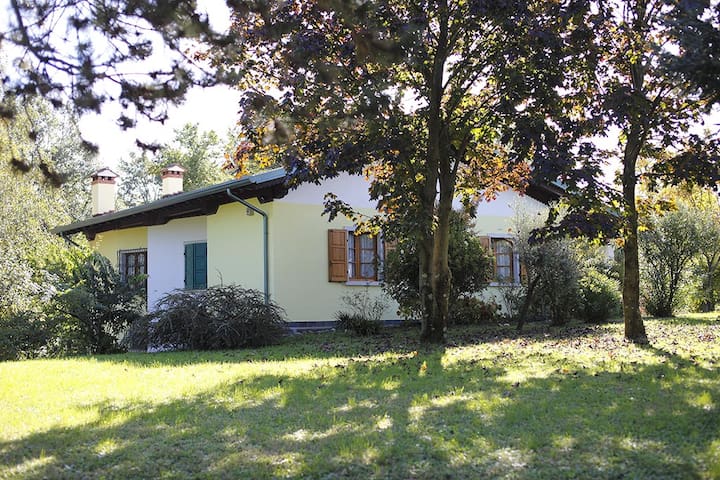 Attendez-vous à une maison avec de nombreux objets dans le salon et les chambres utilisables.
Tipo de Acomodação
Casa/apto inteiro
---
Tipo de Imóvel
Casa
---
Acomoda
2
---
Quartos
Udine, Friul-Veneza Júlia, Itália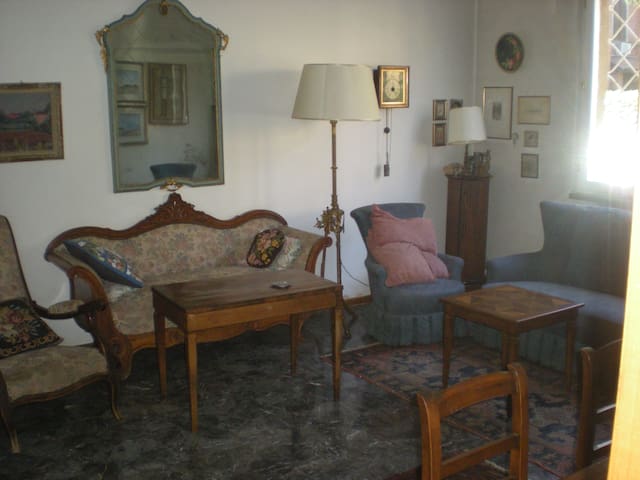 HOUSE Leproso hat 1 Schlafzimmer mit Doppelbett im ersten Stock, 2 Einzelbetten für zusätzliche Gäste im Wohnzimmer im Erdgeschoss. ausgestattete Küche, Bad, Reisebüro, Wi-Fi. Ideal für Erholung, Ausflüge: 5 min. von Cividale. 15 km von Udine, 70 von Triest. Zum Buchen müssen Airbnb Benutzer sein. Für die Wintermonate ist es gut zu wissen, dass die Gäste ein warmes Zuhause finden werden, sondern müssen sehen, nachdem Sie den Herd einschalten, während mit Brennholz Aufenthalt zur Verfügung gestellt. Gut erzogene Katzen
Brand new zwei Etagen Haus Anlage von Grün vor, umgeben von unserem Haupthaus (Foto "casa principale" "Haupthaus" sehen). Großer umzäunter Garten. Am Boden Stock, großes Wohnzimmer mit Kochnische (Induktionsherd und Kühlschrank), Couch und Sofa-Bett, Tisch und Stühle. Terrakotta-Bodenfliesen und Holz Balken Decken. Holzofen. Duschraum. Französisch Fenster auf die Öffnung Garten. Die erste Etage verfügt über ein großes Schlafzimmer Öffnung auf einer Terrasse mit einem Außendusche. Das Haus wird durch den Holzofen beheizt und ein Konvektor-Ventilator sorgt Heizen / Kühlen. Schöner Blick auf die umliegende Landschaft. BBQ und Liegestühle im Garten. Ein perfektes Haus für Trekking, ruhend friedlich inmitten der Stille der Landschaft.
Das Dorf ist sehr ruhig, keine Geschäfte, aber eine gute Pizzeria. Zum Einkaufen, für die Apotheke, die Post, die Bank kann leicht die Nachbarländer und Premariacco Orsaria erreichen. Für die Kunst, Archäologie und Einkaufsmöglichkeiten, ist der Wein Cividale 10-minütige Fahrt oder Udine (20 Minuten Fahrt). In der Umgebung viele Weingüter, wo man probieren und kaufen können.
Ottima esperienza! Anna è stata una grande host. Ci ha fatti sentire a casa!
Anna
2016-06-06T00:00:00Z
Really lovely spacious self contained flat that is part of a period property. Anna Rosa was very welcoming and the flat had everything you could need for a short stay including food for continental breakfast and complimentary wine and beer. There is a comfortable double bed upstairs and various sofas downstairs as well as a dining area that would seat six. The bathroom is small but new and clean and has plenty of complimentary toiletries and anything else you may have forgotten to pack. The garden is lovely with a friendly cockerel that seems to crow at lunchtime rather than in the morning and at the time we were there the most gorgeous tiny kittens and their mum. We had a lot of fun watching their antics. There is seating outside in the shared garden and everything you would need for a barbecue. It's in a rural area, there is some mobile phone reception but I had limited internet access from my phone and mostly only from upstairs. Coming out of the property you have a lovely view across fields. There is a restaurant in the village but not much else within walking distance, a car is definitely recommended. There is also plenty of information provided about the local area and possible day trips with road maps and brochures. Slovenia is gorgeous and within easy reach as long as your car hire company will allow you to cross the border. Overall we had a very lovely stay and I highly recommend it. We would definitely stay again if we're in the area and have a car.
Ellen
2016-06-01T00:00:00Z
Anna Rosa and Lorenzo are very kind and welcoming! It's a beautiful place and we had a very nice time there. We were a little sad that we had to leave the next day, because we had to continue our journey. We will come back! Thank you!
Alessija
2015-06-19T00:00:00Z
I have been to many airbnb apartments and this one is truly exceptional. Not just an apartment, it is a small house with a garden. It is well stocked with food and drink and the hosts could not be more delightful. They loaned me a bicycle and even picked me up after my rehearsal (I am an opera singer) at midnight one night, because it was raining! The house is located a 20 minute bike ride or 10 minute drive from the center of Cividale in a bucolic setting with vineyards, sunflower fields and mountains in the distance. A lovely spot by the river is within walking distance. People come from miles around to visit it. Do not hesitate. Book it!
Nicholas
2016-07-18T00:00:00Z
sono stata due notti a casa di Anna Rosa, devo dire che è stata, lei e suo marito, di un'ospitalità incredibile, preoccupandosi che tutto andasse bene..mettendoci a disposizione anche un'abbondante colazione.. la casa si trova in un luogo molto tranquillo ed è un vero gioiello.. se passate da quelle parti ..fermatevi perchè vale davvero!!! grazie Anna Rosa!!!
Manuela
2015-11-08T00:00:00Z
Anna Rosa e la sua famiglia sono stati molto gentili e (URL HIDDEN) casa si trova in una zona molto tranquillo ed è ancora meglio di come sembra dalle foto.Avevamo tutto quello che ci serviva, compreso il cibo per la prima (URL HIDDEN) casa è molto accogliente e ci torneremmo volentieri.
SALLY
2016-05-22T00:00:00Z
La migliore accoglienza che si potesse ricevere: Anna Rosa e Lorenzo sono state persone disponibilissime, gentili ed ospitali. La casa, piccola, ma estremamente funzionale, non fredda e dotata di tutti i comfort. Quartiere molto tranquillo. Un soggiorno molto piacevole.
Stefano
2016-01-26T00:00:00Z
Anna Rosa is a wonderful person, and we had a wonderful stay in her apartment. She Even cooked for us before our arrival which was incredibely nice of her (and the meal was delicious) Highly recomended. I wish we have stayed longer to visit the countryside
Pierre
2015-07-21T00:00:00Z
Tipo de Acomodação
Casa/apto inteiro
---
Tipo de Imóvel
Casa
---
Acomoda
4
---
Quartos
Udine, Friul-Veneza Júlia, Itália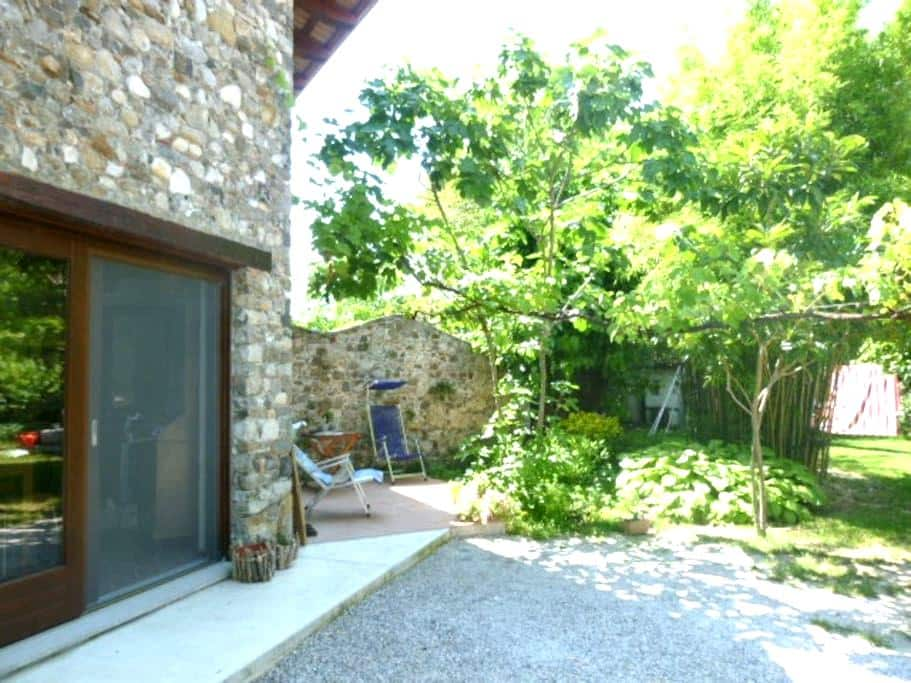 Una meravigliosa casa in pietra che risale al 1630 perfettamente ristrutturata e inserita in una corte raccolta nel centro di un piccolo borgo rinascimentale. I nostri ospiti potranno godere di una grande sala da pranzo, una sala camino due bagni una stanza da letto matrimoniale divano letto nell'ampio studio. WI-FI riscaldamento a pavimento, aria condizionata nella zona notte. Il mio spazio e' perfetto per una coppia una famiglia o una coppia di amici.
Vi sentirete accolti in un angolo di passato, con tutti i comfort di oggi. Tutto è curato nei minimi dettagli e faremo in modo che vi sentiate a vostro agio come se foste a casa vostra. La casa e' disposta su due piani e si affaccia su un grande giardino dove è possibile utilizzare un barbecue.
La casa si trova in un meraviglioso piccolo borgo seicentesco adagiato sul letto di un fiume e con attorno vigne e colline.
Tipo de Acomodação
Casa/apto inteiro
---
Tipo de Imóvel
Casa
---
Acomoda
4
---
Quartos
Giassico, Friul-Veneza Júlia, Itália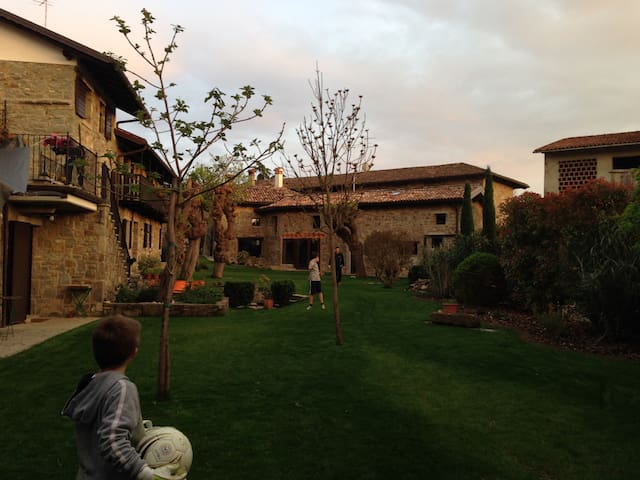 In a fantastic location, 200 meters from Teatro Nuovo Giovanni da Udine and less than 5 minutes walk from the historic center, the room is in a house start Terracielo 900 restored recently furnished with modern character inserting objects that are combined with finishes the-century, exposed beams, floors and windows in wood
The house is on 3 levels. Living room, a bathroom and the kitchen are located on the ground floor. On the first floor bathroom with shower and double sink and second floor room. The kitchen is equipped with everything needed for cooking, stove, oven and dishwasher are available.
The house is located within walking distance (20 meters) from Piazza Primo Maggio, consequently, and a few hundred meters from the historic city center.
Tipo de Acomodação
Quarto inteiro
---
Tipo de Imóvel
Casa
---
Acomoda
2
---
Quartos
Udine, Friul-Veneza Júlia, Itália
Appartement confortable et rénové avec 2 chambres (1 lit double et 1 lit superposé) + salle à manger / salon (avec canapé-lit) + 1 salle de bain. L'appartement est à l'intérieur d'une grande propriété privée d'une maison de campagne typique entourée d'un jardin flagrant. Idéalement pour la famille.
Situé dans une position stratégique, à 10 minutes du centre-ville d'Udine et très proche de Colli Orientali du Frioul (15 minutes) - les collines parsemées de monastères et châteaux, l'appartement est le point de départ idéal pour découvrir notre région, ou encore pour simplement se détendre . L'appartement est au premier étage et dispose de 2 chambres (1 grande chambre double et une plus petite avec un lit superposé), 1 salle de bain avec grande douche. Une cuisine hipper équipée avec coin repas et salon, avec la possibilité d'utiliser le canapé-lit pour 1 personne de plus.
Couvert et aucun cours de tennis couverts sont disponibles dans le village voisin de Lauzacco (10 minutes en vélo), tandis que dans un rayon de 15 km il y a un excellent parcours de golf de 18 trous et un centre équestre. Rafting ou de la pêche dans le Isonzo est à seulement 20 minutes à proximité de la frontière slovène, vous pouvez trek dans les contreforts de la Carnic ou des Alpes juliennes et monter autour d'eux, aussi, en vélo de montagne. Les amateurs de nature pourront découvrir la beauté de la campagne et les collines autour de la propriété ou de la lagune de Marano (25 minutes), ou bien vous pourrez découvrir la merveilleuse nature de la Carso et la Carnia à proximité, et les vallées de montagne Kärnten. Pour ceux qui préfèrent la mer, il y a le choix entre la côte rocheuse de Duino et les plages de sable de Grado ou Lignano, tandis que les villes historiques de Udine, Trieste, Gorizia, Cividale et Aquilée offrent du shopping pour tous les goûts.
Das Apartment von Edoardo ist sehr empfehlenswert. Die Gastgeber sind sehr freundlich und zuvorkommend. Die Eltern von Edoardo leben im Haus nebenan und sind bei Fragen rund um die Region immer hilfsbereit. Das Apartment selbst ist für einen Ferienbesuch sehr gut ausgestattet und einen Willkommenssekt gab es auch! Von hier aus kann man die gesamte Region entdecken, sei es die Küste in Grado und Trieste oder auch die Berge in Slovenien. Ein Auto ist jedoch pflicht, da man von Pavia sonst schlecht weg kommt. Wir haben eine schöne Woche verbracht und würden auch gerne nochmal kommen.
Piotr
2015-08-16T00:00:00Z
Wir wurden herzlich in Empfang genommen von Edoardos Eltern. Sie nahmen sich sehr viel Zeit uns alles zu erklären und servierten sogar einen Willkommensdrink. Sie haben sogar für Getränke im Kühlschrank, Pasta und etwas zum Naschen gesorgt. Was will man mehr!?
Niklaus
2015-07-15T00:00:00Z
The place, the host, as well as the whole setting was truly faultless. We have enjoyed every bit of it. Even thouugh I like giving constructive criticism, there is nothing I can think of.
Michal
2016-07-06T00:00:00Z
Everything was great, it really was... We are sure to come back! ;-)
Natalia
2016-08-27T00:00:00Z
Eduardo è stato molto gentile e disponibile per qualsiasi esigenza, non ha avuto problemi per un late check out di ben 5 ore. L'appartamento è veramente incantevole, c'è tutto ed è in una zona molto tranquilla. Grazie, tornerò di sicuro
lauro
2016-07-25T00:00:00Z
I can only confirm what others have Said: It's a wonderful Place to stay. We enjoyed it very much and Had a Great Time there with our Kids. The accomodation is very stylish and Quite practical. We felt very welcome. The village is nice, Calm and you will hear the bellfry in the Morning:) there is a nice Patisserie and lot's of good Restaurants nearby. Parents of Edoardo are very nice Folks, also The Communication with Edoardo was very good. We will Surely come Back.
Mechthild
2016-08-14T00:00:00Z
Nice communication, super nice garden and view on the fields...
Laurent
2016-08-22T00:00:00Z
The apartment, the house and the atmosphere are together very beautiful. The house is quite clean and everything is fine !But Edoardo's behaviour very strange. We left the apartment very clean and we checked together everything. And after 1 day he wanted to get more money afterward. I don't recommend him. In my opinion he is not gentleman and not a good host. Because a good host believes the "costumer first" ideology and is not hysterical like a child.
Amanda
2016-07-01T00:00:00Z
Tipo de Acomodação
Casa/apto inteiro
---
Tipo de Imóvel
Casa
---
Acomoda
5
---
Quartos
Pavia di udine, Friul-Veneza Júlia, Itália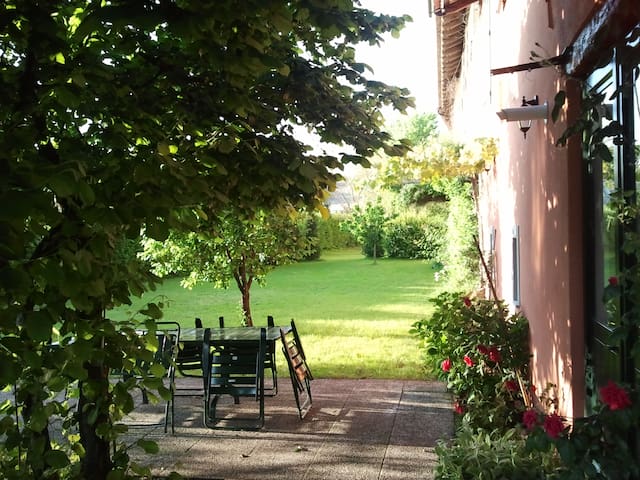 La Casa Rossa ha una splendida posizione sulla sommità del monte San Biagio tra boschi di castagni e balze vitate. L'interno sobrio ed elegante, la pace e la bellezza del sito sono ideali per chi cerca la tranquillità, ma anche ottima base di partenza per escursioni enogastronomiche fra Collio (Cormons 5 km) e Colli Orientali, o visite alle città d'arte di Cividale (9 km), Gorizia (18 km) e Udine (25 km).
Tipo de Acomodação
Casa/apto inteiro
---
Tipo de Imóvel
Casa
---
Acomoda
6
---
Quartos
Corno di Rosazzo, Friul-Veneza Júlia, Itália
Die Villa befindet sich in einer strategisch günstigen Lage: 45 Minuten vom Meer entfernt, 15 Minuten von der "Weinstraße", im Herzen des Collio Weinregion und ganz auf die wunderschönen Berge geschlossen, die die Region Friaul-Julisch Venetien Region charakterisieren.
Die Villa ist groß genug, um eine Gruppe von Freunden oder zwei große Familien zu beherbergen, die zusammen einen Urlaub verbringen möchten.
Die Villa liegt in einem ganz ruhigen und netten kleinen Dorf gelegen ist, wird er von einem großen Garten umgeben, in dem Sie sich entspannen, Fußball mit den Kindern spielen oder einfach nur ein Buch unter den großen Bäumen lesen rund um den Garten
We had a great Holiday at faustos Place! It is a really big and clean house with everything we needed. Fausto answerd very quick and organized everything for us. He also organized a wine tasting with a awesome dinner in a very nice restaurant and a taxi! Maila his cousin gave us the keys and was very very nice too! I definteley would come back! Thank you so much Fausto and Maila!
Roxane&Martin
2016-06-21T00:00:00Z
Abbiamo trascorso un soggiorno ottimo , struttura bellissima , ottima accoglienza , consigliata
Denis
2017-04-06T00:00:00Z
We had a fantastic stay at Fausto's. As it was Christmas, we asked if we could get a tree, and Fausto outdid himself with lovely decorations that really made us (EMAIL HIDDEN)munication was easy and we had everything we needed. We would love to stay again in the summer!
Ava
2016-12-26T00:00:00Z
Fausto is a perfect host! He communicates fast and in detail! We had a very nice experience staying at the Villa! The house is huge! One has really a lot of space!! Take a compass in order not to get lost! :-)! The house is very very clean and offers a lot of choices. The location is great. All the nice wineries and restaurants are within reach of 30 min! The house has a little the charme of the 80ties. But it is very well maintained! If you like Italy you will like the charme of the house! Thanks for letting us stay there! Thomas
Thomas
2016-10-02T00:00:00Z
My family and myself spent couple of days including New Years Eve in Fausto's villa in Percoto with a group of friends (in total 8 adults and three children). We were delighted with the house which is really very spacious, beautiful and comfortable. It actually looks better in real than in photos. Everything was very clean and we had at our disposal everything that we needed for a very nice and relaxing vacation, including enough firewood for a lovely fireplace. The property is fantastic, huge with a beautiful garden which is well maintained. It is perfect for families with children as they have a lot of space to play and run around. The house is located at the end of the village thus you have a lots of privacy and peace.The pool is also very nice (although we went there is winter). The village is very cute with wine yards and a wine route starting just a cross the road. There are shops and small restaurants and many interesting places near by that are worth visiting. Fausto is a really a great host who is always available. He waited for us in the house, even left welcoming food and wine, gave us all relevant information including very useful tips for restaurants and shops nearby. We really spent amazing couple of days in Fausto's house and will for sure go back in summer or late spring in order to enjoy the pool and garden. We really recommend staying in Fausto's villa.
Ljubimka
2016-01-03T00:00:00Z
Fausto's cousin welcomed us on arrival and was very helpful showing us around the house, where everything was and how everything worked. She also gave us lots of recommendations about places to go and see / eat / drink in Udine etc. that really made our weekend complete. Very kind! Fausto himself was also very helpful via Air BnB messaging and (SENSITIVE CONTENTS HIDDEN) meaning that all my questions were answered quickly and completely. The villa was exactly as described and pictured. We were lucky with the weather which meant we could enjoy the beautiful, clean and refreshing pool. The house is really big so was plenty of room for 7 of us! The trip from the airport (Trieste) to the property was not far at all (about half an hour by car) and it's about a 5 minute drive to the local village Percoto where there's a little supermarket and a few small bars and gelaterias and a 15 minute drive to the town Udine where there are lots of restaurants etc. Fausto arranged a cab from us from the airport (mini bus!) which was very helpful, and the taxi man gave us his details so we could contact him whenever we needed to drive out of Percoto. If your plan is to stay at the villa the whole time then there's enough space to be compfortable but if you want to travel around a bit and go out to restaurants you will need a car or a taxi number. Also, there are 3 bikes in the basement we were able to use to nip to Percoto and pick up supplies! Great place and excellent host!
Laura
2016-05-31T00:00:00Z
Tack Fausto och Maila! Våra dagar i ert hus i Percoto var underbara. Vi var två familjer med barn mellan 3-10 år. Det fanns gott om utrymme för alla våra önskemål. Huset var mycket rent och fräscht och poolen fantastisk. Huset ligger på landet men nära till mycket. Vi hann på fyra dagar besöka Udine, Grado, Trieste och Palmanova men ända ha tid över till njuta av poolen och huset. Ett tips är att äta på Trattoria Menotti i grannbyn Manzano, mycket god mat, superbra service samt härlig trädgård. Faustos kusin Maila var vänlig och hjälpsam, hon löste in och utcheck smidigt och hjälpte oss med diverse frågor! Vi hoppas snart kunna återvända! Med Vänliga hälsningar familjen Lidenwall
Daniel
2016-06-30T00:00:00Z
The house is incredibly comfortable and it is located in a very strategic position to go and visit many part of Friuli at a very close distance. The house is extremely well equipped with all you will need. The yard is very well kept with many trees and space. the pool is fantastic.
Paola
2016-08-01T00:00:00Z
Tipo de Acomodação
Casa/apto inteiro
---
Tipo de Imóvel
Casa
---
Acomoda
16
---
Quartos
Percoto, Friul-Veneza Júlia, Itália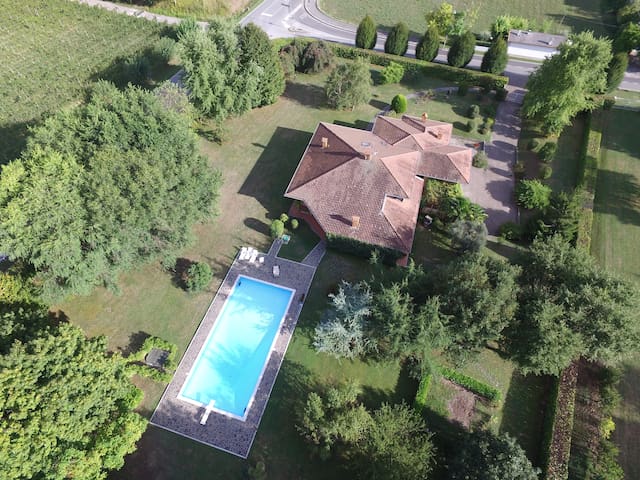 An authentic 18th Century Villa to relax in a quiet scenery, spend a holiday with good friends and discover the arts, gastronomy and wines of our region. You'll receive from us a gift of two wine bottles of our own organic winery when you arrive!
We have 5 double rooms and rent at a minimum of 3 nights. Children up to 2 years are free, we also have one child bed. From the central area of north-eastern Italy you can easily reach historic and cultural cities and towns like Venice, Triest, Udine, Aquleia, Cividale, Gemona etc. You can also easily reach Slovenia and Croatia or the seaside in Sistiana, Grado or Lignano, even for a daily trip. Not far from the house there are public swimming pools, golf courses, and large opportunities for walks and rides by bike. If you love to have good food and wine you can find a lot of traditional restaurants and wineries in the area. We can also provide you the wines from our own organic winery and organize wine tastings for your group or family.
The Villa is situated in a small rural town
Deze schitterende azienda biedt ongelofelijk veel ruimte in een karaktervol huis. De tuin is groots. Het huis is zeer rustig maar strategisch gelegen. Het onthaal was warm en zeer hulpvaardig. De inrichting van het huis is ouderwets maar dat maakt het juist karaktervol. Alle benodigdheden zijn beschikbaar. Een droomhuis voor wie eens in mega slaapkamers wil overnachten. De pergola van druiven maakt de tuin af. De auto's kunnen binnen worden geparkeerd. Een aanrader voor zeer grote gezinnen of groepen.
Gert
2015-07-11T00:00:00Z
Les hôtes sont charmants et très disponibles. Ils ont répondu avec empressement à nos besoins. La maison est immense et possède beaucoup de cachet, la cuisine spacieuse est bien équipée, le jardin immense est un havre de paix accueillant, conçu pour les repas à l'extérieur et le repos dans un environnement calme. Nous garderons un très bon souvenir de notre séjour. Luisa Mauro et famille
Luisa
2014-08-06T00:00:00Z
Famiglia Morelli De Rossi bietet ein tolles Haus mit grossen Garten an. Wir waren mit sechs Personen dort und konnten uns im Gebäude fast verlaufen. Auch die Außenanlagen sind prima, weitläufig und sehr gepflegt. Der altersbedingte Charme des Anwesens macht es authentisch. Wenn man wie wir etwas abgelegener und besonders Urlaub machen möchte, kann ich diese Unterkunft nur empfehlen. Alle Familienmitglieder, die wir kennengelernt haben, sind sehr nett, zuvorkommend und gastfreundlich.
Friedrich-Wilhelm
2015-08-13T00:00:00Z
C'est une maison qui a beaucoup de charme et dont les pièces sont immenses, rustiques et très belles. On se croirait dans un palais ! La maison est très au calme, à l'entrée d'un petit village. La cuisine est très bien équipée et le jardin - on devrait dire le parc ! - permet des repas en extérieur. Les lits sont aussi très confortables, et très larges. Nous avons été chaleureusement accueilli, avec une hôtesse qui a tout fait pour faciliter notre séjour.
Martine
2015-07-21T00:00:00Z
Tipo de Acomodação
Casa/apto inteiro
---
Tipo de Imóvel
Casa
---
Acomoda
10
---
Quartos
Manzinello, Friul-Veneza Júlia, Itália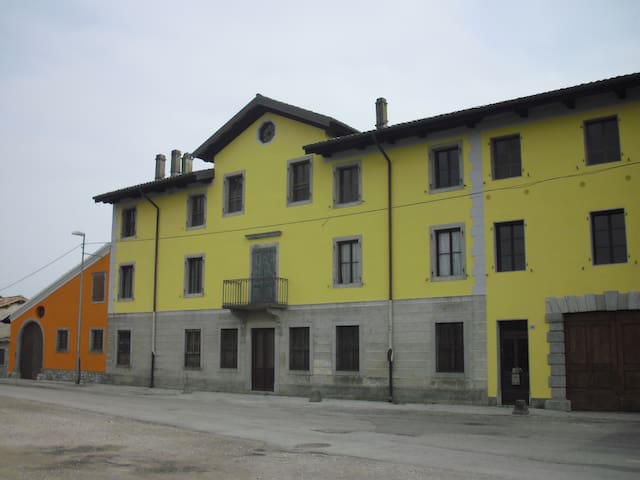 The room is located in the south sector of the city just 2 km from the railway station and not far from the highway exit Udine Sud; it is very well served by two bus lines that stop opposite the house and a 5-minute lead, in the train station, in the center, the theater, all 'universities or in the neighboring city hospitals.
The accommodation is located in the 1st of a three-family house with a garden always at your disposal; It goes up to the 1st floor where your simple light and cozy room will offer rest. The bathroom has a shower, sink, bidet and toilet is just at your disposal and is connected directly to the room. The room has no kitchen. If you need the kitchen we can offer you the apartment located in the tavern.
A few tens of meters are available shops for basic needs. It is just 2 km from the Teatro Giovanni da Udine, and close to typical of downtown areas. The train station is 2 km., The Friuli stadium is 7 km away. Nearby for fans of cycling the passes Via Alpe Adria Bike Path that leads from Salzburg to Grado.
Tipo de Acomodação
Quarto inteiro
---
Tipo de Imóvel
Casa
---
Acomoda
3
---
Quartos
Udine, Friul-Veneza Júlia, Itália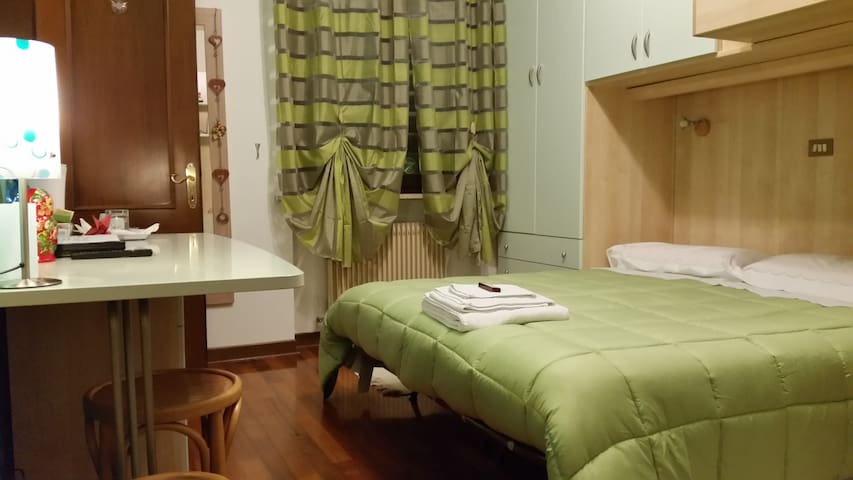 HOUSING AND 'IN PRIVATE HOUSE. CAN 'ACCOMMODATE UP TO 8 PEOPLE - BREAKFAST EXTRA / BREAKFAST € 7.00 PER PERSON / PER PERSON - CLEANING / FINAL CLEANING € 18.00 - LUNCH or DINNER / LUNCH or DINNER € 15.00 - CURRENT HEATING WINTER MONTHS (December TO MARCH INCLUSIVE) EXTRA PRICE € 27.00 GUESTS HAVE: - PRIVATE APARTMENTS IN SINGLE UNIT 'WITH 2 + 2 BEDS - TWO ROOMS 2 BEDS EACH WITH PRIVATE BATH. - TWO ROOMS 2 BEDS EACH with shared bathroom. - AVAILABILITY 'BARBECUE / AVAILABILITY BARBECUE - AVAILABILITY 'BICYCLES / AVAILABILITY BIKES We SPEAK GERMAN / ENGLISH / FRENCH. (ACCEPT PETS) / ANIMALS ACCEPTED - PARKING LOT / INTERNAL PARKING - FREE WI-FI WE ARE AVAILABLE TO INTERACT WITH A GUEST AT CHECK-IN, CHECK-OUT AND ON ANY CLAIM THERE IS MADE OF INFORMATION TO MAKE YOUR STAY THE MOST 'QUIET AS POSSIBLE. HOUSING AND 'SURROUNDED BY GREEN IN QUIET AREA AND QUIET AND SERVED BY BUS NO. 11 CHE PORT IN THE CENTER CITY '. EASY TO GET TO THE TRAIN STATION AND BUS TOURS FOR TOURIST. - BREAKFAST EXTRA / BREAKFAST € 7.00 PER PERSON / PER PERSON - CLEANING / FINAL CLEANING € 18.00 - LUNCH or DINNER / LUNCH or DINNER € 15.00
HOUSING AND 'SURROUNDED BY GREEN IN QUIET AREA AND QUIET AND SERVED BY BUS NO. 11 CHE PORT IN THE CENTER CITY '. EASY TO GET TO THE TRAIN STATION AND BUS TOURS FOR TOURIST.
Denis, Maria Stella und Georgio waren perfekte Gastgeber. Man erlebt nicht in jedem Hotel solche lustige und humorvolle Leute. Sie haben uns vieleTipps gegeben (inklusive Maps), was wir besuchen können – z.B. Museum der Schmetterlinge, Rafting in Slowenien usw. Wir fanden gut, dass wir in der Pension in einer Woche Leute von verschiedenen Ländern kennen gelernt haben (Tschechien, Polen, Schweiz, Niederlande). Zimmer waren sauber und gut eingerichtet. Danke.
Josef
2015-08-02T00:00:00Z
La règle de base chez Stella et Denis est : - comme à la maison ! Effectivement, nous sommes arrivés en famille avec notre chien et notre petit chat. Nos hôtes ont toujours attentif et de bon conseil !
Eric
2015-06-29T00:00:00Z
Maria Stella i Denis to wspaniali ludzie. Przyjęli nas jak znajomych, napoili (własnej produkcji winem) i nakarmili lokalnymi potrawami. Pokoje są domowe (sporo przedmiotów należących do właścicieli i ich dzieci), ale przestronne i wygodne. Za domem jest winnica i latem musi być tam bardzo ładnie. W dzień wyjazdu Denis z córką poświęcili nam pół dnia i pokazali Cividale - urokliwe miasteczko w pobliżu Udine, a w samym Udine wskazali bardzo dobrą restaurację. Szczerze polecam to miejsce i mam nadzieję odwiedzić gospodarzy latem, kiedy okolica będzie jeszcze piękniejsza.
Alek
2015-01-23T00:00:00Z
Wir wurden sehr herzlich durch Maria Stella empfangen und während unseres Aufenthalts (4 Tage) zuvorkommend betreut, sehr sauberes Appartment, tolle Lage für Ausflüge in die Umgebung, Bushaltestelle vor dem Haus, sehr ruhig mit Blick auf Weinberg und die karnischen Berge.
Christoph
2015-09-10T00:00:00Z
The reservation was canceled 17 days before arrival. This is an automated posting.
Elisabeth
2015-05-05T00:00:00Z
Maria Stella and Denis made mine and my Wife's stay calm and relaxing, there was nothing they would not do to help us, Maria Stella made us a beautiful meal after our long journey when we arrived their beautiful home had large gardens/vineyard, a huge kitchen comfy beds, easy access to Udine city centre, beautiful views of the Mountains to the North and quiet farmland to the south. All in all I would book with them again, 5 stars! Thank you both!
Ian
2016-09-27T00:00:00Z
Sempre molto gentili e disponibili: premurosi. La casa è bella, ottima per chi vuole visitare Udine. Da curare di più la colazione…
Paolo
2015-07-26T00:00:00Z
supernette Gastgeber, sehr herzlich, schönes haus, gutes essen, alles bestens. empfehlenswert!
Karin
2015-04-01T00:00:00Z
Tipo de Acomodação
Casa/apto inteiro
---
Tipo de Imóvel
Casa
---
Acomoda
4
---
Quartos
Udine, Friul-Veneza Júlia, Itália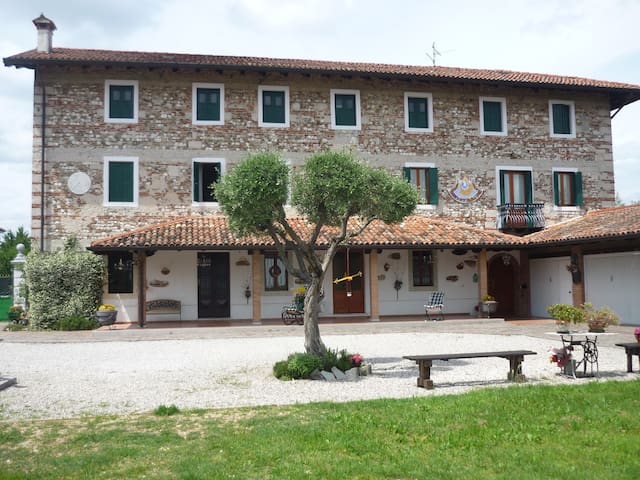 El piso es de 95 mq, ideal para una sola o una pareja. Está situado junto a la estación de tren y autobús, así como al acceso a la autopista, ya 5 minutos a pie del centro de la ciudad. zona tranquila. Parque privado, conexión wi-fi.
Es fácil llegar en cualquier medio de transporte, el piso es de 95 m², tiene una 'sala de estar grande y luminoso, con cómodos sofás para relajarse y retráctil gran pantalla para la proyección de la película, una cocina totalmente equipada con una mesa de comedor, un amplio dormitorio principal de 16 m² con terraza, y un cuarto de baño con bañera de hidromasaje.
El piso está situado en una zona tranquila ya que el acceso es a través de un patio privado donde también se puede encontrar aparcamiento. El barrio está bien comunicado por una línea de autobús, que se encuentra a 20 metros de la puerta de entrada principal. Es sólo a pocos pasos de la estación de tren y autobús regional e interregional. La autopista es fácilmente accesible desde la salida de Udine Sud se encuentra a pocos km. 5 minutos a pie del centro de la ciudad y los principales lugares de interés, incluyendo teatros, cines, centros deportivos, restaurantes y empresas de todo tipo.
Die Unterkunft war total super, toll ausgestattet, Wahnsinnslage, wunderschön auf den Balkonen zu sitzen, man kann leicht zu Fuss ins Zentrum gehen, alles gut erreichbar, Barbara war sehr nett und hat sich sehr bemüht, es gab Pizza zum Empfang und Prosecco, wir wurden noch nirgends so toll aufgenommen.
Michaele
2016-05-09T00:00:00Z
Tipo de Acomodação
Casa/apto inteiro
---
Tipo de Imóvel
Casa
---
Acomoda
2
---
Quartos
Udine, Friul-Veneza Júlia, Itália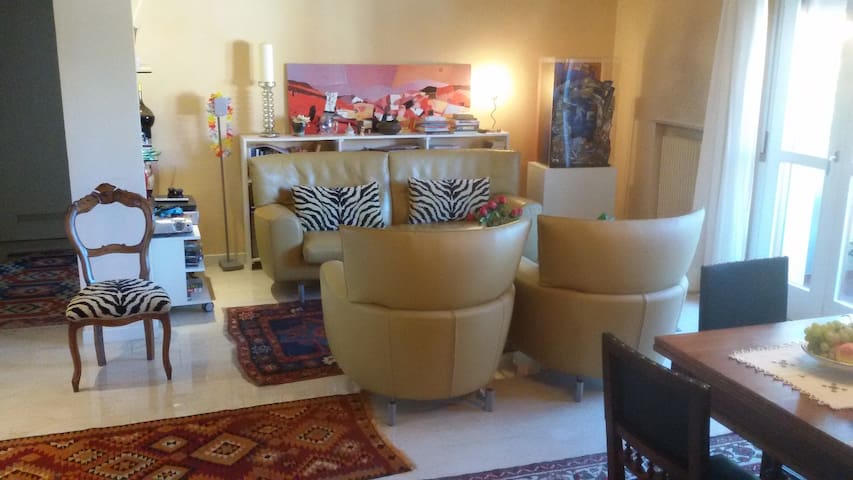 Auf dem Platz des mittelalterlichen Dorfes, in der alten Residenz mit Weingut, großer Garten, Wohnung 5 Betten, 2 Badezimmer und Küche. Im Erdgeschoss des Gartens einen angenehmen Aufenthalt. Zentrale Lage Venedig und Friaul zu besuchen.
Zwei komfortable Doppelzimmer, erste Etage Blick auf den Garten, im zweiten Stock ein, drei Ansichten: über die Dächer des Dorfes, auf den Garten und die Berge im Hintergrund und die alten Glyzinien. Ein Badezimmer und ein Badezimmer mit Dusche. (Preis pro Doppelzimmer, inklusive Frühstück 85 €) Eine kleine Küche ist ebenfalls verfügbar, so dass unser B & B verwendbar auch als eine kleine Wohnung (2-Bett-Zimmer ohne Frühstück € 120) Die Gäste können eine gewisse Entspannung in unserem großen Garten, genießen, sondern auch zur Meerseite gehen, zu Bergkurorten oder interessante kleine Städte wie Palmanova, Aquileia besuchen, Cividale in der Nähe von oder nach Triest reisen (45 'Autobahn) und erreichen Venedig mit 1h Zug. Das Frühstück wird im Erdgeschoss bereit, in einer "Blume" Raum geeignet den Garten durch ein großes Fenster Französisch. Wir freuen uns, Sie rund um unser Eigentum zu nehmen, in die Kellerei zu besuchen, unsere Dauerausstellung "I Colori del Vino®" (Die Farben des Weines) und auf Wochenende zusammen mit unseren Weinen können Sie einige lokale Restaurants Salami und Käse in unserem agriturismo "Antico Cantinone" Selbst ein Boston-Flügel zur Verfügung steht ... für Musiker!
Tutto ottimo e perfetto!!
Laura
2015-11-11T00:00:00Z
Un posto bellissimo in un contesto molto particolare e rilassante, con un appartamento su due livelli comodo e confortevole. Accoglienza e disponibilità ai massimi livelli. La cortesia di Elisabetta e del marito sono decisamente un plus. Credo proprio che l'esperienza sia da replicare. Grazie!
Francesco Maria
2015-09-06T00:00:00Z
Accoglienza perfetta, la casa bellissima sia dentro che fuori e Elisabetta sempre gentile e disponibile anche con i bimbi. Grazie ancora abbiamo passato delle giornate stupende.
Manuela
2015-12-08T00:00:00Z
Elisabetta hat uns sehr herzlich empfangen. Bei einem Glas Wein im romantisch eingewachsenen Hof hat Sie uns viel Interessantes über das Weingut und die historischen Gebäude erzählt. Die Zimmer waren sauber, komfortabel und dank Klimaanlage auch im Sommer bei Bedarf gut zu kühlen. Die Küche ist mit allem Notwendigen ausgestattet, um Frühstück oder kleine Mahlzeiten zuzubereiten. Der große Garten ist toll. Unsere Kinder haben ihn geliebt. Clauiano liegt perfekt, um Ausflüge ins nahe gelegene Collio, Colli Friuli oder nach Udine zu machen. Wir können die Unterkunft nur weiterempfehlen!
Corinna
2016-08-11T00:00:00Z
We were greeted warmly and welcome by all. Mrs Foffani went out of her way to detail not only practical information about the house but also its history and cultural background. It was immaculately clean and we especially enjoyed the quiet setting. It is located close to many local attractions but away from the chaos of the city. Our children really enjoyed the gardens and everyone at Casa Antica welcomed them running around and making themselves at home. We will certainly be back!
Sonia
2016-08-04T00:00:00Z
Tipo de Acomodação
Casa/apto inteiro
---
Tipo de Imóvel
Casa
---
Acomoda
5
---
Quartos
Clauiano, Friul-Veneza Júlia, Itália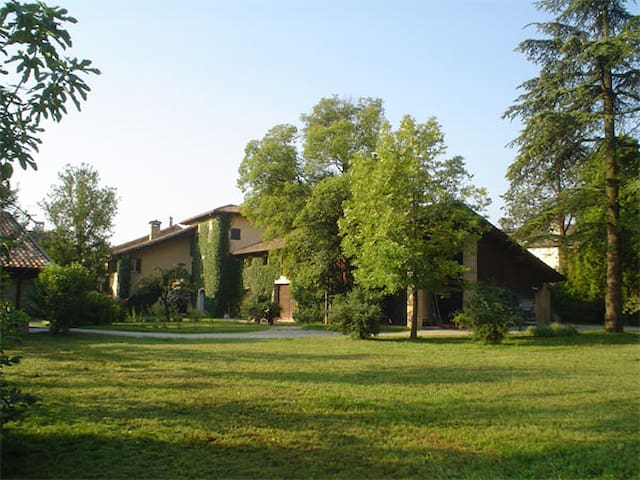 outstanding location near Collio vineyards, Alps mountains and Dolomites, Venice, Trieste, Udine, Austria and Slovenia
elegance, uniqueness,proximity to historical cities, sea sites, Dolomiti mountains, Austria and Slovenia
Cividale, Palmanova, Aquileia, Grado all historical ancient Roman cities Collio hills with vineyards and renowned white wines, etc,etc
Tipo de Acomodação
Casa/apto inteiro
---
Tipo de Imóvel
Casa
---
Acomoda
3
---
Quartos
Remanzacco, Friul-Veneza Júlia, Itália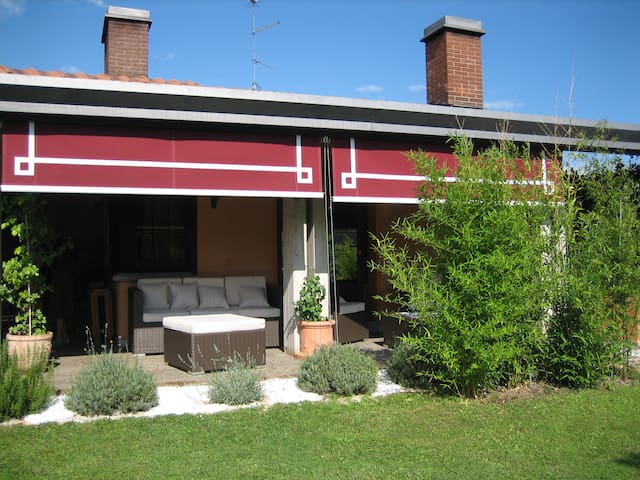 1° floor: large living room, dining room, kitchen, bathroom with shower, laundry room with washing basin and WC. 2° floor: double room, double room with king size bed, small room with 2 single bed, bathroom with shower
The renovation of the house has just been completed with precious family forniture and new elements especially for the kitchen and bathroom facilities.
Enchanting vineyards, sweet hills, biking tracks, medieval towns, small and delicious restaurants are available at a very short distance... it's the perfect place to discover this secrete corner of Italy still far away from the tourist horders.
Danke Karen, wir haben uns sehr wohl gefühlt. Gerne wieder
Steffen
2015-08-30T00:00:00Z
Abbiamo soggiornato in questa bellissima casa anni '70 durante la seconda settimana di novembre. E' stata un'esperienza decisamente positiva: la casa è completamente ristrutturata, accogliente, dotata di ogni confort e perfetta per un gruppo di amici o 2 famiglie, poiché vi sono due comodi bagni e tre ampie camere da letto. Nonostante si trovi in campagna è in una posizione centrale rispetto alle più rinomate città friulane e poi, la mattina al risveglio, si può godere di un panorama davvero unico! I proprietari davvero gentili, pronti a fornire ogni consiglio utile per godere al meglio della casa e delle bellezze del territorio. Ci ritorneremo e consiglieremo questa fantastica casetta ai nostri amici che vorranno fare un salto in Friuli!
Luca
2016-11-10T00:00:00Z
Very nice and peaceful surrounding with wineyards. Nice and spacious house, very clean. Karen parents were also so kind, when we meet them at the beginning. I can tell only the best and go for it!
Jure
2016-08-29T00:00:00Z
Great !!!! Nice house thanks
alain
2016-05-10T00:00:00Z
Ideal for those who would like a place in a pleasant, quiet setting nestled in vineyards and market gardens with great views of distant mountains. All the amenities are provided including the unexpected opportunity to take fruit and vegetables from the attached garden.
Julio
2016-09-06T00:00:00Z
es en las afueras de CIVIDALE un lugar muy (URL HIDDEN) casa es amplia y tiene todas las comodidades que uno espera.
pablo
2016-07-07T00:00:00Z
Tipo de Acomodação
Casa/apto inteiro
---
Tipo de Imóvel
Casa
---
Acomoda
6
---
Quartos
Cividale del Friuli, Friul-Veneza Júlia, Itália
Security strategica.Quartiere tranquil situation provided for all services on site usufruibili walk
Tipo de Acomodação
Casa/apto inteiro
---
Tipo de Imóvel
Casa
---
Acomoda
12
---
Quartos
Udine, Friul-Veneza Júlia, Itália
Buttrio - Airbnb
:
Média de

4.86

de

5

estrelas, de acordo com

196

avaliações de hóspedes
1

–

18

de

24 Casas para Alugar
Insira as datas para ver o preço total. Taxas adicionais serão aplicadas. Impostos podem ser adicionados.