This place is perfect for adventure. A secluded private white beach, with a towering of coconut palms with mountains views. Ideal for swimming, snorkeling, fishing and diving. Would you love to walk a jungle trail or watch the sunsets from our cabana or experience the village life on the beach? We have 3 bungalows ensuite room and a 2 bedroom holiday home where you can enjoy in a peace and quiet surroundings and sleep in the night with the sea breeze and sounds of the waves. We are serving foods
White Beach Front and Cottages is a private white beach front located in Hinugtan Beach, Bel-is, Buruanga, Aklan. This place is 2 hours away from Kalibo and 30 minutes away from Caticlan Airport. If you arrive from Boracay Airport or Kalibo International Airport, we can arrange you for pick up. If you want to arrange your own transport tell the driver to stop in Alegria, Buruanga, Aklan. Then transfer the boat going to Hinugtan Beach ( 10 minutes trip only). Once you reach in Alegria, the people here are too helpful please don't hesitate to ask questions. Or just send us your arrival details and we arrange the pick up from the airport to White Beach Front in Hinugtan Beach. This private white beach will provide you unforgettable memory of serenity, fun and adventure. It is a secluded haven of sparkling white sand that sprawls within a kilometer long bay, clean blue water with garden of corals, towering coconut trees where couples and private groups can spend a delightful day away from the vigorous vibe of Boracay.
The neighbours in this place are friendly and very accommodating. You can walk 10 minutes to the famous Ariel's Point jumping cliffs or go further to nearby beaches like Tuburan Baybay, the village of Bel-is or the town of Buruanga. Get your fresh fish and vegetables from the Alegria sari-sari roadside stores or from the Buruanga weekend market, then cook it in your own style or barbecue. There is an excellent small bakery in Alegria.
20 mins. travel from Caticlan Airport, and a 10-min. boat ride to White Beachfront & Cottages was worth it. I enjoyed every bit of it. Friendly neighborhood, nice staff, good food, perfect sunset view the night sky didn't disappoint. I can never put my whole experience into words. This is the perfect place to be if you really wish to de-stress. Will definitely recommend this place to my friends and will definitely be back. :)
Madeleine Mitchell
2016-11-28T00:00:00Z
It is an amazing place, we had to stay longer than planned. Hayde and here husband are really helpful and Hayde makes delicious food! The huts are everything you need and whit the jungle and that beach you can't have a bad time here!
Olivia
2017-02-18T00:00:00Z
This is a hidden gem. The area and beach is beautiful and really provide you with opportunity to relax and rest. It is close to Ariel's point if one needs things to do. There are also areas for short hiking. The accommodation itself is simple and minimal. The host and staff are very helpful and nice. I hope to come back again before this area becomes inundated with tourists.
Janet
2017-02-01T00:00:00Z
It´s the perfect location if you would like to spend a quite and relaxing holiday without any daily hassles. The bay is beautiful and good for snorkeling. The food is served for a fair price and tastes amazing, especially the fish. Hayde, Phil and their staff are so kind and helpful and make it really easy for their guests to feel welcome. We really enjoyed our trip and wouldn´t hesitate to spend our time their again.
Elena
2017-03-16T00:00:00Z
Tipo de Acomodação
Quarto inteiro
---
Tipo de Imóvel
Pousada
---
Acomoda
2
---
Quartos
Buruanga, Visayas Ocidentais, Filipinas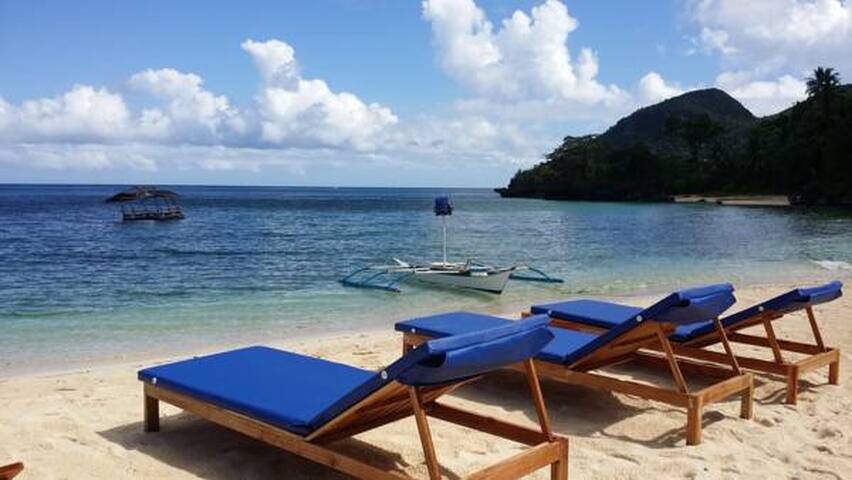 The holiday home has furnished kitchen, dining in the open veranda, ocean view, with 2 bedrooms. The master bedroom with queen bed, hot and cold shower and toilet, bath tub and ocean view. The 2nd bedroom with queen bed and ocean view with cold outdoor shower and toilet, veranda with ocean view. This is place is perfect for adventure. A secluded private white beach, with a towering of coconut palms with mountain views. Ideal for swimming, snorkelling, diving and experience the village life.
White Beach Front and Cottages is a private white beach front located in Hinugtan Beach, Bel-is, Buruanga, Aklan. This place is 2 hours away from Kalibo and 30 minutes away from Caticlan Airport. If you arrive from Boracay Airport or Kalibo International Airport, we can arrange you for pick up. If you want to arrange your own transport tell the driver to stop in Alegria, Buruanga, Aklan. Then transfer the boat going to Hinugtan Beach. Once you reach in Alegria, the people here are too helpful please don't hesitate to ask questions. Or just send us your arrival details and we arrange the pick up from the airport to White Beach Front in Hinugtan Beach. If you think you will be hungry in this secluded place I will assure you that you will enjoy every meal you order from us. We serve a lot of
The neighbours in this place are friendly and very accommodating. You can walk 10 minutes to the famous Ariel's Point jumping cliffs or go further to nearby beaches like Tuburan Baybay, the village of Bel-is or the town of Buruanga. Get your fresh fish and vegetables from the Alegria sari-sari roadside stores or from the Buruanga weekend market, then cook it in your own style or barbecue. There is an excellent small bakery in Alegria.
Beautiful place and lovely service
Sergej
2017-01-29T00:00:00Z
The house is retired, quite, and beautiful. A side a mountain you don't find this everywhere. The local are just so nice, and Hayde really helpful. P.S:The fresh tuna is delicious :)
Luc
2016-12-31T00:00:00Z
This was one of the most memorable trips we have ever experienced. Hinugtan beach is beautiful. Stunning. Unspoilt. It really is the definition of paradise. The staff were unbelievably accommodating and friendly, the food was delicious and fresh, and the entire experience was easy from the return transfer on the mainland to the boat transfer. The accommodation itself was basic, but comfortable. We did however only sleep in the house as we spent our entire day on the beach.
Krystle
2016-12-06T00:00:00Z
Hayde´s place is simply fantastic. If you are looking for a beautiful - almost empty - beach, quite surroundings, walking possibilities, delicious food and comfortable cottages, this is the place to go. It is perfect to relax and enjoy nature. Phil and Hayde and all the staff were super friendly and did everything to make our stay unforgettable. And, dont forget to try their homeade coconut and mango ice-cream. Generally, the freshly prepared food was delicious.
Martina
2017-02-14T00:00:00Z
We had the best time in the Philippines at Hayde's and Phil's place. Everything was perfect, the house, the food, the beach, the snorkeling, the peace and the people. The kids loved the animals and everyone had his freedom. We'll be back soon :-))
Vera
2017-02-21T00:00:00Z
This place is fantastic, you arrive by boat to the resort that is very peaceful and quiet, and a bit off the grid, white beaches, snorkeling, good food at the resort. The apartment does however lie 30-40 steps up, which is why you get good seaviews.
Joakim
2016-12-22T00:00:00Z
amazing view.warm service.nice host,it will be a unforgettable traveu experience in mr whole life.
luyu
2017-01-20T00:00:00Z
It's not everyday you get to stay on an idyllic postcard beach as well as beautiful jungle surroundings. The house was perfect, the location sensational and the overall experience is something we will never forget - it was the ideal way to end our 3 week trip of The Phillipines. Thanks to Hayde, Phil, Resley and Elaine for looking after us so well! I would highly recommend staying in Hinugtan before the big hotel chains catch wind of this truly special place.
Gordon
2017-01-09T00:00:00Z
Tipo de Acomodação
Casa/apto inteiro
---
Tipo de Imóvel
Pousada
---
Acomoda
4
---
Quartos
Buruanga, Visayas Ocidentais, Filipinas
The Villa has 3 magnificent Balinese designated houses on 12 meter high stilts with walkaway bridges and has a total lot size of 22, 555 sqm. A beautiful white sand beach with almost 200 m. beach frontage. All villa bedrooms are spacious and fully equipped.The Villa can accommodate up to 10 persons. For your total relaxation, enjoy the unbelievable Spa with Sauna, Jacuzzi, Steam Room and Cold plunge which overlooks the ocean. The Villa has a sunset bar and large terrace surrounded by sea water.
The villa is a very exclusive place to stay with it's own beach front.
Tipo de Acomodação
Casa/apto inteiro
---
Tipo de Imóvel
Vila
---
Acomoda
10
---
Quartos
Buruanga, Visayas Ocidentais, Filipinas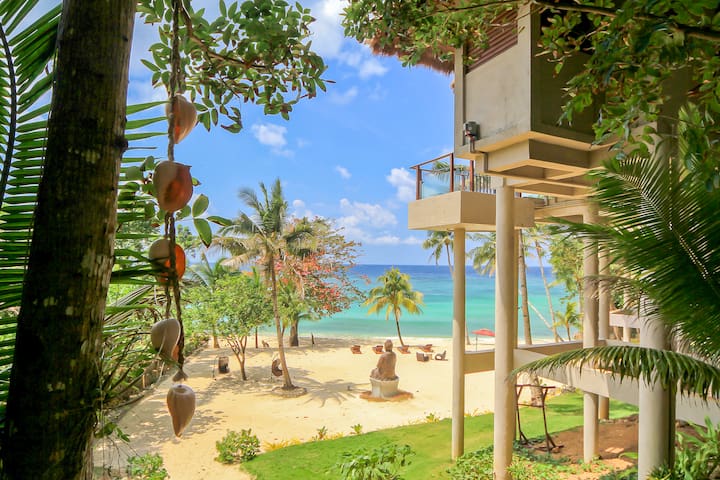 바다 / 카이트 서핑 해변이 내려다 보이는 큰 테라스가있는 2 베드룸 빌라. 단위 히바 빌라 화합물에 있으며, 오전 8 D 몰 반대로 대형 25m 무한대 수영장, 24 수신 무료 매시간 셔틀 포함한다 - 12 억원을. 우리는 또한 매일 청소 서비스를 포함한다.
I'm so glad we found this place. Really enjoyed staying here and would definitely come back here.
Sven
2017-03-12T00:00:00Z
Nice view and well maintance
Fu
2017-03-22T00:00:00Z
Our stay at Maricar's appartement was memorable, you could not hope for more. I would highly recommend choosing this appartement if you want to stay in a high standard class accommodation with all services available (massage, pool, bar, access to the sea etc...) Again a big thanks more making our stay unforgettable!
Xavier
2017-03-17T00:00:00Z
风景超棒~主卧无敌大!很适合4个人住。一个双人间,一个大床房。海景房。冰箱厨具一应俱全,还可以直接在房间让马杀鸡的人过来~每个整点都有班车去Dmall很方便!走去Dmall也大概只要20分钟
竹君
2017-04-06T00:00:00Z
And the home service clean very great~
竹君
2017-04-05T00:00:00Z
great place for 3 night ! confortable and convenient~ about 20min walk to the dmall . Every hour there is a free bus to the dmall
竹君
2017-04-04T00:00:00Z
Great place! The view in our room #31 is fantastic. We love the kitchen. There's a sense of just being at home. Best time is early morning, waking up with the sea breeze while having a cup of coffee at the veranda. For our action-packed vacation, the white sand beach is just 5 mins away. We liked the hourly schedule of the van from the villa to D Mall. Very convenient. We will definitely come back here on our next visit.
Jenny
2017-04-10T00:00:00Z
Tipo de Acomodação
Casa/apto inteiro
---
Tipo de Imóvel
Apartamento
---
Acomoda
4
---
Quartos
Malay, Visayas Ocidentais, Filipinas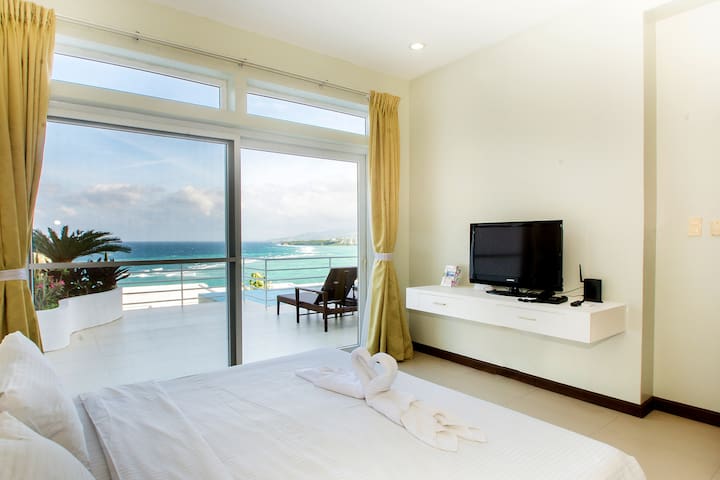 모든 편의와 방갈로. 오분 거리에 해변에서 디니 위드 지역에 위치하고 있습니다. 그 식물의 중간에있다. Dmall에 산책 / 2 국은 약 15/20 분입니다. 방갈로는 작지만 귀여운 유의하시기 바랍니다. 더 많은 데이터를 요청
velikost studio je 24SQM Prostor je nativní styl bungalov s veškerým komfortem. Uprostřed přírody v klidné části, pouhých 5 minut od pláže. Upozorňujeme, že bungalov je malý, ale velmi roztomilý. Jeho otevřený vzdušný prostor a vzduch con není k dispozici, ale my však poskytnout fanouškům.
Diniwid oblast je klidná oblast v těsné blízkosti pláže. Existuje několik příjemných restaurací na pláži a DMall nebo stanice 2 je asi 15 minut chůze.
This was a fantastic place to rent for the week. Clean, beds made everyday and not too far of a walk from all the action. Thanks to William for his constant offers of help, advice, and constant communication!
Nick
2017-04-03T00:00:00Z
The location is very close to beach. Nice. The room is ok. The qualilty of the room of photos looks better than the reality. There is no lighting on the small path from the main road to the room. Looks scared. Generally, the room and service is ok but could be better.
帆帆徐_fannyXU
2016-10-06T00:00:00Z
It was a absolutely great stay at this place! It got cleaned everyday, even our cloth got pooled. William is a very cool and attentive Host. So we really can recommend this place! Thx again william!
Robert
2015-11-25T00:00:00Z
William was a great host. He had his friend meet us right on time, give us the full run down and made us feel welcome! His place was beautiful, clean and 5 minutes from the beach. My only small complaint was the hot water was not abundant, but my friends at a local hotel had the same complaint so maybe it's always touch and go in Boracay. Overall a terrific, relaxing stay!
Bridget
2016-01-31T00:00:00Z
Where do I start with this beautiful gem? Wow!!! The place is super AMAZING!!! The pictures do this bungalow no justice, it is beautiful beyond imagination. Its everything in the pictures and more. No aircon but there are a lot of trees and the fan does wonders so the heat is not that bad. Down the road is a very accessible place where one can find a tuk tuk to anywhere in the island. I love how Juliet would always check on us when she sees us outside, always willing to assist, tells us how much we should expect to get charged for the tuk-tuks, tells us where to go for a great time and great food. So attentive. Response time is very good, there is nothing bad to say about this place as it is everything and more compared to the price we paid. Great value for money. Very quite and safe neighborhood. We never felt unsafe walking from the beach, station 1 and 2 late at night!! Would really recommend this place as it is a true gem!!! Thank you very much Willam, Juliet and the other lady for everything ❤
Olebogeng
2017-02-02T00:00:00Z
The apartment was a quaint little place. The interior design was very thoughtfully crafted and it suited the theme of a tropical getaway really well. It also helps that the place is really close to a quiet and serene beach. Overall, great place.
Shawn
2017-01-14T00:00:00Z
Really nice place! Perfect to enjoy diniwi beach , the best (and quiet) place in the island. Near to the famous spider house. Rachal came every day to clean the bungalow. William was very nice with us and always available. Thank you so much! Camille & Romain
camille
2016-04-09T00:00:00Z
It was four of us staying in two houses , We were so amazed when saw the rooms by ourselves. The place is better than on pictures. Location of the place is perfect, laundry down the road, few minutes from diniwid beach and +3min to station one. Easy to get tricycle here which is very comfortable. Compare to other areas in Boracay this is very quiet, clean and safe (romantic). About Rachel and Juliette are amazing suggesting places to visit and making incredible breakfast, for this 9 days they became friends to us, mood gets better when you see smile and friendlyness on their face :) William was not around, but he helped a lot even tho being on the island. Was always in touch with us, helping and informing us when needed. We will miss adorable dog Lucy! This accommodation made our vacation,We are strongly recommending to stay in William's houses,it's amazing!!!! P.s Once we are back to Boaracay, we know whom to contact for good place to live :))) 事实上房间比图片上漂亮多了而且很干净,周围的环境很浪漫 跟别的区比较起来安静一些。有交通优势,随时能找三轮车。到diniwid沙滩走路不到五分钟,再加几分钟能到station1。服务非常好,房间打扫十分好,好吃的早餐完美的咖啡。如果有什么问题可以随时联系服务员 她们会积极帮你们解决问题。 十分建议来这里住! Приехав на место мы были очень удивлены тому,что комнаты на яву выглядят даже лучше чем на фото! Очень красивый стиль,тихое,уютное и романтическое место! Все было просто замечательно. Завтраки были отличные и каждое утро приносили свеже сваренный кофе! Персонал очень отзывчивый,всегда помогут,решат любую проблему. Я очень рекомендую это место) Месторасположение отличное,в пешой доступности от пляжа. Если вы еще думаете-советую принять решение прямо сейчас и выбрать эти апартаменты,Вы не пожалеете!!!
Nastya
2017-02-17T00:00:00Z
Tipo de Acomodação
Casa/apto inteiro
---
Tipo de Imóvel
Bangalô
---
Acomoda
3
---
Quartos
Malay, Visayas Ocidentais, Filipinas
Privat moderne Bungalow in einem ruhigen Garten im Zentrum von weißen Strand versteckt. Sie werden Ruhe und Frieden, aber immer noch sein in der Mitte des Geschehens finden.
Der private Garten Bungalow befindet sich in Bambusbungalow Resthouse, befindet, die ein Strand-Eigenschaft ist in der Station gelegen 2 (in der Nähe von D'Mall und anderen Attraktionen). Obwohl im Zentrum, es ist eine schöne ruhige Oase mit üppigen Garten, hier finden Sie Ruhe und doch nicht zu weit von der ganzen Aktion finden die Insel zu bieten hat.
Awesome place, perfect location tucked back from all the activity but walking distance from everything. Room was new and very clean. Beach chairs and umbrella were a nice bonus. Tina was a great host!
Nick
2017-02-06T00:00:00Z
The apartment of Tina is really amazing. You are absolutely in the center of Boracay and have several places for sth to eat or to drink. But it you enter the area where the apartment is located, it suddenly becomes absolute quiet and peaceful and you feel like living in an small bungalow away from all the crowded tourism. Tina was always available for some recommendations.
Timo
2017-02-25T00:00:00Z
My wife and I were very pleased to be Tina's first guest at this location. Although the studio looks just like the pictures shown, the description doesn't do it justice. It is VERY conveniently located near both the beach and D-mall(shopping center/restaurant area). The location is also a short walk away from the area where most companies pick up passengers for activities. We found the studio to be private, quiet, and very clean. Tina had the room cleaned, the bedding changed and provided new fresh towels during our stay. She also made herself very available via phone, text and email from the time we booked the room and up through checkout. I honestly couldn't imagine a better way to celebrate our wedding anniversary and we would gladly stay at her property again.
Aron
2017-01-31T00:00:00Z
Very nice place, just in front of the beach... very near to everything in Boracay and very quiet. We love it! Tina was very friendly and a very good host. We stay 5 nights and we had a broken heart feeling when we leave, next time we going to stay more time, definitely!
Mariano
2017-03-26T00:00:00Z
Tina is a very cute owner. The room was more beautiful than I think, very convenient, the door of the house with a coconut is very good for sleep, while outside the bar, but as long as one enters the coconut becomes quiet, as if the room is next to the land of idyllic beauty, I will definitely choose Tina. Super praise!!!
ZANG
2017-02-18T00:00:00Z
Tipo de Acomodação
Casa/apto inteiro
---
Tipo de Imóvel
Bangalô
---
Acomoda
2
---
Quartos
Malay, Visayas Ocidentais, Filipinas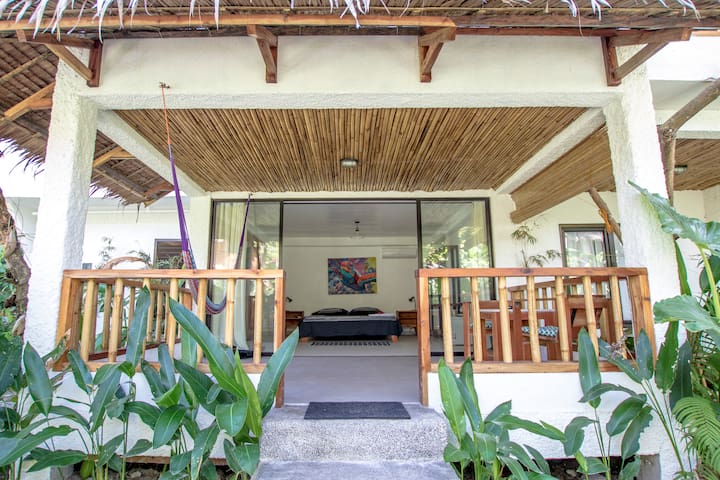 A casa é de 5 minutos de distância da praia branca de estação 1 e 8mins caminhar até Diniwid Beach. É um ventilador quarto com casa de banho privada (sem chuveiro quente). Estavam em um paraíso tropical assim que o tempo não é que o congelamento desfrutar a vida filipina.
Um quarto tipo estúdio com próprio frigorífico de cozinha básica será fornecida para longa estadia.
Perto do resort vertente, Boracay teraces, Spider House, Wahine bar na praia, Diniwid Beach, legado ginásio em Diniwid e da estação 1 praia branca.
Very affordable. Rachel is accommodating.
Abby
2016-05-10T00:00:00Z
Rachel's place was the perfect home base for us in Boracay. The room was very clean and had a great kitchen. We were able to get food from the nearby City Mall and cook all week long. It's also conveniently located near the beach and a scenic walk. Rachel's brother was very helpful and welcoming throughout our stay. Overall a great experience.
Taylor
2017-03-31T00:00:00Z
Good room. I advise you to stay here, the beach is 7 minutes. the room has a fridge, cooker, hundred and allows you to cook
Anya
2017-02-14T00:00:00Z
affordable room. great location. near to the beach. wifi faster than starbucks or mcd.
Syazwan
2016-07-16T00:00:00Z
Very nice place, near to white beach 10 or 15 min away to D mall by the beach. Everything close by. Rachel and his brother is very kind and helpfull.
Tomas
2016-12-08T00:00:00Z
Rachel and her brother were very accomodating.. Even tita living next in our room as well, thy were all very hospitable, keep it up rachel! Till our next trip :)
marvin
2016-08-24T00:00:00Z
Nice accomodation clean very quite and just few minutes walk to the beach, friendly host.
maurizio
2015-11-20T00:00:00Z
The room was in a great location at the tip of station 1 were it's the most quiet. You can walk to station 2 were most of the eating places are. There are cheap eats you just need to find them checking people's blogs. The room was good and only 2 mins walk to the beach, it was cool enough with the fan. Only basic kitchen so it's okay for heating up pasta but no fancy meals. I only wish the room had a fridge to cool our drinks. Communication was great. Wifi isn't fast and didn't work most of the time. I would definitely stay here again though as its really value for money.
Sheryl
2016-02-23T00:00:00Z
Tipo de Acomodação
Casa/apto inteiro
---
Tipo de Imóvel
Casa
---
Acomoda
3
---
Quartos
Malay, philippines, Filipinas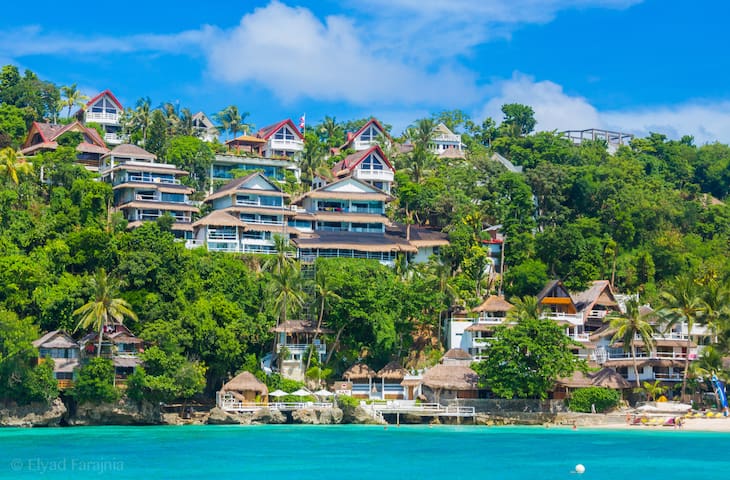 2階に、素敵な海と夕日の景色を望む専用バスルーム、クイーンサイズのベッド、セミオープンキッチンを備えたプライベートスタジオ。 3階、幻想的な360°ボラカイ島の景色、そしてバスタブ付きのプライベート屋上に。 それは、シャングリ・ラ上記の丘の上に位置して。私たちのスクーターの無料使用。 かなり急である35メートルのアクセス道路があります。 私たちの場所は、静かなエリアに、プライバシーをしたいカップルに最適です。 プライベートクルーズを楽しむためにも、当社の帆船のリストをチェック
É um 3 andares privada construção de tudo para você, localizado no topo de uma colina, com apenas 1 unidade boa para 2 pessoas: - 1º andar é um espaço aberto para o nosso jardim onde nós (tentar) cultivar alimentos - 2º andar é onde o seu estúdio (30m2) está localizado, com uma cozinha semi e 180 ° vista para o mar. - 3º andar é o seu terraço privado (25m2) com banheira e 360 ° As vistas são absolutamente fantástico, o seu terraço privado com banheira, 2 cadeiras de praia e vista de 360 ° oferece uma área agradável de descanso. Propriedade é cercada por uma vegetação exuberante verde. O estúdio tem uma cama queen size agradável, um banheiro privativo com chuveiro quente, um grande terraço com cozinha semi aberta com vista para o mar agradável, HD TV a cabo, boa wifi. É a única unidade do edifício, por isso é muito particular, sem outros hóspedes na propriedade. A nossa própria casa está localizada na parte de trás do edifício.
それは私たちが丘の上にあり、特に以来、閑静な住宅街ですので、それは非常にプライベートで静かです。私たちは、緑の植物に囲まれています。 ビューは遮るもののないですし、何ヴィザヴィはありません。これは、静けさと素晴らしい景色が好きな人のために良い場所です。 あなたはより多くの党の人であれば、それはあなたではなく、すべてのバーがある白いビーチに近い場所を探す必要があり、あなたのためではありません。 - 必需品を売る小さな店「サリーサリー」:新鮮な果物や野菜、ドリンク、スナック、卵、新鮮な魚や肉、およびその他の便利なアイテム、1-2分ほど歩きます。 - ランドリーサービス、徒歩3分、5 p.mに毎日8 A.Mを開きます - スーパーマーケット「Citymallは、」5分の距離(スクーターによる)であります
Top Accommodation
Robin
2017-03-23T00:00:00Z
We had a very pleasant stay at this house!! The host was super friendly and the accommodation was exactly as described. The steep way to the place was a bit exhausting but also a good training :-) We would recommend the accommodation
Diana
2017-02-28T00:00:00Z
Une vue à couper le souffle. Nous avons beaucoup apprécié la cuisine sur la terrasse. Les propriétaires sont très sympathiques. Merci !
Angela
2016-12-31T00:00:00Z
Уединенное место с отличным видом и комфортом, редким для Боракая
Alexander
2017-03-30T00:00:00Z
This is the best property I booked ( so far ) here in Airbnb.com The owners (Lalaine and Jean) are super super host! They're so kind and cool! You will not have any issues with them. They allowed me for an early check-in since I arrived at 8am. ( property is available though) Overall, this property is super value for money. I don't mind the uphill climb to the property ( guys.. it's only a minute climb, very light workout ) I'm sure this property will be very popular among Airbnb patrons. Thanks again Lalaine and Jean! I give them seven stars ( ️️️️️️️)
Regi
2016-12-29T00:00:00Z
This place has one of the most relaxing ambience. And that's how I will always remember it. Challenging pathway was worth the view on top.
Trissa May
2017-03-08T00:00:00Z
This place is AMAZING, especially if you enjoy seclusion, spectacular views of the island, and don't mind being a little bit further from downtown/the stations. Lelaine was very communicative, and either she or their house helper were readily available whenever we had questions. Getting a massage with their personal masseuse is a MUST -- she's such a sweetheart and will do it in the comfort of your Airbnb, even on the rooftop! We absolutely loved spending some time at Balinghai Beach Resort which is a short jaunt down the road. It's a beautiful private beach with a cheap entrance fee that can be applied to your tab at their beach bar/restaurant. There's a bit of an uphill climb to get to the Airbnb, but the rooftop views you get are totally worth it. The place is also very clean and modern/minimalist, which we appreciated. Would definitely stay here again!
Romina
2017-01-08T00:00:00Z
Lovely place. Directions were perfect. Easy to get around the island.
Bree
2017-03-16T00:00:00Z
Tipo de Acomodação
Casa/apto inteiro
---
Tipo de Imóvel
Apartamento
---
Acomoda
2
---
Quartos
Malay, Visayas Ocidentais, Filipinas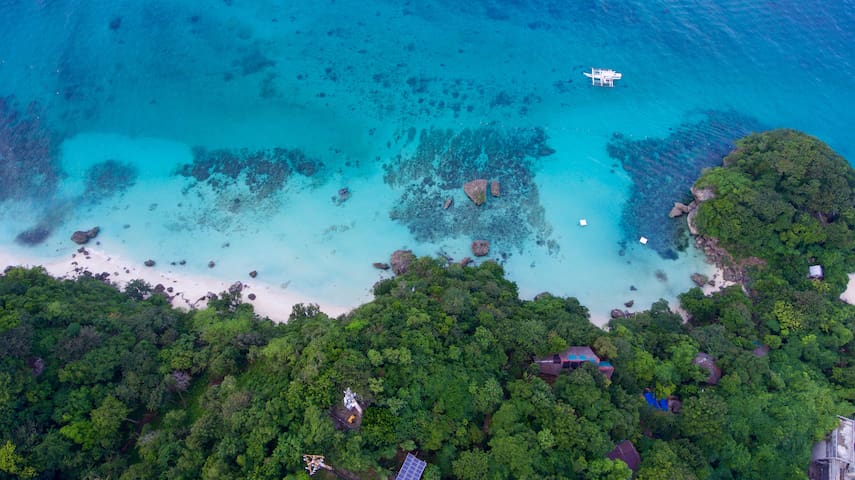 La chambre est située à l'étage Kasbah Restaurant, dans la station 1, un quartier très calme de la célèbre plage de sable blanc. À proximité Station 2, la salle a une grande baie vitrée avec vue sur l'océan incroyable d'où vous pourrez profiter du coucher de soleil à couper le souffle. Avec notre charmant restaurant marocain juste en bas, vous pouvez savourer un délicieux cocktail avec quelques Mezze sur le côté, un déjeuner léger ou un droit de dîner romantique sur la célèbre poudre de sable du monde.
Une grande chambre avec un lit King et un canapé qui peut devenir un lit double. Stores et rideaux (ne montrant pas sur la photo) sont sur les fenêtres, vous permettant d'avoir une certaine intimité et l'obscurité du matin si vous le souhaitez. Dans la cuisine, un micro-ondes vous permet de réchauffer un peu de nourriture (nous sommes plus qu'heureux de fournir de la nourriture de Kasbah restaurant dans votre chambre). Assiettes et couverts sont à votre disposition. Vous avez accès à un réfrigérateur ainsi qu'un mini-bar. Un chauffe-eau est disponible pour le café et le thé. La grande salle de bains est équipée d'une douche chaude et froide. Vous pouvez trouver le shampooing complémentaire, revitalisant et savon. Nous vous fournissons des serviettes de bain et serviettes de plage. Profitez coucher de soleil depuis votre fenêtre Bay, face à l'océan.
Station 1 est la zone la plus tranquille de White Beach. En bas, vous trouverez notre restaurant marocain avec un canapé confortable au salon sur ainsi que des lits de plage.
It was a nice rustic room and we enjoyed our over night there. The Kasbah below also served good food and we enjoyed the happy hour drinks, which were cheaper than others around that same are. Also got treated to a nice drum ensemble at the beach front. I would recommend this place to my friends. We will definitely come back.
Maki
2017-01-09T00:00:00Z
很好的海景房,大大的落地窗。非常美丽,但是只有一张床,因为看见显示的两张床才订的,不过也是非常棒的了,在s1地区,比起s2、s3要安静许多,人也少一些,刚好是我想要的感觉,总之就是非常的棒。vanessa非常的漂亮,虽然只见了一面。哈哈,下次如果来再选择这里吧。
sunny
2017-01-19T00:00:00Z
Outstanding location, in front of the best part of the beach and close enough to station 2 (party/restaurants side). Very friendly staff and extremely clean.
Fernando
2017-03-02T00:00:00Z
The place is situated in the quiet and tranquil part of White Beach. It was quite a walk from the main road but the seeing the place made all of our efforts worth it. We were welcomed with drinks. Joyce was amazing and was a "joy" to talk to. She always had a smile on her face. The area was huge just for the 2 of us making it a "bang-for-the-buck" accommodation. The room was clean. It was well-furnished. Everything you could possibly need is there. The toilet and bath was spacious and very clean. The view from the room is to die for. You're literally steps from the powdery sand beach of Boracay. The beach front was superb, plus, Kasbah's amenities at the beach were bonuses. We've kept our expectations of Boracay very low because of the reviews and how our traveller friends perceive it. But, our stay at Kasbah proved that Boracay still has much to offer. We did not even need to undertake any water activities outside of swimming and a little kayaking. We will definitely come back!
Tifanny
2017-04-01T00:00:00Z
The location is great!! Its just in front of the beach, u can see the sunset. The restaurant/bar offer delicious food. We enjoyed our stay very much! Thank you!!
Leda
2017-03-04T00:00:00Z
The place is in a great location, right beside Discovery. There is no entrance from the backside so one has to take that narrow alleyway before Sea Wind and walk at the beach for around 300 meters. Could be hard for people with large trolleys. Room is big and is quite comfortable for 4 persons altho the sleeping cots for 2 other persons is not worth the 2000 pesos extra paid for them. No tv in the room. The windows have sheer curtains and so daylight comes in quite early. Would be nice if there curtains are dark. Bathroom always had water by the toilet. Rooms are not cleaned daily unless requested. The location is its biggest selling point but not really value for money, I think. Still for people who want to stay in the area, that's the price one pays. Joyce who checked us in..is great. So easy to talk to.
Charmaine
2017-02-28T00:00:00Z
Venessa and Martin were fantastic. Venessa made sure everything was taken care of and replied within minutes to messages. She couldn't do enough for us. The place has a fantastic view and is close enough to boat station 2 to walk but just far away enough to avoid the hussle and bustle
Matt
2017-01-03T00:00:00Z
If you're looking for a place that's at station 1, look no further! You're looking at the water from your window and you're steps away from it. There is food all around you specially if you're looking for great Moroccan food, Kasbah is on the bottom floor. The room is very spacious and comfortable. Our host Vanessa (Martin's assistant) was very helpful! The house keeper Joyce was also very helpful! She was there for anything that you needed. I even asked her to get someone to do manicure and pedicure for my girlfriend and she was able to call someone. I would definitely stay here again!
Eric
2017-01-14T00:00:00Z
Tipo de Acomodação
Casa/apto inteiro
---
Tipo de Imóvel
Apartamento
---
Acomoda
4
---
Quartos
Malay, Visayas Ocidentais, Filipinas
Mein Platz ist in der Angol Areal, liegt nur 1 Minute vom weißen Strand. Meiner Meinung nach einer der schönsten und angenehmen Bereichen von Boracay. Es ist einfach perfekt, um den Sonnenuntergang zu genießen, in der Nacht gibt es keine laute Musik, und seine immer noch leicht zu den belebteren Bereichen der Station zu Fuß 2 und 3. - Bitte kontaktieren Sie vor der Buchung, Preis ist verhandelbar - Jetzt auch als Zwei-Zimmer-Wohnung zur Verfügung! - Wöchentliche und monatliche Rabatte zur Verfügung, Preisgestaltung ist variabel.
Die geräumigen Balkon mit Palme ist umgeben ist ideal zum Entspannen und haben grillen mit Freunden. Es ist gut für Paare, Solo-Abenteurer, Familien (mit Kindern) und pelzigen Freunde (Haustiere). Das Zimmer verfügt über einen Schrank mit Schubladen Ihre Sachen zu speichern. Es ist ein Kabel-TV mit Fernbedienung, einem stehenden Ventilator und eine Klimaanlage. Es gibt auch einen kleinen Stand einige kleine Dinge und ein Tisch und Stuhl zu verlassen, ist bei Bedarf zur Verfügung.
Die Umgebung ist in der Nacht ruhig. Nur eine typische Nachbarschaft mit einigen kleinen Laden und die Menschen über ihr tägliches Leben gehen.
Frank and Czarina are excellent hosts and took very good care of me throughout my stay. Be prepared for a bit of a walk though.
Adi
2017-04-11T00:00:00Z
Very helpful! Totally worth the price. Would stay here again.
Verlyn
2016-10-21T00:00:00Z
Franksplace was lovely, very quiet, peaceful, away from the noises. The apartment is wonderful, soft and big bed, great shower, good aircon and there is a wifi too. Kitchen and and balcony was our favorite place to chill, lovely. Czarina was very kind and helpful. Nice neighbors. Only minus was distance to crowded areas like station 2 but for us walking by the beach was nice, I liked the place and definately would come here next time. Thank you Frank and Czarina.
Amir
2017-03-19T00:00:00Z
The place was clean and tidy. We stayed there for 5 nights and found it sufficient for our needs. Czarina was friendly and helpful in directing us to places to eat. It is tucked away from the crowds and noise which was so much better than staying with the crowds. The family who live below were also great in helping us with laundry and sweeping the room and common areas.
Ning
2017-01-31T00:00:00Z
Depending on what you wanna do it was a great experience and great location! I would definitely stay here again. Also frank was a great scuba instructor and I highly recommend him to anyone staying here or just wanting to scuba dive in general! All and all it was a good stay also allows you to cook your own food if your not wanting to eat out all the time! People nearby were very nice as well
Alex
2017-03-14T00:00:00Z
Excellent stay will be back when we return
Geoffrey
2017-01-24T00:00:00Z
Nice, quiet and clean place to stay..thanks for some Water Gadgets for my kid and for free eggs for breakfast..
Medrosan
2017-03-23T00:00:00Z
I had a wonderful time in Boracay, and Frank and Czarina were both lovely hosts and friends. Before booking the room, Frank was very responsive to any of my inquiries, which has been so helpful. I especially needed information on how to get to the island. While staying there, I felt welcome and that it wasn't a burden to ask for help to whatever I needed. In 1 minute, you can literally walk from the apartment to most wonderful beach. I especially liked that it was in Station 3, and that the beach therefor was less crowded and more calm than Station 1 and 2. I warmly recommend Frank and Czarina as hosts.
Christian
2016-11-17T00:00:00Z
Tipo de Acomodação
Quarto inteiro
---
Tipo de Imóvel
Apartamento
---
Acomoda
2
---
Quartos
Malay, Visayas Ocidentais, Filipinas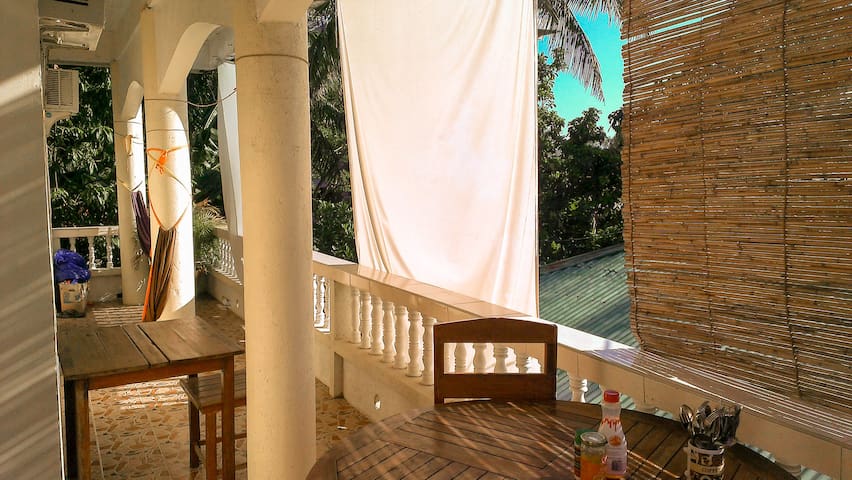 Spacieux appartement décloisonné avec une cuisine complète meublé avec toutes les commodités modernes et confort familier d'une maison. Greenpoint Residences est à seulement 3 minutes à pied de la station de White Beach 3 et de la route principale pour les transports en commun pour aller partout sur l'île. "Très proche de tout sans être au milieu de tout cela."
Peut-être le plus charmant endroit sur l'île tout près de White Beach, tous les développements, y compris le bâtiment où mes appartements sont d'un côté de la rue, avec vue sur les greens tropicaux luxuriants de Mandala Spa. L'appartement est idéalement situé sur le niveau de cette 3- story building rue / sol, spacieuse à plus de 30 mètre carré de la taille, l'unité de plan ouvert avec cuisine entièrement équipée, salle de bains et un lit queen size pourvu d'un pouf qui se déroule à une pleine grandeur lit simple. Les meubles ont été placés avec des invités le plus grand confort et de commodité à l'esprit. Tout dans l'appartement a été sélectionné avec goût à exsuder élégance ludique en mettant l'accent sur le confort, le style et l'attrait universel. Vous aurez une impression tout à fait différente de Boracay en fonction du secteur ou du côté de la plage vous décidez de rester. Longue ou courte, votre séjour peut être, et alors que vous seriez attiré de passer plus de temps pour profiter de ce que l'île a à offrir, pourquoi prendre la chance de rester nulle part ailleurs. Vivre comme les habitants sans compromettre le confort et l'accessibilité. Vous êtes, après tout, encore un jour férié à venir à l'île. Seulement 3 minutes à pied de White Beach de Boracay ou à la route principale pour les transports publics partout sur l'île. Idéal pour les couples, les voyageurs individuels et les petits groupes de jusqu'à trois (3) personnes y compris les enfants. L'un des 2 studios dans le bâtiment pour les court et à long terme louer. S'il vous plaît envisager, aussi, la Minute Marche Mod Studio 3 à White Beach, dans le même immeuble, également sur Airbnb, si cette annonce est indisponible sur vos dates de voyage.
Greenpoint Residences est en plein milieu de Angol Road, dans la station 3. Trois minutes de marche de la route principale pour le transport partout sur l'île et environ le même temps pour atteindre White Beach, poste 3.
В жизни там в разы уютнее, чем на фото. Если вы не хотите читать отзыв полностью, могу дать короткое резюме: квартира эта для любителей хорошего отдыха и качественных вещей, для тех, кто ценит внимание к деталям и теплое человеческое отношение людей к себе. Подробнее. Все очень чистое, постельное белье пахнет свежестью, в холодильнике много бесплатных вкусностей, а в ванной есть отдельные полотенца для пляжа. Есть все необходимое и даже больше: посуда, книги, плазменный телевизор, соковыжималка, медиацентр с возможностью подключить плеер по Bluetooth, великолепное освещение, невероятно красивые книги, которые просто приятно листать. Чувствуется, что в этой квартире все сделано для удобства проживающих. Уборка. Сначала я не понял, почему это входит в стоимость, но после того, как я вернулся усталый в идеально чистую квартиру, я понял, за что. Все стало еще более уютным и домашним. Возможность прийти в убранную, от наведенного тобой бардака, квартиру делает отпуск в разы приятнее. Квартира и ее владелец Рон поражали с первой до последней минуты перебывания в ней! Хороший wifi, трансфер входит в стоимость, приветливые вахтеры, удобный сейф, нет ящериц и мошек. Я спал до обеда, поэтому плотные жалюзи на окнах были очень кстати. Фрукты на столе, аромалампа на полочке, невероятно красивый интерьер без пафоса и вензелей, действительно удобная кровать и дорогое постельное белье (у меня дома подобное и я знаю, что оно не самое дешевое). Мне кажется, я могу перечислять плюсы квартиры до бесконечности. Хочу отметить, что это место не подойдет для людей, которые едут на остров только целью напиться и которым безразлично как выглядит их место для проживания. Отдельные слова хочется посвятить владельцу квартиры Рону. Мне кажется, что то как он меня принимал – это уровень, к которому должны стремиться все люди, которые сдают жилье в аренду. Невероятная отзывчивость, чувство такта, внимание к даже мелким твоим прихотям. Каким-то образом он на расстоянии замечал и делал то, чего тебе хочется, но тебе стыдно спросить. Например, помощь в вызове такси или повторное объяснения о ценах на что-либо в сообщении. Я уже не говорю о рекомендациях классных мест и ценах на развлечения, помощь в покупке sim-карты для интернета. В общем человек–золото. Вместе две этих составляющих (Рон и квартира) сделали мое перебывание в этом месте сказочным. Всем друзьям буду советовать остановиться там! Если когда-нибудь вернусь на Боракай – только в это сюда.
Sergei
2014-10-11T00:00:00Z
we had a great experience. the location of the apt was great. the decor is welcoming too, exactly what you see in the pictures. Ron was a fantastic host giving useful travel tips.
yuchuang
2014-12-25T00:00:00Z
Ron was an amazing host. Upon arrival, the fridge was stocked with drinks, coffee, and other treats. When my girlfriend had a hang nail at 10pm, he was willing to bring down nail clippers; when she had a bad tummy, he brought down meds. Amazing space! Close to the beach but removed from the craziness.
Nick
2015-12-18T00:00:00Z
Ron was a great host. I can just repeat what other guests wrote about the studio and him. In addition he even bought a brand new baby cot for our daughter to sleep in. Thanks so much Ron for making everything easy and convenient for us and thanks for the nice conversations. If we come back to Boracay this will be the place we will stay at.
Andreas
2016-02-15T00:00:00Z
We had the most amazing stay in Rons apartment. It was very clean and modern and safe. The apartment is situated very close to the beach at station 3 and Ron was a superb host who had now become a good friend. He was so helpful giving great advice on things to do and his fruit salad was to die for!!! We would highly recommend anyone to stay here. Awesome times :)
Dave
2014-02-11T00:00:00Z
Hi There, Rons place is easy to find, very warm atmosphere inside, close to the beach. We loved staying at his place and definitely book again when we return to Boracay. Thank you, L.
Laisvune
2017-01-06T00:00:00Z
First time using airbnb. Couldn't have been more happy with this decision, seeing that I was hosted by an amazing and hospitable Ron and Frank. Really appreciate everything. Exceeded my expectations 100%! Thanks for everything. I'll be staying here again if I ever come back!
Matthew
2015-07-25T00:00:00Z
Ron has made sure that his apartments are very nicely finished. All the furniture, bedding etc are very tasteful and well chosen. Ron was incredibly helpful but not intrusive in any way. When we had booked the flights for the wrong dates, not only did he spot it but was really helpful about changing the dates of our booking. Ron had made sure the fridge was full of fun treats and organised our transfers too. The apartment is a lovely three minute walk from White Beach and they are tranquil and cool. If you want a break close too, but not in the bustle of White Beach, this is perfect. We loved it and we would go back given the chance.
Emma
2014-03-07T00:00:00Z
Tipo de Acomodação
Casa/apto inteiro
---
Tipo de Imóvel
Apartamento
---
Acomoda
3
---
Quartos
Malay, Visayas Ocidentais, Filipinas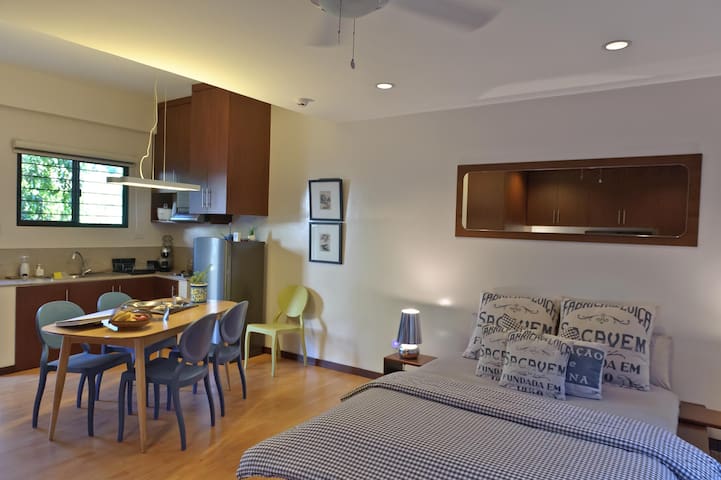 Imagine-se, longe do stress da vida, os sons ensurdecedores de ocupação eo tempo que parece assinalar de maneira muito rápida. Venha para um lugar onde você pode recarregar, relaxar e recuperar. Jogar, nadar, comer, dormir, LOL, tomar selfies e fazer novos amigos.
Você vai encontrar o nosso lugar para ser muito confortável e relaxante. A nossa equipa simpática muito útil e nossa localização é perfeita para aqueles que estão à procura de um refúgio perfeito. O colchão pillow top vai dar-lhe um sono maravilhoso. O quarto eo banheiro são espaçosos. Os quartos são limpos todos os dias e com toalhas e artigos de higiene.
Situado na área da sereno com vista para a Praia Ilig-iligan onde o sol da manhã e da brisa do mar se encontra. A vegetação exuberante, a praia pouco frequentada, o céu da noite bonita e os moradores sempre amigável torna este lugar um perfeito tropical fugir.
I've stayed in this resort for 4D3N with my girlfriend. There were lots of staff working in the resort and they always greet us with a smile. Joven and Anita were kind and friendly host whom offered their help in last minute booking of water activities. Breakfast were provided and are delicious. Rooms and bathrooms are really spacious and are cleaned everyday. There is a rooftop where you can chill and relax and also be able to see stars and the sunset. The prices for water activities were very reasonable and they were able to arrange it nicely for us, even going a step further by providing a staff to accompany us. The free massage provided was really good too. Overall, it's a nice and peaceful place and they made us feel welcomed.
Derrick
2015-05-20T00:00:00Z
Mr Joven is a great host! He and his resort staff always go the extra miles to help us and accommodate our needs. The room is very clean and comfortable, and the breakfast is very delicious! Joven even provides one hour of complimentary massage every day! What touches me the most is Mr Joven's mission to help the community. The profits from the resort go to education of the local community. To date, Mr Joven is providing education to 97 students! The whole experience is just really wonderful! I'm glad that I play a part in helping the community by just staying in the awesome resort.
Chloe
2015-08-15T00:00:00Z
Чудесный отель, которым владеет господин Джовен. Расположен очень близко к пляжу илиг-илиган. Голубая вода с небольшими волнами и с плавным песочным входом. В отличие от white beach не цветет в высокий сезон. Отель находится вдалеке от шумных улиц, из окон открывается приятный вид на зелень. Ночью вы будете слышать только звуки природы и сможете спать с открытым окном. Чтобы понять как это здорово, достаточно поездить по острову и ощутить запах бензина на 1-2-3 станции, услышать как ГРОМКО шумят моторы трайсиклов до поздней ночи. Отель предоставляет бесплатный трансфер каждые 2-3 часа от отеля до центра и обратно. Что касается удобств в отеле: большие чистые номера. Действительно чистые, которые каждый день качественно убираются. Бесплатные вкусные завтраки на выбор. При бронировании номера через airbnb.ru вам подарят бесплатные массажи. Здесь же можно пообедать и поужинать. Здесь даже есть возможность заказать утром на вечер приготовление любого морепродукта, которого нет в меню. Будьте уверены: вам подадут только самое свежее и нет никакой необходимости покупать самим заранее на талипапа. Здесь к вам будут относиться как к членам семьи: встречать искренней улыбкой, помогать вам в сложных вопросах и стараться создать для вас прекрасный отдых. Хозяин обязательно выйдет познакомиться с вами лично. И если вдруг что-то смутит, вы всегда можете попросить Джовена помочь вам в той или иной ситуации. Но что самое важное, вы сами того не зная, становитесь частью большого благотворительного проекта, ведь вырученные от отеля деньги идут на помощь местным жителям, детям. Больше сотни детей благодаря отелю были отправлены в школу, которая на Филиппинах является платной, получили необходимую медицинскую помощь (на Филиппинах медицина очень дорогая), имеют одежду для школы и необходимые книги. Хорошего всем отдыха!
Елена
2017-03-23T00:00:00Z
This was the first time I went to Boracay with my wife and even though I was unfortunately feeling under the weather Joven managed to make our stay romantic and memorable. His staff is very accommodating. We enjoyed a sumptuous candle-lit dinner at the roof deck when we arrived. Breakfast was quite filling. Our room was very clean and spacious. The nearby beach felt a little more private - it had less people and was less windy, not requiring wind breakers like the beaches at the other stations. And we got free massages the next day. Of course the main draw here would have to be Joven - he really goes out of his way to check up on you, talk to you, ask you if you need anything and give you advice about the island and how to make the most out of your stay. Add to this his advocacy of giving back to the community and you have a place definitely worth staying and coming back to.
Bobby
2015-08-26T00:00:00Z
From the time we walked in we were offered a cool drink. Joven greeted us and was fantastic. The staff were also. Everyone was more than happy to help and offer any advice in regards to doing things around Malay. The room was fantastic also. Food was very good and there was a wide variety at a reasonable cost. I really can't think of anything to fault with this place. Also massages were offered and free shuttle services. Joven was a exceptional host and manager of the facility. We would definately stay there again.
Luke
2016-02-18T00:00:00Z
I was amazed by all the wonderful reviews given by the occupants of this Resort upon booking. But having experienced it first-hand just reinforced the truth of the comments given about Oasis Resort and Spa. Sir Joven, Maám Anita and Meriam welcomed Emy and I with such warmth and hospitality after a long trip from Kalibo. This is because the resort is located almost on the northernmost part of the island --at Barangay Yapak. We explored the peaceful Ilig-iligan beach, which is five-minutes away by walking, and swam in its pristine, blue waters. Even their two dogs- Bora and Ciara - were very friendly towards the guests. The cat called "Come Here" liked Emy as well. Emy and I have a soft heart for children. So when the Manager (Sir Joven) invited us to attend their Sunday service so we can meet the neighbors' children who are scholars of the Oasis Resort Community Outreach project, we agreed readily. That was where we met the affable Balubayan family. Its rooms were so clean and spacious. The free breakfasts were scrumptious and the massage was excellent. Over-all, on a scale of 1 to 10, I will give the resort a grade of 10. A paradise getaway indeed. Definitely, we will recommend this place to our friends and relatives who will visit Boracay.
Ashley
2016-11-07T00:00:00Z
선착장에 도착해서 트라이시클로 40분가량 떨어져있는 정말 조용한곳이였습니다. 일리간비치 까지 걸어서 5분정도여서 조용한비치에서 여유로운 시간을 보내기엔 정말 좋은곳입니다. 스탭이 항상 곳곳에 대기중이며 궁금한것이나 필요한것이 있으면 바로 해결이 가능하고 정말 친절합니다. 1박에 1시간씩 제공되는 마사지를 받을수잇는 3층은 정말 최고!! 해먹에 누워잇으면 바닷바람이 시원하게 불고, 맥주한잔 하기엔 너무 좋은곳 !맥주도 마트가격이랑 비슷하게 팔아서 무겁게 사들고 갈 필요가 없어요.단 단점이 있다면 디몰까지 거리가 20분입니다 리조트 근처엔 구멍가게 하나 없어서 하루한번 무조건 디몰을 나가게되는데 무료셔틀이 있지만 좀 번거로웟어요.외국인 휴양스타일이라고 해야하나~조용히 휴가를 보내긴 완벽합니다
은주
2016-09-16T00:00:00Z
It was my first time to go to Boracay and the place was right! Joven and his staffs are very nice. The place is very close to the beach, perfect for people looking for peaceful place from downtown. Definitely will go again next time.
Jovita
2015-09-24T00:00:00Z
Tipo de Acomodação
Quarto inteiro
---
Tipo de Imóvel
Pousada
---
Acomoda
2
---
Quartos
Malay, Aklan, Filipinas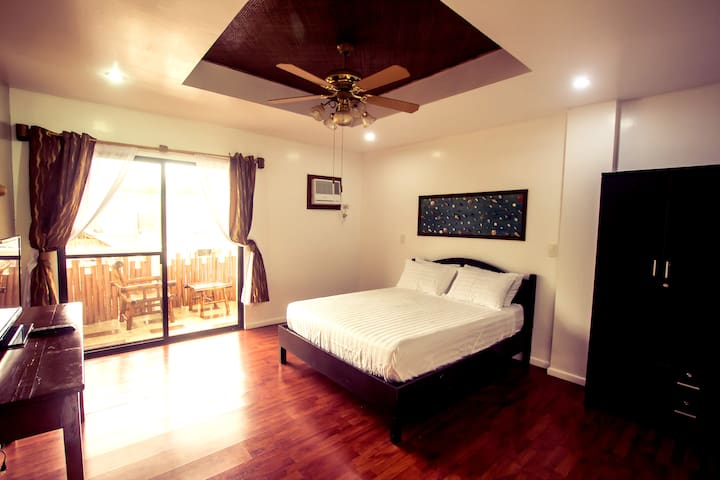 grande apartamento de 2 quartos com um enorme terraço com vista para a praia do oceano / kitesurf. a unidade está localizada no composto moradias cohiba e inclui grande 25 m piscina ,, 24 horas recepção e livre autocarro por hora a D comercial. que incluem um serviço de limpeza diário.
grande apartamento T2 com terraço enorme. nós também incluem um serviço de limpeza diário. o apartamento está localizado em moradias Cohiba complexo que inclui piscina de 25m infinito recepção 24 hr restaurante livre horária van de transporte para shopping d que é a parte central da ilha, é apenas de 10 minutos de corrida.
estamos com vista para o famoso kitesurf e desportos aquáticos praia
Nous avons passé un excellent séjour au cohiba villas l'hébergement était top et le personnel tres sympathique je le recommande grandement!! 5 etoiles piur joseph et son équipe!
Yacine
2017-01-25T00:00:00Z
Very beautiful, very clean home, with an excellent view. The staff were very friendly and helpful. All thumbs up, highly recommended!
Michel
2017-03-23T00:00:00Z
Great place, huge apartment, effective and efficient front desk service, quick room service. Not so convenient to walk to the main districts, but transport is extremely cheap, and takes 5 minutes with tricycle to dmall.
Frane
2017-03-01T00:00:00Z
Fantastic ocean view, great location on hilltop, spacious place. Very comfortable beds. Attentive and friendly staff. Meals by the pool and hourly free shuttle bus rides to White Beach were a bonus. WiFi was a bit slow and construction noise from adjacent property bothered us when we were home in the daytime (we usually were not). Overall we very much enjoyed our stay and would repeat the experience.
Sacha
2017-04-02T00:00:00Z
Great place. Very fancy. Nice views! This place is ran like a hotel with front desk check in service, house keeping service, shuttle service, and more. It doesn't take away from the experience though. The staff are friendly and helpful. The apartment was spacious and clean. The view is amazing. Great experience overall.
Lam
2017-03-04T00:00:00Z
nice place.
kanji
2017-02-13T00:00:00Z
The villa is awesome. The view from the apartment is fantastic. The rooms are big, clean n well maintained. The service staff is polite.
Wei Wen
2017-03-16T00:00:00Z
Amazing space and view from the room! Perfect place for a special get away :)
Jade
2017-03-09T00:00:00Z
Tipo de Acomodação
Casa/apto inteiro
---
Tipo de Imóvel
Apartamento
---
Acomoda
4
---
Quartos
Malay, Visayas Ocidentais, Filipinas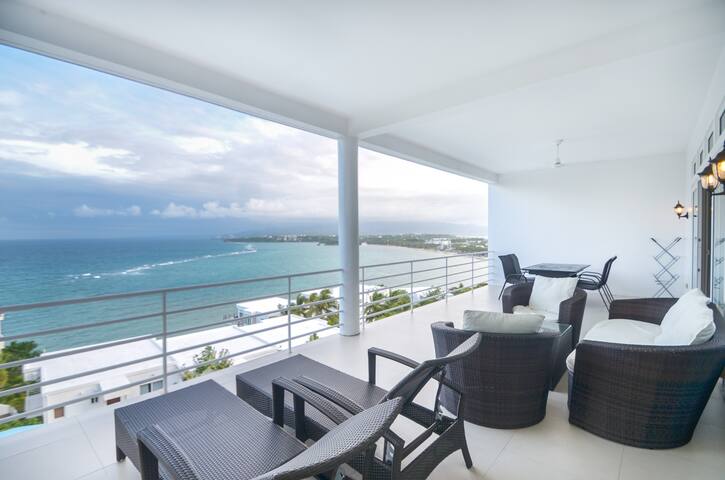 Unsere stilvollen 1BR komplett eingerichtete Wohnung in der schönsten weißen Strand der Welt befindet. Entspannen Sie Ihre Seele den Sonnenaufgang und Sonnenuntergang beobachten, während das Rauschen der Wellen zu genießen. Erleben Sie ein fantastisches Nachtleben, Wassersport, köstliche authentische Speisen und schwimmen auf einem kristallklaren Wasser der berühmten Insel Boracay. Genießen
ボラカイ島の新しい組み込みの高級ビーチアドレスに位置するスタイリッシュで快適な1BRフラット。バルコニーから素晴らしい海やフェアウェイブルーウォーターゴルフコースビューのスペイン風はノーマルライズマンションクラスター。 メインゲートからの無料シャトルサービスの恩恵を受けて、シティモールに向かって。 プライベートホワイトビーチへのアクセスは、離れてあなたの部屋から5mins。 高級サヴォイホテルレストランから10minute徒歩。 フラットで装備です。 フル機能キッチン、冷蔵庫 温水シャワー。 高速無線LANインターネット ケーブルテレビ。 1つのクイーンサイズのベッド 2枚の折り畳み式のシングル床マットレス エアコンディション(ベッドルームとリビングルーム) ハイエンド洗濯機と乾燥機 あなたが探検し、楽しむことを待っているボラカイ島の作品は常にあります。
150ヘクタールで、ボラカイ島の新しい海岸は島の15%を構成するボラカイ島の土地の最大の単一の部品を形成しています。 ボラカイオーシャンウェイレジデンスは、島で唯一の排他的な豪華な4中層マンションです。 近くのゴルフコースとプライベートビーチに囲まれています。緑と海を見渡すデッキを表示します。 2つのスイミングプール。で、ニュー・コーストのうちの無料シャトル。 利点から: ゴルフコース、フェアウェイズ&ブルーウォーターカントリークラブのレストラン1.直接アクセス 無料シャトルサービスによってアクセス新しくオープンしたショッピングセンターCityMall 2.閉じます - 。 3.サヴォイホテルやレストランではユニットから10minute徒歩です。
一定要提前联系房东 不然就跟我一样大半夜在外面进不去
诗凤
2017-03-02T00:00:00Z
clean and nice apartment in a calm area.safe and well maintained...communication is perfect
Marc
2017-02-05T00:00:00Z
The best thing about Oceanway residences is the security of the area. There are helpful security guards stationed at the main entrance and in each cluster entrances. For guests looking for peace and quiet, this apartment is perfect as it is away from the crowded areas of Boracay island and there is even a private beach for guests. There is regular shuttle for guests to get to the private beach and to the main entrance where guests can flag down etricycles on their own to get to the touristy areas. Aiza and Paolo's apartment is clean and nicely decorated and communication with them is prompt and easy.
Siti Sufea
2017-04-08T00:00:00Z
Perfect for a quiet stay in Boracay. The staff were very kind and accommodating. We had no hassles during our trip thanks to them. We greatly enjoyed the private beach and the pool -- very different from the buzzing metro of Bora. The place is easily accessible via tricycles or e-trykes. Would book Aiza's place in a heartbeat if we ever go back.
Mich
2017-03-18T00:00:00Z
Aiza and Paolo's place was as advertised. It was clean, bright, and very comfortable. We loved that there was a teapot, and washer/dryer equipped! The wifi was quick and the AC blew cold. Couldn't ask for anything else. They were amazing in their communications leading up to the trip, and while we were staying there. Love it!
Linhbergh
2017-01-27T00:00:00Z
The apartment is clean, neat and beautiful, This place has all of the necessary facilities.The landlord is very considerate.A nice apartment to live in.
薇
2017-02-07T00:00:00Z
Aiza & Paolo's place was very lovely and contained. Slightly smaller than we first expected but was definitely a well-thought out little apartment. Great little spot with a nice pool and private beach access, but it'll take about 10 or so minutes to get into town after you catch a shuttle bus to the gate. Heads up, not every tricycle driver will know where it is! Everyone was super friendly too! The kitchen doesn't have an oven but does have two stove tops and we were able to cook breakfast each morning with no problems. A lovely place with lots of comfort!
Charlotte
2017-02-11T00:00:00Z
Great stay and awesome value! The hosts were very prompt in responding to messages.
Mae
2017-03-05T00:00:00Z
Tipo de Acomodação
Casa/apto inteiro
---
Tipo de Imóvel
Condomínio
---
Acomoda
4
---
Quartos
Malay, Visayas Ocidentais, Filipinas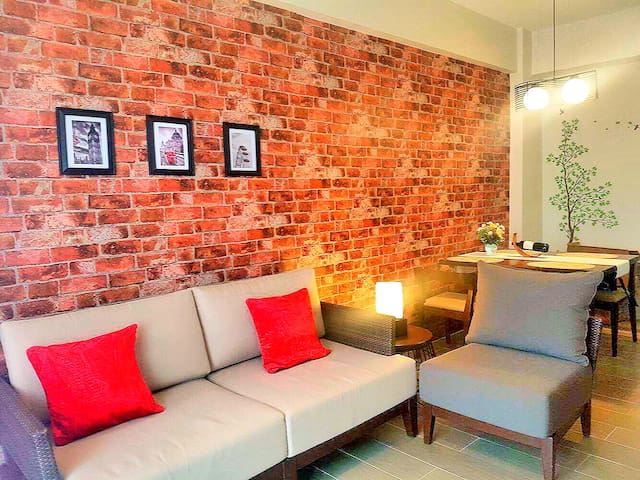 Our accommodation is 3 minutes to White Beach, near station 3, in the southern part of the island and is suitable for couples. The house has 16 apartments. It is 36 square meters. large, has a balcony, kitchen, living room, bedroom, cable TV, (Kalibo Cable) Aircon, 2 ceiling fans, Safe (Safe). Electricity and TV / internet is extra. 1,650 pesos monthly.
The accommodation can be booked from April 1 to September 30.
Built in 2012 house has 16 apartments, the outer with balcony. Our apartment has a large balcony. The house is 250 m. away from White Beach. Our house has its own generator, since there are often power outages here. The house is located in a side street that ends at the beach and the main road.
Tipo de Acomodação
Casa/apto inteiro
---
Tipo de Imóvel
Apartamento
---
Acomoda
2
---
Quartos
Malay, Visayas Ocidentais, Filipinas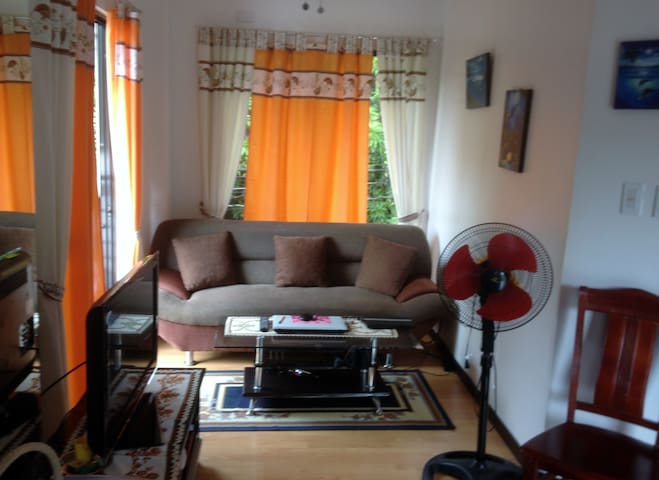 Mé místo je v blízkosti letiště, do centra města, parky a krásným výhledem. Zamilujete si svoje místo, protože útulnosti, pohledy, a pohodlné postele. Mé místo je dobré pro páry a sólo dobrodruhy.
The hut is very cosy and feels very genuinly local. The restaurant serves great food in quality and quantity for good prices. A lot of privacy. Directst at the sea side. Lovely area to hike around
Maarten
2017-01-19T00:00:00Z
Excellent service. Boss is very nice and beautiful . Feel relax. I have great time with my GF at here. Thanks 客户服务非常好,景色不错,老板娘很好说话。而且漂亮。
阳
2017-01-22T00:00:00Z
If you are looking for a very peaceful place, away from the hustle and bustle of the city, Hangout Beach Resort is perfect for you! Plus, the food are incredibly delicious! Would definitely come back
Darlene
2017-02-11T00:00:00Z
The host canceled this reservation 59 days before arrival. This is an automated posting.
Tim
2017-02-16T00:00:00Z
With no exact address we couldn't find the property, and no taxi's could take us there.
Valerie
2017-04-02T00:00:00Z
The 'Hangout' is a great place to stay. A warm welcome and quaint surroundings with a fun, but relaxed, atmosphere. I was treated to an evening BBQ and karaoke at a local secluded river location where you can swim and then belt out your favourite songs. But you can also quite easily do your own thing. The hangout is right on the beach front!
Alan
2017-03-10T00:00:00Z
Tipo de Acomodação
Quarto inteiro
---
Tipo de Imóvel
Alojamento ecológico
---
Acomoda
2
---
Quartos
Malay, Visayas Ocidentais, Filipinas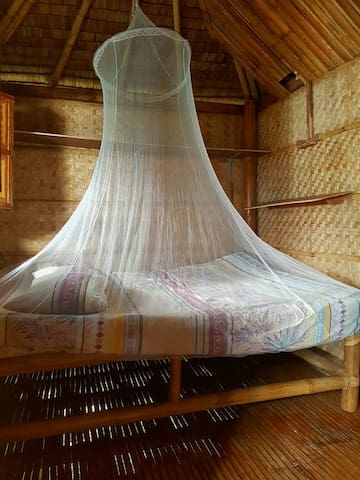 * Muito bem mobilado LAZER Apartamento no Boutique Hotel Villa Sunset * Com o seu próprio Terraço / Varanda * Protegida do vento, sem música alta de praia nas proximidades * Pool and Pool Bar * Apenas um minuto a pé até Praia Branca, forma direta * Diretamente no centro de White Beach, Station 2 * A uma curta distância D'mall (cerca de 10 minutos), restaurantes, bares * Espreguiçadeiras diretamente no White Beach (preço extra) * Pequeno-almoço opcional: + 160.- Peso / Pessoa * Almoço e jantar disponíveis na área de jantar acima da piscina
Bem-vindo à Boutique Hotel Villa SOL BORACAY Villa Sunset está localizado no coração de Boracay's "White Beach", apenas cerca de um minuto a pé da praia. Inaugurado em 2003, o Villa Sunset oferece um ambiente tranquilo e intimista. É perto da praia, mas calma, segura e não muito vento. Seu Lazer apartamento é elegantemente decorados e totalmente equipados com o seu próprio terraço com vista para a piscina. O apartamento tem televisão por cabo, telefone, chuveiro, ar condicionado, e um frigorífico totalmente abastecido. O seu belo apartamento é um de apenas oito apartamentos em nosso grande Villa. Relaxe na nossa piscina privada, ter o seu pequeno-almoço no nosso jardim tropical ou relaxar com uma bebida fresca no nosso bar da piscina. Também muitos restaurantes, bares, discotecas e lojas estão nas proximidades. A alta qualidade dos nossos serviços também é garantido pela administração alemã. Boracay é um lugar onde o tempo pára e intermináveis experiências praia Escapade acontecer. Villa Sunset é o refúgio perfeito para uma experiência relaxante e verdadeiramente exótico - ideal para lua de mel, amigos ou famílias. Saltar para a nossa bela piscina para um mergulho refrescante ou simplesmente relaxar. Deixe a nossa equipa simpática servir-lhe uma selecção de bebidas e uma variedade de alimentos a partir de 6 da manhã às 10 da noite no nosso bar da piscina exótica, situado num jardim exuberante. Uma característica principal do Villa Sunset é a nossa bela Pool Bar. Você pode convidar seus amigos e divirta-se no nosso bar. Desfrute de beber com os amigos ao compartilhar conversas interessantes da experiência divertida em Boracay. Nós oferecemos-lhe uma grande variedade de aperitivos, pratos principais e sobremesas. Começando com os nossos deliciosos all-day-café-ocidental ou Philippino Style. O seu pequeno-almoço padrão está incluído no preço. Uma ampla seleção de mais opções de menu de pequeno-almoço está disponível por um pequeno custo extra também. Boracay Island é um destino turístico em expansão. Alguns novos hotéis estão em desenvolvimento em nossa bela ilha bem no momento. Às vezes, você também pode ouvir o barulho de construção em nossa área. Mas isso é limitado, das 8h às única máxima 5. pm. E agora vamos esperar para a sua visita amigável. Nós também muito ansiosos para ajudá-lo com qualquer tipo de reservas de atividades para os seus passeios, passeios pelas ilhas, mergulho, aventuras e muitos mais a seu pedido.
Sunset Villa was fantastic. Right from the start we had someone pick us up from the airport (which is small and crowded with tourists) and then travel with us on the ferry, in the "taxi" to the villa. Our place was incredibly close to the main strip without having to worry about the noise of loud music that restaurants played. Also the staff and Janice were so accommodating. Our reservations for the second half of the week ended up being less than ideal so we came back to Sunset Villa to see if they had availability. They did, and upgraded us to a nicer room. Great place! The only downfall is the pool was a little small and hard to share, but the ocean is so close that we didn't spend much time at the pool anyway!
Kimberly
2017-03-28T00:00:00Z
这是第一次在airbnb上订民宿,非常感谢Janice的员工热情款待,还有幸见到Janice本人一次,好漂亮的房东。房间很大很干净,还有一个阳台,阳台有晾衣服的架子非常方便,备品很齐全,床很舒适。每天的早餐都有变着花样在用心准备,我喝咖啡的话总是上来一大壶。步行到沙滩也只有几十米的距离,出到主路有比较大的超市,地理位置很方便。总之,一切都是非常美好的。
鸣
2016-11-28T00:00:00Z
Great place! Clean and very comfortable room, very safety place) I enjoyed the good breakfast sitting at the small table just near our room)) I liked that the hotel area was always closed from non-hotel guests and security always waited for us for close and open the main door. Thank you a lot!
Alena
2017-03-13T00:00:00Z
+proximity to the beach (1 min) +quite place +rooms are big and clean +staff was really friendly and helpful +you get a good value for your money -two days cold water, but this is just a minor disadvantage
Edu
2017-03-17T00:00:00Z
Very nice and pacific hotel. Just road to beach terrible. Around construction ongoing all time. Staff very friendly, but hotel need refubishment. Janice you a super
Igor
2016-11-05T00:00:00Z
Very nice people. Very clean apartment. Friendly stuff. Apartment was suitable and comfortable. If your looking to handle business while on vacation well the wi-fi was so-so. Good enough for communicating on apps but not good enough for wi-fi calling. Beside that I would recommend Janice apartment.
Stephen
2017-03-06T00:00:00Z
I had a great stay at this resort. The staff is very accommodating.
Philippe
2016-10-20T00:00:00Z
Tipo de Acomodação
Casa/apto inteiro
---
Tipo de Imóvel
Vila
---
Acomoda
2
---
Quartos
Malay, Visayas Ocidentais, Filipinas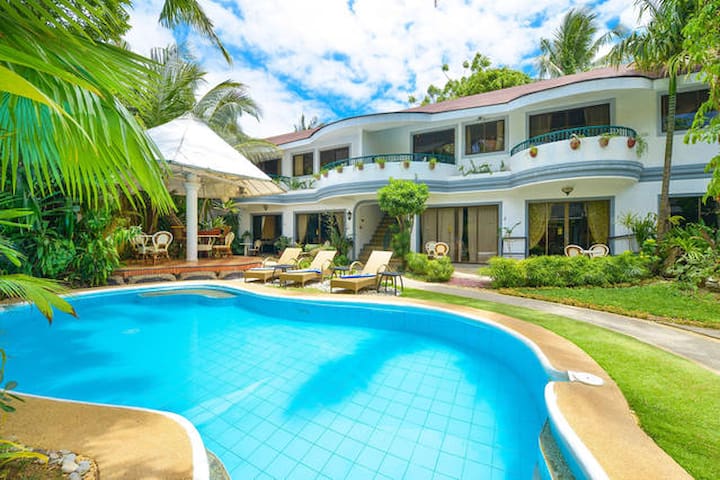 보라카이, 청소 시원하고 새로운 호스텔. 배낭 및 예산 여행자에 적합합니다.
타의 추종을 불허하는 개인 정보 보호 및 공간, 40 pax는 편안 여기에 맞게 할 수 있습니다. 우리는 5, 기숙사, 일반 lounging입니다 영역, 개인 전원 소켓을 공유 우리는 자주, 특히 lounging입니다 영역에서 고객과 상호 작용합니다. 우리의 이웃 섬에 거의 모든 시설에 접근, 레스토랑, 바, 상점, 수상 스포츠, 섬 투어 등 우리는 주요 위치에있어 그것 때문에 매우 편리합니다, 대중 교통 24 시간 접근이있다. 우리는 또한 넓은 주차 공간이 있습니다. 우리는 무료 Wi-Fi 접속 설비를 갖추고 있습니다.
우리의 이웃 섬에 거의 모든 시설에 접근, 레스토랑, 바, 상점, 수상 스포츠, 섬 투어 등
At first I was skeptical about this place specially the bathrooms since it was shared. But it was great. The shared shower and bathrooms were really clean with hot water in the showers! And water pressure!!! The bunks were nice and clean. A/c was nice and cold. The roof top was nice it was where the wi-fi was the strongest. The location is the best. It is central from every thing. 5 min walk to white beach and 2 min walk to D mall. The owner and management were nice. They let me extend my stay for 4 more days after my first night. I'll definitely come back if I travel to boracay alone again.
Christopher
2016-12-23T00:00:00Z
I felt comfortable with the facilities provided during my stay with box and ladder. Washroom was clean, staff were friendly and even brief me on the attraction places around the island. Amenities like grocery store, pharmacy, telco shop are just stone's throw away. Tricycle are everywhere so don't worry about catching your boat schedule. overall, good experience!
SIMON YAP
2015-07-06T00:00:00Z
masarap bumalik sa boracay at sa beds & ladder ulit ako magstay. higit sa lahat may kitchen pwede akong magluto. :D
Darlyn
2015-06-13T00:00:00Z
The place is brand new, very well located in Station 2 in Boracay. The dorms, toilets and showers were clean, the dorms are small, there was hot water available, and the service was excellent. I needed a late check-out and the personnel were more than helpful. Overall it is an excellent place to stay if you are backpacking and you want a cheap but quality accommodation.
Jocelyn
2015-02-19T00:00:00Z
很好的青旅、入住非常愉快!地理位置极好、旁边就是Dmall、穿过去就是白沙滩~工作人员也非常热情、下次去长滩岛还会选择这里!
君
2016-02-15T00:00:00Z
I loved staying at Box and Ladder! Charina herself is amazing, so friendly, helpful and knowledgeable about the area! The beds are very comfortable and it feels very private in your own little space. The rooftop (where you get good wifi) has a great view, lots of comfy chairs and couches, and a friendly atmosphere! Box and Ladder is a great option for the budget traveller in Boracay!
Jeni
2016-01-11T00:00:00Z
Their hostel was still new. Everything is still in place. The room is a bit cramped but it was ok. They also provided towels which was good. Their hot shower and bathrooms were ok. Staff is friendly and accomodating. Will definitely recommend this to my friends. Great value for money!
Paula Nicola
2015-02-23T00:00:00Z
Host was wonderful. Making contact through stay for various inquiries was a non'issue. Amenities were just as stated in description. And location of guest house was perfect.
James
2016-01-25T00:00:00Z
Tipo de Acomodação
Quarto compartilhado
---
Tipo de Imóvel
Dormitório
---
Acomoda
1
---
Quartos
Malay, Visayas Ocidentais, Filipinas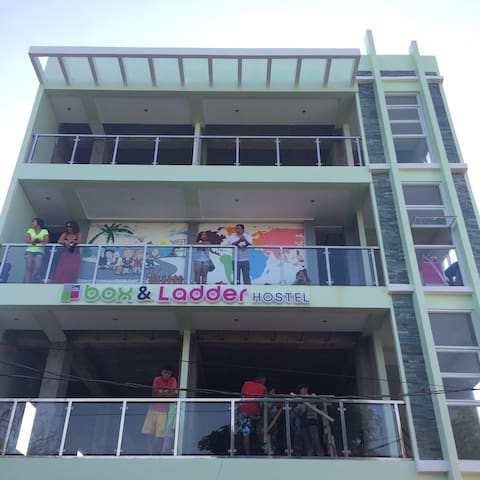 1

–

18

de

Mais de 300 Espaços para Alugar
Insira as datas para ver o preço total. Taxas adicionais serão aplicadas. Impostos podem ser adicionados.