Huge 600sqft loft in safe and charming Western Hills area! You'll have your own locked, private entrance from the back of the house, full mini kitchen, free parking and laundry, and a pet & kid friendly space :). 5 min from Rt 50; 8 min from I-74 and I-75 highways.
The space includes the entire bottom level of my split level home with private key access, separated from the upstairs. The only shared space is the laundry room, in which I have a separate entrance. Full mini kitchen, bathroom, and access to washer and dryer. The queen bed is super comfy!!!! My loft apartment is always kept tidy with freshly washed sheets! I have 2 cats who stay upstairs (unless you would like to let one in for a visit :-), so furry animals welcome, no cat allergies please. Feel free to use the lower patio, yard, and art table!! There's a doll house for the little ones if you have them ☺️.
I love my suburban neighborhood because it's on a quiet cul-de-sac street with hardly any traffic, but also very close to the major highways. You're guaranteed a peaceful stay. It's a 20min drive to downtown cincy. There are many restaurants, shops, and grocery stores nearby as well as a few great local breweries.
Thanks, Beka, we feel as at home, with everything we might need. It was nice to get sleep after long trip. Good neighborhood, safety parking, privet bathroom, kitchen. Wonderful place to stay!
liudmila
2016-09-25T00:00:00Z
Beka's place was fantastic. Nice quiet neighborhood away from the stress and hassle of the big city. She was always quick to answer questions and everything was as pictured...if not better. Plenty of privacy with plenty of ameninties. Would definitely stay again when in the area.
John
2016-09-04T00:00:00Z
Beka was great. She had toddler toys for our little one to use if we wanted. She had to come and get one of the cats, which wasn't a problem. When she did so, she was very friendly and had a short little talk with my wife and me. She also brought down one of the other cats for our little one to pet since the first cat was very skittish. The weather wasn't good for it, but she also invited us to use the backyard playground.
Kevin
2016-09-19T00:00:00Z
Great place in the suburbs. Quiet with private entrance and private bath. I slept very comfortably during my 3 night stay. Thanks Beka!
David
2016-09-01T00:00:00Z
Beka was very responsive any time I sent her a message. She offered me breakfast one morning, which was very nice. Easy to communicate with. The neighborhood is quiet and the house is on a cul-de-sac so not a lot of traffic. It is a bit far from the city; however, very close to restaurants, fast food, a brewery or two, Kroger, etc.
Ashley
2016-08-11T00:00:00Z
As this was my first Airbnb stay I don't have much context for how good or bad a host can be. That being said I think Beka has spoiled all future stays for me. An absolutely perfect room with everything anyone could want. Private bath and shower, private kitchen, private entrance. Private private private! Comfy bed and an amazing leather couch to hang out on after work. Beka is super friendly and helpful but also leaves you alone unless you ask. Beautiful house. Sweet friendly cats say hi when you get home and there are often deer in the yard when you leave. I originally booked a week and ended up staying for nearly a month. If someone else hadn't already booked the room later I'd be staying for the remainder of my time in Cincinnati. Keep up the lovely work, us road dogs appreciate it. Sad to leave tomorrow.
Christopher
2016-11-19T00:00:00Z
Beka is an amazing host! Her loft was easy to access, easy to check into , very clean , private and just perfect. Communication with Beka was amazing and we can't say enough good about her. She even made breakfast one morning ! Will definitely be staying with Beka again . Thanks for being so awesome .
Wendy
2016-08-29T00:00:00Z
We really liked Beka's loft! Much better than the pictures! It's cozy, clean and it worked great for us while visiting Cincinnati.
Luis
2017-02-26T00:00:00Z
Tipo de Acomodação
Quarto privado
---
Tipo de Imóvel
Casa
---
Acomoda
2
---
Quartos
Cincinnati, Ohio, Estados Unidos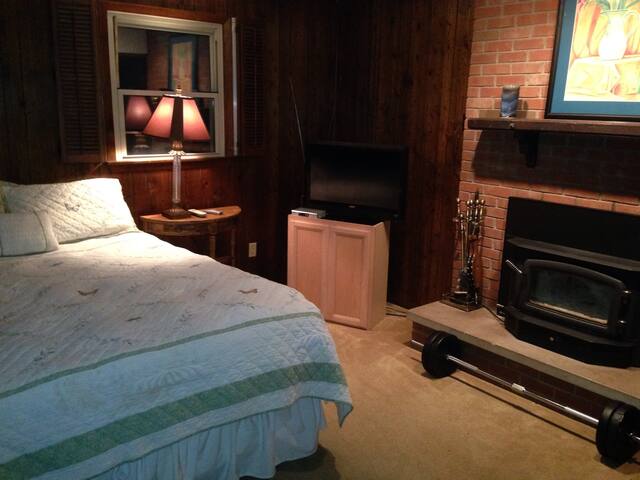 Our home is in a quiet spot on the westside of Cincinnati. Our place is cozy, comfortable, has outdoor space and large front yard, updated decor, onsite parking and very welcoming the minute you walk in the door. A great stop for couples, solo adventurers, and business travelers.
Our guests will have access to 2 bedrooms on the 2nd floor along with a private bathroom with shower. The first bedroom contains a queen bed, closet space, night stand, ceiling fan and window overlooking the back yard. The second bedroom is a bit bare, but does contains a brand new queen bed, closet space, ceiling fan and window overlooking the driveway. Guests also have access to the basement which includes a couch, televisions, sports bar, bathroom and a separate working space.
The West Side of Cincinnati has several local hot spots including Price Hill Chili. Our home is located 5-10 minutes from the up and coming Incline District where you can grab drinks at Somm Wine Bar, dinner at The Public Incline House and catch a performance at the Warsaw Incline Theater. We are conveniently located within 20 minutes from downtown and OTR. Fernbank Park, which is located 10 minutes from our home, offers a beautiful park setting along the Ohio River. Great for running or taking a walk along the 1 mile path along the river. We are located 30 minutes from CVG airport. Taking in the views on the historical Anderson Ferry can cut that commute almost in half.
Chris and his wife were very warm and welcoming hosts! the house and room were very nice and the online description was very accurate ! they are very nice people and I'd recommend them to anyone!
Brandon
2017-03-12T00:00:00Z
Tipo de Acomodação
Quarto inteiro
---
Tipo de Imóvel
Casa
---
Acomoda
2
---
Quartos
Cincinnati, Ohio, Estados Unidos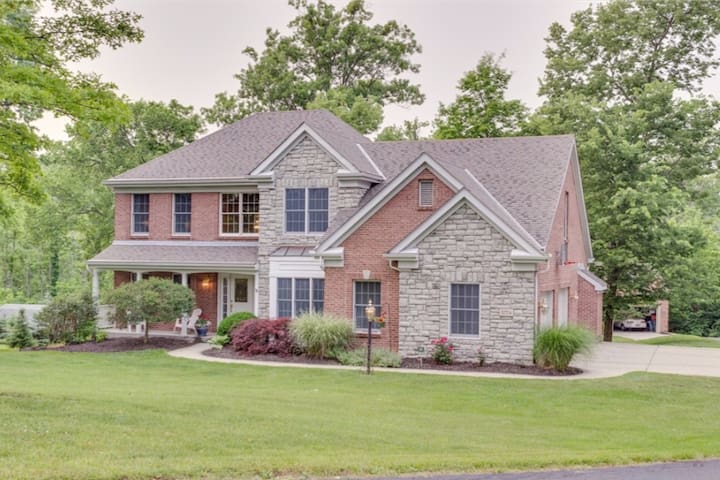 The home is located in Delhi, a west side suburb of Cincinnati just minutes from downtown. The home sleeps 6 and has modern updates including a remodeled kitchen with all the cooking essentials and a nice sitting area. You'll feel right at home.
The kitchen is fully equipped if you love to cook at home instead of eating at pricey restaurants. The home is very comfortable, but also easy to get to the city if you feel like going out. My guests also enjoy a complimentary bottle of wine.
Delhi is a very friendly community. It is located just outside of Cincinnati and the downtown area. It's very easy to get downtown and usually takes 10-15 minutes. There are several fast food restaurants as well as a couple of grocery stores nearby as well if you are looking for something close to the house.
Tipo de Acomodação
Casa/apto inteiro
---
Tipo de Imóvel
Casa
---
Acomoda
6
---
Quartos
Cincinnati, Ohio, Estados Unidos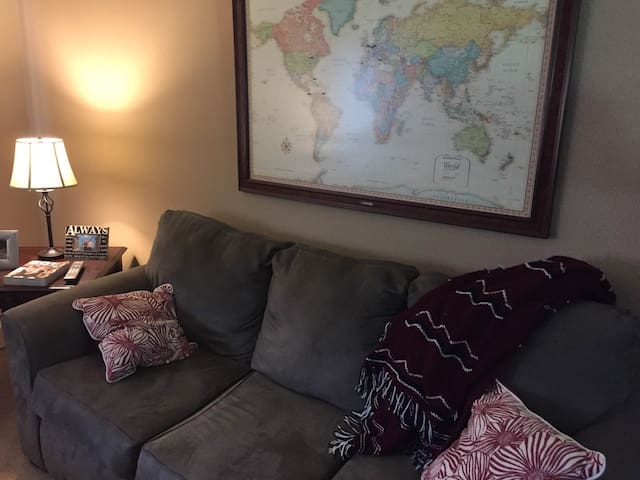 Ten minutes from downtown, extremely clean and comfortable house. Safe neighborhood. Great kitchen opens up to family room, screened in porch and outside deck with pergola. Two bedrooms have queen size beds, 3rd bedroom has twin size bed.
It has a formal living room, kitchen (fully stocked), gas stove, new fridge and family room combined. Two full sized bathrooms. It is nicely decorated with leather sofa and chair, 55" tv with cable, lots of windows, central air conditioning. There is one bedroom downstairs with a queen size tempurpedic bed and two upstairs bedrooms, one with a queen size bed and another with a twin size bed.
We had a wonderful experience staying at Bonnie's place. Her home has a lot of character and was very warm and inviting. There are several knick-knacks, figurines and statues throughout the home that give it an infectious charm. The pictures are accurate and the home was clean, tidy and spacious. The neighborhood was conveniently located - a short car/taxi ride to downtown - and it was very quite. Although, I did not get a chance to meet Bonnie in person she stayed in contact via text. She answered all of my questions and really put me at ease. Don't hesitate to book this lovely cape cod!
Shawn
2015-06-02T00:00:00Z
Bonnie was very nice and easy to communicate with. She met us at the house when we arrived, gave us a tour and provided with us all the comforts of home. She left snacks, coffee, water and told us to make use of anything we needed. The house was very clean, nicely furnished and perfect for our stay. We enjoyed the living space very much and were very comfortable during our stay. Would definitely stay again if we found ourselves in the area again!
Monica
2015-05-17T00:00:00Z
Tipo de Acomodação
Casa/apto inteiro
---
Tipo de Imóvel
Casa
---
Acomoda
4
---
Quartos
Cincinnati, Ohio, Estados Unidos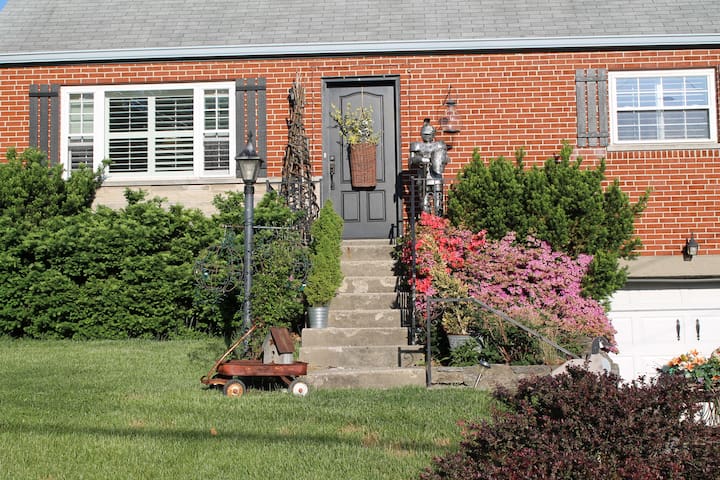 Beautiful family home set back from the busy city of Cincinnati. Come relax and enjoy a peaceful cup of coffee or tea on the back deck while bird watching. Want a night out in the city? Downtown Cincinnati is not far with many new and interesting places to explore.
Private lot surrounded by woods to explore
Wonderful country style neighborhood off the beaten path, yet close to grocery stores and restaurant options. Downtown Cincinnati is just a short drive away. Property is on the boarder of Indiana and Kentucky allowing guests to access the great attractions in all three states for easy day trips.
Great hosts. Great house. It was a smooth and simple stay.
Alec
2017-03-05T00:00:00Z
This was a great place to stay. It was so comfortable and relaxed. Joey and Alicia were fantastic hosts. The price was perfect. We would definitely stay here again if we were in the area.
Judi
2017-03-10T00:00:00Z
Tipo de Acomodação
Quarto privado
---
Tipo de Imóvel
Casa
---
Acomoda
10
---
Quartos
North Bend, Ohio, Estados Unidos
Conveniently located within 5 miles of airport, and minutes from several interstates that lead you to Cincinnati or Indiana. Also within a short drive is the Creation Museum, CVG aircraft viewing area, parks, farmers market, and tour-able farms. On-street parking is available, and restaurants, bars, marketplace (with Starbucks) located within walking distance, but may not necessarily have sidewalks.
This listing is a basement room, but does not feel like a basement, as the basement feels almost like an apartment. There is a shared entrance upstairs (this listing is a room in my home, almost like apartment once downstairs), but the room will be private. I have several amenities that will make your stay pleasant, including gym equipment, board/card games, air hockey, cable, books, and wi-fi.
Neighborhood has approximately 3-4 miles of sidewalks that include hills if you'd like to walk/run outside.
My stay with Amy and family was awesome. I had the entire basement to myself. Best place ever.
Hilaria
2017-03-09T00:00:00Z
The bed was extremely comfortable, I had the whole basement to myself, private bedroom and private bathroom, big screen TV, sectional, and my own refrigerator, if I come back to Cincinnati I'll definitely be staying here again.
BILL
2017-03-18T00:00:00Z
Good location for business trip. Close to market, fast food, industrial area. Comfort and quite place to stay. Good communication with the host.
Jay
2017-01-25T00:00:00Z
Amy and Michael are wonderful hosts, the moment i walked in, Amy walked me through everything and made sure everything i needed was there. GREAT VALUE FOR THE PRICE. Seriously, this is a amazing place. They have a beautiful house and amenities. There are plenty of good books to read through, amazing X-box and wii collection. There response was real quick.
Madhu
2017-03-26T00:00:00Z
I enjoyed my stay so much last time I had to stay again. Great family
BILL
2017-03-21T00:00:00Z
Amy's place was very clean very comfortable and Amy was very friendly.
Michele
2017-04-04T00:00:00Z
Amy & Mike were very accommodating hosts. No private entrance, as was explained and never a problem. The purpose of my visit was to help a friend move and it was the perfect location for that!
John
2017-04-03T00:00:00Z
Comfortable, clean, great value, great hosts!
Margaret
2017-02-05T00:00:00Z
Tipo de Acomodação
Quarto privado
---
Tipo de Imóvel
Casa
---
Acomoda
2
---
Quartos
Hebron, Kentucky, Estados Unidos
No sharing whatsoever! Just remodeled!!!!! New paint throughout, new carpet in both bedrooms, clean laminate flooring in the living room and kitchen. Large eat in kitchen fully equipped with all large appliances and small wares. Perfect first floor with off street parking in a safe quiet neighborhood just needs you!
This is not a shared space you get the entire space all to yourself! Two bedrooms with two queen sized beds, it's very clean with a microfiber sectional, entertainment center with basic cable in the livingroom and wifi all included. Very clean, safe, and private!!!!
It's on the same street as a police station so it's very safe, there's a park within walking distance (only about 1.5 blocks away). It's so close to everything Florence and Crestview Hills has to offer. The location is amazing for shopping, entertainment, travel, and work.
The host canceled this reservation the day before arrival. This is an automated posting.
Claudia Gabi
2016-08-02T00:00:00Z
Bryan and Diana are AWESOME hosts from the onset of making reservations through check-out! We stayed in one of their two duplexes. It was tidy, clean, and safe. Bryan was very responsive and we had a great week! We highly recommend these hosts. THANKS Bryan and Diana!! We were only about 20 minutes from the Creation Museum, 30 minutes from the Ark Encounter, and about the same from the Cincinnati Zoo. Family Video is only two blocks from the duplex and not too far is the most SUPER Super-Wal-Mart we've ever seen! We also discovered--and enjoyed TWICE--the delicious treats of SWEET FROG's frozen yogurt restaurant.
Dale
2017-04-01T00:00:00Z
Tipo de Acomodação
Casa/apto inteiro
---
Tipo de Imóvel
Casa
---
Acomoda
4
---
Quartos
Elsmere, Kentucky, Estados Unidos
Os viajantes irão apreciar o caráter desta antiga casa do século, totalmente (URL HIDDEN) uma localização central para o Aeroporto de Cincinnati e do centro de Cincinnati. Micro-ondas, mini-frigorífico e máquina de café / chá disponível na sala de teatro. Esta área também inclui uma mesa.
Dan and Neva are a very inviting and hospitable couple. They are extremely engaging but also give you your privacy - the best hosts one could ever ask for. They made us an amazing breakfast with muffins, fresh fruit, boiled eggs and a fresh pot of coffee. Their house is stunning - the rooms are very spacious, beautifully decorated and extremely comfortable. Comfort at par with a 5-star hotel - and very reasonable rates for the stay. The photos on the website honestly do not do justice to the place. Hope to be able to stay with them if I'm ever in the neighborhood.
Rushil
2016-07-16T00:00:00Z
This is probably my most favorite airBnB place that I've stayed at! Loved the location, the bed was extremely comfortable, loved having the whole upstairs. But, what made this place special? The WARM welcome from Neva and Dan. Neva gave me some wonderful homemade chicken noodle soup, and breakfast was awesome. Just wished I could post pictures! LOL. I felt so cared for, I was bummed that my stay was so short! Big screen TV in the lounge area as well as the bedroom. Drinks in the fridge, munchies in a basket, bathroom toiletries in the bedroom, fast internet, and BEAUTIFUL home. I just can't think of anything else that could have made this place more wonderful. I can't wait to come back to Cincinnati and bring my wife!!!
Charles
2015-11-17T00:00:00Z
What a wonderful time we had with Dan and Neva! We were welcomed so warmly, and Neva went above and beyond to make sure we had everything we needed. Her breakfasts were scrumptious! And the house is a decorator's dream. We so enjoyed our time there. It felt like we were visiting family! :)
Christy
2015-09-13T00:00:00Z
Outstanding hosts. They have a very nice home and are very caring people. With their children and grand children coming over regularly, I do not miss the fact as much that I'm traveling on work and away from my family A few weeks ago, there was a snow blizzard in the Northeast which cancelled all flights and I was unable to fly home from Dallas, TX to Richmond, VA that weekend. I managed to get onto the last flight to Cincinnati, OH. They stayed up late till I got to their house to ensure everything was ok.
Aslam
2016-01-31T00:00:00Z
Dan and Neva graciously hosted us last minute yesterday evening despite having a special event to attend, and put us at ease with how accommodating they were pertaining to our arrival time. Upon arrival, their home was every bit as lovely and magazine ready as it looked in the photos! The private drive leading to a gated parking lot behind the home made us feel our vehicle was beyond safe. They were welcoming and hospitable, and a pleasure to meet! Our room upstairs was very comfortable, and it was obvious they put much effort into making their guests feel welcomed and comfortable! There was a mini-fridge in the chandelier graced media room, stocked with complimentary sodas, water, and delicious snacks like chocolate and little packets of nuts we very much appreciated! There were plenty of fluffy towels artfully arranged with scented sachets and ribbon, travel toiletries in a beautiful display in our bedroom, books to read, and more! Soothing music was already softly playing in the background upstairs, lights dimmed, everything beautifully staged. Well done! So very classy. In the morning, coffee was left for us along with fruit, nuts and pastries. Such a nice way to wake before a long trip back home. Their kitchen was SO beautiful, what a privilege. Thank you both for having us!
Jessica Marie
2017-02-12T00:00:00Z
It was a great stay at Dan and Nevas, they are wonderful hosts and made us feel right at home. Will be back if we are in this area again.
Sushma
2016-07-04T00:00:00Z
On arrival their home far exceeded our expectations, their whole upstairs of there home was for us, which was modern, exceptionally clean and beautiful!! The warm and welcoming was five star the time spent with Dan and Neva will be remember able and we thank them dearly for their hospitality you certainly will not be disappointed ! The breakfast served was delicious even home made muffins ..... Her mams receipt! Thank you Dearly cxxx
Zoe
2015-07-27T00:00:00Z
Stayed on our wedding night. The house is beautiful and very inviting, bed was comfortable and the furnishings and sundries were great. The hosts were so warm and welcoming, what great people! Might do this again for our anniversary!
Amanda
2016-10-09T00:00:00Z
Tipo de Acomodação
Quarto inteiro
---
Tipo de Imóvel
Casa
---
Acomoda
4
---
Quartos
Erlanger, Kentucky, Estados Unidos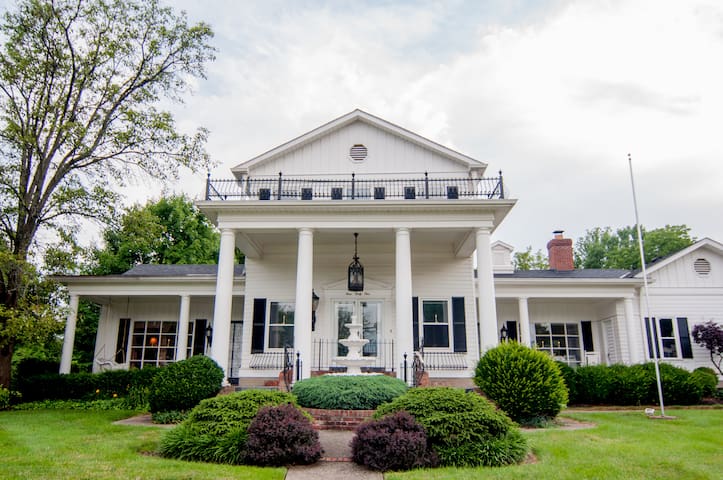 Built after a Real Spanish Castle, this 10,000+ sq. ft. home sits on 4 private acres and is surrounded by a nature preserve. Spacious and elegant, professionally decorated and custom furnishings. Only 20 minutes from Downtown Cincinnati. Private.
You will love the 108 inch large screen TV. Pool table, pinball, slot machine, card room, too much to list all this home has.
Quiet neighborhood. Home located at the end of the street on a cul-de-sac.
David is a great host and made sure our group felt at home. The home is large and sleeps 15-20 people easily and has lots of fun amenities ( pool table and projection TV). I recommend this property without reservation.
Jeffre
2016-05-09T00:00:00Z
Beautiful home and the hosts were wonderful! Just amazing! What a blessing to stay in this lovely home for Christmas!
beth
2015-12-21T00:00:00Z
Tipo de Acomodação
Casa/apto inteiro
---
Tipo de Imóvel
Casa
---
Acomoda
16
---
Quartos
Union, Kentucky, Estados Unidos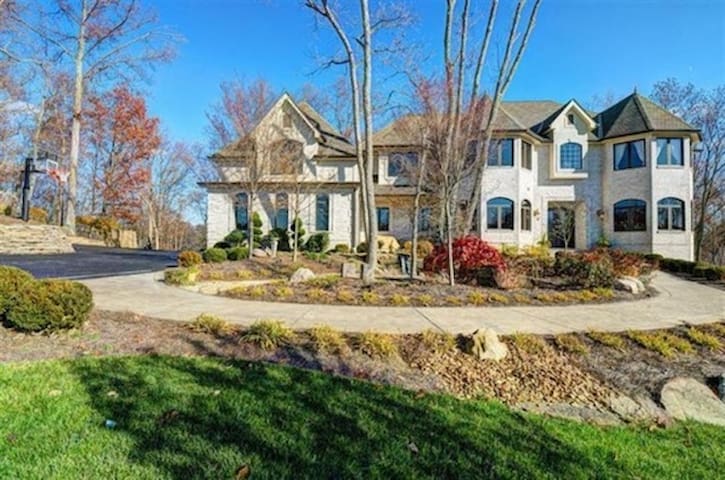 Lower level of home w private entry has 2 Bedrooms, kitchen & bath. No shared space. Have another listing w Queen/Bath on 1st floor. 4 minutes from Creation Museum, 9 miles Hollywood Casino, 11 miles to Perfect North Slopes, 10 miles to airport, 20 miles downtown Cinti & 44 min from Kentucky Speedway. Next to Hebron, Burlington. Our place is only 2.5 miles from I-275 in the country with privacy, scenery, & location. Space is 1200 sq ft & common space is 1000 sq ft! Breakfast items provided.
The space is in my lower level where you will have your own private entrance and patio which is secure and separate from the rest of the home where we reside. There is a full kitchen, 2 bedrooms and a full bath, living room. A deluxe adult cot (7ft x 39in, 400lbs), a roll away bed or couch are available. It is very spacious and no shared space.There are approximately 12 steps that go to the back side of the house.
Country atmosphere.
Lois and Larry were wonderful. Their space was comfortable and roomy. The beds were great! My husband and I stayed here with our 2 teenagers and it was a perfect amount of space. It was nice to have a kitchen to cook in and plenty of room for relaxing- unlike a hotel room. They were very helpful but also allowed the perfect amount of privacy. We never saw the dear, but we watched multiple birds playing in the snow and trees out of the multiple back windows. Also, it was a central location to visit several towns and eat at multiple restaurants. One of our favorites was Otto's in Covington KY. We will recommend this home to friends and family.
Denise
2017-03-15T00:00:00Z
There were five of us and we were a little anxious about our visit. Lois and Larry were very hospitable. Since their house is a little distance away from the main road they drove down the road to meet with us. They provided a personal tour of the place. The house has been very thoughtfully furnished and the hosts were very generous. At the end of j the stay We all had one sentiment. It was truly a home away from home. Had a memorable visit and a large part of it was thankfully to Lois and Larry's place and the serene setting. Will definitely look forward to staying here again. Thank you once again for your hospitality and providing a great place to stay.
jairaj
2016-11-27T00:00:00Z
Everything was just as Lois said. It was confusing getting the house, but was I called her on the phone she walked to her house.
Toya
2016-10-30T00:00:00Z
Very welcoming.
Alex
2016-11-18T00:00:00Z
Beautiful home in a country setting. We saw deer and there were places to sit outside and enjoy the fall colors. The entire floor apartment space is well-furnished, very clean, and so spacious. I loved having a private entrance and two bedrooms. The hosts were kind and helpful, and communicated well anytime it was needed. Lois went out of her way to make this a comfortable stay! I will definitely stay here again anytime I am in the northern Kentucky area!
Bobi
2016-10-18T00:00:00Z
A wonderful stay with wonderful hosts! Everything was as described and the breakfast items left for us was a lovely touch indeed. Lois communicated clearly in every way. I would highly recommend their place. Very relaxing!
Daniel
2017-03-02T00:00:00Z
Very cozy and spacious place to share with 4 adults! The beds were very comfortable, the kitchen has all the essentials you need, and Lois even had orange juice in the fridge and pastries waiting for us. The location is very convenient-a very quick trip to the Creation Museum & Perfect North Slopes. Lois is very quick at responding to any questions or concerns. We will definitely stay here again if we ever head back that way (and we'll hope for snow next time to be able to ski!)
Jenessa
2017-02-26T00:00:00Z
This place is awesome. It was very clean, had everything we needed and private. The host were very friendly and welcoming. We can't wait to visit again. The beds were cozy and comfortable. It was great having our own kitchen with the necessary dishes to cook with that were provided. We had our own entrance and private patio. We would sit outside and watch the deer and squirrels. This was very peaceful. It was far enough away yet close to everything. I would recommend staying here!
Julie
2016-11-01T00:00:00Z
Tipo de Acomodação
Casa inteira/apto
---
Tipo de Imóvel
Casa
---
Acomoda
6
---
Quartos
Petersburg, Kentucky, Estados Unidos
10 minute drive from downtown Cincy. Extremely safe, quiet neighborhood. Trampoline and treehouse in fenced backyard. Flat screens in mstr, living room, and finished basement. Three bedrooms with four beds: twin, two twins, and one king.
It will feel just like home :) 3 flat screens, XBox, Desktop computer in basement, fast internet connection, wi-fi, kitchen has everything one would need, gas grill, charcoal grill, trampoline, tree house.
Safe, quiet, almost zero traffic, sidewalks throughout, friendly neighbors on all sides. Parks close by. Close to a plethora of restaurants, grocery, and pharmacy.
Summer is a blessing. She was completely helpful and the house was beautiful. It is obvious she takes pride in hosting and her home was a treat for our family reunion. I will more than likely be requesting another stay in the near future. The backyard was a nice addition to our stay. Something that cannot be stated well enough is how pleasant the community is where the home is located. Safe, peaceful, and quiet. This is a real winner on Airbnb.
Alex
2016-10-30T00:00:00Z
Summer was great in communicating prior to our arrival and was very flexible when we asked if we could check in early. Her house was the perfect location for what we were looking for and had all the amenities we needed. Thanks!
Michelle
2016-09-02T00:00:00Z
Summer's home was very inviting and she had lots of toys for the kids.
Wayland
2016-07-20T00:00:00Z
Summer was a life saver during our stay! I was hosting our family Christmas (I have a HUGE family) and needed extra accommodation for out-of-town guests. Summer was so accommodating, welcoming and understanding of our crazy time schedule and really made us feel she cared! the home was perfect for what we needed with clean sheets on comfy beds, a safe neighborhood and plenty of space for everyone to hang out before departure the next morning! I would highly suggest this home for anyone needing a great place to stay in the area!
Emily
2016-12-11T00:00:00Z
This family friendly house is in a safe neighborhood and nice area. The house has a large living area and kitchen. The master bedroom with private bath was wonderful. The bedroom with bunk beds was a bit unusual in set up--it would be fine for young siblings but for two adults in a roommate situation, it was awkward. Summer was very flexible and that was appreciated. We drove from out of town and our arrival time kept changing. Overall our stay was good but there are a few things to be aware of before booking this house. There is a dog/ pet smell in the house. If you or someone in your party has pet allergies, you may have issues. Also, the house is well lived in. Generally clean, but if you are picky you may be uncomfortable.
Brandon
2017-01-21T00:00:00Z
Perfect place for our Cincinnati weekend! Super-convenient to the Reds game, just as convenient for getting back on the road to come home. A clean, comfortable home in a very nice neighborhood, perfect for a quick overnight stay!
William
2016-10-02T00:00:00Z
Summer was a great host and had great communication with us. We had a great time and the house was very close to Paul Brown Stadium. The house was just as described!
Patrick
2016-09-30T00:00:00Z
Summer was always quick to respond to any question or concern I had. We were very comfortable here. It is close to a ton of eating places as well as local tourist attractions.
Sarah
2016-08-20T00:00:00Z
Tipo de Acomodação
Casa/apto inteiro
---
Tipo de Imóvel
Casa
---
Acomoda
5
---
Quartos
Villa Hills, Kentucky, Estados Unidos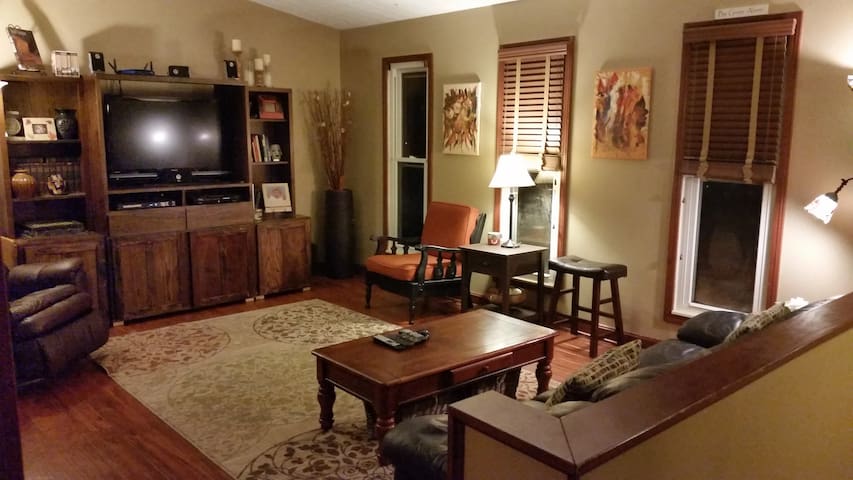 This historic home features a king size bed in the master, 2 queen beds in the second bedroom. Two sleep sofas and twin rollaway. A newly remodeled bathroom and recently remodeled kitchen provide all of the comforts of home. Creation Museum, Ark Encounter, and Perfect North Slopes TAXES INCLUDED
The house was beautiful and quaint and perfect for our family. We had everything we could possibly need. Definitely will stay again
Alicia
2016-04-04T00:00:00Z
We had so much fun staying here for our ski weekend. The hosts really made the house feel like home!
Katie
2017-01-29T00:00:00Z
Wonderful property very warm and homey. Felt very welcome. Was large enough for our 2 families. Beautiful decorations and a nice quiet neighborhood.
Nancy
2016-04-11T00:00:00Z
Tipo de Acomodação
Casa inteira/apto
---
Tipo de Imóvel
Casa
---
Acomoda
11
---
Quartos
Petersburg, Kentucky, Estados Unidos
My place is good for families (with kids) and big groups.
Tipo de Acomodação
Casa/apto inteiro
---
Tipo de Imóvel
Casa
---
Acomoda
12
---
Quartos
Union, Kentucky, Estados Unidos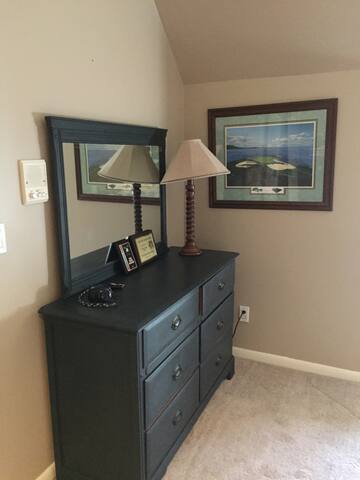 4 bedroom high end/trim home for cheaper (and nicer) then the cost of a hotel on Aston Oaks Golf Course.
Hard wood floor and granite countertops throughout. Save more money cooking in the Gourmet kitchen fully stocked with utensils. Only 2 miles from Kroger. 3400 furnished and 1400 unfurnished carpeted basement for air mattresses or sleeping bags. 4 bedrooms sleep 8. 2 and 2 half bathrooms. Tvs antenna only. Bring adapter if you want to play/stream cell phone content via hdmi cable. There is 450 square feet of deck and and additional 450 square feed of covered patio space. There is a 2 car garage.
This is a quiet golf course neighborhood.
Tipo de Acomodação
Casa inteira/apto
---
Tipo de Imóvel
Casa
---
Acomoda
8
---
Quartos
North Bend, Ohio, Estados Unidos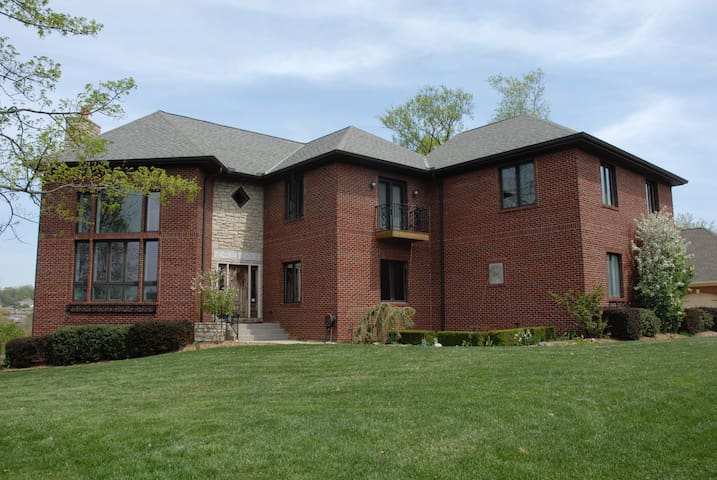 My place is close to CVG, Creation museum, the Ark, Perfect North Slopes, Hollywood Casino, Lawrenceburg Speedway, zipline tours, whitewater rafting, Test and Tune at Edgewater, Gravelrama, Quad hills at Haspen Acres, Downtown, schools, churches, rec center, public pool, parks, distilleries, dog walk park, baseball fields, restaurants, Ohio River walk and bike trail, shopping, Lawrenceburg Convention Center, Historical & Entertainment District, theatre, US 50..
Easy access to major interstates, attractions, and shopping. Great for anyone traveling South on 75. All one floor with no steps to navigate.
It sits in the heart of downtown and everyone is friendly. One can walk to high school sporting events, downtown entertainment, churches, Lawrenceburg speedway, casino, restaurants, pubs, local college, Ohio River Walk, and lots more.
Nice place. Beats a hotel any day. Close to everything. Lisa was very helpful and accommodating.
Cj
2017-01-16T00:00:00Z
Very comfortable with a nice large kitchen. Lisa was available for anything we needed and will definitely be back.
Kathy
2017-04-04T00:00:00Z
Awesome Place great value highly recommend!
Brenda
2017-01-09T00:00:00Z
The first thing I noticed when I opened the door was the fresh, clean smell of the house. Everything was easy to find and perfect for what we need for our stay! There is also a KFC buffet just a half a block away which was a huge plus! Lisa contacted us everyday to make sure we were comfortable and had everything we needed. Lisa had a very quick response time whenever we had any questions. It's just 13 minutes from the Creation Museum and 1 hour from the Ark Encounter. I highly recommend staying at Lisa's.
Olivia
2017-02-21T00:00:00Z
Very cozy, plenty of room for five guests, perfect spot for a quick getaway.
Kristina
2017-01-02T00:00:00Z
Super convenient and comfortable for a quick work trip. Everything was very clean and Lisa was so helpful and checked in during my trip to make sure I had everything I needed!
Karen
2017-01-27T00:00:00Z
Great location for going to Perfect North, and very comfortable.
Christopher
2017-02-05T00:00:00Z
Tipo de Acomodação
Casa/apto inteiro
---
Tipo de Imóvel
Casa
---
Acomoda
5
---
Quartos
Lawrenceburg, Indiana, Estados Unidos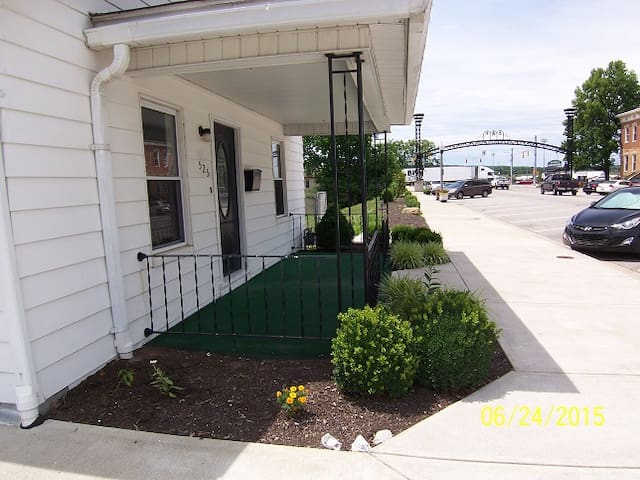 Come stay in this very clean 2 bedroom 1 bathroom upstairs unit. It's completely stocked with Queen beds with clean linens, dishes, and service available for up to 4 guest. Includes wifi, cable TV, and a 500 square foot deck in the back of the property! All private no sharing!
Listing was accurate, maybe just a little overpriced for the neighborhood, but the apartment is very efficient, perfect for a month or two stay. Bryan was the property manager who I had contact with during my stay. He was very sincere and accommodating.
Ricardo
2016-11-04T00:00:00Z
Tipo de Acomodação
Casa/apto inteiro
---
Tipo de Imóvel
Casa
---
Acomoda
4
---
Quartos
Elsmere, Kentucky, Estados Unidos
My place is close to restaurants and dining and family-friendly activities. You'll love my place because of the outdoors space, the neighborhood, the people, the light, and the ambiance. My place is good for business travelers, families (with kids), and big groups.
Is open living space with updated decor and furnishings.
We had a great stay at Emily's house recently. We had three couples and another friend staying there for another friend's wedding that weekend. The house has a ton of space and was great for hanging out. A couple highlights would be the pool (since it was still warm out) and fresh eggs straight from their chicken coop. We did have a small issue with some bugs getting into one of the rooms, but the host was responsive and helpful getting it sorted out. All in all, I would definitely recommend staying here.
Patrick
2016-09-27T00:00:00Z
Tipo de Acomodação
Casa/apto inteiro
---
Tipo de Imóvel
Casa
---
Acomoda
14
---
Quartos
Florença, Kentucky, Estados Unidos
Charming house situated in the perfect location near the airport and close to expressway. Close to downtown Cincinnati, entertainment, shopping, grocery store, etc. Great safe neighborhood. 10 minutes to airport, 15 minutes to downtown Cincinnati and 2 minutes to shopping and restaurants. You will love this home. It has a little farmhouse feel to it with lots of character. There is an extra bedroom that can be used with an air mattress.
I have a large deck that is great for sitting out on during the day and night with deck lighting. There is also a swing on the front porch to sit on. Lots of charm. A must see.
The neighborhood is very safe and quiet.
Tipo de Acomodação
Casa/apto inteiro
---
Tipo de Imóvel
Casa
---
Acomoda
3
---
Quartos
Edgewood, Kentucky, Estados Unidos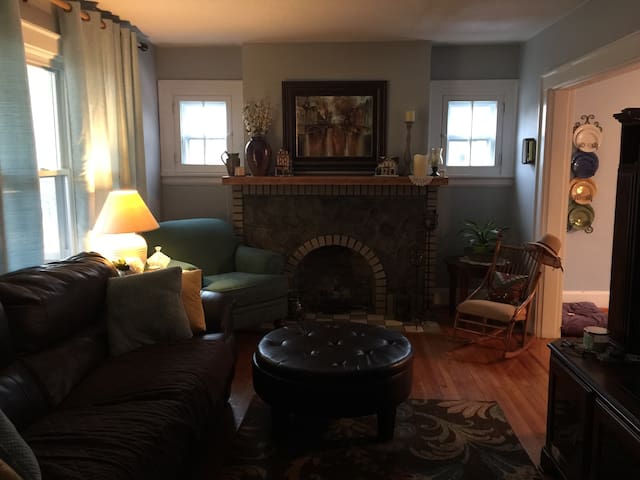 Burlington - Airbnb
:
Média de

4.55

de

5

estrelas, de acordo com

123

avaliações de hóspedes
1

–

18

de

36 Casas para Alugar
Insira as datas para ver o preço total. Taxas adicionais serão aplicadas. Impostos podem ser adicionados.