Hotel privacy, AirBnB convenience! Minutes walk to town, Caltrain, and SamTrams. Off-street parking. Keypad entry for self check-in. WiFi. Large Sony TV w/ Netflix on desk. Mini-fridge and microwave. Fluffy towels. Longer-staying guests get fresh linens, garbage, and light cleaning each week.
The room is completely separate: a private entrance, bedroom, and bathroom. Bed converts from a twin to a queen for an extra guest or just extra room; upgrade to 2 guests and we'll have everything ready by the time you arrive!
The recently renovated Burlingame Ave has amazing shops and restaurants. Walk to the train and bus, BART is just a couple miles away. Stay close or go far!
Exactly as the ad describes. Private, great bathroom, convenient location. Great value
Steven
2017-02-12T00:00:00Z
Good host T
Paul
2016-12-04T00:00:00Z
Very nice little hotel-style unit. Self check in/out makes for a very quick and easy stay. Would recommend to any budget traveler looking to stay near the airport.
samuel
2017-01-17T00:00:00Z
The accommodations were just as described. Basic room with large TV, comfortable bed, and good wifi. The room was very clean and comfortable. Note that the room is small, I would recommend it for single travelers. Close to SFO. Excellent experience.
Kelly
2016-12-07T00:00:00Z
It's a perfect place, the host is great and the location is really good. I highly recommend this location!
Guillermo
2016-12-09T00:00:00Z
Very comfortable, clean room. 45 Minutes from San Francisco Downtown.
Marcel
2017-03-27T00:00:00Z
No frills Airbnb. Walking g distance from downtown. Number coded door lock. Some key points from my stay - could be one off, but the wifi wasn't working for the entire Friday. I had to go to a public cafe to work. Had a hard time taking work calls. which is why I stayed in an Airbnb near the airport before my meeting in the first place. - the bathroom door is smaller than any regular door. I am 6'3 and hurt my head 4 times during a 2 day stay. - coffee and drinking water are a staple at most Airbnb, they did not have any. Water is the least they could provide. - checkout time is 10am strict. They were clear about it upfront in the listing but it is still sooner than most Airbnb norm of noon checkout.
Dhaval
2017-02-04T00:00:00Z
great space with private bathroom and a great big TV. Everything you need!
Rob
2017-01-19T00:00:00Z
Tipo de Acomodação
Casa/apto inteiro
---
Tipo de Imóvel
Hospedaria
---
Acomoda
2
---
Quartos
Burlingame, Califórnia, Estados Unidos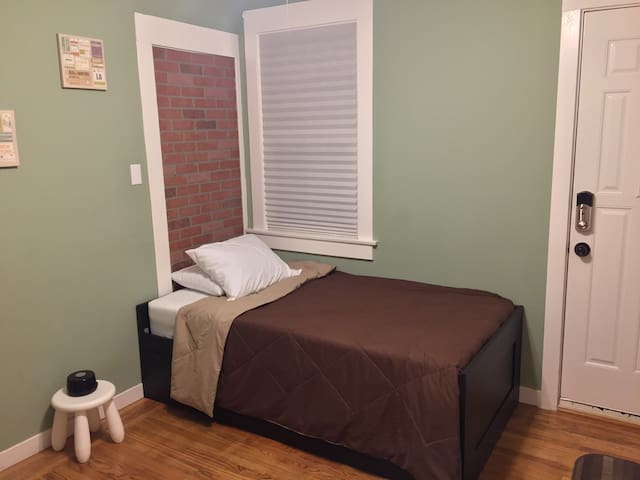 Spacious studio with private entrance, fully equipped kitchen & dining/work area, shower, bidet & bath, WiFi Internet. Blocks from Broadway Ave & CalTrain or Shuttle. Some of the best restaurants & coffee shops in Burlingame walkable from studio. *A twin size fold up memory foam portable bed available on request for a extra third adult guest. It will be made up in the dining room section of the studio for an additonal guest upon request.
I have stayed in many hotels and rarely do they ever come up to snuff with a home environment. I prefer to anticipate guest needs and ensure you have an amazing stay while staying at the studio retreat. Please do not hesitate to reach out to me, I will do my best to make your stay better than any of the hotels near the Airport! Why pay nearly triple the price when you can have a five star experience at the SFO Studio Retreat. Private entrance with parking spot available in the rear. • Beautiful Studio Retreat With A Thoughtful Design To Make You Feel At Home. • Private Entrance. • 1200 Thread Count Egyptian Cotton Sheets with a Tuft&Needle mattress for the best sleep you will ever have. • Rain Shower Head Installed For Luxury Shower Feel. • Heat Toilet Seat with Smart Bidet (Trust me this is Amazing!) • Roku 4K Ultra - Amazon Prime Video, Hulu & Netflix Available For Your Viewing Pleasure. No cable box but there are many OTA channels that are supplemented with Sling TV for Premium channels such as FOX Sports and ESPN. • Apple TV Provided For Airplay Mirroring Purposes along with LG Smart TV • Kitchen Fully Equipped For Those That Wish To Cook. • Blocks Away From The Free Burlingame Shuttle Service - Trolley Runs Seven Days A Week Serving Burlingame Avenue And Broadway Shopping Areas And The Airport Hotels. • Centrally Located And Just Minutes From SFO Airport. Uber is very responsive in the burlingame area and cost about $7 dollar to the airport. • Overhead projector installed in the bedroom area with Roku 3 to enjoy a movie from the comfort of your bed. 120" projector screen. •Heavy black out curtains can completely cover windows to allow you to sleep in late if you wish. • The studio is comfortable for two people and can fit three people if you don't mind a tighter squeeze. A secondary memory foam twin size bed will be setup in the dining room area if you have three people in your party. Additional blankets and pillows provided in hallway closet.
Private studio retreat with full bath, heated toilet seat electronic bidet and private entrance one block off Broadway Ave on a cozy tree lined street. It is in a prime location to Restaurants and Burlingame Farmer Market. Every Tuesday the Off The Grid Food Truck Market is Hosted One Block East at the Broadway CalTrain Station. This is a great local event and features many amazing cuisines right at the studio doorstep. * PLEASE NOTE - my studio is within a block of the Caltrain station and situated very close to airport. You may hear the train horns or rumbling from them passing by and/or occasional planes passing overhead when flight paths are changed. I have done my best to soundproof the studio with heavy curtains. I also provide a white noise generator and earplugs for those light sleepers. Generally most activity ends at midnight and the Caltrain doesn't blow the horn between the hours of 12pm to 7am. The queen bed has premium 1200 thread count egyptian cotton linen for comfortable sleep. Linens and towels are provided, always freshly laundered for your stay; I pay extra attention to cleanliness and all sheets and linens are freshly laundered for your stay. The kitchen is fully equipped with everything a chef could possibly need. There is a full-sized stove, microwave, full-sized fridge with freezer, Keurig coffee maker & pods. Cookware, dishes & utensils, essential cooking supplies stocked (please let me know if you have any special request). Also please note: I would ask that you do NOT cook any heavily curried foods or deep fry in the kitchen. The smell can be hard to remove from draperies and linens. The bathroom is beautiful decorated with a frameless glass door and rain shower head feature. Hot water gets extremely hot in here and can burn you. Please check temperature before getting into the shower. Stocked with basic necessities such has towels, washcloths, and hair dryer. The studio is perfectly comfortable for one guest, works well for a couple people. A third person could stay but it may be a little snug fit for three people. Extra mattresses can be provided or they can sleep on the living room couch. Extra linen, pillows and comforter are located in hallway closet for an additional guest. Please note that there will be no smoking and no pets allowed on the premises (I will evaluate small pets on a case by case basis). The studio is furnished with sofa and extra mattresses which could sleep one extra guest if the need arose. Additional pillows and blankets are located in hall closet. There is a comfortable and stylish work/dine area with bar height table and chairs for those who need a space for laptop workstation. Equipped with Sharp Aquos 60" TV along with Roku3, Amazon Fire TV, and DVD player. Roku includes Free Access to Netflix, Hulu and Amazon Prime. Broadband WiFi. AirPlay/Android DLNA provided by the Amazon Fire TV. Ideally situated for the discerning business travelers. Uber can whisk you to the airport in a matter of minutes. Parking also available along the street. Street parking tends to fills up at night. If you come back very late, you might have a little walk. Parking in the Carport can be provided - Please inquire with the Host. Host will provide instructions for which space to use during your stay. I may be new to AirBnB but I manage restaurants and know how to show my guest a good time. Please do not hesitate to reach out to me, I will do my best to make your stay better than any hotel!
For me, Michael's place is better than a 5 star hotel. After traveling across the world en route to home, it took me almost 30 hours to get back to the US and to my temporary final destination - Michael's place. Up until that point I had been staying in 5 star hotels outside of the country and when I reached the doorstep of this San Francisco studio apartment I was understandably tired from my long journey. To quickly sum things up I'll list why I thought this Airbnb experience was better than a 5 start hotel: -Michael has excellent communication skills making arrival stress free. -He also has it set up so that you can gain access to the apartment without needing to meet with him, which after too much airport time it's kinda nice to discretely check in (not something that can be done at a hotel). -Once inside, everything is labeled for your convenience, making adjusting to the new space a breeze. -Top of the line technology provided for the weary traveler. I'm actually not into this type of stuff normally. I typically prefer a tent… with no outlets. But if you need a space to relax and focus on comfort, this is it. Want a fireplace? Just click a button. Want to watch movies in bed? There's a projection screen that drops from the ceiling for that. Wake up in the middle of the night and need to pee but forget where you are because seriously, where the heck are you? Different time zone, random apartment, still half asleep but don't worry - there's automatic under bed lighting to guide your sleepy zombie like walking to the automatically lit up toilet. Phew. Also you can wash your bum with the most high tech bidet I've ever seen. I could go on about this technology category but you get the idea. -Fully stocked kitchen for all of your cooking needs. -Snacks provided for those that aren't prepared to cook. -Tons of stores and restaurants a block over to continue to fuel your food needs. -If you forget something, there's a 99% chance Michael already has it. For that other 1% you can buy it one block over. -Shampoo and toiletries provided if needed. Way more than a hotel has ever provided. You just have to see it for yourself. (But don't be a jerk, don't take more than you need.) -Phone chargers available to borrow without having to ask. -Games provided. -No shortage of Ubers in the area. -Airport nearby. I could go on but my vacation is over and it's time for me to get back to the real world. Michael, thank you for being a thoughtful host. I hope you are blessed with respectful and clean Airbnb guests so that you can continue to be a great example in the Airbnb community.
Kate
2017-03-28T00:00:00Z
This place is amazing. It has a wonderful kitchen for cooking meals or just enjoying a snack, everything is automated, set up, and labeled to make your stay enjoyable and stress free, and for us its proximity to the airport was important too.
Don
2017-03-20T00:00:00Z
Michael is a caring and generous host! His studio is well equipped with everything you need! It was a great stay at his place and I highly recommend it!
Anbo
2017-02-11T00:00:00Z
Most equipped place I have ever lived! Fantastic experience! Highly highly recommend!
Mobing
2016-08-11T00:00:00Z
This place deserves 6 stars! We had a wonderful time staying at Michael's studio. He was quick to respond (usually in less than 5 minutes) to any message or call. He clearly cares about his guests having a wonderful time. There was a wide assortment of snacks and a very nice bottle of wine awaiting us when we arrived. Detailed notes lett us know how to operate the television, lights, Roku, stereo, and other gadgets. The bed was incredibly comfortable, leading to a wonderful night's rest, and Michael had supplied the bathroom with just about every possible toiletry item one could ever need or want. Thanks Michael! We would definitely stay here again.
Jason
2016-05-04T00:00:00Z
Everything was perfect! Thank you Michael for a wonderful experience. Your place is amazing and your attention to details uncanny. Your thoughtfulness and welcoming touches throughout made our stay a fantastic experience. Already looking forward to come back!! Kevin and Nathalie
Nathalie
2016-10-09T00:00:00Z
This is the most awesome Airbnb experience ever! The kind of attention to details to ensure the client's comfort, the array of snacks and breakfast food and beverages available, the range of amenities provided are mind blowing! If you ever get stranded in a storm, you will never grow hungry or bored. That's how well stocked Michael's place is. The pictures just don't do justice to the space and comforts Michael has lined up for his guests.
Maria
2016-05-06T00:00:00Z
Place is great! Very well equipped and comfortable.
Jeff
2017-01-12T00:00:00Z
Tipo de Acomodação
Casa/apto inteiro
---
Tipo de Imóvel
Apartamento
---
Acomoda
3
---
Quartos
Burlingame, Califórnia, Estados Unidos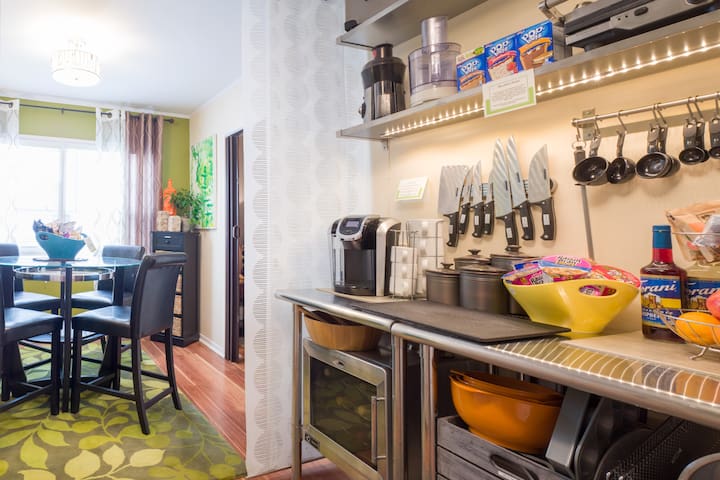 Central peninsula location! Steps to Broadway Street shops and restaurants.
Make this charming cottage (under a tree) your home while in the San Francisco Bay Area. The town of Burlingame is strategically located only 4 miles from San Francisco International Airport, 15 miles from downtown San Francisco and 15 miles from Palo Alto, the heart of Silicon Valley. Restaurants and shops can be found along lively Broadway Avenue located only a block and half away. Public transit is easily accessible with the Caltrain station only 1 mile away and the Millbrae BART station 2.5 miles away. SamTrans bus lines conveniently connect you to these stations. This peaceful cottage (under a tree) has all the modern amenities to make for a great stay. This recently renovated cottage has a private entrance, private yard and features wood flooring and a stone tiled bathroom. A fully equipped kitchen including pots, pans, dishware, microwave, refrigerator coffee maker and a gas range provides you with all the comforts of home. Toiletries, hair dryer and iron/ironing board top off the conveniences. Cable TV and WIFI keep you connected with the outside world. A comfortable queen sized bed is your resting place for the night. We look forward to welcoming you to our cottage (under a tree)!
I cannot recommend this stay highly enough! Brians cottage is inviting, clean and cozy, A home away from home. Well stocked with everything you need and super private this place is exceptionally good value and sure beats staying in a hotel. Yummy fruit basket and a selection of breakfast goodies meant we feasted like kings every morning. We ended each night with a herbal tea and slept like babies in the safe, quiet neighbourhood. There are restaurants and shops just round the corner so the location is great and it was only a 15 minute drive from San Fran.  Perfect in all ways! Thanks for a fabulous stay!
Echo
2012-12-29T00:00:00Z
The Cottage is a nice little place to stay. I really enjoyed it.
Anke
2013-10-05T00:00:00Z
Dieses Cottage ist hochwertig, sehr geschmackvoll eingerichtet. Man fühlt sich sofort zuhause. Die Gegend ist sehr angenehm, Einkaufsmöglichkeiten, Restaurants und die Post sind in nächster Nähe. Die Anbindung an öffentliche Verkehrsmittel Richtung Stadt ist nicht ganz optimal, aber mit dem Auto, kann man Vorstadtzüge (Caltrain) und BART gut erreichen, Parkmöglichkeiten sind vorhanden, aber kostenpflichtig.
Cornelia
2016-08-15T00:00:00Z
We have rented Brian's cottage several times and we recently stayed there again while visiting family and helping with our grandchildren in the Burlingame area. Brian is a great host and he is always very willing to help out in any way! The cottage is clean, comfortable, updated and has a well equipped kitchen area. It is very quiet and private and it's in a great neighborhood with street parking. We will definitely be back! Thanks Brian!
Janet
2016-04-16T00:00:00Z
What a lovely place to stay! Everything you could possibly need in one little cottage. Great location -- close to shops, restaurants and the airport. The place was clean and tidy and Brian was very responsive to questions.
Natalia
2015-12-10T00:00:00Z
Perfect stay....thanks again
Julian
2013-03-06T00:00:00Z
Charmant cottage très bien équipé et très propre situé dans un quartier particulièrement calme. .Le matin, c'est un vrai plaisir de déjeuner en regardant les oiseaux et les écureuils dans le jardin. Lorsque nous sommes arrivés, il y avait de l'eau fraiche dans le réfrigérateur et une corbeille pleine de fruits, ce qui est particulièrement appréciable après un long voyage. Par contre, il est impératif d'avoir une voiture car San Francisco est à plus d'une demie-heure de Burlingame
Christiane
2013-05-21T00:00:00Z
Great space in a great location. Thanks for sharing.
Bob
2013-04-14T00:00:00Z
Tipo de Acomodação
Casa/apto inteiro
---
Tipo de Imóvel
Casa de campo
---
Acomoda
2
---
Quartos
Burlingame, Califórnia, Estados Unidos
Private suite with its own entrance, less than 10 mins away from SFO airport. 25-30 mins from downtown San Francisco by car or train/Bart. The house is situated in an area lush with trees. Close to the 101, 280, Caltrain, Bart & downtown Burlingame.
This is the separate in-law accommodation area which is located at the bottom level of our house. It has its own private entrance, and parking space. The accommodation area consists of a large , fully furnished bedroom with Queen sized bed and built-in closets, dresser, and night stands. Private bathroom with bathtub and shower. Private, small living area with 2-seater sofa, coffee table, and desk. Free internet. Small kitchenette consisting of a sink and countertop. There is no oven or stove, so the kitchenette is not suitable for cooking meals. The kitchenette amenities include a small fridge (stocked with breakfast items), coffee & coffeemaker, microwave oven, electric water kettle for tea. As the suite is located on the bottom level of our house, you can sometimes hear some noise from upstairs (although we are a quiet family).
Nestled in the hills of Burlingame, the area is quiet, surrounded by trees, yet very close to SFO airport, and downtown Burlingame with excellent bars, restaurants and shops.
We really enjoyed our stay! Penelope made us feel very welcome when we arrived, and communication with the hosts was very fast and easy. The apartment is really lovely and in a super convenient location to explore the San Francisco area. We only stayed for 2 nights, but if we come back for a longer stay, we would definitely decide to stay here again. Highly recommended!
Cosima Clara
2016-09-23T00:00:00Z
Great space close to the airport. Extra convenient and JT was an excellent host!
Brynn
2016-04-29T00:00:00Z
What an incredible place to stay! It was far nicer than ever expected. The location is private and surrounded by trees. Every amenity was available. He went out of his way to make sure we were comfortable. JT was flexible, welcoming, and a fantastic host. We would definitely stay there again and highly recommend it for anyone. Incredible location. Fantastic!
David
2016-05-23T00:00:00Z
Jt was very prompt in getting back and communicated very efficiently throughout the pre-arrival period. The house is in a very quite beautiful serene neighborhood and there is a one car parking immediately in front of the house. The unit is also very elegant with hardwood floors, plenty of space for two people. The kitchenette is for warming up things, light breakfast and coffee not for cooking. The fridge is a under desktop small fridge. Wifi works good. The bed is comfortable and adequate space for clothing. The location is about 10 min drive to downtown Burlingame where many choices for food, shopping and entertainment is present. This is not a public transportation location. I will stay again. Jt was very helpful and great recommendations for food.
Haluk
2015-10-09T00:00:00Z
JT and his family were extremely welcoming, yet also gave us our space. They had food for us in the kitchenette space when we arrived, and they asked us multiple times throughout the stay if we need anything. The space is exactly how they described it. The entire neighborhood is beautiful (gorgeous houses on shaded winding roads through the hills.) It's nice to have your own entrance, and separate living space/bedroom. I was previously staying in a hotel in Burlingame, but I can say I enjoyed this space much more. You definitely need a car, just like the description states, but they provide a parking space for you. It's also conveniently near a major highway, so getting to San Francisco or San Jose is easy. I honestly can't recommend this place enough.
Jared
2015-07-26T00:00:00Z
We needed somewhere cost effective and close to the airport for our final night in California, but were surprised at just how good this was. The neighbourhood is quiet and leafy which makes for a peaceful stay and the suite itself was immaculate. Jt was out when we arrived (he'd had the courtesy to let us know in advance though) so his wife, Penelope, greeted us upon arrival and showed us the accommodation. Although it was only a short stay it was made easier by the welcome we received. We had tickets to the Giants game so parked our car at Burlingame station (around 10 mins away) at took the metro into the city (approx 30 mins). If you wanted a place to relax then this is it, but the city is accessible too. A short, but pleasant stay!
christian
2016-09-14T00:00:00Z
A true modern day bed and breakfast. Mini kitchen stocked with snacks and breakfast items. Everything you need for a cozy stay in a very serene neighborhood. Would definitely stay again.
jacob
2015-09-08T00:00:00Z
Excellent host. Very welcoming and gracious. Breakfast foods provided in the room which was very helpful since we had an early flight. Highest recommendation!
Fritz
2015-10-26T00:00:00Z
Tipo de Acomodação
Casa/apto inteiro
---
Tipo de Imóvel
Apartamento
---
Acomoda
2
---
Quartos
Burlingame, Califórnia, Estados Unidos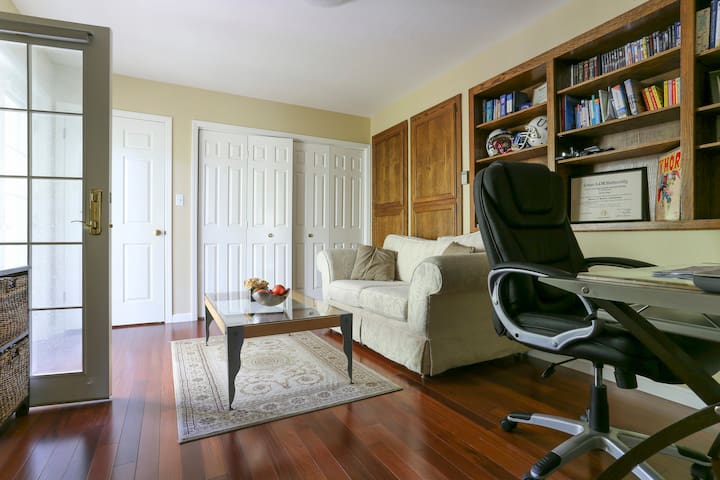 Modern living meets suburbia! 2 bdrm apt-cable-WiFi-bar-pool-hot tub-gym-TV-in apt washer/dryer,Keurig and much more. We are near Caltrain which connects with the entire bay area. Relax in your cozy bedroom and we look forward to seeing you soon!
-- Our Home is Your Home! -- Clean, Artsy, Modern, Comfortable, & Relaxing -- 2 Bedrooms (Cali King & Queen w/Memory Foam Pillow Tops) -- 1 Shared Bathroom - Ample Quantity of Clean White Linens -- Complimentary Bath Toiletries -- Living Room, Dining Room, Work/Desk Space Area -- Dishwasher & Washer/Dryer -- Complimentary Bar
-- Downtown Burlingame is just a 15 min walk away! -- We are a hop-skip-jump from SFO. Uber or a Taxi are inexpensive.
Brandon was very welcoming. Walked down to greet me, showed me up, how to use the keys. He offered snacks and water. The place was super clean and very comfortable. I enjoyed my stay and would not hesitate to go back.
Rohit
2015-12-04T00:00:00Z
Brandon was a very welcoming and accommodating host. The apartment is in a newer apartment building, and it is very comfortable and spotlessly clean. Brandon and Robert had thought of everything to make the space welcoming -- complimentary treats, full access to the kitchen, and many other things one might need, including an iron and a blow dryer. The bed was one of the most comfortable I've ever slept in. I was surprised to lean on arrival that the owners have moved to a different unit (in the same apartment complex), and that I'd be sharing the apartment and bathroom with another renter. The owners indicated they plan to update the description. I would highly recommend staying in this very comfortable and lovely apartment! Brandon was a wonderful host, thoughtful and accommodating, responded quickly to communications, and was just "one text away" at all times. All in all, a great stay.
Mj
2016-04-09T00:00:00Z
Excelente!! No hay otra palabra para describir el hospedaje en el apartamento de Robert y Brandon. Desde que llegas te sientes como en casa, te dejan agua, snacks e incluso minibar a tu disposición. La cama es muy muy comoda y la decoración de todo el apartamento parece de diseñador, muy linda. En realidad es una experiencia maravillosa, Robert y Brandon son una excelentes personas que quieren que te sientas como en casa. El lugar ubicado a 20 minutos (caminando) de la estacion del tren con el cual puedes llegar en 30 minutos al downtown de San Francisco. Muchas gracias Robert y Brandon!
Diana
2016-06-12T00:00:00Z
Above and beyond any expectation I had going in. Highly recommend. Every consideration for a guests comfort is included to every detail. Thank you. Looking forward to my next visit.
troy
2017-04-05T00:00:00Z
Exceptional place with exceptional hosts. Brandon and Robert go above and beyond to make you feel at home.
sean
2017-03-26T00:00:00Z
Great, friendly hosts. Were able to accommodate me on a short notice. Very upscale, clean, and comfortable place. Definitely recommend.
Aditya
2017-03-19T00:00:00Z
Brandon and Robert were awesome! Worked with me and my girlfriend for our late check-in. Clean place, great decor, and tons of free treats to choose from. Would definitely request again when back in town
Robert
2017-03-02T00:00:00Z
Fantastic stay! Excellent support, perfect room and all the apartment... So, I totally recommend these gentleman and their apartment to be used in Airbnb!
Murilo
2016-08-16T00:00:00Z
Tipo de Acomodação
Quarto inteiro
---
Tipo de Imóvel
Apartamento
---
Acomoda
2
---
Quartos
Burlingame, Califórnia, Estados Unidos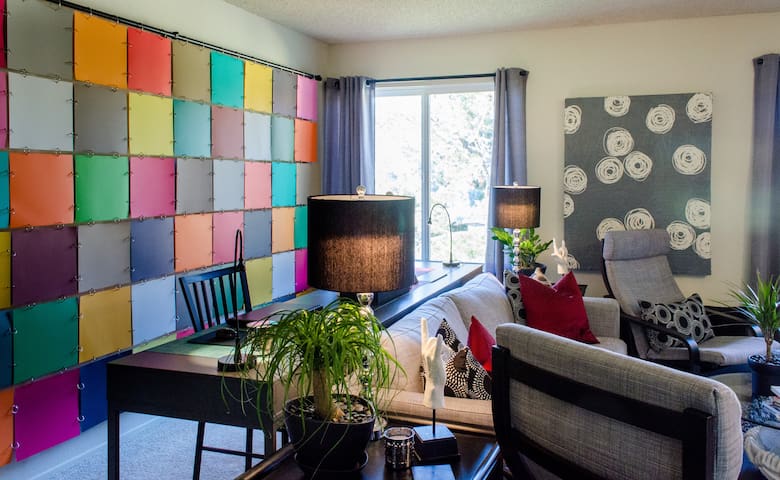 My apartment is a spacious 2 bedroom with a nice large kitchen. It is a great location close to freeways, airport, BART & Caltrain. Also just off Broadway where there are many restaurants, coffee shops and a health food store within a 3 block radius!
Very easy access to SF via public transport or Uber/ Lyft. Also easy to get to the Stadium on the day of. Enjoy access to the kitchen so you can enjoy some meals at home. The space is a private bedroom on the opposite end of the apartment from my bedroom so it is private. The apartment is really like a house as far as size. There is great morning light, plenty of closet space so it can feel like you are at home! I have 2 cats, 1 is more like a dog, the other like a cat but they are both friendly. If you are allergic to cats I would not recommend staying here. I do keep them out of the guest room. Also, if you are attending a conference at any of the San Francisco Airport hotels, this is the best location for you! Either a 10-20 minute walk or a short $2 bus trip will get you there!
I am less than 1 block from Broadway Avenue in Burlingame. There are plenty of restaurants, a few coffee shops, a raw food shop, Earthbeam natural food store, a small market, Sidewalk Juice, Walgreen's, shops, and several mani pedi options. It is a cute neighborhood, very safe and easy to walk around. Burlingame Ave., which is a 2-5 minute drive or 20 minute walk has more restaurant options as well as shopping, 2 grocery stores and the library. I am also a 10 minute walk from the SF Bay shoreline which is a great place to walk or run. AND a 10 - 20 minute walk to the SFO airport hotels where many conferences are held! Just a 25 minute drive from SF or an easy BART or Caltrain ride in makes it convenient if you need or want to go into the City but don't want to stay there. Caltrain also goes down to San Jose so if you need to get there it is an easy trip. The Bart / Caltrain station is a little over 1 mile away, you can take a taxi, uber or bus ($2) to the station. On the weekend the train stops 3 blocks from my apartment.
Really liked staying at Laura's place. Beautiful apartment with a perfect location near the SF airport and conferences nearby. If you want to experience living with a local in SF this is the way to go! :)
Kristján
2016-10-14T00:00:00Z
Laura's place is exactly the same as shown in pictures, clean and comfortable. She has 2 cats which are very smart and cute. Laura gave us enough personal space in the same time offered lots of helpful information.
Ingrid
2015-10-06T00:00:00Z
很温馨的小屋。
Yanyan
2016-03-06T00:00:00Z
good location near to shops. Host was very helpful and home was clean and tidy.
Amy
2016-09-06T00:00:00Z
Laura was a great host, very friendly and helpful! The place is very cozy and clean, loved my stay there. Would love to stay there again! :)
Hazel
2016-05-25T00:00:00Z
Laura was a really great host. She was very accommodating, very helpful and communicative throughout the whole booking and staying process. Her home is clean, tidy, cozy and had everything we needed for our stay. The apartment is around the corner from a strip of shops (plenty of restaurants, nail salons, pharmacy, grocery shop with organic food etc). We spent the last two nights of our trip with Laura and we had a relaxing time. She has two adorable cats, Mika and Mr. C both very well behaved. We cooked a couple of meals while we were there and the stove and oven were in good working order and were easy to operate. The place is a short uber ride to/from the airport (around $13 uberX). We really enjoyed our stay at Laura's. :) we would definitely stay with her again if we were ever around the area. Thank you Laura!
Mary
2016-09-14T00:00:00Z
Laura was a pleasure to communicate with and very welcoming. Her place is clean, neat and cozy. Instructions were detailed and easy to follow.
Hollis
2015-10-24T00:00:00Z
Warm and tidy house, hope to see you in China . 房东很热情,不错的地方。
chengchao
2016-02-13T00:00:00Z
Tipo de Acomodação
Quarto inteiro
---
Tipo de Imóvel
Apartamento
---
Acomoda
3
---
Quartos
Burlingame, Califórnia, Estados Unidos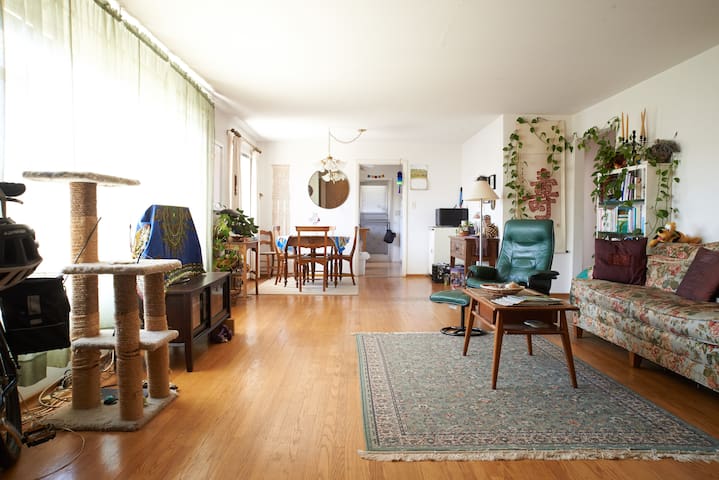 This cozy private studio with separate bath and private entrance is located on a quiet, tree-lined street in Burlingame. Minutes to SFO -- ideal for business travelers. Free street parking with no limits. Walking distance to Burlingame Ave Cal Train, shops and restaurants. 13-minute drive to SFO Airport 15-minute walk to Burlingame Cal Train Station 35-minute train from Burlingame CalTrain to SF 20-min drive to San Francisco w/o traffic, 40-mins 5-minute walk to Safeway / Starbucks
- Private Entrance - Queen Size Bed
- 8 Blocks to Downtown Burlingame / Cal Train - 2 Blocks to Safeway and CVS - Minutes to SFO but without the noise - Tree-Lined, Quiet Street
Localização excelente ! Quarto agradável! Muito limpo! Banheiro excelente! Recomendo !
Maria Emilia
2017-01-17T00:00:00Z
What a lovely cozy studio! Super clean and had everything I needed for my quick stay. Very conveniently located and easy to park. Eleanore was a lovely host and great to communicate with. I will definitely be back!
Donzelle
2016-09-25T00:00:00Z
Great host and location! Best value for money in the area! Very nice and clean!
Hariton
2014-11-21T00:00:00Z
What a wonderful place to stay near the airport! We had a short but pleasant visit. We appreciated your kindness and communication with us. Hope to stay again.
Athena
2015-03-27T00:00:00Z
Eleanor was great at communicating info to us before our stay. Will stay again in the future if the opportunity arises.
Kris
2015-11-05T00:00:00Z
Eleanore is a great host! She was timely with responses and answered any questions I had. Super close to SFO airport and shops (few blocks to Safeway and CVS). The studio was quiet and clean, bed was comfy. Will definitely come back if un San Francisco.
Charmane
2015-10-10T00:00:00Z
My host was very responsive checked in via email to make sure everything was ok. Very nice neighborhood walking distance to local store,resturantes. Great place to stay.
Demetrius
2014-12-18T00:00:00Z
If you are looking for an upscale Airbnb experience on par with a nice hotel room, this is a perfect spot. In addition, it is located in a safe, cozy and quiet neighborhood. The room has everything you need, all the amenities you would expect at a hotel - including a large fridge and a microwave. Everything in the room and bathroom is of quality. I would LOVE to stay here again - but naturally, it is booked most of the time. Perfect location, excellent room, and Eleanore is a an attentive host; communicative, organized and friendly. I HIGHLY recommend a stay in this cozy studio.
Isabel
2016-06-15T00:00:00Z
Tipo de Acomodação
Casa/apto inteiro
---
Tipo de Imóvel
Casa
---
Acomoda
2
---
Quartos
Burlingame, Califórnia, Estados Unidos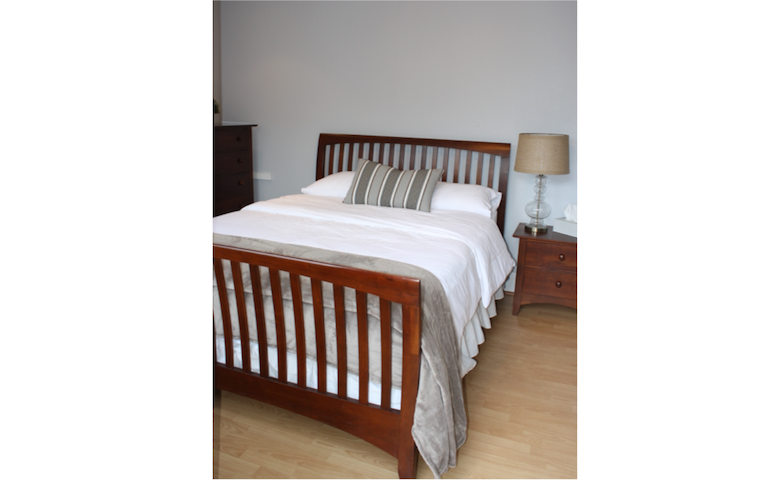 PLEASE READ OUR LISTING THOROUGHLY TO ENSURE THAT WHAT WE PROVIDE IS A PERFECT FIT FOR YOU. THANK YOU! Our cottage has a private, locked entrance and is nestled in a lush garden. We are walking distance to downtown Burlingame and all public transportation. We are also 8 minutes from the San Francisco airport.
If you are looking for a peaceful, private refuge, then let us welcome you to your cozy cottage in the garden with a private, detached restroom just a few steps from the cottage. The cottage is ideal for 1 person but will comfortably accommodate 2. LOCATION: We live in a quiet Burlingame neighborhood just 7 minutes from the San Francisco airport. The area is safe and easy to navigate. There is easy access to highways 101, 280, and 92. You're a healthful stroll (about 6 blocks) to Caltrain, charming downtown Burlingame, and the famous Nini's neighborhood restaurant. Just over a block away is a grocery store, drug store and a Starbucks. COTTAGE: You'll enjoy a very comfortable, full/queen European-style bed (not a futon), WiFi, HDtv/BluRay, infrared fireplace/heater that heats the cottage quickly, ironing board and iron, and organic plush linens, cozy spa robes and scuffs. Just beyond the side Dutch door (I call it our Mr. Ed door!) is an lovely patio with table, chairs, and a love seat inviting you to read, listen to the birds, and simply relax. The garden is lushly landscaped to provide privacy and a refuge for the urban wildlife. BATHROOM: The bathroom is a detached, completely private, and dedicated for our guests only, space just adjacent to the cottage; about 10 steps down a private, partially covered walkway. The privacy wall has a covered arbor for protection and during the rainy season we put up a large umbrella for the last 3 steps to the bathroom. PLEASE SEE PICS FOR ORIENTATION. The bathroom is equipped with organic cotton towels, towel warmer, shampoo/conditioner, soap, other essentials, and hairdryer. ACCESS: The garden cottage is accessed through a private, lockable, gated entrance. PARKING: Please park in the driveway during your stay. It keeps our neighbors happy:) Help yourself to organic coffee and teas, juice, oatmeal, yogurt, protein bars and snacks. Filtered water provided as well. We also have a furnished home in the lovely town of Sonoma should you ever find yourself on a long term vacation in the Sonoma/Napa wine country. We would love to make your stay as enjoyable as possible. Thank you for your interest in the cottage and we hope we have the honor of hosting and meeting you soon! Warm regards, Diane and Mike We will always personally check you in, respect your privacy and be available for questions or needs during your stay.
The place was very clean and comfortable. Diane's hospitality was amazing. Walking distance to Caltrain station where there are also many stores and restaurants. Would definitely love to stay again.
Hiro
2015-08-22T00:00:00Z
It was a pleasure staying at the garden cottage in Burlingame. Diane and Mike did an amazing job making sure I was completely accommodated.
Mallory
2016-08-12T00:00:00Z
David and Nancy have designed an amazing experience that was like being in a 5 star hotel. The gardens and cottage are beautiful and peaceful and there was literally nothing that wasn't provided from fresh ground coffee to a towel warmer. It was my favorite Air BnB ever!
LeAnne
2016-10-16T00:00:00Z
Spectacular. I highly recommend staying with Diane and Mike. They are warm, intelligent and congenial hosts. Mike and Diane make for excellent company and my only regret is that I could not spend more time relaxing in their beautifully landscaped garden with a glass of California chardonnay. I enjoyed every bit of my stay and was pleasantly surprised by the level amenities offered in the retro-styled private cottage. My hosts' thoughtful attention to detail was apparent at every turn: from the hand-written welcome note, to the clean and comfortable bed and delicious home-made brownies. All in all: a uniquely enjoyable, relaxing and memorable experience.
Artem
2011-06-24T00:00:00Z
Diane and Mike were easy to communicate with, and quickly responded to all of questions. They were also flexible with my late check in. The cottage itself is a beautiful, cozy, completely private refuge. You will never believe how close you are to the airport or the city of San Francisco. The neighborhood is also clean and safe and easily accessed from the main highway. Diane and Mike are quiet and generous hosts, and provide everything you could need. I highly recommend the garden cottage.
Gina
2016-08-08T00:00:00Z
The cottage is located in a lovely private garden. Diane and Mike were the most welcoming and organized hosts I have experienced. A bottle of wine, fresh fruit, a coffee maker and packets of oatmeal, freshly laundered terry cloth robes and bountiful towels were included. The cottage was everything that I could have hoped for and is well located for walkability and freeway access. I highly recommend it.
Susan
2015-03-21T00:00:00Z
What a lovely retreat. Amazing, restful ambience so very close to the highway, train, downtown Burlingame and other good stuff. Diane and Mike went out of their way to make sure we were comfy. Very restorative garden space; too bad we were so busy or we could have happily spent hours enjoying birdsong and filtered sunlight in the yard, the fabulous garden table and relaxing patio chairs.
Karen
2012-10-07T00:00:00Z
Diane made us feel very welcome. The cottage is exactly like the picture. Very clean in a beautiful setting.
dee ann
2015-05-27T00:00:00Z
Tipo de Acomodação
Casa/apto inteiro
---
Tipo de Imóvel
Bangalô
---
Acomoda
2
---
Quartos
Burlingame, Califórnia, Estados Unidos
Apartment above garage (up one flight of stairs) with separate entrance. Recently renovated and fully furnished. Queen-size bed in master BR, and queen-size bed in guest BR. Easy access to HW101, SFO. 3-min walk to Broadway Ave, Broadway Caltrain station.
The unit is spacious with about 800 square feet which includes 2 bedrooms, 1 bathroom and separate living room and kitchen spaces.
We are located just off of Highway 101 which provides easy access to San Francisco, SFO, and the South Bay. We are also a short walk to Broadway, which has several restaurants, shops and gas stations. There, you can find most of your necessities with a neighborhood grocery store, Walgreens, and plenty of restaurant options.
I booked Melanie's place for my parents, who had never stayed in an Airbnb. They couldn't have been more happy! The place was clean and Melanie even accommodated allergies by using unscented cleaning products before their stay. Much appreciated, thanks again!
Jeff
2016-09-24T00:00:00Z
The perfect apartment My family and I spend two weeks in this wonderful apartment. It is beautifully furnished, impeccable maintained and very clean, everything felt very new. We really felt like at home as it is very comfortable and has everything we needed to enjoy our stay. It is also very private and quite. The neighborhood is very nice and we felt very safe. Close to 101 and 92 it is perfect as a base to see de Bay area: 20 minutes from SFO, 15 minutes to Silicon Valley, 20 minutes to the coast,...Perfect location! The owners Melanie and Brian met us when we arrived to show us the place. They kept in touch with us to be sure that everything was fine and working. They both are very kind, nice, helpful and warm people. I would definitely recommend this apartment to anyone for a comfortable stay in San Mateo. Don´t bother to look further…this is the place to stay!
RAQUEL
2015-05-09T00:00:00Z
Everything was as described in the listing. Had no problems finding the place, parking or getting in. Wonderful location; walking distance to downtown Burlingame and plenty of choice for restaurants, etc. It was a pleasure.
Mark
2016-02-28T00:00:00Z
My coworker and I stayed here during the San Mateo Maker Faire. It was a perfect fit for us. The apartment itself was very nice, well furnished and supplied. Perfect for two people. All the amenities were as listed. I would definitely stay here again. The proximity to the Broadway shops and restaurants was very convenient. Walking there took no time at all. And the proximity to the airport was also very nice when it came time to leave early in the morning. The neighborhood was very quaint and quiet. My only complaint would have to be the lack of parking on certain evenings. The street parking fills up fast after work hours.
Joel
2015-05-19T00:00:00Z
Melanie place is great!! We're a family of four and it worked perfect for us! Great location, clean and tidy and Melanie is very nice and quick to respond to each question or request! I highly recommend it!!
ravit
2017-02-23T00:00:00Z
It was a lovely stay, quiet, nice area, will be back. Really enjoyed the privacy and setting, lovely apartment
Clive Owen
2016-11-13T00:00:00Z
Just one word, easy said: AWESOME ! We've enjoyed our stay at Melanies place. They are very nice people, always responsive when you need them. We've found a very nice welcome package that got us covert for the first breakfast in the morning. The apartment is spacious, clean and quiet, neatly decorated and well equipped with all you can ask for. The kitchen is ready to use with most of tools and appliances at hand. We've enjoyed our stay in this beautiful apartment and treasured the good neighborhood and near by restaurant and shops. I would highly recommend this to my friends ! Thanks for being such a great host, Melanie.
Clemens
2016-02-02T00:00:00Z
The house is clean and comfortable. Close to SFO. 5 mins walking distance to restaurants.
Hung-Hsin
2016-11-20T00:00:00Z
Tipo de Acomodação
Casa/apto inteiro
---
Tipo de Imóvel
Apartamento
---
Acomoda
4
---
Quartos
Burlingame, Califórnia, Estados Unidos
Cozy up-to-date suite nestled in the heart of darling Burlingame. 3 min drive from SFO and just 15 minutes from big city lights, SF and Silicon Valley. Perfect pad for airline staff, tourists or even locals.
Chique and modern suite in an up-to-date Smart House. Easy access to boutique shopping, nature-esque hikes, golf courses and scenic routes. WiFi, Cable, Netflix, HBO. Furnished patio. In-suite whirl pool Jacuzzi. Breville coffee maker, mini fridge, spacious closet and anything the host may be able to help with. Call, txt or email. Burlingame, "City of Trees," is an ideally located town in the Peninsula. Excellent ecological environment amidst an even better demographic. The sun is always out and people are always smiling. The suite is located in the heart of the town and ideally located to access public transportation via SamTrans or BART. Uber car services extremely popular, price-efficient, and reliable. Only 3 minute drive from SFO. Plenty of street parking as well as on-site. Airport is conveniently located with plenty of taxis available. Public transit easily accessed via walking less than 1 minute. I am happy to discuss P/U arrangements at NO EXTRA COST. Burlingame is showered with hundreds of shops and restaurants. Pedestrian and bike friendly. Vibrant in entertainment, particularly during Spring and Summer months. Downtown Burlingame is newly renovated with plenty of cafés and fine dining restaurants. Great for travelers, tourists, couples, and families. Fashionable boutiques for men, women, and children (i.e. Sam Malouf, the Loft, Lulu Lemon, Kate Spade, Janie and Jack, J Crew, etc). Several high end SPAs and gyms (Project ZEN and Equinox). Community very wellness-aware--we have a number of juice bars and smoothie shops (Deja Vu, The Plant).
Burlingame, "City of Trees," is an ideally located town in the Peninsula. Excellent ecological environment amidst an even better demographic. The sun is always out and people are always smiling. The suite is located in the heart of the town and ideally located to access public transportation via SamTrans or BART. Uber car services extremely popular, price-efficient, and reliable. Only 3 minute drive from SFO.
Beautiful, private room with bath - just like the pictures! Hot shower. Host was responsive and accommodating. The neighborhood was safe with street parking. A short drive to SFO airport - perfect for what we were looking for.
Marguerite
2014-09-30T00:00:00Z
Excellent , the room is as the description, very attentive host. We will return. Muy recomendable, supero las expectativas.
jose
2015-08-22T00:00:00Z
Alina's instructions were perfect. Alina's mom was there to great us at a 5:00 arrival time. The outside setting is beautiful. I recommend arriving on her early arrival time and having a glass of wine out on the patio. It's so pleasant and shady! The room was immaculate. Large closet to hanging clothes. Handy coffee supplied, pods for coffee and water bottle (cold). A wine frig. awaits your Vino! Bathroom is small but very clean and manageable. The bathtub/jacuzzi has a high side, so harder for heavy or older people to manage.
Laurie
2015-08-21T00:00:00Z
Alina was very friendly and welcoming. The room was like a hotel room, clean, sparse, and new looking. I appreciated the private entrance and the proximity to the airport (the latter is why I chose to stay here). It's also near a grocery store and restaurants, so that was useful as well.
Celina
2016-10-23T00:00:00Z
Excellent stay in quiet, residential neighborhood. Burlingame has easy access to San Francisco but has a small town feel with a main street with restaurants & shops. Unit was exactly as described - perhaps even better. Host answered our questions prior to the visit quickly and was helpful on our arrival. We would definitely stay here again.
Linda
2016-10-07T00:00:00Z
The instruction was clear. I was able to find the room with no problem. It is located in a very nice neighborhood of Burlingame, which, as described, is very close to SFO. The small jacuzzi in the bathroom was very nice. Overall it was a quite pleasant stay.
Alex
2015-01-08T00:00:00Z
Once again we had a very enjoyable stay at Alina's. It is just perfect in every way. We would recommend it to everyone. It is truly a 5 star Airbnb!
Dr. Scott & Vicki
2016-09-25T00:00:00Z
Yes, Alina contacted me in advance of my stay and welcomed me on my arrival. The private room and bath were terrific, with a spacious deck and separate access. Nicely appointed furnishings and great location.
Dick
2015-10-04T00:00:00Z
Tipo de Acomodação
Casa/apto inteiro
---
Tipo de Imóvel
Casa
---
Acomoda
2
---
Quartos
Burlingame, Califórnia, Estados Unidos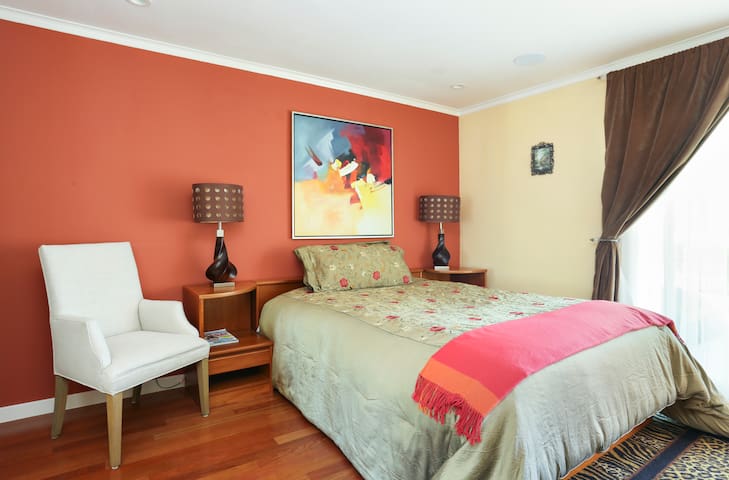 12 x 10 quiet room, queen bed w/ memory foam, hypo allergenic wool berber carpet, walk-in closet, nightstand, little chest, a desk and chair. 32 inch Cable TV. Gourmet Kitchen & washer & dryer privileges. 5 minutes to SFO. Close to Bart, Cal Trains and the 101. Free parking.
Beautifully remodeled home with some old world charm. Carpet is hypo allergenic and neighborhood is charming, quiet and safe. Walking distance to coffee shops, restaurants, banks, dry cleaning and grocery stores. 5 minute Lyft ride to airport. Plenty of free off street parking in front of home.
I love that most things are a pleasant walking distance. There is also the picturesque shopping on Burlingame Ave. It is 5 minutes from the airport and so convenient to SF and Sillicon Valley while being nestled amongst Eucalyptus trees.:-) The bay is also close by for biking or running.
Angela is a polite and welcoming host. There were towels and a water bottle in the closet for me. The listing is just as it was described in the pictures and description. The neighborhood is quiet and safe. When you get home at the end of the day, do the right thing and take 3 minutes to give love/rubs to the very sweet, affectionate, and talkative Teddy (cat).
Ashish
2015-09-06T00:00:00Z
Great place , near the airport and highways. Nice , quiet room, on a residential street. Close to highways and nice neighborhood. Angela was very easy to work with.
Hari
2015-10-01T00:00:00Z
I was let in pretty late after a little coordination snafu, the key wasn't were it was supposed to be. I did sleep well, though the mattress was more soft than I usually prefer.
Edgar
2016-02-12T00:00:00Z
Nice place. Good internet, kitchen, and bed. It's close to Broadway and the airport, so travelling around is easy. Angela's cat is a sweetheart, and very nice to strangers (also, I noticed almost no cat hair in the entire house, well done). The pillows were super soft, which was great to me (but might be a negative to others). Overall, it was a great place to sleep, while attending a conference.
Dayton
2016-11-06T00:00:00Z
Easy and straightforward. Angela's place is super close to the Millbrae BART, and maybe a 10-minute ride to SFO. Comfy bed, quiet neighborhood.
Zack
2016-02-23T00:00:00Z
Nice location. Gracious host. Pictures accurate. The location is about 5 minutes from SFO. Easy to find. Everything went smoothly and communication is awesome with host. It was an excellent stay for me.
Mark
2016-02-22T00:00:00Z
The location is wonderful, lovely neighborhood within walking distance of a charming downtown. When I arrived there was no one there. I waited until a young man came down the walkway and asked if I was a guest. He then informed me the Host had been out of town for a week and would be home the following night. He let me in but was unclear of which room was to be mine. He told me to check my email. I had checked my email that morning with no message from Angela. When I checked again there was a message asking me to make myself at home and stated some specific rules she wanted me to observe. "Welcome" was not my experience. I was a bit surprised that the bathroom was shared. I mis-read the description to think that the bathroom was private. I barely slept all night because the heater was on (at 75) and I could not figure out how to turn it off. The bed was very comfy. The cat.....adorable. When I finally met Angela she was very nice. She helped make my second night stay much more pleasant by turning off the heat. Wheww!
Lynn
2016-05-16T00:00:00Z
I found Angela to be extremely gracious, flexible and trusting. I wish her and Teddie the best. The facilities were impeccable and conveniently located. For the benefit of future guests, I suggest bringing a pair of house slippers or shoes you can slip on easily. Depending on time of year, the floor can be really cold. Also, one might like to negotiate the thermostat setting - depending on where you're from and how warm you need it.
Ananth
2016-02-13T00:00:00Z
Tipo de Acomodação
Quarto inteiro
---
Tipo de Imóvel
Casa
---
Acomoda
2
---
Quartos
Burlingame, Califórnia, Estados Unidos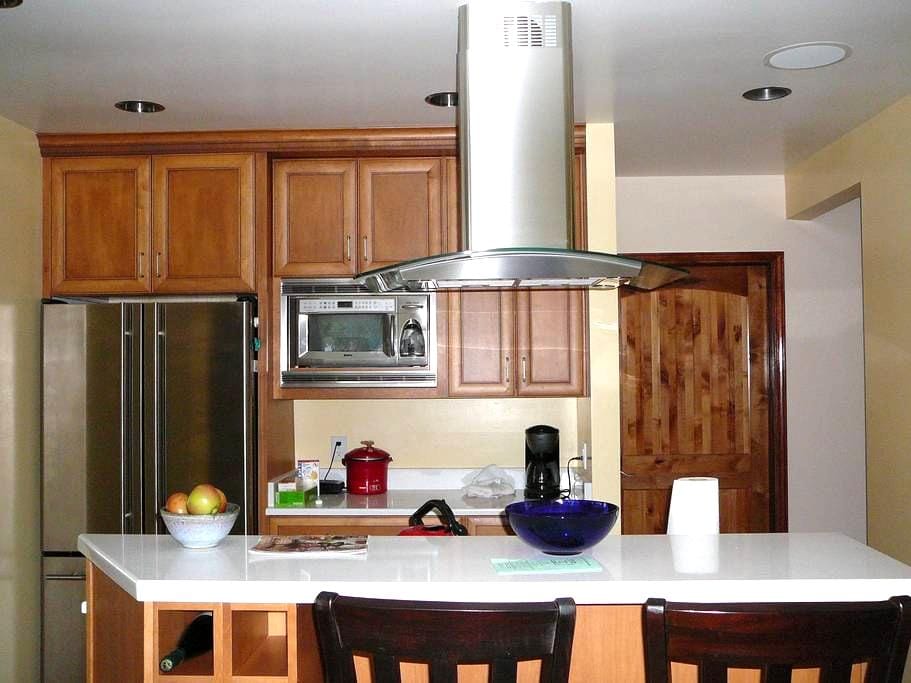 The HackerHome Network Whether you're new to the Valley, bored with your current housing or need a transient place... I would like to help. When you reserve with me, you'll have instant friends and be part of a network of 10+ homes in the Bay Area.
Newly remodeled home with an open kitchen, living room and a huge backyard for BBQs.
This is downtown Millbrae! It's a super convenient location and only a half mile (or a 10 minute walk) to Millbrae Bart and Caltrain Station. You're also only 1 block to downtown Millbrae where many restaurants close late, kinkos business center, UPS store, Peet's coffee, Safeway grocery store and many restaurants.
This is a great house to stay in. Clean, well supplied, nice professional people. It's walking dist. from BART. And nice safe neighborhood. Had a great time staying here, what little time I was actually there!..
Laurence
2015-09-05T00:00:00Z
It was fun having so many hackers around, and Vic was a helpful host. On the other hand, the place was messy and it was hard to sleep even with earplugs due to the creaking metal bunkbeds and five other people in the room. One easy way Vic could improve the experience would be to apply some WD40 to the bed frame joints. I wish I had thought of that while I was there.
Issac
2016-02-12T00:00:00Z
Awesome experience at hacker home. It is really like a home. All the other guests were very helpful and humble. The place is both vibrant and energetic having people busy with their chores at the same time was silent and peaceful to mind your own business. Easily connected by Bart which also in turn connect to international airport. Their are clear instructions for buying groceries, and mobile sims for international travellers.
ashutosh
2016-01-28T00:00:00Z
Stayed 5 nights at Hacker Home in Millbrae. All the check in and check out instructions were very clear. I rarely had to ask Vic or others for anything. Even though it was full house, all the guests were very nice to each other. Plenty of natural light was best part of this house. Bathrooms, bedrooms and kitchen were fairly clean. I thought there would be rush hour contention for common bathrooms in the morning, but it wasn't that bad. But cleanliness degenerated a bit in the course of the week. Perhaps cleaning happens on weekend. Walkable access to Caltrain, Bart, SamTrans and plenty of restaurants around makes it best location for stay. Bunk beds were comfy, sheets very clean. I would recommend for single person short stays for travellers who need as good public transport connectivity as it can get for bay area. Kitchen was stocked well with breakfast and snack items.
Muralidharan
2015-06-21T00:00:00Z
nice place, great neighborhood, very convenient. there's safeway and wallgreen within walking distance. also a nice gym called prime time within 2miles. love that place.
Charles
2015-05-30T00:00:00Z
This is my second time staying for the duration of the summer at one of Vic's places (I stayed at in the Menlo Park home last summer). I love staying at his houses and if I come back again next summer, I will definitely be looking for something hosted by him first.
Logan
2016-08-17T00:00:00Z
Vic was on the ball from the start, a colleague and I were in a bit of a rush to get accommodation during our stay. Vic was direct and answered any questions we had while we were on the move. We were greeted by friendly faces, one being Shub, who is Vic's right hand man. Great guy, awesome stories, and the has made the house live with a great vibe involving all its residents and airbnb guests. Shub took us surfing on our second day and many of the other house guests socialised with us/took us out for food and showed us the city too. Great stay, amazing for young professionals and tech heads too. Highly recommended to travellers looking for more than just a bog standard hotel experience visiting in and around SF
Abhimanyu
2016-08-26T00:00:00Z
People living in here is very kind and polite. It was really comfortable to stay in the guest house. I have nothing to complain. I'd like to stay in the house again someday in the future.
Masahiro
2016-02-20T00:00:00Z
Tipo de Acomodação
Quarto compartilhado
---
Tipo de Imóvel
Casa
---
Acomoda
6
---
Quartos
Millbrae, Califórnia, Estados Unidos
Our little treehouse (now for grown ups) offers the best of both worlds - securely nestled above it all in a quiet forested canyon with a serene Bay view, yet 20 minutes to San Francisco, 10 to SFO and an easy scenic drive to the Pacific Ocean and the Silicon Valley.
Serenity for 1, ideal for 2, the Treehouse is a very special retreat for one adult or a couple. Sorry, NO CHILDREN! Suitable for candle-light dinners, relaxing, reflecting, rejuvenating or simply enjoying the sights and sounds of nature - birds singing, morning sun rays sprinkling through the rustling leaves, a squirrel scampering across the roof! Enjoy the sunset or sunrise with a beautiful view of the San Francisco Bay from the wrap-around deck. Fluffy down duvet comforter/pillows & quilts will keep you warm and cozy. Comfy queen size bed w/crisp linens in the sleeping loft and a lower level chaise/reading nook. Remember, this is a true TREEHOUSE, a wee house in our big 150 year old Live Oak tree, which we built with love for our own growing family nearly 18 years ago. We feel so fortunate to share this experience with you and we take great care in making your stay comfortable, inviting and private. However, if you are expecting the Ritz versus a natural retreat, you may want to reconsider!
The treehouse is on our private, wooded hillside property, which is located on a cul-de-sac street. Off-street parking for 1 car is dedicated for our treehouse guests - park only and directly in front of the "Route 66" sign at the 1st telephone pole on the right side of Fey Drive.
Tipo de Acomodação
Casa/apto inteiro
---
Tipo de Imóvel
Casa na árvore
---
Acomoda
2
---
Quartos
Burlingame, Califórnia, Estados Unidos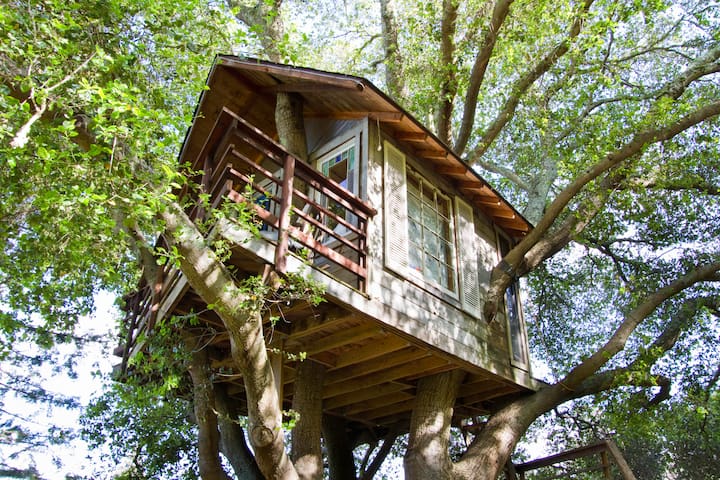 For females only...Private comfy room near san francisco international airport, 15 min to the city. 2 blocks from cal Train, buses. close to city, near shops, 60 stores,restaurants. Buses go directly to airport. Train to the city in 30 minutes. No smoking in/out side the building. Area is great town with great location and access to transportation, grocery stores, restaurants and bars. Please note I do not have internet available. Bed accommodates 1 person.
Private room in a quite residential area in downtown Burlingame. Great location, Walking distance to downtown restaurants and shops. Near train and bus. Nice apartment fully furnished. Twin bed accommodates 1 person. Towels and sheets provided. Please coordinate your ck in and ck out with me so that you can enter and exit. I cannot give out keys to the apt for your use. I will be home for the times we coordinate. A few miles from San Francisco international airport, sfo. Close to everything.
a great area. Lots of fun activities. Minutes to the city. Great views and walking trails in the area. Great restaurants and bars. Near Cal train and Bart station, Bus. Street parking is available. Blue line Pizza, Burmese, italian and mexican restaurants. Several bars, check out barrel house. List of bars, restaurants, and more. (URL HIDDEN)
The room was exactly as pictured and in a good location. I was up North for a quick work trip and Hana's place was good for a quick stop over. The apartment was clean and the host was friendly and even provided a clean towel, water bottle and snacks in the room.
Mark
2016-08-10T00:00:00Z
サンフランシスコ空港からパブリックバスで15分ほどのおしゃれで綺麗な街、バーリンゲムの中心から徒歩10分程度のシェアルーム。 歩いて食事や一杯飲みに行くにも心配なく歩け、バス停にも近くて便利でした。
Daisuke
2015-09-24T00:00:00Z
The room is as described and as in the photo - a perfectly adequate single room. The apartment is not the smartest, but for a night's sleep after a long flight, the accommodation was fine and the close proximity to the airport a plus.
Lorraine
2016-10-25T00:00:00Z
Met Hana at agreed time in front of her aparment. Hana is open minded young person; easy going and very pleasent personality. Her flat was clean and I can recommend this place especially as it is close to the airport and restaurants in walking distance.
Monika
2016-06-27T00:00:00Z
Hana gave me a brief "tutorial" on the neighborhood, which boasts many nice restaurants and shops within walking distance. It was a convenient location for either auto travel or public transportation into San Francisco or to the airport. Neighborhood was a quiet residential area…slept with the window open all night!
Richard
2015-07-31T00:00:00Z
Quiet and clean place. Located very close to downtown and public transit. Hana is a great host.
Alfred
2016-07-15T00:00:00Z
Hana always communicated promptly so that I felt like I knew what was going on in the process of setting up my stay. The neighborhood felt very safe and was extremely close to restaurants and shops. Upon arrival Hana welcomed me in and showed me around. She was friendly and offered to give me a tour of the neighborhood. Although she didn't give me a key, she was very accommodating to make sure that I could come and go as needed and would not be waiting around. The room was comfortable.
David
2015-12-07T00:00:00Z
Hana was a good host, and the place was clean and comfortable.
Greg
2016-07-30T00:00:00Z
Tipo de Acomodação
Quarto inteiro
---
Tipo de Imóvel
Apartamento
---
Acomoda
1
---
Quartos
Burlingame, Califórnia, Estados Unidos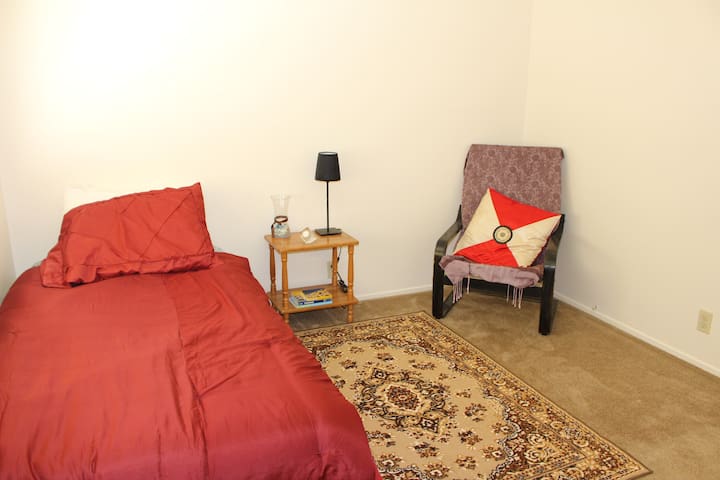 Our sunny backyard cottage is centrally located in Burlingame between Burlingame Avenue and Broadway and is a great spot suited to a business traveler in search of a home away from home while also being ideal for vacationers looking to live like a local, only miles from SF. Enjoy and unwind!
Our cozy cottage comfortably fits two & comes furnished with a queen bed, en suite bath, & WiFi. The eat-in kitchen, filled with mid-century modern charm, has a stove, refrigerator, and all necessary cookware (including spices & stuffs in the cupboards) while the large living space is equipped with a warm sitting area & cable enabled TV.
Burlingame Gardens is a quiet, tree-lined area with families and a long-standing neighborhood tradition. We're a mere 15 minute walk from Washington Park and Burlingame High School and 20 minutes from the heart of downtown, Burlingame Avenue. Broadway, with its shops and cafes, is only a 15 minute walk. A quick 20 minute jog will bring you to the bay front, an area great for walking, running, and watching the planes come in and out of SFO.
Great place to stay!
William
2016-11-17T00:00:00Z
Debbie's place is fantastic! First of all, Debbie was incredibly helpful from the start. She offered to pick me up from the airport. I actually only needed a pickup from the train station, but she did that too. The cottage is an excellent place to stay. I was there alone, but it is actually even better for a couple on a romantic weekend. From the listing, I was worried that "cozy" was a euphemism for small, but that is not true at all. It is more than big enough for two people to have a great stay. The location is excellent. It is tucked away enough to provide a sense of seclusion, but it is only a 10-minute walk from Broadway and 15-minute walk from downtown Burlingame. BART and Caltrain are also easily accessible to get to the city. There is a small TV with a DVD player in the cottage, but I don't think there is cable. But the area is so nice, that you probably won't even need TV. Oh, and by the way, this cottage has -- by far -- the cleanest bathroom I have ever seen in an Airbnb!
Mark
2016-10-07T00:00:00Z
Debbie's place was perfect. Great location and she and her grandkids even made me scones. Can't wait to stay again.
Steve
2017-01-11T00:00:00Z
Just wonderful. Debbie is the ideal host and her cottage is just lovely. This is my second stay and I look forward to returning soon!
Leigh
2017-04-06T00:00:00Z
This rental is comfortable, spacious, and exactly as described on the AIRBNB website. Host was so easy to work with in terms of check in and departure. Very conveniently located to downtown Burlingame and the Caltrain.
suzanne
2017-02-25T00:00:00Z
Our stay was absolutely wonderful! Debbie is the most amazing host; she and her granddaughters made us delicious scones prior to our arrival, and we had everything we could ever need. If I wasn't moving to the Burlingame area next month, I would absolutely stay here again! Thank you Debbie!!
Rachel
2017-03-03T00:00:00Z
Debbie's cottage was absolutely perfect. It was cozy, clean and inviting. We didn't want to leave. The rooms are spacious, well equipped for all of our needs and we loved the beautiful fabrics and fun Accessories. Great location for the airport and any time spent in San Francisco. If we come back to this area we will definitely stay here.
Jesse
2016-10-22T00:00:00Z
Debbie was a wonderful host, and the cottage was clean, comfortable, and indeed, cozy! Everything seemed newly remodeled, with beautiful carpet, tile in the bathroom, and kitchen laminate. Coffee, creamer, tea and bottled filtered water were all provided. She even provided yummy pumpkin muffins which were very much appreciated with the morning coffee! It's very convenient to both downtown Burlingame and the Broadway district, and to Hwy 101 for the morning commute. I will definitely stay here again while I look for an apartment in Burlingame. Three cheers to Debbie for a wonderful experience!!
Kristen
2016-10-20T00:00:00Z
Tipo de Acomodação
Casa/apto inteiro
---
Tipo de Imóvel
Hospedaria
---
Acomoda
2
---
Quartos
Burlingame, Califórnia, Estados Unidos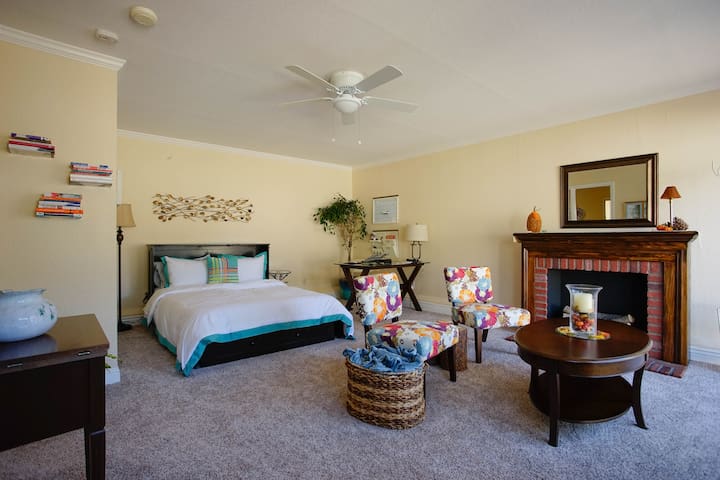 This nicely remodeled charming apartment, Lorton Place, has everything one needs for a very comfortable stay in the Bay Area. Location-location is the operative word for this apartment with a walk score of 96! The city of Burlingame is the plum of the Bay Area.
Charming spacious 1 bedroom. Very comfortable Shutters throughout High tech touch lighting with dimmers Whisper warm fan heat/light in bathroom with auto turn off so you don't have to worry A full size single fold up portable rollaway bed available on request for child or extra adult guest
Our neighborhood is very central to all services in downtown posh Burlingame Avenue. Convenience!
Stephanie´s place in Lornton, Burlingame is great. Great location, very friendly and welcoming host, could´t be better. Highly recommend.
Armin
2016-09-24T00:00:00Z
This is my second time staying at Steph's & Tom's place. It was lovely as always! Super comfortable and central to transit as well as restaurants, shops, and groceries.
Andrew
2016-12-16T00:00:00Z
I stayed at the Lorton Executive Studio for 7 days and couldn't have been more happy with my stay and experience. Perfect location, close to Burlingame avenue and Caltrain station. Lots of great restaurants within a few blocks. Stephanie the host was fantastic and the place was really top notch with all the right touches and furnishings. I would most definitely come back again.
Darin
2016-02-29T00:00:00Z
My wife stayed here for several days while visiting our daughter and grand-daughter in Burlingame and very much enjoyed her visit. The accomdations were just as described, with a great kitchen, bathroom, and comfortable bed. Stepanie was very responsive to my inquiries before my wife's arrival; and was very helpful to my wife during her visit.
Michael
2017-01-07T00:00:00Z
We really enjoyed our stay with Stephanie and Tom! They did everything to make us feel welcomed, the space was amazing, and the communication was prompt! The location was also excellent, just a few blocks away from restaurants, supermarkets and shops. Would most definitely stay again on our next visit!
Kenson
2016-08-21T00:00:00Z
Great place and location! Highly recommended
Robert
2017-03-14T00:00:00Z
房子位置靠近市中心,吃喝购物方便;一房一厅一卫一车位结构私密性好,一到两个人旅行最为适合;房内家私物品感觉新净,各类日常用品也基本配套齐全;房东夫妇友善好沟通;真心感觉不错!
KOK HUNG
2016-09-06T00:00:00Z
Great location near restaurants and shopping
John
2016-12-04T00:00:00Z
Tipo de Acomodação
Casa/apto inteiro
---
Tipo de Imóvel
Apartamento
---
Acomoda
3
---
Quartos
Burlingame, Califórnia, Estados Unidos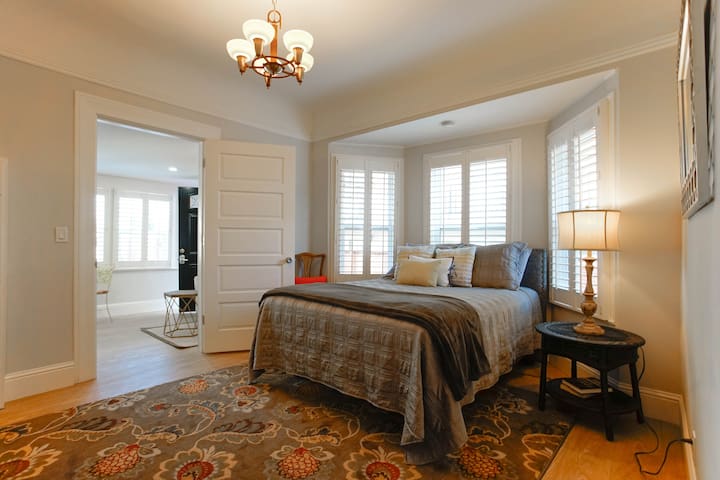 We look forward to meeting you! My husband and I are parents of two, one just graduated from the University of Michigan (Go Blue!) and the other currently attending (still Going Blue!). We want you to feel spoiled a bit while here!
Make our beautiful and spacious guest apartment your home while in the San Francisco Bay Area! Your non-smoking home away from home is located on the first floor, with separate entrance, of our Victorian home and located in sunny, suburban Burlingame, an approximately 20-30 minute drive from both San Francisco and Palo Alto. We are a 10 minute walk to the Burlingame Caltrain station, a short 15 minute drive or bus ride to the Millbrae BART station, and a 7-10 minute drive to SFO International Airport. Additionally, we are walking distance to Burlingame Avenue, our friendly and fun downtown as well as Washington Park, a very complete park for kids and adults. There are fun activities for kids as well as nice restaurants, boutiques, and events for adults. Burlingame boasts fabulous farmers' markets and art shows and concerts in the park throughout the summer, as well as street fairs and fine dining – there really is something for everyone! Your apartment consists of a bright and comfortable living room, a quiet and cozy bedroom with a quality queen bed, and a furnished kitchen and bathroom. Provided in the kitchen is a large refrigerator/freezer, two single burner portable induction cooktops, a microwave, a convection/toaster oven, a Keurig coffeemaker and an electric hot water kettle, as well as plenty of tableware. PLEASE NOTE: The full size oven/stovetop is not hooked up so minimal cooking is possible utilizing the induction burners, convection oven and microwave. We will provide initial coffee and tea supplies, a welcome basket of goodies (such as snacks, yogurt, milk, cereal, etc) as well as plenty of toiletries. However, in case you run out or forget something – who doesn't? – you can walk 5 minutes to a shopping complex with Safeway, CVS, Starbucks, and Chevron gas/petrol station! We have a beautiful backyard with lots of flowers and trees, and a sport court, complete with basketball hoop, tennis wall and ping pong table. We encourage you to take full advantage of these, as well as the hot tub. Laundry: For guests that stay 3 nights or longer, we are happy to offer use of the washer and dryer for laundry. If you are staying less than 3 nights, please check with us prior to doing laundry. ALSO, NO SMOKING anywhere on the property, including inside the apartment or outside in the front or back yards or driveway. Bonuses! - We have high-speed wireless Internet that you are welcome to utilize. - You will have access to office facilities including printer and copy machine, if you do need them. - We have provided many guidebooks and maps, but please do not hesitate to ask us about attractions – we have extensive knowledge of the whole Bay Area, from Palo Alto all the way to San Francisco. Joe grew up in SF – he'll have you navigating like a local in no time! - While you stay here, you are welcome to use our driveway for parking one car. We are a fun family of four: parents Lynn and Joe, and two high school/college aged daughters. We have 1 cat that is shy but friendly who periodically escapes into the apartment so cat allergies beware :). We are a respectful and outgoing family and we look forward to your stay in our home!
We love our neighborhood because it is close to shopping yet quiet. I like being able to decide to have a Starbucks latte, take a 5 minute walk and have that latte a couple minutes later! We are central to everything. Caltrain is a 10 minute walk and downtown Burlingame is just beyond the train station. Downtown Burlingame is quaint and fun - you could get lost dining, shopping, and strolling down here. Some highlights include: SHOPPING Anthropologie Apple Store Banana Republic Books, Inc. Gap/Gap Kids J Crew Les Deux Copines Loft Lucy Lululemon Millie Mango Paper Caper Paper Source Papyrus Pottery Barn Sephora Sur la Table Swarovski Therapy Trina Turk Vans *Plus tons of spas and salons DINING/DRINKING Barrelhouse Blueline Pizza Cafe on Primrose Cherimoya Vietnamese Cafe Copenhagan Bakery and Cafe Crepevine Del' Olivia Farm and Vine American Bistro I Prive Il Fornaio Kara's Cupcakes La Corneta Taqueria La Panotiq Lemonade Limon Rotisserie Mingalaba Restaurant Peets Coffee Philz Coffee Pizza My Heart Pizzeria Delfina Rangoon Ruby Burmese Cuisine Rasa Rasoi Rise Pizzeria Sakae Sushi Sixto's Cantina Stack's Starbucks Steelhead Brewing Company Stela Alpina Osteria Straits The Cakery The Plant Cafe The Poke Shop Tomokazu Japanese Cuisine Urban Bistro Vineyard Vines Vinyl Room Yogurtland
What a treat! My BF and I wanted a quiet weekend to relax, and Lynn welcomed us with open arms (literally she's a hugger =D ) She showed us around the home, pointed out her list of restaurant hotspots, walkable points like Starbucks, grocery store, and an easy hike to Coyote Point. Great communication, wonderful host, spacious home, would definitely recommend!
Kate
2017-03-13T00:00:00Z
Lynn's place was cozy, clean, centrally located, and well prepped with amenities. Lynn was a gracious host, she met me upon check-in to show me around the place and was very accommodating to everything that I might need. Communication was also responsive and excellent. There were also lots of information around the place for things to do, areas to explore etc. I definitely recommend staying with Lynn for any traveler!
Maria
2016-01-14T00:00:00Z
Everything was perfect and the description on Airbnb exceeded my expectations.
John
2016-07-19T00:00:00Z
Our stay in Burlingame was fantastic, thanks to Lynn's hospitality and accommodations. The apartment is comfortable, clean, and spacious and a short walk to downtown Burlingame. The outdoor space is great as well. Lynn was super communicative and helpful throughout our stay. With family in the area, we look forward to staying there on future visits!
Nicole
2014-09-01T00:00:00Z
Lynn made us feel at home from the start. We stayed at a separate unit from her gorgeous house as listed. It was very nice place, well kept, and clean. Nothing short of what we expected it to be. We loved the neighborhood, and everything was within short distance. We loved our stay, and looking forward to next time.
Ran
2015-09-22T00:00:00Z
Lynn is a total pro when it comes to thinking through amenities and comfort. There was nothing she hadn't thought of....from the stocked kitchen to the bath products and super comfortable linens on the bed. She and her husband greeted me warmly and then let me be on my own without intrusion. It was all first rate and I would go back in a second! Thanks Lynn.
maura
2015-10-09T00:00:00Z
As always, Lynn made us feel at home! She is a wonderful host and is very attentive to every detail. Great place to stay.
Vivian
2016-08-15T00:00:00Z
We couldn't ask for any better place to stay while visiting our daughter in San Francisco. Lynn was very welcoming and responsive to our needs and the apartment in her home was clean and comfortable. We had everything we needed for a wonderful stay in a beautiful quiet residential neighborhood.
Caroline
2015-08-09T00:00:00Z
Tipo de Acomodação
Casa/apto inteiro
---
Tipo de Imóvel
Casa
---
Acomoda
3
---
Quartos
Burlingame, Califórnia, Estados Unidos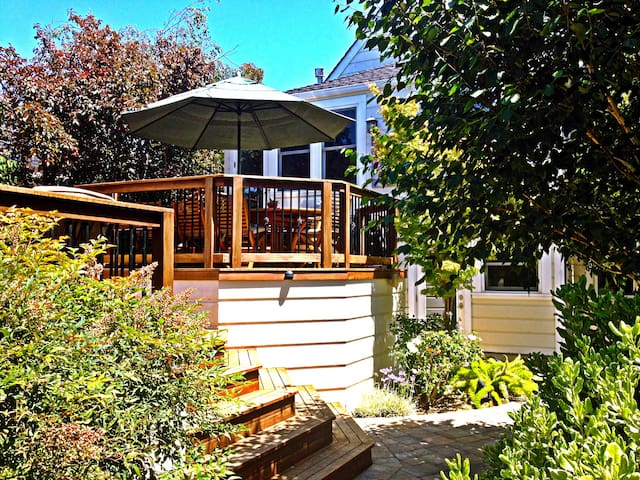 Wonderfully relaxing, cozy downtown Burlingame home within easy ( 2 blocks) walking distance to Burlingame Ave, Caltrain, minutes from SFO! We have 1 bedroom available upstairs for rent, with street view, CalKing Bed Cable TV~Internet in room. Registered guests only in room please.
We have a warm, cozy home in the Downtown Burlingame. The are 3 bedrooms upstairs with a fully shared bath, 1/2 bath downstairs in laundry room with new, frontload washer & dryer, behind kitchen. This home was built over a 100 years ago, sitting on almost a half acre where it was once an orchard, with plenty of wonderful fruit trees. Parking 4-5 cars or more! If you are a traveler to SFO ( short cab ride)we have safe secure parking here for you. No more impersonal hotels at the airport. This is your home away from home if you are a traveler or here for pleasure. What makes us unique is when most friends come and visit, it is usually with wonderment and just a 'cozy' feeling. If you like 'eclectic' you will feel right at home! You will be welcomed with either a home-made breakfast treats or a yummy nosh if you arrive later in the day/night. We want you to feel that 'our home is your home' during your stay. 'Burlingame Beauty' as we refer to our home, is fully furnished, within walking distance to a lovely downtown where you will find everything from Starbucks to Bananna Republic. Also, Caltrain is a mere two blocks away. New restaurants opening all the time. Minutes from SFO. And B.A.R.T *As much as we love pets, we will occasionally accept dogs. However, we would consider taking dogs whom are treated with flea - heart worm meds + $25.00 a day charge per dog. Full use of home/backyard with fire-pit. Catering available upon request. Thank you for browsing our home:). We look forward to being your 'Host'.
Our neighborhood is wonderful and walking distance to a newly renovated Burlingame Ave where new restaurants are popping up, + a vast array shops, boutiques and coffee houses.
Our stay with Lisa was amazing. She was so sweet and thoughtful throughout our trip with helpful suggestions and answers to any questions we had. She went out of her way to make sure our stay was fantastic. She even checked in on our cat while we were away to make him feel at home! Breakfast was always delicious and fresh and the bed was extremely comfortable. Her home is so close to the Caltrain station and even catching an uber from here was typically a reasonable price (sometimes less than the train!). It was also a very easy drive to the airport. We definitely recommend staying with Lisa!
Charlene
2016-08-22T00:00:00Z
Lisa est une hôtesse charmante et attentionnée. Sa maison est pleine de charme, on s'y sent comme chez soi. Son petit déjeuner est vraiment un plus par sa qualité et son raffinement .
Francoise
2016-08-31T00:00:00Z
I have stayed at Lisa's once a month for the past 7 months and it's always been a great experience. Thanks for everything, Lisa!
Mallory
2017-02-03T00:00:00Z
very nice. kindly to help us do everything she can do.great breakfast and u can park ur car in her yard.u know it is very hard to find a parking place
黄
2016-04-29T00:00:00Z
Lisa's place is a hidden gem, and she's one of the best Airbnb hosts I've had the pleasure of dealing with. The house is located well within walking distance to central burlingame which is full of shops and good eats, and not far from the airport if you're traveling. The space is really nice, well kept, and you'll love staying here.
Kraig
2017-01-17T00:00:00Z
Fantastic host, Lisa was so sweet, very kind and courteous. House was a block away from Everything, so close to anything u want. House was so comfortable that my wife and I had no problems feeling so comfortable, Lisa went out of her way to make sure we were all comfortable, couldn't have been happier.
Tiberius
2016-02-27T00:00:00Z
It was a three-hour drive from our home to Lisa's home and it was almost dark when we arrived, weary and hungry. Lisa provided a spectacular array of fruit and cheese, along with a good bottle of Spanish wine. Needless to say, we felt welcomed and refreshed. The neighborhood is highly walkable, with a huge variety of restaurants just a couple of blocks away. The description of the accommodation was accurate. Other guests have commented on the varied breakfasts, from practical and healthy to pleasantly indulgent. We enjoyed our stay very much.
Jeanetta
2014-11-04T00:00:00Z
Lisa was a great host. She is very friendly and made sure that my visit was comfortable and relaxed. Her house was just like the photo on AirBnB; very cozy and charming, full of art, antiques and personality. My bedroom was clean and comfortable and the bed was excellent. Each morning she prepared awesome breakfast treats that exceeded my expectations. The house is in a residential neighborhood within walking distance to a downtown area full of shops and restaurants. Very convenient. Kudos to Lisa for doing a great job. I would not hesitate to stay there again and would recommend it to others looking for something much more friendly and personable than a hotel.
Will
2015-01-17T00:00:00Z
Tipo de Acomodação
Quarto inteiro
---
Tipo de Imóvel
Casa
---
Acomoda
2
---
Quartos
Burlingame, Califórnia, Estados Unidos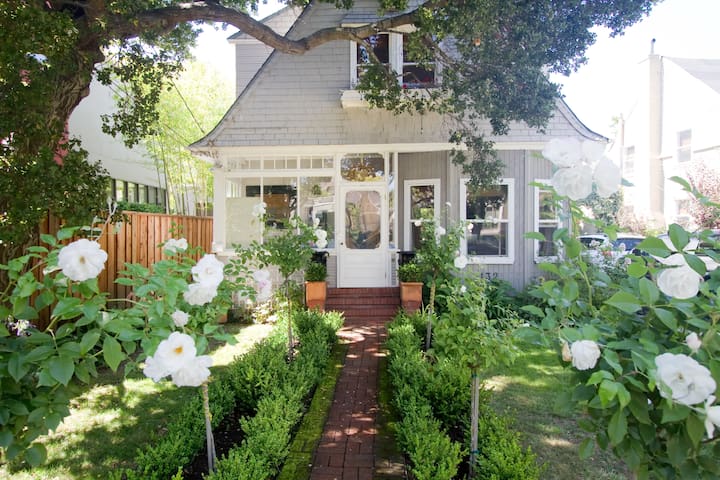 1

–

18

de

Mais de 300 Espaços para Alugar
Insira as datas para ver o preço total. Taxas adicionais serão aplicadas. Impostos podem ser adicionados.