I have two bedrooms available (separately) If two people want separate rooms $100 total per night. Ask for special deal $50 each room. Futon single bed could be added to accommodate extra person. Bedroom 1 has a queen sized bed while bedroom 2 has a double. Long term rates can be negotiated. Clean, Spacious, and shared use of kitchen and living room. WiFi.
Choice of 2 large private bedrooms with a beautiful view of farmland, the Club at Bond Head golf course and the backyard in-ground swimming pool (available in the summer). Each room is rented separately but rarely booked at the same time. The $60 gets you one room. Comfortable bed and shared bathroom. Wireless Internet and cable TV included. Shared kitchen and living room. Fridge space available. Small hamlet in the country 30 minutes north of Toronto. Bruce Trail and other points of interest in the area. Just ask and I will give you advice on things to do and see. Canada's Wonderland is a 20 minute drive. Bradford shopping is 8 minute drive. Alliston and Barrie 25 minute drive. You'll need a car to get here. No public transit. Host sleeps and has own bathroom downstairs. No smoking. Pets welcome. Make yourself at home! Message me if you have any questions.
Bond Head is a small, safe hamlet 5 minutes west of highway 400. Bradford is 8 minutes east with lots of shopping and restaurants.
John made us feel extremely welcome and relaxed! We adored the house itself, the location, the view, it was perfect! If you're looking for a beautiful, peaceful location within an hour of Toronto, look no further!
Courtney
2016-04-26T00:00:00Z
John was very accommodating, letting us get in a little early so that we could shower and dress before a wedding which was taking place just down the street. He even offered to drive us home if we needed. It was very clean and we had use of the kitchen, as well, to make our breakfast. We had a long drive ahead of us so we just had coffee and grabbed some fruit. Would return and refer our friends here.
Sandra
2013-09-04T00:00:00Z
We were in a bind due to another stay being cancelled on very short notice. John responded quickly and accommodated us graciously. Great room and bed - we only stayed on night but the place would be great for a longer, quiet getaway.
Ferdinand
2016-08-14T00:00:00Z
John is a wonderful host. His house feels like your home and since John lives downstairs you have the feeling the whole cosy house is yours. John is kind, helped us out, and provided us with a nice breakfast. Highly recommended stay when you are on your way to Bruce Peninsula.
Jan
2014-08-17T00:00:00Z
Very nice quiet location. Even though it's fall the view is good. Must be great in the summer. Clean. The bed was comfortable and John was very helpfull. Definately on the one line shortlist for next years trip to Paramount Canada Thanks John.
Mackie
2013-11-05T00:00:00Z
It is a great stay and we feel like at home. John is a great host. Excellent in communicating and accommodating. Highly recommend!
xiaoyan
2015-10-05T00:00:00Z
Great price for a good room. John gives you a lot of privacy. Place is very quiet, bed is clean and comfortable.
Adriana
2013-09-06T00:00:00Z
John's place was perfect for my stay. I was in the area for a week as a volunteer for the PanAm Games. John's house is in a quiet neighborhood and the property backs onto a corn field, and many fields beyond. Both bedrooms have a lovely view out the back to the golf club. My room had a very comfortable queen bed, bedside tables, lamps, and a dresser, and I had a key to lock the bedroom door when I left. John moved a small desk and chair in for me so I could set up my computer. I had free run of the kitchen and living room/TV and space in the fridge to keep my food. (Also cupboard space in the kitchen, and in the bathroom.) I felt SO comfortable here. John was welcoming and interesting. He explained everything about the house and left me to it. He printed out a map for me for my daily route and answered any questions I had about the area. I didn't get a chance to use the pool, but it looked really nice and clean, and if I hadn't been so tired every night, I would definitely have enjoyed taking a dip and then sitting in one of the comfy chairs poolside in the evening. The weather was quite hot for most of my stay and John kept the house at a comfortable temperature with the air conditioning. It was great to come back to this place every evening. Just quiet, peaceful, and welcoming. Thank you, John!
Karen
2015-07-20T00:00:00Z
Tipo de Acomodação
Quarto inteiro
---
Tipo de Imóvel
Casa
---
Acomoda
2
---
Quartos
Bond Head, Ontário, Canadá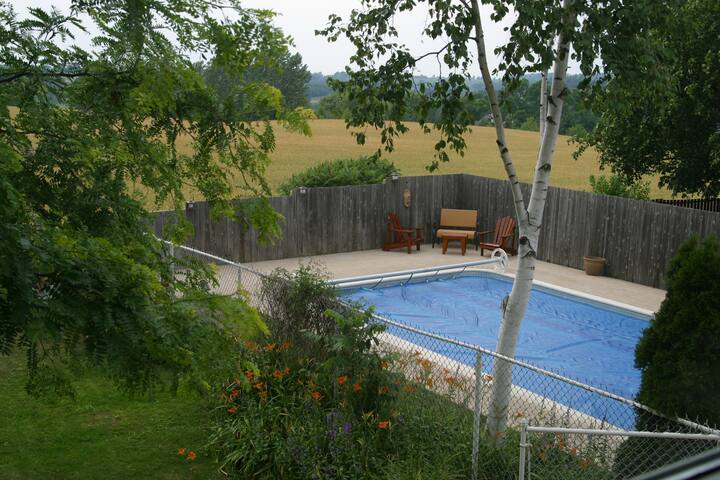 Enjoy a relaxed and comfortable stay in an historic century home in rural Ontario. Only 45 minutes from Toronto's Pearson International Airport. Convenient stopover en route to Algonquin Park and other northern destinations. *I am very pleased that my house has been listed on the Municipal Registry of Heritage Properties as a "building which has demonstrated heritage value and conveys a sense of the past that defines the municipality's local character."
The house was built circa 1870, and has been carefully updated to add comfort while maintaining the original charm.
My home is in the tiny hamlet of Newton Robinson, which was a bustling community in the mid-1800's. There are still a number of beautifully maintained century homes from that period. History buffs may enjoy visiting local historic sites. Lovely country walks or bike rides can be enjoyed right outside the door. On a typical walk, I have seen hawks, herons, ducks, deer, racoons, muskrat, beaver, coyotes, skunks, and of course horses. A magical time is in the late spring when the nearby valley is twinkling with fireflies. Chipmunks, squirrels and a variety of birds are regular visitors in the garden. Visit El Lugar Con Pottery for Mexican Imports and delicious home baking. Antique hunters will enjoy the proximity to Cookstown's Antique Cupboard, and Innisfil's 400 Antique Market. The Cookstown Tangers Outlet Mall is also only a ten minute drive.
Lovely residence with nice rooms, privacy and comfortable beds. Breakfast was great! Ann is a wonderful host.
Ross
2015-08-10T00:00:00Z
It would be hard to top the experience of this traveler's jem. Ann's warm welcome to this charming hamlet and into her lovely home was a fabulous treat. Each colourful detail of this hardworking home reveals aspects of a thoughtful and well-traveled host. The bedroom was spacious and very comfortable, as were the living areas and kitchen; each room restful and inviting. The local veg-friendly restaurant option was closed Mondays, but a trip to the grocery store in Cookstown, plus Ann's accommodating kitchen made for a simple and enjoyable dining experience. A late afternoon walk afforded pretty views of the countryside and a delicious hot breakfast in such excellent company was a great start to the day. Looking forward to returning to this (highly recommended) B&B. Thank you Ann!
Benjamin
2015-09-30T00:00:00Z
We had a wonderful time staying at Ann's. She was very accommodating and the breakfast was delicious! Everything was as expected and advertised. Would definitely recommend to a friend. The house is beautiful!
Maya
2016-08-01T00:00:00Z
My partner and I looooved staying with Ann! We only stayed one night and I wish we had time to stay more. Relaxing atmosphere, and Ann was very welcoming and so interesting to chat with. Breakfast was delicious and hearty enough to last the long drive we took after leaving. I wish there were an airbnb like this in every town!
fiona
2016-07-11T00:00:00Z
Ann was a fabulous host. We felt very comfortable in her house and she was such a warm friendly and lovely person to chat to. My 2 year old son loved to play with the toys that Ann provided, and we all enjoyed the delicious breakfast she made. Staying there was a wonderful experience and we would absolutely stay there again.
Bonita
2016-09-06T00:00:00Z
Ann was an absolutely wonderful host. She was warm and welcoming, and her home was incredibly cozy and comfortable for my husband, my young daughter, and myself. Ann took the time to get to know us, and our conversations made us feel like "family" more than just "guests". Our 16-month old daughter especially took to her; thank you Ann for sharing your old toys, playing and singing with her, and letting her explore your beautiful home. Our weekend was a busy one, but our stay with Ann was absolutely relaxing and made for a wonderful weekend. Thank you Ann for your hospitality (and very delicious breakfast)! Hopefully we will have an opportunity to visit in the future.
Malinda
2017-03-12T00:00:00Z
What a fabulous B&B! I can't recommend it strongly enough. We stayed with Ann for 3 nights and had a wonderful experience. The room was clean and comfortable, the food was fantastic, and Ann is an exceptionally friendly, generous, respectful, and welcoming host. The house itself is gorgeous, and the neighbourhood is quiet, picturesque, and easily accessible from downtown Toronto. It was absolutely the perfect weekend getaway! We would definitely stay there again.
Erin
2014-08-06T00:00:00Z
Ann was a great host. We had some very good conversations and laughed a lot together. The room was comfortable and cozy. The variety of breakfast options Ann offered was very cool. We tried Quinoa that was completely new for us and it tasted very well. Thank you for the great time and that you shared your home with us.
Roger
2016-07-17T00:00:00Z
Tipo de Acomodação
Quarto inteiro
---
Tipo de Imóvel
Pousada
---
Acomoda
2
---
Quartos
Bradford West Gwillimbury, Ontário, Canadá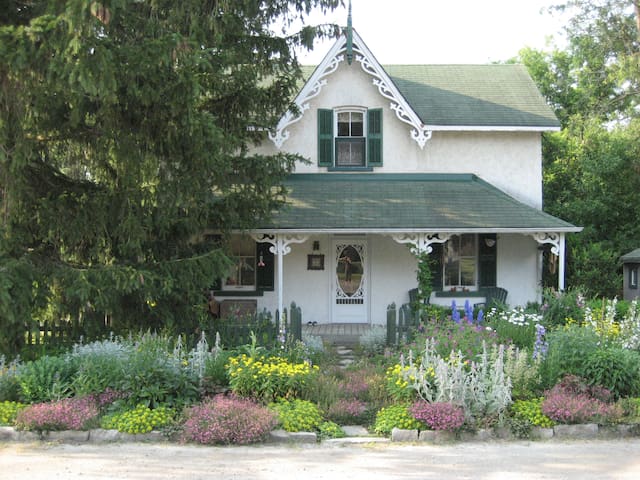 Our country get-away is perfect for those looking to get out of the city and back to nature for a short or extended stay!. Be part of the landscape coming to life as things warm up, gardens bloom and trees bud. You'll love our location, full kitchen, access to camp fire, wifi internet, 40" TV, three piece bathroom, laundry facilities and more. Cabin does Enjoy our trails, biking, being close to nature and much more. Located about 50 min. from Toronto, 25 min. to Canada's Wonderland.
Located almost in the middle of no where and yet just 10 min. from Hwy 400, our space lets you get away from it all while still close to all you need. The space is an open concept cabin featuring full kitchen, three pull out bed sofas all in a relaxing atmosphere and great view over the picturesque Holland Marsh. The Kitchen includes full size refrigerator, stove, pots, pan and most everything you'll need for cooking. Note that the cabin is not by a lake or river and does not have a pool or other area to swim. Enjoy our newly added and renovated three piece washroom and laundry facilities. Washroom features 36" glass shower with built-in niche, toilet, vanity and lighted mirror with built-in bluetooth speaker. In keeping with our property's "green" theme and giving it some rustic chic, we are featuring our own barn board (taken from our barn renovation project from a few years ago) and reclaimed wood paneling acquired from a home being demolished. This is a "green" property featuring 60 KW of solar electricity generation supplying this green energy to the electricity grid. We have also done extensive green building projects on the property including a home addition to the property's century farm house using many strategies and products that significantly reduce our carbon foot print and reduce our energy usage.
This is a quiet farming area with the cabin on a 100 acre farm property with a 40 acre tree bush lot. The local town of Schomberg is a quick 10 min. drive to local small village shopping including a 24 hour Foodland grocery store, Tim Hortons and more.
Exactly as advertised. Very well maintained and extremely clean. And it comes with all of the necessities for your stay. Thom was available upon arrival to walk us through everything we needed to know. The location itself is very relaxing and provides for a great place to unwind. I would highly recommend as a quick getaway from the city!
Mike
2016-09-05T00:00:00Z
it was a great time to me to stay in this house ,very quiet place and Thom was really gentleman and all his family was so nice , the place have every thing to feel your self at home ,easy to axis to hwy 40 , . also for those how love camping they have a great chance to have so much fun,sure i will going to this home again.Thanks Thom
Iskander
2016-08-15T00:00:00Z
Great spot for relaxing to get away from the city life
Kobe
2016-09-17T00:00:00Z
Our family and friends had a lovely stay at the country cabin. The cabin itself was very clean and resourceful. Had all cooking supplies ready to use and it was great having access to Netflix on the television. The property itself was beautiful with its small hiking trail and accessibility to fire pits. Thom had been very helpful and available with my questions and concerns during our stay. Would recommend for those who enjoy the outdoors.
Dayana
2016-09-25T00:00:00Z
This is a terrific place to stay!! Our family of four plus two additional teens had a wonderful time. We all slept well, enjoyed a wonderful campfire, morning sunrise and trail walk. The location is fantastic! We went from a getaway in the country to shopping in the city within minutes! Thom and Lisa were great hosts who made sure that we were comfortable and offered companionship or privacy at our choosing. We would highly recommend this country cabin to couples or families of any age!!
Susan
2016-08-07T00:00:00Z
自然に囲まれたとても素敵な場所でした。 リスやウサギや鳥たちに毎日会えます。 thomさんもご家族を含めて皆さんとっても親切でフレンドリーで快適に過ごせました。 コテージはソファベッドが二つありキッチンも冷蔵庫も大きくて使いやすいです。 2週間という長期滞在でスーパーなどにも足を運ばなければなりませんでしたが私たちは車を持っていなかったのでthomさんがバス停まで送迎してくれたり、都合が合えば直接スーパーまで連れて行ってくれたりと助かりました。 大自然の中で心身共にリセットできた滞在でした。 ※1歳の娘と家族3人での部屋探しは結構大変でしたが快く歓迎してくれました。
Reimii
2016-07-23T00:00:00Z
It's a quiet and beautiful place suitable for nature lovers. The large and clean cabin is filled with historical artifacts to explore and admire. There is a nice trail with a small pond to enjoy a walk. We brought plenty sport games, so kids and parents enjoyed many activities on a spacious yard. In short, it's a great retreat from busy city life.
Віталій
2016-08-29T00:00:00Z
Great getaway from the city. It was clean, beautiful, private and super relaxing. Our family really enjoyed this place. We will definitely go back!!!
David
2016-12-29T00:00:00Z
Tipo de Acomodação
Casa/apto inteiro
---
Tipo de Imóvel
Casa de campo
---
Acomoda
6
---
Quartos
Schomberg, Ontário, Canadá
Rustic on the outside - modern within. Nestled in a mature hardwood forest. Romantic and private getaway under an hour north of Toronto. Fireplace. Complete kitchen. Bath and Shower. Queen bed. Hike, snow shoe, cross country ski, skate on the pond.
. A unique and private cabin, fully equipped and stocked with everything you might need (except your food and drink). Perfect for a weekend retreat or mid week getaway. Many nearby conservation areas and access to trail systems for hiking, biking or cross country skiing. Well mannered pets are welcome. Please note. Parking for one vehicle only unless special arrangements are made in advance. Pull up to the door with your supplies and make yourself at home. We do live on the property and are available for directions and advice, but your privacy and comfort are our first concern. Our property is tucked away in a mature hardwood forest. The only distractions are the singing of birds, the scratching of squirrels, the splash of rainfall on a tin roof, the whoop of the steam train whistle from Tottenham, and on weekdays the squeal of the kids at recess in the schoolyard up the way. There is no public transport to our property. The cabin is heated primarily by woodstoves ( we include firewood in the rental) . There are electric heaters for emergency use - but we expect our guests to embrace the more pioneer spirit the cabin inspires. Lessons included free of charge. When it snows ( and it will) we're happy to lend snowshoes to the intrepid. The forest is a wonder in all seasons and will refresh even the most weary spirit. Please note - there is NO INTERNET access unless you can tag in via your cell phone. No cable or satellite tv. It's a cabin. Adults only. Please see House Rules for other conditions.
Our property is tucked away in a mature hardwood forest. The only distractions are the singing of birds, the scratching of squirrels, the splash of rainfall on a tin roof, the whoop of the steam train whistle from Tottenham, and on weekdays the squeal of the kids at recess in the schoolyard up the way.
Serenity doesn't even begin to describe the experience we had Booth and Janet's Airbnb. Upon seeing the cabin from the outside, it looked a little underwhelming. Don't let that fool you. As Booth opened the front doors, the warmth of the fireplace enveloped us whole like a blanket. I gazed at my boyfriend (who isn't easily impressed) as his eyes lit up while admiring the interior; I haven't seen him this happy since Valentines day a few weeks ago! Booth was quick to lay down all the ground rules and fire safety precautions. After a few minutes, he left us on our own. We could hardly believe we had this magical palace to ourselves! Each room was thoughtfully stocked with amenities that were more than appropriate: Washroom? Fresh towels, fresh toilet paper and Febreze. Living room? Highly rated DVDs, a work space, friendly board games, and a live fire. Kitchen? Spices, towels, cooking utensils, pots, pans, etc. The rest of the trip was both relaxing and adventurous. We paid Mother Nature a visit through the safely marked trails, and always ended the day off exhausted in the pillowy bed. Our stay at this cabin has been nothing but high notes. If there's anything to take away from this review, it is this: disappointment will not ensue. If you're an overworked individual or a couple, merely looking for a breather from the rambunctious city life, then you've found it. Simply log on to the nearest laptop and book the next available free date for "A Cabin in the Forest." P.S. Good luck with the latter.
Jenny
2017-02-25T00:00:00Z
This place was the perfect place to relax. We almost never made it out of the cabin because of how cozy it was and how lazy it made us! I can't imagine how beautiful the location would be in the green summer or the very white winter (we stayed in wet and gloomy March). The hosts were very respectful and helpful. I've never stayed in a more well-kept or cooler looking cabin!
Sierra
2017-03-09T00:00:00Z
Whether you are after an escape from the hustle and bustle of your everyday life or a getaway with that someone that you want some alone time to reconnect with ... this is the IDEAL location. It is everything advertised ... and MORE! From the delcious cookies, roaring fire and cozy cabin set and ready for your arrival, to the comfy bed and the well-groomed trails. It was a the perfect weekend getaway and one sure to be repeated!
Graeme
2017-02-19T00:00:00Z
What a beautiful location and cabin! The other reviews are bang on the money: this is a wonderful spot for a winter retreat to get away from the hustle and bustle of city life and get back to nature and the simple life. We met only Booth (not Janet) and he was the perfect host - very welcoming, provided lots of great tips about the cabin and the surrounding area especially where the best trails were for a walk through the various forested areas that surround this amazing property. The only (minor) thing to be aware of is that, should the weather be on the cold side (it was -10 when we visited), the wood burners will need restocking quite regularly, which is fine (and indeed quite fun) during waking hours, but you will need to arise from your slumber several times during the night to feed the hungry fires - unless, of course, you're happy to stay rooted under the covers in the super comfy bed until morning time arrives and the fires are restarted in the cold cabin. However, that was a minor inconvenience in what was a superb couple of nights' stay in this great little spot and we couldn't recommend it highly enough.
Olly
2017-03-13T00:00:00Z
We called the main house as we approached the property. Our host met us at our car and directed us to the cabin. He showed us around and instructed us in the stocking of the wood ovens and where to walk when we want to. The cabin was rustic and comfortable. The bed was amazing. And all was as expected. I highly recommend this place if you want to relax and reconnect with yourself and who you go with.
Arlene
2016-12-04T00:00:00Z
Great spot for a relaxing stay in the forest
Eve
2017-02-08T00:00:00Z
We had a lovely time at the Cabin. It was very relaxing and peaceful. The homemade cookies were a hit. We spent time walking on the trails on the grounds. Our dog had fun chasing deer and turkeys.
Alexa
2015-08-04T00:00:00Z
I stayed at the cabin for 5 nights, and it was a wonderful retreat. The forest was quiet, peaceful, and beautiful. I enjoyed walking the trails (with Dood) and quiet evenings reading by the fire. The cabin itself was warm and cozy, comfortable, well maintained and spotless. Everything I needed was provided, except food and drink. The hosts were friendly and helpful. They were respectful of privacy but were always on hand if there was anything I needed. There is something truly special about this cabin in the forest. I would highly recommend it to anyone seeking an escape from the rush and noise of the city, and I look forward to an opportunity to return. Thanks again for a great stay!
Setara
2013-12-12T00:00:00Z
Tipo de Acomodação
Casa/apto inteiro
---
Tipo de Imóvel
Casa de campo
---
Acomoda
2
---
Quartos
New Tecumseth, Ontário, Canadá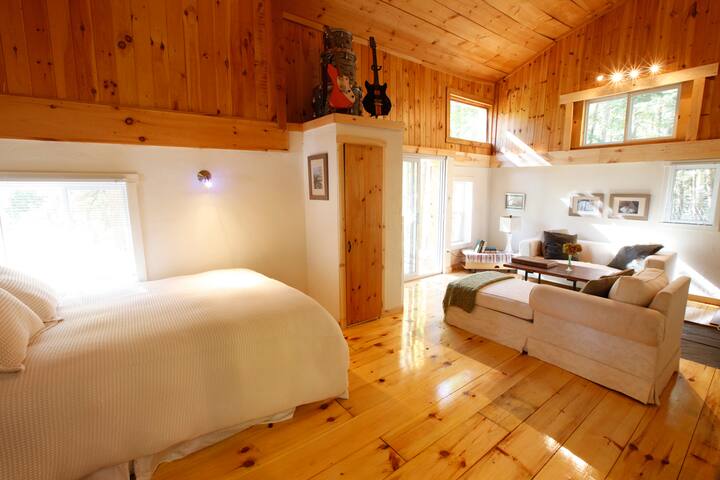 You will love this spacious, beautiful and bright 2 bedroom Semi-Detached house. Private entrance and backyard. Enjoy the big patio and BBQ. Our place is within walking distance to Upper Canada Mall. The Newmarket Go Bus and VIVA terminal, all the entertainment and necessities you may wish are within walking distance or a few minutes drive. You will enjoy the big bright Master with en-suit walking shower and bathtub.
You will have the entire house to yourself with a private entrance, backyard and parking. This suite includes the complete upstairs/downstairs area that is sunny, open and modern. It includes two bedrooms, 2.5 bathrooms walking closets, living area and main hallway, dining area, laundry area and the kitchen. The main floor has a sunny dining room with a dining table that seats 10 when fully extended and a living room with comfortable sofas and gourmet crystal chandeliers and traditional curtains. The renovated kitchen is fully equipped and features spacious cabinets, stainless steel appliances and a breakfast table for four. There is a cozy half bath a few steps down the main floor for you and your guests. The second floor has two bedrooms, two full bathrooms as well as a washer/dryer unit. The master bedroom has a classic style king-sized bed, a gas fireplace, a large walking closet and an ensuite bathroom with a standing shower and bathtub for our guests to comfort. The gas fireplace is a feature that makes the master bedroom warm and nice during winter time. The second bedroom has a queen-sized bed, a leather office chair and a table to make it laptop friendly workplace for business and pleasure purpose. The house has a flat screen TV as well as Hi-Speed Internet. We also provide fresh, soft and clean sheets and towels for you. We will leave you with coffee, tea, milk, fruit, eggs, bagels, cereal, peanut butter and jam for your free breakfast. The outdoor space includes a gas barbecue and a very large patio in the backyard to just enjoy or to have friends over.
Our house is located in a pretty family residence where everyone knows each other. We are within a few minutes' drive of some of the best restaurants/bars (The Keg, Boston Pizza, Jack Astor's, Moxie's, etc.). You can walk to Upper Canada Mall that is one of the biggest in Canada. We are close to South Lake Regional Health Center, schools, beautiful conservation areas, play grounds, and walking hiking running and biking trails. The Historic Main Street that is within ten minutes' drive from our house is one of the oldest street of Newmarket with its restaurants, cafes and gift shops.
Azadeh is a perfect host! The entire property is top-notch! The property was rented for two executives that were working in the Newmarket area. The house was their home away from home... Providing all the comforts without the hotel prices... The master bedroom with fireplace & lovely bathroom is quite deluxe... The dining room was used as a work area & boardroom and comfortably seated 8. The house was spotlessly clean and organized. Everything is well laid out. The beds are very comfortable. The neighbourhood is quiet and peaceful. The house is very close the hospital - and would suit anyone needing to spend time in the area visiting or caring for loved ones - but needing a quite and relaxing place to call their own. Shopping for groceries and the large mall, offering much variety, is quite close at hand. The property is well suited for business travellers or couples and friends. The kitchen is spacious enough to have several people working and milling about. And a casual dining table for quick breakfasts or casual lunches, and the dining room for more relaxed meals or larger gatherings...when you clear it of being a working space - which was perfect to lay out all the paper materials and laptops and not feel confined or overwhelmed. There is a lovely outdoor space that has a bbq and covered deck (to cold to enjoy at the moment). Our host was fantastic. Azadeh was available when help or clarification was requested, both before arrival and during the stay. So many positive things to be said about the host and the home...there is not enough space to write them all down. Best choice for housing... We will be rebooking in the future!
rayna
2016-12-26T00:00:00Z
Azadeh was an amazing host. She was my first Airbnb! I actually cancelled a hotel room reservation to stay at her place. My family was pleased with my decision. I would not hesitate to book through Azadeh again.
Ross
2016-10-02T00:00:00Z
Aram made us feel very welcome and the home was exactly as described!
Erin
2016-11-14T00:00:00Z
Host was extremely pleasant from the start. House was very well stocked with basic amenities alleviating the need to being in one's own amenities. Host was very quick with replies to questions. Internet service was very good. A good location close to all the essentials one needs. Highly recommended for a young family.
Rob
2016-09-22T00:00:00Z
Azadeh's was a great place to stay. Everything was clean and tidy, and everything that we needed was readily available. The house is a really good location. The nearest plazas and major department stores are a short drive away (2 min). Azadeh is a great host. She is very accommodating and responds very quickly to messages. I am very thankful for her hospitality.
Kathrina
2016-09-25T00:00:00Z
The home was clean, comfortable and quiet. Much better than a hotel. Spacious, felt like home away from home. We will return. Highly recommend and Azadeh was available whenever needed by text.
Kim
2016-10-23T00:00:00Z
Walking distance to any needs in Newmarket and only 45 minutes drive to downtown Toronto.
Monic
2017-03-21T00:00:00Z
Amazing and clean. It was perfect! The house was spacious and modern. We will be back!
Darlene
2017-01-17T00:00:00Z
Tipo de Acomodação
Casa/apto inteiro
---
Tipo de Imóvel
Casa
---
Acomoda
4
---
Quartos
Newmarket, Ontário, Canadá
My place is close to parks and restaurants and dining. You'll love my place because of the coziness and the light. My place is good for solo adventurers and business travelers.
The host canceled this reservation the day before arrival. This is an automated posting.
Dante
2017-01-26T00:00:00Z
Tipo de Acomodação
Quarto inteiro
---
Tipo de Imóvel
Townhouse
---
Acomoda
1
---
Quartos
Newmarket, Ontário, Canadá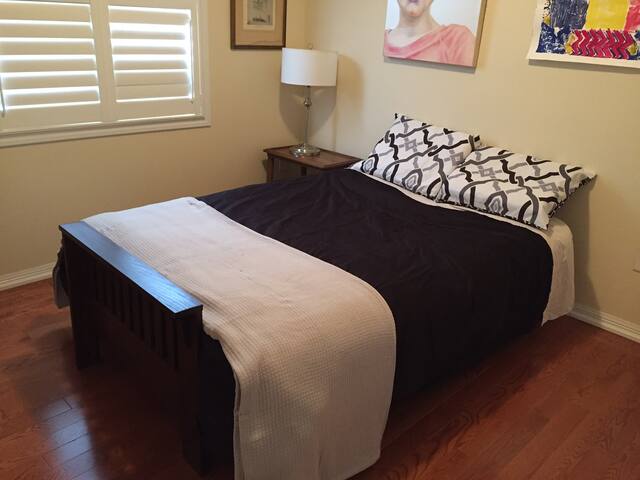 Unfurnished apartment for short term rentals. No noise since it is a quite neighbourhood.
Tipo de Acomodação
Casa/apto inteiro
---
Tipo de Imóvel
Apartamento
---
Acomoda
3
---
Quartos
Bradford West Gwillimbury, Ontário, Canadá
Lower level apartment in a quite neighbourhood.
Tipo de Acomodação
Casa/apto inteiro
---
Tipo de Imóvel
Apartamento
---
Acomoda
3
---
Quartos
Bradford West Gwillimbury, Ontário, Canadá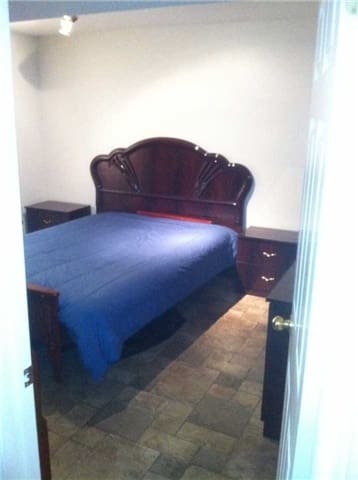 This cozy one bedroom apartment is situated in the heart of the quaint village of Cookstown. Offering a fully equipped kitchen, bathroom with shower and a loft style bedroom. An inviting deck is right at your door step. Sit and enjoy a nice lunch or some quiet time. This gem is located just blocks from the lovely Trans Canada walking trail. Also nearby is the Tanger Outlet Mall, ski hills, Georgian Downs Race Track and several antique shops. *Do note: there is no tv and no wi fi in house.
Tipo de Acomodação
Casa/apto inteiro
---
Tipo de Imóvel
Apartamento
---
Acomoda
3
---
Quartos
Innisfil, Ontário, Canadá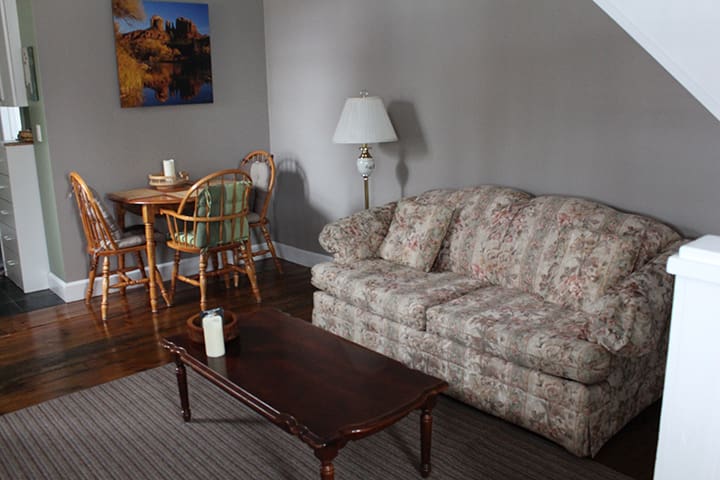 JECARA FARMS' Raven Cabin is located high on the Oak Ridge Moraine. The view directly north is a wonderful century+ old farmstead accentuated with a 25-30 acre marsh area as well as a small bass pond directly in front of the Cabin (quiet and private)
Great place ! Brett and Emma we're welcoming and provided us with every thing we needed. The time was peaceful and relaxing
Mellie
2016-06-19T00:00:00Z
Beautifully constructed cabin. Brett explained everything to us upon arrival and was available during our whole stay but left us to ourselves. Everything you would need to stay in the cabin during any month of the year is available. Pots, pans, utensils, BBQ, kettle, clean linen, toilet paper, soap for dishes, large jug of water, board games, radio, wood stove, firewood for inside and outside. Basically bring cooler with food and drinks. Everything in the cabin was very clean and functional. The wood stove had us so warm it was great! We spent an entire day hiking around the property and some of the local trails. We had a fire outside while it was snowing for a few ours. We heard the coyotes and all kinds of wildlife in the surrounding area. I loved the construction of the cabin and the feeling of only having off the grid power to work with. Spending a weekend here really makes you check yourself and how much we depend on the comforts of water, electricity, gas/electric heat, refrigerator. The composting toilet is great. Brett even mentioned plans for an outdoor shower! Cheers to Brett and Emma for building such great farm property, cabins and allowing us to share in the experience!
Vincent
2017-01-29T00:00:00Z
The cabin exceeded our expectations. It was clean, comfortable and picturesque. Although it wasn't actually too far, it felt like a complete getaway thanks to the landscape and atmosphere. We were worried about the outside stove/BBQ situation, but it was actually nice to be outside while cooking.
bora
2016-02-21T00:00:00Z
Bretts wife was there when we arrive, we where late but she was very helpful , great person. their property is paradise, i have absolutey no complains, i recomend this beautiful paradise
Merlina
2016-08-02T00:00:00Z
The place is amazing. Really enjoy the view and the owner are super friendly. Had a relaxing time and look forward to visit again
Wei Long
2016-09-18T00:00:00Z
We had a great time at Raven Cabin! It's the perfect escape away from the city. Our two favourite things were the privacy and being able to take in all the wildlife. The cabin was clean and had everything we needed for our stay. Brett and Emma are fantastic hosts, and we'll definitely be back!
Dusha
2016-08-28T00:00:00Z
Me and my girlfriend had a great weekend at the Raven Cabin! Emma and Brett were super friendly, we first got greeted by Emma and she showed us where everything was and what to do there. The cabin was very clean and had all the basic necessities for a rustic winter gateway. I must mention that we screwed up on the last day because me and my girlfriend for some reason understood that the check out was at 2pm instead of 12:30pm for the check out. There were a bunch of messages coming from Airbnb about getting ready for our weekend that I got confused with them all so I missed where it says 12pm check out. We explained what happened to Brett and he was so understanding and told us that it wasn't a big deal and that it was a miscommunication and not to worry about it. Over all we had a great experience, Emma and Brett are such great people and they know how to run these cabins really well, they know how to take care of their business!
Rogelio
2016-03-06T00:00:00Z
We had a fantastic stay at the cabin. Beautiful place, comfortable stay, and a memorable experience. My wife and I went there for a day/overnight trip, they were very welcoming, and the cabin had everything we needed. And in many ways it was better than we even expecting, just how pleasant and beautiful it was, and so close to the city. We got to do a bonfire and BBQ as well! It was awesome, highly recommended. Out of mini-trips we've done before, this is the first one I'd want to return to with friends or other family. Note to keep in mind, come prepared with food etc., like you would a camping trip, but that's probably obvious to not expect places to go to nearby.
Nahyan
2016-05-24T00:00:00Z
Tipo de Acomodação
Casa/apto inteiro
---
Tipo de Imóvel
Casa de campo
---
Acomoda
2
---
Quartos
Schomberg, Ontário, Canadá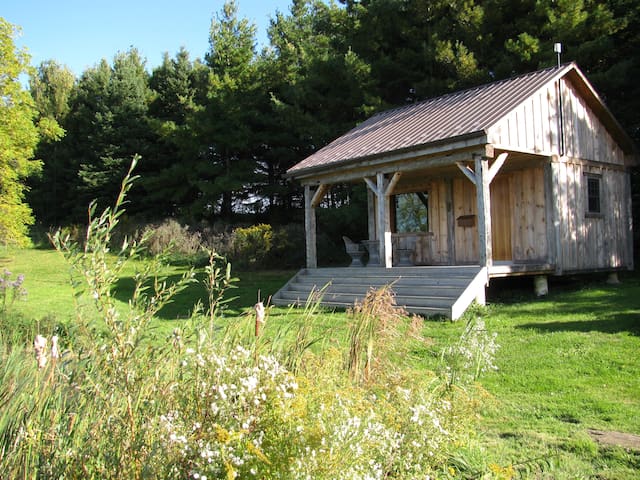 Charming house with decorative taste, have a quiet and home feel. Situated in a private area. Everything about this home and space will make you feel you have left the busy city for a relaxing weekend at the cottage to really treat yourself to some peace and quiet. It has a kitchenette and laundry room, the dining area is very modern and seats for four. The upgraded restroom has a lovely 4 piece bath, jacuzzi tub. The bedroom offers ample wardrobe and a lovely comfortable bed.
The decor of the rooms is light to contribute to a cozy and relaxing stay. This basement has just been newly renovated and re decorated with access to a very large backyard. There is also free parking on the premises. Also ideal for people who lives north yet works in the area or downtown.
This house is located only five- minute drive from a variety of restaurants and stores. It is close to everything you will need to access and a 45 min. Drive from downtown Toronto. There is Holland Marsh Winery just 15 minute drive which is breathtaking. This place is magnificent and we just can't wait for you to come and see for yourself! 5 minute drive to Newmarket, Bradford.
Lina is such a great host!! She went above and beyond for us. We would stay again for sure!
Christina
2017-02-12T00:00:00Z
Excellent host, ultra clean accommodations. Great Dog!
John
2017-01-26T00:00:00Z
Tipo de Acomodação
Quarto inteiro
---
Tipo de Imóvel
Casa
---
Acomoda
2
---
Quartos
King , Ontário, Canadá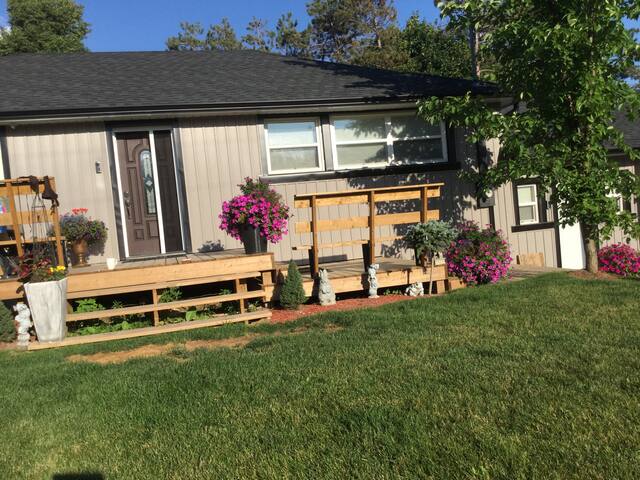 You'll love my place because it's a beautiful custom made house with mature trees and pond.. Need a car in this area. Kitchen/wet bar - no cooking. Washer/Dryer sheared. 2 big couch for extra guests.
This was a wonderful place to stay, it was beautifully furnished, very comfortable and has all the amenities you need! I will be back hopefully!
Jenna
2016-07-25T00:00:00Z
Tipo de Acomodação
Quarto inteiro
---
Tipo de Imóvel
Apartamento
---
Acomoda
2
---
Quartos
Schomberg, Ontário, Canadá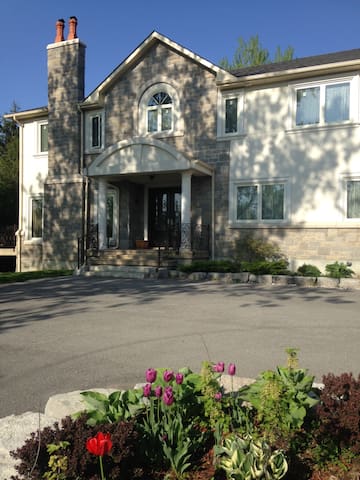 Quiet comfortable home in the country, neutral decor, non smoking, no pets. 2 mins from town, 60 mins to Airport and downtown Toronto.
Quiet country setting with gorgeous west views sunsets. Plenty of space to walk the grounds on our 50 acres, 2 minute drive to Tottenham, 30 minutes to Newmarket and 50 minutes to airport or downtown Toronto.
Quiet and peaceful country setting
Tipo de Acomodação
Quarto inteiro
---
Tipo de Imóvel
Casa
---
Acomoda
2
---
Quartos
New Tecumseth, Ontário, Canadá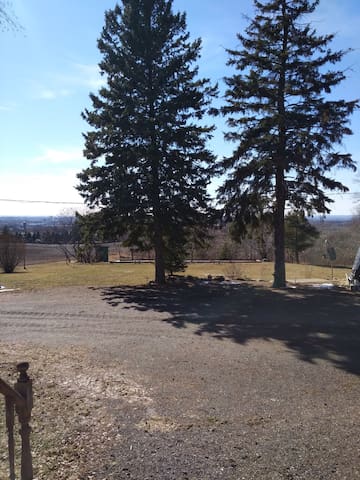 Cozy and comfortable queen bedroom with private 3 piece bathroom. Shared access to newly renovated kitchen and living space. Lovely garden and convenient location, across the street from grocery store, transit/car rental, shopping and restaurants!
Our space is lovely and cozy and very well loved. We have an amazing location, in a safe, quiet and family oriented neighbourhood. Guests are free to socialize with us in the public areas, and you are welcome to cook in the kitchen if you would like. We also have a very comfortable couch available in the family room which sleeps one extra person. For guests staying minimum of 3 nights, please let us know if you require space to hang or put away your things, otherwise the closet and dresser space will be in use. Guests can help themselves to a Continental Breakfast. This includes: Coffee, Tea (Orange Pekoe or Green), Toast, Assorted Spreads (Peanut Butter, Jam, and sometimes Lemon Curd or Cream Cheese) Assorted Cereals, Assorted Fruit.
Honestly one of the best places I've stayed on Airbnb. Nicole and her mum were extremely welcoming and friendly, and made the stay really enjoyable. They were respectful, easygoing and easy to communicate with. The house is beautiful and extremely clean, and the room was quiet with a comfortable bed. A great place to stay and would not hesitate to recommend to anyone else. Nicole and her mum went out of their way to make sure I was comfortable and it will definitely be my first choice of places to stay if I am in the area again.
Deryck
2017-04-06T00:00:00Z
Tipo de Acomodação
Quarto inteiro
---
Tipo de Imóvel
Pousada
---
Acomoda
2
---
Quartos
Newmarket, Ontário, Canadá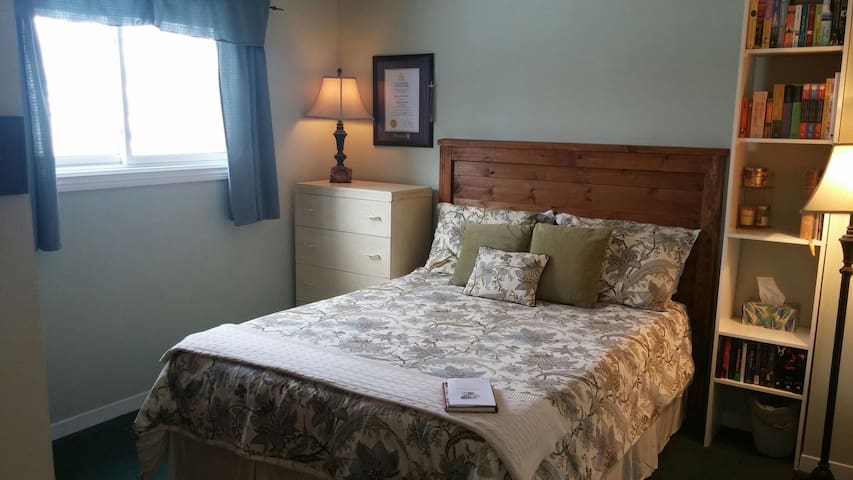 Modern amenities in this beautiful home, fresh and friendly family to greet you. Feel like home away from the hassle of daily living out in the country, with just minutes away from town, close to parks and lakes.
Great home to relax before a party
Great country walks, horse back riding close by.
Tipo de Acomodação
Quarto inteiro
---
Tipo de Imóvel
Pousada
---
Acomoda
2
---
Quartos
Bradford West Gwillimbury, Ontário, Canadá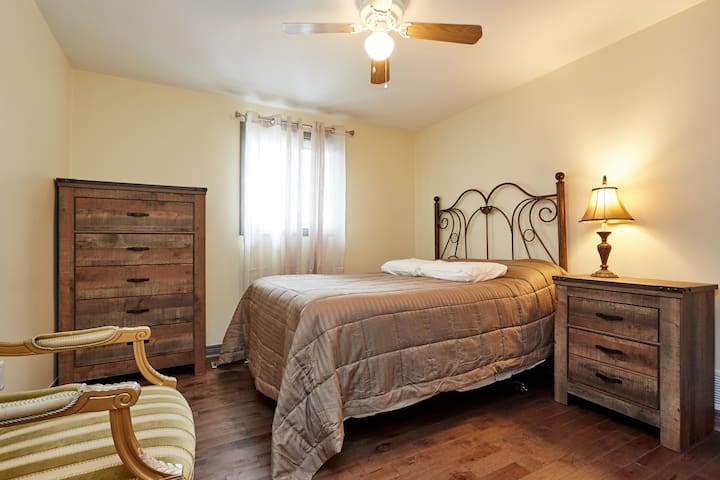 A room in the basement with en suite washroom. Access to living room and fridge if needed. Beautifully landscaped yard with 2 seating areas. Endless pool for exercise if so desired (extra charge). Home cooking tailored to your request. Quiet and comfortable.
Basement room with double bed, dressers and washroom close by. We do our best to make your visit comfortable and enjoyable. The space encourages a deep sleep, as reported by many guests.
Quiet street in a quaint village of Beeton in New Tecumseth. Excellent eating establishments and grocery store within walking distance.
Both Carolyn and Scott made my boyfriend, David, and I feel very welcome. The breakfast was great, and we all got to know each other. Two things I would tell people to know while staying here though; the private room is in the basement, and there is no door. Also, the pool is in the same room as your room. I have stayed at many BNB's with my mom, and the rooms always had a door. As long as you are okay with that, and the pool being in your room, then it is a lovely place to stay.
Mackenzie
2016-05-17T00:00:00Z
They treat you as a friend rather than guest.
Travis
2016-06-13T00:00:00Z
Carolyn and Scott were lovely people. The made me feel right at home. I was working nearby and not only did they drive me to and from work, but they let me eat dinner with them at night. The house was quiet and my room was private. There was a washroom right down the hall. The house was also very clean. Very handy for people who need a short stay when working close by.
Dawna
2016-03-16T00:00:00Z
A great place to crash on your trips. Velcoming hosts, quiet and clean. I was lucky I found a place like this. I'll be back for sure and I'll recommend.
Sammy
2016-12-12T00:00:00Z
A very friendly couple. They were helpful, flexible and warm. Great spot for a stress free stay
Brittany Brie
2017-01-01T00:00:00Z
Carolyn and Scott are very hospitable and the experience was accurate to what they describe. It suited my needs perfectly. The location was ideal for my short term work assignment. Carolyn and Scott made sure my every need was attended to and I was very comfortable staying in their home. I got a good night's sleep and I was well fed. Staying with Carolyn and Scott was like staying with friends. Thanks! Jeff W., London, ON
Jeff
2014-12-24T00:00:00Z
Carolyn and Scott were great host. Make you feel like a friend more than a guest. Good affordable place to stay.
Jordan
2017-01-19T00:00:00Z
Carolyn and Scott are super nice people. Carolyn met me at the door and made me feel welcome right away. Everything went very smoothly. I will be coming back very soon. Thanks Carolyn and Scott!
Katherine
2016-11-27T00:00:00Z
Tipo de Acomodação
Quarto inteiro
---
Tipo de Imóvel
Pousada
---
Acomoda
2
---
Quartos
New Tecumseth, Ontário, Canadá
My place is close to family-friendly activities. You'll love my place because of the outdoors space, the ambiance, and the neighbourhood. My place is good for couples.
Tipo de Acomodação
Quarto inteiro
---
Tipo de Imóvel
Casa
---
Acomoda
4
---
Quartos
Innisfil, Ontário, Canadá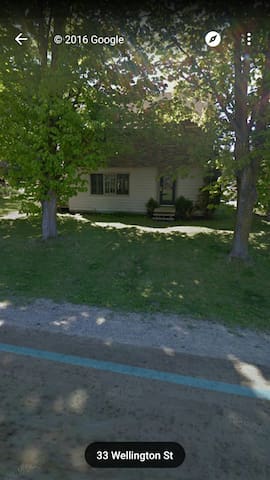 Listagem primária! Dois quartos disponíveis na casa grande, brilhante em excelente bairro, perto das estradas principais e para GO estação de trem que o leva centro de Toronto. Limpo e confortável! POR FAVOR MSG ANTES DE RESERVAS!
** QUARTO PRINCIPAL - O Quarto do Aqua ** Esta grande verdade casa de quatro quartos dispõe de tectos altos, cores brilhantes muita luz natural e quartos espaçosos. Eu tenho dois quartos disponíveis - esta é a listagem primária, para o quarto de '(URL HIDDEN) uma grande janela, uma cama queen-size real com roupa de cama e um armário grande, este quarto é perfeito para os viajantes que desejam ter uma boa noite de sono para a aventura do dia seguinte. Há uma casa de banho privada, bem, mas pode ser compartilhada se houver outros convidados. Há também um quarto do pó no piso principal.
Subúrbio! Nada única aqui para além de vários parques, há um parque com playground em frente à rua e outro com uma excelente vista a 5 minutos. Dito isto, é tranquilo e seguro - perfeito para uma casa.
This was my second stay at Roch's. He's a great host and his house is exactly as listed.
Devon
2015-09-26T00:00:00Z
Great host, very helpful and relaxed person. Everything totally clean and comfortable. Totally recommend him.
Juan
2015-08-18T00:00:00Z
I felt welcome right away talking and sharing a meal with Roch. Thank you Roch. He really does have a spacious, tidy, well-kept, nicely decorated home that was a pleasure to stay in. The backyard patio is a nice place to sit back and enjoy the sunshine. I felt "at home" at his house(URL HIDDEN)
Aileen
2015-07-19T00:00:00Z
The pictures are a perfect representation of Roch's house... very clean, comfortable and nicely decorated. Roch is a very friendly and accommodating host and I highly recommend staying here!
Mandy
2017-03-14T00:00:00Z
Roch's house is spotless and exactly as it is posted. He is an excellent host that provides not only a comfortable place to stay but great conversation. His laid-back, easy going demeanor makes you feel welcome in his beautiful home. Thanks Roch!
Devon
2015-09-14T00:00:00Z
Roch was an excellent host. We stayed at his place for 2 nights and would highly recommend it! He is extremely accommodating and respectful. His place is spacious and very clean and would not hesitate to stay there again. Communication was great throughout the process! Great Airbnb experience! I would definitely recommend Roch and his place to other Airbnb guests!
Mike
2015-07-27T00:00:00Z
Thank you for hosting me. You have a beautifully decorated and clean place. Super friendly and responsive.
Kaye
2015-08-01T00:00:00Z
Roch was away the night we stayed so we didn't actually meet. He was easy to communicate with, flexible about our arrival time and made us feel totally welcome and at home. The house is lovely and very spacious (all the more so since we were the only ones there). Comfortable bed and a really nice deck area outside that we spent some time lounging in. We had a great stay.
Kim
2015-09-07T00:00:00Z
Tipo de Acomodação
Quarto inteiro
---
Tipo de Imóvel
Casa
---
Acomoda
2
---
Quartos
Bradford West Gwillimbury, Ontário, Canadá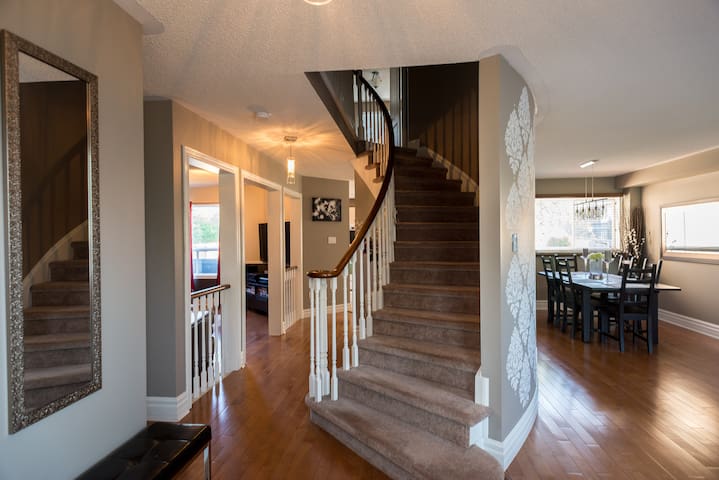 Bond Head - Airbnb
:
Média de

4.91

de

5

estrelas, de acordo com

327

avaliações de hóspedes