3 Apartamentos para Alugar
Welcome to your home away from home, a 950 sq ft beautifully furnished apartment over detached garage with views of the fields and woods. We are a short distance of 10.1 miles from Hampden-Sydney and 5.7 miles from Longwood University. We are proud to provide a discount to active/retired/disabled veterans, first responders, educators, and return guests!
Welcome! Our main home, as told to us, was originally a one room log cabin which has been added on to and updated over the years. In the late 1850's the four square was built to the front of the cabin and has expanded with successive owners. The detached garage, which houses the apartment above and built within the last 10 years, is only used for storage of the antiques we love to decorate with and occasionally sell so no worries about vehicle fumes or noise. THE APARTMENT • Roomy with one bedroom and one bathroom. • Main floor is open layout (kitchen, living room, dining room). • High Speed Wi-Fi throughout. • Central Heating and air conditioning. • Six acres of property with room to roam. • Seasonal garden (nothing like a fresh vine ripened tomato!). So, depending on the time of year you stay, this is a big plus! • Fresh, cold well water which is triple filtered at the source! • Rinnai tankless on demand hot water heater ensures hot water....well, on demand! • Beautifully furnished leather seating and antiques to provide comfort and relaxation after a day of exploring this historic area! • Private double length carport adjacent to apartment for parking; perfect for parking your boat with the added benefit of electric hookup for charging your batteries. THE PORCH • Enjoy your mornings and the gorgeous sunsets overlooking the garden and fields you sit on the front porch in your choice of the antique cushioned rattan set or teak furniture. THE KITCHEN • Equipment to cook to your heart's content (if you want to)… toaster, pots, pans, bakeware, etc... • Keurig with a variety of K-cups • Open to dining room which features an antique English pub table. It expands to seat 6 comfortably although we only have 4 chairs in the apartment currently. If there are more than 4 guests, we can make more chairs available prior to arrival. THE LIVING ROOM • Open layout so dining room and living room are together and open to kitchen • 27" LED TV (will be upgrading to a larger tv in the near future), DVD/Blu Ray Player… equipped with hi-definition DirecTV for all the local channels. • Board games, DVDs, Books • Nicely lit with large windows, track lighting and ceiling fans/lights. • Twin daybed • Leather seating. The couch cushions are down wrapped foam and makes for a very comfortable place to lounge as well as sleep, as my husband and I can both attest to. THE BEDROOM • Beautifully upholstered queen size bed with a Restonic Marvelous Middle mattress (we have actually had guests ask the manufacturer so they can buy one!), dresser, antique vanity, antique nightstand, ceiling fan and closet. (Will be adding a tv to this room in the near future with wireless connection to the satellite box) • Full size air mattress with electric pump is available for extra guests and located in bedroom closet along with extra sheets, pillows and blankets. THE BATH • Full size bathroom with bath/shower, sink, toilet and luxurious bath towels, hand towels, bath mat and wash cloths. • Forgot a toothbrush or razor? They are available, just ask. We also provide soap, shampoo/conditioner, mouthwash, toothpaste, and blow dryer. IT'S THE LITTLE THINGS • The apartment is beautifully furnished with leather seating and antiques to provide comfort and relaxation after a day of exploring this historic area! • Rice, Farmville and the surrounding areas provide a great place to live and play. We hope to make your trip as stress free as possible! • Let us know why you are coming to town and what can be done to make your stay more enjoyable (i.e. if traveling with children let us know their ages, so we can ensure age appropriate games/movies/books are available. Toys are sterilized between guests for the safety and enjoyment of your little ones.) • Although we are available to answer your questions, a house manual is provided with the WI-FI password, local eateries, area brochures/pamphlets and information including grocery stores and more. • K-Cups, hot chocolate, tea, microwave popcorn, basic cooking essentials (oil, sugar, etc…) are in the kitchen. For breakfast, we stock the refrigerator and kitchen with fresh eggs from our free range chickens (being finicky lately so you might get a mix of store/free range or all store), orange juice, milk (cow, almond, soy depending on your preference), bagels, danishes or doughnuts, oatmeal, cereal and fruit. • Yes, we even have an umbrella (or two, if needed) for your use in case it rains. • Pillows and mattresses are all encased in Aller-Ease Water Proof Allergy Protectors for your comfort and peace of mind. Linens are washed in All Free and Clear detergent for our guests with chemical sensitivities. THE NEIGHBORHOOD • We are set back off highway 460, Prince Edward Highway. The apartment, located over the detached garage, is set back further from the house, overlooking the garden, giving both peace and privacy. • We are located midway between Lynchburg (1 hr) and Richmond (1 hr) and just a few short minutes from Farmville. Amelia and historical Appomattox are just 30 minutes away. Charlottesville is approximately 1 1/2 hours. Hamden Sydney is 10.1 miles away while Longwood University is 5.7 miles door to door. GETTING AROUND • Being located along highway 460, getting to your destination is a breeze. A big advantage, during bad weather, the highway is at the top of the list for clearing. My husband does his best (ok, I have to brag, he does an excellent job) keeping the driveway clear with the road blade during the winter. • A kayak is available for use during your stay. We plan to add a few more as well as bikes perfect for your High Bridge Trail adventures by the middle of March. If your vehicle doesn't accommodate transporting them to your planned local adventure, we will coordinate, as our schedule allows, delivery and pick for you. We also provide the required safety equipment (life vests, etc).
We fell in love with our home from the first moment we saw it and know you will too. Our small farm is located in Rice a few miles from Farmville, 5.7 from Longwood University, and 10.1 miles from Hampden Sydney College. It is surrounded on three sides by acres of woods and is almost fully fenced.
Our experience was absolutely fantastic! Pete and Amy went out of their way to ensure that we had a great stay...and they delivered! The communication was great from the get go...and both of them greeted us upon arrival at the property. My wife and I were both impressed with the fact that Pete and Amy went out of their way to ensure that the room was safe for our 18 month old...and even provided toys, a pack & play, and a gate so that he was safe. They also stocked the fridge, provided snacks, and gave us great recommendations on local restaurants/shops. My wife and I are already talking about re-booking with them again...I would highly recommend this property to anyone!
Christopher
2016-09-19T00:00:00Z
What wonderful hosts! Super clean and very hospitable. Beautiful property too! Amy and Pete made us feel like family. They shared their eggs that their chicken had laid, and even let us have some tomatoes and peppers from their garden. When we arrived, we were met by a warm smile, a tour and some of this family's special kindness - in a welcome package :-) I would definitely recommend the Morgan's Homestead! Hopefully when we got back to Rice, VA, they would be willing to host us again! Amy&Carl
Amy
2014-08-24T00:00:00Z
Our stay with Amy and Pete was absolutely perfect. The apartment was very clean and looked exactly like the pictures. The space is located on a beautiful farm, which made our stay even more peaceful. The hosts were kind and accommodating and were available for questions and took great care of us. The farm fresh eggs were a great bonus! We felt right at home here and would definitely stay at this homestead again. Thanks Amy and Pete. We love Virginia.
Ashley
2016-10-02T00:00:00Z
Southern hospitality at its finest! We were only there for one night but would have been happy to stay much longer. The apartment is spacious with a queen bed and a day bed, kitchen, and full bath. Prior to our arrival, Amy stocked the kitchen with several options for breakfast including coffee, orange juice, fresh fruit, bagels, eggs, and milk/cereal. We didn't really get to see our hosts very much as we were only there for such a short time but all of our interactions were friendly, accommodating, and positive. We highly recommend Pete and Amy's place to anybody visiting Longwood University or for anybody who simply needs a quiet retreat!
Laurel
2016-08-14T00:00:00Z
Pete and Amy were very responsive to all communication. We were in town for my son's wedding which was close by. Pete and Amy were very generous accommodating us with an early check-in and allowing the bride and female attendants in the wedding party to get ready there. They also left some sweet "extras" for the newlyweds! The apartment is beautifully furnished and very comfortable. We all enjoyed our stay and would go back in a heartbeat!
Anne
2016-10-30T00:00:00Z
The apartment was adorable! Very clean and Amy and Pete went out of their way to provide farm fresh eggs and fresh bagels and pastries. It was definitely a nice, relaxing home away from home. And if I ever have business in the Farmville area again, I would definitely book another stay!
Nikki
2016-10-06T00:00:00Z
Great first Airbnb experience. Was just as described. We arrived late and they texted us to make sure we weren't lost. They are great hosts and we will stay there again if we are ever in the area.
Anne
2017-03-11T00:00:00Z
Our hosts were so kind and communicative. They greeted us upon arrival and made us feel very welcome and comfortable. The property was beautiful and the apartment was perfectly appointed and cozy! We would love to come back as often as possible.
Thaisa
2016-08-20T00:00:00Z
Tipo de Acomodação
Casa/apto inteiro
---
Tipo de Imóvel
Apartamento
---
Acomoda
5
---
Quartos
Rice, Virgínia, Estados Unidos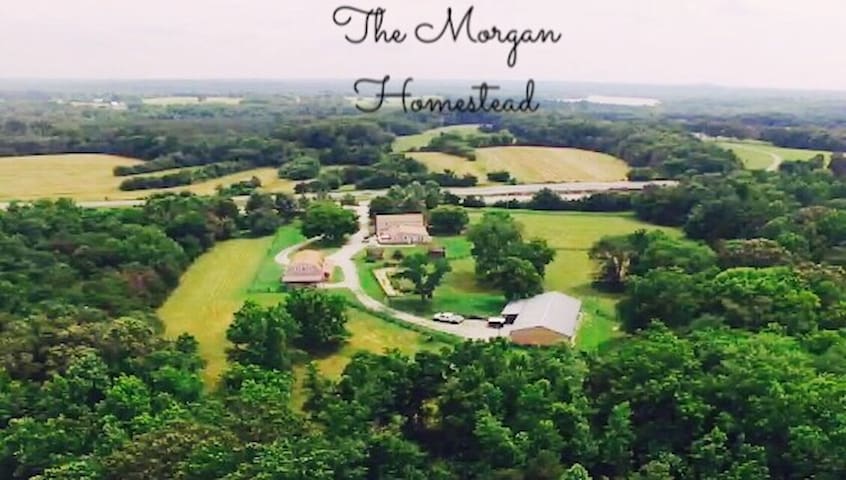 Our apartment is above the detached garage . We are conveniently located minutes from :Hampden- Sydney College (2.4 miles/5 mins) & Longwood University (6.2 miles/9 mins) . Richmond, Charlottesville, & Lynchburg are about an hour away, as are several Virginia state parks. The apartment has fully equipped kitchenette, small dining area, a queen bed, sitting area & electric fireplace , separate TV area. A full size futon in living room for additional guests. Guests may access the pool in season.
Guests have exclusive use of the 1 bedroom garage apartment. Access this retreat using a keyless entry system. Unpack, spread out and relax as you view 7 acres of Farmville countryside. The space has a bedroom, living area, kitchenette,dining room & full bathroom. There is plenty of work space for laptops & devices. WiFi is located in the apartment with printer available. You will find numerous areas for charging your devices . Large closets stock an iron, ironing board and extra blankets & pillows. The spacious bathroom has a hairdryer, basic toiletries and personal amenities. All linens and towels are provided. The kitchenette has a full size stove a & microwave, a 3/4 size refrigerator, dishes & silverware for 4 guests, There are pots, pans & kitchen accessories your cooking needs. Sit at the dining room table to play board games, cruise the internet,or just sit & chat! The SmartTV/DVD are available for your use---we have provided some vintage DVD's for you! ESPN! The living area has a full-sized fold out futon, that is easy to use and very comfortable. The oversized bedroom sleeps 2 and has a cozy sitting area with an electric fireplace. Enjoy a glass of wine & a good book in this quiet space. The Juliet balcony overlooks a beautiful pool-as you sip your morning coffee. Go for a dip in the pool or just relax by the pool & listen to nature & see the stars! See Alpacas outside your window! There is a pool bathroom & laundry room available in the garage area just for our guests, along with pool towels, sunscreen, pool floats & toys. We provide a great space for business travelers, couples & families looking for an unique home away from home---not suitable for more than 4 people. No children under 2 please. If there are any special needs or concerns that we need to be made aware of, please contact us prior to arrival so we can make sure every effort is made to accommodate you.
We are 6.2 miles from Longwood University via Back Hampden Sydney Road (High Street -Farmville) We are 2.4 miles from Hampden-Sydney College. Being in close proximity to both colleges , our site is great for parents visiting, attending games and family events at the campuses. If your children are attending the colleges, ask us about a discount for repeat customers!! We are a great place to stay as you attend games for the season, pick up and drop off your child, or are attending school events! We are conveniently located near parks, wedding venues and historic sites.
Such a wonderful find! Bill and Cindy were excellent hosts and we loved meeting all of the animals! The apartment is very comfortable and extremely clean. I was traveling with my teenage daughter to visit Longwood and this was perfect for the 2 of us. A delightful alternative to hotels and much more cozy. Only thing to note is that the dogs are nocturnal and there will be barking during the night as they protect the herd. If you are a light sleeper, bring earplugs. We would love to stay there again!
helene
2017-03-25T00:00:00Z
Great stay, great hosts
Kent
2016-09-03T00:00:00Z
We had a great experience staying at Cindy and Bill's apartment. It was clean, comfortable, and very convenient to Hampden-Sydney. Cindy and Bill were the perfect hosts. They provided fresh muffins, bagels, juice and waters for our convenience. We will definitely stay again.
Autney
2016-09-12T00:00:00Z
Bill and Cindy made our stay very enjoyable. The room was very nice and had everything we needed to make our own meals when we chose to. The bed was very comfortable. Bill and Cindy were very friendly and went out of their way to provide whatever we needed. We look forward to visiting again.
Karl
2016-10-16T00:00:00Z
We loved the place and the owners. Detached garage. With nice 1 BR living area above garage. Very friendly owners that were willing to talk but also let us do our thing. Highly recommend.
Jonathan
2016-08-13T00:00:00Z
Bill and Cindy both helped us have a comfortable stay. The place is very private and separate from their main house. I would definitely stay again.
Jason
2016-11-08T00:00:00Z
We were welcomed by the host couple who took us through the property and pointed out things and answered questions. Property description was clear, yet on site arrival was still a very pleasant surprise. The location is rural, yet suited our needs perfectly since less than 2 miles from Hampden Sydney College, our destination.
susan
2016-10-09T00:00:00Z
We had a very nice visit. It is very clean and peaceful. Bill and Cindy were very welcoming. They didn't want us to worry about having a bite to eat in the morning so they provided us with juice and muffins. We had a very nice stay. Love how close it is to Longwood.
Christine
2016-08-27T00:00:00Z
Tipo de Acomodação
Casa/apto inteiro
---
Tipo de Imóvel
Apartamento
---
Acomoda
4
---
Quartos
Farmville, Virgínia, Estados Unidos
My place is across the street Longwood University debate. You'll love my place because It is very convenience for the debate .
Tipo de Acomodação
Casa/apto inteiro
---
Tipo de Imóvel
Apartamento
---
Acomoda
4
---
Quartos
Farmville, Virgínia, Estados Unidos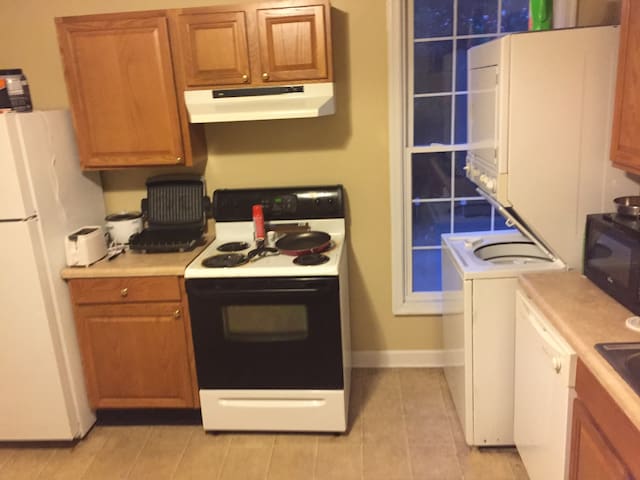 Blackstone - Airbnb
:
Média de

5

de

5

estrelas, de acordo com

75

avaliações de hóspedes
1

–

3

de

3 Apartamentos para Alugar
Insira as datas para ver o preço total. Taxas adicionais serão aplicadas. Impostos podem ser adicionados.