Bahia Bahia is the perfect place to relax and get away, experience the adventure in Tela while sleeping like a baby when the sun comes down!
Tipo de Acomodação
Quarto inteiro
---
Tipo de Imóvel
Pousada
---
Acomoda
5
---
Quartos
Tela, Atlántida Department, Honduras
Beautiful, Cozy, Spacious, Surrounded by lots of vegetation, Swimming Pool and Social Area, Wifi, Cable TV, Television in each room, hot water tank, wine cellar, outdoor showers, 24-hour security.
Carca of the best beaches in Central America
Honduras Shores Plantation, Aldea San Juan, Tela
Excelente opcion para vacacionar en grupo comodamente privado con todo lo necesario aolo vayanse preparados con sus cosas y liato arman su propio ambiente con todas las comodidas becesarias. Todo limpio y oloroso!
Vilma
2017-03-12T00:00:00Z
La descripción y las fotos mostradas son igual a lo encontrado. Me gustó mucho la casa está bien equipada para pasar vacaciones en familia retirados del ruido de la ciudad.
Dilcia
2017-01-16T00:00:00Z
Fantastic home in Shores Plantation. Amenities are great, 5 min walk from the beach. Just make sure you bring some bug spray! Edgar and his family are great and very responsive. There was an issue with one of the AC and they had it fixed within the hour! Highly recommend.
Rohan
2017-03-27T00:00:00Z
Very nice house to stay at for a few days. Spent five days here with friends. House is in a very quiet, secluded, secure neighborhood right outside Tela. House, pool, and grounds were clean and very well kept. Short walk to the beach. Everything worked. A/C was cold. Wifi was fast. Would definitely recommend this place to stay at.
George
2017-03-31T00:00:00Z
La casa es muy bonita y de acuerdo a las fotos. Edgar fué muy amable y estaba en la casa para recibirnos. Igualmente, respondió a nuestras comunicaciones rápidamente. Eramos un total de 10 personas y nos sentimos muy cómodos. Sin duda volveríamos a esta casa para otra vacación.
Rebecca
2017-01-02T00:00:00Z
Tipo de Acomodação
Casa/apto inteiro
---
Tipo de Imóvel
Casa
---
Acomoda
10
---
Quartos
Tela, Departamento de Atlántida, HN, Atlantida, Honduras
Comodo cerca del centro ,la playa, lugares turisticos, estaciones de buses y centros comerciales, mulls, a 10 minutos del ferry to go Utila y Roatan a 15 min. del Parque national Pico Bonito y cuenca Rio Cangrejal, Playa el Porvenir
transporte del aeropuerto al apto y viciversa y a puertos Maritimos para reservas de 5-7 dias
un lugar tranquilo y seguro cercano al paseo de los ceibeños; playa, restaurantes, paseo y acceso a transporte para viajar y visitar lugares turisticos y grupos garifunas
La descripción de todo era correcto y Wendy vino a recogernos donde el bus. Nos brindo un servicio extra en también llevarnos y recogernos a Walmart por ser nuevos a La Ceiba. Todo estuvo a precio muy económico.
Carson
2016-10-28T00:00:00Z
I spent 2 nights at Wendy's apartment. The place is independent and private, safe within a short walking distance to the beach. Wendy was also nice to give me and my friends a tide and always available if something was needed.
Amir
2016-12-20T00:00:00Z
Wendy and her husband were wonderful people who went out of their way to welcome us, pick us up from the bus station late at night and drop us off at the water taxi terminal early the next morning. No bad remarks to say about Wendy and her hospitality. Unfortunately, if it had not been so late at night we would have not stayed after arriving. The bathroom was not clean, so much so that we couldn't even shower. The toilet didn't flush. There was no internet, the air conditioner didn't work and the room was a make shift structure that was not secure. Unfortunately cannot recommend staying here as much as I would like to considering Wendy and her husband were so nice.
Erika
2017-02-15T00:00:00Z
Wendy was phenomenal! A friend and I decided to spend a night in La Ceiba before leaving by ferry the following morning. Wendy went out of her way to visit the bus station where we were to be dropped off, twice! It was difficult for me to reach Wendy in transit and Wendy drove to the bus stop twice as she was unsure of what time my friend and I were to arrive. We would have been completely lost without her being there! She greeted us at once and gave us a lift to the room. Once there, she helped us settle in and even provided fruit and water for breakfast the following day. I felt completely safe for the duration of my stay. The wifi was excellent and even provided the opportunity to watch Netflix after a long day of travel. In the morning, she texted me offering to drive us to the dock to make the ferry. On the way, she told us a bit of the history of the city, and when it would be ideal to return. Wendy was great, and the room was as advertised, plus some! Thank you Wendy for hosting us and making us feel so welcomed.
brianna
2016-07-10T00:00:00Z
The host canceled this reservation 6 days before arrival. This is an automated posting.
Carson
2016-11-01T00:00:00Z
Tipo de Acomodação
Quarto inteiro
---
Tipo de Imóvel
Condomínio
---
Acomoda
2
---
Quartos
La Ceiba, Atlantida, Honduras
Our beach house is in a private condominium, San Juan del Mar, 7 houses, with 24 hours, directly on the beach. The villas each have a private pool, air conditioning, 4 bedrooms, 3 bathrooms and two terraces. The sea views are wonderful. Excente location. San Juan del Mar is in the village of San Juan, in the middle of a beautiful bay 50 kms, just 5 km from the city of Tela and only 50 kms from San Pedro Sula.
The villa has two floors, air conditioning and private pool. Fully furnished, three bedrooms, two bathrooms and two terraces on the second floor with excellent view of the more. on the ground floor another small room with bathroom, and spacious living room with a kitchen.
The condo is located just outside San Juan Pueblo, near Tela. It takes about 10 to 15 minutes from Tela towards Tornabé. San Juan is a quiet Garifuna village, and the condo is on a street that goes to the beach, just outside San Juan. Only 6 km in a beach resort Indura.
Me pareció una excelente casa, excedió mis expectativas el espacio, estaba muy limpia a nuestra llegada! Se siente muy seguro! Creo que podrian agregar el servicio Wi-fi, adicionalmente la dirección es un poco confuso!
Francisco
2016-10-10T00:00:00Z
It was an amazing experience, the place it really peaceful. The beach is according what we expected, clean, quiet with small waves and great for swimming. The house is great, with enough space and comfy able for what we needed (we were 8 people and still there was space for more). The furniture is in a good condition, the tv service works well, a/c units in all the rooms, warm water in the showers, and if you want no a/c the house has a windows all around, so you will feel the fresh wind blowing. The house pool is wonderful and clean. San Juan del Mar has a security guards 24 hours wish made the place very secure.
Ruben
2016-08-15T00:00:00Z
Recomendada para que vayan a disfrutar del mar y de un ambiente tranquilo.
Guillermo
2017-03-19T00:00:00Z
Muy bien ubicada la casa en cuanto a Proximidad al mar
Aixa
2017-03-26T00:00:00Z
Die Villa ist wie beschrieben ausgestattet und in einem sehr schönem Zustand. Der Strand liegt keine 20 Meter entfernt. Wem das zu weit ist, kann den Pool benutzen, welcher 2x die Woche gereinigt wird. Das Areal ist 24 Stunden bewacht. Abgesehen davon, San Juan ist ein Garifuna Dorf und die Leute sind sehr freundlich und hilfsbereit. Esteban hat dafür gesorgt, dass wir uns sehr wohl gefühlt haben. Eine Kontaktperson in Tela war jederzeit erreichbar.
Thomas
2016-07-31T00:00:00Z
Definitivamente, lo mejor de la casa es su ubicación a orillas del mar. La urbanización donde s encuentra es tranquila y aunque está algo escondida, una vez que se ha llegado ya se memoriza el camino. La casa es ideal para una familia de 8 personas ya que aunque tiene 4 dormitorios, uno de ellos es muy pequeño y sin AC por lo que resulta muy caluroso E inservible. Esteban estuvo siempre atento antes de nuestra llegada y ya allí, su asistente nos recibió y fue muy amable. La electricidad se cobra aparte, bajo el concepto de depósito de seguridad lo cual no me parece correcto, ya que solo se explica despues de hacer la reserva. Algunas cosas necesitan mayor mantenimiento y cuidado, ya que se estropean mucho por el salitre (piezas metálicas de muebles, cafetera, ventilador de suelo...). El espacio alrededor de la piscina es agradable, pero al no contar con sombra no se puede aprovechar mucho durante el dia por el calor.
Bella
2016-05-03T00:00:00Z
Greathe place for rest and relaxation. House is as described. Beautiful place.
Rachel
2017-01-15T00:00:00Z
Un lugar muy sabroso para pasar un fin de año en familia. Todos quedamos encantados de la piscina, playa y colaboración de las personas que por allí pasan. Algo confuso de llegar al principio pero una vez que llegas no hay problemas. Lo más seguro es que volveremos una próxima vez a disfrutar de tan rica estadía en un muy buen lugar.
Ricardo
2017-01-02T00:00:00Z
Tipo de Acomodação
Casa/apto inteiro
---
Tipo de Imóvel
Casa
---
Acomoda
10
---
Quartos
San Juan Pueblo, Tela, Atlantida, Honduras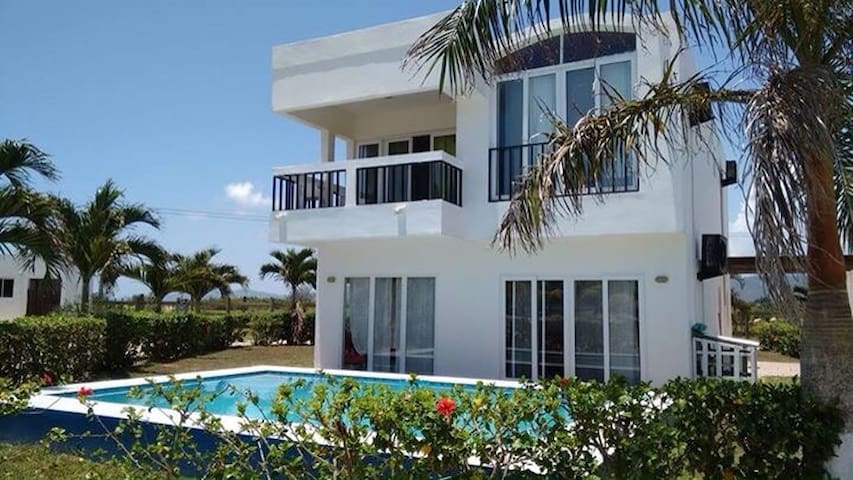 Bangalôs na praia. ténis, ténis de Praia Privada, Cozinha Argentina, com a presença de seus proprietários. Bungalows com 2/4 camas de casal casa de banho privativa Televisão por Cabo Frigorífico deck de água quente para a praia
O hotel está localizado em uma propriedade de 21078 metros quadrados com 150 metros de praia privada tem 6 campos de ténis ao nível do mar um campo de vólei variedd um lago com peixes.
campo de futebol campo de relva natural o bairro é na beira da praia há dois rios que atravessam virgens em rios onde você pode ver animais como macacos, maties, lagartos aves exóticas e outros.
Quando siamo arrivati Eduardo è stato gentile, i figli dolcissimi e bellissimi ci hanno ricevuti insiemi dai cani tenerissimi. Noi volevamo una esperienza più "rustica" e per questo abbiamo scelto di prenotare una capanna. Durante la nostra permanenza abbiamo incontrato degl'insetti dentro la stanza, una specie di "scorpione", biancherie vecchie e alcune sporche (i copriletti e i cuscini), pure il bagno era pieno di capelli e muffa nella doccia e sopra i letti. Abbiamo avuto anche una notte senza dormire visto che oltre l'insetti pioveva e avevano delle grondaie sopra il letto, però nonostante tutto ciò stavamo prendendo tutto con "filosofia". Le stanze non sono dotate di cucina (come nel annuncio) solo hanno un frigobar dove hanno fissato un menu sicuramente non da cucina "hondureña", con i prezzi cari, oltre i ristoranti, di cui si occupa Eduardo nelle preparazioni, FATTE ATTENZIONE che quello ancora non è il valore finale, sopra includono ancora 19% di tasse, senza nemmeno avvertire prima e siccome dicono di pagare solo alla fine (un conto unico), con la scusa che solo la sua compagna riceve i pagamenti (e lei non si trova durante la giornata), avrete una brutta sorpresa se non chiarite bene le cose prima, anche se dovete effettuare il pagamento con altre monete FATTE ATTENZIONE perché ci provano a farsi pagare molto oltre, visto che fanno un cambio sbagliato (per esempio, 20 US= 700 Lempiras e in realtà 20 US sono 430 Lempiras). Il posto è bello, affacciato alla spiaggia ma molto isolato, vicino non c'è nessun tipo di ristorante o qualsiasi negozio o mercato, quindi se non avete la macchina dovete per forza mangiare da loro oppure prendere un taxi per andare in città (costa in media 110-150 lempiras/moneta locale). Abbiamo chiesto la password di internet però non ci hanno fornito e abbiamo anche dovuto chiedere degl'asciugamani più di una volta per averne. Noi ci siamo sentiti molto male, in diverse situazioni loro si sono lamentati degli altri ospiti che erano venuti in precedenza e anche del popolo hondureño, noi volevamo fare una esperienza con gente locale e abbiamo trovato persone con diversi pregiudizi. Per complicare ancora di più, dopo 2 giorni della nostra partenza, loro ci hanno inviato dei messaggi minacciosi sullo (SENSITIVE CONTENTS HIDDEN) e anche 8 volte lo stesso email chiedendo dei soldi, dicendo che avevamo intassato il bagno e dovevamo pagare tutta la riparazione per una cosa che non è stata causata da noi. Terrificante!! Abbiamo avuto fino a quel momento solo esperienze meravigliose con gente di tutto il mondo (eravamo anche hostess a Roma per più di 4 anni), e, purtroppo, ci è capitato questa esperienza che vogliamo nel profondo dei nostri cuori, dimenticare!
Denise
2015-04-01T00:00:00Z
This place is the ultimate getaway: gorgeous, clean, and peaceful. It is literally right on a quiet beach with plenty of hammocks, beach chairs, and deck space to relax in. It is a little far from nearby markets, but they serve a variety of food. Also, the area is super safe (right by a police station). I personally thought the best part was how warm and hospitable Eduardo and Melissa were, just overall kind folks with two sweet and quiet kids.
Samantha
2015-04-08T00:00:00Z
Eduardo is such a warm host and has a beautiful village right by the airport! Perfect for anyone bouncing in and out of La Ceiba!
Russell
2015-07-15T00:00:00Z
I consider the place to relax, out of big cities, enjoy the beach, the sky at night, is a pretty safe place, and Eduardo your food is amazing!! They were amazing since they pick us up, and the disposition they ha for us. I will go back
Leo
2016-12-18T00:00:00Z
We booked in a hurry, but they received us really warmly. The place is awesome (right on the beach), an old timey feeling to the place. Eduardo and his family are awesome cooks!
Ellie
2015-07-09T00:00:00Z
hier 4 dagen geweest. Heerlijk rustig om een paar dagen te relaxen heerlijk gegeten bij Eduardo op het terras . perfect ontbijt.
Dean
2016-03-16T00:00:00Z
Eduardo is a very friendly and helpful person. Its no problem to communicate because he speaks spanish french german and english. The bungalow was clean and very big. Its direktly at the beach and Eduardo and his wife Melissa can recommend and help you for trips around La Ceiba. It was a very nice time. I can recommend it, especially for tennis freaks.
Philipp
2016-05-09T00:00:00Z
Eduardo was wonderful, very helpful and a great cook! The place was a little difficult to find via taxi driver, but Eduardo came a picked us up. It is far off the beaten path, very secluded. The host was awesome and family very friendly!
Steve
2015-07-04T00:00:00Z
Tipo de Acomodação
Casa/apto inteiro
---
Tipo de Imóvel
Bangalô
---
Acomoda
8
---
Quartos
La Ceiba, Atlantida, Honduras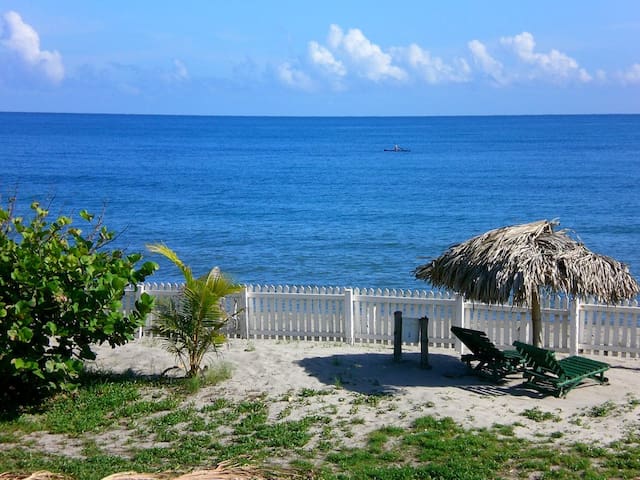 Apresentar, no Rio Cangrejal no Pico Bonito Park Honduras. piscina infinita bonita com vistas sobre as falésias da cachoeira e da selva. Escondido restaurante Paraíso. Internet sem fios. Caminhadas, mountain bike, rafting e tirolesa ou apenas relaxar!
A localização deste hotel é a parte mais surpreendente da sua visita. Acorde com o som dos pássaros de manhã, olhar a vista maravilhosa do rio, cachoeira e selva falésias. Nadar na piscina de borda infinita magnífico com a melhor vista na América Central. Descansar em redes cercado por belos jardins. Dormir ao som suave do rio e córregos
Estamos bem no rio onde você pode nadar com segurança, se desejar. A uma curta distância de muitos dos passeios que oferecem. Estamos entre Gracia de Dios e parques nacionais Pico Bonito. 4,5 milhas da baixa da cidade de La Ceiba
An absolute jungle gem. The team was amazing: friendly, sweet, and genuine. A must stay!
Hayley
2017-03-12T00:00:00Z
Nous avons passé un magnifique séjour dans cet endroit de rêve. L'appartement est totalement conforme à la description et la vue est top sur la rivière. Tous les jours nous avons pu observer notre voisin le toucan. Nous avons aussi testé le restaurant qui sert des plats très bon. La piscine est géniale avec la vue sur la rivière. Nous avons eut un petit pincement au cœur lors de notre départ.
Vincent
2016-06-03T00:00:00Z
We had a wonderful experience at Villa El Bejuco. We were picked up at the ferry and brought to a small grocery store where we got some supplies. The road to the villa was in bad shape but and this made the drive to the Villa slow - but it is scenic. All the help at the villa were super nice - in fact, besides the fantastic location, they are really what made our stay wonderful. Two large dogs - Ace and Max followed us everywhere. The dogs greeted us each morning outside our door and Ace even went on a hike to the waterfall across from the Villa with us. Ace made us feel safe on the hike and helped us find our way as we took a wrong turn at one point. This hike is not an easy one and I'd only recommend it to people that want a more strenuous hike. The food and drinks served at the bar were very good and we were entertained by the children who's parents worked at the villa. The children were very respectful and because we enjoyed their company they even put on a show for us! A great experience.
Eric
2015-12-09T00:00:00Z
Pico Bonito is a must when in Ceiba. The villas location over looks the rio cangrejal and the picos waterfall. Minutes away from world class rafting. The caretakers catered to our every need. Made us feel right at home. I will definitely be planning my next visit soon.
Yessica
2016-10-23T00:00:00Z
It was a fabulous time!
Austin
2016-06-30T00:00:00Z
Villas Pico Bonito was a dream. We stayed there for 3 nights and immediately regretted not adding another night to our stay. You cannot get sick of the beautiful backdrop of Pico Bonito National Park from the balcony. The place does not fall short of scenery, wildlife and relaxation. There is a restaurant located on site which provided great service, food and drinks. Henry who works at the restaurant was very kind and spoke English very well. The villas is located just 15 minutes down the road from the entrance of Pico Bonito, where you can venture off into a hike without a guide. The trail is marked and very easy to follow. From the the villas, you can actually see the giant waterfall that can be hiked to within the park (and it was well worth it. Richard picked us up for the airport and took us to the Walmart to pick up some groceries. Along the way he even provided us with some background and history on Honduras. He made us feel very comfortable, as we were feeling a little overwhelmed with not being able to speak any Spanish when we arrived. When we got to the villas, he showed us around the property and even offered to drive us to lunch, at one of the other restaurants up the street. His companion, Ace (the friendly and sweetest dog), followed us around and even wanted to go tag along for the hike!
Beatrice
2017-03-23T00:00:00Z
Tipo de Acomodação
Casa/apto inteiro
---
Tipo de Imóvel
Apartamento
---
Acomoda
4
---
Quartos
La Ceiba, Atlantida, Honduras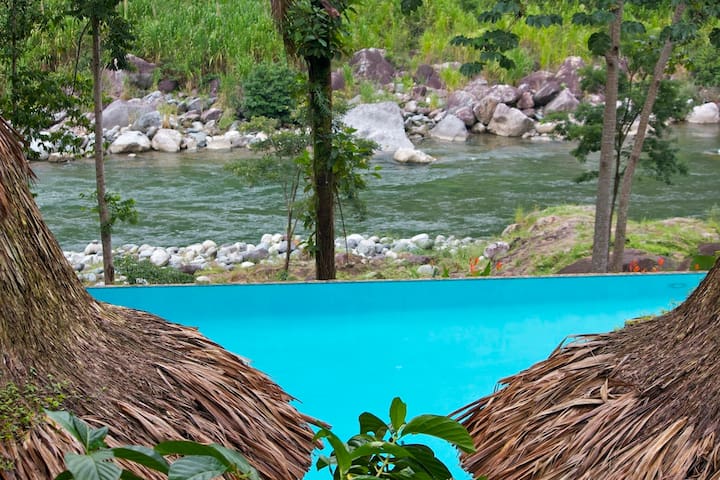 Our place is located in a safe neighborhood within walking distance to the beach and just a few min drive from Downtown La Ceiba, airport & ferry to Roatan. The bus station to Copan Ruinas or San Pedro Sula is just a 5 min walk.
Cozy small 1 bedroom apartment. Includes a small kitchenette. the bedroom includes 1 full bed and 1 single bed.
This is a quiet and safe neighborhood but also very close to different La Ceiba attractions. The "Paseo de los Ceibeños" is just a within 10 min walk and is an area in front of the beach with restaurants.
Very comfortable stay. Gladys' husband picked us up from bus station. Room was immaculate, we were able to cook in kitchenette which a large mini-fridge, stove, and kitchen ware. It was a 10-minute walk to the beach, not quite as close as we thought, but an easy walk. Overall, what we were expecting from description. Wifi was excellent.
Caroline
2016-03-26T00:00:00Z
We stayed in the cosy 1bedroom flat that Gladys has available for 2 nights. It was so clean and very modern with everything you need in the kitchen. We slept so well as the double bed was so comfortable! Air conditioning was lovely too. Location is really good being so close to bus stations and shopping. Gladys was so good to organize her son to come collect us from the Ferry terminal so we didn't have to worry about taxi or directions. We highly recommend staying with Gladys :-)
Taryn
2015-12-21T00:00:00Z
Gladys was sooo accommodating and she even had someone come pick us up at the Ferry. The apartment was in a secured location near the bus terminal (Hedman Alas and Viana). I am very familiar with La Ceiba and Honduras and I felt very safe at Gladys'. It was quaint and clean.
Tarche
2015-11-27T00:00:00Z
Gladys and her family were absolutely wonderful during our short stay in La Ceiba. Located very conveniently across the street from the Hedman Alas bus station, they served as a perfect layover on our trip to Cayos and Roatan. Even though our stay was short, they were extremely welcoming, and her husband was able to not only serve as a translator for us, but he also showed us where to change our US currency to LPS, and he took us out to get food and drink upon our arrival. They both went above and beyond making us feel comfortable and safe during our stay. If you are looking for a place to stay in La Ceiba it would be hard to find a more welcoming family. I would give them the highest recommendation and hope I can come back for a longer stay in the future!
Nick
2016-05-19T00:00:00Z
Gladys was a good host, she wasn't available at the time of our stay but her son was there to meet us from the bus station and kind to take us to the ATM and Shop, If we needed anything we could message Gladys and she was fast to respond. I would recommend staying here as a safe stop over in La Ceiba to go to The Bay Islands and Miseal was so kind as to take us to the port the next day. I was very grateful to find a helpful host during our stay in Central America.
Simon
2016-08-17T00:00:00Z
Gladys's home is very comfortable and she and her family treated me very well during my stay. Her private home is quite large and modern, built with about 5 small apartments on the second floor. My apartment was built recently and was equipped with all the modern conveniences (read: air conditioning!) The neighborhood is solidly middle-class; not "dodgy" as one other reviewer said. The Hedman Alas bus station is just a couple of blocks away. It takes about 10 minutes to walk to the beach where there is a nice park. It takes another 15 minutes to walk to the town dock and another nice park. There are not many tourist attractions in La Ceiba, so the best place to stay is close to the nicest bus station. Gladys's apartment delivers on that. Gladys went above and beyond for me. I got sick on the last day of my stay. She brought me medicine, allowed me to check out late, and had her son drive me to the bus station even though I could have walked. Thanks Gladys! I recommend staying at one of Gladys's apartments!
Eric
2016-05-18T00:00:00Z
Wonderful, wonderful, wonderful! The apartment is nice, hosts are great and hospitality is above any expectations. We have stayed for one week with our kids and we have enjoyed it there very much. The apartment has lots of space, kitchen is clean, beds are excellent. Gladys and her family are also very pleasant and helpful people - you will have a chance not just to spend a night, but also to have a cultural exchange, if you want. We definitely recommend this place if you are heading to La Ceiba.
Mykhaylo
2015-06-14T00:00:00Z
One more nice stay with Gladys and her family. Same pleasant experience as previous time. We felt completely taken care of and very much like at home.
Mykhaylo
2015-06-30T00:00:00Z
Tipo de Acomodação
Casa/apto inteiro
---
Tipo de Imóvel
Apartamento
---
Acomoda
3
---
Quartos
La Ceiba, Atlantida, Honduras
Attractions: the city center, the most beautiful beaches fabric three minutes walk. You'll love my space by inviting space. My accommodation is good for couples, adventurers, business travelers, families (with children) and large groups.
EXCELENTE TODO, MUY LIMPIO, CAMAS MUY COMODAS, CENTRICO. TODO ACCESIBLE. TODO PERFECTO. LO RECOMIENDO AL CIEN POR CIENTO. PRETENDO VOLVER . VALIO LA PENA.
cordelia
2017-02-26T00:00:00Z
Tipo de Acomodação
Casa/apto inteiro
---
Tipo de Imóvel
Flat
---
Acomoda
5
---
Quartos
Tela, Atlántida Department, Honduras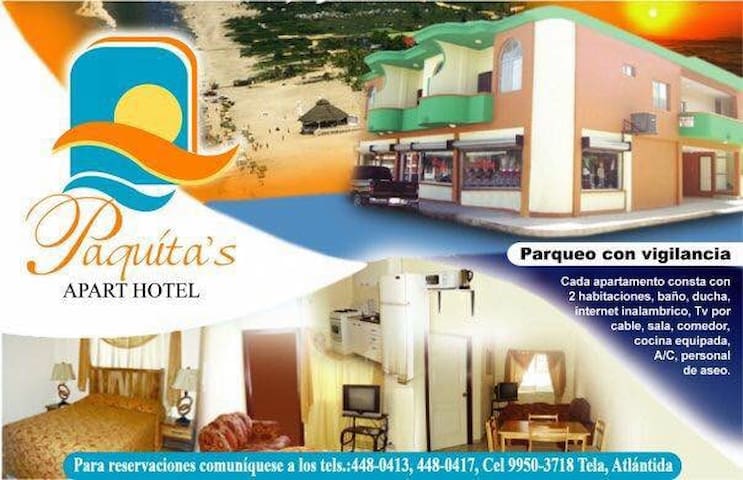 safe, nice, comfortable and sanitary home with the best care.
Tipo de Acomodação
Casa/apto inteiro
---
Tipo de Imóvel
Casa
---
Acomoda
4
---
Quartos
La Masica, Atlantida, Honduras
Off the beaten track! A perfectly safe place to experience the honduran countryside life: try real tortillas, fresh cheese, chicken 'criollo', tropical fruits, meet local people, hike or horse ride to mountain villages, work with us on the farm.
The lodge is situated between the palm trees, 50 meters from our house and 2 km from the village and the main road. From the porch you have a spectacular view of the surrounding hills and the valley. The lodge has a big porch, a living room, small kitchenette, bathroom (sink, shower, toilet), 2 bedrooms (1 double bed/ 2 single beds). All windows have mosquito netting. There is cold running water and light provided by solar energy. The kitchenette has a two-burner stove and equipment for preparing coffee, tea and small meals.
In spite of the bad image of Honduras, I feel totally safe. Our farm and the village Las Metalias are very quiet and peacefull. Honduras is a beautifull country and people at the countryside are extremely kind and happy to receive guests. A stay at our farm is suitable for those who enjoy rest and quietness in a different inspiring environment. There is not much bustle, like bars and cafes and restaurants. Instead we have nature and the sounds of birds and animals on the farm. You do not have to do a lot to have a great experience!
There is a life beyond backpackers hostels that we really wanted to see, there it was: a colourful, large farm in a stunning environment. When we arrived surrounded by different animals and large palmtrees we got some information from the very hospitable owner about the place and about a horse-trip that we could do through the area. The trip was beautiful and fun as well, as the owners are lovely and willing to show you their palmplantation and a lot of fruittrees, yummy! It was a pleasure to be part of this small adventure. The stay in the little house next to the farm was perfect and has every comfort we needed. We enjoyed a quiet stay, seeing bit of the farm-stylo and became energetic for the rest of our journey! A place to rest, learn and come closer to real Honduras. Thanks!
Jurriaan
2016-01-31T00:00:00Z
We stayed at the farm for 2 weeks (leaving tomorrow) and so far it has been one of the highlights of our Central America trip. Jorunn, Gustavo and their children Anna and Eva are a wonderful family who made us feel very welcome. Great hospitality, great location, great apartment. We really enjoyed the peaceful environment and we spend our days relaxing in a hammock, reading books, playing board games, eating delicious food from the farm, going for walks (or horse riding) etc. Twice a week we took the public bus and had lunch in a nearby town (1 hour bus ride which is fun) where we bought some groceries too. The family really respected our privacy but we were also welcome to join them for dinner often and we had many chats together, played board games with the girls and so on and so forth. Overall, we recommend this place to anyone who loves being in nature and enjoys a quiet, peaceful green atmosphere.
kim
2016-10-08T00:00:00Z
We loved our stay with Jorunn and her family! We found this listing pretty far ahead in our journey and were very excited to get there and spend some time on the farm. She was very good at responding and communicating with us, she sent us directions which were easy to follow but we arrived when it was starting to get dark so we called her and she came right away to come find us and direct us back to the farm. Good hosts can be hard to find, we stay at airbnbs a lot and this host, Jorunn was by far our favorite. She was so gracious and accomodating. She went out of her way to make sure everything was how we wanted including buying a duck and cooking it for us (which by the way was actually amazing, I suggest booking a dinner with her, it will give you an opportunity to eat fresh from the farm!) She let us roam the farm and eat from the trees and play with the animals. There were lots of babies being born which was a treat to get to see! The only complaint for us is that we didn't get to stay longer, we would have loved to stay long term and really get immersed in the farm. The listing is very accurate, there's a small kitchen in the private home that is separate from where the family lives, two bedrooms and bath. There's a nice veranda area where you can lounge in a hammock during the day and watch the animals or at night where you can watch the fireflies and stars. It's a beautiful place! Jorunn makes her own cheese and chocolates, spend some time getting to know her as she is a lovely woman!
Tarence
2016-04-06T00:00:00Z
What an amazing adventure! having flown in on the red eye from Montreal to Mexico City with a connecting flight to San Pedro Sula my gracious host had her wonderful husbund Gustavo pick me up at the airport, me! A lonely girl in the most dangerous city in Central America!!! Not only did I feel safe but I felt like I was part of the family! We ran errands went to the the banco in El Progresso we pick up their two wonderful girls from their swimming lessons and then we headed home. 20 minutes later or so it seemed (from progresso) we snuck through a secret passage through an enchanting jungle of African Palm plantation where I learned about the livelihood of the Honduran people. As we arrived to the main house Jorunn was there to great me with a brilliant kind smile and showed me to the Casita! An off grid house with a comfortable bed and wifi! (Everything a girl needs to feel at home and take selfies) the Casita was very clean and smelled great with clean sheets and towels and an authentic coffee maker. We walked through the many acres of land and saw her rambutan plantation along with the various fruit trees and animals living on her land. I was even lucky enough to attend Ana's 12th birthday where I learned how to make chocolate. Jorunn also showed me how to make authentic tortillas. The land is secluded so there is not only a sense of safety but it's also secure. I can't wait to return Thank you Gustavo, Jorunn, Ana and Eva Big hugs to all of you Elissa
Elissa
2017-02-28T00:00:00Z
We really enjoyed our whole stay at the guesthouse of Jorunn and Gustavo. The farm is 2km away from the main road and therefore really peaceful and quiet. We loved to sit on the porch just to look at the beautiful surrounding and to observe the animals that pass by. During our time there we did a tour mules and horses through the area including rivers and forests. Another day we were visiting a village in the mountains and learned how to prepare homemade mais tortillas. The family is very generous and we got to eat all kind of fruits from the farm. We appreciated to learn more about the culture and habbits of Honduras as we were talking with the family. We recommend this place to all the people that want to experience the life of Honduras in a more quiet environment. Thank you very much for everything!
Sven
2017-01-02T00:00:00Z
Jorunn and the farm was amazing!! I actually had 3 clients/friends stay here (I was unable to make the trip this time) and they absolutely loved the farm and how beautiful the land was. Wild turkeys/chickens/animals right outside their front porch, I enjoyed all the pictures and videos they sent me while on the farm. This was the perfect, local, authentic place to start their vacation. Communication with Jorunn was easy and I'm very thankful for her help. I can't wait to visit the property next time!
Megan
2016-12-12T00:00:00Z
Español Tenía una visita increíble con "Judy" y Gustavo. Ellos y sus hijas son muy amables y simpáticos. Volé al aeropuerto San Pedro de Sula, y es fácil ir de transporte local a su granja "escondida" en las montañas. La granja tiene muchos animales que incluyen gallinas, caballos, vacas, perro, ternos, y pavos. Para un poco más dinero, Judy puede cocinar para usted, y la comida es rica y fresca. Ellas ofrecen una variedad de platos de carnes atípicas (Conejo, Pato, Ect.) a las platas vegetarianas. Monté un caballo con Gustavo y las hijas por las montañas. La naturaleza y las vistas del camino que seguimos eran increíbles. Cruzamos arroyos, otras granjas, animales exóticas, y más. Fui a una caminata con la criada de la casa y las hijas de Judy y Gustano a un pueblo en las montañas. El camino estaba lleno de flora y fauna exótica. Fui a la misa, y la iglesia cantó mi himno preferido en español para mí. En los periódicos, hay muchas noticias sobre el peligro de Honduras. Yo le asegura a Usted que este es un lugar seguro, con una población amable y lleno de hospitalidad. Si usted quiere escapar tu rutina diaria, tiene que quedarse con Gustavo y Judy. Français J'ai rendu une visite à la grange de « Judy e Gustavo ». Elles e ses filles sont très gentil e sympa. J'ai volé au aéroport San Perdo Sula, e c'est facile aller de transporte local a la grange dans les montagnes. La grange a beaucoup des animaux qu'inclue poulets, chevaux, vaches, chiens, veaux, et dinde. Para un peu plus d'argent, Judy peux cuisiner para vous, et la nourriture est riche y fraiche. Elle cuisine une variété de plat de viande exotique (Lapin, Canard, ect.) aux plats végétariens. J'ai monté un cheval avec Gustavo et les filles dans les montagnes. Dans le journal, il y a beaucoup des nouvelles mauvaise de Honduras. Je peux vous assurer que ce lieu est sécure, avec une population gentille. Si vous veut échapper la vie quotidienne, il faut rendre une visite à Judy et Gustavo. English I visited Judy and Gustavo's farm. They are their children are nice and friendly. I flew into San Perdro Sula, and it easy to get the farm in the mountains by local transportation. The farm has lots of animals including chickens, cows, calves, dogs, houses, and turkeys. For a little more money, Judy can cook for you, and the food is rich and fresh. She cooks from a variety of exotic meat dishes (Duck, Rabbit, ect) to vegetarian dishes. I rode a house with Gustavo and his daughters in the mountains. The nature and the views of path we followed were incredible. We crossed creeks, other farms, exotic animals, and more. I went on a hike with the maid of the house and Judy and Gustavo's daughter to a "pueblo" in the mountains. The path was full of exotic plants and animals. I went to mass, and the church even...
GARRETT
2016-06-06T00:00:00Z
Een geweldige tijd gehad op de boerderij van Jorunn en Gustavo! We voelden ons meteen thuis en het was erg leuk om het leven op de boerderij mee te maken, van het heerlijke verse fruit uit de tuin dat voor ons klaar lag tot de verse melk en het zien rondscharrelen van alle verschillende dieren (kippen, kalkoenen, geiten en varkens!) Het huisje was van alle gemakken voorzien en lag midden tussen de palmen. De wandelingen over het prachtige terrein en het stoken van een vuurtje voor het huis waren topmomenten! Een rustige oase midden ik het drukke Honduras, we kunnen het van harte aanraden!
Tsjip
2016-01-22T00:00:00Z
Tipo de Acomodação
Casa/apto inteiro
---
Tipo de Imóvel
Casa
---
Acomoda
4
---
Quartos
Las Metalias, Atlantida, Honduras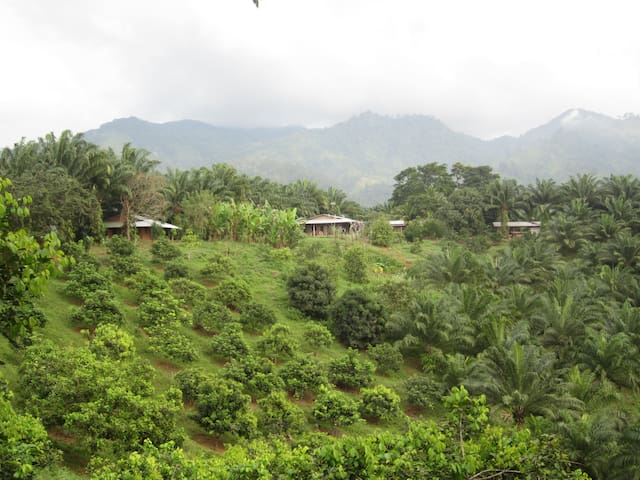 TENEMOS ESPACIO DISPONIBLE AHORA! Nuestra acogedora casa te permitirá disfrutar de un ambiente de paz y tranquilidad.
Tipo de Acomodação
Casa/apto inteiro
---
Tipo de Imóvel
Casa
---
Acomoda
6
---
Quartos
Tela, Atlántida Department, Honduras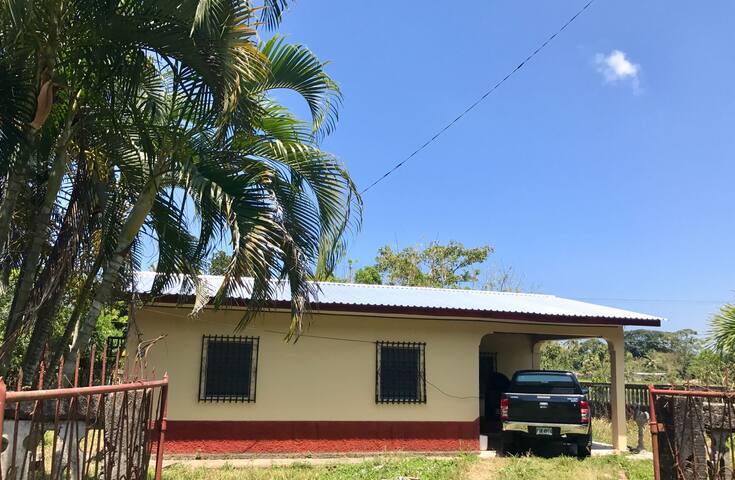 My place is close to restaurants and dining, the beach, family-friendly activities, and great views. You'll love my place because of the location, the people, the views, and the coziness. My place is good for couples, solo adventurers, business travelers, families (with kids), and big groups.
The host canceled this reservation 4 days before arrival. This is an automated posting.
Carlos
2016-10-01T00:00:00Z
The host was very welcoming and friendly upon meeting. Fresh water provided, iron and ironing board, free wifi, air-conditioning. The hotel is secured and gated for your assurance as well. Located in the heart of the town. 2-5 minute walk to the bank, barber shop, local restaurants and bars and best of all the BEACH! Great place, comfortable beds. Linen, towels and showering toiletries provided. Would definitely come back again.
Paul
2016-09-25T00:00:00Z
Tipo de Acomodação
Casa/apto inteiro
---
Tipo de Imóvel
Apartamento
---
Acomoda
4
---
Quartos
Tela, Atlantida, Honduras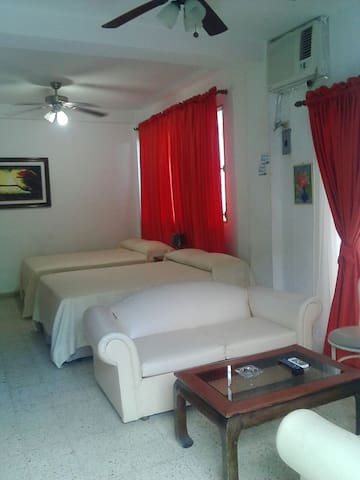 Mi casa está ubicada a 10 minutos del aeropuerto Goloson y a solo 15 minutos de la ciudad de la ceiba, además está a 5 minutos el parque ecológico Pico Bonito.
En mi casa serán todos bienvenidos y también podrán usar mi hamacatrio único
Mi barrio es bien multicultural ya que hay personas de muchas partes del mundo, USA, Alemania, y muchos más
Tipo de Acomodação
Casa/apto inteiro
---
Tipo de Imóvel
Casa
---
Acomoda
8
---
Quartos
La ceiba , Atlantida, Honduras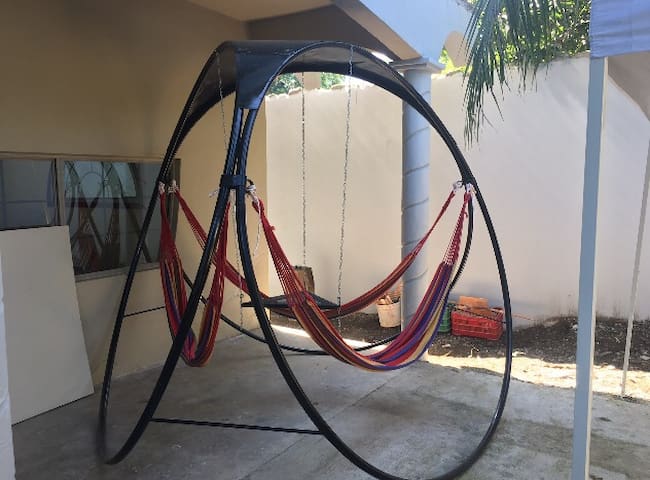 A big house with cozy details, large spaces and rooms, different common areas and near enterteinment areas, malls and the pier. From the house you can go to Roatan, Utila, Cayos Cochinos, Pico Bonito and Tela. Centric location and a really nice enviroment in a secure neighborhood. Ferry, Pier, Transportation and lots of options to travel to the islands. Also informations about tours and direct contact with local tourist agents.
A big house with cozy details, large spaces and rooms, different common areas and near enterteinment areas, malls and the pier. From the house you can go to Roatan, Utila, Cayos Cochinos, Pico Bonito and Tela. Centric location and a really nice enviroment in a secure neighborhood. Ferry, Pier, Transportation and lots of options to travel to the islands. Also informations about tours and direct contact with local tourist agents.
Tipo de Acomodação
Quarto inteiro
---
Tipo de Imóvel
Casa
---
Acomoda
2
---
Quartos
La Ceiba, Atlantida, Honduras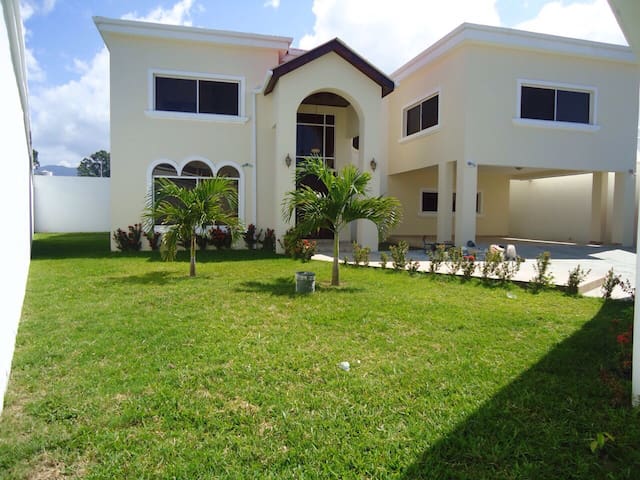 Beautiful Beach Home with Private Pool, FREE WIFI , Cable TV's, fully furnished, 3 bedroom, 2 bath home located in Honduras Shores Planation. a 24-Hour Security gated community, with private pool and access to private beach and beach club. Bedrooms are air conditioned. Housekeeping service included in price.
Beautiful, well-equipped home that is located in Honduras Shores Plantation in the community of San Juan, Tela.
Private, gated community with security check-point and 24 hour patrols.
Lindo lugar tranquilo dentro una naturaleza intecta. Cerca de la laguna Micos y de la playa. La casa tiene todo para pasar lindos vacacionos. Gracias José y a Don Hector y su familia por atendernos!
Philippe
2017-01-16T00:00:00Z
Communication from the owner was great. He answered all my questions and very fast. Even went the extra mile to let me stay a couple of hours past the checkout time. Very much appreciated! The house was super clean and nice! I give it 5 stars.
Jose
2017-03-26T00:00:00Z
Hola José! De parte de la familia Posso-Romero queremos expresarle nuestro agradecimiento por dejarnos formar parte de la gran familia de casa Lila. La pasamos super bién, la casa está muy bonita y muy completa, esperamos poder visitarlos en un futuro muy cercano. Un fuerte abrazo. Martín Posso.
Martin
2017-01-29T00:00:00Z
Excelente ubicación y atención. La casa muy bonita y una de las mejores playas de Tela.
Joanna
2017-01-08T00:00:00Z
Jose's place was perfect for our group! The layout is great and very short walk to beach. The house can comfortably accommodate 9-10 people if everyone is okay sharing a bed or sleeping on the couch. The bedrooms had AC, but common areas didn't. Pool is great. Had a great time! **Would definitely recommend having a vehicle (opposed to take a shuttle or bus) so you can drive around, make a trip to grocery store, restaurants, etc. Aside from the resort (which closes early) there aren't any other dining options close by. Drive is 5-6 hours from TGU.
Brandon
2016-07-28T00:00:00Z
Casa Lila is a beautiful house, with all the comforts of home! There is plenty of room for a large family or group to stay. We were 8 adults and a toddler and we were quite comfortable. The pool is a great area to relax and cool off on a hot day. The kitchen comes fully equipped with modern appliances to cook if you wish. If not, you can enjoy a short walk to the resort for a meal by the beach, or drive in to town where Tela's restaurants boast traditional delicacies like seafood tapado, fried fish with tajadas, and garlic shrimp. Be sure to note that this place is great for a quiet hideaway, but you will need a car or be prepared to pay for a taxi to get to the main beach, about 20 minutes away on both paved and unpaved road. Don't forget to visit the Laguna de Mico a short walk from the house, where you can also get eco-tours of the local wildlife. Call Will when you get to Tela, and he will help you get to the house and take care of any of your needs!
Elizabeth
2017-02-19T00:00:00Z
excelente lugar, magnifica atencion super comodo para viajar en familia o con amigos. pasamos un muy buen fin de semana..
ruth
2016-12-20T00:00:00Z
The host canceled this reservation 17 days before arrival. This is an automated posting.
Giancarlo
2016-12-13T00:00:00Z
Tipo de Acomodação
Casa/apto inteiro
---
Tipo de Imóvel
Casa
---
Acomoda
10
---
Quartos
Tela, Atlántida Department, Honduras
Alquilo apartamento amueblado. 1 habitacion (cama king) consta de sala, cocina( refrigeradora,estufa), baño privado, agua caliente, tv, aire acondicionado, patio, parqueo. Incluye los servicios publicos( luz, agua, cable). Ubicado en zona centrica
Everything was perfect. I would definitely stay again.
Elizabeth
2016-08-13T00:00:00Z
Tipo de Acomodação
Casa/apto inteiro
---
Tipo de Imóvel
Apartamento
---
Acomoda
2
---
Quartos
La Ceiba, Atlántida, Honduras
Alquilo casa totalmente amueblada 105 USD con capacidad para 6 personas o si desea reservar una o dos de sus habitaciones a 35 USD con capacidad para dos personas.
Ubicación céntrica y segura, cerca de escuela. Cuenta con: _Estacionamiento bajo techo para 4 vehículos. _Gimnasio y salón para recreación _ Sala principal y habitaciones acondicionadas _ Luz, agua, cable, internet, ducha. _Lavanderia, nevera, microondas y estufa.
Tipo de Acomodação
Quarto inteiro
---
Tipo de Imóvel
Casa
---
Acomoda
7
---
Quartos
La Ceiba, Atlántida Department, Honduras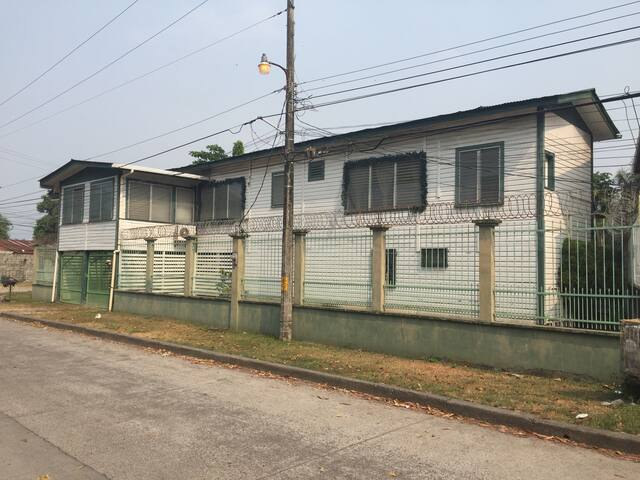 Our house is in a private 1 acre property located minutes from the down town area of Tela . We are in proximity of all the tourist attractions, 5 minutes from Lancetillas Botanical Garden and golf course. Walking distance to beach & mico lagoon
The space on the first floor that rent consists of two bedroom, living room, 2 bathrooms, closets, kitchen with electric stove, refrigerator, microwave. A porch with a hammock and exercise machine. green area, fruit trees with parking and execelente perimeter wall for child safety.
We are located 15 minutes from the beaches, golf course and botanical gardens, lagoons the micos.Barrio Venice is a safe and very nice vecindar, Our house is in an area of approximately one block from private property with many fruit trees.
Hector was a very welcoming host and communicated with me giving clear directions to the house ahead of time. Upon our arrival he showed my family and I around the area and was always willing to help if we had questions. However, the listing was not at all what we expected. The house had no hot water for showers. The pictures showed couches and a table which were not there (there were two small seats to sit on and no table). It was stated that the house would have wifi and be in walking distance to the beach when in reality we only received limited wifi on one half of the porch (the wifi signal was from hector's house next door) and the beach was a short drive away. Every night there was loud music at a bar across the street which went on and kept my wife awake until 2 AM. The entire porch had tons of biting ants which made it very difficult for us to sit there comfortably and bit my one year old daughter. It was stated that the kitchen was stocked, when in reality there were two pans, four plates, some utensils, and a mini fridge. Additionally, the stove shocked you if you touched metal to the pan while cooking and the microwave stopped working after our first day there. Hector was a very welcoming host, but his listing needs to be updated in order to more accurately reflect the true nature of the listing. The house could also use some more furnishings and working kitchen supplies.
Jonathan
2016-11-27T00:00:00Z
Hector was a great host. He drove us to the town center the night we arrived and to the bus station the next morning. His sister made wonderful tamales that they shared with us. There were ice cold water bottles and Pepsi in the fridge as well as fresh bananas.
Lorraine
2015-12-25T00:00:00Z
We had a great nights rest on our way back through Tela. Hector was a kind and accommodating host who went above and beyond to make our stay as pleasant as possible.
Lorraine
2015-12-30T00:00:00Z
Hector's Casa de Campo is a wonderful place to stay and Hector is a terrific host. The accommodations were sumptuous -- clean, pleasant and inviting -- and Hector went out of his way to help us with everything from rides to the bus stop, to tips on where to go, to a delicious breakfast. Hector had snacks for us and gave us coconuts from his back yard. He's also very fun to talk to. We will be recommending all of our friends to stay here and encouraging them to visit Tela, if just to stay with Hector!
Sara
2014-12-29T00:00:00Z
Hector's place was well-represented in his description and by the photos he has posted on the listing page. Hector actually could brag more in his description about the property because it is a great place to stay! The neighborhood is a bit removed from the city center, but that just means that it is quieter at night when trying to sleep! The place is very secure with friendly guard dogs, well-lit and a convenience store/small restaurant is just across the street, as well larger supermarkets and taxi stands within walking distance. As a host, Hector's attentiveness could not be matched! He saw to it that all of our needs were met during my 3-night stay with my girlfriend. Our expectations were exceeded in many ways and I would recommend this place to other travelers having stayed in the city center on past trips. Thank you Hector! : )
Craig
2014-07-27T00:00:00Z
Great host and excellent accommodation. Hector provided us with lots of free fruit and advice on Tela. He was always willing to help and always had a smile on his face. 10/1O
Andrew
2016-10-08T00:00:00Z
Tipo de Acomodação
Casa/apto inteiro
---
Tipo de Imóvel
Apartamento
---
Acomoda
6
---
Quartos
Tela, Atlántida, Honduras
Insira as datas para ver o preço total. Taxas adicionais serão aplicadas. Impostos podem ser adicionados.