262 Apartamentos para Alugar
My place is close to parks. You'll love my place because of the neighborhood. My place is good for business travelers.
The landlord is very enthusiastic, help me to luggage, have prepared a lot of fruit to eat. Room large, bed comfortable, great experience!
菊
2016-12-20T00:00:00Z
The house is easy to find location, the landlord is very good, complete equipment, as described.
立均
2016-12-09T00:00:00Z
Thank you for your hospitality, the room is very big, the bed is very comfortable, the quilt is clean, the taste is very good, I like it very much. Recommended ~
翠艳
2016-12-01T00:00:00Z
Tipo de Acomodação
Quarto inteiro
---
Tipo de Imóvel
Apartamento
---
Acomoda
1
---
Quartos
Ashville, Ohio, Estados Unidos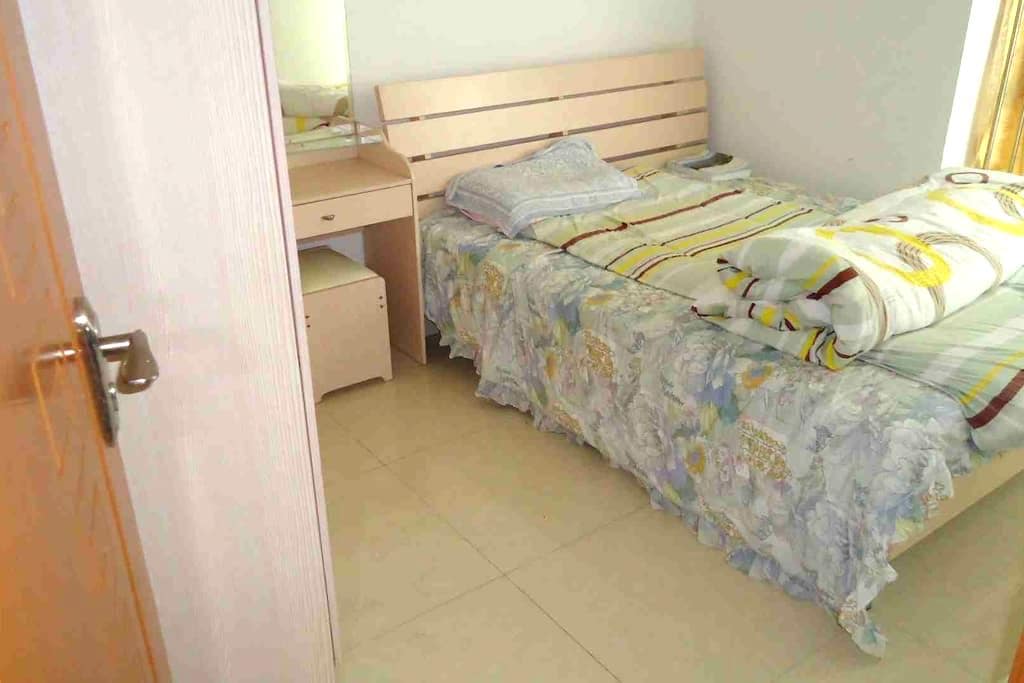 Tipo de Acomodação
Quarto inteiro
---
Tipo de Imóvel
Apartamento
---
Acomoda
2
---
Quartos
South Bloomfield, Ohio, Estados Unidos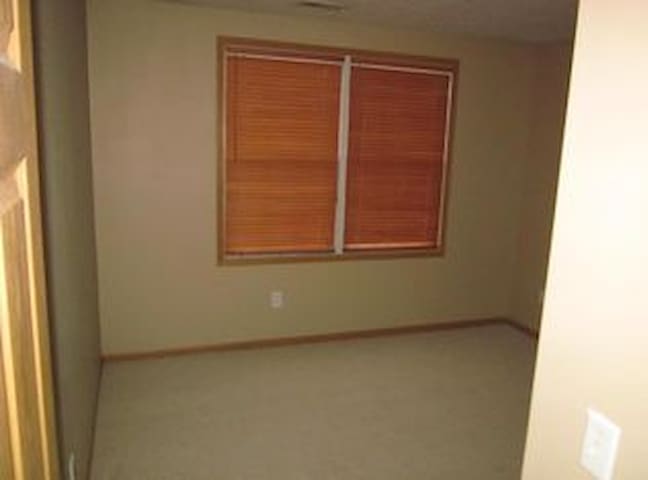 Each twin bed has a pillow top sheet covered by a warm and fuzzy brown and blue comforter. The room is the master bedroom so it's bigger than what the pitcures show. My place is only 10 mins from Columbus and 2 mins from 270 and 71! Im 20 mins from the airport. You will also have front door parking in my assigned parking spot! Wifi included!!!
If you show me a military ID upon your arrival I'll give you a 20% discount up to 5 days. I have two cats. They are afarid of guests at first they will warm up. Let them come to you. Please DO NOT mistreat my cats or you will be booted out! Thanks:) Also they are cats and they do shed. I do my best to keep up with the hair
The neighborhood is really amazing! I don't have to worry about violence and yet I'm super close to Columbus! During the summer The Big Splash is open and that's pretty fun and cheap($6)! The library is BRAND NEW and absolutely beautiful!
The place as advertised. Convenient location for what was needed. Samantha communicated well before and through out the stay.
Elena
2017-03-06T00:00:00Z
Highly recommend staying at Samantha's, very outgoing and accommodating with whatever you need!
Nelson
2017-01-16T00:00:00Z
Samantha was an amazing host. I came to Ohio for the first time in my entire life, and she made me feel at home, invited me out for dinner, and even went as far as stepping in to take me to some of my destinations rather than having me take a cab everywhere. This was my first airbnb experience, and she exceeded every expectation I had. My reasoning for coming to the city was very difficult for me, and she provided me with a lending ear, and a genuine welcoming vibe that I am so grateful for. Samantha is truly a beautiful person and I wil defiitely stay with her again in the future.
Nadeja
2017-03-26T00:00:00Z
I stayed just one night for work. Samantha was great at communication and offered me a discount for a booking mix up. Her place was right off the main road but quiet. Samantha is friendly and flexible. The bedroom is small but clean and the bed was comfortable. A great value for those on a budget. Would stay here again.
Peggy
2017-01-29T00:00:00Z
I had an AWESOME stay here!! Couldn't of picked a better place! The price was right and everything was only a 10-25 minute drive away if not right across the street! Highly recommended and would definitely stay here again!! Samantha is awesome, the place is clean and cozy, and I had a great first visit to Ohio!
Alecia
2017-02-20T00:00:00Z
Samantha is one of the kind she make you feel comfortable on her house she did cook chicken and waffles.I am 100% recommend her place to any travelers on this area
Julio
2017-03-02T00:00:00Z
Samantha was very accommodating to me and was always positive and socialable during my visit.
Mwesigwa
2017-02-11T00:00:00Z
Comfortable stay as usual, Samantha is a great host.
Peggy
2017-03-28T00:00:00Z
Tipo de Acomodação
Quarto inteiro
---
Tipo de Imóvel
Apartamento
---
Acomoda
2
---
Quartos
Grove City, Ohio, Estados Unidos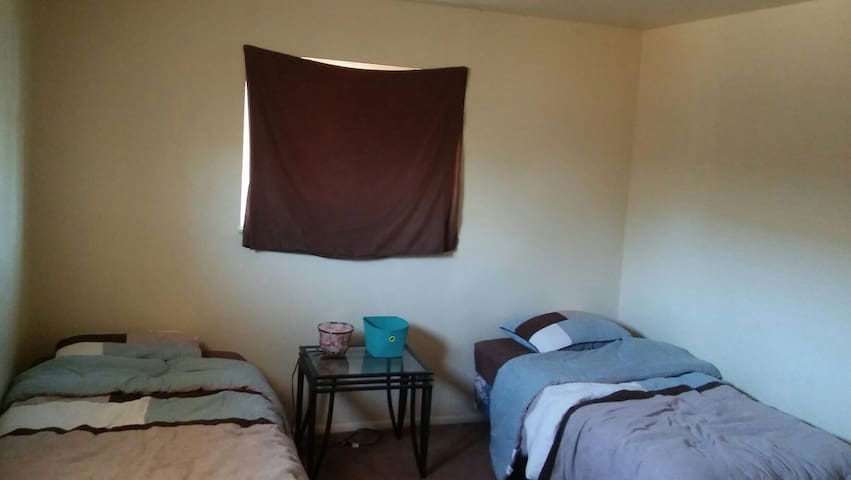 Hip studio is located in the heart of Bangkok and is within walking distance to BTS & Chao Praya River. The room is situated on the 12A floor of 17 story condo complex. The room is recently renovated
Tipo de Acomodação
Casa/apto inteiro
---
Tipo de Imóvel
Apartamento
---
Acomoda
5
---
Quartos
Obetz, Ohio, Estados Unidos
1 full-sized bed. Comes with parking, access to main kitchen and living room with large screen TV. Groceries and restaurants within a 2 mile radius.
Tipo de Acomodação
Quarto inteiro
---
Tipo de Imóvel
Apartamento
---
Acomoda
1
---
Quartos
Groveport, Ohio, Estados Unidos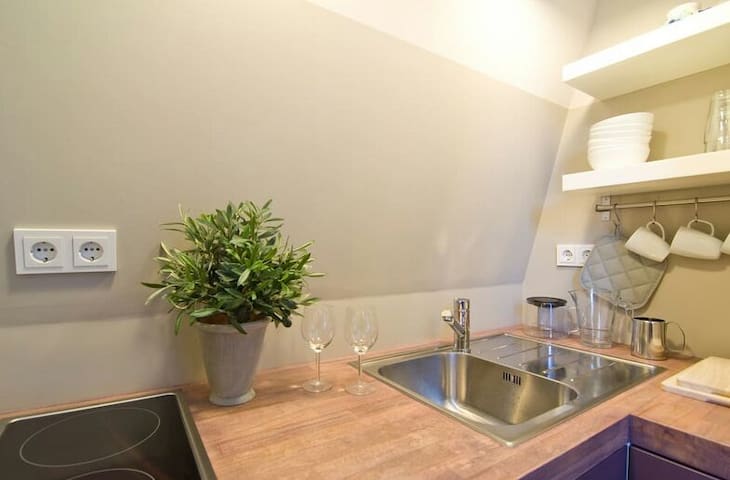 It's a very nice place too be , make you feel like you're home
Tipo de Acomodação
Casa/apto inteiro
---
Tipo de Imóvel
Apartamento
---
Acomoda
1
---
Quartos
Canal Winchester, Ohio, Estados Unidos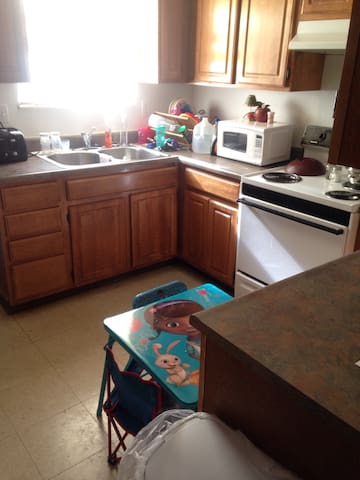 ==> We are located in East Columbus and approximately 1.5 miles close to I-270 N/S. ==>15 mins drive to CMH Airport, and Easton ==> Polaris: 23 mins /20 mi ==> OSU: 19 mins/14 mi ==> Mapfre stadium: 18 mins /13 mi *Nearest mall is Eastland mall (3 miles) and 0.6 mile to public transport. My place is close to public transport, and restaurants. You'll love my place because of the ambiance,quiet, and secure neighborhood. My place is good for couples,solo adventurers, and business travelers.
Apartment is Quiet, Clean, and in very secure neighborhood Plenty of on-premises parking, and very secure Easy access from highway
==> Neighborhood is very secure. ==> Near to Interstates (i.e. 270 N/S & 70 E/W) ==> On-Premises, and plenty of Parking space available ==> 15 mins drive to John Glenn Columbus International Airport(i.e. CMH Airport), and Easton
Excellent host. He welcomed and ready to answer any question for you. The house is clean and organized. Great stay.
Chan
2017-01-16T00:00:00Z
I really enjoyed staying with Vincent and his family. Vincent had the place ready to go when I got there. There was a room with a bed, mirror, desk, chair, chips, chocolate, bottle of water, towel, washcloth, wifi password, and a key to place with a keying. There are a lot of buildings in this area it is the first one of the right. Also I don't believe there are any dashes in the wifi password. Vincent and his family made me tea when I gotten there. Really everything was great. If I am ever back in town this is where I will stay again!
Christopher M.
2017-01-15T00:00:00Z
Best value for the budget traveler! Best and fastest communication ability I've come across through my airbnb experience yet.
Andrew
2017-03-17T00:00:00Z
Vincent is a great host. I did not even hear the traffic by my third night.
RALPH
2017-03-04T00:00:00Z
This place is a wonderful discovery. You definitely get more for what you pay. Vincent is very warm and hospitable. He is very communicative. The room is very comfortable. There will be a packet of chips, a chocolate and a bottle of water kept in the room. That's so thoughtful. Parking is very easy and readily available. Also, the bathroom shower pressure is fantastic . This is definitely a very good place.10 out of 10.
Som
2017-03-09T00:00:00Z
Convenient spot for an overnight stay if passing through Columbus. Hosts are really nice and the space is clean.
Stephanie
2017-03-27T00:00:00Z
Nicest host ever!
Gabriela
2017-02-11T00:00:00Z
If you're like me and sleep like a rock, this is a perfect budget bed for passing through Columbus. Vincent goes above and beyond as a host and the house is spotlessly clean. 10/10 would stay again. If you are a light sleeper, highway noise could bother you, and you should probably keep looking.
Drew
2017-02-19T00:00:00Z
Tipo de Acomodação
Quarto inteiro
---
Tipo de Imóvel
Apartamento
---
Acomoda
2
---
Quartos
Columbus, Ohio, Estados Unidos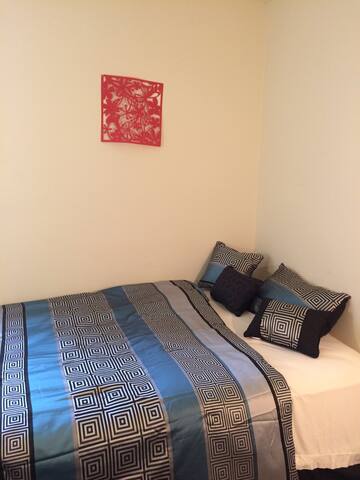 Light and airy 2nd floor apt in a turn of the century building in historic German Village. This turn-key, 550sf unit with mid-century décor is just steps from Schiller Park, grocery store, restaurants and local attractions, and a $5-$10 Uber ride to downtown Columbus and Short North, Columbus' premiere arts district. Great for couples, solo adventurers and business travelers. Private entrance. Free on-street parking.
ABOUT GERMAN VILLAGE You are in one of the best parts of Columbus, Ohio—beautiful and historic German Village. There is so much to see and do and most of the area is pedestrian friendly. We have our favorite eateries including Barcelona, Sycamore Café, Brown Bag Deli, Pistachio Vera, Taco Tuesday at The Kitchen, Lindey's, Katzinger's, G Michaels, Harvest….. Check out German Village Society for details. For fitness options, there is a Snap Fitness facility on Third Ave and Schiller Rec Center in the Park (both are fee-based).
The apartment was great and the location very convenient for German Village. Check in and check out were quick and automated. They also provided a selection of breakfast options, fruit, and snacks that made for a nice touch.
Dominick
2017-03-17T00:00:00Z
Perfect home away from home feel and located in my favorite part of town German Village. A great alternative to the normal hotel stays. Will be staying here more often, thank you!
Neil T.
2017-03-09T00:00:00Z
Great place and attentive hosts. I had a little trouble getting into the front door via key pad, not because they didn't give me great directions, but because I am not too tech savvy....I shot them a text, and they called within seconds and walked me through the whole process. They were wiling to drive and help me if i was still having trouble. Cute and comfortable place. Perfect location. I would definitely stay here again or recommend to others. Thank you Lucy and Brent.
Renee
2017-04-02T00:00:00Z
We had a wonderful weekend stay. On street parking was abundant but once we arrived we walked everywhere, no need to use our car. Perfect location for exploring all of German Village. Brent and Lucy left some nice snacks and the apartment was exactly as described and as shown in the photos. Thank you!
Tricia
2017-03-19T00:00:00Z
Adorable apartment, comfortable, clean, and has everything you could possibly beed. They informed me that buses are easily accessible, however I rented a car so I cannot comment on that as I did not need those services. Overall, I would highly recommend. Come necessities provided in the fridge, and Lucy and Brent were very accessible to questions should I have had any! All good things about this place!
Christy
2017-03-05T00:00:00Z
The place is great! Cozy setting near lots of good local eats and the park. I would definitely stay there again when in Columbus.
Chris
2017-03-12T00:00:00Z
Great value! Lucy and Brent's place is within walking distance to good restaurants/bars in German Village. A $6 Uber ride gets you downtown for even more choices. We would return!
christine
2017-04-09T00:00:00Z
Lucy and Brent's place was perfect for us! It is in a great location, walking distance to lots of restaurants and shops in German Village. There is also a grocery store right down the street. Check in was very easy and communication was timely and very thorough. The apartment was so clean with a comfortable bed and soft towels. Lucy and Brent put in a lot of thought and effort into the decor of the apartment. We loved it and will definitely return for another stay in German Village!
Lori
2017-03-26T00:00:00Z
Tipo de Acomodação
Casa/apto inteiro
---
Tipo de Imóvel
Apartamento
---
Acomoda
2
---
Quartos
Columbus, Ohio, Estados Unidos
Prime spot in German Village, steps away from the Meeting Haus, some of the best restaurants in Columbus, Starbucks, and the Book Loft. Fully furnished bedroom with a queen-sized bed.
Prime German Village location with two dedicated off-street parking spaces.
To quote the neighborhood website, it sums it up perfectly... "German Village is a model of urban neighborhood preservation and revitalization." The self-guided walking tours are wonderful too!
Josh is a special host! He welcomed me after a tedious journey into his eclectic, comfortable world of art & music. Germantown (Columbus, OH) is a fabulous community. My accommodations were warm, quiet and refreshing!
Michael & Maureen
2014-12-02T00:00:00Z
Josh's place was great! Perfect location, cute and comfortable space. He provided some local info and a fridge and snacks in the room. We were only there one night, and he was very flexible when we changed our check in time. Easy, cozy place to stay. Thanks Josh!
Liz
2015-11-29T00:00:00Z
Josh was easy to communicate with leading up to our arrival. He greeted us at the door (very warm and friendly) and made us feel completely comfortable right off the bat. He gave us a few great suggestions for local restaurants. The neighborhood is beautiful, safe and very convenient to downtown. There was a mini fridge fully stocked with water and seltzer to hold us over and gave us full access to use his kitchen. We forgot a few things after checking out and he was kind enough to offer to ship them back to us without us even asking. I highly recommend his place!
luke
2014-05-29T00:00:00Z
Josh's place was great. It was a cute neighborhood and we had a secure place to park the car. Josh was extremely helpful both when we locked ourselves out and when my car battery died! Great place to stay with a generous host.
Anna
2016-10-30T00:00:00Z
We stayed the weekend with Josh while we revisisited all our favorite Columbus spots. The accommodations were as stated, very comfortable room. Thank you, Josh, for making us feel welcome and sharing your wonderful row house in German Village.
Dana
2015-03-22T00:00:00Z
Josh's communication was excellent. His home was impeccable. The room was beautiful and comfortable. Josh's hospitality far exceeded our expectations. We loved the feel and location of the quaint little neighborhood. Our only wish was that we had had more time to stay in his fabulous location to thoroughly enjoy all it had to offer. We make the trek through Columbus often so we will definitely be back! Thanks Josh for making our first stop such an amazing one.
Pamela
2016-05-07T00:00:00Z
Great location and a well kept house. Josh was easy going and offered dinner/breakfast suggestions along with a local map upon my arrival. The area of town and proximity to everything from upscale dining to dive bars and a local park was the best part. Amenities such as access to additional toiletries and water/snacks topped it all off! I would highly recommend checking out Josh's place!
Jordan
2016-09-23T00:00:00Z
Josh is a wonderful host. Very warm and friendly. His place is all I needed for a weekend relaxation. I will come back again.
gus
2016-10-24T00:00:00Z
Tipo de Acomodação
Quarto inteiro
---
Tipo de Imóvel
Apartamento
---
Acomoda
2
---
Quartos
Columbus, Ohio, Estados Unidos
On the park in the historic Kremer Home, a sun-filled studio apartment with hardwood floors, high ceilings, fine woodwork, period furniture, and contemporary art. Just steps to all that German Village and downtown Columbus have to offer- a must see!
The suite that is currently available is a 400 square foot sun-filled studio apartment with hardwood floors, high ceilings, fine woodwork, period furniture, and contemporary art by Ohio artists. It has its own private entrance, granite-tiled full bath and shower, piano, queen-sized bed, refrigerator, coffee-pot, and generous closet space. Located in the Kremer home, situated on the northeast corner of Schiller Park- this house is one of German Village's best-known residences. Built in 1887 by a leading Columbus architect and developer, Julius Kremer, it has captured the imagination of German Village residents and visitors for over 100 years. Kremer developed the land around the park and designed many well-known structures in Columbus and throughout Ohio, including the Hartman Building, Front's Brewery, and the Union Station.
Come join us for a memorable glimpse into the past while sharing the vibrancy of one of the Midwest's most progressive cities. It is the perfect spot for an urban vacation. Whether you want to enjoy Shakespeare in Schiller Park, a world class meal, a hockey game, a jog in the park, a festive event or some of Ohio's best bars, they are just a short walk away.
Jim sent great directions before arriving with details about parking and entry. It was very easy to get in. The mini frig was stocked with cool water and flavored LaCroix water. Both were appreciated. The apt. was very nicely furnished. It was very quiet and in lovely locations. Getting out Sat. morning for an early morning walk was a treat as I explored the neighborhood and was warmly greeted by other walkers, runners, and dog walkers. What a beautiful neighborhood and apt. Enjoyed great meals and bakeries in the area. I imagine in the summer it is even more gorgeous with the park and homes in flower. I hear Shakespeare in the park is a treat. Wouldn't it be great to just walk across the park at the end and be in your own cozy place. Worth considering for a future trip.
Beth
2016-02-28T00:00:00Z
Jim's place was adorable. The park is directly across the street, and the beauty of the Schiller Room, along with the overall charm of German Village, was just what we were looking for. Jim's message to us with instructions was extremely useful. In addition, the amenities (water bottles, Perrier in the fridge, delicious coffee, chocolates) were lovely. You are right around the corner from Barcelona, a delicious Spanish restaurant, and a quick walk away from Giant Eagle if you need to pick up food/drinks/anything else you need. I highly recommend The Schiller Room in terms of its affordability and location. Thanks Jim!
Cait
2016-11-07T00:00:00Z
The Schiller Room was a perfect place to stay on my recent visit to Columbus. I attended an event at the Grange Audubon Center and the location was just minutes away. I also walked almost every day to the outstanding tapas restaurant, Barcelona, which was only 1 block from the room. The room is spacious and very comfortable, with a wonderful leather couch. The keyless entry is perfect for folks like me who have a bad habit of losing keys. I would definitely stay here again if I am in the area.
stephen
2015-10-06T00:00:00Z
Perfect location and lovely space. I appreciated the privacy afforded and very much enjoyed my stay.
nedra
2015-09-16T00:00:00Z
great location convenient clean
Cynthia
2017-03-13T00:00:00Z
Jim's space was great for a private getaway. The room was so unique and welcoming, from the chalkboard sign in wall, to the petite flowers in the living room and bathroom. It was the perfect mix of staying at a bed and breakfast and a hotel. We had our privacy, and all the accommodations we could ask for. It was apparent that Jim knows what he is doing. Within the spacious closet, he provided a fridge, coffee maker, mugs, and coffee and tea options. He also had all the soaps and lotions you need when taking a shower. Parking was a breeze. We simply took a parking pass that Jim left in the room, and parked on the street right in front of the entrance. The location was perfect. It was walking distance to great shops and restaurants, and steps away from the park. Jim was proactive with all the information we needed for the stay, which made our first Airbnb experience a stress free one. Anyone with an affinity for charm and beauty, would love both the area and The Schiller Room.
Jennifer
2016-04-08T00:00:00Z
The home and room were exactly as described. The neighborhood and location was even better than expected, with a wonderful restaurant and grocery store right down the street. Great experience!
James
2016-04-29T00:00:00Z
We stayed in the Schiller room this last weekend and it was perfect! It is EXACTLY as you see in the photos. The bed was comfortable, very nice linens and the bathroom was adorable. Only a short walk down the brick sidewalks to quaint galleries, unique restaurants and coffee shops. We thoroughly enjoyed ourselves in German Village. The leaves are turning and the park across the street is beautiful! We'll definitely be back!
Shelly
2015-10-26T00:00:00Z
Tipo de Acomodação
Casa/apto inteiro
---
Tipo de Imóvel
Apartamento
---
Acomoda
2
---
Quartos
Columbus, Ohio, Estados Unidos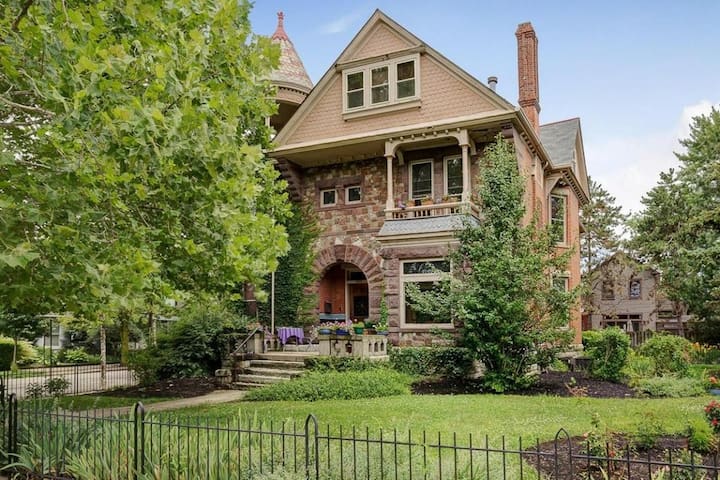 Clean, simple, quiet neighborhood close to suburb of Bexley with restaurants, ice-cream shop, movie theatre, grocery, etc. Downtown nightlife, Arena District, Short North, and Ohio State campus are less than 8mi away! OR stay in and cozy up with a movie next to the fireplace. My place is good for couples, solo adventurers, business travelers, and families (with kids). Airport is very close. NO "PER PERSON" BOOKING COST!
This is a big space with three floors! Three bedrooms, with a very, very nice kitchen, and very comfortable beds and sofa! TV gets a great picture! Driveway parking. Close to everything including I-70.
David
2016-10-24T00:00:00Z
Thanks for everything mark! The property was more than I expected. 5 stars and worth every penny!
Harold
2017-02-19T00:00:00Z
Mark's place was perfect for our NYE pad this year. We spent a few hours having cocktails and eating dinner then went out to short north (about a 15 minute uber ride away). The area is pretty quiet (we actually had a noise complaint for being too loud). Aside from that, all in all it was a great stay: lots of space, very clean, and plenty of parking. I would definitely stay here again :)
Emaleigh
2017-01-01T00:00:00Z
Marks place was very relaxing he even had a phone charger in every room so if you left your charger at home your covered
Kuawme
2016-10-23T00:00:00Z
Mark's place was great! It's got tons of space and was well stocked with incidentals. The tv is huge with strong wifi. He was really responsive throughout booking and you can't beat the price. The neighborhood isn't really a place you can walk around but if you have a car it's fine.
Elizabeth
2017-04-02T00:00:00Z
Large house with space for four unrelated people. Nice and convenient to central Columbus. Good communications and everything as advertised
Paul
2016-12-04T00:00:00Z
Great neighborhood; perfect for a quiet evening. We are a touring band, so having a comfortable home to stretch out was a real treat. Mark was very responsive and hospitable. Would definitely recommend!
Aj
2016-10-13T00:00:00Z
Quick trip from downtown. Huge space. SNES is a nice touch.
Mike
2017-01-22T00:00:00Z
Tipo de Acomodação
Casa/apto inteiro
---
Tipo de Imóvel
Apartamento
---
Acomoda
8
---
Quartos
Columbus, Ohio, Estados Unidos
Make yourself at home at my remodeled and tastefully designed studio. Everything is brand new: upscale bathroom, modern kitchen with granite counters, professional series stainless appliances and all the cookware necessary to make a gourmet meal. It has unique character with exposed brick, hardwood floors, and lots of natural light A short jaunt from dining, nightlife and beautiful Schiller Park Great for couples, solo adventurers, and business travelers Available for short and long term rental
Perfect place to stay in Columbus! We will stay here again when we come back to visit. Natalia has a beautiful studio perfect for a couples trip. Couldn't have found a better spot!
Haley
2017-01-22T00:00:00Z
My boyfriend and I stayed in Natalia's studio apartment for a short vacation. The apartment was so modern, aesthetically pleasing and adorable. She provided us with all the essentials (towels, etc) and some fun extras (espresso machine, snacks, Netflix)! The apartment itself was 10/10! The only problem we had was the location of the building because it was on a busy street (I'm a light sleeper so I slept with earplugs in). Thank you again for a great stay. We hope to be back in the future!
Catherine
2017-01-12T00:00:00Z
Natalia always kept in contact and was very accurate about location and very informative! The space was beautiful and I felt very comfortable there. Parking was not an issue at all which I love! I would for sure stay there again if and when I need to plan a one night stay in the Columbus are!
AJ
2017-01-29T00:00:00Z
Natalia was a lovely host and made everything very easy for us (she even had treats waiting for us!) The apartment was recently redone and very cute. If you're a light sleeper or used to a quiet street, the only thing to be cautious of is the noise level at night. Overall, wonderful place for a quick stay in Columbus.
Brad and Alex
2017-02-09T00:00:00Z
We loved Natalia's place! Really clean and trendy spot really close to downtown area and Short North. A lot of street noise (welcome to life downtown), but bearable if you're not too light of a sleeper! Over all a really great choice, we would do it again for sure!
Cameron
2017-03-19T00:00:00Z
This is an ADORABLE studio!! I would highly recommend it for anyone who is wanting to be close to downtown, the brewery district or German village. Natalia was an amazing host. We definitely will keep this studio in mind for future visits.
Amy
2017-03-14T00:00:00Z
Natalia's studio apartment was the perfect unexpected romantic getaway! The photos do not do this place justice - the space was large enough for the two of us to live in for two and a half days, and never feel cooped up or uncomfortable. Natalia had a well-stocked kitchen with gourmet coffee, snacks, and all the tools needed for us to create our own breakfast in bed. It was just close enough to downtown to take a quick uber/cab, but far enough away to wake-up slow and enjoy peace and quiet. I hope to revisit this quiet little studio next time we explore Columbus! We would definitely give our stay a 10/10!
Tenika
2016-12-31T00:00:00Z
Beautiful apartment!!!
Amber
2017-03-26T00:00:00Z
Tipo de Acomodação
Casa/apto inteiro
---
Tipo de Imóvel
Apartamento
---
Acomoda
2
---
Quartos
Columbus, Ohio, Estados Unidos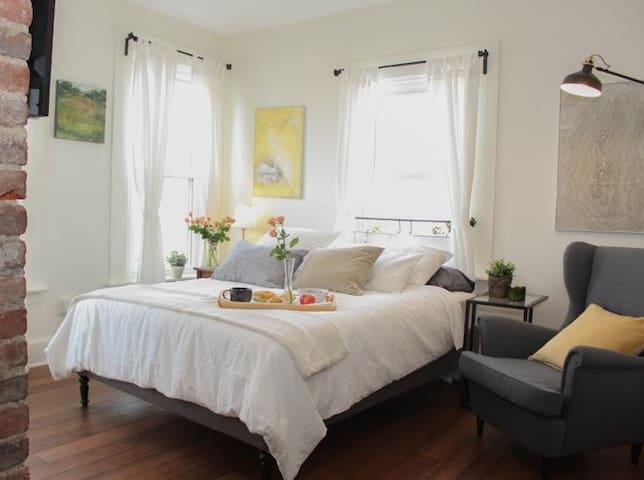 Great space in a quiet building! 1 bed + queen memory foam pullout Pristine Full Bath Washer/Dryer Fully Equipped Kitchen Walk-In Closet Right in the heart of The Brewery District and minutes from Columbus Business District. Easy access to Nationwide Arena restaurants, shopping, grocery, OSU and more!
City View and minutes from downtown. Everything in this apartment is brand new. Very comfortable and clean with everything you need. Walk to restaurants, bars, and even Kroger!
Historic Brewery District just south of downtown Columbus is full of character and things to do.
Excellent location in a very secure complex. Jacob was great to work with and all communication was efficient and timely. If in Columbus and want a location close to everything I would highly recommend it.
Dean
2016-10-25T00:00:00Z
We had a great stay. Wonderful centralized location to everything we needed to do in Columbus. Straight forward directions on how to use the apartment. Exceptionally clean, comfortable and well appointed. We'd definitely stay here again!
Erin
2016-05-08T00:00:00Z
Jacob communicated well and provided clear directions to the apartment, which was comfortable and as described. The apartment was within walking distance of German village, downtown, and a variety of restaurants. There was an outside pool within the complex, and a pool pass was provided. We enjoyed our stay!!
Wendy
2016-06-23T00:00:00Z
Great spot and Jacob did an excellent job getting me in! I'm a foodie and connoisseur of beers and this spot is within walking distance of so many great places to enjoy both! I will definately consider this spot on my next trip to Columbus!
Thomas
2016-07-14T00:00:00Z
This was a perfect stay for us. Easy to check in & out. The pictures are just the way tit was. Thanks again for having us!
Leah
2016-10-02T00:00:00Z
A great space. Clean. Full kitchen. Modern. Convenient parking. Jacob always responded promptly, and it was easy to get in when we first arrived. Highly recommended.
Richard
2016-05-10T00:00:00Z
The apartment was exactly as advertised. It was very comfortable and clean. The kids loved the access to the pool. We will likely be traveling to this location again next year and hope to be able to stay here again if we do.
Jerry
2016-07-31T00:00:00Z
Jacob left us thorough instructions on getting in, parking, etc. Everything was great!
Stuart
2016-10-31T00:00:00Z
Tipo de Acomodação
Casa/apto inteiro
---
Tipo de Imóvel
Apartamento
---
Acomoda
4
---
Quartos
Columbus, Ohio, Estados Unidos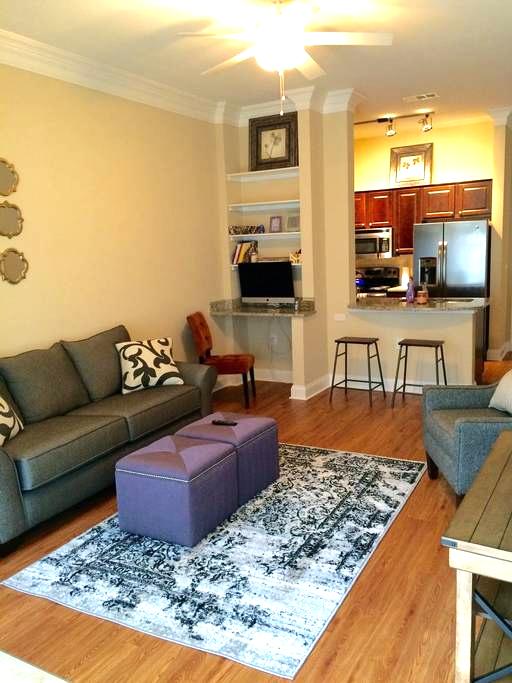 It is a cozy & quaint quiet upstairs bedroom with bath/shower. You have use of the kitchen which includes a refrigerator, freezer and microwave. You will have the opportunity to rest in the living room in the rocking chair, love seat or on the new carpet. A TV is available in the living room. There is air mattresses available for additional guests. Wash your clothes any time in the convenience of washer and dryer. The major grocery store, gas station is right around the corner (2-3minutes away) and walmart and other major restaurants are less then 10 minutes. You can also access downtown Columbus in approx. 10-15 minutes taking Rte. 33 and the 270 E/W.
The City of Groveport offers a wide variety of residential and Resource Guide recreational options. You're invited to explore the latest art exhibit or discover the history of the original Horse Whisperer, John S. Rarey, at Groveport Town Hall. Schedule a tee time at The Links for one of the finest golfing experiences in Central Ohio or stop by the Groveport Recreation Center or Aquatic Center for a memorable experience.
Tipo de Acomodação
Quarto inteiro
---
Tipo de Imóvel
Apartamento
---
Acomoda
4
---
Quartos
Groveport, Ohio, Estados Unidos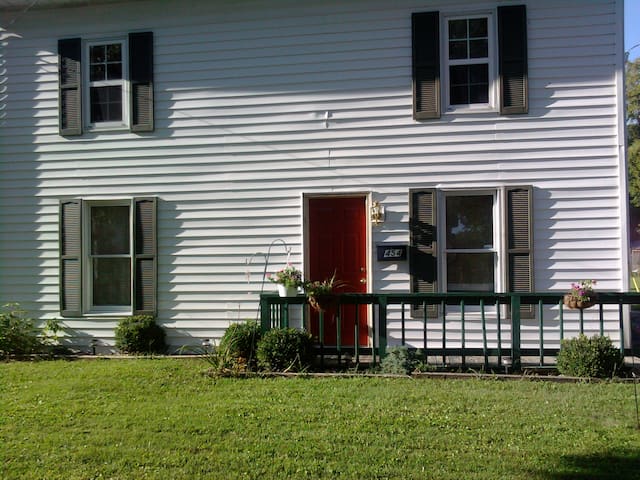 Perfect for a weekend stay for business or pleasure! Charming cozy apartment located minutes away from downtown columbus. Close to the convention center , nationwide hospital , german village , short north , Arena district,Italian village all restaurants ,bars coffee shops . Safe location with easy access to the home.
Lots of sunshine and windows for a cheerful atmosphere
Safe and quaint. Quiet for a good nights sleep and plenty of sunshine in the morning.
Stephanie's place was very clean and a great location for all sorts of events in Columbus. Stephanie was flexible on the check-in time since we were driving in from Milwaukee. She checked in on our travel in and each day to make sure everything was ok and that we could get to the places we needed to in Columbus - it was nice to have her check-in on us. The work out room was a nice feature. It would have been nice to know that the pool was outdoor and closed when we stayed there - the weather was awesome and a dip in the pool would have been fun. It's not listed, but make sure you bring your own towels - she doesn't provide them. We'd stay here again on our stays when we come to visit our daughter at OSU.
Dotty
2017-04-09T00:00:00Z
The apartment was exactly as described, very clean and comfortable. The area was safe, and a few minutes from downtown via the highway. Stephanie was a great host, checked on me periodically to make sure I was enjoying my stay which I appreciated. All in all a great stay.
Cecilia
2017-03-08T00:00:00Z
Tipo de Acomodação
Casa/apto inteiro
---
Tipo de Imóvel
Apartamento
---
Acomoda
3
---
Quartos
Columbus, Ohio, Estados Unidos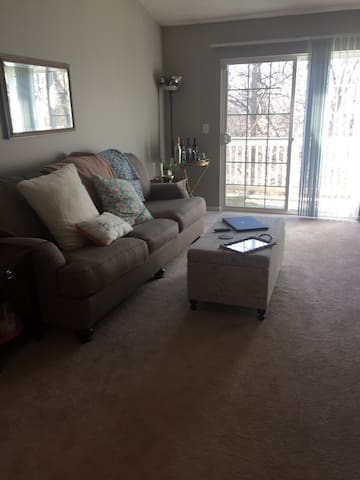 1B1BA third floor apartment in the historic Judge's Mansion in eclectic Olde Towne East. Experience antique and vintage design with modern convenience. The apartment has a small kitchen with stove/oven and fridge for your culinary endeavors.
The Judge's Mansion is a late 1880's restored Queen Anne Victorian home located in Olde Towne East existing of The Judge's Office (1b/1ba) apartment, (2) third floor apartments, an owner's suite, an en suite with two twin beds and full bath, and a first floor large dining area and open kitchen. We acquired The Judges Mansion in August of 2015. 2 of 5 listings will be available as of 9/1/2015. We invite you to explore the Mansion as our family both lives and works to make this a vibrant social and lodging destination in Olde Towne East and the Airbnb community. The Judges Mansion is a completely rehabbed Queen Anne Victorian Home with 5 individual/entire apartments and one guest suite.
Olde Towne East is an eclectic neighborhood full of creative souls with many homes restored or in the restoration process. We are located 1 mile from downtown.
A very good location just minutes away from all the venues in downtown Columbus. Clean comfortable and very spacious. We would definitely stay there again.
Victor
2016-11-03T00:00:00Z
Spacious and clean. It is an older home so it has a lot of big windows and charm, but sinks, tub, counters, are on the older side.
Laurie
2016-10-26T00:00:00Z
It was my first time to Columbus, and Courtnee was a great host. The house was stunning, and the apartment was really spacious, clean and welcoming. I'd definitely come back.
Wiley
2015-10-12T00:00:00Z
Another great stay with Courtnee! I absolutely love old homes like this and Courtnee has done a beautiful job of updating the place without losing its classic charm. The snacks and bottles of water in the kitchen were a very nice touch. Great location, too -- close to a lot of great things to see and do, but not so close that you have to deal with constant traffic. I'll be booking with Courtnee again should the opportunity presents itself.
Tamsyn
2016-04-11T00:00:00Z
Alles klopte
Albert
2016-08-20T00:00:00Z
Courtnee was a great host, I felt very welcomed and she accommodated my arrival and departure well! The neighborhood is nice and full of large homes like this one. I rarely spent my time at the apartment, but when I did it was fantastic. Everything is very clean and makes you feel at home. The internet is also incredibly fast, which is a huge plus!
keanu
2016-04-05T00:00:00Z
Great stay! Quite neighborhood with easy access to downtown. Everything as described. I would recommend a stay to others.
Michael
2017-01-22T00:00:00Z
We had a great stay at Courtnee's place. Check in was seamless and it was nice of Courtnee to greet us as we arrived. We were just a short drive from great restaurants and shops!
Olivia
2017-03-12T00:00:00Z
Tipo de Acomodação
Casa/apto inteiro
---
Tipo de Imóvel
Apartamento
---
Acomoda
2
---
Quartos
Columbus, Ohio, Estados Unidos
My place is close to parks, restaurants and dining, and art and culture. You'll love my place because of the location and the neighborhood. My place is good for couples, solo adventurers, and business travelers.
Tipo de Acomodação
Casa/apto inteiro
---
Tipo de Imóvel
Apartamento
---
Acomoda
3
---
Quartos
Columbus, Ohio, Estados Unidos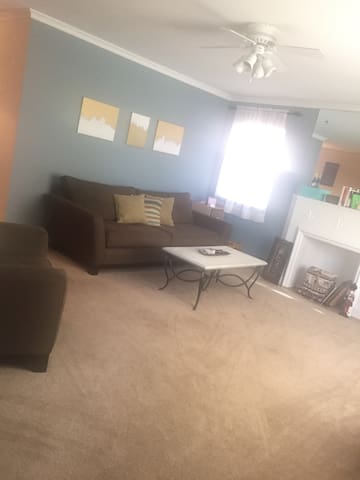 Quiet neighborhood apt. in Grove City, 10 mins from OSU and downtown Columbus. Cathedral ceiling, beautifully appointed. Perfect for corporate housing or newly retired. Park right outside the front door. Attached to a private home, separate entrance.
Walk in closet, pantry and washer and dryer. Kitchen is completely furnished with everything you will need. Walk in shower with bench, apartment is handicap accessible, with concrete ramp entrance.
Tudo conforme indicado no anúncio por Jon e Andrea. O anfitrião nos forneceu orientações sobre o funcionamento de sua casa, sempre com um sorriso. Há 3 cachorros lindos, que não incomodam jamais! A casa é limpa, funcional e aconchegante. Eu e minha família nos sentimos em casa! Obrigada.
Cynthia
2016-10-18T00:00:00Z
We had a great experience. Checking in with Sera was quick and simple. The apartment was quiet and very nice. Highly recommend.
Luke
2016-11-18T00:00:00Z
Perfect neighborhood ! Everything was above our expectations !
Mary
2016-08-12T00:00:00Z
Andrea's apartment is comfortable, spacious, well-equipped, and spotlessly clean. Although the host was away for the weekend, she left us in capable hands, (thank you, Sera) and communicated well before and during our stay. We were very pleased. Within very close proximity to Columbus and near any needed amenities. Enjoyed ourselves very much! Highly recommended. Thank you!
Cari
2017-03-05T00:00:00Z
This is simply a terrific place to stay. The apartment is attached to the back of the hosts' home, and is so roomy and comfortable, it felt like being at home! I didn't get to meet Andrea or Jon because they were out of town but their assistant Sera was very accommodating and met us within minutes of our arrival. This location is just perfect for me and my parents, and I am certain that we will try to stay here again when we are back in this area!
Kathy
2016-10-25T00:00:00Z
Our stay here was great! Andrea greeted us at the door to show us everything and even left phone numbers for us to contact each other. The "apartment" was perfect. The bedroom had a firm king size bed, walk in closet, a basket of any essentials you would need, and access to the bathroom. Our son slept on the pull out couch and it was perfect for him. The place worked great for our 1 night stay because we were very close to downtown and there were dozens of restaurants just minutes down the road. The dining area and kitchen were very nice and worked very well for us. This place would be great long term because it was the perfect size 1 bedroom apartment. If we're ever in the area again, we would not hesitate to stay here again!
Deanna
2017-01-01T00:00:00Z
I was delighted to find this great-looking and very functional apartment near my own neighborhood, where I arranged an extended stay while my home underwent a necessary rennovation. Living with physical limitations and traveling with a day caregiver, this unit is just what I needed: ground-floor, level space with ramp and broad steps at entry; adaptive-friendly bathroom with low-threshold shower, hand bars, wand; and close, off-street parking. As well, the full-featured kitchen, dining and laundry made it like a home-away-from-home, keeping the fuss of temporarily relocating to a minimum. The apartment is spacious, clean and cared-for, furnished with many essentials. The bedroom with king-size is very quiet and comfortable overnight for great rest, and with ample storage throughout. While the unit is attached to the hosts' own residence, the location - looking out mostly to the rear yard spaces and landscaping - offers is a real sense of privacy. Our hosts, Andrea and Jon, were friendly and very accommodating to my uncertain construction schedule - especially I appreciate that they were very prompt to respond to an issue early on that was quickly remedied - and they checked in throughout my stay to be sure that I had what I needed. Highly recommended!
Stephanie
2017-01-30T00:00:00Z
Recapping my earlier review – I had a great experience staying at the apartment – they are courteous and friendly hosts!
Stephanie
2017-02-15T00:00:00Z
Tipo de Acomodação
Casa/apto inteiro
---
Tipo de Imóvel
Apartamento
---
Acomoda
4
---
Quartos
Grove City, Ohio, Estados Unidos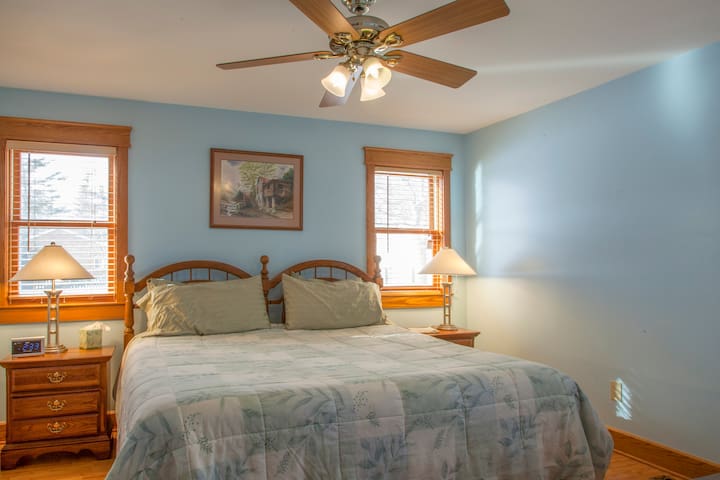 1

–

18

de

262 Apartamentos para Alugar
Insira as datas para ver o preço total. Taxas adicionais serão aplicadas. Impostos podem ser adicionados.