La cabina privata di quercia incorniciato è proprio dal Parco Nazionale del South Downs, ti svegli per vedere attraverso i campi alle Downs e il Long Man di Wilmington, con passeggiate fuori alla fine del nostro giardino, siamo su una pista ciclabile nazionale, a breve distanza di pedalata di due pub, il villaggio di Alfriston, Berwick e unità brevi da Charleston, Glyndebourne e Lewes. La cabina si trova in un bel giardino di due acri, proiettato dalla casa principale da alberi, nel bel mezzo della campagna con una grande terrazza e vasca idromassaggio.
quercia romantiche belle incorniciato cabina si affaccia su una splendida vista del Sussex, e il South Downs. E 'accogliente, rilassante e lontano da tutto, ideale per le attrazioni circostanti e anche una rapida fuga a Brighton o Eastbourne.Completely una vista unica e non trascurato affatto.
Il Downs, Charleston, Lewes, Alfriston e Glyndebourne rendono questa zona molto speciale, per non parlare di alcuni grandi passeggiate, bei pub e un sacco di storia locale.
Very welcoming and extremely friendly. Upon arrival made you feel welcome and at home. They give you a full run down on the amenities and how everything functions. The actual facility is clean and inviting. In the morning they offer you warm croissants, yogurt, etc. Overall a very joyous stay.
charlotte
2017-01-08T00:00:00Z
Robin was the perfect host and the cabin and hot tub were just the little bit of luxury we needed at the end of a weekend of camping and cycling. We spent the evening in the hot tub watching the stars and the trains going past the bottom of the garden and in the morning we enjoyed the delicious breakfast outside in the sunshine with a stunning view across the Downs. Everything you might need for your stay is provided, including bath robes, toiletries, tea, coffee, fresh milk, some great reading material and an extensive DVD collection. Robin was very friendly, knowledgeable and accommodating and we really enjoyed chatting with him. We'd love to come back and visit again with more time to explore the area.
Ashley
2017-04-10T00:00:00Z
Incredible gem of a property.. Secluded but 10 min walk to Berwick inn which did a fantastic meal. Robin was a great host, very welcoming and warm and helpful. The property was beautiful and the hot tub such a treat. We will definitely be back, cannot praise it highly enough! And super breakfast this morning!
Becky
2017-03-06T00:00:00Z
Robin the host was excellent, he welcomed us with a warm manner, nothing was any trouble and also delivered us breakfast in the morning. The cabin and surroundings are just beautiful. The cabin has every thing you need. Simply stunning. We will return.
Alison
2017-01-06T00:00:00Z
Lovely cabin in a large, beautiful garden. The hot tub was a super spot for star-gazing and a superb breakfast on the sunny terrace was just perfect.
Thea
2017-04-09T00:00:00Z
An absolute gem! The Oak Cabin is beautiful and the views are just simply stunning. Access to numerous walks are nearby and I can definitely recommend The Berwick Inn (less than 10mins walk away) for a very nice meal. The cabin is light, airy and spacious with a super comfortable bed. The addition of a hot tub on the decking right outside makes it perfect. Robin and Polly are lovely, friendly hosts who couldn't be more helpful and went above and beyond with the delivery of breakfast each morning and even offering us a lift out to dinner. I highly recommend this property, a peaceful retreat on the South Downs. We will certainly be returning at some point. Happy memories :)
Natalie
2017-04-08T00:00:00Z
Just returned from our one night stay, and from start to finish it was perfect!! The little cabin getaway was much bigger than we'd expected, and comes with so many luxuries. Robin and Polly are two of the nicest people we've met and by far the best hosts! From the initial booking our hosts were incredibly responsive and eager to go the extra mile, collecting us from the station, bringing us breakfast in the morning and even driving us to a neighbouring town after checking out, Robin and Polly were beyond helpful and we can't wait to stay again!!! Logan & George
William
2016-10-25T00:00:00Z
Our little get away was a complete success thanks to Robin and his outstanding cabbin Robin is simply a great host really friendly and not invasive The cabbin is really great and comfy and the hot tub is a blessing We hope to come back soon enough
Marie
2017-02-05T00:00:00Z
Tipo de Acomodação
Quarto inteiro
---
Tipo de Imóvel
Casa de campo
---
Acomoda
2
---
Quartos
Berwick, Inglaterra, Reino Unido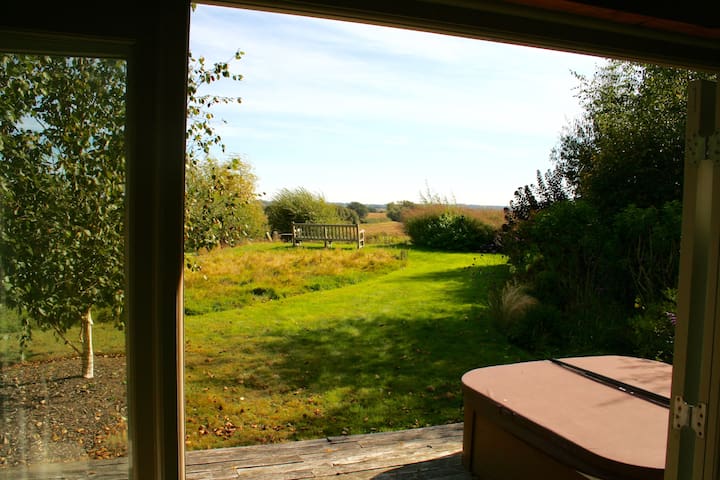 Mein Platz ist in der schönen Landschaft in East Sussex, in der Nähe zu den großen Stränden und zu den nahe gelegenen Städten von Lewes und Brighton, so haben Sie alles, was Sie für nah an Hand suchen konnten. Der Wohnwagen ist in einem Pferdekoppel an der Rückseite meiner Immobilie gelegen und mit Zugang zu abgelegenen Dusche und separater Toilette in einem Block in der Nähe des Wohnwagen. Ein Parkplatz ist vorhanden. Sie werden meinen Platz wegen der im Freien Raum lieben. Mein Platz ist gut für Paare und Solo-Abenteurer.
Audrey die Karawane ist auf der Rückseite des Hauses in unserer Koppel geparkt, gibt es viele schöne Bäume in der Gegend, es ist sehr ruhig und grün, mit den ungeraden Ausnahme von Saatkrähen, die die Bäume regelmäßig besuchen.
Wir leben in einer schönen Landschaft, die Gegend mit einem Pub 100m auf der Straße recht ruhig ist und auch ein Cafe / Laden im Dorf für Lieferungen oder ein schönes warmes Frühstück.
Had a lovely stay in Audrey! Made to feel very welcome. Great hosting in a beautiful location
Chris
2017-03-29T00:00:00Z
Lovely spot and Julie and her partner made us feel so welcome... The caravan was spotless, cosy and well equipped with everything we needed. Would definitely stay there again.
Cordelia
2017-03-20T00:00:00Z
Tipo de Acomodação
Casa/apto inteiro
---
Tipo de Imóvel
Trailer
---
Acomoda
3
---
Quartos
Upper Dicker, Inglaterra, Reino Unido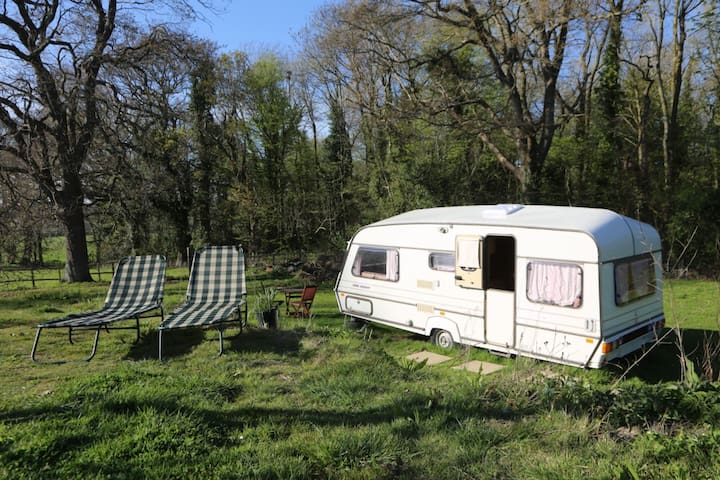 TOP SPEC, převede Oak stodoly. Kvalitní kování a vybavení a zařízení, patří. Vše cen. DVB-T TV, Wi-Fi, spí dvě, jedna manželská postel a navíc rozkládací pohovka v obývacím prostoru, jestli dává přednost. Off road bezpečné parkoviště pro dvě auta. 25 minut jízdy autem nebo nedaleké železniční stanice do Brightonu nebo Eastbourne. Výhradní použití lawned plochy pro stolování pod širým nebem. Miles ze země procházky. Dobré restaurace / hospody v okolí. Pozemek zvláštního vědeckého zájmu, v těsné blízkosti Arlington nádrže. Spousta ptáků a wildife
A lovely little hideaway which was only a 20 minute drive to Eastbourne and everything that it has to offer. With plenty of other things to do locally. Very easy to find and a really nice space.
Paul
2017-02-19T00:00:00Z
Tipo de Acomodação
Casa/apto inteiro
---
Tipo de Imóvel
Outros
---
Acomoda
2
---
Quartos
Berwick, Inglaterra, Reino Unido
Herrliche in sich geschlossene Kabine in schönen Cuckmere Tal, Einzel- oder Doppel. Private Terrasse nach Süden in Richtung Long Man of Wilmington gegenüber. Zugang für Behinderte, Holzofen, Badezimmer, Wi-Fi, TV, Parkplatz. Halbe Meile zu Sussex Ox Pub, 1 Meile Alfriston.
Herrliche in sich geschlossene Kabine in schönen Cuckmere Tal, Einzel- oder Doppel. Private Terrasse nach Süden in Richtung Long Man of Wilmington gegenüber. Zugang für Behinderte, Holzofen, Badezimmer, Wi-Fi, TV, Parkplatz. Halbe Meile zu Sussex Ox Pub, 1 Meile Alfriston. Jackson Kabine hat ein Honigfarm und eine stabile, im Garten unseres Hauses in Milton Street, ein ruhiger, ländlicher Lage, nur eine halbe Meile von der A27, 2 Meilen von Berwick Station und 4 Meilen von Polegate. Es verfügt über einen eigenen Parkplatz, Rampenzugang und eine private Terrasse nach Süden, mit einer Eiche und Glas Vordach Teil bedeckt, auf Feldern mit Blick auf und der Long Man of Wilmington, eine alte Kreide Figur in den Hang der South Downs geschnitzt. Es gibt drei Zimmer plus ein Dienstprogramm Lobby: Wohnraum / Küche mit Holzofen und elektrische Heizung, Tisch und Stühle, bequeme Sitzmöbel, Freesat TV. Offene Küche hat Elektroherd und Backofen, Kühlschrank und ist gut ausgestattet für Hausmannskost; Schlafzimmer mit Doppelbett oder zwei Einzelbetten (6 ft 6 Zoll lang), hochwertige Baumwolle Bettwäsche und Handtücher, elektrische Heizung; Accessible nass Zimmer / WC mit Fußbodenheizung und Waschbecken. Die Kabine wurde sorgfältig zu einem komfortablen, gemütlichen und schönen Raum zu bieten umgewandelt. Perfekt gelegen für Wanderer, Radfahrer oder Reiter, wir sind auf dem Weald Way und in der Nähe der South Downs Way und Vanguard Way. Wir haben ein Feld Ihr Pferd unterbringen, wenn Sie reiten. Jackson Kabine ist 8 Meilen (16 Minuten Fahrt) von Glyndebourne, und innerhalb einer halben Stunde von Eastbourne, Lewes und Brighton. Charleston Farmhouse und Berwick-Kirche, von Bloomsbury Künstler geschmückt, sind in wenigen Minuten zu erreichen. Das historische Dorf Alfriston mit seiner Post, Geschäfte, Pubs und Restaurants liegt nur 1 Meile entfernt, und die ausgezeichnete Sussex Ox Pub mit seiner guten Küche und Bier ist nur 5 Minuten entlang einer Fahrspur gehen, wo Sternenhimmel von Straßenlaternen unberührte sind. Die Gäste haben einen eigenen Off-Road-Parkplatz 30 Meter von der Kabine, durch einen Pfad zugegriffen. Sie haben die alleinige Nutzung der drei Räume der Kabine und ihre Nutzbarkeit Lobby, die überdachte Terrasse und Sitzbereich im Freien. Die meisten unserer Garten ist nicht für die Gäste nutzen, noch ist die angrenzenden Stadtwald, wo wir Bienen halten. Die Kabine ist freistehend und nur wenige Meter vom Haupthaus entfernt. Gastgeber und Gäste können einander kommen und gehen sehen, aber die Tür der Kabine, Terrasse und Hauptfenster nach Süden auf einem Feld mit freiem Blick auf die Downs und die Gäste genießen die Privatsphäre. Wir werden per Telefon auf der Hand oder verfügbar sein, um Fragen zu beantworten oder zu irgendwelchen Problemen zu besuchen, und kann die Verwendung einer Waschmaschine zur Verfügung stellen, falls erforderlich. Wir können nicht immer während des Aufenthalts zu Hause sein. Permutationsschloß Eingabesystem in Betrieb ist. Wir sind in der Mitte von einer der schönsten Orte in der Süd-Ost und genießen Sie einfachen Zugang zu den Downs, das Meer und die vielen malerischen Dörfer, ohne das Auto zu benützen. Wir fahren an den Strand von Cuckmere Haven in einer halben Stunde (oder dort in 10 Minuten Fahrt) und genießen Sie Meilen von ruhigen Gassen in jeder Richtung, ohne die A27 verwenden. Als begeisterte Wanderer sind wir privilegiert in einem Netz von ausgezeichneten Wander- und nationalen Routen zu leben. Wir sind auf die A27 nahe, die an der A23 / M23 und dem nationalen Autobahnnetz verbunden ist. Gatwick Flughafen ist eine Stunde mit dem Auto entfernt. Wenn Sie öffentliche Verkehrsmittel benutzen, sind wir 2 Meilen von Berwick Bahnhof und 4 Meilen von Polegate. Busse dienen nahe gelegenen Dörfern, wöchentlich statt täglich. Inbegriffen: Bettwäsche und Handtücher, Toilettenpapier und Seife, Protokolle und Anzünden für den Holzofen. Tee, Kaffee, Milch, Müsli und Snacks für den Einstieg.
Wir sind in der Mitte von einer der schönsten Orte in der Süd-Ost und genießen Sie einfachen Zugang zu den Downs, das Meer und die vielen malerischen Dörfer, ohne das Auto zu benützen. Wir fahren an den Strand von Cuckmere Haven in einer halben Stunde (oder dort in 10 Minuten Fahrt) und genießen Sie Meilen von ruhigen Gassen in jeder Richtung, ohne die A27 verwenden. Als begeisterte Wanderer sind wir privilegiert in einem Netz von ausgezeichneten Wander- und nationalen Routen zu leben.
This was our second stay in Jackon's cabin and we had a wonderful time yet again! Lovely and cozy inside, beautifully presented and an amazing view of the surrounding countryside from the bedroom and living room. Alison is an extremely friendly and welcoming host. Couldn't have asked for more and will definitely be going back! PS: Really nice food and atmosphere in the Sussex Ox pub a 10 minute walk down the road
Thomas
2015-11-15T00:00:00Z
From the moment we arrived at the cabin, we were relaxed. We were met by Charlie, with a smile and instructions on how to get into the place, and from there we just felt really at home! Crumpets, muesli, homemade jam, milk and soya milk, dry logs, and an already burning fire greeted us when we got there. My boyfriend and I spent two wonderful nights in the cabin and definitely didn't want to leave when our time was up! We had a great time being cosy and lazy in the cabin, with the fire being one major highlight. The bed was very comfortable, and the kitchen was well equipped. The wet room was lovely, with plenty of hot water. The cabin is beautifully finished - what a great design! There were extra blankets, warm towels, and all the same cleaning products I use at home (I know this sounds silly, but it was really a nice coincidence!). We walked to the pub for dinner our first night, and it had really great food with lovely local cider and ale. The next day we wandered all over the Downs, got ourselves nice and exhausted from so much walking in the beautiful landscape, and then returned to the cosy cabin for some homemade dinner. Really, we couldn't have asked for a better time, and we're already wondering when we can come back! FYI, the nearest village is Alfriston, which has to be one of the sweetest little villages I've ever been to. Next time, we'd love to try The George - and the village shop had the most amazing rosemary and rock salt sourdough, and great local cheeses! I couldn't recommend this place more if I tried - all around, it was a fabulous trip, and we'd love to do it all over again! Thank you Alison and Charlie - it was GREAT!
Elizabeth
2015-01-26T00:00:00Z
The cabin is absolutely beautiful with everything yoy could aak for and more. It has a lovely wood stove, board games, fully equipped kitchen, maps for walks and even painting equpment! The weather was a bit miserable when we we were there but even then the views were incredible. Alison was such a lovely host who is great in terms of contact and gets back to you within an hour, she provides information about good things to do and even left crumpets milk and jam for us!
Aishah
2014-11-23T00:00:00Z
We had an absolutely fantastic holiday away in this lovely little cabin. Perfect for two people, kitted out with everything you need, with a beautiful view and lots of easily accessible walks. We were very happy with how easy the whole process was from start to finish - and we especially loved the scones, jam and clotted cream that Alison left for us on arrival. Highly recommended for a countryside getaway.
Arabella
2015-07-02T00:00:00Z
I've just spent a week in the most heavenly cottage and can't recommend it highly enough. I wish I had more words here to do justice to this experience. Alison was a delight to work with. She is lovely, responsive, professional, helpful and extremely welcoming. I don't know how she's managed it, but she has turned a small cottage into a haven. Everything you can possibly imagine needing is at your fingertips. The cabin is spotless and feels immediately like home. We had extraordinary weather so we could even enjoy the small terrace in the garden in sunshine. I recommend having a car, but you could manage without. We enjoyed exploring some of the neighboring towns by car, but the very best days were the walking ones. You can walk in any direction in stunning and surprising landscape. Rolling hills, sheep, horses, small rivers and creeks, lovely villages, and even wide expanses of sea when high enough. Paths are reasonably well marked and an excellent map is available in the cabin. We usually managed to get to one of her recommended village pubs for lunch and all were delightful. Just don't miss the Sussex Ox. It's a 5 minute walk from the cabin and the perfect place for a drink and/or a meal. I had one of the best dinners I've ever had there on Chef's Thursday. Thank you, Alison, for a most wonderful wonderful week!
Nancy
2015-04-24T00:00:00Z
Our stay at Jackson was cabin was the best we could ask for. It is perfect for a romantic getaway with stunning walks and plenty of country pubs to rest the feet. The cabin is the most well equipped air bnb we have stayed in, everything we wanted/needed was there. Allison made check in smooth for us and was on hand throughout if we needed anything. I can not recommend staying here enough, we are planning a return! Thank you so much Allison and Charlie
Rebecca
2017-01-02T00:00:00Z
Tranquility, peace and quiet (apart from those noisy old songbirds and snuffling rabbits) in a beautiful part of the South Downs with epic cycling right on the doorstep. We really did have a wonderful weekend away from it all. Jackson's Cabin is well-proportioned, beautifully decked out and was everything we needed and possibly the nicest place we've stayed in our Air BnB world to date! Thank you to Alison and Charlie for making such an effort and making us feel welcome.
Ali
2017-03-26T00:00:00Z
Alison is the perfect host. We had quite a bit of communication beforehand, because of a family bereavement and Alison was kind, efficient and speedy in her responses. Highly recommended.
Sarah
2017-01-22T00:00:00Z
Tipo de Acomodação
Casa/apto inteiro
---
Tipo de Imóvel
Casa de campo
---
Acomoda
2
---
Quartos
Polegate, East Sussex, Reino Unido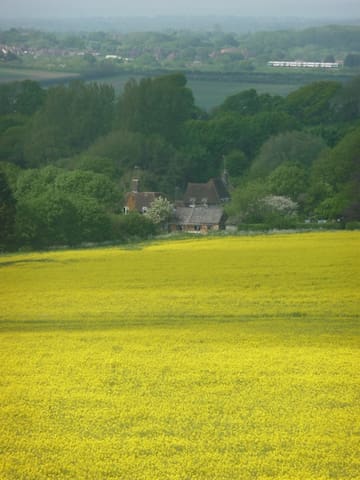 Schöne frei stehende einem Schlafzimmer Sussex Flint Scheune der Nähe von South Downs-Nationalpark und der beeindruckenden Long Man of Wilmington, ideal für Glyndebourne (18 Minuten). Wir sind in einer ruhigen Seitenstraße innerhalb von 20 Minuten zu Fuß von 3 Pubs & 2 Teestuben. Ein Schlafsofa ist in der Lounge 4 Gast zu ermöglichen, bis zu bleiben. Criss-gekreuzt mit Wander- und Radwegen zu Arlington Reservoir, Abbots Wood, South Downs Way, Alfriston und vieles mehr! Innen Fotos folgen Sanierung! Zusätzliche privaten Nebenraum zur Verfügung.
Tipo de Acomodação
Casa/apto inteiro
---
Tipo de Imóvel
Casa
---
Acomoda
4
---
Quartos
Wilmington, Inglaterra, Reino Unido
Nous voulons le meilleur pour nos clients à des prix abordables. La yourte est situé à côté d'un lac à Knockhatch camping avec douches et toilettes une courte distance de marche de là. Il est bon pour les couples, les aventuriers solo, les familles (avec des enfants), grands groupes et amis à fourrure (animaux de compagnie). La yourte est kitted avec tout ce que vous devez avoir un séjour glamping agréable avec beaucoup de choses à faire dans cette partie du Sussex. Les clients ont «deux pour un 'entrée dans le parc d'aventure.
La yourte de luxe peut accueillir 4 adultes dans le confort et jusqu'à 2 plus pour un supplément, consultez les prix. Situé à côté d'un parc d'aventure, non loin de pubs locaux et des équipements. Propre et confortable à l'intérieur avec un poêle à bois grillé. Un sac de bois est fourni. Il y a des toilettes et des douches au camping, consultez Knockhatch site du camping. Le Yurt a été fabriqué à la main dans le Dorset. Il est 16ft de diamètre sur une solide plate-forme de bois de 20 pieds. La yourte est très spacieux à l'intérieur, il peut accueillir jusqu'à six personnes - deux sur un lit double en bois massif avec matelas confortable, deux sur un canapé-lit et deux sur des lits de camp simples moyennant un supplément. La yourte est équipée d'un poêle à bois très bien au chaud qui chauffe très rapidement. A proximité il y a les activités du parc d'aventure et de belles pubs de campagne et restaurants locaux qui servent de délicieux plats et des bières locales. Le camping dispose campeurs résidentiels, les caravanes et les campeurs saisonniers, généralement les familles. En haute saison, cela peut signifier qu'il ya le bruit de vos voisins, mais cela devrait tempérer le bas après 23h00. La kitchenette possède son propre évier et cuisinière à gaz avec placard et tiroirs pour la vaisselle et des couverts fournis. Nous avons tendance à vous laisser de profiter de la yourte, cependant, l'aide est à portée de main si vous en avez besoin.
Nous sommes situés dans un camping à la base de l'East Sussex Downs, à 15 minutes de Eastbourne côte et des plages. Juste à côté de l'A22, à côté de Knockhatch Adventure Park et piste de ski, le camping est occupé en été, généralement avec les familles. Le site est entouré par des arbres de chêne avec un lac le long d'un côté et Knockhatch Adventure Park voisin de l'autre côté. Le camping dispose campeurs résidentiels, les caravanes et les campeurs saisonniers, généralement les familles. En haute saison, cela peut signifier qu'il ya le bruit de vos voisins, mais cela devrait tempérer le bas après 23h00. Nous avons également la possibilité de permettre la pêche dans le lac adjacent. les licences de pêche Rod seront nécessaires et devront être vu. Nous ne permettons pas des hameçons à ardillon, nous ne permettent pas garder les filets et nous avons besoin de tout le monde la pêche d'avoir un tapis de crochet enlever. Si vous avez besoin d'une carte de pêche, s'il vous plaît laissez-nous savoir quand vous faites votre réservation. S'il vous plaît noter que nous autorisons des feux de camp sur place.
Lugar muito lindo, adoramos passar uma noite na cabana, queríamos ter ficado mais.
Rafaela
2016-08-08T00:00:00Z
Great communication with David, set in a lovely little campsite next to an adventure park. Really enjoyed our stay nice touch with the tea and coffee.
cheryl
2016-08-12T00:00:00Z
Fantastic 2 nights in this yurt with the family. Perfect location in corner of campsite, totally private apart from all the great wildlife. The host had thought of everything you could possibly need. I double bed, 1 double futon (both very comfy) clean linen and duvets supplied. There are also 2 camp beds and sleeping bags. The campsite had showers and toilets and a shop selling essential open from 8am-8pm. Perfect location to enjoy the Knockhatch Adventure park (half price if you stay on site) all our kids aged from 6 -18 loved the Adventure Park and the yurt. There's a racing track next door that operates on Wednesday and Saturday till 10pm. Lovely pub up the road in Arlington (URL HIDDEN) served amazing food. Hailsham has an indoor pool (with slide) but we also visited Pells Pool (outdoor) in Lewes (half an hour in the car) as it was sunny. Thanks David. We'll be back!
Donna
2016-07-29T00:00:00Z
My partner and I and two children have just stayed in David's lovely Yurt. David was the perfect host and all emails before visiting were answered very quickly and had all the information we needed to access the yurt and use its facility's. Looking on at people struggling with their tents made me think it's actually nice to just turn up and have everything ready and waiting. The yurt itself is very well presented and comfortable. Would recommend staying as its a bit different and as I said before, David was great. Jody, Lianne, Poppy and Abe.
Jody
2016-07-26T00:00:00Z
Myself and my partner and our 2 children have just spent 2 wonderful nights in David's yurt. The campsite is quite small but very friendly with lots of other family's staying in tents and caravans. The campsite is directly next to the knock hatch amusement park (which we all loved!) David very kindly gave us half price vouchers off our entry to the park, which was great! The yurt it's self is wonderful! The sink wasn't yet plumbed in for our stay but the washing up facilities at the campsite were fine to use. The double bed was very comfortable and the futon that the kids stayed on was also very comfortable. We had lots of extra bedding so we all slept really well. The weather wasn't great over our stay but the yurt was so warm and cozy with the log burner on and it felt really special to be tucked up inside! The only down side was that the toilets are a bit of a walk across the field for little people at night and you can hear people at the park until the early evening but too be honest it didn't really bother us at all. David was a great host and we all enjoyed our stay very much! We'll definitely be back!!
charlotte
2016-06-03T00:00:00Z
The Yurt is absolutely lovely, the interior is just as the photos show it and a very different experience to staying in a hotel. David was very friendly when we spoke to him. For us the only thing that let this down was the campsite itself, it wasn't as private as we had hoped and was very noisy when we stayed - it is probably more appropriate for families with children rather than a couple.
emma
2016-08-07T00:00:00Z
David was fantastic and easily contactable. The yurt was absolutely gorgeous and we had everything we needed. The actual campsite was not that nice though: the showers and toilets weren't very clean and it was a very busy and cramped place. There were two tents right next to us so you felt like you didn't have any privacy.
alice
2016-08-27T00:00:00Z
Really lovely and comfortable, well decorated with a homely feel! As other reviews have said its not as exclusive as the pictures seem - woken up by noisy children! All part of the experience though :)
Jenn
2016-09-03T00:00:00Z
Tipo de Acomodação
Casa/apto inteiro
---
Tipo de Imóvel
Iurta
---
Acomoda
6
---
Quartos
East Sussex, Reino Unido
Este es un lugar fabuloso para cualquiera que desee escapar por un tiempo. ... hermosa sinfín de campo .... caminantes, ciclistas y jinetes cielo! tiendas de productos agrícolas locales, pubs y jardines de té para súper alimento. Muchas atracciones turísticas maravillosas e interesantes si desean mantener ocupado ...
Se sentó a los pies del Parque Nacional de South Downs es Littlefield conjunto dentro de cuatro acres de prado salvaje. La tranquilidad es la esencia de esta zona, un lugar de gran belleza natural. Esta residencia de gran encanto rústico simplemente encaja armoniosamente en la localidad rural de Arlington. Hay dos bares locales a poca distancia y una estación de la línea principal 10 minutos en coche. Las ciudades costeras de Eastbourne (20 minutos en coche y 30 minutos en tren) y Brighton (25 minutos en coche y 30 minutos en tren) están muy cerca. Londres es un viaje en tren 1,5 horas de distancia. Lugares de interés se encuentran en abundancia; el Parque Nacional de South Downs, Michelham Priorato, abades de madera, El Hombre Largo de Wilmington, Arlington embalse y Beachy Head, por nombrar sólo unos pocos. Charleston Granja, que alberga el conjunto de Bloomsbury, está a 5 minutos en coche, monjes House, el hogar de Virginia Woolf, a 20 minutos. Si usted disfruta de campo pie y en bicicleta, esta ubicación sería su medida ya que la casa tiene acceso directo a una herradura y una diversidad de senderos. Littlefield ofrece tanto un buen acceso a los servicios locales todavía puede sentir maravillosamente remota y pacífica. A un costo adicional, estaremos encantados de proporcionar el desayuno y el té de la tarde por favor pregunte para más detalles. El dormitorio tiene una cama doble y está situada al lado del cuarto de baño que tiene el uso exclusivo de. set de té disponibles en la habitación.
Rural, apacible pero a poca distancia de los servicios ... pubs locales, pueblos y lugares de interés.
Suzanne welcomed us warmly in her lovely house. The bedroom and bathroom were very nice and clean. One small critic to the house would be the poor sounds insulation of the bedroom and bathroom.
Eugenie & Dipesh
2013-12-02T00:00:00Z
Lovely house, friendly people & we felt very welcome.
Gemma
2016-08-22T00:00:00Z
We had a lovely stay at Suzanne's place - beautiful house and surroundings and we felt very at home straight away! Suzanne was even kind enough to drive us to the wedding! I would thoroughly recommend staying here.
Netta
2016-07-11T00:00:00Z
My only complaint is that the photos and description can't fully illustrate what a welcoming and warm host Suzanne is, and the loveliness of her home! We had such a lovely time with her, chatting and also enjoying her must-try breakfast. Even Lobo (the family dog - hope I spelt it right) was extremely friendly, like his family! It would have been perfect if we had driven - but we enjoyed the walks around.
Xian
2013-10-28T00:00:00Z
Suzanne was a great host. Her home was beautiful, peaceful and a great place to spend a quiet few days in the countryside.
Mishari
2016-08-16T00:00:00Z
Our stay with Suzanne was fantastic. She was very flexible as we ended up checking in later than planned due to travelling issues and even dropped us to our event locally when a taxi was unavailable. The room and bathroom was beautifully decorated and very clean. Suzanne and her husband along with their wonderful dogs were incredibly welcoming and a delight to spend time with. The breakfast we were given on Sunday morning was outstanding all served on the deck of their beautiful land. I would highly recommend a stay with Suzanne and we will definitely be considering coming back again soon!
Kelly
2016-06-27T00:00:00Z
Suzanne and Robin's house is so lovely! Beautifully designed by themselves and filled with hand painted furniture. The breakfast was delicious and we thoroughly recommend it! The three courses are more than enough to set you up for a long day of walking. We were even given a hand drawn map to help us on our way around the South Downs. Would love to revisit this great house in such a beautiful area. Rich and Nikki
Richard
2016-08-07T00:00:00Z
Suzanne was a great host and made us feel very welcome. The location, room and experience was as described and expected, very enjoyable
Jackie
2015-08-30T00:00:00Z
Tipo de Acomodação
Quarto inteiro
---
Tipo de Imóvel
Casa
---
Acomoda
2
---
Quartos
Arlington, East Sussex, Reino Unido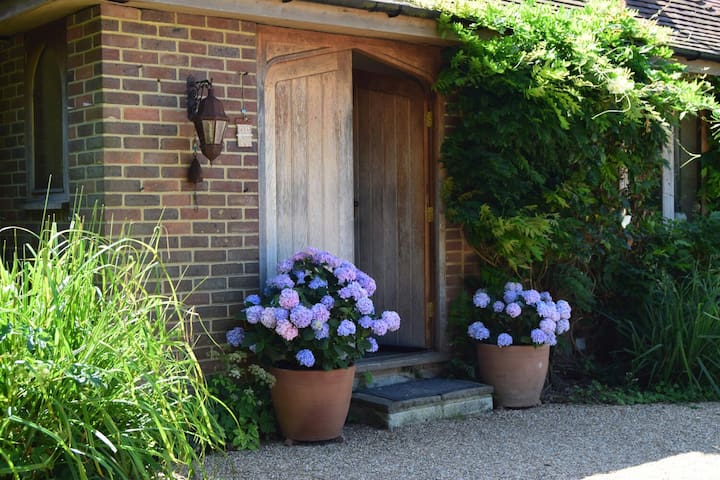 Fantastic annex to the main house, basically a whole cottage in itself. Christine is a wonderful and friendly host, the house, garden and village are picture perfect England and the South Downs are stunning. Highly recommended
andrew
2015-06-14T00:00:00Z
We had a fantastic stay in the Jungle. Everything was just as described. The setting is gorgeous - in a pretty garden set back from the road through a lovely Sussex village within east reach of the downs, Lewes and Brighton. Christine was so welcoming. Couldn't have been better.
Chris
2016-07-04T00:00:00Z
We had a lovely weekend in the Jungle Retreat. The cottage is in a very quiet village and the garden is lovely and leads onto fields which you can walk through to get to the local pub or further to join the South Downs Way, which is what we did. The retreat itself has a fun jungle theme (with mugs to match!), and is very roomy and very well equipped, with great touches such as tea bags and coffee and salt and pepper and oil which is great if you're eating in. There's fresh clean towels and the bed is very comfortable too. Christine was a great host, gave us space to do our own thing but was very friendly, along with dog Molly, when we went to say hello.
Alexandra
2015-10-11T00:00:00Z
Christine was very helpful in helping us get to Wilmington. It's an absolutely stunning area, and a lot of interesting things to see tucked away in small hamlets/villages within walking distance.
Anthony
2016-09-04T00:00:00Z
Yes Christine made us feel extremely welcome and it was a really tidy and clean to move into. The neighbourhood was picturesque and beautiful. Also a bit of an adventure.
Tom
2015-11-09T00:00:00Z
I have literally just had the most amazing weekend away at Christine's beautiful jungle retreat. If you're looking to get away from it all - come here. Christine was so friendly and made us feel incredibly welcome the moment we arrived. The photos do not do the place justice - it is incredible. Everything inside the space is gorgeous, and the bath upstairs is perfect for soaking in and relaxing even more. The scenery is beautiful, two pubs nearby, the oldest yew tree in England literally up the road, and the coast not far. We hope to go back very soon!
Christopher
2015-06-21T00:00:00Z
I am a repeat guest!! It is such an ideal to place to stay while working or on holiday, I heartily recommend this quiet and clean oasis. It is just as the photos describe, and even more comfortable in person. I particularly enjoyed coffee and breakfast in the garden. I appreciated the privacy and flexibility offered by Christine, she is an ideal host.
Leslie
2016-05-28T00:00:00Z
Fantastic place to stay, lovely hosts and in a beautiful area. Would highly recommend!
Andy
2017-04-02T00:00:00Z
Tipo de Acomodação
Casa/apto inteiro
---
Tipo de Imóvel
Apartamento
---
Acomoda
2
---
Quartos
Wilmington, East Sussex, Reino Unido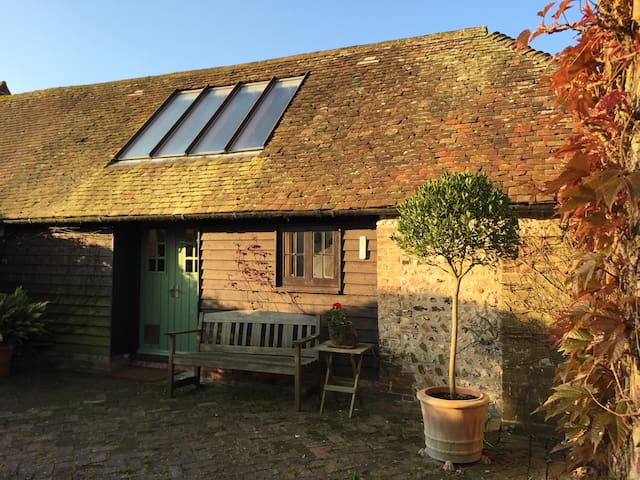 These bell tents are situated in valley of pleasant rise farm Which is nestled in a small village called Alfriston This village is packed with history also it is surrounded by some of Sussex's most stunning countryside including high and over the long man of Wilmington cuckmere river seven sisters
The most outstanding countryside surrounding this campsite
The incredible walks you can do in this area from the cuckmere river to Long man of Wilmington And there are some great pubs and restaurants in the village
Lovely
Fran
2016-05-14T00:00:00Z
Melissa was great, very accommodating and very helpful. Tipi was amazing and the views too.. I would recommend to anyone wanting to get a bit of piece and quiet! Thanks Melissa!!
Milan
2016-05-30T00:00:00Z
Great stay ,Melissa was very helpful and kept us updated at all times. She did a great job under some very testing weather condition getting our tent ready. Lovely spot with great views and good ground conditions considering the amount of rain we had had.
Martin
2016-06-20T00:00:00Z
We had such a brilliant time staying in the bell tent for a long weekend. The setting is absolutely perfect for a relaxing break and Alfriston is a great town, only a 5 minute walk away. Melissa and Peter were really friendly people too! Can't recommend enough! :)
Elisa
2016-07-18T00:00:00Z
The host canceled this reservation 6 days before arrival. This is an automated posting.
Jenna
2016-08-20T00:00:00Z
Melissa greeted us on arrival. Gave us good tips on where to go and what to do. There are some really fantastic local pubs and it is a brilliant area for walking/ hiking. The tent is beautiful filled with lovely rugs, throws, duvets, pillows and candles all from Melissa's shop in the lines in Brighton. The field setting is magnificent and secluded. Couldn't recommend it more. Thank you Melissa
Joseph
2016-07-11T00:00:00Z
Tipo de Acomodação
Quarto inteiro
---
Tipo de Imóvel
Barraca
---
Acomoda
2
---
Quartos
Alfriston, East Sussex, Reino Unido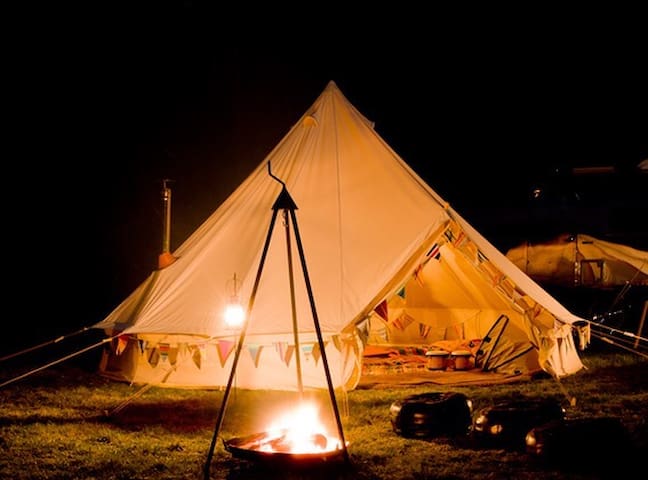 Very friendly, cosy and clean, comfortable beds, wonderful breakfast! I can really recommend this place!
Christin
2016-12-04T00:00:00Z
Tipo de Acomodação
Quarto inteiro
---
Tipo de Imóvel
Pousada
---
Acomoda
2
---
Quartos
Upper Dicker, Reino Unido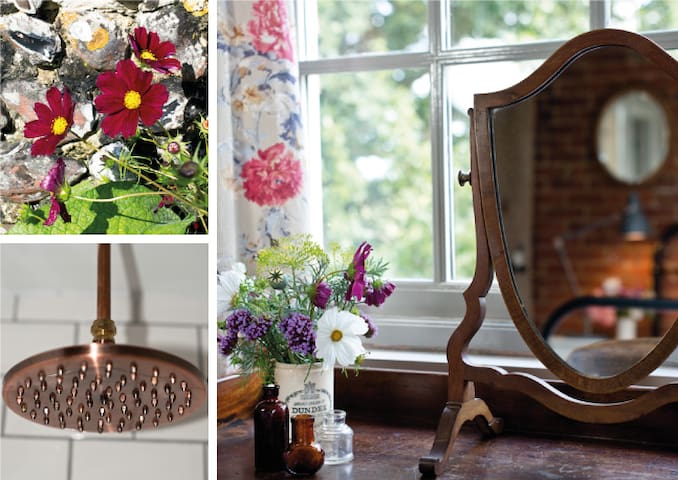 Cherrystone Barn is a bespoke oak framed barn, recently refurbished in a contemporary style while retaining some of its original features and providing a state of the art boutique master bedroom. The property is set within the grounds of Cherry Cottage and is a truly idyllic, secluded location with its own driveway and charmingly pretty, enclosed garden. Right from your front door there are an abundance of wonderful walks which you can access from the garden, in addition to the 14 mile long Cuckoo Trail which allows you to explore the surrounding areas. The village of Ripe is just a short walk away where you will discover a village shop which provides a delicatessen with delicious home cooked food and a post office. A short drive away and you will find Middle Farm which is host to a wonderful farm shop, restaurant as well as the National Collection of Cider and Perry. A little further afield you can explore the historic town of Lewes with a wealth of lovely, independent shops, pubs and restaurants. Lewes prides itself on its array of interesting antique shops as well as the farmers market which is held on the first Saturday of every month. This holiday cottage at a glance Sleeps two guests. One bedroom, one shower room and one bathroom. External passageway from sitting room to double bedroom. A wood burning stove. Large enclosed garden. Please note, a public footpath runs through the paddock, next to the garden. Access to shared tennis court. On-site parking. Up to two well behaved dogs are welcome at the property, (small additional charge per dog). WiFi. Minimum of a two night stay. Additional Features Some low oak beams. Open plan kitchen, dining and sitting room. Electric hob and oven, microwave, fridge with small freezer compartment. Separate larder fridge, washing machine and tumble dryer located in the external utility room shared with the property owner. Two TV's with Freeview, DVD player, radio/CD player, Sky is available with use of guests own subscription card. Travel cot, high chair and stairgate available upon request. Attractions and nearby amenities Enjoy a day at Lewes Castle and Museum. Michelham Priory House and Gardens near Hailsham. Glyndebourne host to a variety of Opera productions throughout the year. Spend a day strolling along the sandy beaches of Seaford. A great day for the whole family: The Lavender Line railway. Explore Wilderness Wood found near Hadlow Down.
Tipo de Acomodação
Casa/apto inteiro
---
Tipo de Imóvel
Casa
---
Acomoda
2
---
Quartos
nr Lewes, Sussex, Reino Unido
(URL HIDDEN) Quinticetally Engels, dit prachtige huisje ligt in het hart van het kleine dorp van Wilmington. Een tuimelen van balken en gezellige hoekjes, het beschikt over twee Inglenook open haarden met houtkachels en een Aga in de keuken. 3 minuten wandelen naar het dorp pub - of een wandeling van 15 minuten over de velden aan de andere kant, kunt u een bezoek het mooie dorp Milton St of Alfriston - met zijn fijne reeks van tearooms, dorpswinkels - en heerlijke lokale hotels,
Is het hele huisje.
Mooi rustig dorp met weinig verkeer. Gastvrije pub 3 minuten lopen van het hotel serveert lekker eten
The host canceled this reservation 388 days before arrival. This is an automated posting.
Stacey
2016-08-30T00:00:00Z
Cosy cottage that is great if you have children (2 years upwards) and a dog, as there is plenty of space to spread out and the garden is enclosed. Lovely aga oven too.
laira
2017-02-14T00:00:00Z
This is a very old, magical house. It is furnished like a real home, rather than a holiday home, which contributed to the enjoyment of our stay. Because it is so special, I have ticked the box for "high end" but that doesn't mean that the white goods, for example, are high end. They are normal, some would say slightly old fashioned. But the house is unique. We had great fun trying to find all the bedrooms and bathrooms, which was not straightforward! We spent 4 days as a 3 generation family, ages 2 to mid 60s and were all comfortable and felt very at home. Tall people will have to learn to duck or have painful experiences, but that is normal in this age of house. Communication with the owner was excellent, replies always within 5 minutes. Our deposit was returned within a couple of hours of leaving the house. It's a part of the world some of us knew well. Very beautiful, a huge range of walks (and pubs at the end of walks!) We would go back again like a shot.
Vanessa
2017-02-21T00:00:00Z
Tipo de Acomodação
Casa/apto inteiro
---
Tipo de Imóvel
Casa
---
Acomoda
8
---
Quartos
Wilmington, Reino Unido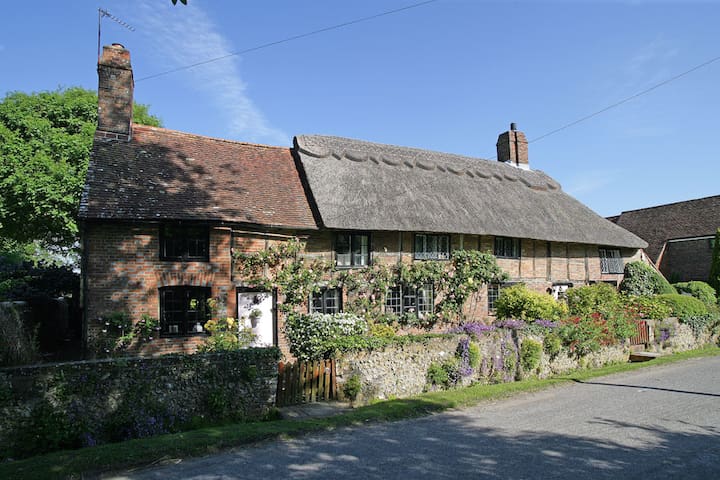 The Wishing Well Garden Apartment si annida sotto le bassi nel Parco Nazionale del Southdowns. Ideale per passeggiate a piedi la Via Southdowns o esplorare la splendida Cuckmere Vallery. A soli dieci minuti di auto da Glyndebourne Opera House.
Siamo lieti di offrire Wishing Well appartamento Garden vostro posto nel paese, adagiato sotto le magnifiche South Downs. Il vostro alloggio ha una superficie soggiorno a pianta aperta con una cucina moderna e camera da letto matrimoniale con un bagno en-suite. L'apertura su un patio con tavolo e sedie da giardino per mangiare all'aperto su quelle calde serate di sole. Vacanze o No-ristorazione a voi la scelta. Sul sito è una sala da tè molto popolare che serve una serie di tentati di fatti in casa zuppe, panini, torte e focaccine.
The Well Volendo si trova in una zona di straordinaria bellezza naturale, a pochi passi al Southdowns ed il Long Man di Wilmington. Ideale per una visita a Alfriston, Wilmington, Glyndebourne Opera House o per Walking Parco Nazionale del Southdowns. Brighton e Lewes si trovano nelle vicinanze. Esplorare i numerosi giardini e le case del National Trust nella zona.
David's place was beautiful and just perfect for our stay in town. The place was clean, had everything we could want, and with a gorgeous garden area I wish the weather would have let us enjoy. David himself was so friendly and accommodating. We will definitely stay with him again the next time we are in town. Thank you David!
Jen
2014-10-14T00:00:00Z
David made us feel very welcome and we knew that he was on hand to help if we needed anything. The cosy and comfortable little garden apartment was just as described. My partner and I spent a very happy few days there, self-catering and taking advantage of the excellent location to see some of the south coast's finest beauty and wildlife spots. The only (minor) downside is the A27, which is busy! The traffic noise wasn't bad from inside, but turning out of the driveway to go anywhere can take a little while. That's no reflection on the quality of the apartment though. We had a very good time there and would visit again.
Viola
2016-04-05T00:00:00Z
David is a fantastic host and the flat was the perfect spot to stay. everything as described with a fantastic garden, very relaxing!
Oliver
2016-05-29T00:00:00Z
David is a great host and the apartment is a perfect base if you are looking to explore Eastbourne, Lewes or Brighton. It has everything you need including an outside area which was much more private than I was expecting. I will definitely be back!
Christopher
2016-07-03T00:00:00Z
The apartment was lovely and the area is beautiful and very relaxing. David was extremely friendly and helpful. There is a lovely tea garden at the front of the apartment and the gardens are large and very nice. Would recommend this cosy apartment and the adjoining cottage also looks great, it's been recently refurbished. We are definitely going to go back.
Laura
2014-08-23T00:00:00Z
Clean, hospitable and exactly as described; thank you.
Henry
2016-05-02T00:00:00Z
Excellent location, and it has everything you need.
Jenny
2017-03-19T00:00:00Z
We had a lovely stay at David's. The flat was clean and tidy, and we were well looked after, especially by the lovely owners of the team room who helped us out with a couple of things. We went for a walk to Alfriston past the Long Man of Wilmington which was right on the doorstep - it's a great location for South Downs walking.
Geraldine
2015-01-02T00:00:00Z
Tipo de Acomodação
Casa/apto inteiro
---
Tipo de Imóvel
Apartamento
---
Acomoda
2
---
Quartos
Wilmington, Reino Unido
Clare's hospitality was second to none. The room and ensuite was finished to a very high standard with some lovely finishing touches. Would highly recommend to anyone.
Emma
2017-04-09T00:00:00Z
Tipo de Acomodação
Quarto inteiro
---
Tipo de Imóvel
Pousada
---
Acomoda
2
---
Quartos
Lower Dicker, Inglaterra, Reino Unido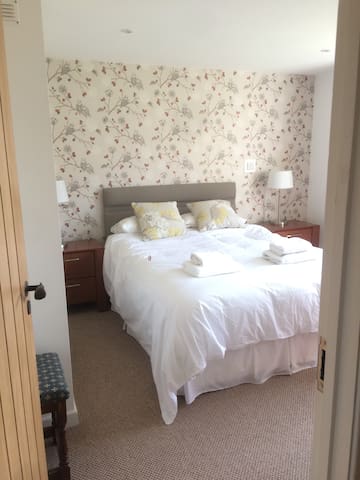 Tipo de Acomodação
Quarto inteiro
---
Tipo de Imóvel
Pousada
---
Acomoda
2
---
Quartos
Berwick, Polegate, Inglaterra, Reino Unido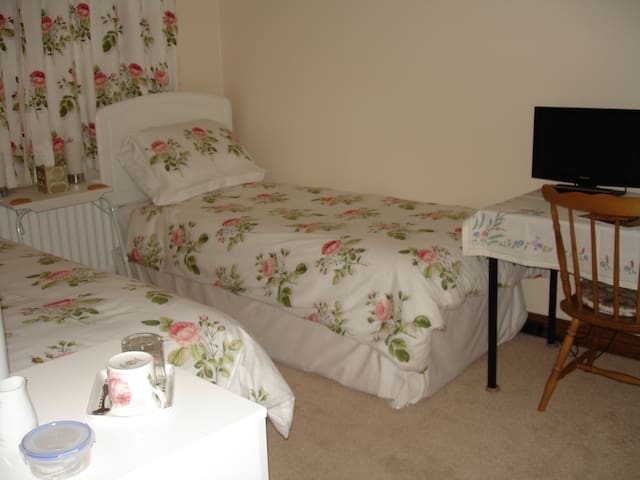 Both myself and my 2 year old son had a wonderful time. The tent was so cosy, the outdoor shower was fun and toasting marshmallows on the campfire was the perfect way to end the night. Location is perfect there was a lovely Cafe just a few minutes walk away that was very child friendly, and I spotted a pub nearby too... The host and family were very friendly - and my son is already asking when we can go back!
Anne
2015-08-18T00:00:00Z
We had a lovely two days camping. The bell tent was cosy and the bed lovely and comfortable. The meadow was full of butterflies and it was great to have a campfire. Very relaxing.
Alexi
2015-08-11T00:00:00Z
What a lovely weekend! We were blessed with beautiful weather but I can see this would be a great thing to do at any time of the year! The tent was simple but beautiful with cosy cushions and rugs, we had use of a little BBQ and a fire pit. There was also an outside tub, so you could gaze at the neighbouring sheep whilst relaxing in the hot water! Leora and Neil were very accommodating, very friendly and helpful and had the perfect mix of leaving you be to get on with it and being on hand should you have any questions. Would highly recommend this as something a little different but extremely pleasant!
Rachel
2015-08-09T00:00:00Z
Had a brilliant time at the tent for the weekend. We really enjoyed the location, as it was perfect for exploring the seven sisters and brighton. The wash facilities were lots of fun, as was the bbq and campfire on an evening. Would love to come back and explore more!
clare
2015-08-24T00:00:00Z
Comfortable, cheap, well-located and fun.
Joseph
2015-08-12T00:00:00Z
The stay at the tent was really relaxing and the experience was exactly as described on the website. Unfortunately we did not get to introduce ourselves to the hosts due to time constraints but were made to feel very welcome with numerous messages via the airbnb app on "move in" day. The bbq and camp fire area are just perfect for the outdoorsy feel... and the place is intended for a complete get away from the hustle and bustle of reality! We also ventured to the local village shop to stock up on supplies for the evening as well! The local area is picturesque and very green so nice for a walk. One piece of advice - bring a lot of bedding, as it gets in to autumn the dew is rather chilly! It was a very peaceful setting and we are grateful to have been able to be part of it. Thanks for your "anonymous" hospitality, Leora and Neil. Lawrence and Andre
Lawrence
2015-08-04T00:00:00Z
Loved staying in the bell tent - beautiful field, incredibly comfy bed, and the fire plus various lanterns and night lights made it quite magical. We arrived late and on bikes and Leora made sure we settled in and had everything we needed. Didn't use the bath but the outdoor shower was fab! Thanks so much, would love to come back.
Emma
2015-08-17T00:00:00Z
Leora met us on arrival and showed us the bell tent which is roomy with a comfortable mattress. We had a small campfire and access to an outside loo and washbasin. The area is beautiful and very convenient for visiting Charleston and exploring the South Downs. There is a lovely cafe perfect for breakfast- or lunch, just a few minutes walk away.
Judith
2015-08-07T00:00:00Z
Tipo de Acomodação
Casa/apto inteiro
---
Tipo de Imóvel
Barraca
---
Acomoda
2
---
Quartos
Upper Dicker, Reino Unido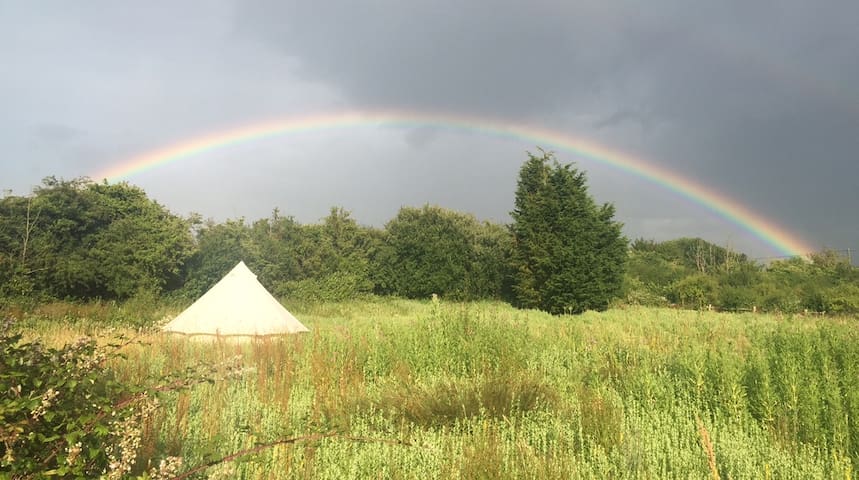 Ceci est un grand détaché house.The invité semi-victorian aura l'usage exclusif d'un grand salon, si plus d'un invité, nous libérer notre salle de bain pour que les clients d'avoir l'usage exclusif de celui-ci. Nous apprécions beaucoup rencontrer des gens, et vous accueillir pour partager notre espace, ou vous laisser seul, celui que vous préférez
Pour plus de détails sur ce Bed and Breakfeast, visitez nos autres annonces sous «Une ou deux chambres doubles £ 40 par chambre"
Hailsham est au centre de nombreuses attractions. Il est également à seulement 10 minutes en voiture du staion ferroviaire la plus proche à Londres ou à Brighton
Mary is kind,considerate,generous and a very hospitable lady. Paul and Mary made me very comfortable and valued. They communicated at every stage and and made sure that my stay was memorable in every way.
Sethu
2017-01-29T00:00:00Z
Mary has a beautiful house and the room was particularly comfortable. Mary and her husband were both very friendly and accomodating. Breakfast was delicous. I highly recommend staying here!
Matthew
2016-12-12T00:00:00Z
A lovely, comforting, and warm place to stay with owners that match that description. Stayed with them because I had a job interview in the local area and I must say that there was no better place to have stayed, the owners and the house really foster a relaxed comfortable environment to get your head-space together before something important. Would definitely stay over again and recommend them to anyone.
david
2017-03-29T00:00:00Z
Absolutely wonderful. Lovely people. The room was really beautifully decorated and furnished. Made me feel so welcome. I will definitely return if the need arises. Highly recommended A+++++++
JoAnn
2016-10-20T00:00:00Z
Tipo de Acomodação
Quarto inteiro
---
Tipo de Imóvel
Pousada
---
Acomoda
1
---
Quartos
Hailsham, East Sussex, Reino Unido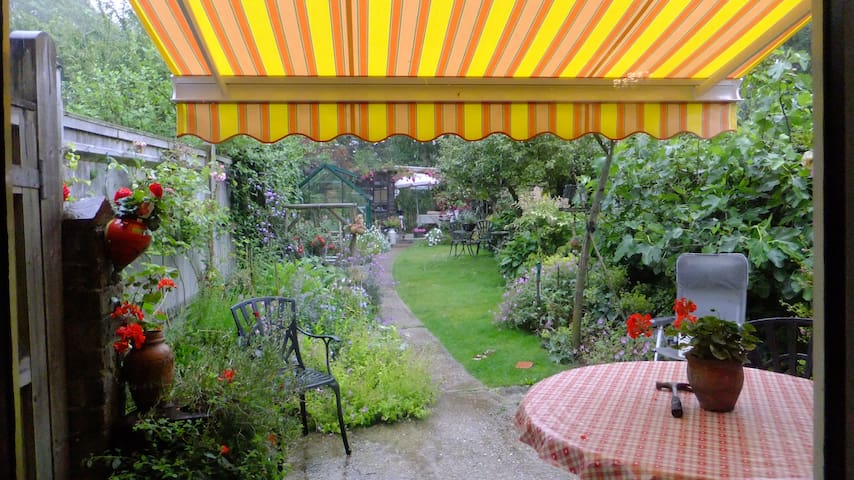 Myles Cottage aka 'Rockstars' offers guests a rural retreat with a difference. It is situated in the centre of the historic village of Alfriston, East Sussex in a former stationing post for soldiers during the Napoleonic Wars dating from 1812. The theme of 'Rockstars' is a retro one, as an affordable vintage and alternative escape, very much an exclusive Airbnb experience in a special village location, in the heart of the Southdown's National Park! Welcome Regards, Mark Atkins
So guests are aware, there is no direct internet access or TV at my property but on my doorstep if WI-FI is required, guests are able to access it at the local Smugglers Inn pub opposite my house plus it is within a BT wi-fi hot spot zone, so no panic on this front. For entertainment there are many films on DVD's to enjoy, catering for most tastes and there are over 500 l.p. records from my private collection for guests to enjoy listening to during their stay. There is even a 1970's working Goblin teas made in the master bedroom upstairs.
The Smugglers Pub is the nearest watering hole opposite the front of my property and the village of Alfriston has lots of interesting shops to see. The nationally acclaimed and award winning book shop Much ado about Books is directly opposite my property.
This is a charming and funky retreat in a very tony corner of Sussex. Delightful stay, wonderful facility and orientation. Do it!
Betsy
2017-04-01T00:00:00Z
Mark's place was wonderfull to stay at. We were on a mountainbike vacation and had several great trails in the neighbourhood. Great vacation.
Kobe
2017-01-06T00:00:00Z
Mark was very welcoming. The cottage is in a great location in centre of Alfriston which is a very special village on South Downs. Cottage is areal home from home, especially if you're into rock! Nearest free car park is for 3 hours only, but we managed that ok by going out and about.
Diana
2016-05-08T00:00:00Z
Mark told where to find the key and details of the property. He was sorry that he was there to meet us but said he looked forward to meeting on Thursday.
Karl
2016-06-25T00:00:00Z
Great house in a great location. Full of personality. So good to also have a washing machine to use. Bit tricky to find as actually faces West St not the square.
Alison
2016-05-10T00:00:00Z
I think every single one of the other reviews on Mark's property is accurate. The place is a gem if you're into music - Mark is clearly a music buff and there's every type of LP going. The drumkit is fun and Alfriston is a gorgeous tiny village to while away a few hours. The Singing Kettle is particularly good for brunch! Unfortunately Mark's place really isn't very clean - the second bedroom's carpet was covered in hair which made us feel uncomfortable.
Katie
2017-03-05T00:00:00Z
Mark was the perfect host. We had good contact before our arrival and he was on site to welcome us and show us around, and there were plenty of little 'goodies' provided to enable us to feel instantly at home. 'Rockstars' was a brilliant venue. The lovely old cottage has been given a wonderfully personal retro-style makeover, with lots of intriguing artefacts - just as it says in the publicity! In fact, everything was just right. The little village of Alfriston is also wonderfully retro. It feels a bit like walking onto a film set from years back! And, amongst other places we enjoyed exploring the old chapel, the bookshop, the 'Smugglers', and St Andrews Church, as well as taking walks along the river and up onto the Downs.
Stuart
2016-09-18T00:00:00Z
Thanks Mark for having us stay. The cottage is in a nice, quiet village. A good place to stay whilst away with business
robyn
2016-09-23T00:00:00Z
Tipo de Acomodação
Casa/apto inteiro
---
Tipo de Imóvel
Casa
---
Acomoda
3
---
Quartos
Alfriston, East Sussex, Reino Unido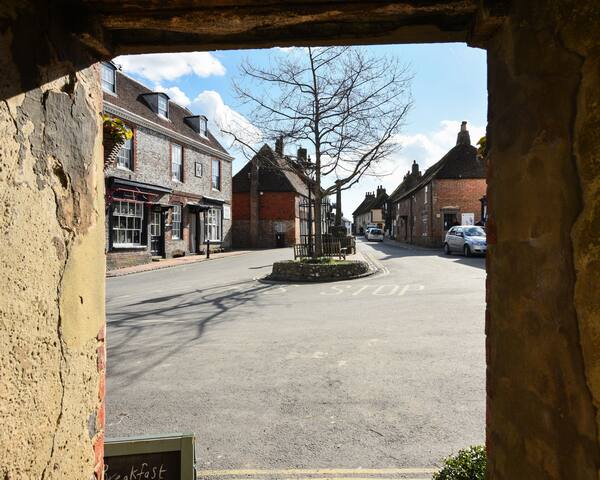 Insira as datas para ver o preço total. Taxas adicionais serão aplicadas. Impostos podem ser adicionados.