69 Apartamentos para Alugar
Our cozy quiet recently renovated apartment is located on a beautiful hilltop farm with views out from the porch across horse pasture and to the mountains as far away as New Hampshire. There are over 100 acres of field to walk through as well as a mile long trail running down through our property. We are 15 minutes from Chester, Ludlow and Weston and within half an hour of several major downhill ski resorts and 2 cross country ski areas.
The apartment has been renovated recently. Our daughter lived there for awhile before heading off to college and so it has a homey feel to it as well as being relatively free of clutter. It is very light and airy in the summer with large windows on 3 sides. I like to walk up from our house just a couple 100 yards away and sometimes just sit quietly and look out over the field to the mountains far away. It's just a nice place to be. The kitchen is outfitted for cooking. We provide some basics: salt, oil for the frying pan, coffee and a small selection of tea. We provide towels and linens and some toiletries. We ask that you take your outdoor shoes off when you come in to protect the new wood floor. Because the floor can be cold in the winter bring a pair of slippers or indoor shoes. There is one very comfortable double futon bed in the bedroom and a double futon couch in the living area as well. The place is heated with a new Rinnai propane unit. We ask you to turn it down at night and when you are out and generally use energy thoughtfully. There are lots of books and a few games to use. We hope to get internet access up and running soon and possibly even a TV screen for movies. But currently that is not available. There are places in town where internet is available and in an emergency you could come down to our house to use the WiFi. There is a shower but not a bathtub.
Vermont is rural and beautiful in all seasons--even mud season has its charm. You can have a restful, rejuvenating vacation just staying on the farm. But there are many restaurants, shops and activities nearby too. My father in law used to joke that our farm is the SECOND most beautiful place in the world. The views are indeed awe inspiring and we feel there is a special spirit to the land.
This was our first Airbnb experience, so we were a little apprehensive, but Laura and John made us feel right at home. We had some trouble finding the place, but Laura was very patient with us and talked us through it. The apartment was clean, cozy, and well represented in the pictures and descriptions. The kitchen was well equipped and allowed us to save money by cooking all of our meals. The space was roomy enough for all four of us, and felt a little larger than the pictures made it seem. It was conveniently located less than a 20 minutes from Okemo mountain. We hope to be back again in the summer to enjoy the beautiful property. Thank you for a great first stay!
Dylan
2017-01-08T00:00:00Z
Perfect place in a perfect location - very close to Okemo mountain. Laura and her husband are exceptionally accommodating and responsive. Highly recommended!
Jordan
2017-02-26T00:00:00Z
Laura and her husband were super friendly and kind! They were responsive, helpful and always available. The apartment was beautiful, clean and well supplied.
Erin
2017-01-16T00:00:00Z
Laura's apartment is the absolute perfect Vermont getaway. It's location is superb (15-20 minutes from okemo, 30 from Stratton), gorgeous views outside the apartment, and an incredibly cozy space with enough room COMFORTABLY for 4 people. I've stayed at a number of Airbnb's, and I plan on returning multiple times over in winter and summer to enjoy this getaway. Laura and John helped us make a fire, provided all we needed and were friendly, considerate and communicative hosts. Can't say enough, and thanks again for a great weekend!
David
2017-01-22T00:00:00Z
Our visit with Laura was the best. The house was incredibly comfortable, perfectly located for skiing multiple resorts, and Laura was a wonderful host. If you're into sunrises bring a camera. The one viewed from the living room is as beautiful as they get.
John
2017-02-20T00:00:00Z
This cozy spot is the perfect getaway! Laura is a gracious hostess, a great communicator, and very warm and accommodating. The housing is quite comfortable with delightful details such as kindling by the wood stove, a French press, a shelf of intriguing books, and several games. The views are stunning, especially in the early morning. Easy access to ski mountains. We hope to be back soon! PS I did have cell phone service/LTE with Verizon at the house, although not in the surrounding towns.
Alison
2017-02-14T00:00:00Z
One of my best experience , everything was perfect and very hospital in a lot of details in the house that we could enjoie ... Amazing location easy to get too .. Yes there is no internet, and I was happy about it!!!
Lucretia
2017-04-01T00:00:00Z
The apartment was a nice peaceful getaway location, and Laura was a great communicator leading up to check-in. Would definitely come back!
Kyle
2017-03-12T00:00:00Z
Tipo de Acomodação
Casa/apto inteiro
---
Tipo de Imóvel
Apartamento
---
Acomoda
4
---
Quartos
Andover, Vermont, Estados Unidos
Southeastern Vermont, near Putney, Bellows Falls, Brattleboro, across the street from Vermont Academy, forty-five minutes to Stratton, Bromley, Okemo. Quiet, self-contained. classic New England Village, nice back roads to explore, free wireless, piano,graze on the organic garden in season. Heating and cooling with highly efficient heat pump running off the solar tracker. Snowshoe out the back door in the winter (snowshoes included). Location is 21 Pleasant st., Saxtons River, Vermont 05154.
The Studio Apartment is an amazing find. It is quirky, very comfortable and everything you hope for when you chose not to stay in a hotel. It was a great bled of rustic and convenient, private but the hosts, Susie and Jack were on hand if you needed anything and away from the world but with places to eat and visit very nearby. Excellent wi-fi too. Susie and Jack are absolutely charming and my big, big regret is that we didn't get to spend more time with them.
Louise
2015-09-08T00:00:00Z
A gem of a place. Lovely old farm house. Can't wait to come back again next year!
Christian
2017-03-19T00:00:00Z
We had a fantastic stay at Susie and Jack's apartment. It is a wonderful, warm, and inviting place and Susie was kind enough to give us some tasty food straight from her garden for a late dinner. Susie and Jack were great hosts in that they seemed to know exactly how much contact to have with their guests and were warm and easy to talk to. We would love to stay here again!
Joshua
2015-08-31T00:00:00Z
We had a great experience staying with Jack and Susie. The bed was comfortable, the place was warm, clean and it was very welcoming. They left a breakfast starter kit in the fridge, which was great! Jack and Susie were both very nice and hospitable. I would definitely come back.
Phillip
2015-12-07T00:00:00Z
Jack and Susie made us feel very welcome. The studio apartment was warm and clean, and the garden was serene. Jack and Susie provided us with English muffins, orange juice and eggs, amongst other things, and we picked some homegrown spinach from the garden for a lovely fresh breakfast. They also gave us advice on where to go during the day and where to eat at night. We ended up following their recommendation and had a great day out. I highly recommend this place!
Dan
2014-10-13T00:00:00Z
Adorable little studio apartment in Vermont. My boyfriend and I stayed here for the night on our way up to Stowe. Jack and Susie were very accommodating of our late arrival and left notes to answer any questions we may have had. Place was just as described and we felt at home even though we didn't get a chance to meet our hosts.
Erinn
2017-02-25T00:00:00Z
Perfect stay with Jack and Susie. Wonderful, fascinating hosts in a beautiful, quiet and relaxing studio with a view of their gardens... in an equally beautiful part of Vermont. Fresh milk and eggs and other small touches were icing on the cake... I will definitely be back!
Marshall
2015-05-26T00:00:00Z
Had a wonderful time staying at the apartment which is perfect for 2-3 people. Jack and Suzie are very warm and kinda couple. Would recommend to a friend for sure.
Stephen
2014-02-17T00:00:00Z
Tipo de Acomodação
Casa/apto inteiro
---
Tipo de Imóvel
Apartamento
---
Acomoda
3
---
Quartos
Saxtons River, Vermont, Estados Unidos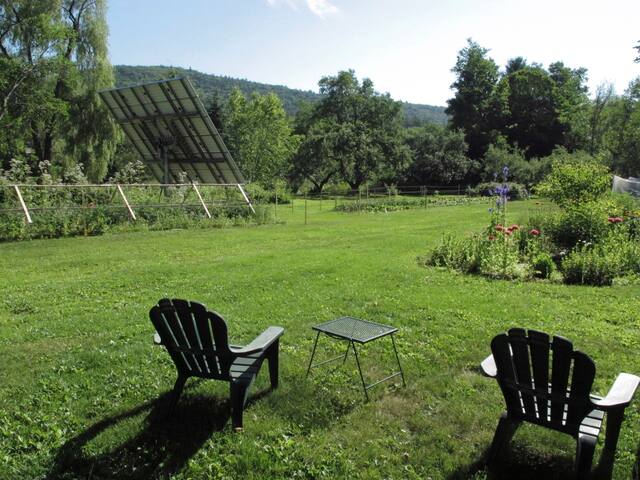 "No exaggeration-I am the most relaxed I've been in years! This was wonderful-it was so nice with coffee, the French chanteuse warbling about Paris on the record player, the sunlight streaming in the windows-I am so refreshed!"
Nestled in a c.1870 farm house, this darling and private getaway is on the fringe of a quaint Vermont village. Serene and sunny with a vintage flair. Walking distance to: eclectic general store- historic inn/restaurant with cocktail beckoning porch- brew pub with countless hand picked beer wonderment, local color, live music, food, hilarity-an arts center-yoga, children's art camp (stilt walking!)-swimming holes-Vermont Academy-Post Office-8 minute pastoral drive to a fantastic recording studio. Trails, woods, dirt road walking just out the door in the other direction. Close to cross country skiing, downhill, etc. Private Parking Full Kitchen Screened porch Separate bedroom with lovely crisp line dried linens and Queen sized bed Living Room with pull out Queen sized couch Full bathroom Wireless/TV with DVD player and streaming movies, shows, etc. Record Player electric "fireplace" 10 minutes from Amtrak/Greyhound stations 1 1/2 from Bradley International Airport (Hartford, CT) (under) 4 hours from NYC 2 1/2 hours to Boston (price includes 9% VT room and meals tax)
A great space! Very calm and peaceful. It was plenty large for my girlfriend and I. Enjoyed waking up to some cool summer mornings and eating eggs on the porch. A very relaxing place for a weekend stay. We only saw Melissa when we first arrived, but everything was easy and as described.
Robinson
2015-09-08T00:00:00Z
Melissa's cottage was very cozy and clean. My boyfriend, shih tzu and I had a wonderful time at her place. We went skiing at Okemo, which was only a quick 35 minute drive. Melissa was very informative and responsive about her property. I would definitely recommend staying here!
Casey
2016-01-05T00:00:00Z
My boyfriend and I had a lovely time at the Good House Cottage this past weekend. We were up in Vermont celebrating our anniversary and visiting Sugar Houses for the VT Maple Open-House weekend. The cottage was bigger than we exacted. We loved the eclectic decorations and cozy energy it has. Melissa was a great host. She provided us with all of the information we needed and keeps the cottage spotless and clean. We recommend highly recommend this sweet little cottage!
Manuela
2015-03-30T00:00:00Z
I planned this trip to go snowboarding around the area with my husband and two friends. We had a blast exploring the small towns nearby and enjoyed the local Winter Carnival that Melissa suggested. We were under the impression that the place would be woodsy, but that didn't stop us from having a quiet and relaxing stay. If it was warmer, we would have enjoyed the adorable patio. It was a bit snug for four adults; we enjoyed the coziness. I did suggest that the mattress be upgraded, since it seemed a bit worn out. Other than that, we had a great time and I would recommend it.
Mariah
2017-02-26T00:00:00Z
Melissa's place is quaint, clean, and quiet. My girlfriend and I stayed for three days and had a great time. I highly recommend that if you want a relaxing time with your significant other or just yourself - this is the place to do it. Melissa is also very responsive and easy to communicate with. Whenever I reached out her via email or phone, she always responded back to me in a timely fashion.
Benjamin
2016-12-31T00:00:00Z
Our first experience with AirBnB was an enjoyable one. The Good Cottage was as described. Melissa was a great host and very helpful with some last minute itinerary changes. The rental was spacious while remaining cozy and about 30-40 minutes away from two of our favorite ski resorts. Cool vintage record player and records along with some old school board games made for a fun family night after a long day on the slopes. A perfect fit for my wife and kinder aged daughter. I would highly recommend.
fred
2017-02-20T00:00:00Z
We spent two nights at the Good House Cottage. The cottage was lovely with plenty of room for two plus our dog. Melissa left fresh eggs for us which we made for breakfast and sat out on the screened porch to eat. After a day spent hiking on the near by trails we ended up back on the porch to relax before dinner. A wonderful stay.
Trish
2015-08-19T00:00:00Z
Melissa's retro cottage was wonderful. Located in a small Vermont town with a beautiful river and wonderful morning light. We just stayed the night as we were there for a graduation at Putney School. The cottage was adorned with just the right amount of furniture in a great retro style with clean crisp cotton sheets, always a favorite with me.
John and Liza
2015-06-08T00:00:00Z
Tipo de Acomodação
Casa/apto inteiro
---
Tipo de Imóvel
Apartamento
---
Acomoda
4
---
Quartos
Saxtons River, Vermont, Estados Unidos
Pleasant Street Suite is a fantastic place for couples, friends or families who want a relaxing escape in Vermont--for great outdoor fun, top localvore dining, villages full of character, pubs, shops, art and stunning scenery! Hope to see you soon!
A FULL SUITE WITH PRIVATE ENTRANCE, ONLY $140 PER NIGHT! Pleasant Street Suite offers the best of Vermont lodgings for a classic New England vacation in a cozy but contemporary, well-appointed and comfortable home base. You'll have far more space, amenities and privacy than most inns or hotels can offer, for a remarkably low price. And because we're fully licensed, we have all the zoning, water, health and fire permits (and the peace of mind that comes with them) that purely private listings don't offer. With parking right outside, the comfort and independence of living in a vibrant village neighborhood, and available yet unobtrusive proprietors, it's the balance of entertainment, adventure, solitude and service that inspires guests to come back often and tell their friends. This is a private, spacious, 530'-sq. vacation flat in Southeastern Vermont, situated at the far end of a handsome arts-and-crafts era home in a quiet but groovy residential village (great taverns and live music right around the corner). The suite sleeps up to four (even five, with a twin mattress we can bring in) and features a big bedroom with queen bed plus living room with futon couch ($30 per extra person/night for use as a 2nd bed). There is wireless DSL, DirectTV/HD/DVD and an iPod dock. The sunny bathroom has a big oval tub/shower, the living room has a 7'-tall arched window, and there are ventilating, louvered skylights in every room plus your own private balcony and entrance. There is a portable AC unit in the bedroom which helps cool the whole suite, as does a big fan in the livingroom. The kitchen nook, which seats four, has a fridge, microwave, electric kettle, coffee pot, toaster, a full set of china, flatware, water glasses, wine glasses (and champagne glasses!), mugs and mixing bowls. There are two options on the dishes front: guests can put their dishes on a tray on the balcony at the end of the day and I wash and return them by morning, and there's also a sponge and dishwashing liquid under the bathroom sink for doing a few things quickly. In terms of dining, there are several options literally right around the corner: a restaurant that has a cozy tavern room with great pub food and a formal dining room with more elegant fare, plus patio and garden seating where you can order from either menu; another pub with a terrific menu and often live music on weekends; and a village market with great deli counter and full groceries, both gourmet and standard, that guests often use for bringing meals and treats back to the suite. And a few miles up the road in several directions are oodles of other fantastic restaurants, bistros, diners and delis. Once you book the suite and Air gives us each other's emails, we can send a full list of local dining, entertainment, outdoor fun, etc. so you can plan your week ahead of time if you like. For entertainment and adventure, also around the corner are great playhouse theaters, hiking, biking, running track, tennis courts, swimming, kayaking, picnicking, Nordic skiing and snowshoeing. A short drive away are countless more cultural venues, music clubs, restored vintage movie houses, retail shops/outlets, Alpine resorts, major rivers, lakes and endless opportunities for relaxation and fun. At only $140 per night, this is an affordable, fully appointed, perfectly located and completely private alternative to noisy, high-priced inns and hotels, with parking right outside your door plus the comforts, character and independence of life in a vibrant village neighborhood (ask us about our special long-term rates too!). We're right next to Vermont Academy and a short drive from Brattleboro, Grafton, Putney, Chester, Bellows Falls, Okemo, Stratton and Magic Mountain--the best of Vermont skiing, shopping, dining and culture, for romantic getaways, business travel and family fun. Pleasant Street Suite offers the perfect balance of entertainment, adventure and tranquility, for brief or lengthy escapes and inside the suite is a full list of local dining, entertainment, adventure and shopping options, with your proprietors always available for more recommendations! Our guestbook says it all: "So relaxing and peaceful--we'll be back!"- MM "What a fabulous home-away-from-home you've created!"- JC "Everywhere I turn there's another nice, subtle touch of style and I've also enjoyed your book selection."- NP "I had an incredible time!"- LK "You've thought of every comfort and it's so clean that we immediately felt welcome!"- BL "It's been perfect for all four of us and we got the best sleep ever."- CZ "What a wonderful surprise to find your suite even sweeter than advertised."- BL **Extra guests requiring use of futon couch/bed are $30 each per night and pets are $10 each per night. Price includes 9% Vermont Rooms & Meals Tax.
Classic New England village and we're on the widest, oldest street with sidewalks, beautiful old homes and huge mature maples. We are half a block from Main Street, where there is a country village market with a great deli, arts and craft shops, two pubs, a formal restaurant, post office, a Catholic church, the Saxtons River Historical Society Museum, and a beautiful rocky grotto with swimming hole in the Saxtons River itself! And around the corner is Vermont Academy, with hiking trails, a terrific running track, lots of green fields in spring and summer and, in winter, awesome Nordic skiing, snowshoeing and ice skating! In autumn the village and surrounding hills, forests and meadows transform into one big glorious postcard. In a nutshell, it's pretty much paradise, year round.
Very nice and clean place. Annie is wonderful. She has a hiking trail map that was very useful. Would definitely come back. Our old chocolate lab loved to be able to go with us.
Katie
2015-11-23T00:00:00Z
Annie was a great host! Brownies and local beer were part of her hospitality to name a few perks ;)
Paul
2011-12-31T00:00:00Z
Annie was great! We had to change our arrival day at the last minute due to weather and it was no problem at all.
Paul
2014-02-17T00:00:00Z
We had a very nice stay in Saxtons River, VT. Annie was pleasant and very accommodating. We loved the peace and quiet of this classic Vermont Village.
Shelley
2016-11-28T00:00:00Z
It was my second stay at Annie's and it was great. I still highly recommend it and will definitely come back.
Audrey
2012-02-16T00:00:00Z
Annie is an attentive hostess and her place is clean and comfortable. We slept on the futon and found the heater loud, but that may not have been an issue in the bedroom. Very warm and inviting host and nice place in a quaint little town.
Amy
2015-12-31T00:00:00Z
Annie is extremely helpful, friendly, and thoughtful. We had a group slightly larger than the property officially accommodates, but Annie went out of her way to help us work things out. The property itself is gorgeous, comfortable, and well-kept. I'd recommend it to anybody in a heartbeat.
Jon
2011-01-24T00:00:00Z
Great place. Great host. All as advertised. Specially good with pet.
DANIEL
2014-08-11T00:00:00Z
Tipo de Acomodação
Casa/apto inteiro
---
Tipo de Imóvel
Apartamento
---
Acomoda
5
---
Quartos
Saxtons River, Vermont, Estados Unidos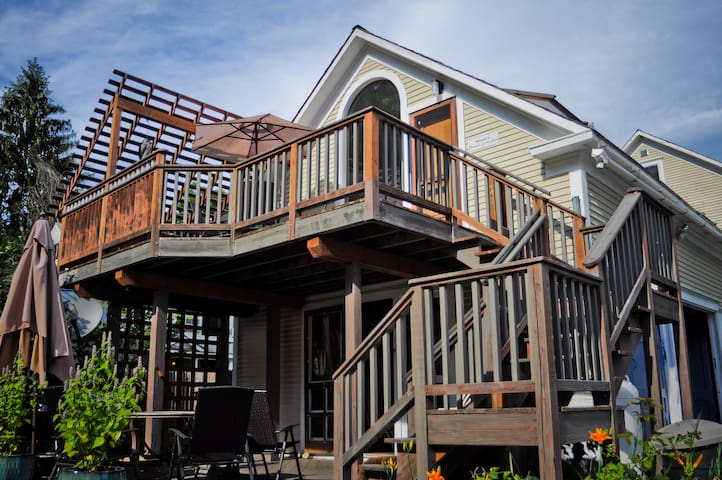 Located right in the heart of this historic village our place is a five minute walk to Vermont Academy as well as being near Grafton and Bellows Falls. The apartment is sunny, cozy, and eclectic and is good for couples, solo adventurers, and business travelers. It provides a comfortable and welcoming retreat in the heart of Southern Vermont. This well appointed, self-catering apartment allows for privacy and relaxation and is perfectly located to take advantage of all that the area has to offer.
Entering the apartment you will be in the large kitchen which is equipped with a small frig, stove top, microwave, toaster, coffee maker, and sink. The living room is located off of the kitchen up a small set of stairs. Beyond the living room is the bedroom. The private bath is located down a set of stairs in the living room. The bath has a tub and shower, toilet, and sink. There is a deck overlooking the vegetable garden and guests are encouraged to use our spacious front porch to relax on.
Saxtons River is an incorporated village in the town of Rockingham, Vermont. For over a hundred years, Saxtons River has been the home of Vermont Academy, an independent secondary school. Most of the village is an historic district listed on the National Register of Historic Places as Saxtons River Village Historic District. Our home is located in the heart of the village, a pleasant 5 minute walk to VA.
Meg and Barbi's place is exactly as advertised. Clean, well-stocked, nice location. They were great hosts - available for questions, left homemade pumpkin bread and waters in frig, refilled sugar supply. Would definitely recommend staying here
chris
2017-01-01T00:00:00Z
I didn't have a chance to meet Meg, since I got very late to her place and spent most of the time going around, but the communication with her was great, she would txt back within minutes and left very thorow directions about the house and what to do around. Great place, very cute, well arranged, clean - impeccable! Would definitely stay again.
Jerolim
2016-10-16T00:00:00Z
La primera señal de magníficas anfitrionas vino con la aceptación de nuestra reservación, en la que Meg contestó que les daría mucho gusto tenernos como invitados en su casa. De allí, continuó enviando instrucciones detalladas de como llegar a su casa y al final de nuestra estadia de como llegar a nuestro siguiente destino. Algo por lo que quedamos sumamente agradecidos. El pequeño apartamento que nos tocó es muy original, en niveles diferentes, con una cocina plenamente equipada, una cómoda cama grande, sala con estéreo y CDs que pudimos escuchar y pequeña biblioteca al alcance. El apartamento tiene entrada independiente así que la privacidad reina, pero si necesitábamos algo bajábamos para tocar a su puerta y complacían amablemente ayudarnos con cualquier cosa. La ubicación de Saxtons River es ideal para visitar todo el sudeste del Estado de Vermont ya que esta' cerca de una principal autopista así como de carreteras secundarias que llevan a todas direcciones. Recomendamos esta morada sin ninguna reserva.
Ramon
2016-10-09T00:00:00Z
Meg and Barbi were lovely and helpful, but never intrusive. The apartment was clean, bright and well furnished, with three separate living spaces that made it ideal for my husband and I and our baby, who could sleep in a separate room. Their garden is fabulous, and we had such a nice time sitting outside in the grass and enjoying the nice weather. We are looking forward to staying again next year!
Chandra
2016-08-22T00:00:00Z
Meg and Barbi were so sweet and very welcoming. They were nice enough to come out and say hi the second day we got back and we had a nice chat with them after they asked us how our day was. Me and my gf had been up for the weekend skiing Okemo which is about 35 min away and Stratton which is about an hour away. Conditions were beautiful and we had a great weekend skiing with a nice place to relax. Thanks Meg and Barb!
Adam
2017-02-19T00:00:00Z
Tipo de Acomodação
Casa/apto inteiro
---
Tipo de Imóvel
Apartamento
---
Acomoda
2
---
Quartos
Saxtons River, Vermont, Estados Unidos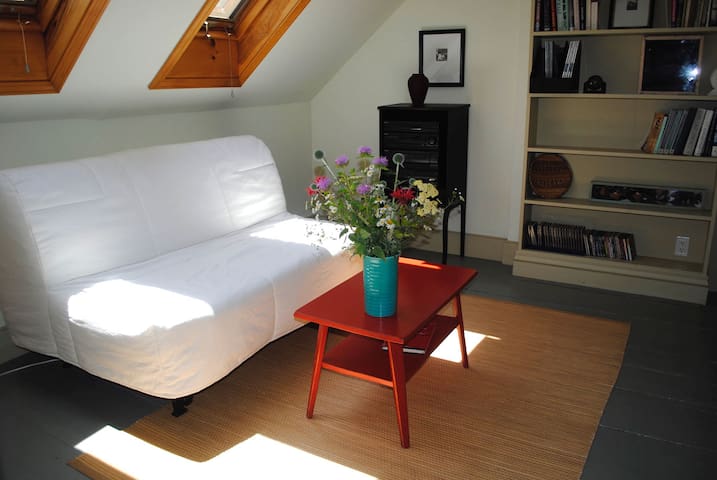 Benvenuti a Ludlow / Mt. Agrifoglio / Okemo Vermont - sei venuto qui per sciare o pensione neve in inverno, ma ben presto scoprirete ci sono molti altri modi di vivere l'energia di Ludlow / Okemo in ogni stagione dell'anno. Si può andare lo sci di fondo, sci alpino nella migliore località sciistica a est, motoslitte, pattinare o gita in slitta durante l'inverno. Nel periodo primavera e l'estate, ci sono innumerevoli sentieri che sono grandi per gli escursionisti di tutti i livelli, piste ciclabili panoramici, equitazione, pesca e kayak nei laghi locali e fiumi, e anche un sacco di modi per relax-- visitare una fattoria locale o andare antiquing! Un appartamento al piano terra privato disponibile in caratteristico stile chalet alloggio immerso nei boschi di una strada tranquilla di montagna in Mt. Agrifoglio, Vermont. Fornito 1 letto, 1 bagno con cucina, zona pranzo e zona di seduta con forno a legna. C'è un ingresso privato e un vialetto di parcheggiare. Non c'è televisione o internet, ma questo è il motivo per cui si arriva a Vermont-- di staccare la spina e godersi la natura! (Se si ha bisogno di andare online, il caffè in città, Java Baba ha wifi e un ottimo caffè). Ideale per una coppia in cerca di fuggire dalla città per un accogliente rifugio di montagna e godere di un parco giochi invernale del Vermont! 2 miglia a Jackson Gore, 5 miglia a Okemo Mountain e la città di Ludlow, dove si possono trovare un sacco di piccoli ristoranti, negozio di alimentari, sci / snowboard, noleggio e boutique.
What an adorable cabin. It was very clean and cozy. There was nothing lacking and was true to the description. We would stay there again with pleasure.
Andrea
2016-08-15T00:00:00Z
Our stay at Brittain's place was great. The place is very cozy and perfect to relax after skiing the whole day. The description was very accurate and we had a wonderful stay.
Alejandro
2016-02-15T00:00:00Z
Our time spent in mount holly was great. There's isn't much to do but yet didn't bother us. when we weren't snowboarding we sat by the fire and watched movies. The description of this cabin is very on point and I would definitely recommend it for anyone that enjoys the outdoors or if you just want to get away!
Jazmarie
2015-12-22T00:00:00Z
It was a great stay at Britain's grandparents' house, their notes are friendly and the location is a great place for any couple who wants to get away crowd and stay safely and quietly. The house is clean, the bedroom is a little bit cold but endurable, the dinning room is wonderful and you can make a fire by yourself.
Young
2016-12-26T00:00:00Z
We had a great time being in the middle of "nowhere", yet only 2 minutes off the highway, and five outside of Ludlow. Altogether the apt. was cozy. The bed was comfortable and there was adequate closet and hanger space. We loved having a kitchen that allowed us to have breakfasts at our convenience. The living room space was OK; it was summer so we didn't avail ourselves of the potbelly fireplace. The interior photos are accurate. The best part was the beautiful setting and the outside grounds that we used for morning reading and yoga. The quiet and privacy alone were worth it; however we do have three cautions: While the entire house looks like the perfect mountain retreat, and the pictures highlight the upper log portion and front balcony - so you're not disappointed - remember that, like the description states, you only get the downstairs apartment. You can, however, access the backside upper deck, and no one else is there when you are. Secondly, the hot water capacity is on the small size. Luckily, it was summer. And finally, on our last evening, we saw 3 mice running between the living room and kitchen. But, then again, this is a cabin in the woods!
INA & RONNIE
2014-08-12T00:00:00Z
Very nice place to stay, comfy and beautiful. Exactly as it appears on pictures and close to Okemo ski resort. We had a great time. Thank you!
Marie
2012-02-21T00:00:00Z
The space was absolutely amazing. It was exactly as advertised and gave us a true taste of Vermont. It was really simple to get the key and get into the space. Although nothing came up, Brittain and her family were very responsive to any questions we had. Just be aware that there is no wifi/tv and cell phone service is pretty sparse!
Jeffrey
2014-12-28T00:00:00Z
Britt was a great host. The house was exactly as described and perfect for a weekend away in VT. Everything was at described and I would not ask for a better host.
Charles
2015-02-16T00:00:00Z
Tipo de Acomodação
Casa/apto inteiro
---
Tipo de Imóvel
Apartamento
---
Acomoda
2
---
Quartos
Mt Holly, Vermont, Estados Unidos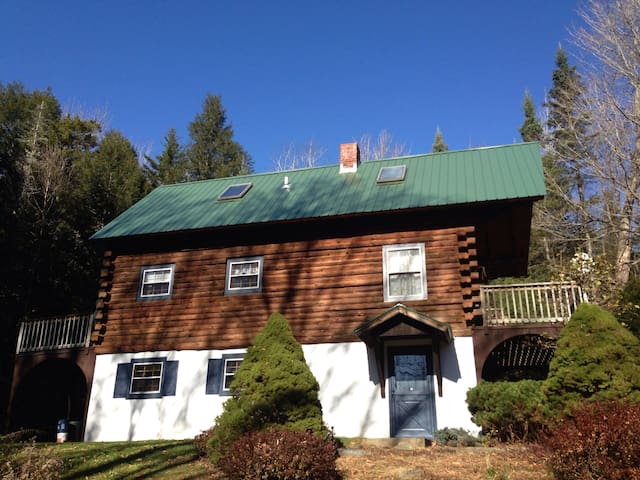 My apartment is in a scenic and secluded corner of Vermont. While a short drive to several quaint towns, you can also enjoy deep woods on the network of hiking trails! Note that the building is older; I keep the price low to reflect this. Also note that the wifi here is very slow; there are cafes nearby with better wifi. Sometimes the upstairs neighbors can be a bit noisy, but they'll always be quiet after 10 pm. Also, my landlords know I do Air Bnb, so it's on the up-and-up!
This apartment is is in a gorgeous little valley. Hiking trails, waterfalls, and swimming holes are all quite close. It is a quiet and restful spot, but also within 35 minutes of Brattleboro, Londonderry, Stratton, Chester, and Mount Snow. Right now, the smaller bedroom with a twin bed is available. If you have a second guest, I put a futon on the floor. It's simple but, in my opinion (and I've used Air Bnb/Couchsurfing a lot, all over the world), good value for the money. If you're looking for a luxury listing in this heavily touristed area, expect to spend much more.
The West Townshend Country Store is a great local spot, with music and a farmer's market every Friday night. The closest grocery stores are about 20 minutes away. However, we are very close to Lowell Lake and Hamilton Falls. During the week, I wake up at about 6 am. If you are a light sleeper, this may not be ideal for you!
I had a wonderful time (EMAIL HIDDEN)munication response time with Sarah was very fast. The place is located off a dirt road in a secluded but exceptionally beautiful part of Vermont. The room and the apartment were very clean and Sarah was an outstanding host. The wi-fi connection was good and it was nice having access to the living room and kitchen. Sitting outside at night watching the fire flies go by and seeing so many stars was a real treat. My only regret was not spending more time with Sarah and her cozy apartment.
Andrew
2014-06-28T00:00:00Z
Sarah is a great host with excellent communication.
Liam
2017-02-19T00:00:00Z
Basic, simple and affordable accommodations. Host was very responsive to questions and gave thorough directions. (SENSITIVE CONTENTS HIDDEN) maps also very accurate. Host was away so we did not interact. Host rents the lower level. You rent a room from her. Landlord's children upstairs can be noisy. Mattress is a bit tired. If you're a light sleeper with back issues, this place isn't for you. Would I go back? Probably....basic, simple and affordable.
Tony
2017-01-16T00:00:00Z
Very nice stay and Sara is a very nice host. Highly recommended if you are interested in country living.
D.
2016-08-28T00:00:00Z
Sarah was a pleasant and gracious host. Her home was a tranquil oasis. The views are spectacular. .. It was clean and very comfortable. I would like to have stayed longer.. Her directions were perfect which is a good thing for the late arrivals. Terry
Terry
2015-10-07T00:00:00Z
Sara was very welcoming and friendly. She (and Walter the dog) made us feel very comfortable at her beautiful apartment. Everything was perfect! I'd definitely recommend staying here.
Elad
2015-09-29T00:00:00Z
Sarah was a wonderful host. Even though we had a very small personal space (the bedroom), she gave us full access to other areas of the house. We'll make a few suggestions that would have improved the stay a bit from our perspective, but overall a good experience with a very hospitable host.
David
2015-10-21T00:00:00Z
Sarah did a great job with checking in with me a few days before I was scheduled to stay and gave me detailed directions to the location as it's in a relatively secluded area and the backroads can be confusing. But with her directions, I was able to find it with little issues. I was in VT for a wedding so I actually didn't spend much time in the apartment but I was nicely surprised at how large and spacious the apartment was. I was on my own, but the apartment could easily fit 5 people (some sleeping on the couch or floor). The house itself was very quaint and rustic and I appreciated the beautiful garden and backyard, especially since I live in NYC and often miss out on fresh air and flowers! I wish I had more time to explore the area but I spent most of my time at the events for the wedding I was in. It would have been a really nice place to sit outside in the adirondack chairs in the evening and look at the stars. The only thing I would suggest to anyone staying in Apt. #1 is to bring ear plugs because there were some crickets inside the apartment, especially the bedroom, and they were very loud in the middle of the night and kept me up. The ceiling is also pretty thin so I could hear the neighbors upstairs. I would also warn that since it is in a rural area, you will find some bugs, but that comes with the territory! They didn't really bother me (except for the crickets), but anyone who doesn't like the occasional bug may want to stay somewhere else.
Christan
2016-08-15T00:00:00Z
Tipo de Acomodação
Quarto inteiro
---
Tipo de Imóvel
Apartamento
---
Acomoda
2
---
Quartos
Windham, Vermont, Estados Unidos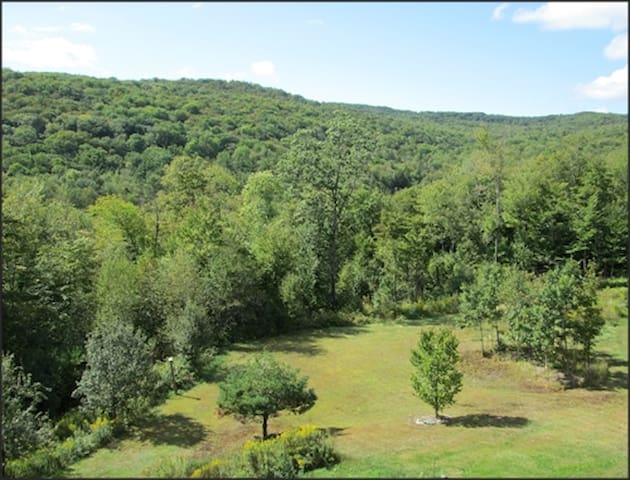 Questa fattoria quintessenza Vermont originariamente costruito nel 1809 è il perfetto rifugio dalla vita quotidiana. Il Casale appartamento è proprio aggiunta allegato 2 piani, ed è completamente privata.
Godetevi una vacanza Vermont presso il nostro privato, a due piani, rinnovato di recente Farmhouse Apartment. Con pavimenti in legno, travi a vista, e lucernari incredibili con vista dei nostri 10 acri di verdi colline, ti rilassarsi in tutta comodità. Questo spazio unico è il luogo ideale per un rifugio invernale, le vacanze estive, fuga romantica, week-end ragazze, luna di miele, ritiro dello scrittore, viaggio di famiglia, è il nome! Se si desidera esplorare le cittadine ei sentieri tortuosi del Vermont o di veramente allontanarsi da tutto, il Casale Apartment è un appartamento spazioso e bella casa-base. Al piano superiore, vi è un lussuoso letto king-size nella camera matrimoniale enorme con una schiuma topper memoria, in modo che si otterrà il sonno una grande notte di! Il bagno è stato recentemente ristrutturato con piastrelle a mosaico. Al piano inferiore c'è una cucina, zona pranzo e soggiorno completamente attrezzata con accogliente, stufa a legna e un comodo divano. Una terrazza privata sul retro e una veranda separata (con dondolo) completano il piano di sotto. Se interessati, si può aggiungere un letto singolo a scomparsa al piano di sotto per un ospite supplementare. Abbiamo anche una culla portatile Baby Bjorn, seggiolone, e un secchio bambino oscillare indietro - bambini benvenuti!
La nostra pittoresca fattoria è appena fuori dal villaggio artsy di Putney, VT su una strada di campagna facilmente accessibile. Escursioni, bicicletta, a piedi, sci di fondo, o correre sui sentieri nelle vicinanze e picchi, alcuni dei quali partono proprio dalla nostra strada. Visita di un allevamento di pecore vicino e degustare i loro formaggi premiati, o la testa nei villaggi vicini di Putney, Walpole, o Chester per una passeggiata in città o un boccone da mangiare a preferiti locavore Il Gleanery o di Burdick ristorante. Trascorrere un pomeriggio a Green Mountain Orchard, raccogliendo mirtilli, lamponi, mele, zucche o (a seconda della stagione), e finire con un fresco tuffo in una piscina naturale locale. La sera, rilassatevi accanto al fuoco, curl con un buon libro e rilassarsi! Ci sono anche vicino allo sci alpino, (Okemo, Bromley, Stratton), la scuola di Putney, Landmark College, la Scuola Greenwood, e la Scuola di Formazione Internazionale (SIT) / Learning World. In Putney, si ha la Putney General Store, la Putney alimentari Coop, la formidabile West Hill Bike Shop, spinning e yoga studio, massaggio, la deliziosa Curtis 'grill, negozio di turbinio di seconda mano (stagionale), negozi di antiquariato, Hidden Springs Maple , e molto altro ancora! Siamo anche vicino ai fianchi Brattleboro, Vermont con la sua meravigliosa festival d'arte, mercati degli agricoltori, cinema, locali con musica, cibo coop, Grafton Cheese Company, gallerie d'arte, librerie, caffè, ristoranti e negozi a bizzeffe. E siamo vicino alla bella Keene, NH con Antioch College e Keene State College, grandi negozi di caffè e un vivace Main Street, il teatro coloniale e altro ancora. Il Casale Apartment è un bel posto da visitare tutto l'anno e sperimentare Southern Vermont in tutte le stagioni: In primavera, si fermano in una casa di zucchero d'acero mentre sono bollente, e gustare una colazione pancake prima di visitare le aziende agricole locali per vedere i nuovi agnelli nati. In estate, passeggiare nel verde dei boschi profondi a piedi o in bicicletta e poi raffreddare se stessi in un chiaro buco di nuoto locale. In autunno, escursioni lungo i torrenti, fino a punti di vista sulle montagne che vi accecare nella stagione foglia con sorprendente colore di caduta, e godere di una sosta al mercato di un contadino. In inverno, le racchette da neve o sci di fondo su piste battute vicina e ritorno ad un fuoco accogliente per godere di un po 'di sidro caldo prima di andare al pub per la cena. Oppure, controlla Stratton, Okemo o Bromley montagne per il divertimento in discesa (circa 50 minuti).
I will start by saying this was my first Airbnb experience, and although I was initially a skeptic, my time here has me sold. Fifteen minutes after I submitted my request, Alex confirmed along with a warm greeting and a comprehensive overview of things to do in the area. She was incredibly responsive up to the point we arrived and she couldn't have made it any easier to find. There was even a jar of local maple syrup to greet us... It was delicious by the way. The house is situated on about 10 acres of land with a pond and apple trees. I wish we could have come in full fall foliage because even with most of the leaves already fallen, the view is stunning. As for the loft, the pictures do a great job at capturing the cozy, "alpine lodge" feel. If it wasn't NY wife's first time in VT, I would have been perfectly happy to spend the weekend drinking coffee and wine, reading a book and admiring the landscape. I am so glad this was my first Airbnb experience... Though the bar has been set pretty high now!
Devin
2015-11-08T00:00:00Z
Alex and Michael have a wonderful space that is exactly as described. They made us feel very welcome, with lilacs on the kitchen counter for when we arrived, and a nice detailed list of things to do and see in and around Putney. The best part about staying here was the incredible loft bedroom upstairs, complete with three huge skylights and low-to-the-ground king-sized bed... it was very dreamy! This was the perfect escape from the busy city life, as it really is out in the middle of nowhere among rolling hills, winding roads, and adorable farms. Couldn't ask for anything better.
Laura
2015-07-03T00:00:00Z
What an awesome place to stay! We were well taken care of and the apartment was bright, cozy and quiet. We loved the running loop and sitting in the backyard.
Brian
2015-12-14T00:00:00Z
We had a great experience staying with Alex and Michael at their lovely home ! Their place was very clean and comfortable. The apartment is beautiful and furnished with everything you need to have a relaxing time in the gorgeous Vermont countryside. We would recommend this lovely home to anyone looking for a great place to relax and enjoy the quiet of the country. The bed was super comfortable and we had awesome weather to just leave the windows open :)
Eric
2016-06-14T00:00:00Z
This was our second stay at Alex's farmhouse apartment, and our time was just as pleasant as the first. Visiting Vermont in April, and after a week of warm spring weather in New England, we were hit by winter's last blast. Arriving to unusually cold weather, we were greeted as before, to a roaring fire in the living room. Everything was characteristically clean, tidy and welcoming. We awoke the following morning to sunshine over fog, and a beautiful view of Alex's yard in spring green. Truly an exceptional spot in a special town.
Kristin
2016-04-07T00:00:00Z
Alex has a beautiful property, and was very accommodating and relax while hosting. The apartment looks exactly as it looks in the pictures. Alex and her husband left great instructions for local attractions. Very nice apt!
Suzanne
2016-03-20T00:00:00Z
We had an absolutely wonderful experience. Alex was incredibly responsive with our questions before arriving, writing us back within 30 minutes each time. The farmhouse was even better than the pictures depicted. The main living area is bigger than it seems in the pictures. I came with my wife, two year old daughter, mom, and dog, and we felt like we had plenty of space. We came up on a frigid weekend in February so we spent a lot of time in the house. We cooked 6 meals there and had everything we needed. Alex exceeded our expectations once we arrived too. As I mentioned, it was quite cold that weekend, so she brought us more wood for the stove. One morning the pipes froze (it was -15 that night and pipes froze all over town) and she brought us bottled water and coffee while the pipes thawed. Their property is very dog and kid friendly. We spent a lot of time sledding/tubing on their hill in the back yard. There were also great snowshoeing and running trails close by (about a 5 minute drive). Even with the frigid weather, the house stays quite toasty with the wood stove. I remember wondering about what it would be like not having cell service or TV, but it was a blessing. We were able to disconnect from work and actually fully enjoy our vacation. We are now going to keep the phones and TV off for subsequent vacations, even if they are available. One of the best selling points is the bedroom. It looks amazing in the pictures and it is amazing in real life. Laying in bed and looking at the stars is such a peaceful way to go to sleep. Plus the bed is quite comfy and kept us warm on some cold nights. It's huge too. My wife and I still had plenty of room even with our two year old doing pinwheels all night. Our vacation was 10!
Michael
2016-02-15T00:00:00Z
If you're looking for a beautiful getaway in a quiet place this is your spot. This was one of our favorite vacations and we came home super relaxed. We had fun exploring Vermont and truly everyone we met was nice. We highly recommend Alex's place.
Laura
2016-09-11T00:00:00Z
Tipo de Acomodação
Casa/apto inteiro
---
Tipo de Imóvel
Apartamento
---
Acomoda
3
---
Quartos
Putney, Vermont, Estados Unidos
A 2 bedroom apartment attached to our home, close to Stratton, Bromley, & Magic. Skiing, hiking, fishing, golfing, tennis, outlet shopping and fine dining all close by. Manchester, Peru a short drive. Located next to #1 Camping site in VT.
A 2 Bedroom apartment w king size Master bedroom, and 2 full size beds in other. Full bath with tub/shower combo, Galley kitchen with coffee makers ranging from a French Press to Drip to a Kuerig. Allows 4 to sleep comfortably. Very quiet and attractive environment. Separate entrance from main house along with Internet WiFi. Near Stratton, Manchester, Peru, Londonderry, Bromley, Magic Mountain During weekends, special events and holiday periods there may be a 2 night minimum or more.
Manchester & the Mountains area in Southern Vermont, with Stratton, Bromley, and Magic Mountainns. Close to all activities ranging from Golf, tennis, hiking, fishing, outlet shopping and dining, antiquing. Home/Apt sits next to Vermont State Park. We are located on what was a 350 acre family owned farm. It is beautiful!
We had a wonderful time at our Vermont get away! Our apartment was beautiful, spacious and had every amenity under the sun! Rosalie had even stocked the apartment with some delicious trail mix! Our hosts were gracious and made us feel very welcome. I hope that we can return to this idyllic place nestled in the Green Mountains every year!
Mariadonna
2015-10-27T00:00:00Z
We had a fantastic stay with our hosts in Londonderry. The apartment was a perfect mixture of warm and cozy and had everything we needed to be comfortable. We had a warm welcome tour around the property from our gracious hosts and then enjoyed the quiet serenity of the apartment, yard, and neighborhood. The views and land surrounding the luxurious hot tub were one of our favorite parts of our stay.
Megan
2016-06-13T00:00:00Z
Rosalie and Bob were excellent hosts and the apartment is meticulously clean and comfortable. We had a wonderful time. The set-up was ideal for our family (mom, dad, 16 year old daughter, 10 year old son) and the coffee makers and hot tub (brand new!) were especially appreciated. Location is ideal for visiting Manchester and Woodstock. Rosalie told us about the Londonderry farmer's market, which was great -- highly recommended.
MaryBeth
2016-05-30T00:00:00Z
Thank you for such a wonderful experience Rosalie! We loved the house, so clean, renovated and taken care of! It had everything we needed an more! Rosalie is a great host! She was available and friendly from the pre-order phase and all the way through the end of our stay. The house is in a great location and has a gorgeous view!
Yana
2014-09-30T00:00:00Z
Everything was perfect for our visit. We were welcomed when we arrived and shown the rooms and deck. Rosalie was great with our kids too. Robes and a few snacks were really nice unexpected extras. The hot tub is really comfortable. Proximity to stores (basic provisions) and Stratton base area makes it really easy to pick up meals on the fly. We plan to go back soon.
Bill
2015-12-23T00:00:00Z
What a great place with wonderful owners. I am so pleased with how well appointed the place is. Coffee-check. Shampoo-check. Soap-check. Books-check. Friendly owners-check. Privacy but with availability-check. Bob and Rosalie have a knack for leaving no stone unturned. It's obvious they take pride in their home and that they wish for you to feel welcomed and cared for. It's all in their attention to detail. Highly recommend.
Natalie
2015-08-05T00:00:00Z
This was a perfect Vermont Getaway. The location is ideal- minutes from the cutest of farmers markets, farm-to-table resturants and the best Green Mt trails. The property is nestled in an inspiring landscape, quietly tucked in by a state forest. The apartment was beautiful, very tidy and had every amenity we could want. Bob & Rosalie couldn't be more helpful and we hope to make this a regular retreat. Look no further and enjoy your stay!
Livia
2014-07-28T00:00:00Z
Rosalie her house is simpy beautiful! We were really sad we only stayed for one night. The place was spotless clean and we felt immediately at home in the cozy house. We will definitely return in the winter for some great snowboarding at Stratton!
Henryk Ingrid
2014-08-06T00:00:00Z
Tipo de Acomodação
Casa/apto inteiro
---
Tipo de Imóvel
Apartamento
---
Acomoda
4
---
Quartos
Londonderry, Vermont, Estados Unidos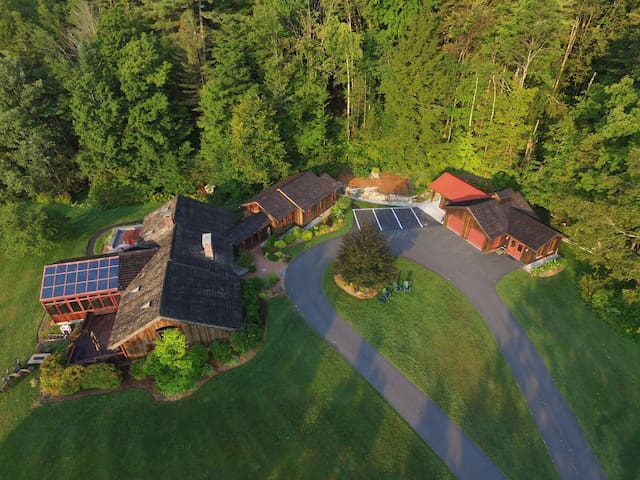 Diese Scheune Wohnung ist ein einzigartiges Refugium! Nur zwei Meilen von vielen Restaurants und einige nette Geschäfte, jedoch können Sie 100 Morgen genießen direkt vor der Tür wandern. Perfekte Lage für den Outdoor-Enthusiasten oder ein entspanntes Wochenende in kühlen VT Luft!
Atemberaubende und geräumige 2-Zimmer-Wohnung Sportkingsize-Betten in den beiden Schlafzimmern sowie einem großen Bett in ", was früher sein" ein Spaziergang durch Schrank oder ein Zug zurück bequeme Couch und Vorhang um es zu schließen. Nur 1 Meile von Jackson Gore oder 2 Meilen von der Talstation der Okemo Mountain - auf der Bergstraße kommend, schlagen Sie den Verkehr auf beiden Seiten des Berges. Perfekt für einen Ski-oder Sommerurlaub. Wir stellen zwei Paar Schneeschuhe für Sie und eine Karte der Immobilie für Sie rund 100 acres scoot. Viele Wege zum Wandern im Sommer und einem Holzkohlegrill und Feuerstelle. Das ganze Jahr über Whirlpool im Eingangsbereich der Scheune. New-- zentrale Klimaanlage! Neu renoviert, hat diese 1800 sq ft Scheune Dachboden zwei Kingsize-Betten in zwei geräumige Schlafzimmer - alle Klimaanlagen, die Solar-off unserer Gitter laufen gebunden, Küche mit Edelstahl-großer Kühlschrank und Gasherd, mit Töpfen, Pfannen, Kaffeekanne , Toaster, Mixer / Küchenmaschine, Backformen und Geschirr für 6, Eismaschine in den Gefrierschrank, Esstisch, die für die Platz für bis zu 10 Blätter 6 oder mit in der Garderobe Sitze - extra Stühle im Esszimmer, Bad mit einer Klaue Fuß Badewanne / Dusche, Frontlader Waschmaschine / Trockner, Wohnzimmer und Wohnzimmer. Große Deckenventilatoren sind in der Küche und Wohnzimmer, sowie Fenster / Tür-Fans für gute Lüftung. Es ist 2 Meilen von Ludlow entfernt Bars / Restaurants, nette Geschäfte, Makler und Lebensmittelgeschäfte zu genießen. Dieses Gerät ist Solar Powered! Keine Sorge, wir sind Raster gebunden, so, wenn wir nicht genug Strom machen, haben Sie immer in Leichtigkeit und Komfort leben. Check-in / out flexibel ist, aber wenn es ein anderer Gast ist in oder aus diesem Tag überprüft, dann wäre es, wenn aus erster Gast Kontrollen um 11 / Mittag und die Gäste Plan Ankunft auf einem 3 geschätzt werden. 30 / 16.00 Check Bitte NO Samstag Check-in / out. Wenn Sie sofortige Buch verwenden, um Ihren Aufenthalt an einem Samstag beginnen oder enden, werde ich Sie bitten, Ihre Daten zu bearbeiten. Vielen Dank für die auf dieses Detail mit mir zu arbeiten, ich schätze es! Höhere Wochenpreise gelten für Weihnachten / Neujahr und Woche des Präsidenten. Sie werden Ihr Preis sehen, wenn Sie buchen fordern. Die Gäste haben Zugang zu der gesamten Wohnung und Wandern / Schnee 100 Morgen schönen VT privaten Wegen und Wiesen Beschlagen. Ich lassen die Gäste extrem unabhängig zu sein, aber ich bin ein Anruf oder eine Text entfernt jede Frage oder eine Frage für die Adressierung, die entstehen können. Die Scheune ist mit den Nachbarn auf einer Schotterstraße, die nicht in der Nähe sind. Niemand wird sehen Sie eine schöne Mahlzeit auf der Picknick-Tisch oder Cocktails um die Feuerstelle zu genießen. Ein gemütlicher Meile zu Fuß zum wunderschönen Buttermilk Falls macht diese Lage ein Sommer Juwel! Auto ist der Weg hier in VT zu gehen! Wenn Sie für eine größere Vermietung für Ihre Gruppe suchen, überprüfen unsere Schwester Gut Commons aus. https://www.airbnb.com/rooms/2094210?guests=16&s=Os6n2fDx bei Good Commons veranstalten wir auch mit einigen der Top-Ausbilder an der Ostküste Yoga-Retreats. Schauen Sie uns für einen Besuch in irgendeiner Eigenschaft auf!
Buttermilk Falls gleich um die Ecke, gehen Sie zurück zu Buttermilk Falls Straße und biegen Sie rechts ab. Das erste Zeichen für den Wald ist der niedrigste Rückgang. Sobald Sie dort auf den tiefsten Fall hinunterklettern, werden Sie einen Weg auf den zweiten Fall zu sehen. Wenn Sie bis zum Ende der Straße gehen, wo die verlassene Brücke ist, werden Sie den Eingang zum oben fallen zu sehen, der dritte Fall, nach unten auf der rechten Seite. Scout Camp am Echo Lake --Boy. Gehen Sie nach Norden auf der Route 100 und biegen Sie an der Echo Lake Inn. Fahren Sie ca. 1 Meile und nach links auf die Scout Camp Road. Der Eingang befindet sich etwa eine halbe Meile auf der Straße auf der zum Schwimmen nach links, Kanu, Kajak und Tretboote. 4 $ Aufnahmegebühr. --Es Ist eine große Wanderung auf der Rückseite des Okemo zum Feuerturm. Es ist ein gute Strecke ein paar Stunden für diese so ermöglichen. Nehmen Sie die Route 103 in Richtung Rutland und links an der Wright Construction nehmen. Gleich hinter der Eisenbahn Spuren nach links abbiegen und Sie werden einen Parkplatz für den Hinterkopf fahren. Es geht den ganzen Weg nach oben und unten, nur einen Weg. An der Spitze ist das Feuer Turm. Wenn Sie den Turm klettern, werden Sie einen 360 Blick auf die Umgebung zu sehen. Echt super! --Weißes Rocks National Forest - nehmen Sie die Route 103 für etwa 6/7 Meilen bis zur Route 140 und biegen Sie links ab. Fahren Sie 4/5 Meilen auf der Route 140 Sie Zeichen auf der linken Seite für White Rocks National Forest sehen. Biegen Sie links in den White Rocks unterzeichnen und etwa eine Meile bis zu einem Parkplatz fahren ..... Straße ist eng, wenn Sie ein entgegenkommendes Auto treffen. Wie Sie auf den Parkplatz fahren, empfehle ich den Ausgangspunkt auf der rechten Seite auf die Eis-Betten. Die Temperatur sinkt so viel, wenn man ihnen bekommen es irgendwie eine nette Sache in der Natur ist. Es gibt zwei große Aussichten auf dem Weg - ein Recht an der Spitze der Serpentinen leicht vor Ihnen auf der linken Seite. Dann, wie Sie entlang der Kammlinie gehen, suchen Sie nach dem zweiten auf Ihrem als auch links. Dies ist eine schwierige Wanderung. Sie haben wirklich die blauen Punkte auf den Bäumen zu folgen, weil der Weg zu sehen, ist nicht immer einfach. --Wenn Sie für lokale Lebensmittel suchen, besuchen Sie WAAWWE - Wir sind alle Was wir essen, eine die Ecke von Weg 103 und der Route gelegen 10. Es ist nicht billig, aber sie pasteurisiert haben, aber keine Milch, lokale Eier, Fleisch und Tonnen von anderen lokalen Leckereien homogenisiert. Ihre Milchviehbetrieb ist nicht zu viel weiter entlang der Route 103 in Richtung Chester auf der rechten Seite und es gibt einen kleinen Fleck dort vollständig Rohmilch zu kaufen, wenn Sie bei den Kühen eine schnelle Gander wählen und nehmen. --Deer Leap Aussichts-Richtung Buttermilk Falls Road und biegen Sie links ab. Gehen Sie auf die Route 103 und biegen Sie links ab und fahren 15 Meilen, bis Sie Sackgasse auf der Route 4. a an der Route 4 Nehmen Sie nach links und etwa 8 Meilen entfernt. Gleich hinter der Stadt Killington, werden Sie einen sehr steilen Hügel und an der Spitze des Hügels steigen werden Sie das Inn at Long Trail auf der rechten Seite und einem großen Parkplatz auf der linken Seite. Es gibt viele Wege (in und out) aus dem Parkplatz auf der linken Seite. Ich empfehle die Straße zurück zum Inn Seite überqueren und den Wanderweg an der hinteren rechten Ecke des Parkplatzes gehen, wie Sie am Inn nach Deer Leap Aussichtspunkt suchen. Es dauert vielleicht 30/40 min den Gipfel zu erreichen, die einen herrlichen Blick auf Killington Mountain ist! --Friday Nacht Konzerte in Jackson Gore, Hochseilgarten und die Adventure Zone - gehen zu Buttermilk Falls Straße und biegen Sie links ab. Fahren Sie mit dem T bei 103, biegen Sie nach links und die erste Straße rechts wird Zufahrtsstraße nach Jackson Gore. --Oldest Arbeits Käserei in der Nation - Crowley Käse. Gehe nach Norden auf 103 in Richtung Rutland etwa 2,5 Meilen und biegen Sie links auf Healdeville Straße. Fahren Sie weitere 2/3 Meilen und Sie werden sehen, Crowley auf der linken Seite. --2nd Älteste Käserei in der Nation ist Plymouth Artisan Käse auf der Calvin Coolidge Estate. Es ist großartig durch das Hauptgebäude zu Fuß das Museum und alle aus Gebäude-Hosting. Gehen Sie am Morgen, um zu versuchen Käseherstellung zu fangen. Es gibt eine große interaktive Teil des Museums, die von meinem Freund Paul entworfen wurde. Sie können Coolidge Fragen stellen und er antwortet ihnen :) --Green Berg Sugar House - fahren Sie nach Norden auf der Route 100 etwa 2 Meilen von der Route 103, und Sie werden diese auf der rechten Seite. Sie haben große Ahorn Cremes .... Ahorn Softeis und viele VT Stil Geschenke und Ahorn Bonbons gemacht vor Ort dienen. --Weston Playhouse - überprüfen Sie ihre Saison aus. Sie können etwas geeignet für Kinder, die auf ihre Hauptbühne oder zweite Stufe Platz haben. Das Talent kommt aus NYC, um einen Teil des Sommers in herrlich VT genießen. Das ist auch die Heimat der ursprünglichen Vermont Country Store, das Kind Himmel mit Penny Candy und altes Spielzeug, das wir aufwachsen hatte. Sie verkaufen auch Wunderkerzen :) --Long Trail Brauerei-Closest Brauerei auf dem Bauernhof. Zum Buttermilk Falls Straße und biegen Sie links ab. Fahren Sie eine Meile Route 103 und biegen Sie links ab. Fahren Sie eine halbe Meile und biegen Sie links auf die Route 100 North. Fahren Sie etwa 9 Meilen, bis Sie kommen in die Stadt Plymouth und biegen Sie rechts auf der Route 100A. Fahren Sie weitere 6 Meilen, bis die Straße t an der Route 4. Fahren Sie links auf der Route 4 und Long Trail ist der erste Parkplatz auf der linken Seite. Sie haben eine gute Pub-Menü und ein sehr gutes Gebräu. Das Bier Sampler hält zwei Pints Bier :) --Stores In Bridgewater-es ist ein Spaß Junk / Antiquitätengeschäft in einer alten Tankstelle auf der linken Seite. Auf der rechten Seite wird die Mühle sein. Miranda Thomas Keramik und Thomas Shackleton Möbel sind da, beide sehr gut bekannt und teuer. Auf der zweiten Etage ist ein netter Teppich Shop. Sie machen einen Teil ihrer Teppiche von T-Shirts aus dem Secondhand-Shop auf der dritten Etage. Alle Teppiche werden im Haus hergestellt. Es gibt einige schöne Schmuckgeschäfte in hier sowie Ramunto die Pizza mit vielen Biersorten vom Fass. - Woodstock-- Billings Farm ist fantastisch für Kinder. Der Eingang zum Mt. Tom ist in unmittelbarer Nähe der grünen gerade durch die überdachte Brücke. Sehr nette Geschäfte in dieser Stadt. Ein guter Ort zum Abendessen, lokale Gebräu, Met, Most und Wein ist der Worthy Küche .... es ist entlang der Route 4 genauso wie Sie auf der rechten Seite über eine 1/2 Meile ish vorbei an der 90-Grad-Winkel zu Quechee geleitet, wo die Tankstellen befinden. --Quechee Ist ein wenig weiter die Straße hinunter und lohnt sich die Fahrt nach Simon Pearce die Glasbläserei, um zu sehen, die im Boden des Speichers ist. Ich könnte es stundenlang zuschauen. Netter Wein Bar den ganzen Tag geöffnet und das Restaurant ist zum Mittag- und Abendessen. Gegenüber ist das Parker House. Schöne Sitzgelegenheiten im Freien für das Abendessen und eklektischen Dekor. Nur die Straße hinunter weiter entlang der Route 4 ist die Quechee Gorge Village, wo sie große Eis haben, ein Abendessen, ein Eisenbahnmuseum, ein Zug für die Kinder zu reiten, Weinproben, Käseproben (Cabot), antike Museum, gelegentlich Spaß Geschäfte und eine Brennerei mit Verkostung. --check Aus Harpoon Brewery als auch mit dem Weg des Lebens Garten, die für Kinder herrlich und Spaß. Sie Farmstead Käse-Speicher auch dort haben, ein Freund von mir ist ein Käsehersteller für sie. Sie machen eine Art von Brie Stil Käse genannt Lille, die verrückt ist erstaunlich. Sie haben eine Brennerei auch dort genannt Silo. Harpoon gibt Touren für 5 $. Es lohnt sich, es ist wirklich toll zu sehen, wie das alles funktioniert, ich glaube, auch für Kinder, wenn sie alt genug sind. Sie dienen Mittagessen / Abendessen auch dort. --Wenn Sie einen Tagesausflug nach Norden bis zu nehmen, dann empfehle ich auf jeden Fall Ben und Jerry und der Teddy Bear Factory. Entlang der Route 4 ist Lincoln Peak-Weinberg, Charlotte Vineyard und ein Weingut / Brauerei in Brandon sowie Otter Creek und andere Brauereien in der Umgebung von Burlington - Magic Hat und darüber hinaus!
Talk about a perfect host and get away spot. Place is very homey and adequately equipped. Rustic yet modern accommodations. A definite must stay
Jose
2016-10-12T00:00:00Z
We had a beautiful stay. The space is warm and inviting. The bed was so comfortable and it was so quiet. In a beautiful setting, with peaceful places to walk yet very close to the great town of Ludlow. There were only three of us, but the space is definitely designed for more!
Linda
2015-10-13T00:00:00Z
Excellent space! Tesha is communicative and very prompt. The space has everything needed and more. The photos don't do it justice at all. It's a very open concept area which makes it feel even more gigantic than it already is. The "take some/leave some" kitchen has lots of goodies. (Thank you for the hot chocolate!) It was a perfect spot for our ski trip. From the exterior, it really does look like a old-ish barn, but the interior is warm, inviting, and cozy. I highly recommend this spot. There's no doubt that I'll be returning next ski season.
Nicole
2015-03-12T00:00:00Z
Tesha was a fantastic host, and her barn is fantastic! She was very easy to communicate with and very accommodating. The whole process was a breeze. The place itself is amazing. This place is exactly what I love about airbnb. You get to stay in a completely unique place with tons of character in a prime location.
Bobby
2014-03-17T00:00:00Z
The Barn is an amazing place! Very close to the center of Ludlow and Okemo Mountain. Beautifully decorated and wonderfully spacious. Tesha has thought of everything one could want or need.
Kaitlin
2016-12-18T00:00:00Z
Everything was great. A family friendly place with plenty of places for our kids to explore. Tesha was great and always super receptive. Our kids are already asking to head back to the "Barn," we will certainly be back.
David
2015-09-28T00:00:00Z
Tesha is a great host, welcoming and accommodating. We rented the barn for a weekend with 2 other couples and small kids. It was perfect and spacious. The description was exactly matching the actual experience. Just a few minutes away from Okemo. Would definitely rent again!
Nataliya
2016-02-01T00:00:00Z
Great apartment which is very comfortable and well stocked for cooking, etc. Stayed with my husband and 6 month old son for some October leaf peeping and we were very pleased. Tesha was super easy to work with. Would definitely recommend to anyone traveling to the area. Seems like it would be great for a ski weekend!
Victoria
2014-10-11T00:00:00Z
Tipo de Acomodação
Casa/apto inteiro
---
Tipo de Imóvel
Apartamento
---
Acomoda
6
---
Quartos
Ludlow, Vermont, Estados Unidos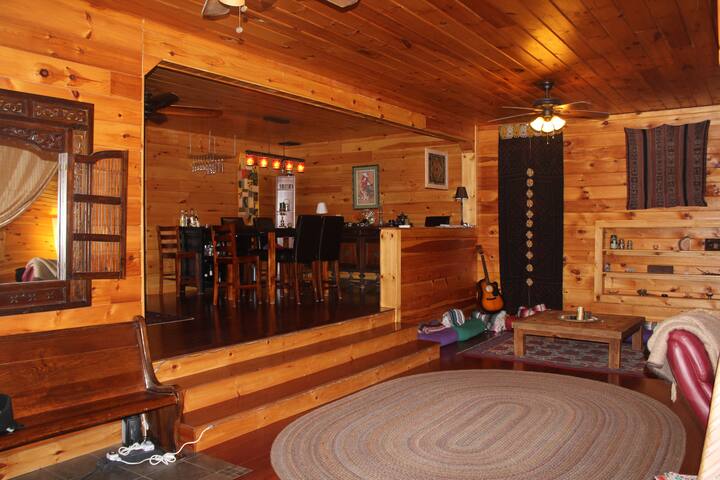 Odpocząć i naładować w naszym niedawno odnowionym Vermont domku. Ciesz się drewniane podłogi, WiFi, w pełni wyposażoną kuchnię, wspaniałe naturalne światło, widok na okoliczne wzgórza i staw, ogród i swoim prywatnym tarasie.
Nasz niedawno odnowiony Vermont domek jest idealne miejsce na weekend. Na piętrze na poddaszu śpi, znajdziesz spokojny wypoczynek oraz królowej size otoczony regałami oraz kącik z dodatkowym długim łóżkiem podwójnym. Na głównym poziomie znajduje się pełni wyposażona kuchnia, zmywarka, blat bar ze stołkami, stolik oraz łazienkę z wanną modny miedzi i prysznicem. Cztery kroki w dół powoduje przejście do salonu, gdzie polecamy wygodną sofę jako wielkiego czytania lub wylegiwanie miejsce z pełnej ekspozycji południowej. Wychodzący na południe wykusz i poduszki siedzenia podwaja dodatkowe łóżko pojedyncze. Wykusz ma widok na zewnątrz do stawu i lasów.
Żyjemy w pięknym, wiejskim otoczeniu, ale bardzo blisko do bogatych zewnętrznych i artystycznych scen, Putney, Westminster West, a Brattleboro zaoferowania. Jesteśmy na drodze asfaltowej (bez problemu w zimie lub błoto sezonu!). Domek znajduje się w odległości 5 mil do centrum Putney, gdzie znajdą Państwo Putney Food Co-op, The General Store, West Hill Bike Shop (rowery górskie i narty biegowe x / wynajem rakietach śnieżnych). Sprawdź naszą lokalną sad, Green Mountain sady, gdzie można pick-your-own jagody, maliny, śliwki, gruszki, brzoskwinie i jabłka. Oni sprzedają również pyszne domowe ciasta i pączki cydr. Dla miłośników, jesteśmy blisko nartach górskie górach ramach godzin do Mt. Śnieg, Stratton, Magic Mountain, Bromley i Okemo. Budzenie się wcześnie i być pierwszym na stoku! Żyjemy na utwardzonej drogi (bez brudu i błota do nawigacji!). Jesteśmy 9 mil do najistotniejszego wsi rzeki Saxton, w odległości 10 mil do Walpole, New Hampshire, 15 mil do Brattleboro i 13 mil do Grafton. Poniżej 10 minut do Putney School, Greenwood School, Landmark College i Vermont Academy.
We really enjoyed our stay. The views outside our windows were very picturesque. The home is very well decorated with nice warm and comfortable touches. The owners are extremely friendly, accommodating and easy to communicate with. I would highly recommend this Airbnb to others. We would definitely love to come back!!
Manmeet
2016-07-17T00:00:00Z
We stayed 2 nights at the cozy cottage loft. It is a lovely and comfortable with a new kitchen and bathroom. The views from all sides are beautiful. It was peaceful and very relaxing. Lauren, her husband Drew, their 2 sons and the dog were all very friendly and welcoming.
Joel
2016-07-19T00:00:00Z
This cottage was perfect for our needs of 3 adults. It was warm, inviting, roomy, quiet and comfortable. It was a very easy in and out. Lauren was very responsive to my emails when I had a hard time booking online and helped simplify the process. This was our first Airbnb experience and we were very happy with all of it.
Michelle
2016-11-06T00:00:00Z
we had such a relaxing weekend at the cottage. loved the deep copper tub, the well-appointed kitchen, and the comfy beds. not to mention the beautiful view out the picture window! there are wonderful walks right out the backyard, and my husband had a great bike ride on some nearby dirt roads. looking forward to coming back!
Kate
2015-11-29T00:00:00Z
I had an amazing time staying at this sweet cottage in Vermont. Lauren was so kind, and easy to communicate with. I even got to meet her husband and kids- such an awesome family. In the cozy cottage you have your own private space completely separate from their home. Even the view out the windows are beautiful, overlooking their gorgeous property. If you're considering staying here, I HIGHLY suggest it.
Alison
2016-09-18T00:00:00Z
Lauren was so good at responding to all my questions and concerns before my arrival in a timely manner. The cottage was extremely clean and well kept. I literally fell in love with this place because it is only better in person. I was surprising my boyfriend for his birthday and Lauren was so sweet to even grab the cake for me! I love the book of things to do with well written directions to nearby farms and hikes. Thank you for a great weekend Lauren! xo
Marelen
2016-06-28T00:00:00Z
We could not have a better time at Lauren's cottage. Everything was so clean and smelled good. I don't usually get so excited about a review but this place was PERFECT for a getaway-from-the-City weekend. We were 3 girls, stayed 4 days, it was raining but we still went for long walks around the house, cooked a whole thanksgiving meal and enjoyed every little moment in the warm cottage. I absolutely 100% recommend. Lauren, thank you for being easy to communicate with. All the best, Emilie
Emilie
2016-11-27T00:00:00Z
The host was awesome and kind, especially after becoming parents once again the week before. The loft was cozy and had everything we needed if we decided to stay in. 15-20 min drive brings you to everything else you'd need and Brattleboro was exactly what we were looking for. Highly recommend.
Dan
2017-01-29T00:00:00Z
Tipo de Acomodação
Casa/apto inteiro
---
Tipo de Imóvel
Apartamento
---
Acomoda
4
---
Quartos
Putney, Vermont, Estados Unidos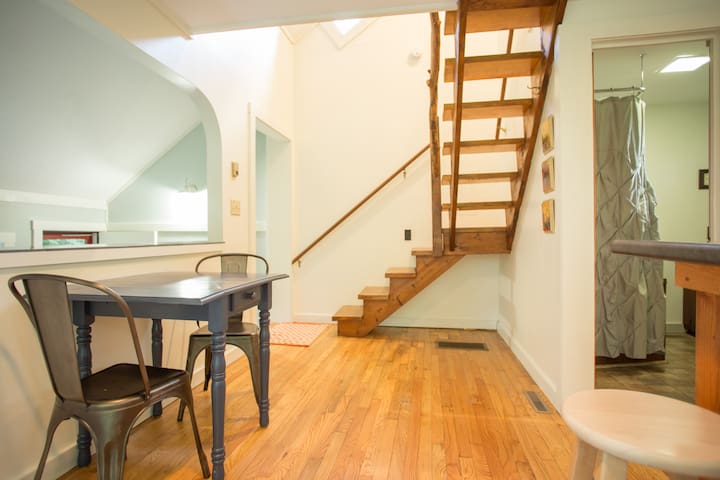 Au cœur du domaine skiabl(URL HIDDEN)restaurants et de charmants villages sont deux chambres confortables au 2ème fl complexe apt plus. Chaque chambre dispose de toilettes / salle de lavabo séparé, salle de douche partagée. Hall d'entrée a laveuse / sécheuse, petit réfrigérateur, cafetière, micro-ondes, grille-pain. Pas un endroit pour cuisiner, mais un coin petit-déjeuner à coup sûr. coin canapé confortable w / TV.
Cet espace de deux chambres est joliment décorée, spacieuse et confortable, lave-linge, espace pour la préparation des repas légers. Entrée commune w / frère qui habite à l'étage - ses escaliers sont juste à l'intérieur de la porte d'entrée commune. Il est peut-être dedans et dehors, mais est toujours respectueux de votre vie privée.
Notre quartier est RURAL! Nous vivons sur un chemin de terre sur une route de terre avec un beau ruisseau qui coule le long de la route et des étangs de la colline sur notre propriété. En été, nous avons souvent des moutons de notre voisin dans nos champs, les poissons dans l'étang, et le bois en attente d'être empilés pour l'hiver. À l'automne, les montagnes sont colorées avec des feuilles colorées, et au printemps odeurs juste bon; il est temps d'espoir de l'année que les choses sont sur le point de fleurir. Et l'hiver - nous avons NEIGE! Et nous gardons nos routes déneigées. Venez nous rejoindre pour toute la saison.
Place is way nicer then the photo's. Perfect ski retreat!
Brandon
2016-12-18T00:00:00Z
Perfect airbnb experience! Nancy was great about prompt communication and gave me excellent (foolproof!) directions to find them. We arrived later than expected and the Welcome sign for our family was GREATLY appreciated! The rooms were spotless, comfortable, and exactly what we needed. We had the pleasure of meeting Hugh in the morning, and left with smiles on our faces and a quart of maple syrup they produce from the trees on their land. We would love to return!
Kim
2015-08-21T00:00:00Z
We enjoyed Hugh and Nancy very much. They and their space are inviting and cheerful. We would stay again here happily. Cheers!
Robin
2015-09-13T00:00:00Z
Had a wonderful time at Hugh and Nancy Two beautiful bedrooms. They were very accommodating to the change in date we had which was much appreciated. The apartment was perfect for our family and very convenient to get to slopes at Okemo. They checked in on us after they had a storm overnight and even helped me get down the mountain safely since the road had not been plowed yet. Couldn't have asked for better hosts. Thank you for making my first Airbnb experience a good one!
Catherine
2015-12-28T00:00:00Z
We really enjoyed this property! Hugh and Nancy were great hosts accommodating us last minute and supplying us with a cozy, comfortable stay in a beautiful area.
Adam
2016-06-24T00:00:00Z
We had a terrific stay at the retreat and connected 2 bedroom apartment. It comfortably housed our 12 person group. Such a terrific space in a beautiful, secluded area. I hope to stay here again.
Dan
2016-01-31T00:00:00Z
My friend and I are very pleased we chose this host and location. Nancy and Hugh were very welcoming and hospitable. Excellent experience and we look forward to coming again in other seasons. The craftsmanship of their home is gorgeous.
Mike
2015-12-31T00:00:00Z
Everything about the property was amazing! Everything was clean and so Vermonty. I would highly recommend it to anyone staying in the area. The communication was fantastic and the location and building are incredible! We could not have been happier with our first Airbnb experience. Next time I am in Vermont this will be the first place I check to stay!
Clover
2016-07-12T00:00:00Z
Tipo de Acomodação
Quarto inteiro
---
Tipo de Imóvel
Apartamento
---
Acomoda
4
---
Quartos
Chester, Vermont, Estados Unidos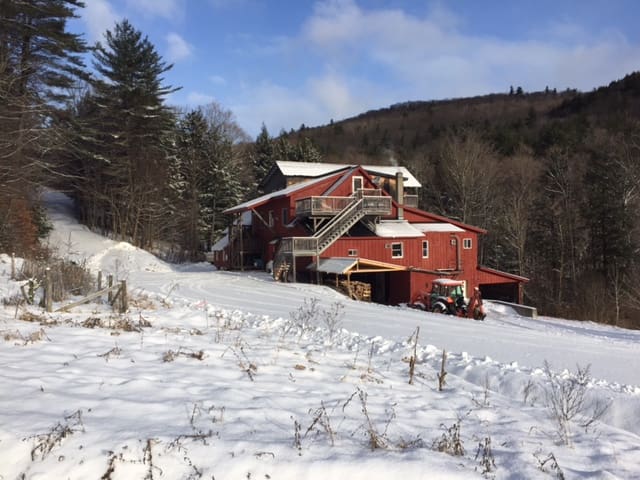 Our comfortable 1860's renovated barn with gas fireplace looks out on the picturesque West River across the road. Attached to our home in the village of So. Londonderry, it is just a short drive to the ski areas of Stratton, Bromley and Magic Mt.
The barn apartment has one bedroom with a comfortable queen bed, one bath with large shower, living room with gas fireplace, dining area  and fully equipped  kitchen with new washer, drier and dishwasher. We have a sturdy and comfortable futon couch in the living room that can sleep 2 more guests for up to 4 people. Wifi, cable TV and all the Vermont fresh air you need are included. Located on the bank of the West River, there are plenty of hiking, swimming and biking opportunities all around us.
Although we are in a small village you can walk out our door to the river and take lovely walks on country roads. It is a great area for cycling as well. We are located approximately 15 minutes from Stratton and Bromley Ski resorts, and five minutes from Magic Mt., all of which offer year round attractions. We also have eateries with high quality local fresh foods all a short distance away. We are within walking distance from Solo Farm and Table for an exceptional fine dining experience. In the town of Londonderry, only two miles away, you will find grocery, drug and hardware stores, a health food store (The Garden Market) and three restaurants and two art galleries. One gallery is run by and displays local artists. The other gallery also has a fine dining restaurant. Don't miss the terrific farmer's market on Saturdays, summer through fall. Visit nearby Taylor Farm, pet the animals and watch how they make their terrific award-winning Gouda cheese on the premises. Looking for a horse drawn wagon or sleigh ride? You can do that here too! We are 20 minutes from Manchester, known for its shopping outlets and restaurants as well as the Southern VT Art Center and Robert Todd Lincoln's Hildene estate.  Manchester is also home to the  wonderful Northshire Bookstore, one of the best independent bookstores in the country.
The barn apartment was the perfect place for our ski weekend at Okemo. The kitchen had everything we needed to be able to pack lunches and cook dinner. Having access to a washer and dryer was also great. Everything was clean and cozy, and I definitely hope to return for future trips to Vermont!
Libby
2014-02-03T00:00:00Z
Our stay at the barn apartment was lovely! Although Heather was not home during our stay, she still left the fridge stocked with milk, fresh cider, and homemade date bread. The apartment was clean and spacious, even cuter than the pictures! We very much enjoyed the gas fireplace, as well. I would love staying here again and have already recommended it to a friend! Thanks Heather!
Sarah
2016-03-16T00:00:00Z
We had a really wonderful stay in the barn apartment! It was so cozy and beautiful, just as described. We really enjoyed the fireplace and the local scenery - it was the perfect retreat. Heather was a great host. We will definitely come back!
Ainsley
2015-11-09T00:00:00Z
Heather and Steve were incredibly accommodating hosts. We booked very last minute, and Heather confirmed my reservation very soon after I submitted my request. When we arrived, we were greeted by both Heather and Steve and their two dogs, Jen and Scout. Their gardens and wildflowers were lovely! The barn is beautiful from the outside and very cozy, clean, and homey on the inside. There were even fresh cut wildflowers on the table when we walked in! The fridge had milk and juice and maple syrup for waffles that were in the freezer. The apartment was stocked with local area guides and suggestions on what to do and where to dine. They gave us two great dining recommendations, and perfect suggestions for day time activities. Their property is directly across from a beautiful river that is perfect for sitting and enjoying a quiet read. This was the ideal, quiet, relaxing weekend getaway, thank you!
Danielle
2015-06-29T00:00:00Z
I had a great stay at the "barn." The accommodations were excellent: the bed and futon were comfortable, the bathroom and kitchen were well stocked, and the fireplace was enjoyable after a long day of skiing! In a addition to the excellent accommodations the hosts, Heather and Steve were truly exceptional, readily available to answer any question we had. We had a great weekend and I highly recommend this place if you are skiing Stratton, as it is a short 15 drive.
Stephen
2015-01-12T00:00:00Z
This was the perfect place to unwind. The barn apt is peaceful and quiet and so clean. And the bed is sooooo comfortable, I slept so well! It right across the street from a beautiful river. It's close to lots of towns with a variety of restaurants. Heather & Steve were wonderful hosts, so friendly and Heather made the most delicious nut bread that we devoured. Steve was also so generous and gave me a few books to read about writing. Thank you for a wonderful visit.
Jasmine
2015-09-14T00:00:00Z
Excellent accommodation - the pictures don't do full justice to the property . Well equipped kitchen and nice little extras, and comfortable bed . The property was in a quiet setting Ideal hosts- very welcoming, easy to talk to,inconspicuous but there if needed. We would highly recommend a stay here - very convenient for touring Southern Vermont.
David
2015-09-22T00:00:00Z
Had a great weekend here! The apartment has everything you could possibly want to make your stay comfortable and make you feel at home. I would definitely return when back in Vermont!
Scott
2017-04-09T00:00:00Z
Tipo de Acomodação
Casa/apto inteiro
---
Tipo de Imóvel
Apartamento
---
Acomoda
4
---
Quartos
S Londonderry, Vermont, Estados Unidos
Notre beau, l'art rempli, plat bien rangé victorien est à proximité des restaurants et des restaurants, Amtrak, randonnée, ski, Antiquaire et activités pour les familles. Vous allez adorer notre place en raison de l'emplacement (une belle courte distance de marche de la ville et à seulement quelques miles de 91) et l'ambiance. Notre place est bon pour les couples, les aventuriers en solo, les voyageurs d'affaires, les familles et les enfants plus âgés, amis à quatre pattes bien comportés. Bellows Falls est un village historique passionnant avec une architecture incroyable et l'histoire.
Nos clients restent au premier étage de notre primé art et livre rempli 1900 maison victorienne dans le quartier historique Bellows Falls, VT. Cet appartement est à distance de marche forment la gare Amtrak et et à quelques minutes de la très animée du centre-ville.
Bellows Falls est un beau village historique offrant le premier canal aux états-unis, un centre-ville animé et de la véranda - vue sur la tombe de Hetty Green. Nous sommes à quelques pas de l'église Arts Pierre - un lieu de la musique classique.
Kristen is super welcoming ! When we arrived she left us hot chocolate and wine to enjoy as well as a welcome note. My gf and I were very comfortable in her home, it fulfilled our needs. Okemo Mt is a 35 min drive away . Only thing I would rescommend is to bring a laptop to watch movies since the home has no tv .
Stephen
2017-01-02T00:00:00Z
Kristen was the best host, her house was beautiful, and her personal touches made our trip so much more special. The town of Bellows Falls is picture perfect and we wouldn't have changed a thing.
Pippa
2017-01-16T00:00:00Z
Had a great time staying at Kristen's apt. Lovely quiet little town and the surrounding area is gorgeous. The place is much larger then I had expected and very comfortable. Would love to head back up there again.
gerald
2016-12-29T00:00:00Z
An incredibly comfortable, lovely home.
Rachelle
2016-12-26T00:00:00Z
Tipo de Acomodação
Casa/apto inteiro
---
Tipo de Imóvel
Apartamento
---
Acomoda
3
---
Quartos
Town of Rockingham, Vermont, Estados Unidos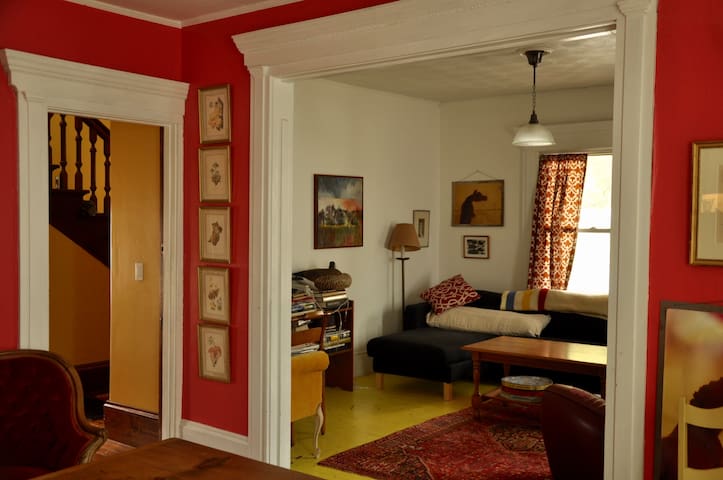 Clean and charming – great location if you plan on skiing at Okemo. Beautiful back deck overlooking the river with views of the mountain. Beds could offer a bit more support, but overall it was a great stay!
Adam
2017-04-02T00:00:00Z
Great location! Quaint and cozy apartment. Owner was very responsive and we will definitely seek this place out when we return to Okemo.
Kari
2017-02-12T00:00:00Z
Great for what we needed which was just to ski and hang out. Small but perfect for us four.
Sean
2017-03-30T00:00:00Z
Fantastic place, plenty of space for the 5 of us, excellent, understanding host with fast and pleasant communication. Highly recommended!
Peter
2017-03-13T00:00:00Z
Walking distance to everything you need including the actual ski resort. Clean house with nice balcony. Highly recommend - just need to provide WiFi and lightning
David
2017-02-26T00:00:00Z
Great apartment - probably even better in summertime when warmer. Very close to Okemo and great cozy feel. I was satisfied but listed a few issues below. noise from 5 spot was literally vibrating the apartment and I wish there were more trash bags. Tv was really hard to use and wifi would be really helpful!
Arjun
2017-02-20T00:00:00Z
Tipo de Acomodação
Casa/apto inteiro
---
Tipo de Imóvel
Apartamento
---
Acomoda
6
---
Quartos
Ludlow, Vermont, Estados Unidos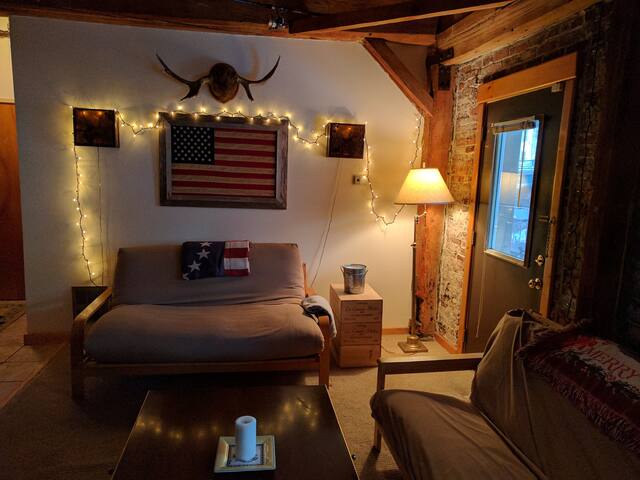 Getaway for couples, families or groups. Newly renov. Apt. in our Barn. Full kitchen with dishwasher, oven, microwave, big fridge and ice maker, 3 bedrooms, 2 baths, Dining/Living room with TV ( Antenna). Fields, forest, hill and river on our property.
200 year old Vegetable Farm on the River. Apt. in barn is newly renovated. Barn outside renovation still in progress ( no work while you stay), therefor price low for now. Other Apt in the barn is rented to a permanent tenant.
We are in a very rural area. Shops and restaurants are about 7 miles away from us. We are directly on Route 5, which runs parallel to Interstate 91 , which we do not hear or see, but has most of the traffic, so Route 5 is usually only used by the people who live there (only if the Interstate is closed we have a little more traffic one or 2 times a year). The benefit of being directly on Route 5 is, that it is plowed early and regularly and you do not have the problems of getting stuck in snow or mud that a dirt road often has.
Ina and Richard were very hospitable during our stay at their beautiful farm-style apartment. Their situated on the beautiful Connecticut River, about a 30 minute drive from Okemo Mountain. My friends and I look forward to staying with them again soon!
Greg
2016-02-29T00:00:00Z
Stayed with a few friends for the Vermont 100. This was my first time using Airb&b and I was pleasantly surprised. The apartment was clean, nicely furnished and decorated with three bedrooms, one set back a bit with a private bathroom and one with two beds. The hosts left a note at the door and had some supplies in the kitchen for us. The setting was beautiful and the hosts were very sweet. I would recommend.
Lauren
2016-07-19T00:00:00Z
We loved the rustic appeal of this airbnb in the quiet rural area. The view from the deck is lovely and beautiful flowers added wonderful color. We were warmly greeted by our hosts and charmed by Richard's comments about the farm's history. We regretted not having more time to walk down the path to the river. The personal welcome sign is a great touch.
Sally
2016-10-09T00:00:00Z
Ina is super considerate, the house is quiet and cosy with lots of entertainment options. she even prepared snacks for each of us, and allowed us to stay until 6pm as we went for a ski trip. Highly recommend!!!
Wenzhe
2016-03-07T00:00:00Z
Awesome place and wonderful hosts. Enjoyed our stay.
Ankit
2017-03-08T00:00:00Z
We had a wonderful stay. The welcome sign made us feel very special. Ina came over and showed us around when we got there and talked to us before we left and take group pictures. Richard came over too to say hi. The tomatoes were DELICIOUS! Great place to stay. Secluded location so getting to local eateries takes a few minutes.
Gordon
2016-09-25T00:00:00Z
If I could give them 6 stars I would. Ina and Richard are just two of the very best hosts you could have. They were very flexible with our check in and check out time to accomodate our long travel to and from NYC. Very quiet and very comfortable cabin in the woods type of feel. Came for a snowboarding weekend getaway with some friends at okemo and could not have had a better experience.
Thomas
2017-02-19T00:00:00Z
I rented Ina & Richard's place for my husband and brother who were participating in a mountain bike race at Mt Ascutney. They loved the house, said it was well equipped and so close to the mountain! Ina and Richard were great hosts and we would recommend to anyone!
Melissa
2015-09-28T00:00:00Z
Tipo de Acomodação
Casa/apto inteiro
---
Tipo de Imóvel
Apartamento
---
Acomoda
7
---
Quartos
Springfield, Vermont, Estados Unidos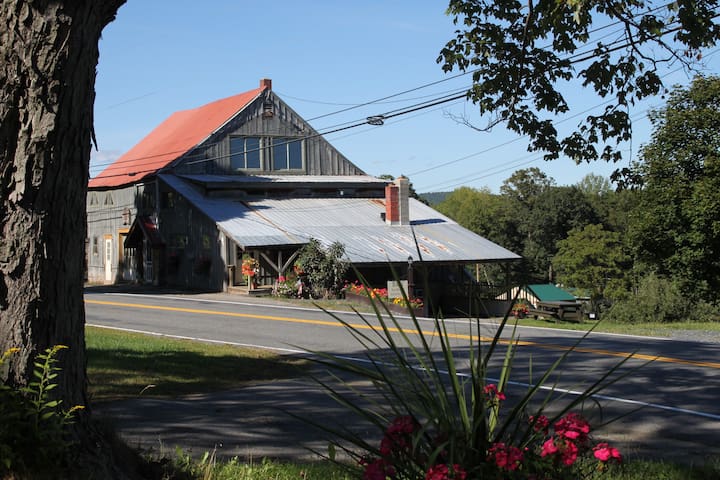 Ceci est un appartement de deux chambres sur un cadre bucolique du 19ème siècle ferme. L'appartement est un petit bijou rustique situé le long de la rivière Winhall. Il est à distance de marche du camping Winhall, qui devient de grands sentiers de ski de fond / motoneige cross en hiver. L'appartement est à 10 minutes de Stratton Mountain, à 20 minutes de Bromley et Magic.
Cette habitude d'être le studio d'art de Meyer Schapiro. Il a été converti en un appartement de deux chambres en 2007. Il est pittoresque, rustique, et très charmant ayant gardé l'intégrité de la structure originale et design.
Il est dans une forêt nationale qui est 10 minutes de Stratton Mountain, à 20 minutes de Bromley et Magic Mountain.
Andrew was awesome! He met us right when we arrived and showed us around his place. He shared helpful info about the local food and sites. Place was cozy and clean. We loved our stay!
Kala
2016-07-11T00:00:00Z
Andrew was very welcoming and let us be after showing us around. Very cozy and rustic apartment in the middle of quiet, rural Vermont. Great value for a two bedroom with nicely stocked kitchen.
Gavin
2015-10-05T00:00:00Z
This place was perfect! Cozy and secluded yet not too far out of the way.
Stephanie
2016-10-12T00:00:00Z
We really liked the apartment. It is even more beautiful than on the pictures. It is very charming and well stocked. Andrew was very welcoming and a great host. The surroundings are beautiful: great hiking and swimming. Would definitely recommend!
Ymkje
2015-09-21T00:00:00Z
Exactly as pictured and described. Two equally sized bedrooms on either side of a cozy living area and kitchen with all the necessary accoutrements. Clean bathroom with newer shower/bath and good hot water. Arriving and leaving was easy, no contact needed, just showed up after the listed check-in time and left before check-out.
Elizabeth
2016-10-15T00:00:00Z
Perfect hideaway to relax and unwind from city life. So peaceful and no light pollution. Statton is minutes away so if your ski buff this is a great option. We're and older couple and wanted a few days to see the foliage , this turned out to be the best choice. Many scenic byways intersect at the route 30. It was about an hour and half drive to Lake George. Andrew was very pleasant, warm greetings and clear instructions about how to operate the heat and wifi. We loved it.
Marie
2015-10-08T00:00:00Z
The listing description was accurate. There is a family who live in a house fairly close to the apartment and they are very nice and friendly. We were running very late in getting to the apartment, yet Andrew was patient and met us when we arrived. The apartment is charming and has more amenities that the host lists. There is full cookware, a diverse spice rack, french press, et cetera. We visited during shoulder season, so there were few other tourists in the area. Both bedrooms offer great beds and the renovation of the apartment is nice and the quality shoes throughout.
andrew
2016-05-02T00:00:00Z
Great relaxing spot in a beautiful setting. Location and apartment were fabulous. Poor communication with host was the only drawback. Would highly recommend.
Timothy
2016-08-05T00:00:00Z
Tipo de Acomodação
Casa/apto inteiro
---
Tipo de Imóvel
Apartamento
---
Acomoda
4
---
Quartos
Jamaica, Vermont, Estados Unidos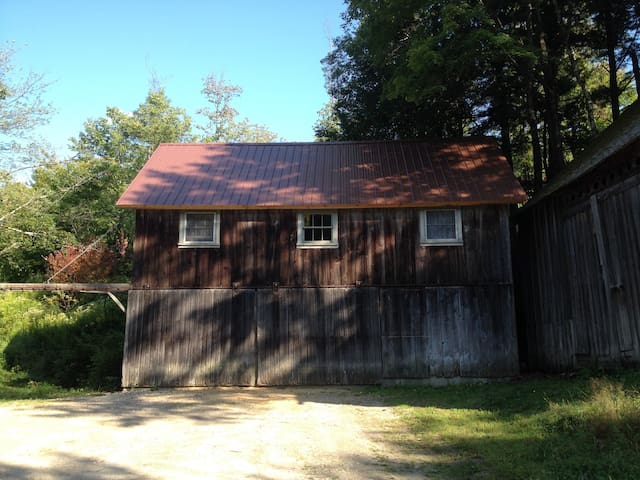 Centrally located in southern Vermont and surrounded by rolling hills, our loft studio apartment fulfills all the needs of your trip to the country. Quiet, clean, comfortable and with easy access to outdoor adventure and old New England charm.
In this studio apartment you'll enjoy a private bathroom with clawfoot tub, kitchen stocked with cookware essentials, dining area with mission table and seating for four, flat screen television with premium channels and your own back deck with views of the surrounding rolling hills. We are a direct 15 minute drive to Mount Snow and 25 minutes to Stratton. You can easily walk down the hill to our village store and small town cafe for breakfast or lunch. We are 5 miles to Jamaica State Park. 25 minutes to Manchester and 35 to Brattleboro. See everything southern Vermont has from a very central location. We have outfitted the loft with a high end queen size bed as well as a full size European style fold down sofa. We provide all linens and towels as well as some toiletries. You'll wake to views over the field and country quiet. Make meals in and eat at our mission dining table and enjoy your morning coffee on the deck.
Wardsboro is a small village surrounded by the Green Mountain National Forest, ski resorts, quaint villages and countless access to outdoor adventure. We love the friendly nature of Vermonters and peace the landscape brings.
Kirsten's Loft Studio was exactly as pictured, the very clever interior design made it so the bedroom area had sufficient privacy even though it was really all one open space. The nearby general store had everything needed if you wanted to cook in the full kitchen. The area is very rural and quiet. Kirsten was friendly and helpful.
Ellen
2014-08-10T00:00:00Z
Marvelous apartment! We had a great time. We didn't get to meet Kirsten, but the communication was very clear and everything work out perfectly, despite our request being last minute. I strongly recommend staying at Kirsten's beautiful place.
Ruth
2014-08-18T00:00:00Z
My wife and I had a great time in this cute, rustic apartment. We found everything as promised, and particularly enjoyed the comfortable furnishings, the claw foot tub, and even the local country store. Kirsten was a very responsive and hospitable host, even allowing us to check in early so we could make it to a friend's wedding on time. We'll definitely stay here again next time we're in Vermont.
Ira
2014-10-06T00:00:00Z
For 5 persons it was quite small. But still very nice and cozy. On a beautiful location with a really nice host. We enjoyed our stay a lot!
Luc
2016-08-07T00:00:00Z
My husband and I just returned from a wonderful stay at the barn house loft. It was so cozy and comfortable with picturesque views. It has all the amenities you would need for a 3 night ski vacation. We definitely would love to stay again!
Emily
2015-02-20T00:00:00Z
Kirsten greeted us upon our arrival. She had prepared the snow covered walk to the apartment stairs. She offered her help for any thing we might need. Upon our departure she was home to say good bye. We to be back for several days in January. Our stay was very comfortable!!!
Kathy
2014-12-19T00:00:00Z
excellent. comfortable and easy. our stay was seemless. thanks kristen.
Dee
2014-03-24T00:00:00Z
Convenient to both Mt. Snow and Stratton. Nice local diner within walking distance. Good for families with kids.
Travis
2017-02-26T00:00:00Z
Tipo de Acomodação
Casa/apto inteiro
---
Tipo de Imóvel
Apartamento
---
Acomoda
4
---
Quartos
Wardsboro, Vermont, Estados Unidos
Andover - Airbnb
:
Média de

4.99

de

5

estrelas, de acordo com

1445

avaliações de hóspedes
1

–

18

de

69 Apartamentos para Alugar
Insira as datas para ver o preço total. Taxas adicionais serão aplicadas. Impostos podem ser adicionados.