Mingot house is a sixteenth century manor house. Here we have enabled different accommodations. Alto is more modern, with wooden floors and ceiling beams views that give a rustic air. It is very bright and spacious with beautiful views!
stone manor house from the XVI century, located in the historic town of Anciles (Benasque Valley). 1.8 km from Benasque and 15 km from the ski slopes of Cerler. It has been restored two apartments, one we have called Yégues (old stable of mares) and one we have called D'Alto (ancient alcoves). The two properties are independent with bathroom and kitchen and feature indoor and outdoor common spaces, such as the age and garden. The second housing is called D'Alto and corresponds to the location of the house where they were located the ancient alcoves. It is ideal for 4 people. This space is 70 m2 with two bedrooms, one with double bed with a huge wardrobe and the other with two beds, one high. The kitchen is open, with the living room and dining room. Has a washing machine, fridge freezer, dishwasher, oven, hob and microwave. Both properties have heating system (radiators). Light, water and heating are included in the price as well as towels, linens and towels. You can also ask for the dryer if you need in winter. Disponéis storage space. Both accommodations have home in the living room and the first basket of firewood is detail of the house. You can do horse riding, we have grounds to accommodate horses and meadows. In summer you can make beautiful excursions nearby lakes (small lakes) and rivers of the Valley. ideal for walks and rest, in a village where 20 people live place. ideal for mountain and high mountain (Posets Maladeta and Aneto Natural Park) place. In winter downhill slopes (ski resort of Cerler) and Nordic skiing and mountain (Llanos del Hospital) and snowshoeing. The price per night is between 120 and 140 Euros, depending on the season (including VAT).
Anciles is a small village of large and stately homes. Throughout the year we live 19-20-21 people. There is only one bar-restaurant in the whole town and is exquisite! :) Anciles is 1.8 km from the town of Benasque where you can find almost everything: supermarkets, ovens, sports shops, restaurants, etc. From Anciles there nice and easy walks to cross the bottom of Valle, walking or cycling.
El pueblecito de Anciles es encantador, la casa de Olga y Álvar auténtica, muy acogedora, nos hemos sentido como en casa. Ellos han sido muy atentos y cercanos. Muy recomendable. Volveremos en verano.
Noemí
2014-01-05T00:00:00Z
These lovely people provided us a very warm welcome. Anciles is an amazing late-medieval village in an even wonderful valley. The house is part of an old (also medieval) farm. It is spacious, very cosy and tasteful decorated. The kitchen is fully equipped and suitable to make your own meals. The real attraction however are the mountains around the valley where you can hike and climb. Absolutely marvelous! Àlvar will tell you all about it...
Ruben
2014-07-13T00:00:00Z
Buenos días La casa donde estuvimos hospedadas es, sencillamente, una maravilla. Se ajustaba totalmente a nuestras necesidades y superó nuestras expectativas. Nuestros anfitriones cercanos, atentos a nuestras necesidades y sugerencias. Todo ello hizo de nuestras vacaciones un verdadero placer. Encantadas con la experiencia y la recomendamos sin dudas.
ana
2015-09-28T00:00:00Z
Alvar and Andrea made sure the arrival and departure were very smooth and the apartment was taken care of with all details: cleaning products, cutlery, linen, etc. You have the feeling that somebody that really cares is maintaining the apartment.
Jose
2015-12-23T00:00:00Z
Estos dias en El Alto de Casa Mingot han sido fabulosos. Tanto que no queríamos irnos de la casa. El apartamento forma parte de una antigua casa. Está reformado con mucho gusto y miles de detalles. Muy cálido y confortable, te hace sentir en casa. Gracias a Alvar y Olga por su hospitalidad y enhorabuena por todo el trabajo. These days at El Alto in Casa Mingot have been marvelous, we didn't want to leave. The apartment is part of an old house, good taste refurbished with many details. It makes you feel like home. Thanks Alvar and Olga for your hospitality.
Inés
2015-12-08T00:00:00Z
It was great to stay with Alvar and Olga. the place is beautiful, and they are very helpful. Alvar even helped us find a great place for the next leg of our trip!
Kyle
2014-04-18T00:00:00Z
Ha sido toda una experiencia, no hemos sentido que estábamos de vacaciones, vivíamos allí. Precioso, tranquilo. En una palabra: Felices
Lorena
2014-07-26T00:00:00Z
Hemos pasado unos días estupendos en casa de Olga y Alvar, perfectos anfitriones que nos recibieron , junto con sus hijos, facilitandonos la estancia y haciendo que nos sintiéramos en nuestra casa. Hoy me preguntó Alvar que sí hemos visto algo que podría comentarle en cuanto a mejorar la oferta de alquiler de esta antigua y preciosa casa solariega y, de broma, le he dicho que si, el precio del alquiler! pero no es verdad... bonito, limpio, buenas camas, mejor calefacción, cocina práctica y con el menaje suficiente, duchas potentes y salón con una chimenea que va como un tiro, ni un ruido, paz, tranquilidad y paisajes y olor a boj.que entra por amplias ventanas .. si, casi es una broma el precio. Gracias Alvar&Olga, volveremos, si queréis...abrazos
Bruno
2016-02-04T00:00:00Z
Tipo de Acomodação
Casa/apto inteiro
---
Tipo de Imóvel
Apartamento
---
Acomoda
4
---
Quartos
Anciles, Aragão, Espanha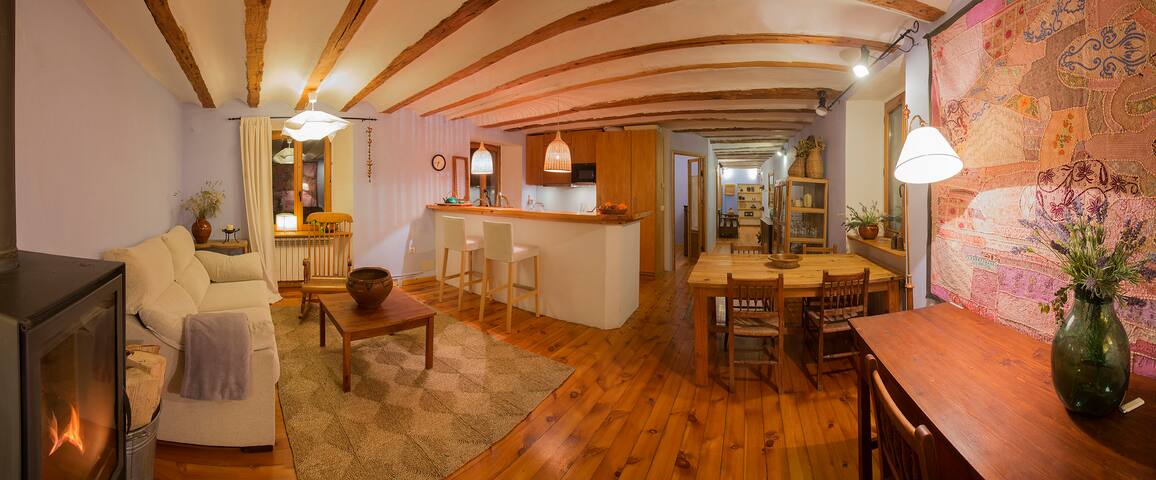 4 personnes au minimum. Maison de village sur 2 niveaux, rustique et authentique avec tout le confort pour 6 adultes et 2 enfants a Anciles, un charmant village du 16eme siècle calme et accueillant a 4mn de Benasque. Idéalement située dans la vallée de Benasque au pied du massif de l'Aneto... de la rando familiale aux grandes courses d'alpinisme. A vous les promenades à cheval, les balades directement de la maison à pied ou en VTT, un endroit très prisé pour passer du temps en famille.
Vous pouvez disposer de toute la maison. Maison de montagnards et de ramasseurs de champignons, vous trouverez tout le nécessaire dans la bodega,sacs à dos, paniers, bâtons de marche, vélo pour le petit,en plus de la salle de jeux et la cuisine intégrée avec lave-vaisselle. Attention cependant, il n'y a pas de four pour l'instant.. Pour le couchage des enfants ce sont des lits superposés. De plus vous disposerez de toutes les cartes de rando au 25000 eme de la région pour des promenades splendides.
A l'ecart de la ville, village a l'ambiance champetre paisible et calme. La nature est au bout la rue, les chevaux, les vaches, les chemins de randonnees, les champignons... Toutes les grandes randonnees a 15mn en voiture et tous les commerces a 4 mn... Sans oublier le bar restaurant tres rafine (el bar Ansils), seul commerce du village.
Tipo de Acomodação
Casa/apto inteiro
---
Tipo de Imóvel
Casa
---
Acomoda
8
---
Quartos
Anciles, Aragão, Espanha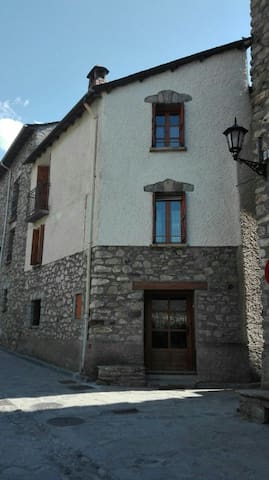 Este precioso alojamiento de 6 plazas está ubicado en Casa Mingot. Casa Mingot es una casa señorial del s. XVI, situada en el casco histórico de Anciles, en pleno corazón del Valle de Benasque.
Los anfitriones nos han proporcionado amablemente información del lugar y de las excursiones que queríamos hacer. Han estado pendientes de nuestras necesidades. Tienen un conocimiento muy bueno de la zona. La comunicación con ellos ha sido fácil y ágil, bien en persona o por teléfono. El apartamento es agradable, tiene una amplio salón que resulta muy cómodo. Anciles, el pueblo donde se encuentra el apartamento es tranquilo, con posibilidad de múltiples actividades.
Miguel
2015-08-21T00:00:00Z
Inmejorable! Olga y Àlvar nos respondieron las pocas horas de realizar la solicitud porque nos habíamos quedado sin alojamiento. Cuando llegamos a la casa descubrimos que no sólo Anciles es precioso sino que estábamos en un apartamento bonito, limpio y cuidado, con una zona común grande. Desde el primer momento fueron súper atentos con nosotros y nos recomendaron un montón de rutas para andar, de lugares en los que escalar y de restaurantes en los que comimos fenomenal y a muy buen precio. Súper recomendable! Si volvemos por la zona repetiremos seguro.
Rocío
2016-08-22T00:00:00Z
La estancia en Casa Mingot ha sido formidable. Nuestras espectativas se han visto cumplidas a todos los niveles: el pueblo de Anciles es una preciosiad, la casa tiene mucho encanto y el trato con Olga y Àlvar genial. La limpieza, decoración, comodidades... todo de 10!!
Carolina
2016-08-05T00:00:00Z
Hem passat unes fantàstiques vacances de Nadal a casa vostra. Espai ample i molt acollidor. Ben equipat, pràctic i còmode, amb bona climatització i ús de la llar de foc. El tracte i la atenció han estat perfectes. Un molt bon allotjament i molt ben localitzat per qualsevol estació de l´any , per poder aprofitar la natura i els esports de muntanya. Ens veiem ben aviat!
núria
2015-12-26T00:00:00Z
El piso es muy agradable y completo, la casa antigua es muy bonita y el pueblo también. La recepción fue muy buena y no hacia falta de nada. Muy recomendado.
Etienne
2017-01-08T00:00:00Z
Tipo de Acomodação
Casa/apto inteiro
---
Tipo de Imóvel
Apartamento
---
Acomoda
6
---
Quartos
Anciles, Aragão, Espanha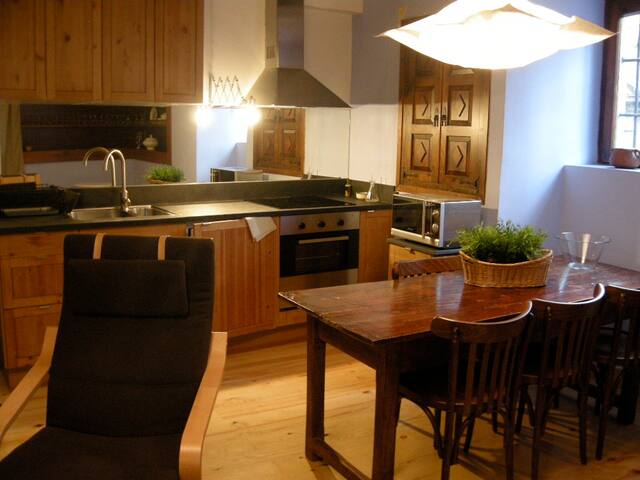 CASA corresponds to Torreon SUPRIAN. It is distributed in 3 floors, the First habitacioíon has 1 large bed, kitchen, bathroom, and TV room. The second has 2 groups of 2 single beds and the third has 3 double beds.
La casa es fantástica, espectacular, distinto a cualquier apartamento anodino. El anfitrión, Jose, estuvo siempre pendiente de nosotros e incluso hicimos una merienda juntos. Muy recomendable.
Daniel
2016-02-07T00:00:00Z
.
matan
2016-10-05T00:00:00Z
We spent a three-day weekend at José´s "torreón" as a getaway in late January. Booking was easy and communication excellent; José was there to meet us on arrival and showed us around this extraordinary property. He has two rentals in the same building and the entry to both is through a shared reception room. We had booked the tower not sure if some friends would be able to join us or not. There are three levels and plenty of beds, one bathroom and a kitchen shared with José. So he is there with you but leaves you to the space except when he is using the kitchen; then he is always fun to talk to and a real source of interesting information about the house and the area. It is the old family home (centuries) and there are tons of fascinating features. It really feels like a castle. We love the area and the house is charming. We will be back!
Stephen
2016-01-31T00:00:00Z
The host canceled this reservation 8 days before arrival. This is an automated posting.
Carolann
2016-06-09T00:00:00Z
Pasamos un fin de semana estupendo! La casa es preciosa, tiene todas las comodidades y el encanto de haber sido construida hace cientos de años... Nos recibió Joaquin (hermano de Jose) con su pareja, y estuvieron siempre pendientes de cualquier cosa que pudiésemos necesitar... Muchas gracias por todo y cuando quieran los esperamos por Bs As para comer un buen asado con vino Argentino. Saludos!
María Agustina
2016-01-17T00:00:00Z
Though the drive in was a little intense (winding 1.5 lane road with big tour busses and trucks in oncoming traffic), when we arrived at Casa Suprian we felt right at home. Jose was a generous host, welcoming us with a fire in the fireplace, coffee/tea, and full use of the house/estate. It is an incredible place to visit, the rooms are quirky, clean, and filled with antiques. We loved staying here, thank you so much Jose for all of your kindness.
Sam
2016-03-20T00:00:00Z
Ha sido una estancia estupenda, José nos trató muy bien y nos contó toda la historia de la casa, que te hace retroceder 60 años. Fantástica!
Juanmi
2016-02-29T00:00:00Z
Han sido unos dias inolvidables. José muy atento, una persona encantadora, cordial y amable, siempre dispuesto a contarnos la historia de su casa o a hacernos sentir lo más cómodos posible, con gran discreción. La casa es impresionante e increíble, conserva la autenticidad y al tiempo la personalidad que poseen las casas antiguas que no han sido retocadas en demasia, y por ello son aún más auténticas y especiales. Aún sin lujos, sientes un verdadero privilegio al estar alojado en un lugar con tanto pasado y señorío, que conserva las cosas tal cual son con el paso del tiempo. Los acabados de las maderas de la casa, dinteles y tallas en la piedra, te remontan a un lejano pasado, que te hace apreciar el esfuerzo y el trabajo de construir y al tiempo conservar semejante lugar, y que se nos permita poder disfrutarlo tan de cerca. Aún con su antigüedad y su tamaño, es increíble lo calentitos que hemos dormido, no hemos pasado frío. La cocina está muy bien equipada, con todas las comodidades modernas y muy grande. Las camas son cómodas, y el confort más que suficiente. No hay problemas de aparcamiento, jugamos con los niños en el jardín laberíntico, paseamos por Anciles, disfrutando del sosiego que proporciona no escuchar más que el frío viento del invierno. José nos encendió el fuego, nos aprovisionó de leña, y disfrutamos de confortables ratitos frente al fuego, en fin, lo recomiendo enormemente. Muchas Gracias José, por tu hospitalidad y tu paciencia con mis hijos!! Volveremos !!
Natalia y Hugo
2016-03-13T00:00:00Z
Tipo de Acomodação
Casa/apto inteiro
---
Tipo de Imóvel
Castelo
---
Acomoda
10
---
Quartos
Anciles, Aragão, Espanha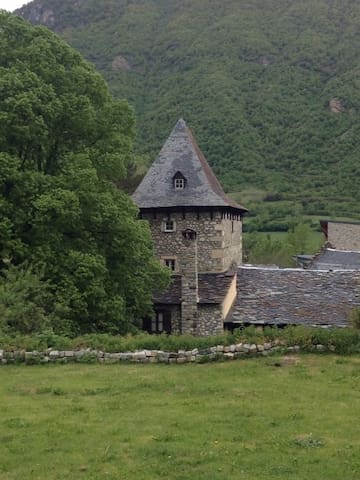 Apartamento en el centro histórico de Benasque, muy acogedor, luminoso y totalmente exterior. Situado en una placita tranquila y céntrica. Está completamente equipado. Situado en el corazón de los Pirineos, A 5 km de la estación de esquí de Cerler.
la atención de anfitrión fue perfecta. La ubicación del apartamentó es muy céntrica. Calidad precio muy buen alojamiento.
Ricardo
2016-07-25T00:00:00Z
Todo perfecto! La ubicación inmejorable y el apartamento muy cómodo para 4 personas. Estuvimos muy agusto
Laura
2016-12-11T00:00:00Z
Apartamento muy acogedor, con una ubicación excelente, céntrico y tranquilo. La comunicación con la anfitriona siempre disponible para lo que se necesite. Recomendable 100%
David
2016-01-30T00:00:00Z
Buena ubicación, en zona muy tranquila de Benasque a un paso de todo, el apartamento es muy acogedor.
Manuel
2016-08-06T00:00:00Z
Muy agradable, con estilo rústico y muy sencillo
Marc
2016-12-06T00:00:00Z
Buena situación , totalmente equipada y buena comunicación con la anfitriona para que no nos faltara de nada , seguro que repetiremos .
Alberto
2017-03-05T00:00:00Z
El apartamento está situado en un lugar perfecto en el centro de Benasque. Alrededor de él hay los lugares más interesantes de visitar. Con una zona de aparcamiento gratuito cerca y con los servicios más básicos cubiertos. Pese a estar en el centro se puede acceder con el coche y descargar/cargar las maletas. El apartamento tiene todo lo necesario para estar diversos días en Benasque para cualquier tipo de actividad, desde la estancia familiar a la práctica deportiva. La comunicación con Susana fue la esperada y sin duda volveríamos a repetir.
Joaquim
2016-08-28T00:00:00Z
Apartament ben ubicat i millor equipat, sense servei de bugaderia.
Joan
2016-08-14T00:00:00Z
Tipo de Acomodação
Casa/apto inteiro
---
Tipo de Imóvel
Apartamento
---
Acomoda
4
---
Quartos
Benasque, Aragão, Espanha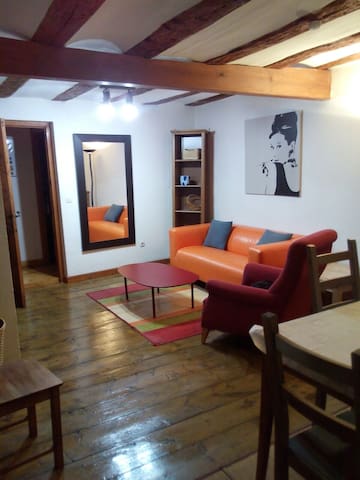 Te va a encantar mi espacio por el ambiente, las zonas exteriores, la calidez, la proximidad al centro del pueblo, muy tranquilo, cerca de la estacion de esqui de Cerler (10 min).. Mi alojamiento es bueno para parejas, aventureros, esquiadores, con posibildad de contratar clases de esquí de nuestra escuela oficial, con atención especial. Opcional cama de matrimonio o habitación con 2 camas.
Dormitorio completo privado, en apartamento particular situado en zona tranquila de Benasque, exterior y con vistas a la montaña, ideal para parejas o dos chicas. Salón, cocina y baño a plena disposición. En el apartamento viven dos profesores de esquí de la escuela de esquí de Cerler. Somos gente tranquila y no estamos demasiado tiempo en casa puesto que de 9 a 5 de la tarde estamos trabajando en la estación. Parking en el exterior junto al apartamento.
Zona muy tranquila a 5 minutos caminando del centro de Benasque y a 15 minutos de la estación de esquí de Cerler
Todo genial.Rafa un chico encantador.
Alejandro
2017-02-26T00:00:00Z
Rafa es una persona muy abierta y flexible. Aunque llegamos tarde no hubo problema y pudimos dejar la casa después de esquiar el domingo. Una casa pequeña, pero acogedora, aunque echamos en falta algún utensilio de cocina. Repetiría.
Roberto
2017-02-19T00:00:00Z
Rafa nos acogió muy bien aún llegando tarde. Encontramos el apartamento fácilmente. La habitación muy bien, todo limpio, Rafa fue muy simpático y amable, nos explicó lugares donde ir a comer, salir, y qué visitar. En general todo muy bien. Además la estación de esquí de Cerler es estupenda y Benasque es un pueblo con mucho encanto. La gente simpática y todo a buen precio y calidad. Es para volver!!!
Victoria
2017-01-02T00:00:00Z
La comunicación con Rafa fue muy fácil desde un principio. Una vez allí, tanto él como Diego nos acogieron muy bien. Nos hicieron sentir como si estuviéramos en nuestra propia casa; tuvimos total libertad en todo y todo momento. Pero a la vez con la tranquilidad y seguridad de poder contar con ellos en cualquier momento.
Clara
2017-02-12T00:00:00Z
Ha sido una experiencia genial, Rafa es encantador y hace sentirte como en tu propia casa, desde el principio conectemos muy bien. El piso es pequeñito pero completo, esta limpio y es acogedor. El barrio es muy tranquilo y puedes aparcar fácilmente. Es perfecto para una escapadita a la montaña. Sin duda para repetir!
pilar
2016-12-30T00:00:00Z
Un anfitrion estupendo en un alojamiento genial. Tuvimos algún problemilla con la caldera que Rafa solucionó con su buen hacer y su entusiasmo. Al final una estancia comodísima y un nuevo amigo. Repetiremos
carlos
2017-03-20T00:00:00Z
Gracias por todo Rafa!!!!. El lugar es perfecto para pasar un fin de semana o unos dias. Muy limpio. Temperatura muy agradable en toda la casa. Y el trato ha sido perfecto, muy atento en todo momento y servicial. 100% recomendable.
Maite
2017-03-05T00:00:00Z
Un alojamiento perfecto, Rafa me acogio muy bien y como si estuviera en mi casa. Recomiendo este alojamiento para ir a benasque
Tomas
2017-01-08T00:00:00Z
Tipo de Acomodação
Quarto inteiro
---
Tipo de Imóvel
Apartamento
---
Acomoda
2
---
Quartos
Benasque, Aragão, Espanha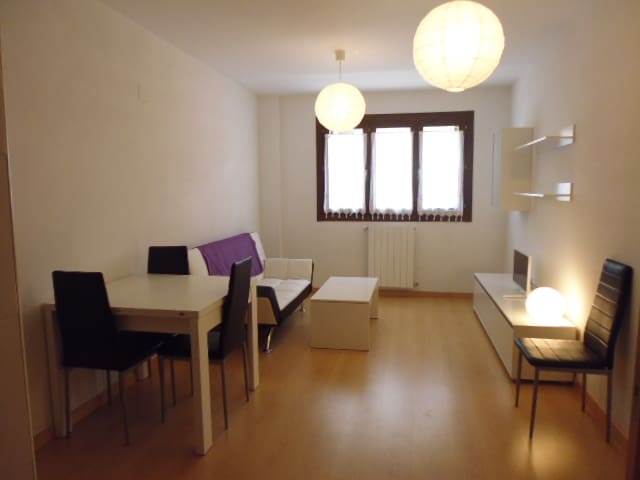 Bonito apartamento ,acogedor,confortable , para 4 personas, fantástica terraza de 35 m2 orientada al pico de Cerler y pistas de ski ,cocina con todos los electrodomesticos ,muy acogedora y amplia la zona de salón comedor, dos habitaciones 1 de ellas con cama de matrimonio (suite), la otra con dos camas de 90cms, 2 baños.Zona muy silenciosa a dos minutos andando del casco antiguo,
Apartamento 85 m2.+ 35m2 de terraza Capacidad para 4 personas en 2 habitaciones dobles,1con cama de matrimonioy baño y otra con dos camas.y baño fuera de la hab.Cocina completamente equipada. Salón amplio con amplia zona de sofás, TV de plasma con entradas usb, mesa comedor para 8-10 personas (URL HIDDEN) terraza tambien está equipada con mesa sillas y tumbonas ,donde se puede disfrutar desde los desayunos hasta la cena ,según la temporada. En el precio está incluido las toallas y juegos de cama El apartamento se encuentra en la circunvalación de Benasque, por lo que está a 1 minuto del centro pero sin ningún edificio delante, con impresionantes vistas y zona tranquila. Cerca de panadería pastelería algún bar ,farmacia restaurantes. Benasque es un pueblo de alta montaña situado en el Pirineo aragonés. Es considerado como la cuna del alpinismo español ya que se encuentra a las faldas de pico Aneto (3404m), la montaña más alta de los Pirineos y una ascensión mítica para cualquier alpinista o aficionado a la montaña. Cerler es la estación de esquí más cercana. Situada a solo 7km. Es una estación de esquí familiar y cuenta con la pista más larga de los Pirineos (3,2km). En verano podéis hacer bellísimas excursiones los lagos cercanos (ibones) y a los ríos del Valle. .Lugar ideal para hacer montaña y alta montaña (Parque Natural Posets Maladeta y Aneto). En invierno pistas de esquí alpino (Estación de Esquí de Cerler) y esquí nórdico y de montaña (Llanos del Hospital) y paseos con raquetas
lo mejor es la zona ,muy silenciosa por la noche ,no sae oye un ruido ,la orientación de la terraza,al no tener ningún edificio delante ,tiene unas vistas increibles. A la vez a medio de minuto de panaderia ,far macia supermercados etc. para llegar al centro ,solo hay que cruar la carretera de circunvalación.
Maravillosa estancia en casa de Margot . Todo impecable , casa preciosa y a 5 min de todo.
Carlos
2017-03-06T00:00:00Z
This was a very nice apartment well located in beautiful Benasque. Due to all the rain there were some problems with a sewage smell on the first day but Margot was very good at getting into contact with us about this. Overall Margot was fantastic - replied very quickly and was very helpful in organising us getting the keys. We had two of the best sleeps here - beds were very comfortable! I would stay here again.
Tasha
2016-10-15T00:00:00Z
Todo ha estado genial, tanto el trato como la casa. Repetire seguro y lo recomendare.
Antonio
2017-03-19T00:00:00Z
Desde el primer contacto con Margot todo ha ido perfecto. El apartamento es super acogedor (tal como se ve en las fotos). Hemos dormido de maravilla. Repetiremos Benasque y si podemos repetiremos apartamento. Recomemdable 100%.
Montse
2016-12-10T00:00:00Z
La estancia ha sido estupenda y el apartamento muy acogedor. Lo unico que la chinenea no se puede encender.
Jorge
2017-02-26T00:00:00Z
Decidimos quedarnos en este apartamento ya que por las fotos el apartamento tenia muy buena pinta. Al llegar comprobamos que era aún mejor de lo esperado! Es super confortable. Todo impoluto. Preciosa decoración. Localización perfecta. A dos minutos andando del centro pero zona muy tranquila. Increibles vistas. Ademas admiten mascotas. Margot es un encanto. Antes de llegar nos envío un email con información sobre el apto y con indicaciones de como llegar. Solo puedo decir que repetiremos en cuanto podamos!
Teresa
2016-12-15T00:00:00Z
Maravillosa estancia. Casa muy bonita, bien ubicado y completa. Margot es una excelente anfitriona, siempre disponible para cualquier problema o pregunta. Casa en el centro de Benasque e muy cerca de Cerler. Una gran elección para disfrutar con la familia.
Roberto
2016-12-30T00:00:00Z
No hemos podido estar mejor.... repetiremos sin dudarlo. La casa súper acogedora, con unas vistas estupendas y al ladito del mismo centro histórico. La cama era una gozada y todo con mucha clase. Parecía que estábamos en nuestro hogar. Un 10!!! Gracias por todo Margot!!!
Patricia
2017-02-12T00:00:00Z
Tipo de Acomodação
Casa/apto inteiro
---
Tipo de Imóvel
Apartamento
---
Acomoda
4
---
Quartos
Benasque, Aragão, Espanha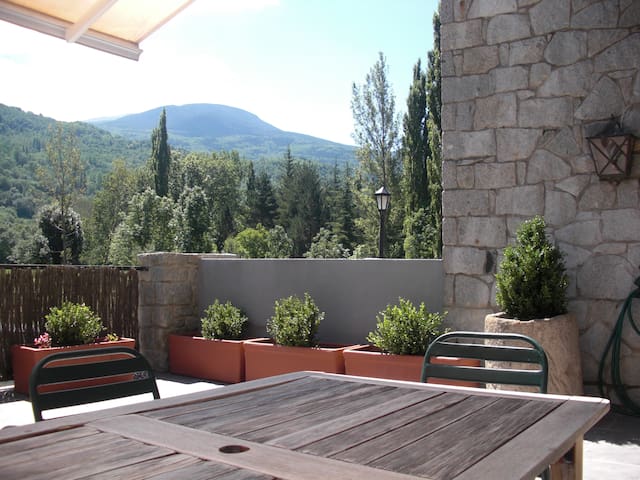 Una de las grandes ventajas del apartamento es su ubicación: en el centro de Benasque, junto a la Plaza Mayor; es un primero con ascensor, todo exterior, con vistas a las montañas; está en una zona tranquila y luminosa, rodeado de un parque peatonal ideal para pequeños y mayores, frente a una de las zonas de aparcamiento gratuito municipal y todo el comercio y restaurantes de la villa a un paso, se puede ir andando a comprar a comer o tomar algo. Mi alojamiento es ideal para familias.
Está registrado como apartamento turístico para alquilarlo legalmente, pero no es un apartamento solo para alquilar, es nuestro apartamento de vacaciones en el centro de Benasque, lo alquilamos en los periodos que no lo utilizamos, por lo que lo tenemos cuidado y cómodo para nuestro uso familiar. Tiene capacidad para 5 adultos (o 4 adultos y 2 niños) . Mucha luz, todas las habitaciones exteriores, con buena orientación y bonitas vistas a Cerler y a las montañas. Cómodo y confortable, con muebles de calidad. Dispone de ascensor. Tiene tres dormitorios. Uno doble con dos camas de 90 cm, otro con litera de 90 cm y uno con cama de 150 cm. Cocina equipada con vitroceramica, lavavajillas, lavadora, microondas. Baño completo, y aseo con ducha. Hay una amplia zona de parking municipal GRATUITO a unos 100 m del portal, que facilita el aparcamiento. El piso da a una amplia plaza ajardinada y peatonal ideal para los pequeños. Se alquila con sábanas y toallas. Dispone del menaje necesario. NOTA IMPORTANTE: NO se admiten animales, NO SE PERMITE ENCENDER LA CHIMENEA, NI fumar, Ni hacer fiestas.
Lo que más me gusta ser la zona del apartamento es que todo está a mano, se va andando a comer o tomar algo, a comprar, a recorrer el pueblo, al súper ... Una vez en casa no se necesita el coche para nada.
El alojamiento es perfecto para conocer el valle de Benasque. Nos ha permitido disfrutar de unos dias espectaculares en la montaña.
Oscar
2016-10-01T00:00:00Z
Está muy bien situado en el centro del pueblo, tiene un parking justo enfrente cruzando un puente a pie. El apto está muy bien equipado y las camas son muy cómodas. Repetiría sin duda si vuelvo a ir a Benasque.
Maria
2017-02-12T00:00:00Z
El apartamento está situado en una zona peatonal de muy fácil acceso, con un aparcamiento público justo enfrente, y con carga y descarga en la puerta. Muy bien equipado, camas cómodas, limpio, buena calefacción y amplio para cuatro adultos y dos niños pequeños. Con ascensor. Para repetir
Maite
2017-02-20T00:00:00Z
Apartamento fiel a las imagenes. Apartamento céntrico y con aparcamiento cerca. Muy bien equipado con todo lo necesario para cocinar, además de horno, microhondas y lavaplatos. La casa estaba muy limpia. Dispone de WiFi de buena calidad. Jose siempre estuvo atento a nuestro viaje y la persona encargada de darnos las llaves también fue flexible y amable. 100% recommendable
Natalia
2017-03-13T00:00:00Z
Ubicación ideal en Benasque en calle peatonal y con parque y cerca de bares y tiendas. Repetiremos sin duda.
Enrique
2017-03-20T00:00:00Z
Tipo de Acomodação
Casa/apto inteiro
---
Tipo de Imóvel
Apartamento
---
Acomoda
5
---
Quartos
Benasque, Aragão, Espanha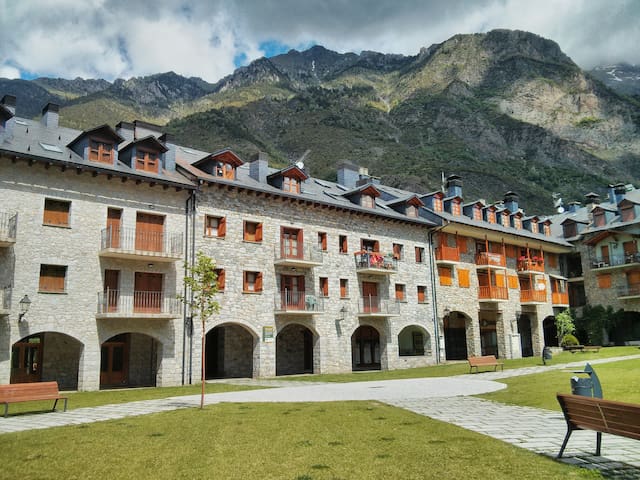 Acogedor apartamento de reciente construcción , en el centro del pintoresco municipio de Benasque Amplio salón con cocina, dos dormitorios amplios, cuarto de baño y terraza. Ascensor, trastero, chimenea, jardin y equipado completo para pasar unos días fantásticos en familia. Cerca de la estación de esquí de Cerler
Ha sido una estancia fenomenal. Con todo lo necesario para estar muy comodo en el apartamento. Muy cerca del centro histórico
Fernando
2017-03-05T00:00:00Z
Muy buen sitio para quedarse a skiar en benasque
Carlos
2017-02-12T00:00:00Z
Estupenda ubicación para ir a las pistas de Cerler (si vas en coche) y para disfrutar de Benasque.
ricardo
2017-01-12T00:00:00Z
Super appartement, propre, fonctionnel, cosy, très bien placé! Très bonne adresse!
Camille
2017-01-29T00:00:00Z
Una estancia excelente. El apartamento es muy acogedor. Todo funciona a la perfección, la cocina está muy bien equipada. La limpieza perfecta. La ubicación es en pleno centro, muy cerca de restaurantes y comercios. He estado en otros apartamentos y puedo decir que esta ha sido mi mejor experiencia. El anfitrión se ha preocupado de que la llegada fuera bien y fue muy flexible tanto en la hora de entrada como en la de salida lo cual para mí es muy importante y permite disfrutar casi de dos días más. Un placer que seguro repetiremos.
Joaquín
2016-12-27T00:00:00Z
La casa se encuentra muy bien situada en el centro de Benasque. Es pequeña, pero muy agradable. La comunicación con Rubén ha sido sido muy fluida y siempre ha estado dispuesto para ayudar. Gracias!
Marta
2017-02-24T00:00:00Z
Apartamento muy bien equipado y limpio, en el mismo centro de Benasque. Los anfitriones muy atentos. Hemos pasado unos días fantásticos toda la familia. Lo recomendamos.
Salvador
2016-11-01T00:00:00Z
Hemos estado muy a gusto en el apartamento y el trato con Rubén ha sido exquisito. El apartamento tiene prácticamente de todo y esta muy bien acondicionado y comunicado. La experiencia ha sido muy positiva y lo recomiendo 100%. Muchas gracias Rubén. Volveremos.
Carlos
2017-01-02T00:00:00Z
Tipo de Acomodação
Casa/apto inteiro
---
Tipo de Imóvel
Apartamento
---
Acomoda
4
---
Quartos
Benasque, Aragão, Espanha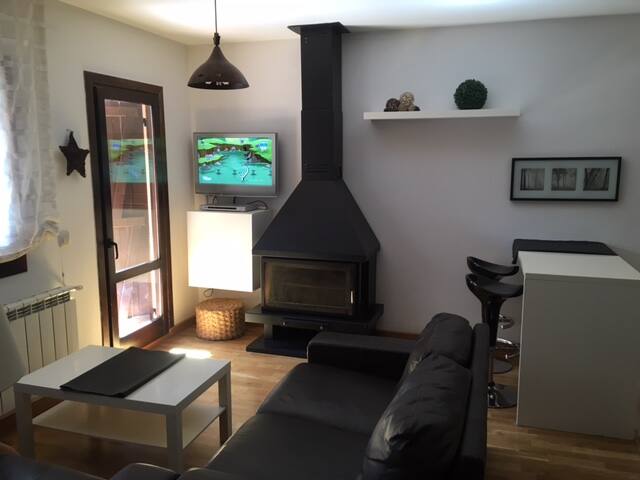 Casita con encanto situada en el casco antiguo de Benasque. La casa es del siglo XVII y está totalmente reformada y con una decoración rústica que le da un aire cálido y acogedor. Situada en una zona muy tranquila , es perfecta para parejas y familias con niños. La casa cuenta con tres plantas y justo en la tercera tiene una confortable sala de estar abuhardillada con chimenea y con una terraza con vistas a la montaña y a la estación de esquí de Cerler.
El alojamiento es especial por su situación y por su encanto. Sólo a un minuto se encuentra la panadería, el quiosco y todo tipo de servicios y comercios.
La casa tiene una capacidad para 7 personas. Dos dormitorios con cama de matrimonio y un tercer dormitorio con litera y otra cama individual. Dispone de un baño, cocina totalmente equipada,comedor y salón de estar en la buhardilla. Trastero en planta baja para guardar el material de esquí.
Estupenda la casa. Acogedora y bien situada. Para repetir
Antonio
2017-01-07T00:00:00Z
La estancia ha sido fantástica. La casa dispone de todas las facilidades: casa bonita, céntrica, totalmente reformada, limpia y acogedora. Beto y su familia son encantadores y en todo momento se han preocupado de que nuestra estancia fuera lo mejor posible. Sin duda volveremos. Totalmente recomendable!
Juanma
2016-12-11T00:00:00Z
This house is amazing! It has everything you could want. The house has all the appliances and utensils you need. The top floor with the fireplace is super cozy and a great place to relax with family. The host was great. He did a great job of meeting us and getting us settled in and was easily reachable if we had questions. He was able to help out with information about the town and skiing. The skiing is great in this area. Can't wait to go back. One minor detail. The first floor with the kitchen, bathroom, and dining room has a very low ceiling. If you are any taller than 180-85 centimeters it will be rough. Being 207 i was ducking a lot and after a couple days it can be pretty taxing. But it did make for some funny pictures and memories!
Jachin
2016-12-27T00:00:00Z
La casa es muy acogedora. Nada de cutreces, desde la vajilla hasta los detalles de la decoración todo ideal. Las camas cómodas y repartidas en tres habitaciones independientes, además un comedor y un salón. El baño bien equipado de perchas y tendedero. Aperos básicos de limpieza disponibles. Y zona para guardar el equipo de esqui. Los dueños muy atentos y muy disponibles para atender cualquier imprevisto y nos dieron información útil sobre restaurantes y sobre la estación. Unos anfitriones 10. Sin duda repetiría.
Begoña
2017-01-31T00:00:00Z
Tipo de Acomodação
Casa/apto inteiro
---
Tipo de Imóvel
Casa
---
Acomoda
6
---
Quartos
Benasque, Huesca, Espanha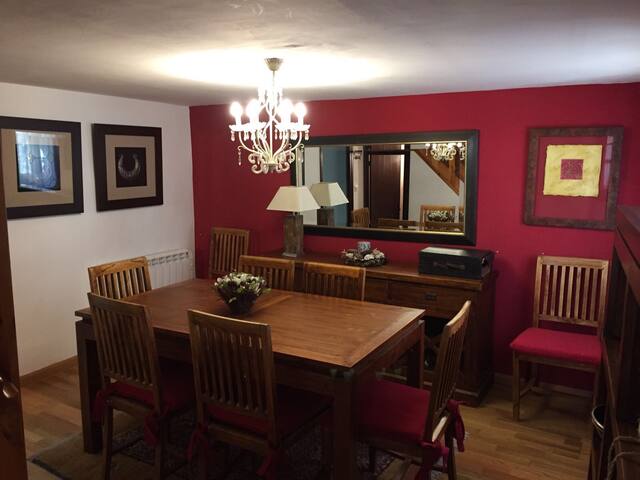 Apartamento en zona muy tranquila, tiene terraza con vistas al pico de Cerler, muy luminoso y acogedor. Incluye parking en el mismo edificio, ropa de cama y menaje de cocina. Se admiten animales. - no disponible para la trail aneto. Codigo Turístico 16247
Tipo de Acomodação
Casa/apto inteiro
---
Tipo de Imóvel
Condomínio
---
Acomoda
4
---
Quartos
Benasque, Aragão, Espanha
Acogedor apartamento de lujo en centro de Benasque, Terraza de 35 mtrs con vistas al pico de CERLER. Gran salon con cocina abierta.
El apartamento esta situado al lado de la zona del polideportivo(ideal para los niños) Rodeado de todo tipo de servicios( restaurantes,farmacia,supermercados) Se puede ir andando a todas partes. Si el coche es grande puede aparcarse en zona habilitada delante de la casa.
El apartamento una monada, tenía de todo y todo limpio y en buen estado.
Teresa
2016-07-11T00:00:00Z
La casa i la ubicació són perfectes, I l'amfitrió va fer possible que l'estada hagi set magnifica i l'hi estem molt agraïts per tot! Recomanem 100% aquest habitatge.
Jordi
2016-09-05T00:00:00Z
El piso de Marta es perfecto para una escapada a la nieve, tiene todo lo necesario para que la estancia sea perfecta. Marta es una anfitriona genial, esperamos repetir muy pronto!
Juan
2017-03-05T00:00:00Z
Buen apartamento, con todo lo necesario para pasar unos días en Benasque, ubicado en una zona tranquila con unas bonitas vistas.
Daniel
2016-07-25T00:00:00Z
La casa esta muy bien cuidada y tiene buenas vistas. Y Marta es encantadora.
Milagros
2017-02-28T00:00:00Z
Una persona muy accesible y agradable, muy preocupada por hacerte las cosas fáciles, el pueblo es tranquilo y con muchísimas rutas de senderismo
David
2017-03-26T00:00:00Z
Muy acogedora y cómoda. Bonitas vistas y muy céntrica. Todo genial. Volveremos
Reyes
2016-12-10T00:00:00Z
La casa es estupenda, muy completa, con unas vistas impresionantes. Muy bien ubicada. Nos hemos sentido como en casa. Para repetir.
Raquel
2016-07-23T00:00:00Z
Tipo de Acomodação
Casa/apto inteiro
---
Tipo de Imóvel
Apartamento
---
Acomoda
4
---
Quartos
Benasque, Aragão, Espanha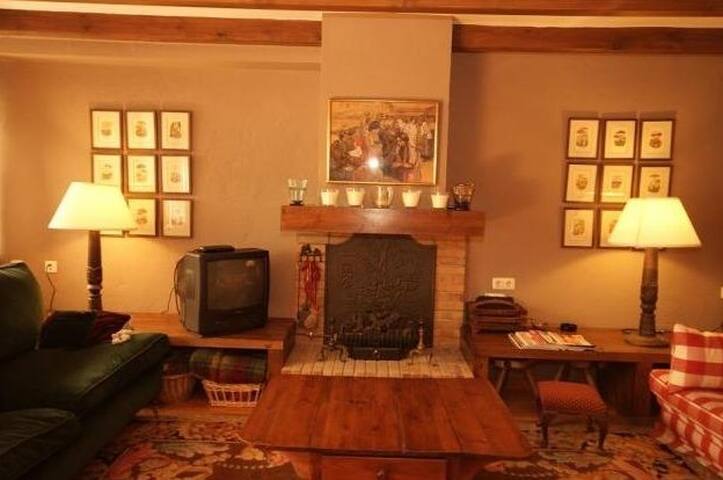 Bonito y acogedor apartamento el la Villa de Benasque. Tiene dos habitaciones, un baño y salon comedor con sofa cama muy confortable de dos plazas. Esta cerca de todos los servicios que ofrece el pueblo, centro de salud, polideportivo, supermercado
Genial anfitriona, comunicativa y facilita todo lo que está en su mano. El barrio perfecto. En el mismo centro de Benasque , apartamento muy ventilado. En resumen ya tenemos claro donde queremos ir cuando volvamos ;)
Luis
2016-07-02T00:00:00Z
Todo perfecto, Arantxa muy maja y dispuesta a solucionar cualquier problema. La casa perfecta, muy bien situada, lo recomiendo.
Jose Antonio
2016-12-11T00:00:00Z
La estada fue perfecta. Arantxa es atenta y el piso una monada!
Neus
2016-07-18T00:00:00Z
El apartamento está muy bien equipado y en Benasque mismo. La disponibilidad hizo todo fácil
Lucia
2016-09-18T00:00:00Z
Apartamento super acogedor en el centro de Benasque!! Repetiré sin duda!
Lorena
2016-09-25T00:00:00Z
Estuvimos muy a gusto en casa de Arantxa, el apartamento es muy acogedor y había de todo. La situación es muy buena, cerca de todo.
Maitane
2016-06-27T00:00:00Z
Genial! Vamos a volver :-)
Luke
2016-10-01T00:00:00Z
Tipo de Acomodação
Casa/apto inteiro
---
Tipo de Imóvel
Apartamento
---
Acomoda
5
---
Quartos
Benasque, Aragão, Espanha
Acogedor apartamento dentro de la urbanización "Linsoles". Una habitación con cama de matrimonio, amplio salón con sofá-cama de matrimonio muy confortable, cocina americana, un baño. Garage y guardaesquís. Piscina e instalaciones deportivas.
Apartamento en pleno corazón del Valle de Benasque con capacidad para 4 personas, con posibilidad de dos camas supletorias para dos niños. El edificio está construido con fachada de piedra natural y carpintería de madera. Es un primero. Secador de pelo, plancha... La cocina dispone de vitrocerámica, nevera, microondas, lavadora, minipimer, tostadora, exprimidor y menaje completo (se incluye lencería y toallas)
Posibilidad de ir andando hasta Benasque a través de un camino precioso. Y en coche se tarda 1 minuto hasta allí. Lugar muy tranquilo perfecto para familias con hijos.
Die Wohnung von Rosa ist gut gelegen und nur ca. 10 min vom Schigebiet Cerler entfernt. Eine kleine aber nette Wohnung in der wir zu viert ohne Probleme fünf Nächte (mit Schikleidung) verbringen konnten. Für die Wintersportausrüstung gab es einen Kellerraum. Was fehlt ist WLAN, aber dies ist nicht in der Ausstattung angegeben.
Thilo
2017-03-20T00:00:00Z
Preciosa urbanizacion. Muy bien situada. Limpieza exquisita.
alicia
2016-08-15T00:00:00Z
Hemos pasado unos días divertidos y muy cómodos en el apartamento de Rosa. La chica que nos recibió, Cora, fue muy amable y nos explicó con detalle los aspectos internos del piso y nos recomendó lugares xa visitar y tomar algo en Benasque. El apartamento estaba muy limpio, con una vajilla y cristalería impresionantes, una cama y un sofá cama muy cómodos. Rosa siempre estuvo atenta a todas las consultas q le hice antes de nuestra llegada. Nos vamos con la sensación de haber acertado.
New
2016-01-02T00:00:00Z
Un piso muy acogedor y cómodo. Muy bien equipado y con Parking Privado. En una zona tranquila cerca de Benasque ideal para hacer paseos. Buena comunicación con Rosa y Violeta en todo momento.
Núria
2017-01-03T00:00:00Z
Todo fenomenal. Muy recomendable. Miguel y Rosa estuvieron atentos permanentemente a que todo estuviera bien... y así fue.
Pablo
2016-12-06T00:00:00Z
Aunque desgraciadamente no pudimos conocer a Miguel y Rosa, la comunicación con ellos fue excelente y muy fluida y Violeta nos atendió genial en su lugar. El apartamento es muy práctico, con un toque rústico y emplazado en un paisaje precioso a las afueras de Benasque. Recomendable 100%.
Javi
2016-12-11T00:00:00Z
Apartamento muy acogedor, en zona muy tranquila. El peque ha estafo genial. Hemos pasado unos días muy agradables; para repetir y recomendar. Gracias chicos!!!
Esmeralda
2016-08-24T00:00:00Z
Hemos pasado 3 dias estupendos en el valle de Benasque. El apartamento perfecto para 2 adultos + 1 niño. Estaba muy bien equipado con garaje de acceso directo. Volveremos.
Jose
2017-02-27T00:00:00Z
Tipo de Acomodação
Casa/apto inteiro
---
Tipo de Imóvel
Apartamento
---
Acomoda
4
---
Quartos
Benasque, Aragão, Espanha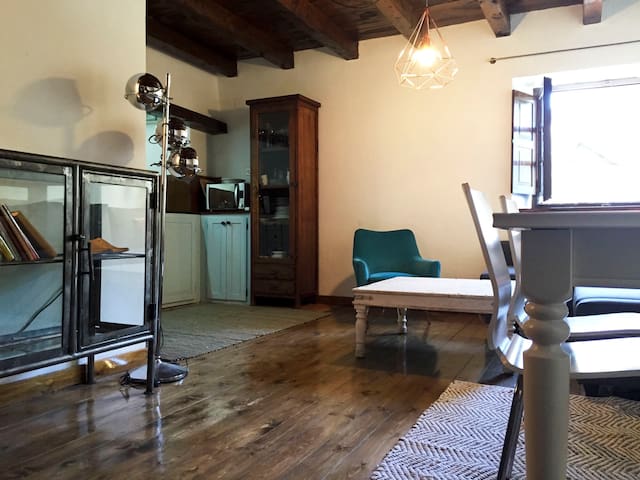 Apartamento de BenasqueHouse, de alta calidad con una habitación más sofá cama 2+2 personas, con una gran terraza orientada a Cerler, cómodo y totalmente equipado, con parking, a dos minutos del centro de Benasque, en la zona residencial de S.Antón, contigua al centro turístico-comercial de Benasque muy tranquila. Nuevo. Soleado y magnificas vistas a Cerler
Salón comedor * TV de plasma en sala de estar-comedor. * Chimenea con puerta cristal en estar-comedor (consultar sobre su uso). * Calefacción individual, regulable por termostato en cuarto de estar, y ACS en caldera estanca de máxima seguridad de gas-propano ciudad. * Mobiliario confortable y de alta calidad. Con excelentes vistas al pico de Cerler. Cocina americana * Menaje de comedor y cocina: completo para 4 personas, * Kit de limpieza para el día de llegada (spontex, esponja salva-uñas, pastilla de lavavajillas y lavadora) * Electrodomésticos cocina: vitrocerámica, horno, campana extractora, nevera-congelador ***, microondas, lavadora, lavavajillas, Cafetera KRUPS de cápsulas NESCAFÉ Dolce Gusto y Exprimidor Braun. 1 Dormitorios, Sofá cama y 1 baño. – Camas: * Dormitorio: de matrimonio 1.60 x 2.00 Colchon visco elastica Pure Feel las camas están equipadas con edredón nórdico y con sábana bajera y fundas de nórdico y almohada . – Disponen de amplio armario con perchas. *Sofá cama extraíble de piel de dos plazas con chaise longue y cabezales reclinables : se convierte fácilmente en una espaciosa cama de 1.30 x 2.00 gracias a su sistema de apertura de última generación, con el que no es necesario quitar las almohadas del sofá para la conversión. Con colchón de espumación. Baño * Cuarto de baño completo, Cabina de ducha de cristal templado, secador de pelo con difusor, kit de aseo día llegada (jabón, champú, cepillo y pasta de dientes). Alfombrilla de baño y toalla de baño y mano para cada persona. Otros * Gran terraza soleada con vista a Cerler. * Plaza de garaje privado con mando a distancia apta para cualquier coche incluido portaequipajes
Genial.
Carmen
2017-03-19T00:00:00Z
Tipo de Acomodação
Casa/apto inteiro
---
Tipo de Imóvel
Apartamento
---
Acomoda
4
---
Quartos
Benasque, Aragão, Espanha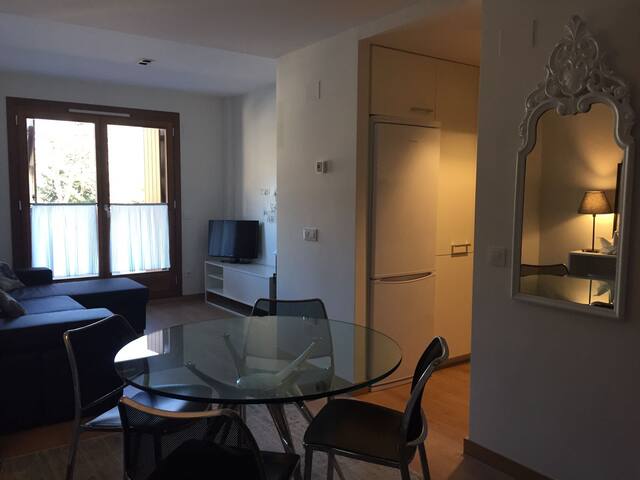 El apartamento se encuentra en una UBICACIÓN IDEAL, muy cerca del centro histórico, a un paso de la oficina de turismo y también muy cerca del Centro de Ciencias de Benasque. El apartamento es IDEAL PARA 2 o 3 PERSONAS. Todo y esto, disponemos de otra cama (de la misma calidad) que permite que puedan estar cuatro personas. Dispone de una cocina con todos los utensilios necesarios para poder cocinar. Es perfecto para parejas, aventureros, y familias (con hijos).
Tendrán a su disposición SÁBANAS Y TOALLAS limpias. Además, dispondrán de acceso a un TRASTERO donde podrán dejar sus esquís, raquetas de nieve, trineos o bicicletas.
Benasque te encantará tanto en invierno como en verano. En inverno por el acceso rápido a pistas de esquí alpino (Cerler) y nórdico (Llanos del hospital). En verano es ideal para realizar innumerables excursiones por la naturaleza.
Apartamento muy centrico y bien situado. Acogedor para dos personas, para 3 o 4 se queda pequeño.
Marta
2017-03-20T00:00:00Z
Muy buena atención y ubicación. Muy limpio, un poco pequeño para 4 personas pero para pasar un fin de semana totalmente suficiente.
Adriana
2017-03-26T00:00:00Z
Apartamento pequeño pero muy completo, limpio y bien situado. Buena comunicación con el anfitrión, para repetir
Daniel
2017-04-02T00:00:00Z
Pequeñito pero muy cómodo y acojedor. Muy buena la comunicación con Ivan y buenos detalles como distintos jabones, champús , cremas... Y básicos para cocinar: aceite de oliva, sal... Un trastero perfecto para guardar la bici o esquís. Recomendable para 2 o 3 personas.
Juan
2017-03-29T00:00:00Z
Tipo de Acomodação
Casa/apto inteiro
---
Tipo de Imóvel
Apartamento
---
Acomoda
4
---
Quartos
Benasque, Aragão, Espanha
Ático en Benasque, nuevo muy cómodo, techos abuhardillados, cocina completa, garaje, vistas espectaculares. TV plana de 42 pulgadas. Actividades en verano e invierno: esquí nórdico y alpino, raquetas, escalada, barrancos, rafting, hípica, senderismo, ... y gastronomía!
El edificio es nuevo, en un sitio tranquilo, para relajarse, con buenas vistas y sitio para aparcar. A sólo dos minutos caminando está el centro del pueblo, con todo el ambiente en cualquier época del año. Precio noche temporada alta 165€. (Del 1 de diciembre hasta el día de cierre de pistas de esquí en Cerler). Hacemos descuentos por semana completa (en temporada alta -invierno-: 900€; en verano -julio y agosto-: 720€). Consultar otros precios en temporada baja (mayo - junio y septiembre-noviembre).
Está situada al otro lado del río, en alto, lo que permite tener unas vistas estupendas y poder tener parking. Está a dos minutos de la zona principal del pueblo, y a 8km de las pistas de Cerler.
Es un bonito ático moderno que está muy cerca del centro. Todo correcto y volvería sin duda.
Raúl
2016-08-29T00:00:00Z
Todo muy correcto, apartamento muy bonito y muy cómodo. Al lado del centro de Benasque que facilita las cosas. Genial!
Sergi
2016-09-03T00:00:00Z
Una casa preciosa además de muy completa en cuanto a equipación. La limpieza también era excelente. Sólo hay que puntualizar que veo necesario cambiar algunas camas ya que nosotros eramos todo adultos y en algunas no cabíamos (se nos salían los pies por debajo).
Maria
2017-03-05T00:00:00Z
Ha sido una estancia muy agradable y como en casa. No le faltaba de nada. Y una vista espectacular!
Beatriz
2017-01-30T00:00:00Z
A pesar de tener un problemilla a la llegada, Jara lo solucionó rápidamente y nos hizo pasar una estancia genial. Apartamento limpio, ideal para un grupo de amigos, o familias. Muy cerca del pueblo andando, y muy nuevo y limpio. Repetiríamos sin duda.
Miguel
2017-01-15T00:00:00Z
Totalmente recomendable esta casa, muy bien situada, espaciosa, fácil de aparcar e igual q las fotos. Sin duda volvería a repetir
Ignacio
2017-01-03T00:00:00Z
La casa es perfecta, espaciosa, bonita con las vigas de madera y con todo tipo de comodidades. En directo es incluso mejor que en las fotos. Repetiría sin duda
Piluca
2017-03-13T00:00:00Z
Es un alojamiento moderno y bien equipado con excelente localización, en una zona tranquila pero que en 5 minutos andando estás en el centro. Lástima porque le ha faltado una limpieza a fondo. Por el resto genial, Jara y Rebeca han sido muy atentas en todo momento y nos han dado mucha libertad tanto en la entrada como en la salida.
Rosa
2016-08-09T00:00:00Z
Tipo de Acomodação
Casa/apto inteiro
---
Tipo de Imóvel
Apartamento
---
Acomoda
8
---
Quartos
Benasque, Aragão, Espanha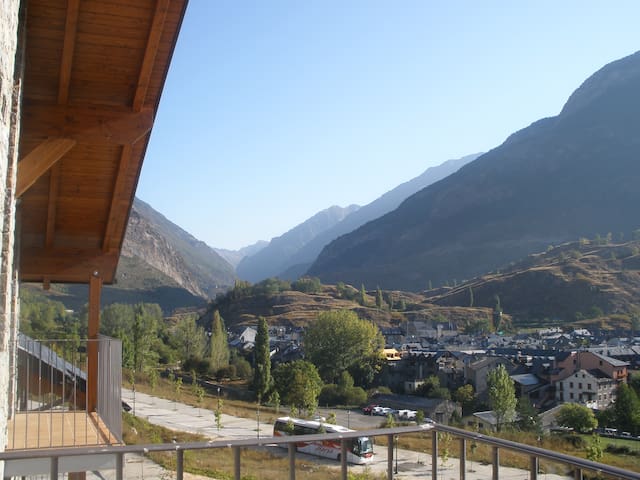 Mi alojamiento es bueno para parejas y familias (con hijos).
Invitamos a mis padres a pasar tres días y quedaron encantados con el apartamento. Muy recomendable!
Guillermo
2017-03-22T00:00:00Z
Muy buen apt. Acogedor,buen servicio y muy buen trato.recomendable
Marta
2017-02-25T00:00:00Z
El apartamento está muy bien situado y es muy agradable.
Marivi
2017-02-28T00:00:00Z
Muy recomendable.
arturo
2017-03-18T00:00:00Z
Nos ha gustado mucho, volveremos cuando vayamos a esquiar a Cerler
Beatriz
2017-02-19T00:00:00Z
Apartamento perfecto
Diego
2017-03-06T00:00:00Z
Perfecto Appartement idéal et très bien. Je reviendrais avec grand plaisir.
Leonard
2017-01-29T00:00:00Z
El apartamento está muy bien situado, está limpio y totalmente equipado. La reserva fue rápida, y la entrega de las llaves sin ningún problema. Si volvemos a Benasque no dudaremos en volver a alojarnos ahí.
julia
2016-12-06T00:00:00Z
Tipo de Acomodação
Casa/apto inteiro
---
Tipo de Imóvel
Apartamento
---
Acomoda
3
---
Quartos
Benasque, Aragão, Espanha