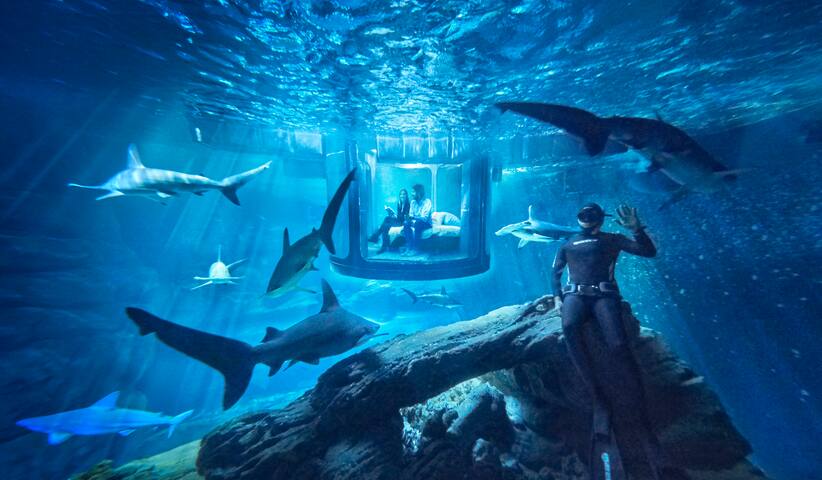 Uma Noite Em...
Aquário dos Tubarões
Casa/apto inteiro
2 Hóspedes
1 Quarto
1 Cama
Informações sobre este espaço
Você ama tubarões? Passe uma noite com eles! Você terá uma oportunidade única de dormir em um quarto submarino onde a única coisa separando você dos seus vizinhos é uma parede transparente e panorâmica de 360 graus.
---
Tipo de acomodação: Casa/apto inteiro
Tipo de cama: Cama de Verdade
Tipo de propriedade:
Casa
Acomoda: 2
Quartos: 1
Banheiros: 1
Cama: 1
Dono de animal: Outros animais de estimação
---
Comodidades
Básico
Toalhas, lençóis, sabonete e papel higiênico
Café da Manhã
O café da manhã é fornecido
Cozinha
Cozinha
Espaço onde os hóspedes podem preparar suas próprias refeições
Internet
TV
Básico
Básico
Toalhas, lençóis, sabonete e papel higiênico
Xampu
Aquecimento Central
Ar-condicionado
Máquina de Lavar
Secadora
Estacionamento incluído
Estacionamento gratuito na rua
Estacionamento pago fora da área
Wi-Fi
Wi-Fi
Acesso ininterrupto na acomodação
TV a Cabo
Café da Manhã
Café da Manhã
O café da manhã é fornecido
Permitido animais
Permitido animais
Animas de assistência sempre são permitidos
Ideal para famílias e crianças
Apropriado para eventos
Apropriado para eventos
A acomodação pode receber uma reunião de 25 pessoas ou mais
Permitido fumar
Acessível de cadeira de rodas
Acessível de cadeira de rodas
Acesso fácil ao prédio e à acomodação para hóspedes cadeirantes
Elevador
Elevador
A casa ou o prédio tem um elevador de pelo menos 132 cm de extensão e uma porta de pelo menos 81 cm de largura.
Lareira interna
Interfone
Porteiro
Piscina
Jacuzzi
Academia
Cabides
Ferro de passar
Secador de cabelo
Espaço de trabalho adequado para notebook
Sala de estar privada
Entrada privada
Entrada privada
Entrada por outra rua ou prédio
Check-in 24 horas
Check-in 24 horas
Cofre, entrada sem chave, campainha ou alguém estará sempre disponível
---
Descrição
O espaço
Já ficou olhando para um aquário e imaginando como deve ser viver embaixo d'água? Imagine-se submerso em um aquário com três milhões de litros de água e dez metros de profundidade, ao lado de 35 das criaturas mais majestosas da Terra: tubarões! Sinta como é viver, mesmo que por uma noite, rodeado por esses animais incríveis. Você terá uma oportunidade única de dormir em um quarto submarino onde a única coisa separando você dos seus vizinhos é uma parede transparente e panorâmica de 360 graus.
Nos dias 11, 12 e 13 de abril o Aquário de Paris receberá seus primeiros hóspedes para dormir no nosso Aquário de Tubarões. Sua casa por uma noite é diferente de qualquer outro lugar já construído: um recinto pacífico com uma cama cilíndrica enorme e uma vista deslumbrante e completa dos seus novos amigos de dentes afiados.
Três ganhadores sortudos e seus convidados serão recebidos pelo anfitrião Fred Buyle, recordista mundial de mergulho livre, fotógrafo marinho e apaixonado por tubarões. Ele dançará com os tubarões para apresentar os seus vizinhos por uma noite. Quando já estiver se sentindo em casa, Fred e um dos nossos biólogos marinhos lhe acompanharão em um passeio pelo aquário e você terá um vislumbre exclusivo dos bastidores do mundo dos tubarões: como eles vivem, por que eles são tão mal compreendidos e sua importância para os ecossistemas marinhos.
Durante o check-in, você conhecerá o quarto onde passará a noite. Nossa casa é sua casa, portanto sinta-se à vontade quando o seu anfitrião mergulhar no tanque e fizer a apresentação formal de alguns dos seus novos vizinhos. Você desfrutará de uma refeição aconchegante dentro do túnel do nosso aquário ao lado do tanque, curtindo uma vista incrível dos seus vizinhos favoritos.
Inaugurado em 1867 e localizado em frente à icônica Torre Eiffel, o Aquário de Paris foi o primeiro aquário do mundo. Seu quarto submarino continuará lá mesmo depois da sua saída, servindo como um observatório para os nossos biólogos poderem estudar o comportamento desses peixes imponentes.
O que você pode fazer para ser a primeira pessoa do mundo a passar uma noite com tubarões? Basta nos contar um pouco sobre você, onde você mora e por que você merece passar uma noite com os tubarões até o dia 3/04/2016 às 23:59 CET (Horário da Europa Central).
Não mora na região? Sem problema: levaremos os ganhadores para lá de avião de qualquer parte do mundo!
Outras observações
Você e seu convidado precisam ter mais de 18 anos, estar em boas condições de saúde e ser capaz de subir e descer a escada até o quarto. É importante observar que, por motivo de segurança, o ganhador e seu convidado não podem pesar juntos mais de 190 kg ou 418 libras. Você precisa estar disponível para passar uma noite no aquário entre os dias 11 e 13 de abril.
Os texto da inscrição deve ter de 50 a 300 caracteres caso seja feito em chinês (simplificado ou tradicional) japonês ou coreano e de 50 a 500 caracteres em inglês, alemão, espanhol, francês, italiano, ou português.
---
•No selfies after dark. Remember, sharks are sensitive to light.
•Avoid seeing Jaws before your sleepover. They're kinder than you think!
•No sleepwalking or night swimming.
•Don't eat the chum.
•No diving.
•Keep your heads and feet in the bedroom at all times.
•Sheep can't swim, so count sharks instead.
•Don't take the bait.
TERMS AND CONDITIONS
Night At the Paris Shark Aquarium on April 11, 12 and 13th, 2016
NO PURCHASE OR PAYMENT NECESSARY TO ENTER OR WIN. A PURCHASE OR PAYMENT WILL NOT INCREASE YOUR CHANCES OF WINNING.
When you submit a submission for this Contest, you agree with the Official Rules below.
Sponsor. The Sponsor of this Contest ("Contest") is Airbnb Ireland, The Watermarque Building, South Lotts Road, Dublin 4, Ireland ("Airbnb").
How to Enter. Participants who have reached the age of 18 at the time of participation, may enter the Contest from Tuesday, March 29th, 2016 at 10:00am Central European Time until April 3rd, 2016 at 11:59 pm Central European Time by following the process below. Submissions must be received through the below process by the close of the Contest to be eligible.
Process: To participate in the Contest and to try to win the prize described below, you have to:
Sign in with an Airbnb account
Go to the "Night At the Shark Aquarium" listing page
Click on the button 'Enter to win' and tell us a little about yourself, where you live and why you belong with the sharks for a night? In the form provided write your story addressing the questions above between 50 characters and 500 characters in English, German, Spanish, French, Italian, Portuguese, or between 50 characters and 300 characters in Chinese (Simplified or Traditional), Japanese or Korean.
The Submission must be sent from the email account associated with the participant's Airbnb account to be verified and reviewed. Each participant can only participate once and you represent that you are more than 18 years old. Airbnb is not responsible for computer or network problems, problems with servers, problems with email accounts or the failure to receive any Submission for any reason whatsoever. By entering the Contest, participants agree, on their behalf and if applicable any guest that as a winner they are permitted to share the prize with (who must be a registered Airbnb user), that they may be contacted by Airbnb in relation to the Contest and agree to take part in any publicity that occurs as a result of the Contest and grant Airbnb and their Partner and their agents the right to use their name and/or image and/or town/country of residence.
Eligibility. The Contest is not open to residents from: Crimea Region of Ukraine, North Korea, Syria, Iran, Sudan, any country subject to embargo by the United States, or the Province of Quebec, or any jurisdiction where the Contest would be prohibited or restricted by law. This means that you are not allowed to participate if you reside in one of these jurisdictions. The Contest is for residents of all other countries of the world and by entering participants agree that the individual winners will be selected from all entries received from these countries. Directors, officers, employees, independent contractors and agents of Partner and Airbnb, or their subsidiaries or affiliates, and the members of their immediate families or households, are not eligible.
Before entering into the Contest, participants shall take into account that they will be sleeping in a bedroom chamber located within a shark tank. To access the bedroom they will need to be physically capable of climbing a ladder. The bedroom chamber contains one double bed which participants must be willing to share with their guest. For safety reasons, due to the limited weight capacity of the bedroom, the maximum weight of the winner and their guest must not exceed 190 kgs or 418 lbs. Participants and their guests agree to be weighed prior to entering the bedroom chamber and if their combined weight exceeds 190 kgs or 418 lbs, they will not be allowed to enter the bedroom chamber and will forfeit the prize.
The participants represent that they and their guest are fully able to receive, use and enjoy the prize of this Contest, in view of the above restrictions, and that they do not suffer from any health issue which may make Night at the Shark Aquarium unsuitable for them. In addition, the participants acknowledge and agree that, before awarding the prize to the winner, Airbnb may require the winner and his/her guest to provide a medical certificate based on a medical examination to confirm their ability to spend one night at the Paris Shark Aquarium.
Winner Selection. Three participants will be selected from the Submissions and will be nominated winners and best story writers of the Contest. The winners will be chosen entirely on merit, based on the following criteria applied by a panel of judges:
Originality and creativity of the submitted story. Does it surprise and delight us?
Spirit of the submission. How does your submission answer the question about why you belong with the sharks for a night?
The panel of judges will be comprised of members of the marketing teams of Airbnb and/or other authorized personnel or consultants chosen by Airbnb, and one independent judge. If substantially similar Submissions are submitted by different entrants, judges will select only the best version of that idea, as determined by the judges in their sole discretion.
Prohibited Content. Submissions/content must be the original work of the participant and not have been previously published, or entered in any other competition, and must not violate the rights of any other party, including but not limited to intellectual property rights or rights of privacy, publicity or other moral rights. Submissions must NOT contain: (a) advertising or commercial content for any party other than Airbnb or Partner; (b) content that endorses/promotes illegal or harmful activity; (c) violent, profane, vulgar, obscene, defamatory or otherwise objectionable material; (d) adult material; or (e) defamatory content. The Sponsor reserves the right to disqualify any participant who violates these prohibitions or any other provision of these Official Rules, or that the Sponsor deems inappropriate for any reason, in their sole discretion.
License. By submitting a Submission, participants grant each of Airbnb and Partner a perpetual (or for the term of the protection granted by the relevant intellectual property rights), worldwide, irrevocable, royalty-free license to transform, edit, modify, reproduce, distribute, transmit, publish, broadcast, perform, display, or otherwise use the submitted story, in whole or in part, with or without modifications, in any form or medium (including but not limited to: internet, any printed medium distributed via press, billposting, point of sale advertising, flyers, leaflets…), whether now existing or later developed, for entertainment, promotional and/or advertising purposes and/or any other purpose. To the greatest extent permitted by law, participants agree not to invoke any so-called moral rights in relation to their submissions (including without limitation the right to be identified as the creator of the work and the right to object to derogatory treatment of the work). For the avoidance of doubt, the license referred to in this paragraph is a fully paid-up license. By entering, you guarantee that your entry is original as referred to above, and that you have all necessary rights to provide the entry and to grant to Airbnb the rights set out in these Official Rules, as well as the consent of any person identified, depicted or referred to in the entry. You will indemnify and hold Airbnb harmless for any breach of these provisions. Only the winner will receive a prize according to the next paragraph: 'Prize'.
Prize. Each winner will receive, in recognition of their personal writing talent and as full and comprehensive consideration for the License described above, the following prize for himself/herself and one adult guest:
A private visit of the Aquarium de Paris and tour by a marine biologist (conducted in English and/or French)
A private dinner for 2 in the Aquarium de Paris
A one night stay in the L'Aquarium de Paris on one of these dates: April 11, 12 or 13, 2016
Breakfast the next morning
The round trip to Paris – Economy class tickets
The prize described here above does not include: visa fees, airport transfers from the winner's home to/from their airport or train station, expenses, any meals (except for the dinner and breakfast at the Aquarium de Paris), and any other expenses.
Winners will be chosen to enjoy the prize on ONE night determined by Airbnb, between April 11, 12 or 13, 2016 and Participants represent that they are available to travel to Paris to be there on April 11, 12 or 13, 2016. Participants must have a valid passport (or EU Identity Card) to travel to France during the period of the trip to redeem the prize. The total value of the prize is approximately 2,000EUR (or the equivalent in local currency) including a round trip to Paris in economy class. The Sponsor is allowed to ask for a written confirmation or proof of the place of residence and age of the winners and any guest(s) they are permitted to share the prize with before awarding the prize. No substitution or transfer of the prize is permitted. The prize may not be redeemed for cash. If due to circumstances beyond Airbnb's control, Airbnb is unable to provide the stated prize, Airbnb reserves the right to award, as substitute, a prize of equal or higher value.
Notification/Announcement of Winner.
The winner(s) will be selected on April 9th, 2016 and announced on social media. Winner will be notified by phone and email via the Airbnb message centre within 24 hours. Each winner must confirm their acceptance of the Prize in writing within 12 hours of such notification. The Sponsor reserves the right to disqualify any winner who does not confirm acceptance of the Prize in accordance with these Official Rules, and reserves the right to select an alternative winner in such event. In the event of a dispute about the identity of a winner, the Sponsor will award the prize to the authorized account holder of the Airbnb account from which the winning entry was sent. The Sponsor may publicly announce the name of the winner within 30 days of the close of the Contest, including through social media channels.
Prize Conditions. Save as may be required by any applicable mandatory laws, the prize is provided as-is with no express or implied warranty or guarantee. This Contest is subject to applicable local laws and regulations, including but not limited to tax laws. The winner is solely responsible for any taxes applicable to or resulting from the award of the prize, and the Sponsor will have no obligation for any taxes that may be payable. Sponsor may require the winner, and where applicable, the winner's guest, to sign and return an affidavit of eligibility, a liability release and a publicity release permitting the Sponsor to use the winner's name, image and winning Submission in promotional materials where permitted by law and subject to applicable rules. To the extent permitted by applicable law, refusal or inability to sign and return such forms within 48 hours of receipt may result in disqualification and awarding of prize to an alternate winner. The winner and guest represent they will behave as good citizens during their stay at L'Aquarium de Paris and that they will cooperate with the security personnel that will be present at L'Aquarium de Paris on April 11, 12 or 13, 2016
General Liability Release. By entering this Contest, participants release the Sponsor and their agents from any liability whatsoever, on any theory, and waive all claims and causes of action arising from or related to this Contest and/or fulfillment and/or use of the Prize, to the extent permitted by applicable law. However, nothing in these Official Rules limits or excludes any person's or entity's liability for death or personal injury caused by their negligence or any other liability which may not as a matter of law be limited.
Data. By entering the Contest and submitting a Submission and any other personal information, participants are expressly consenting to the processing of their personal information by the Sponsor for the purpose of the Contest or any associated publicity by Airbnb or Partner. Airbnb's Privacy Policy and Terms of Service will apply. Airbnb may share the Submissions with Partner and third party prize providers for Contest administration and prize fulfillment purposes.
Interpretation and Disputes. Subject to the application of contrary overriding provisions of a national law or European regulations, participants agree: (a) to be bound by these Official Rules and all decisions of the judges, which are final and binding; (b) that any disputes shall be governed by the laws of Ireland (or by mandatory local laws, if applicable), and shall be resolved only in the courts in Ireland (or in mandatory local jurisdiction, if applicable), without resort to any form of class action or other form of collective action, to the extent permitted by applicable law; and (c) that they consent and waive any objection to the jurisdiction of said courts for any such disputes.
Miscellaneous. The Contest is void where prohibited. If any provision or part-provision of these Official Rules is held by a court of competent jurisdiction to be invalid, illegal or unenforceable, it shall be deemed modified to the minimum extent necessary to make it valid, legal and enforceable. If such modification is not possible, the relevant provision or part-provision shall be deemed deleted. Any modification to or deletion of a provision or part-provision under this clause shall not affect the validity and enforceability of the rest of these Official Rules. To the extent permitted by applicable law, the Sponsor may suspend, modify or terminate the Contest if they believe, in their sole discretion, that malfunction, error, disruption or damage is impairing or will impair the administration, security, fairness, integrity or proper conduct of the Contest, in which case the prizes will be awarded among the eligible entries received that were unaffected by the problem, if possible. With reference to the Italian participants please note that this Contest does not constitute a "Manifestazione a Premio" under the provisions of D.P.R. four thirty/two thousand and one because winners are selected and prizes are assigned to them on the basis of their personal writing talent and consequently the exception described under Article 6, par. 1, letter a) of the above mentioned decree shall apply.
---
Sobre o Anfitrião, Fred
Hi, I'm Fred Buyle. I discovered freediving when I was ten and set my first world record 20 years ago. A few years later, I became the 8th person to pass the 100m barrier on one breath of air. I come from a long line of artists and photographers, so I decided to blend this love of freediving with my passion for photography. Besides, what better way to share with others the beauty of the underwater world?
I also work closely with marine biologists and other conservationists to help educate people about the modern dangers to the sea life. I'm a huge shark enthusiast. Not only have I dived into the Paris Aquarium shark tank 4 times in the past two years, I've been on countless wilderness swims in the open ocean.
I'm excited to introduce you to your new sharp-toothed neighbors.
----------
Bonjour, je m'appelle Fred Buyle. J'ai commencé la plongée à l'âge de 10 ans. Il y a 20 ans, je réalisais mon premier record mondial et quelques années plus tard, je suis devenu la 8ème personne au monde à passer la barrière des 100 mètres de profondeur en apnée. J'ai grandi dans un milieu d'artistes et de photographes, et aujourd'hui j'ai trouvé un moyen d'allier mes deux passions : le monde aquatique et la photo. C'est aussi une excellente façon de faire découvrir aux autres la beauté de nos océans.
Je collabore également avec des océanologues et des conservateurs pour sensibiliser l'opinion sur la situation du monde marin, qui est aujourd'hui plus menacé que jamais, et je suis passionné par les requins. J'adore explorer les fonds marins, et ces deux dernières années, j'ai effectué plusieurs plongées dans l'aquarium des requins de Paris.
J'ai hâte de vous présenter vos nouveaux voisins !
----------
안녕하세요! 프레드 뷜르(Fred Buyle)입니다. 저는 열 살부터 프리다이빙에 심취하기 시작했고 20년 전에 첫 세계신기록을 수립했습니다. 그로부터 몇 년 후, 세계에서 여덟 번째로 숨을 쉬지 않고 한 번에 수심 100m까지 잠수하는 데 성공했지요. 예술과 사진에서도 오랫동안 실력을 쌓아왔던 저는 프리다이빙과 사진이라는 두 분야에 대한 저의 열정을 가지고 무언가를 해보면 좋겠다는 생각을 갖게 되었습니다. 게다가 바닷속 세상의 아름다움을 알리는 데 이보다 더 좋은 방법도 없잖아요?

저는 또한 해양생물학자와 환경운동가들과 함께 오늘날 해양생물이 직면한 위험을 사람들에게 알리는 일을 합니다. 저는 상어를 아주 사랑하는 사람으로 지난 2년 동안 파리 수족관의 상어 수조에 4차례나 입수했을 뿐만 아니라 셀 수 없이 많은 해양잠수 경험을 갖고 있습니다.

상어 친구들을 여러분께 소개해 드릴 생각에 한껏 마음이 설레네요.
----------
Hi, ich bin Fred Buyle. Ich habe im Alter von zehn Jahren meine Leidenschaft für Freediving entdeckt und meinen ersten Weltrekord vor 20 Jahren aufgestellt. Einige Jahre später wurde ich die 8. Person auf der Welt, die mit nur einem einzigen Atemzug 100 Meter tief tauchen konnte. In meiner Familie gab es immer viele Künstler und Fotografen, deswegen habe ich mich dazu entschieden, meine Liebe zum Freediving mit meiner Leidenschaft für schöne Fotos zu verknüpfen. Und was gibt es für einen besseren Weg, um anderen die Schönheit der Unterwasserwelt zu zeigen?
----------
Ciao, mi chiamo Fred Buyle. A 10 anni ho scoperto le immersioni e, 2 decenni fa, ho ottenuto il mio primo record mondiale. Qualche tempo dopo sono diventato l'ottava persona al mondo in grado di superare la barriera dei 100 metri con un'unica boccata d'aria. In famiglia siamo sempre stati artisti e fotografi, così ho deciso di unire la mia passione per le immersioni con quella per la fotografia. Quale modo migliore per condividere con gli altri le bellezze del mondo subacqueo?
Collaboro da vicino con biologi marini e con altri ambientalisti, aiutando a sensibilizzare la gente sui pericoli che minacciano l'ecosistema marino. Ovviamente, sono un grande estimatore degli squali. Non solo mi sono immerso nelle acque dell'Acquario di Parigi ben 4 volte negli ultimi 2 anni, ma ho anche (Website hidden by Airbnb) innumerevoli sessioni di esplorazione in mare aperto.
Sono davvero lieto di potervi presentare i vostri nuovi amici marini!
----------
Oi, sou o Fred Buyle. Descobri o mergulho livre aos 10 anos e conquistei meu primeiro recorde mundial 20 anos atrás. Alguns anos depois, tornei-me a 8ª pessoa a ultrapassar a barreira dos 100 metros com uma única inspiração. Minha família tem uma longa tradição em arte e fotografia, portanto decidi mesclar a paixão pelo mergulho livre com minha paixão pela fotografia. Além do mais, existe maneira melhor de compartilhar com os outros a beleza do mundo aquático?
Também desenvolvo um trabalho com biólogos marinhos e outros conservacionistas para ajudar a educar as pessoas sobre os perigos atuais enfrentados pela vida marinha. Sou um grande entusiasta dos tubarões. Não só mergulhei no tanque de tubarões do Aquário de Paris 4 vezes nos últimos 2 anos, mas também já fiz inúmeros mergulhos livres em mar aberto.
Não vejo a hora de lhe apresentar seus novos vizinhos com os dentes mais afiados que você já viu.
----------
Hola, soy Fred Buyle. Descubrí la inmersión libre cuando tenía diez años y conseguí mi primer récord mundial hace dos décadas. Unos años después, me convertí en la octava persona de la historia en romper la barrera de los 100 metros de profundidad en apnea. Procedo de una familia de artistas y fotógrafos, lo que me ha llevado a combinar mi pasión por el buceo con mi afición por la fotografía. Además, ¡no se me ocurre una forma mejor de compartir la belleza del mundo submarino con el resto de la humanidad!
También colaboro estrechamente con biólogos marinos y profesionales dedicados a la preservación del medio para concienciar a la sociedad del impacto que ejerce nuestro estilo de vida actual sobre los ecosistemas marinos. Y, por supuesto, me encantan los tiburones. No solo me he sumergido en el tanque del acuario de París cuatro veces en los dos últimos años, sino que he nadado entre ellos en mitad del océano en infinidad de ocasiones.
¡Estoy deseando presentarte a tus nuevos vecinos!
----------
どうも、Fred Buyleです。10歳でフリーダイビングに出会って、最初に世界記録破ったのはその20年後。さらに数年後には、1回の呼吸で100m素潜りの壁を破る史上8人目の人類になりました。代々アーティストと写真家が多い家系なので、大好きな素潜りと写真を融合し、潜って撮るフォトグラファーをやってます。海の中の美を紹介するのにこれ以上いい仕事ないよね?
最近は海の生き物が大変なことになってるので、そのことをみんなに広める活動で海洋生物学の専門家、自然保護活動家ともよく一緒に仕事してます。パリ水族館のシャークタンクにはこの2年で4回潜ったけど、海の素潜りはもう数え切れないぐらいやってます。
早くみんなを僕のかわいいサメちゃんに会わせてあげたいです。ぜひ来てね!
----------
Hi,大家好,我是Fred Buyle!我十岁时就对自由潜水产生了深厚的兴趣,二十年前我第一次打破了世界记录,并在几年后成为全球第八位一口气穿越100米障碍的选手。我来自一个艺术家和摄影师的家庭,因此我决定把我对自由潜水和摄影的热爱结合在一起。还有哪种方式能够更好地和他人分享美丽的水下世界呢?

此外,我还和海洋生物学家以及其他环保主义者密切合作,帮助人们了解海洋生物在现代所面临的危险。我是一名铁杆鲨鱼爱好者。过去两年中,我曾4次潜入巴黎水族馆的鲨鱼馆,并在辽阔的海洋里畅游过无数次。
我非常高兴将你介绍给这些坚牙利齿的新邻居!
----------
Hi,大家好,我是Fred Buyle!我十歲時就對自由潛水產生濃厚的興趣,二十年前我第一次打破了世界記錄,並在幾年後成為全球第八位一口氣穿越100米障礙的選手。我來自一個藝術家和攝影師的家庭,因此我決定把我對自由潛水和攝影的熱愛結合在一起。還有哪種方式能夠更好地和他人分享美麗的水下世界呢?

此外,我還和海洋生物學家以及其他環保主義者密切合作,幫助人們了解海洋生物在現代所面臨的危險。我是一名鐵桿鯊魚愛好者。過去兩年中,我曾4次潛入巴黎水族館的鯊魚館,並在遼闊的海洋裡暢游過無數次。
我非常期待向你介紹這些堅牙利齒的新鄰居!