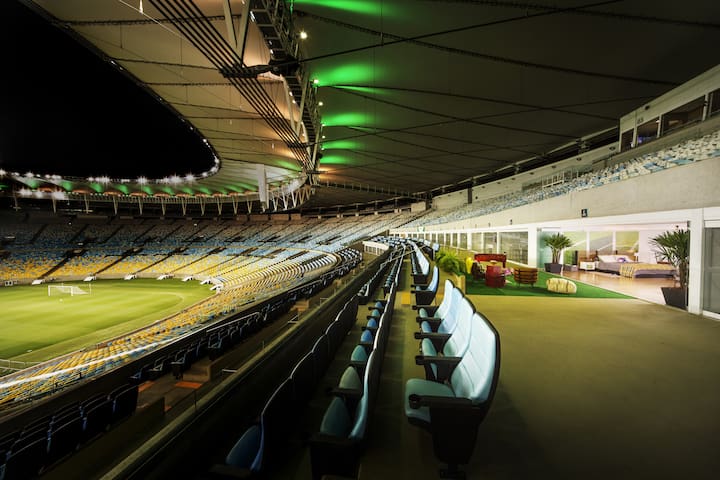 Casa/apto inteiro
2 Hóspedes
1 Quarto
1 Cama
Informações sobre este espaço
No dia 30 de maio você poderá ter a chance única de passar uma noite no Maracanã, o Templo do Futebol. Quer saber como? Basta participar enviando a sua resposta de acordo com as informações dessa página até as 23h59 do dia 21/05/2015.
---
Tipo de acomodação: Casa/apto inteiro
Tipo de cama: Cama de Verdade
Tipo de propriedade: Outros
Acomoda: 2
Quartos: 1
Banheiros: 1
Cama: 1
---
Comodidades
Básico
Toalhas, lençóis, sabonete e papel higiênico
Cozinha
Cozinha
Espaço onde os hóspedes podem preparar suas próprias refeições
Internet
TV
Básico
Básico
Toalhas, lençóis, sabonete e papel higiênico
Xampu
Aquecimento Central
Ar-condicionado
Máquina de Lavar
Secadora
Estacionamento incluído
Estacionamento gratuito na rua
Estacionamento pago fora da área
Wi-Fi
Wi-Fi
Acesso ininterrupto na acomodação
TV a Cabo
Café da Manhã
Café da Manhã
O café da manhã é fornecido
Permitido animais
Permitido animais
Animas de assistência sempre são permitidos
Ideal para famílias e crianças
Apropriado para eventos
Apropriado para eventos
A acomodação pode receber uma reunião de 25 pessoas ou mais
Permitido fumar
Acessível de cadeira de rodas
Acessível de cadeira de rodas
Acesso fácil ao prédio e à acomodação para hóspedes cadeirantes
Elevador
Elevador
A casa ou o prédio tem um elevador de pelo menos 132 cm de extensão e uma porta de pelo menos 81 cm de largura.
Lareira interna
Interfone
Porteiro
Piscina
Jacuzzi
Academia
Cabides
Ferro de passar
Secador de cabelo
Espaço de trabalho adequado para notebook
Sala de estar privada
Entrada privada
Entrada privada
Entrada por outra rua ou prédio
Check-in 24 horas
Check-in 24 horas
Cofre, entrada sem chave, campainha ou alguém estará sempre disponível
---
Descrição
O espaço
O icônico Estádio do Maracanã foi transformado para ser palco de uma experiência única, com a participação do astro do futebol brasileiro - Renato Gaucho. Na noite do dia 30 de maio, que antecede o clássico do futebol carioca Fla-Flu, um hóspede sortudo do Airbnb e mais um acompanhante vão ter a chance de dormir em um camarote VIP que foi transformado em acomodação completa com cama, terraço exclusivo, sistema de som e mesa de pebolim. Isso mesmo: vamos realizar o sonho de milhares de fãs do futebol. O espaço temporário ao lado da Tribuna de Honra fica numa localização privilegiada com vista para o estádio inteiro.
Os Detalhes:
Você respira, dorme e acorda pensando em futebol? Então prepare-se, pois se você for o sortudo escolhido para passar uma noite no Maracanã, recebido pelo anfitrião Renato Gaucho, certamente vai ter uma das melhores experiências da sua vida. A estadia inclui um tour VIP pelo estádio, passando pela Tribuna de Honra, vestiários e sala de imprensa, terminando no gramado onde você poderá bater uma bolinha com o Renato Gaucho e mostrar pra ele todo o seu gingado. Depois disso, um picnic temático com comida típica de estádio e música ao vivo vão estar esperando por você ao lado do campo. Seguindo para o seu camarote VIP que foi transformado em suíte, é melhor descansar, já que o dia seguinte vai ser cheio de atividades em preparação para um clássico Fla-Flu, entre os dois times mandantes da casa, que o estádio recebe no dia 31. Você vai poder assistir o jogo do conforto da sua própria suite - difícil vai ser se acostumar outra vez com a TV da sala.
Construído em 1950, o Maracanã já recebeu as principais competições e times do futebol Brasileiro, além da final da Copa do Mundo da FIFA em 2014, na qual a Alemanha ganhou da Argentina, tornando-se a atual campeã mundial. O estádio também vai ser uma das principais sedes dos Jogos Olímpicos Rio 2016, recebendo tanto a cerimônia de abertura quanto a de encerramento.
Como concorrer a essa experiência única? Conte pra a gente até as 23h59 do dia 21/05/2015 por que você (e mais um acompanhante sortudo) deveriam ser os escolhidos para passar essa Noite no Maracanã.
---
• Don't mess up the wave when it comes around
• Keep the chanting of "Ole Ole Ole" volume down after 10 pm
• No swearing at the ref's mother (or anyone's mother for that matter!)
• If you tend to sweat a lot, leave the body paint behind or try not to hug your fellow fans
• Practice your celebration dance in advance, just in case you score a goal while playing with Renato Gaúcho
• Excluding the occasional tired player who naps on the bench, you will be the first person ever to sleep in the stadium
• No ball boys provided. If you kick the ball outside the field, you will be expected to fetch it.
Terms and Conditions
Night at Maracanã Stadium on 30 – 31 May 2015
NO PURCHASE OR PAYMENT NECESSARY TO ENTER OR WIN. A PURCHASE OR PAYMENT WILL NOT INCREASE YOUR CHANCES OF WINNING.
When you submit a submission for this Contest, you agree with the Official Rules below.
Sponsor.
The Sponsor of this Contest ("Contest") is Airbnb Ireland, The Watermarque Building, South Lotts Road, Dublin 4, Ireland ("Airbnb").
How to Enter.
Participants who have reached the age of 18 at the time of participation, may enter the Contest from 13 May 2015 at 10 am Brasília Time until 21 May 2015 at 11:59 pm Brasília Time by following the process below. Submissions must be received through the below process by the close of the Contest to be eligible.
Process: To participate in the Contest and to try to win the prize described below, you have to:
1. Click on the "Enter to Win" button
2.Send a message in the form of a story of 100 words maximum – in English – explaining what's your biggest dream that is related to soccer (the "Submission").
Each participant can only participate once and you represent that you are more than 18 years old. Airbnb is not responsible for computer or network problems, problems with servers, problems with email accounts or the failure to receive any submission for any reason whatsoever. By entering the Contest, participants agree that they may be contacted by Airbnb in relation to the Contest and agree to take part in any publicity that occurs as a result of the Contest and grant Airbnb and their agents the right to use their name and/or image.
Eligibility.
The Contest is not open to residents from: North Korea, Cuba, Iran, Indonesia. This means that you are not allowed to participate if you reside in one of these jurisdictions. The Contest is for residents of all other countries of the world and by entering participants agree that the individual winners will be selected from all entries received from these countries. Directors, officers, employees, independent contractors and agents of Partner and Airbnb, or their subsidiaries or affiliates, and the members of their immediate families or households, are not eligible.
Winner Selection.
One participant will be selected from the Submissions and will be nominated winner and best story writer of the Contest. The winners will be chosen entirely on merit, based on two judging criteria applied by a panel of judges at the following weight:
70% - Originality and creativity of the submitted story. Does it surprise and delight us?
30% - Spirit of the submission. How does your submission relate to Maracanã?
The panel of judges will be comprised of members of the marketing teams of Airbnb and Maracanã, and one independent judge. The judges' decisions are final and binding. If substantially similar Submissions are submitted by different entrants, judges will select only the best version of that idea, as determined by the judges in their sole discretion.
Prohibited Content.
Submissions/content must be developed by the participant and must not violate the rights of any other party, including but not limited to intellectual property rights or rights of privacy, publicity or other moral rights. Submissions must NOT contain: (a) advertising or commercial content (b) content that endorses/promotes illegal or harmful activity; (c) violent, profane, vulgar, obscene, defamatory or otherwise objectionable material; (d) adult material; or (e) defamatory content. The Sponsor reserves the right to disqualify any participant who violates these prohibitions, or that the Sponsor deem inappropriate for any reason, in their sole discretion.
License.
By submitting a submission, participants grant each of Airbnb and Partner a perpetual (or for the term of the protection granted by the relevant intellectual property rights), worldwide, irrevocable, royalty-free license to transform, edit, modify, reproduce, distribute, transmit, publish, broadcast, perform, display, or otherwise use the submitted story, in whole or in part, with or without modifications, in any form or medium (including but not limited to: internet, any printed medium distributed via press, billposting, point of sale advertising, flyers, leaflets…), whether now existing or later developed, for entertainment, promotional and/or advertising purposes and/or any other purpose. To the greatest extent permitted by law, participants agree not to invoke any so-called moral rights in relation to their submissions (including without limitation the right to be identified as the creator of the work and the right to object to derogatory treatment of the work). For the avoidance of doubt, the license referred to in this paragraph is a fully paid-up license. Only the winners will receive a prize according to the next paragraph: 'Prize'.
Prize.
The winner will receive, in recognition of their personal writing talent and as full and comprehensive consideration for the License described above, the following trip
-A night for two persons at the Maracanã Stadium, Avenida Presidente Castelo Branco, s/n - Portão 2 - Maracanã, Rio de Janeiro - RJ, 20271-130, Brazil. The night will take place from the 30th of May 2015 to the 31st of May 2015, at the Sponsor's absolute discretion.
-Dinner, breakfast and lunch for two persons (at an establishment or location of the Sponsor's choice) is included
-Return trip for two persons to Rio de Janeiro, Brazil in Economy class.
-Local transportation in Rio de Janeiro will be provided
- Two tickets for the match that will take place in Maracanã on the 31st of May, 2015.
The prize shall not include: visa fees (if applicable), transfer fees in the winner's local country of residence or any meals or expenses not expressly stated in the prize description.
Participants represent that they are available to travel to Rio de Janeiro to be there by 4 pm local time on 30 and 31 May 2015 (winners will be notified of the date at which they will be required to travel once they have accepted the prize). Participants must have a valid passport to travel to Brazil during the period of the trip to redeem the prize. The total value of the prize is approximately 5000 USD (or the equivalent in local currency). The Sponsor is allowed to ask for a written confirmation or proof of the place of residence and age of the winner before awarding the prize, including the appropriate legal authorization from parents or legal guardians in case the winner's guest is underaged. No substitution or transfer of the prize is permitted. The prize may not be redeemed for cash. If due to circumstances beyond Airbnb's control, Airbnb is unable to provide the stated prize, Airbnb reserves the right to award, as substitute, a prize of equal or higher value.
Notification/Announcement of Winner.
The winner(s) will be selected on May 21 2015 and will be notified by email or via the Airbnb message center within 72 hours. Each winner must confirm their acceptance of the Prize in writing within 24 hours of such notification. The Sponsor reserves the right to disqualify any winner who does not confirm acceptance of the Prize in accordance with these Official Rules, and reserves the right to select an alternative winner in such event. In the event of a dispute about the identity of a winner, the Sponsor will award the prize to the authorized account holder of the Airbnb account corresponding to the email address that sent the winning entry. The Sponsor may publicly announce the name of the winner within 30 days of the close of the Contest, including through social media channels such as twitter (@airbnb) and facebook.
Prize Conditions. Save as may be required by any applicable mandatory laws, the prize is provided as-is with no express or implied warranty or guarantee. This Contest is subject to applicable local laws and regulations, including but not limited to tax laws. The winner is solely responsible for any taxes applicable to or resulting from the award of the prize, and the Sponsor will have no obligation for any taxes that may be payable. Sponsor may require the winner, and where applicable, the winner's guest, to sign and return an affidavit of eligibility, a liability release and a publicity release permitting the Sponsor to use the winner's name, image and winning Submission in promotional materials where permitted by law and subject to applicable rules. Refusal or inability to sign and return such forms within 72 hours of receipt may result in disqualification and awarding of prize to an alternate winner. The winner represents that they will behave, and will ensure that their guest will behave, as good citizens during their stay at the Maracanã Stadium and that they will cooperate with the security personnel that will be present at Maracanã on 30 – 31 May 2015. The winner understands that failure to comply with this requirement may result in their eviction from the Maracanã Stadium at the Sponsor's sole discretion.
General Liability Release.
By entering this Contest, participants release the Sponsor and its agents from any liability whatsoever, on any theory, and waive all claims and causes of action arising from or related to this Contest and/or fulfillment and/or use of the Prize, to the extent permitted by applicable law. However, nothing in these Official Rules limits or excludes any person's or entity's liability for death or personal injury caused by their negligence or any other liability which may not as a matter of law be limited.
Data.
By entering the Contest and submitting a Submission and any other personal information, participants are expressly consenting to the processing of their personal information by the Sponsor for the purpose of the Contest or any associated publicity. Airbnb's privacy policy will apply. Airbnb may share the Submissions with Partner and third party prize providers for Contest administration and prize fulfillment purposes.
Interpretation and Disputes. Participants agree: (a) to be bound by these Official Rules and all decisions of the judges, which are final and binding; (b) that any disputes shall be governed by the laws of Ireland (or by mandatory local laws, if applicable), and shall be resolved only in the courts in Ireland (or in mandatory local jurisdiction, if applicable), without resort to any form of class action or other form of collective action, to the extent permitted by applicable law; and (c) that they consent and waive any objection to the jurisdiction of said courts for any such disputes.
Miscellaneous.
The Contest is void where prohibited. If any provision or part-provision of these Official Rules is held by a court of competent jurisdiction to be invalid, illegal or unenforceable, it shall be deemed modified to the minimum extent necessary to make it valid, legal and enforceable. If
such modification is not possible, the relevant provision or part-provision shall be deemed deleted. Any modification to or deletion of a provision or part-provision under this clause shall not affect the validity and enforceability of the rest of this agreement. To the extent permitted by applicable law, the Sponsor may suspend, modify or terminate the Contest if they believe, in their sole discretion, that malfunction, error, disruption or damage is impairing or will impair the administration, security, fairness, integrity or proper conduct of the Contest, in which case the prizes will be awarded among the eligible entries received that were unaffected by the problem, if possible. With reference to the Italian participants please note that this Contest does not constitute a "Manifestazione a Premio" under the provisions of D.P.R. 430/2001 because winners are selected and prizes are assigned to them on the basis of their personal writing talent and consequently the exception described under Article 6, par. 1, letter a) of the above mentioned decree shall apply.
---
Sobre o Anfitrião, Renato Gaucho
Olá, meu nome é Renato Portaluppi, mais conhecido como Renato Gaucho ou "O Rei do Rio". Fui jogador profissional de futebol por 17 anos, atuando como titular da seleção brasileira e de diversos times do Rio de Janeiro - muitos dos quais também tive a honra de me tornar treinador posteriormente. Vivi muitas emoções no Maracanã, onde me sinto em casa, e espero fazer com que você se sinta em casa aqui também.
--------------------------------
Hi, I'm Renato Portaluppi, also known as Renato Gaucho or the "King of Rio". I was a professional soccer player for 17 years, having played on the Brazil national soccer team and all major teams from the state of Rio de Janeiro - many of which I had the chance to coach afterwards. It's been an honor to have played and served as coach at Maracanã, where I feel very much at home. I hope to show you around and make you feel right at home here, too.